Bistro Night At The Cool River Cafe, Matlock
---
Published On Tuesday 19 Apr 2016 by Sticky Beak
See Recent Dining Out Reviews | See All Recent Reviews


This Saturday evening saw His Nibs and I at the Cool River Cafe in Matlock, and some of the locals may already know that the cafe is housed underneath some modern apartments, in an award winning building.
The cafe itself is a lovely light, airy space adorned with jewel coloured pendant lights and modern chairs in Red, Turquoise, pale Green and Cream that are accompanied by a lovely blue wall and warm wooden flooring. This gives the cafe a sleek modern feel that manages to feel serene rather than stark. I really loved the fact that the kitchens are open so you get all the noises of food cooking as you are sat at your table.
Phil, the Cafes owner, was in when we turned up and it was a real pleasure to be able to chat with such a warm person whose passion for his art shone through; he was telling us that at lunchtimes they serve 120 lunches (give or take a couple) every single day that they're open. If it is that popular then the team are clearly doing something right, and I couldn't wait to tuck in to some of the glorious dishes they serve.

The wonderfully welcoming Jess showed us to our table and gave us a menu to look at, then went and brought us some fresh homemade Rosemary Focaccia bread and Olives to nibble on. We ordered a bottle of Peroni for The Man Bird and I had a mini bottle of Prosecco.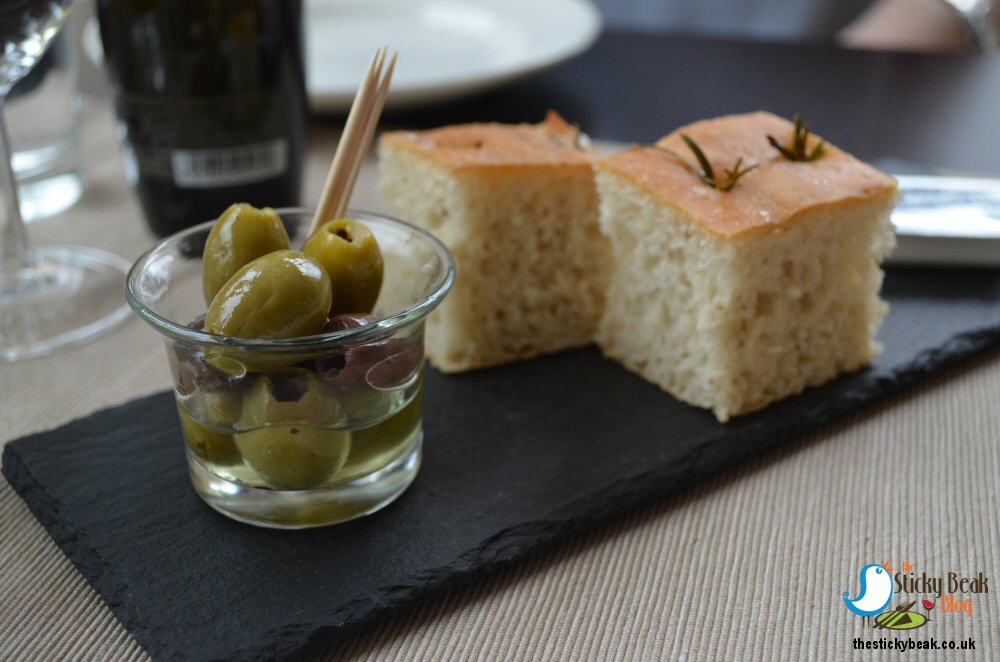 For our starters we ordered the Mackerel Pate for me and the Ham Hock terrine with baby Leeks for Him Indoors and they were both presented very nicely with dressed Rocket leaves; the terrine had Bruschetta with it and my pate had toasted fresh bread slices. The terrine was a beautiful chunky affair bursting with flavour and The Boy Wonder thoroughly enjoyed it.




My Mackerel pate was as smooth as glass and had a lovely citrus hint to it that, when combined with the peppery rocket, just danced on the tongue. Jess came over and checked that we were enjoying our food (which we most definitely were) and made sure that we were ok for drinks.
The Boy Wonder decided fairly quickly that he was having the Sausage Cassoulet with Chorizo, Tomatoes, Mixed Beans and Potatoes for his main course, but I was torn between the Cool River Pork Burger or the Pan Fried Chicken breast.

In the end Jess came to my rescue by saying that the burger was amazing and the Chicken was a huge beast; I heard the word huge and my inner glutton raised an imperious eyebrow at me and said "if you don't go with huge I will disown you". I ordered the house Salad to go with my Chicken and Green Beans, and His Nibs had a portion of Spicy Potato Wedges to accompany his Cassoulet.

Jess came and cleared our starters away and refreshed our cutlery and napkins for us. For the record, she absolutely tells it like it is; my Chicken breast was a very generous size and it was incredibly succulent and tender, the skin had been kept on to retain the moisture and flavour as it cooked and it was delicious.

The green beans were perfectly crunchy and very fresh tasting, and the meal was of such quality that these two ingredients really could stand alone with only the Lemon Thyme jus to partner them. I know I've said it before, but sometimes it is the simplest dishes and flavours that give your soul the most joy and my spirits were soaring with delight with this food.




Across the table a huge grin was appearing on The Man's face, so I was waiting to hear his glowing comments. The Cassoulet was a wonderfully chunky dish that was brimming with big boy flavours courtesy of the smoky Chorizo and the herby Sausage parried well with the hearty tomato sauce; it really cosseted the palate and the fresh flavours came across very well.

The Potato wedges were incredibly soft inside, almost as if they had been slow baked in the oven and then finished on the stove top to crisp their outsides up. We dug into our food dear reader with no airs and graces, just with heartfelt appreciation, and the wedges were soon scooping the tomato sauce up to be finished off. The house salad was a multi hued affair with its green mixed leaves and cucumber, red peppers and slices of yellow beetroot and every mouthful was crispy and delicious.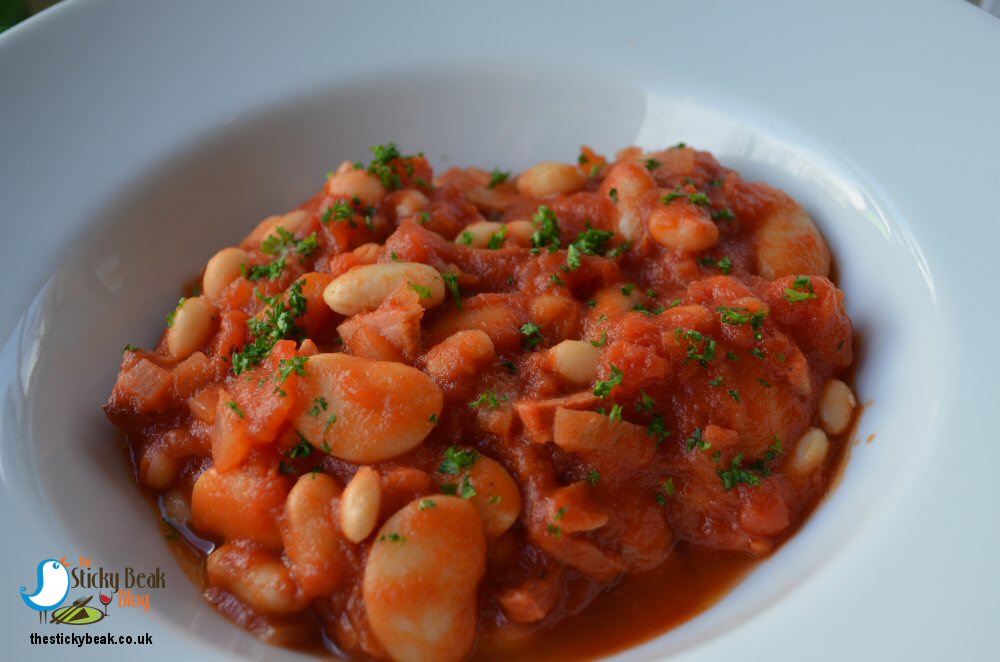 Another delightful young lady named Lottie came to clear our plates away and refreshed the cutlery and napkins for us again. We perused the pudding selection (and I took this as an opportunity to go and drool at the counter containing all manner of wonderful tarts, pastries and brownies) and His Nibs trusted Jess' recommendation of the homemade Sticky Toffee Pudding with butterscotch sauce and Vanilla Ice Cream.

I decided to have the Chocolate Brownie Sundae with its pieces of homemade Brownie smothered in Chocolate sauce, fresh cream and Vanilla and Chocolate Ice Creams. The best bit, and this is a great idea, is the inclusion of a chocolate spoon to eat it with (although there is a conventional spoon too just in case you have no will power like me, and chomp that too).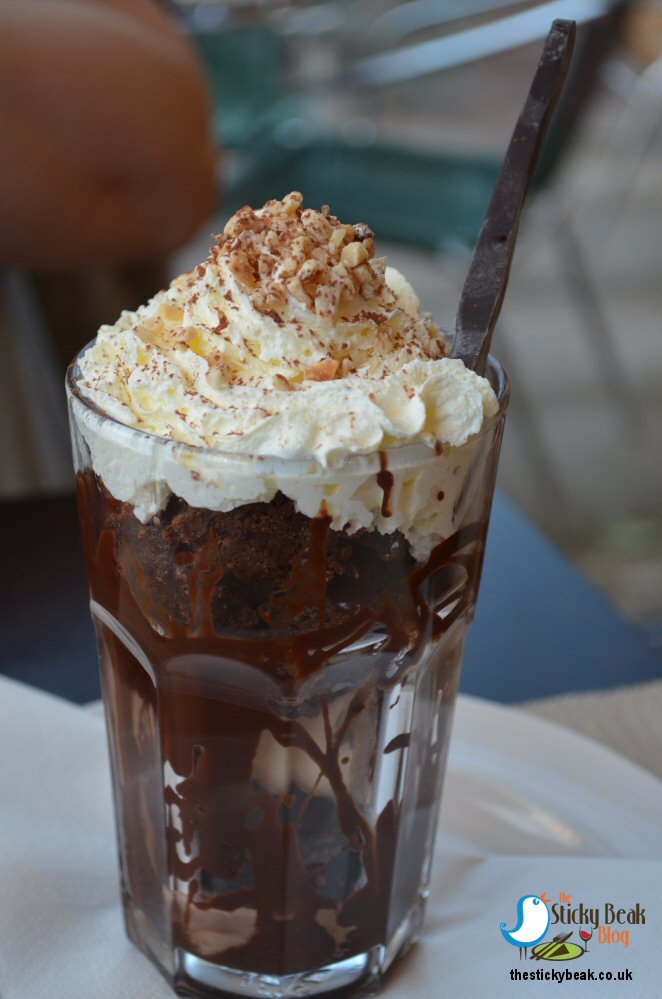 The Ice Creams come from another local business, Bluebell Dairies, and having had these before I knew that they were marvellously creamy and flavoursome. I love it when local businesses all support each other where they can, it helps with the sense of community but more importantly keeps the money being spent in the locality.

My Sundae was everything you want in such a decadent dessert, sinfully chocolatey and rich as well as madly creamy and I fell into its welcoming arms and surrendered all self control to it. Between you and I, if there hadn't been people to the side of me and behind me I would've just thrown caution to the wind and run my fingers round the sundae dish to get every last bit out. It really was a completely full on bear hug of Chocolate heavenliness.

The team at Cool River Cafe do extraordinary things with their food and have somehow managed to make a rich, dense toffee pudding that melts on the tongue and doesn't have any trace of "clartiness" to it. The combination of the toffee pudding with their smooth creamy Butterscotch sauce and the quality vanilla Ice cream is some kind of culinary alchemical wizardry that resulted in the best pudding that The Boy Wonder had ever had.


As well as our customary Lattes, Phil had asked Jess and Lottie to serve us an ice cold Limoncello to round things off, which really was a perfect end to a magnificent evening.

The best way to sum the evening up would be to say it was like being in your own home with the luxury of a top notch chef and servers; such was the relaxed, friendly ambience at Cool River Cafe. We were feeling a little guilty at leaving our Chick in the nest so we grabbed a piece of Brownie (as well as a couple of tarts for us) to take back for her. The Cool River Cafe also do breakfasts so we have said to her that we will return soon as a family for a lazy breakfast one Saturday morning.
Earlier in the evening, as we were chatting to Phil and getting to know him better the pride he had in his team was very much evident and I have to say that you could absolutely tell the staff love what they do. Everything they did wasn't a chore, it was done with care and commitment; every table was treated with real warmth and a genuineness that you see very, very rarely. For Phil, it begins and ends with the food he really isn't bothered whether you turn up in jeans or your finery; all that matters to him is that you are comfortable and enjoying the food.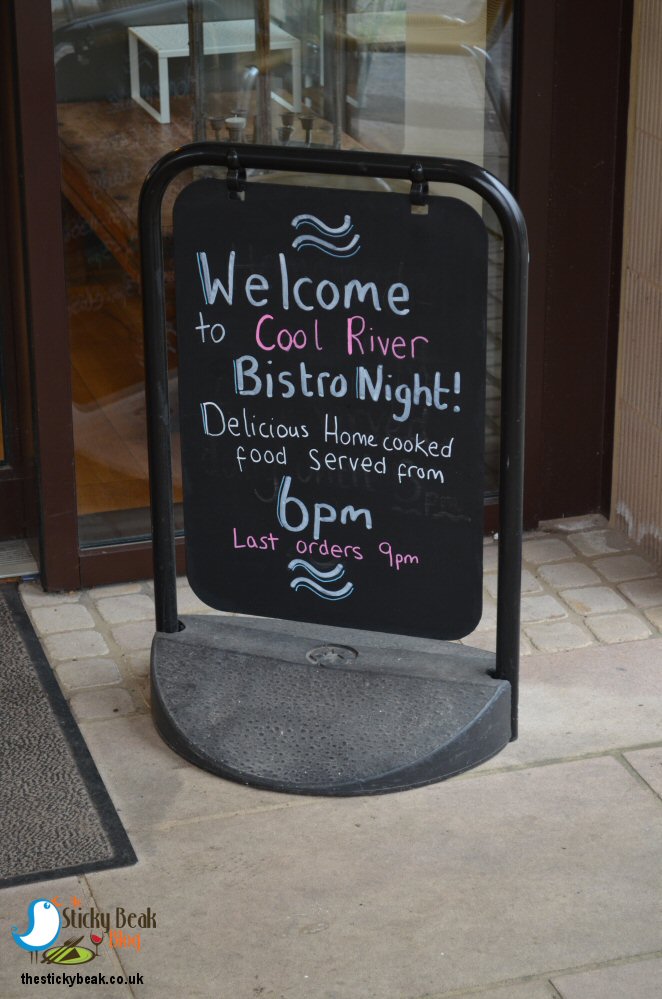 As for me, all I can say is that yes, it's definitely cool and it's most certainly near a river but it's much, much more than a cafe. Hot Wings totally and utterly deserved here for Phil and his dedicated team. I for one cannot wait until you run your bistro evenings on Thursdays and Fridays as well as the current Saturdays.

There is also an outside seating area for warmer days, so for those of you that own a dog it's the ideal opportunity to have a stroll around the park and walk to the cafe for some sustenance. I really cannot recommend this gem highly enough to you dear readers please go and discover the myriad of delights for yourselves.
Some form of incentive was provided to visit this venue
read more
Read Some Of Our Recent Reviews
---

A Family Dinner At Thai Thai Restaurant In Chesterfield Thanks to the weather being kind, it had been all hands on deck at Mummy Birds gaff and so we hadn't quite got around to organising Sunday Lunch! There was no way in hell Read The Article

---

Burger and Beer Mondays At The Railway Inn, Shottle It wasn't long ago that we had a Flock outing for Sunday lunch at The Railway Inn at Shottle (and really enjoyed it) so when we were invited to try out their newest offering Read The Article

---

A Visit To The Seafood And Champagne Terrace At The Cavendish Hotel, Baslow I know The Man and I must seem calm and collected to a lot of you, so let me shatter that bubble right now by describing what happened when a certain invite Read The Article

---

Dinner At The Red Lion At The Peak Edge Hotel Sometimes you visit somewhere that is already wonderful but, when you know that there is more to come, gives you that shiver of excitement up and down your spine. This is exactly the feeling Read The Article

---

A Tasty Lunch At The Vegan Revelation Cafe, Belper Vegans, you have got an absolute bobby dazzler of a cafe here; non-vegans prepare to have your taste buds bowled over and have your 'no meat' notions over-turned - and I do include myself Read The Article

---

Dinner At The Recently Refurbished Bay Leaf Indian Restaurant, Heanor Can you believe we were out again with Mummy Bird; she's becoming quite the social Tribal Elder! The last time she'd seen Faz was at his previous restaurant (Nirvana) Read The Article

---

Dinner At The George At Hathersage You can't fail to be impressed by The George at Hathersage when you first clap eyes on it; the huge stone building commands your attention with its imposing beauty. It has its own car park too Read The Article

---

Dinner At The Seafood Cave and Grill, Matlock Bath I love seafood (yes, even cockles and winkles!) so I was beyond excited to receive an invite from the owner of The Seafood Cave and Grill in Matlock Bath, Ian McGhie, to sample the food Read The Article

---

Sunday Lunch At The Spanker, Nether Heage As many of you lovely peeps are aware, we recently did a poll on the blogs Facebook page asking for your favourite venues to have Sunday Roasts at. Well, you all certainly got involved, voting for Read The Article

---

Burgers And Loaded Fries At Cravings Street Food Bistro, Sutton-in-Ashfield Boyf Birds' parents had been to a local eaterie recently that they felt would be right up our street (food), so we decided to pay said venue - Cravings Street Food Read The Article

---