Dinner At The Recently Opened Deacon's Bank In Chapel-en-le-frith
---
Published On Sunday 24 Sep 2023 by Sticky Beak
See Recent Dining Out Reviews | See All Recent Reviews


Our usual radius for visiting a venue is approximately 30 miles, but every now and then we get an invite a bit further afield that we accept because it piques our interest. There's a new bar and restaurant in the High Peak that's causing a bit of a buzz, called Deacon's Bank, and we were contacted by their manager/business development person, Zoe Ryan, who kindly invited us along – so off we trotted.
We couldn't have asked for nicer weather as we drove through Matlock and Bakewell and then further out towards Ashford-In-The-Water and Tideswell, before reaching the beautiful town of Chapel-En-Le-Frith. Although Deacon's Bank is located on a main road (market street) and doesn't have its own parking, there is plenty of free parking in several locations nearby. We managed to bag a spot in the cobbled Market Place which is literally across from the venue; jammy or what?!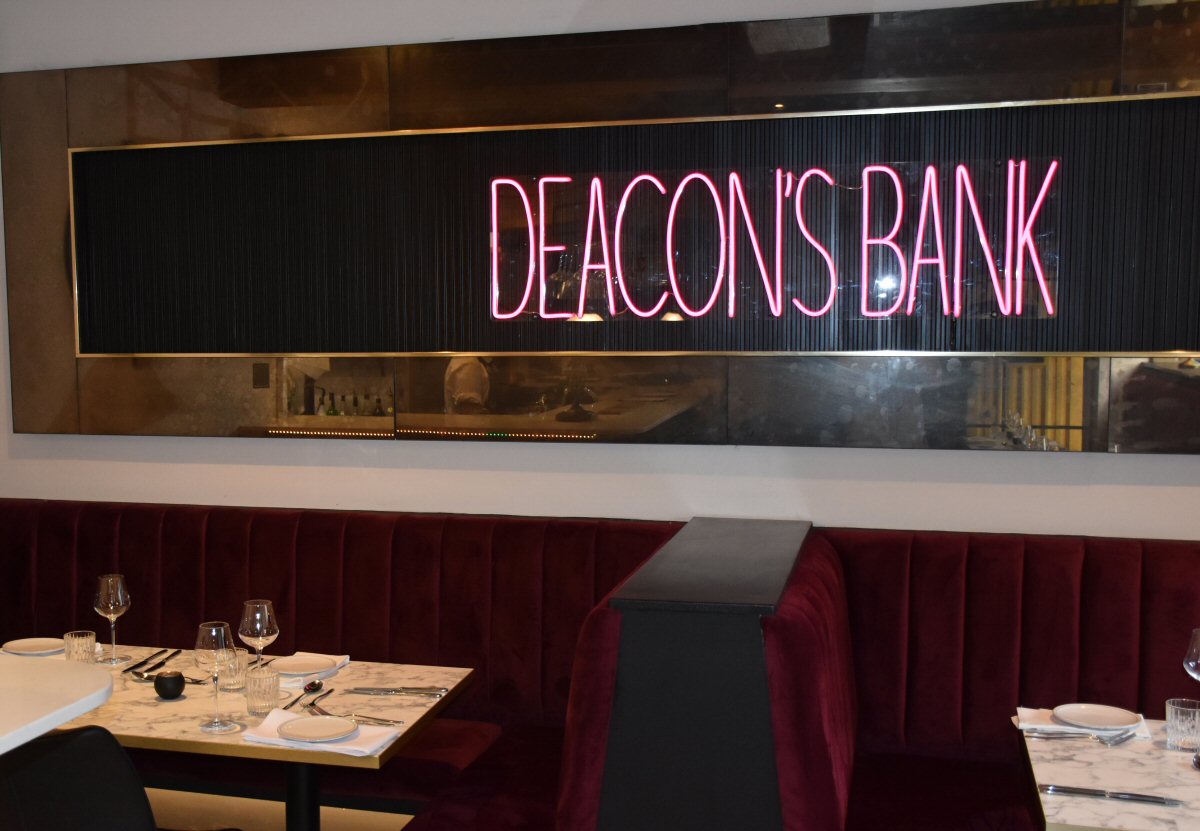 Given the title, I think it fair to assume that you've all gathered that the grade II-listed building was formerly a bank whose original name was William Deacon's Bank, and was last occupied by the Royal Bank of Scotland until 2019. The solid stone building has that wonderfully imposing exterior and the interior is every bit as impressive, thanks to the care and attention of owner Tom Gouldburn and his determination to let this historic venue have the spotlight upon it once more.
Full-height glass doors open into the sleek bar area, which you can't fail to notice, and the banquette seating that runs the entire length of the space is paired with angular square or rectangular tables. I fell in love with the incredible ceiling; this beauty was constructed of sturdy sections of Oak, that each had a mirror suspended from the ceiling in their centre – just spell-binding! The flooring is a gorgeous mix of herringboned grey tiles and white tiles inlaid with smaller black ones at their corners, and at the far end of the space is a log burner set into a stone recess; this is going to be a real show-stopper in colder months, I'm sure. Subtle lighting came from simple (read, elegant) lamps set in each alcove of the leaded windows, though there were flickering tealights on each table, housed in dinky matt black bowls.




To the rear, is a garden area where dogs are very welcome to rest with their humans, who may very well be savouring a morsel from the bar snacks menu as well as enjoying a drink from the extensive bar, wine and cocktail menus. Before we sat down properly, His Nibs went to grab some photos, heading down to the kitchen and its vault doors – can you imagine having this as some sort of gastro panic-room? There'd certainly be worse places to while away a few hours, especially if Chef Simon Harrison (formerly of Losehill House Hotel and Spa) and his 2-rosette experience was cooking! But I digress…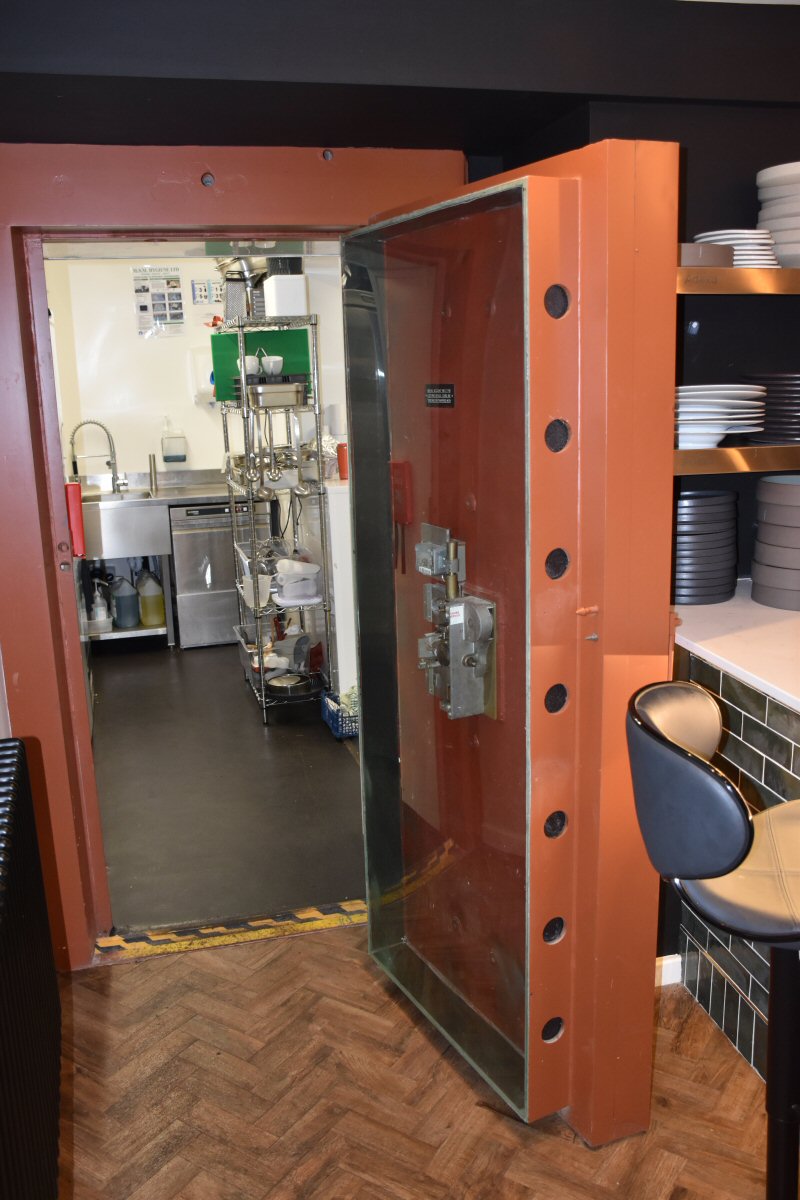 Hayley was in charge of the restaurant floor on the evening of our visit and she soon got us sorted out with chilled glasses of Sauvignon Blanc, and some water for the table. Another member of the team brought out a pair of freshly baked, mini loaves of Onion Bread and some Herb Oil Butter for us to nibble on whilst we decided what we fancied from the rather wonderful dinner menu (2 courses £40, 3 courses £49 pp). The bread was delicious; a gentle hint of Caramelised Onion drifted over our tongues, lifted by the brighter herb element of the butter.




After a bit of toing-and-froing, I opted for the Crab, Cucumber, Avocado, Sea Herbs and Thyme Tuile, and The Man chose Beef Tartar, Onion, Egg Yolk Purée to start. For mains we selected Soy-brined Duck Breast, Confit Duck Leg, Orange, Carrot, Cumin Yoghurt and Orange Jus (me), and Pork, Pork Cheek Croquette, Fondant, Apple, Black Pudding, Leek, Cavalo Nero, and Honey and Mustard Sauce (Him).

I'm not going to wang on about how utterly fabulous the presentation of our food was; after all, a Chef of Simon's calibre isn't going to randomly chuck the ingredients on any old platter, is he?! Needless to say, everything was placed precisely for maximum visual impact, and not only did the food look stunning, it tasted other-worldly, too.




Opalescent, white Crab meat was finely shredded and fashioned into flattened rounds and decorated with super-thin slices of peppery radish, teeny-tiny balls of cucumber and dots of avocado purée. Also in the mixture were impossibly small pieces of chopped Avocado; they may have been almost invisible to the eye, but the creamy flavour they added was certainly picked up on the palate. The tiny spheres of Cucumber added a hit of texture, but this was really the domain of the honeycomb-shaped Thyme Tuile: what a mesmerising bit of Cheffing; this was definitely an insta-worthy bit of tucker!!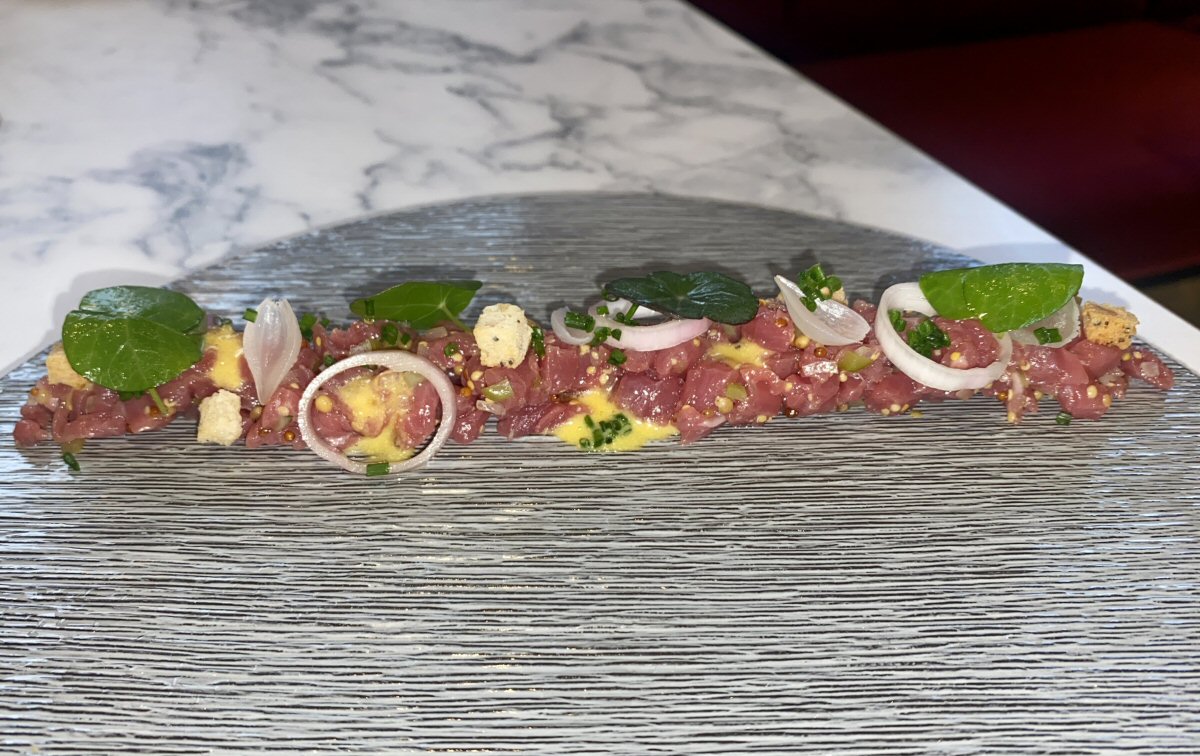 His Nibs' Beef Tartar was no less impressive, served on a tactile, textured plate. The finely chopped pieces of meat were incredibly tender, melting instantly on the tongue. A drizzle of sunshine-hued egg yolk purée meandered like a lazy inlet over the darker coloured beef, adding a layer of silky indulgence that the sharper notes of onion cut across perfectly. Delicately golden croutons gave some crunch in the mouth as well as providing decoration with the verdant, edible Nasturtium leaves.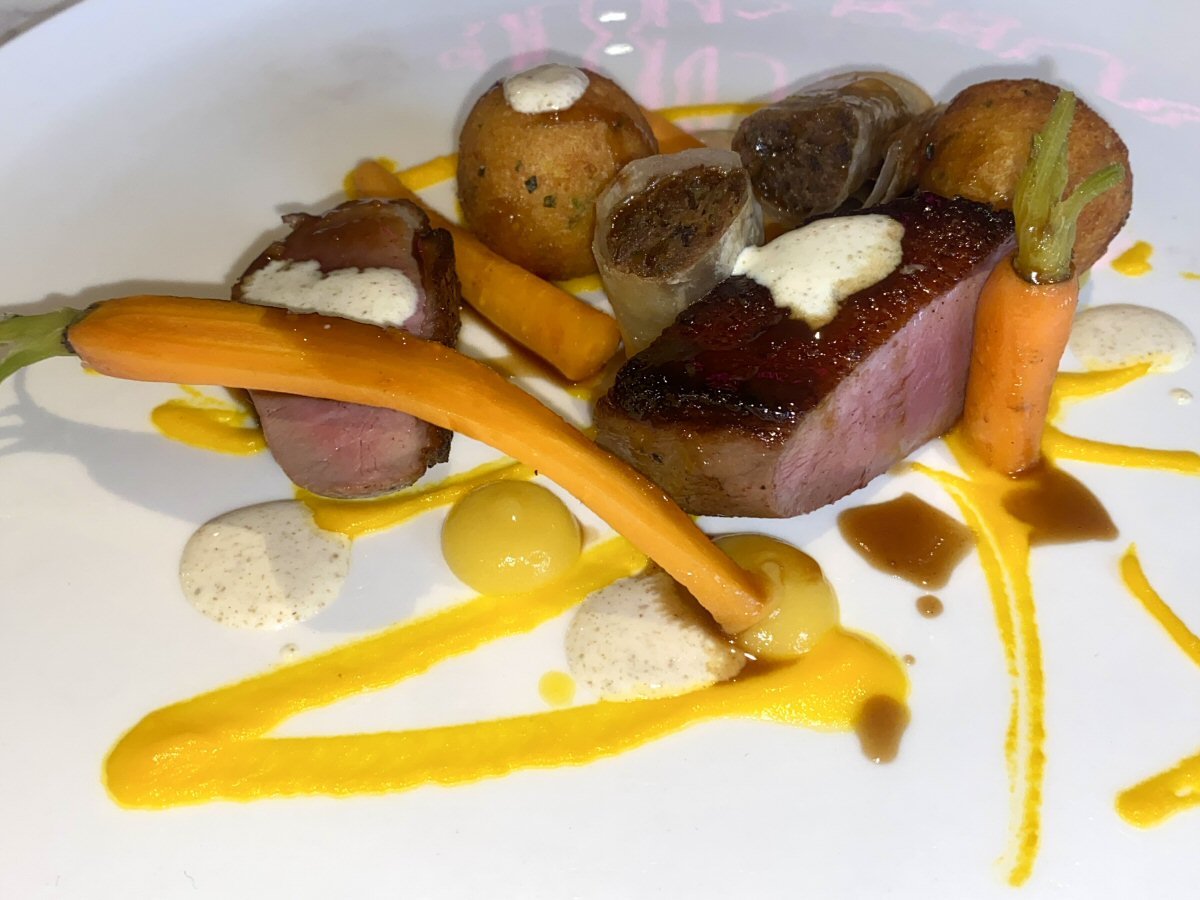 When she came over to check we were enjoying our starters, the lovely young lass also asked if we were ok for drinks. As she took our clean plates away, she also took the time to have a little chat with us; swish and elegant, Deacon's Bank certainly is (and a great place to get your glad-rags on if you fancy!), but it isn't snooty in the slightest I'm happy to say. You don't have to go for the full-on experience either; there's a bar snack menu as well as the dinner one, and you can also drop in 'just' for a tipple. Vegans have their own menu (nice to see), and there are specific menus for Sunday and lunch-times as well.




My duck breast was served attractively pink, with wonderfully dark, crisped skin that contrasted with the soft, tender flesh that was melting in my mouth. I loved the presentation of the confit'd leg meat: it was shredded and wrapped in spring roll pastry, which meant that my senses got a double-whammy of soft and crunchy simultaneously. The richness of the Duck was tempered fantastically by the citrus kick of the orange element, which was brilliantly 'savoury', rather than the usual sweet that we're used to. Cumin Yoghurt added a great earthy tone to this dish that really complimented the trimmed baby carrots. I'd ordered the Roasted Baby Gem, Salsa Verde and Parmesan as a side (£5.50), and this went particularly well with this dish – bravo, me!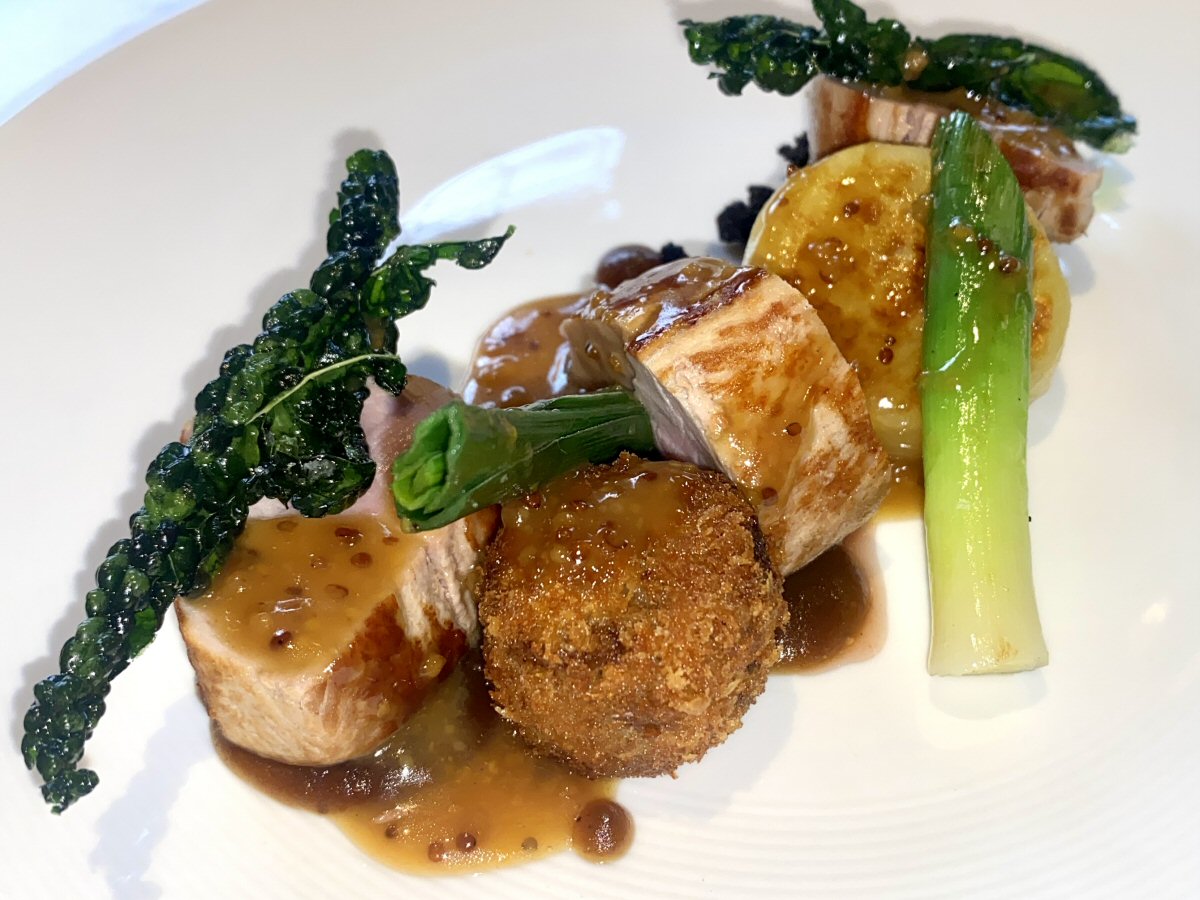 The Man Bird's Pork dish was every bit as choice as mine. Super-tender Pork imparted a gentle wash of flavour over his palate, complimented by the more intense taste of the Pork Cheek that was presented as a crunchy-outered croquette. A flavoursome, quality Black Pudding was included as crumbs in this morsel, and its deep flavour was lifted beautifully by the brighter Apple element of this dish. His Nibs is a complete spudophile so, as well as the scrumptious fondant in his meal, he also ordered a side of Creamed Potato with Crispy Onion (£5.50). The description may be brief and simple but, let me assure you, the actual dish is anything but! Chef Simon pummels the potato into velvety softness, pimps it with something (Bone Marrow/Beef Dripping?) and then pipes it into an attractive pattern before topping it with fine crumbs of ridiculously tasty crisped Onion.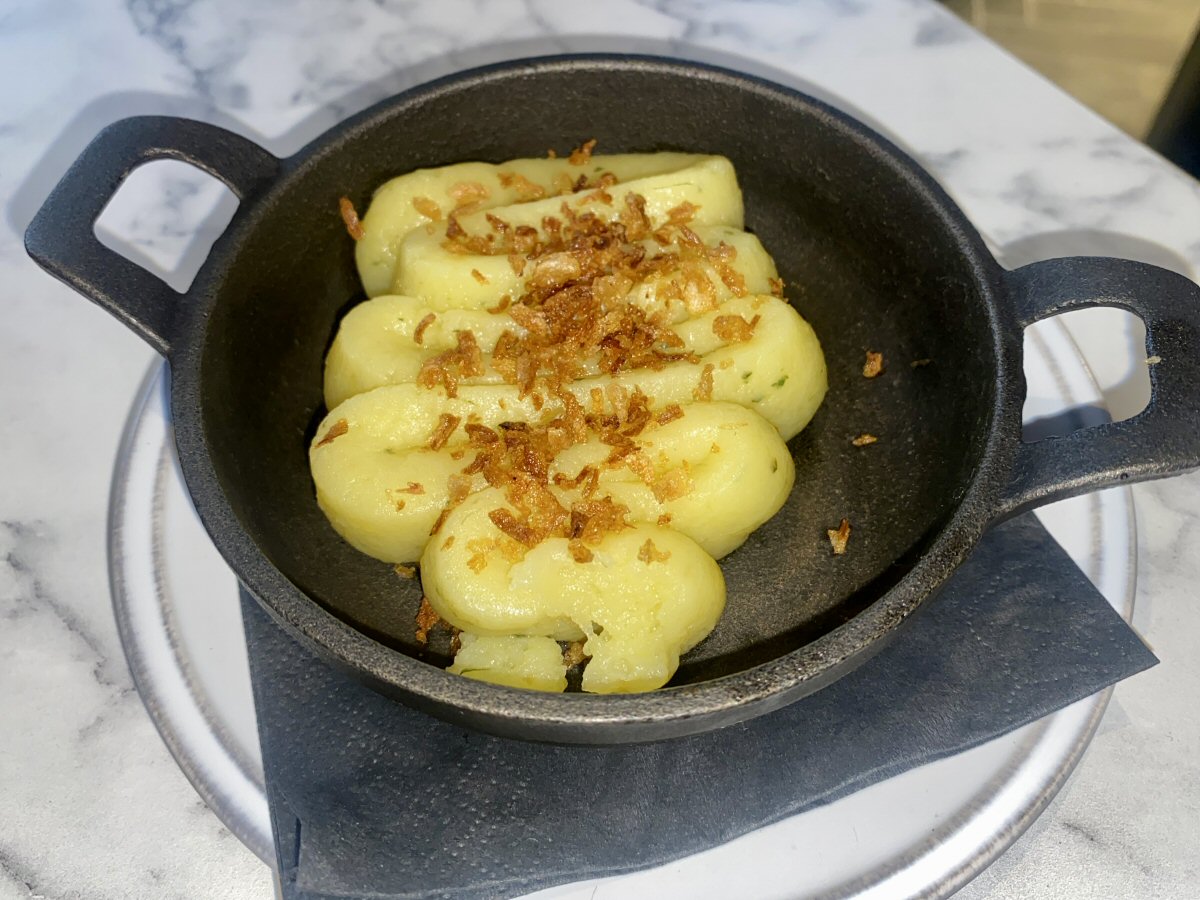 Deacon's Bank pride themselves on offering guests an exceptionally high level of service whilst remaining discreet and I have to say that this is exactly what we received. In pauses between mouthfuls, where we had a drink, one of the team would see how we were progressing from a distance or sometimes they would check that we still had enough water (it was a very warm evening!). When we'd finished our mains, a little time was given before they approached to clear the plates away; not too soon that you felt rushed, but not so long that you were wondering where the team were.

For dessert, I was sorely tempted by the cheese; however, and I know this is a controversial opinion, I don't think that this option showcases a Chefs' talent, so I always go for one of their creations rather than an outsider/cheese maker's offering. I say this from a place of love: cheese is the one thing that I couldn't live without! I chose the Dark & White Chocolate Mille-Feuille with Cherry, Oat Crumble, and Cherry Sorbet, and The Man opted for Lime Tart with Meringue, Honeycomb, Pineapple Salsa and Coconut Sorbet.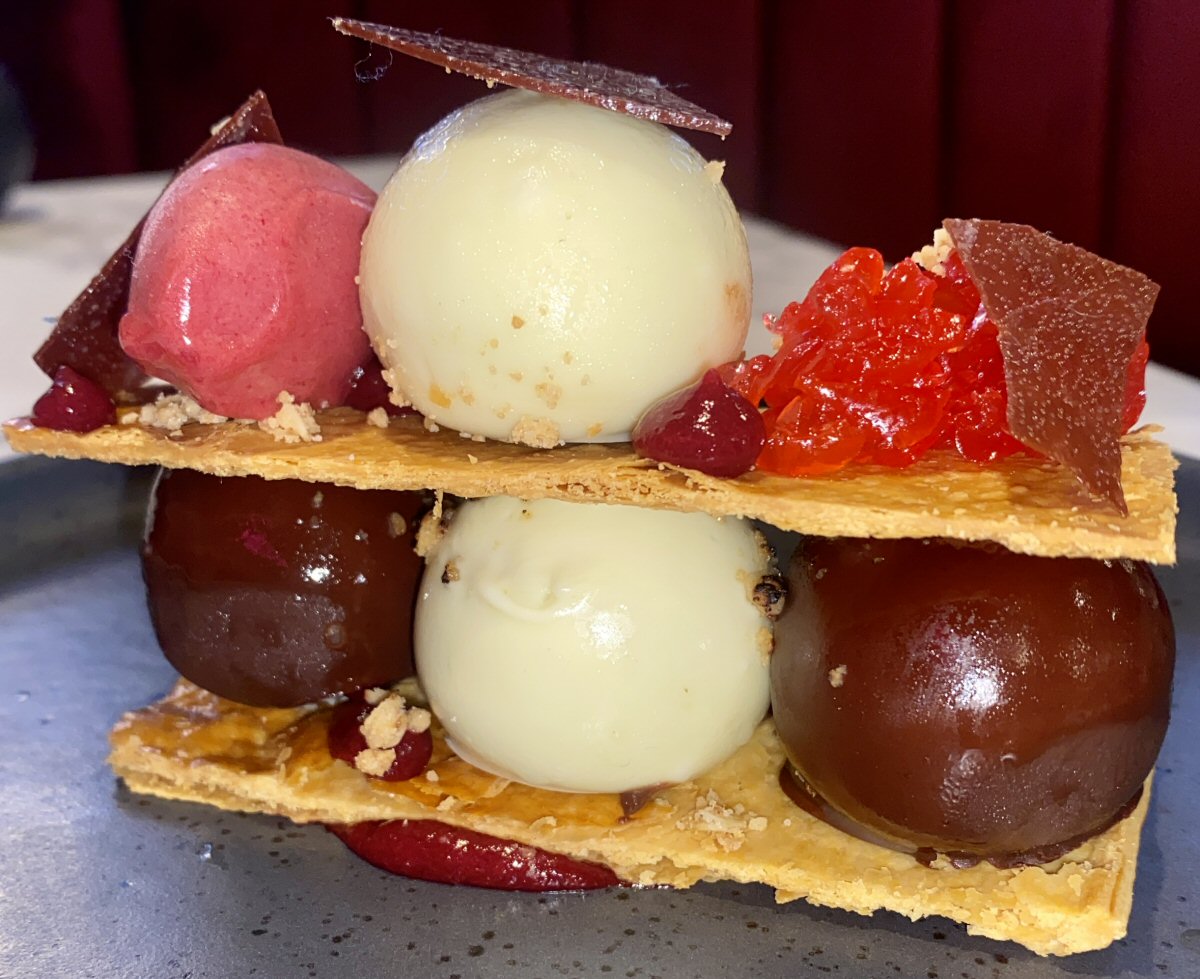 We'd requested a little interlude between mains and dessert and (no surprise!) the Deacon's Bank team pitched it perfectly. I'd assumed that my sweet treat would be a concoction of layers of pastry interspersed with chocolate; how wrong I was! The chocolate elements were fashioned into large spheres and carefully balanced between golden sheets of buttery, light pastry, accompanied by super-fine shreds of candied Cherry and the most intensely fruity, Cherry Sorbet you could wish to partake of. My palate completely lost all sense of decorum as the symphony of flavours seduced it – what a treasure this dessert was.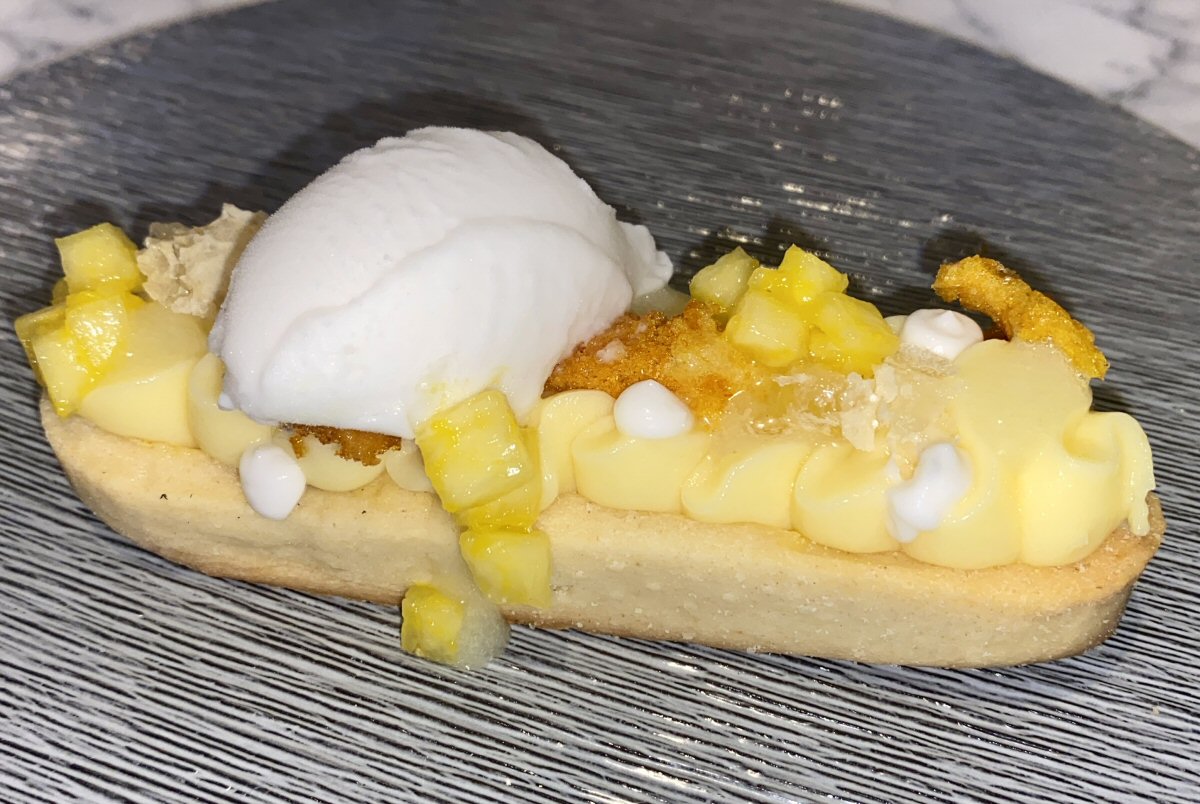 Deacon's Bank has a brilliant Pastry Chef in its ranks; His Nibs' Lime Tart was encased in a stunningly rich, melt-in-the-mouth pastry. The various fruit notes all worked harmoniously together; you clearly got the creamy taste of Coconut in the sorbet, intense Pineapple in the finely textured salsa and, of course, sharp Lime in the tart filling. Reminding you that this was a sweet course temptress were the sweet tones of Honeycomb and Meringue, but they didn't overwhelm the palate at all.
From beginning to end, this had been one of those meals that will be etched in the memory – where the heck is a DeLorean when you need one?! Deacon's Bank in Chapel-En-Le-Frith is definitely in the 'destination venue' category; we live about 35 miles away, and it's a good hours' drive, but we'd do it again in a heartbeat. Hot Wings awarded unreservedly here… in fact, they hardly seem enough of an accolade!

Huge thanks to Zoe for her kind invitation to sample the tantalising food: Deacon's Bank may only be a couple of months old, but you'd never guess – and it's only going to get better. I predict Rosettes in this restaurants' future!!

Deacon's Bank is closed on Monday and Tuesday, open Wednesday and Thursday 5-10.30pm, Friday Noon-10.30pm, Saturday Noon-11pm, and Sunday Noon-10.30pm. To book a table call 01298 814811 or visit the website www.deaconsbank.co.uk and hit the 'find a table' tab.
Some form of incentive was provided to visit this venue
read more
Read Some Of Our Recent Reviews
---

Afternoon Tea at Bourne's Coffee Shop At Denby Pottery Village What's better than celebrating your wedding anniversary once? Yup, that's right, celebrating it twice! The 40th anniversary of Denby Pottery Village being open Read The Article

---

Out For Dinner At Marco Pierre White's Steakhouse in Nottingham It's been a while since His Nibs and I were last at the Marco Pierre White Steakhouse in Nottingham's Alea Casino, so it was lovely to receive an invite from new manager Read The Article

---

A Visit To The Tickled Trout In Barlow For Dinner Life's a funny old lady, ain't she? One minute we were returning to a venue we'd not visited for 6 years and muttering our disappointment at it, the next we were revisiting another place that Read The Article

---

Sunday Lunch At The Coach At Horsley In our flock, Sunday means one thing: rooooaaaassssst dinner!! Yet again, His Nibs and I had been grafting over at Mummy Birds gaff, so we were absolutely Hank Marvin (starving) by the time it was time to Read The Article

---

Sunday Lunch At The White Horse Inn, Woolley Moor Fine weather meant one thing at the weekend for me and The Man: 48 hours full of gardening, field mowing and general maintenance at Mummy Birds gaff! We ploughed ahead, fuelled Read The Article

---

Dinner In The Wild Boar Lounge at the Sitwell Arms Hotel, Renishaw It hasn't been that long since Mummy, His Nibs and me were at the beautiful building that is The Sitwell Arms Hotel and Restaurant in the village of Renishaw, but The Man Read The Article

---

A Visit To The Farmhouse, Mackworth For The Soft Launch Of Their New Menu It's been a good old while since His Nibs and I last visited The Farmhouse at Mackworth, certainly pre-pandemic, and as we pulled into the ample car park for the Read The Article

---

Lunch in Paris at La Marmite Restaurant Our first attempt at a sight-seeing tour around Paris by coach had ended in disaster, thanks to King Charles and Camillas visit; the entire city, so it seemed, had ground to a halt and we (and our Read The Article

---

Sampling The Momma Bains Range at The Brewhouse in Melbourne Hall Courtyard #Mommabains Another day, another adventure for The Man Bird and I! This time, we were winging our way over to the beautiful setting Read The Article

---

Lunch at the Trocadero, Paris at Le Wilson Restaurant Mummy Bird, His Nibs and myself had gone for a short break to Paris, in the same week that King Charles and Camilla decided to visit the French capital; great minds think alike, Read The Article

---