Indian Cooking Class With Chef Meg at Coghlans Food and Wine Experience, Rowsley
---
Published On Friday 15 Sep 2023 by Sticky Beak
See Recent Experience Reviews | See All Recent Reviews


I love being at Coghlans Food and Wine Experience Centre; it's my happy place. I'm not the world's best cook (my eating skills are second-to-none, but my cooking…not so much!) but I enjoy it, especially when the tutors are world-class – it makes the process so much easier. I'd recently eaten the wonderful Meg's food at East Lodge on a 'Winemakers of New Zealand' dinner hosted by Andrew Coghlan, so I knew her standards were high, but I've never done a class with Meg before and was eager to see what it would be like.
Meg is one of life's positive people, and the energy she exudes is warm and friendly. Originally, Meg trained as an artist, falling into being a Chef almost by accident thanks to the influence of her family; however, as she says herself, there is a large overlap of skill and vision between the two careers. The other class participants were arriving, so Meg went to introduce herself and show them where to hang their belongings.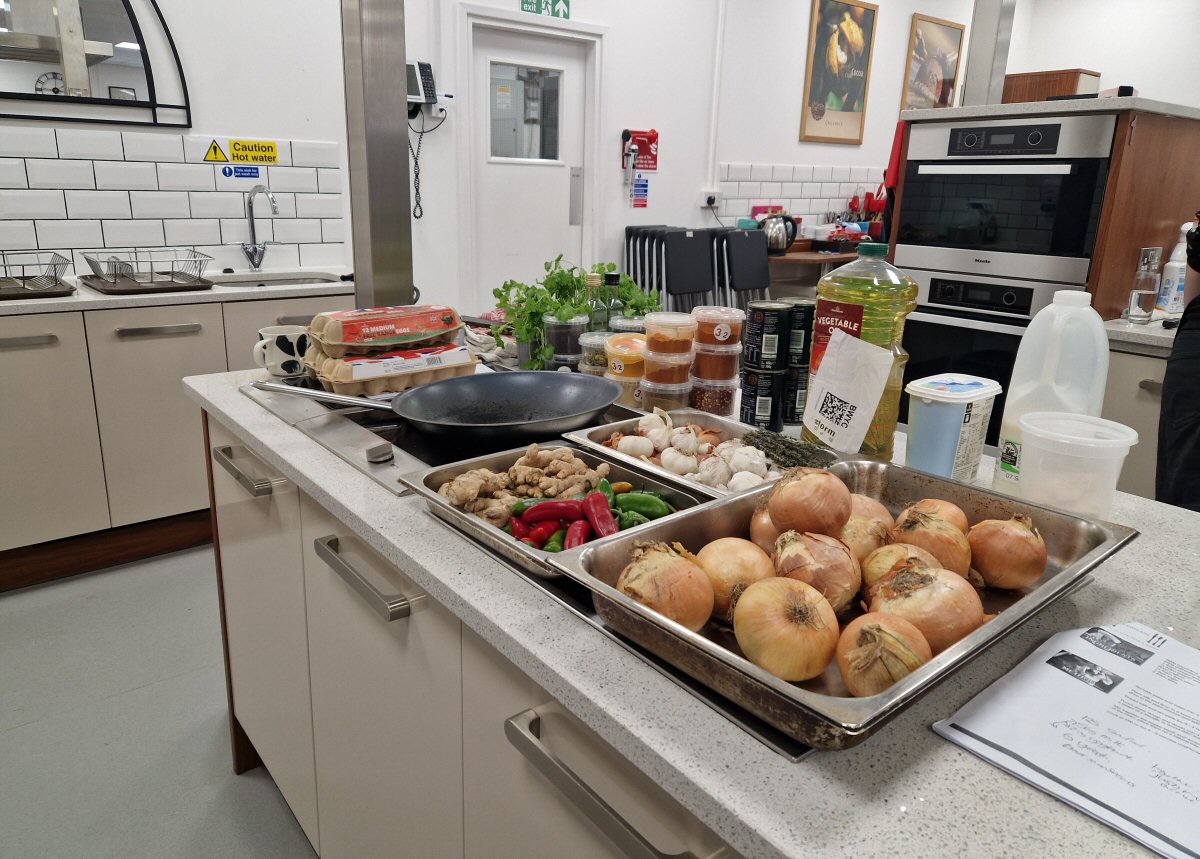 With introductions made, and safety procedures done, it was time to don our aprons and gather round for an overview of what the class would entail: today we were making Naan Bread, Samosas, Pilau Rice and Butter Chicken (the poultry was already marinading in the fridge). Our first task was to make the dough for the naan breads as this would need time to prove, so we all set to; as we were forming our mix, Meg said we could add seeds if we wanted to, so I pimped mine with some Cumin seeds.
Apparently, there is a right way to cook rice – who knew? Not me, clearly, as it would appear that I've been doing everything you shouldn't do: I don't wash my rice before cooking it, and I tip it into a colander and rinse it at the end of cooking…both of these are big no-no's. Ooooops. So, what should you do?




Well, the #MegWay is to wash your rice 2 ½ times before you even get it to the pan, and then you set it aside if you're doing anything other than using it plain. Pilau rice contains Onion, so we set about chopping ours finely before adding it to the pan (with some oil), along with aromatic seeds of your choice – powdered spices do NOT go in yet, another howling mistake I make! When the onion is sauteed, then you add the rice back in along with powdered spices of your choice and cover with enough water that you can see it peeking among the grains. The pan lid needs popping on at this point and you don't peek whilst it's cooking – go on, guess if I peek…. of course I do! I did as I was told by Meg and whaddya know; perfect, fluffy rice was born that smelled (no word of a lie!) as if it had been made at my local Indian restaurant – chuffed doesn't even come close to how I was feeling.




Like Chef Will, Meg has a very fluid approach to spices, encouraging class participants to experiment and follow their own instinctive preference. What I like is the subtle guidance Meg gives, steering you in the direction of complimentary notes and saying what quantities to use for varying intensities – no subtlety in my cooking, quelle surprise, eh?! We busied ourselves with assembling the filling for our Samosas; I added half a fresh Red Chilli to the Onion, Pea and Paneer mix in my bowl and gave it all a good stir to combine it thoroughly.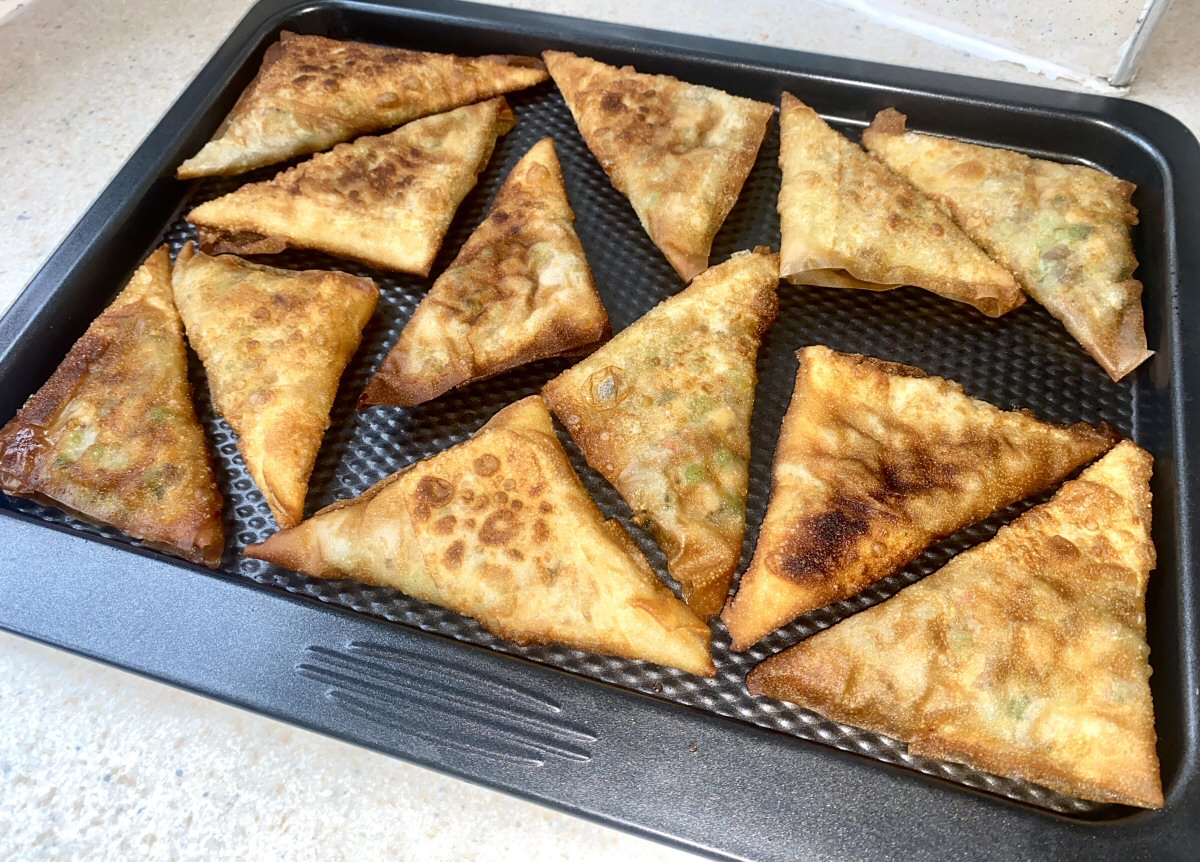 There are a few different pastry's you can use for Samosas, and we were using ready-made Filo pastry in this particular class: it's relatively cheap and is easy to get hold of in any supermarket. Meg deftly cut through the sheets with a sharp knife and distributed it to each of us, before demonstrating how much mix to use and then how to fold the Filo into triangles to contain the filling snugly. I'm one of the few people on the planet that doesn't possess an air-fryer, so Meg showed us how to fry the parcels in a domestic pan and how much oil to use. Quicker than two shakes of a bird's tail, I'd produced a baker's dozen of crisp, golden beauties. Now, I know you won't believe me, and given my gluttony I can't fault you, but the number of Samosas I made was driven by the amount of filling I'd got; it did mean, however, that I just had to try one, leaving a dozen to take back – which happened to divide perfectly among the flock.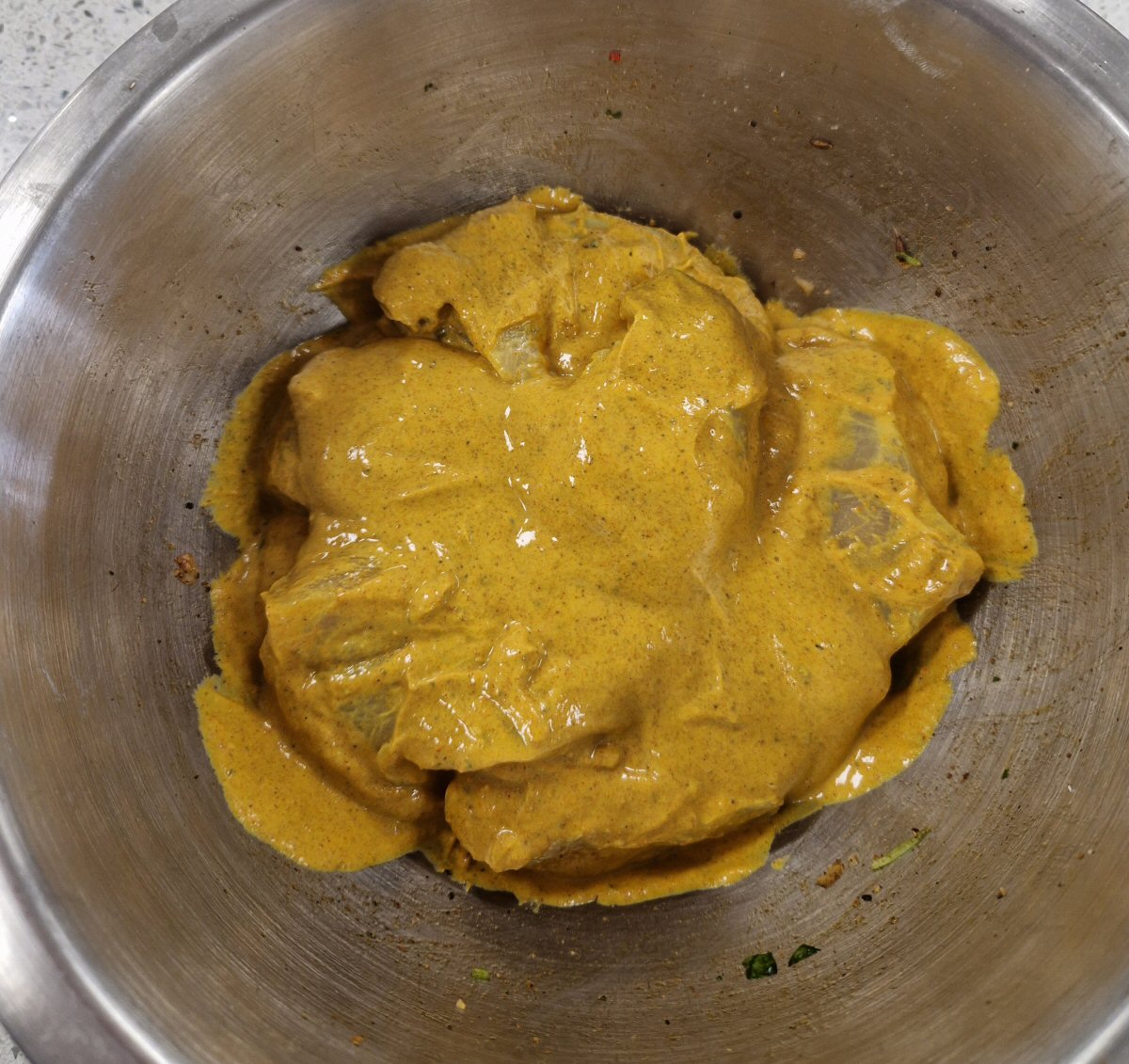 At this point in proceedings, we took our Naan dough out of the warming oven where it had been happily proving and knocked it back, then popped it back in whilst we concentrated on the main course of our Indian banquet: the Butter Chicken. Meg had used a basic marinade to permeate the poultry overnight as we were using larger bits of chicken; if you are short on time, you can cut the chicken into cubes and just marinate it the same day or even for a couple of hours. To this marinade we added our own preferences of powdered spices before adding it all to a hot pan, along with double cream and soured cream. You'll have to take my word for it when I say that the aroma was mouth-wateringly good – my flock were going to be all over this!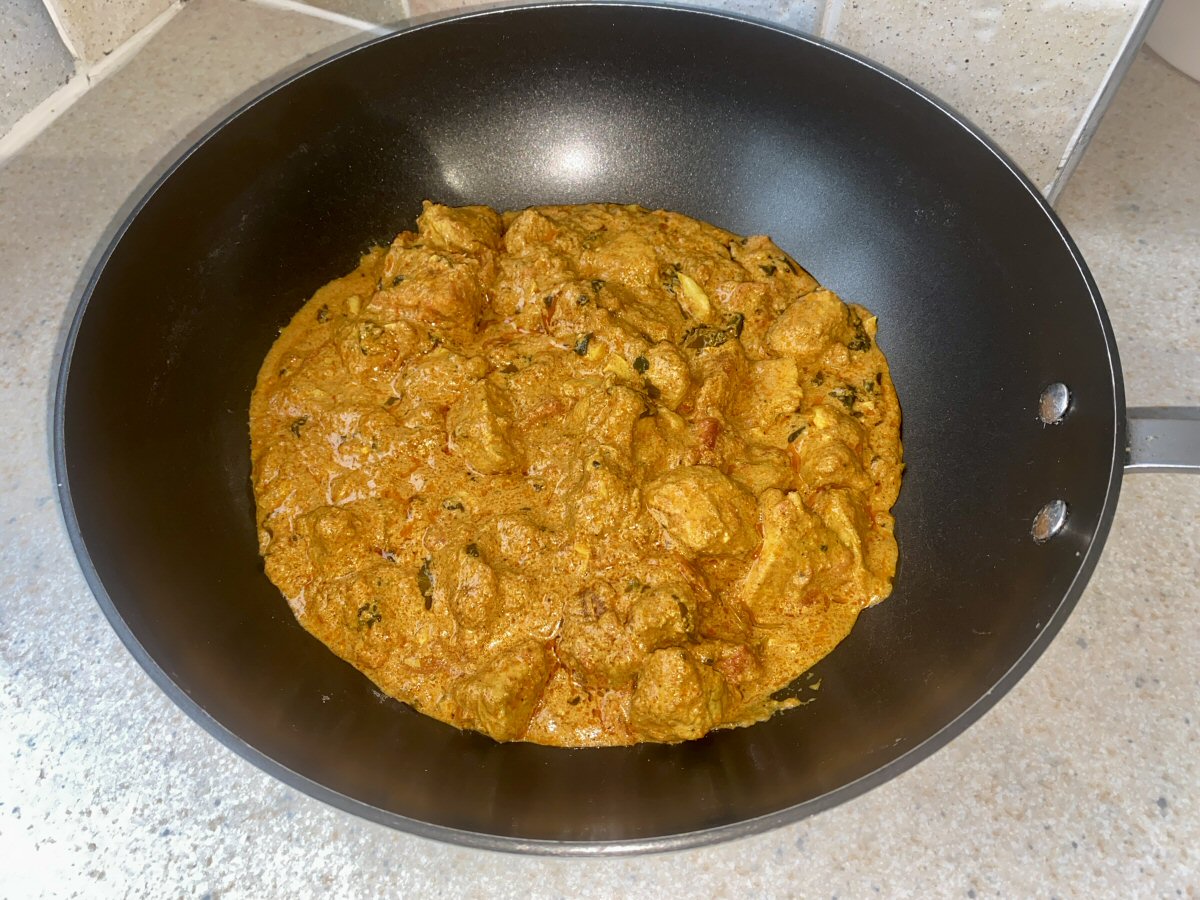 Turning the heat down to a simmer, which allowed the sauce to thicken in the Butter Chicken, we used a second, flat-bottomed pan to cook our Naan Breads. I opted to leave my dough in one tear-and-share piece, though some others halved their dough to make smaller Naan; it all came down to mood and individual taste.




They say time flies when you're having fun and if you'd told me that 3 hours had passed, I wouldn't have believed you! Meg had been gently guiding us along throughout, and a steady stream of conversation between all the students had ensured that we'd all lost ourselves in the pleasure of the class. One participant, a lovely young gent named William, had never done an experience at Coghlans before (this one was bought for him as a gift) and it was fantastic to see his passion grow and, I tell you what, he produced some scrummy morsels. Hopefully he'll soon be back to do one of the many brand-new classes that are now LIVE on the Coghlans website www.cookingexpert.co.uk – go and have a nosy for yourself, there's a Mongolian class and Sushi class which have piqued my interest!! Alternatively ring 01246 453131 to book a place on any of the half- and full-day classes

As always, massive thanks to the lovely Lisa for inviting me along; I joke that I could set up a camp-bed in the back room, I love being at Coghlans so much…who knows, I might surprise her one morning!
Some form of incentive was provided to visit this venue
read more
Read Some Of Our Recent Reviews
---

Demo & Dine Event at Coghlans Food and Wine Experience, Rowsley They say you can't keep a good thing down, don't they? Well, Coghlans Derbyshire Wine and Food Experience Centre had a bit of a shake-up recently when Chef Simon left Read The Article

---

Mongolian BBQ Class With Chef Meg at Coghlans Food and Wine Experience, Rowsley What an absolutely ruddy brilliant afternoon that was!!! I love all the classes at Coghlans Derbyshire Wine and Food Experience Centre at Read The Article

---

The New Sushi Course With Chef Meg at Coghlans Food and Wine Experience, Rowsley I love doing the cooking classes at Coghlans Derbyshire Wine and Food Experience Centre, you all know that, but I have to say that the Sushi class Read The Article

---

East Lodge Wine Maker's Dinner By Coghlans Food and Wine Experience, Rowsley You all know that I love my food (else there'd be no point doing the blog really, would there?!), but I also like wine; imagine my joy, then, at receiving the phone Read The Article

---

Moroccan Cooking Class With Chef Will at Coghlans Food and Wine Experience, Rowsley Well, didn't I feel like the new kid in the playground? Why, you ask? because there was a new Chef at the helm at Coghlans Derbyshire Wine and Read The Article

---

Chef Simon's Farewell Class At Coghlans Wine And Food Experience Centre All good things must come to an end, they say, don't they? Well, at Coghlans Derbyshire Wine and Food Experience Centre at the Peak Village in Rowsley, Chef Read The Article

---

Wine Tasting and Cheese Pairing Event At Coghlans Wine and Food Experience Centre Bank Holidays are already fabulous, aren't they? But one thing guaranteed to make them extra special is to be doing a 'Wine and Cheese Pairing' Read The Article

---

Wine Tasting and Chocolate Pairing Event At Coghlans Wine and Food Experience Centre Over the years I've had some pretty awesome Easter Bank Holiday Weekends, but I can't recall one better than the one just gone (2023)! Read The Article

---

Bread Making at Coghlans Food and Wine Experience For The Real Bread Campaign For those of you who didn't know, it was 'Real Bread Week' 18th-26th February 2023 and someone who has a real passion for Read The Article

---