Chef Simon's Farewell Class At Coghlans Wine And Food Experience Centre
---
Published On Friday 30 Jun 2023 by Sticky Beak
See Recent Experience Reviews | See All Recent Reviews


All good things must come to an end, they say, don't they? Well, at Coghlans Derbyshire Wine and Food Experience Centre at the Peak Village in Rowsley, Chef Simon Lilley is hanging up his whites after over two decades with the team (he'd say he doesn't look old enough, but, y'know …!).
Before you all panic and throw your hands up in horror at losing another 'cooking school' in the area, let me reassure you that things will be carrying on, albeit with some exciting changes, so keep visiting the Coghlans website for the latest deets. And don't worry, 'our Lisa' will still be the gal in charge – the men like to think they are, but Lisa's the ringmaster (love her), so you'll still get the same exacting standard of service when you book a course 😊.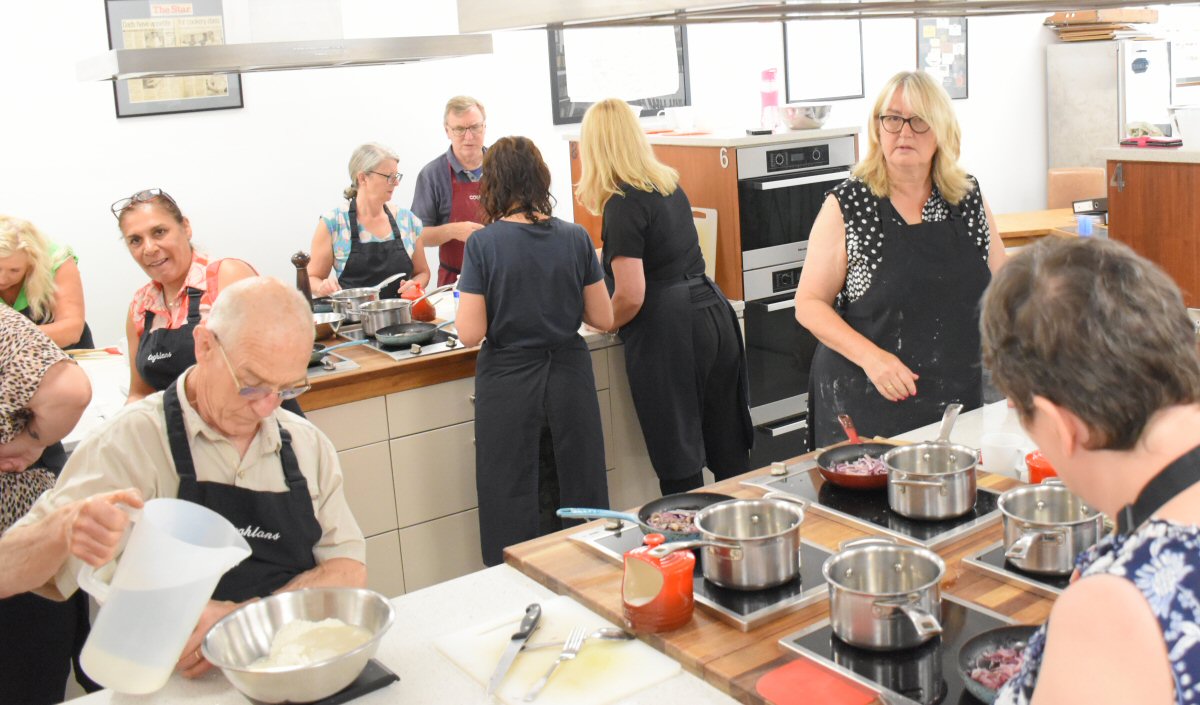 Over the years, there's been a hardcore bunch of ladies and gents that have kept Chef Simon on his toes/tested his patience (mentioning no names, *ahem*), so it was only to be expected that we wanted to make sure he knew what a legend he is. Mr Lilley keeps his cards close to his chest and doesn't wear his heart on his sleeve (typical Sheffield bloke!), but you could tell he was chuffed that 15 – 1 lady didn't make it – turned up to mark this end-of-an-era event.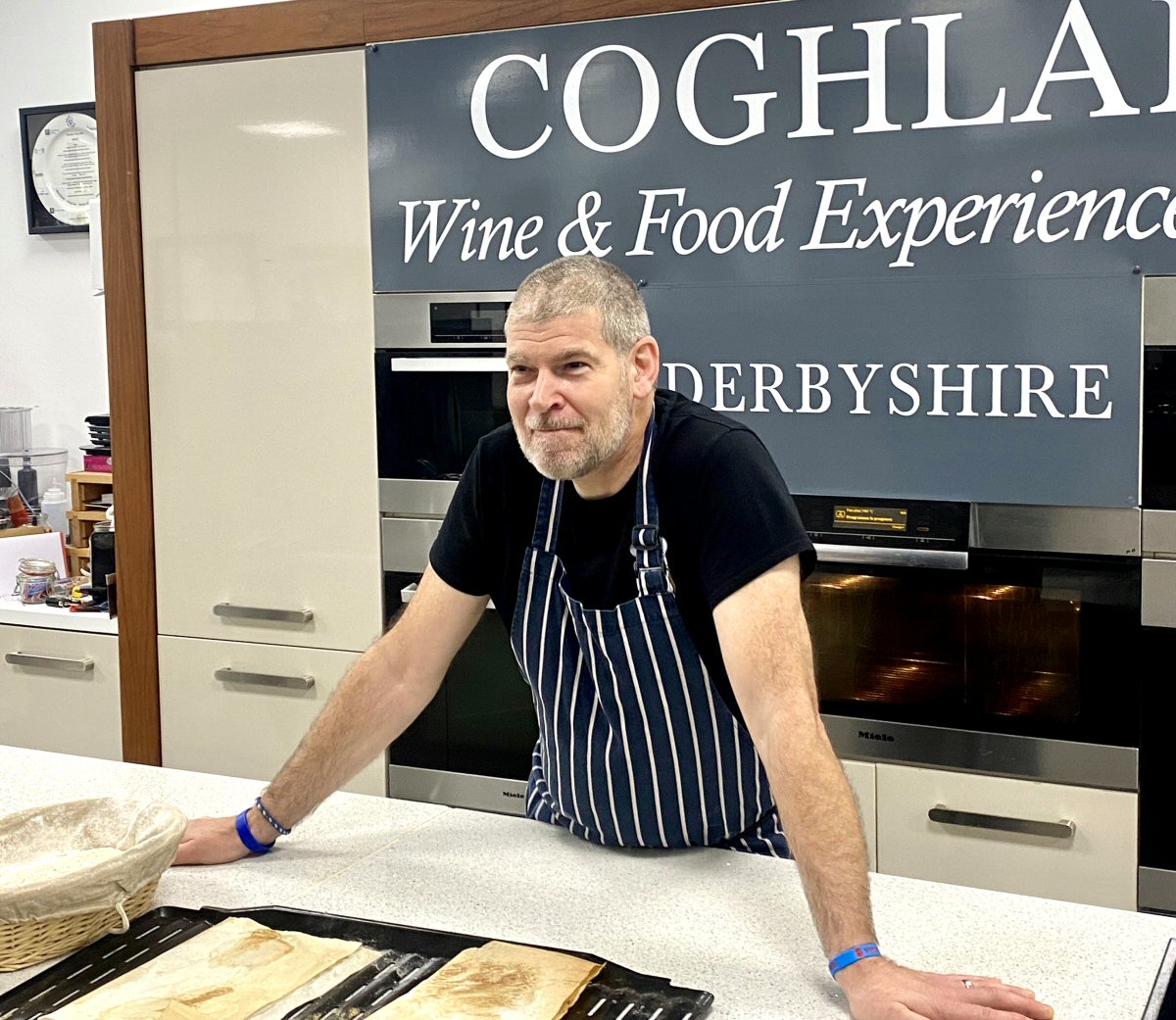 Having so many of us in the 'classroom' was no mean feat, but Lisa had got the days schedule laid out and Chef had prepped everything ahead of time that he could, so the day was planned like a military operation 😊. We all donned our pinnies, went to our stations and pinned our ears back to learn Chef's masterplan. Sourdough, Stromboli and Grenoble Tarts were going to be made by our fair hands, punctuated by a food break that Chef himself had catered for us. When he mentioned Pork Pie made by his own hand, those of us who had attended the Pork Pie and Sausage class pricked up our ears; we knew how good this would be!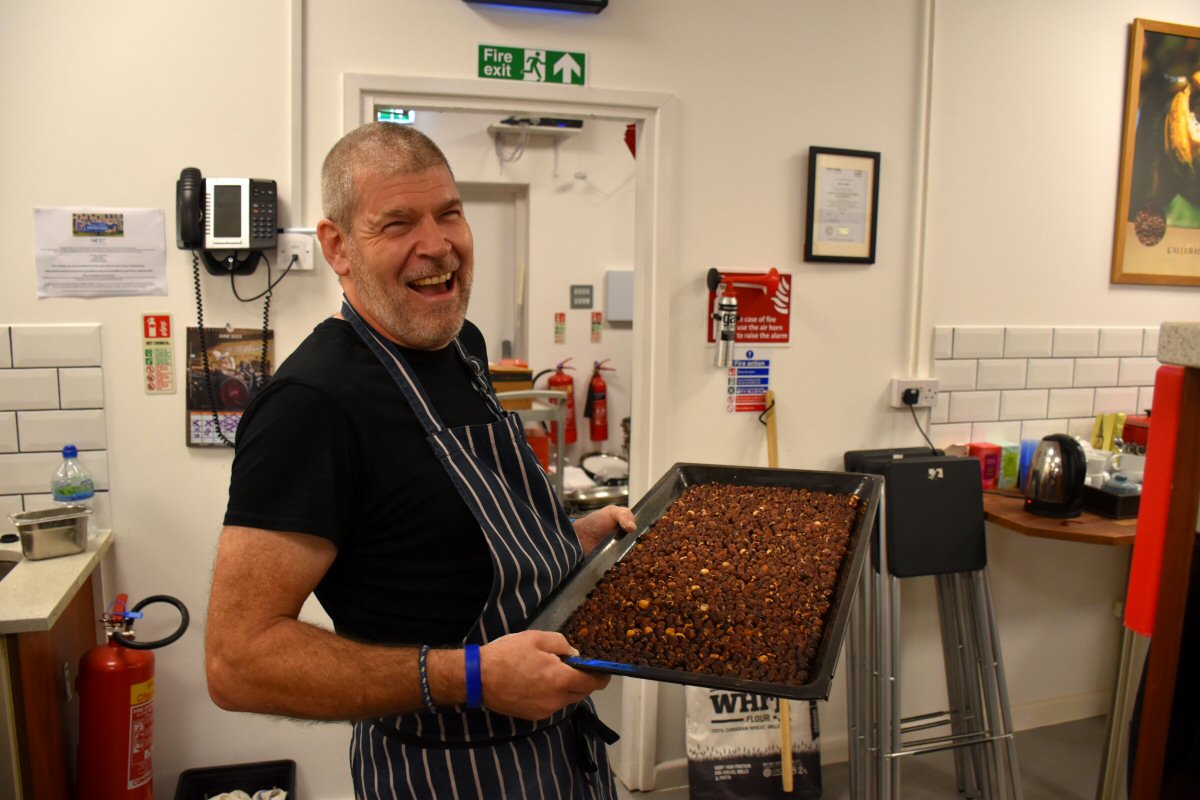 Everyone mucked in to make cups of tea and coffee at regular intervals too, and that's one of the things that really stands out for Coghlan's class attendees; we all pull together, have fun whilst learning, and make scrummy morsels. Chef has been nurturing a sourdough starter for about 4 years and it was this that we were using to make our loaves (well, we'd actually be baking them at home the next day, but the main procedure was going to be done with Simon). Better still, Simon had popped some of this starter into individual tubs for us to take home and begin our own sourdough journey if we wanted, and I personally felt like this was a real gesture of friendship – thank you, Simon 😊. His Nibs got a starter, too, so we shared the sourdough love and gave his pot to our wonderful neighbours, one of whom is a Chef – seemed appropriate.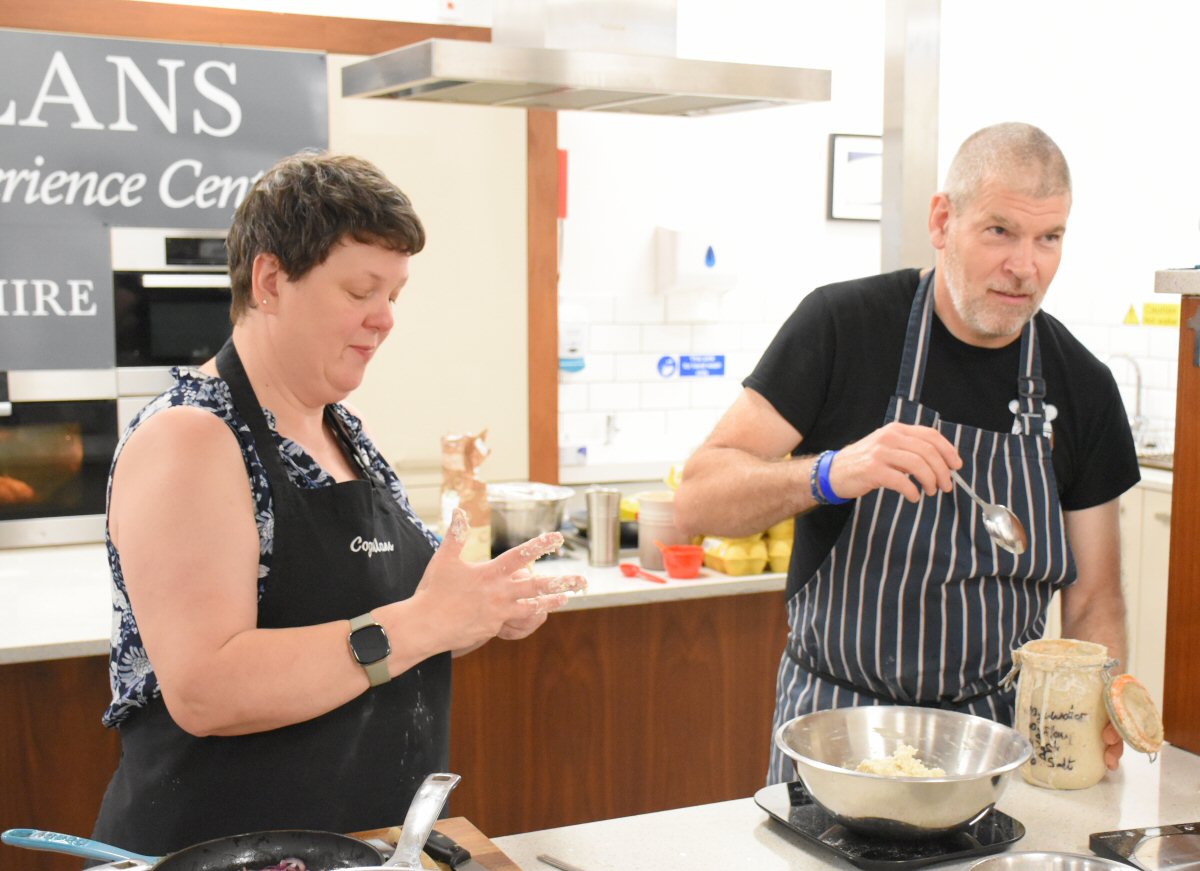 I know I've said it before, but when you're making bread, skip 'arm day' at the gym – you'll get more of a workout in the kitchen than you will with the weights! After prepping the sourdough and stromboli, my poor little arms were on fire – I was like a T-Rex that evening, I tell ya! Meanwhile, whilst I was grafting away, The Man Bird skived off, I mean went around the stations taking photos. Most of us had made the Stromboli before in one guise or other; the last time I made it was as part of the Festive Bread class, filling it with Wensleydale and Cranberry…yummy 😊. This time, we could choose from a selection of Italian Charcuterie, fresh Basil, Mushrooms, and Mozzarella, all on a base of Chefs own slow-cooked Tomato and Onion Ragu.




Andrew Coghlan had made a little speech before class had begun in earnest, about Simon, and he stayed around as we munched away on our lunchtime feast to tempt us with some wine; there was a very cheeky 0% alcohol Sauvignon for those who were driving, and it was going down a treat. There was even a discount for wine purchases made that day, for us all…needless to say a couple of bottles happened to find their way into the jalopy's boot!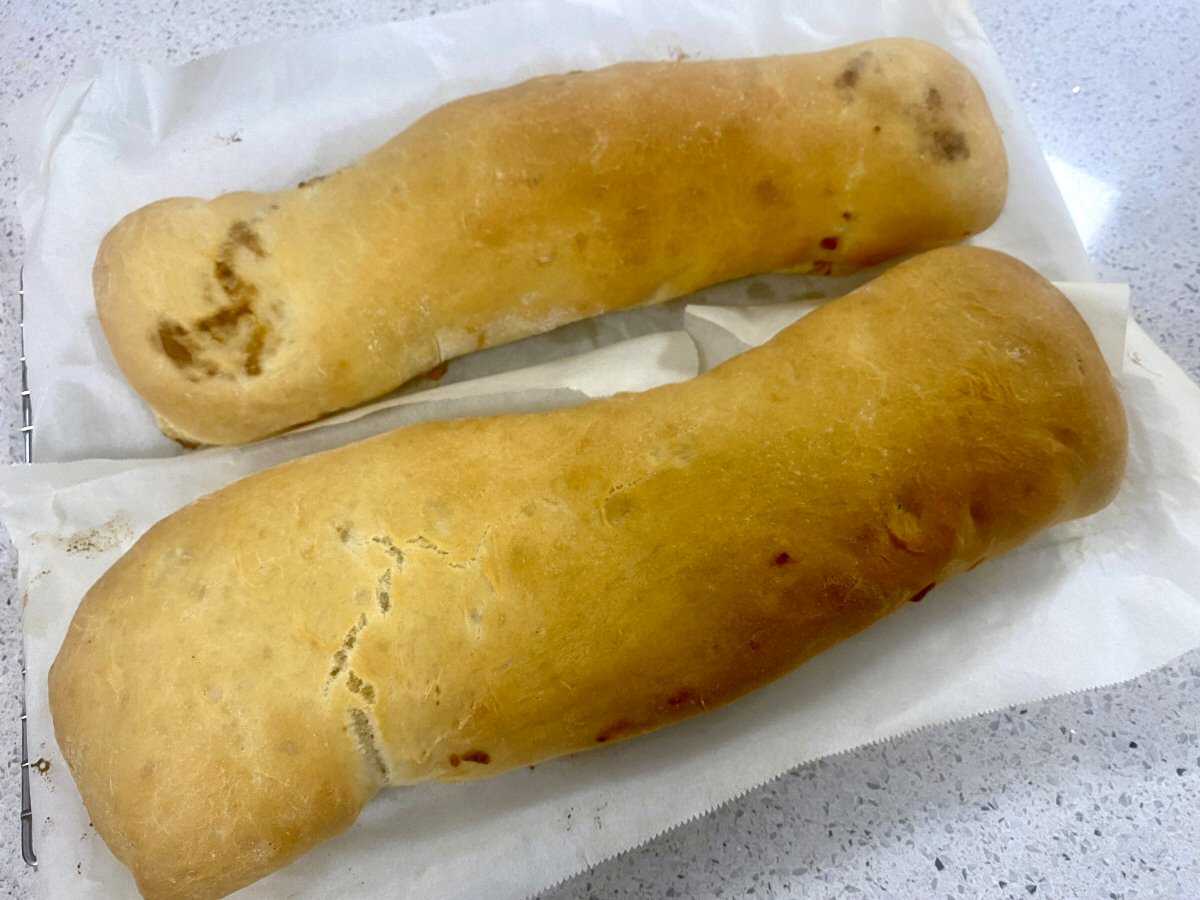 You know when you know that there's a good reason you've acted a certain way but you can't remember why? Well, that happened to me at Simon's finale; I knew there was a reason that I'd kept His Nibs occupied with his camera rather than 'helping' me bake, when we began to knead out our Stromboli. Somehow, he'd managed to tear his dough and was getting in a right pickle; mine was looking rather fabulous (if I do say so myself!), so I graciously swapped and began to rectify his cock-up.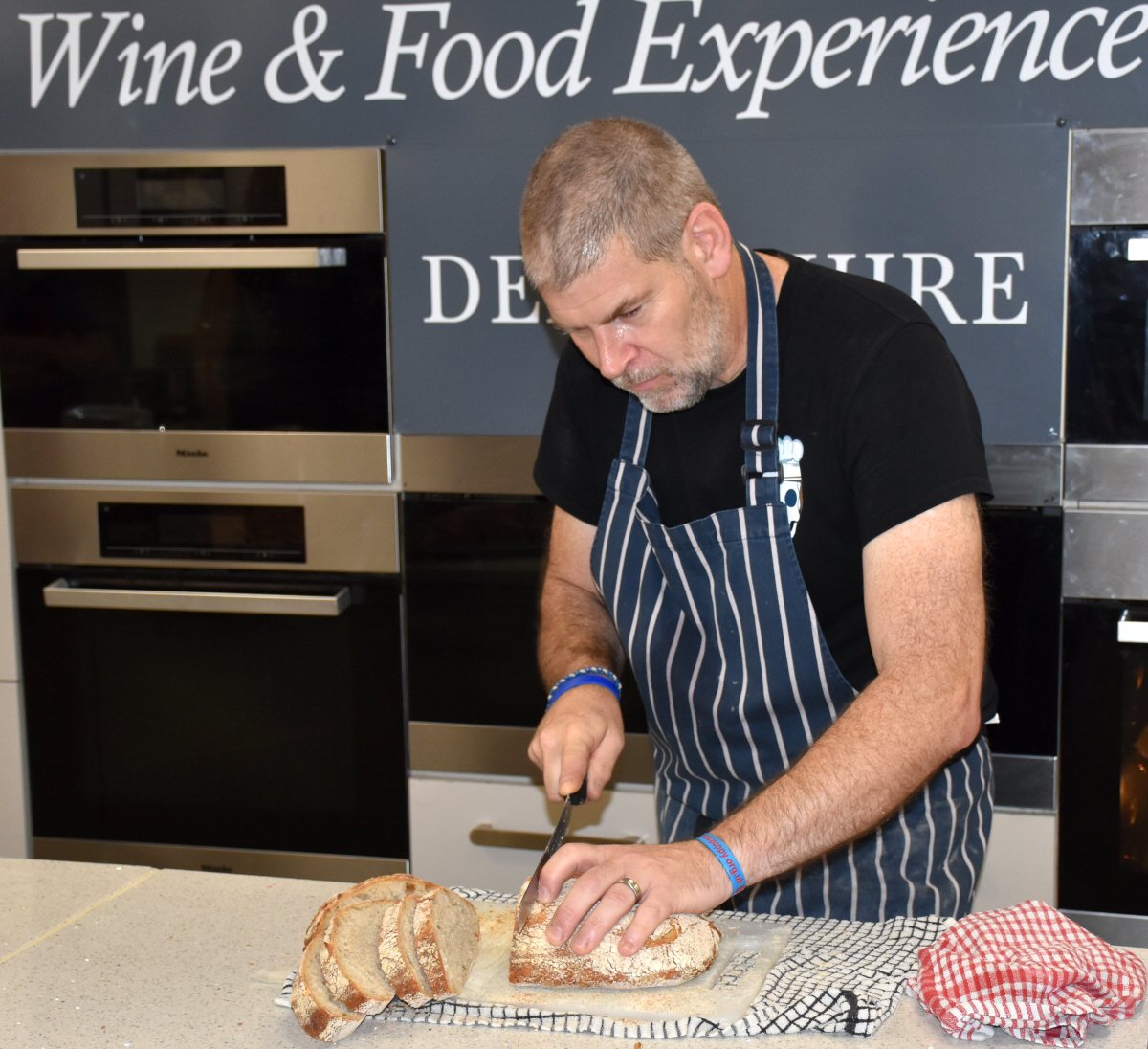 You'd think that that would be the end of the catastrophe, wouldn't you? With normal folks it would've been, but with donkey chops it happened again when we'd put our toppings on the dough and then began to roll it up! Instead of leaving a gap at the edges for the filling to go up to when rolled, His Nibs had crammed his all the way to the edges, so a nice, gooey mix squidged out and made a right mess – wifey to the rescue again 😊. The end result was fab though, which I guess is what matters; Fledge certainly scoffed the Stromboli quick enough when we had it for dinner that evening!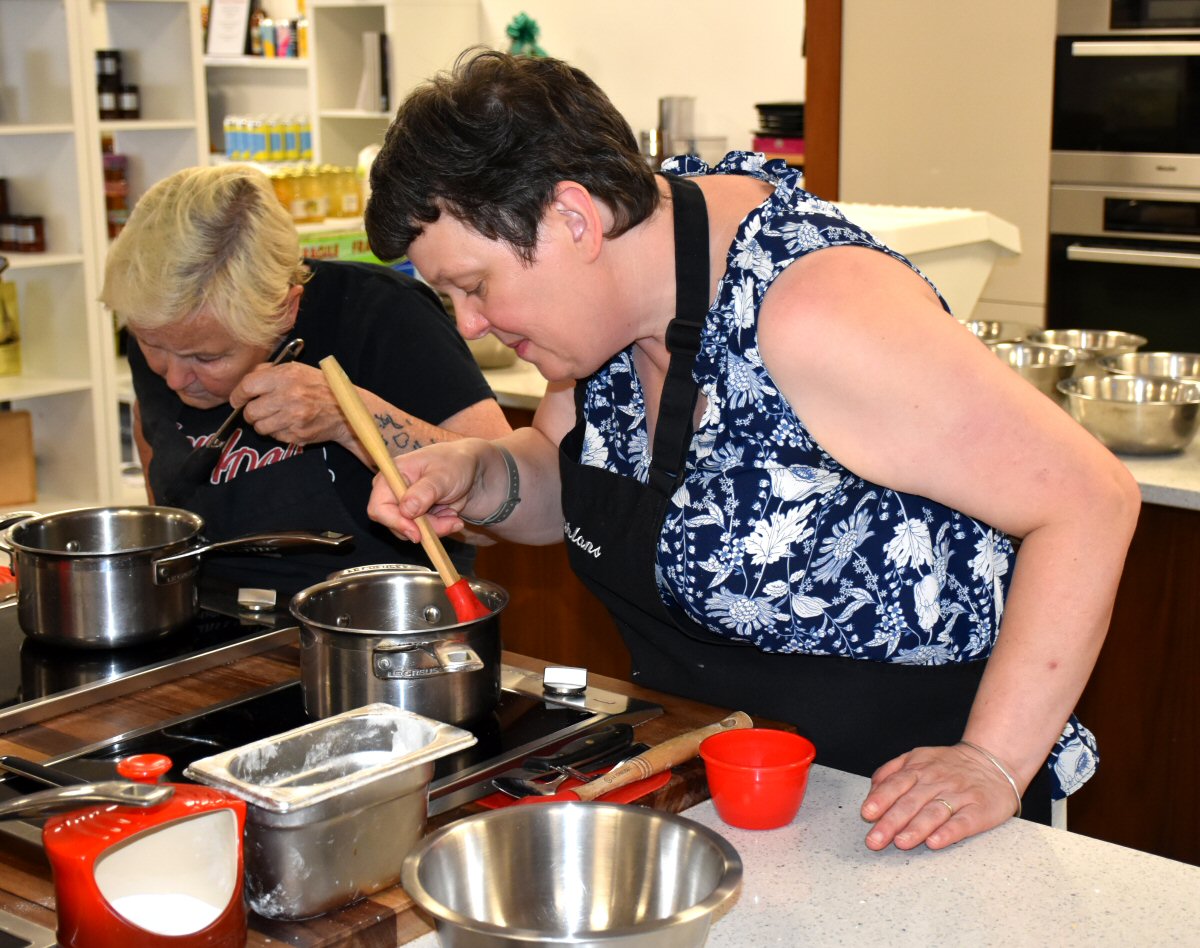 Simon seemed to think that there was only me that had made the Grenoble Tart from the group, so that's why he'd decided that we were making it again; you'll not get any complaints from me, Chef, it was muchos delish 😊. Simon had been roasting his nuts (yes, we were that puerile in our humour!) ready to incorporate them into our caramel sauce later. Thankfully, Chef had made our pastry for us; I don't think my arms could've taken any more work. All we had to do was roll it out big enough for the case, bake it blind, glaze it, bake again, wang the filling in and then bake it again until the caramel was bubbling. If you've never had a Grenoble Tart before, you really do need to try one – they're moreish…unless you don't like nuts, then it'll be your worst nightmare. Mummy Bird and I love nuts (easy, tigers) so we were happy as Larry; Mummy even more so, as she wasn't expecting one 😊.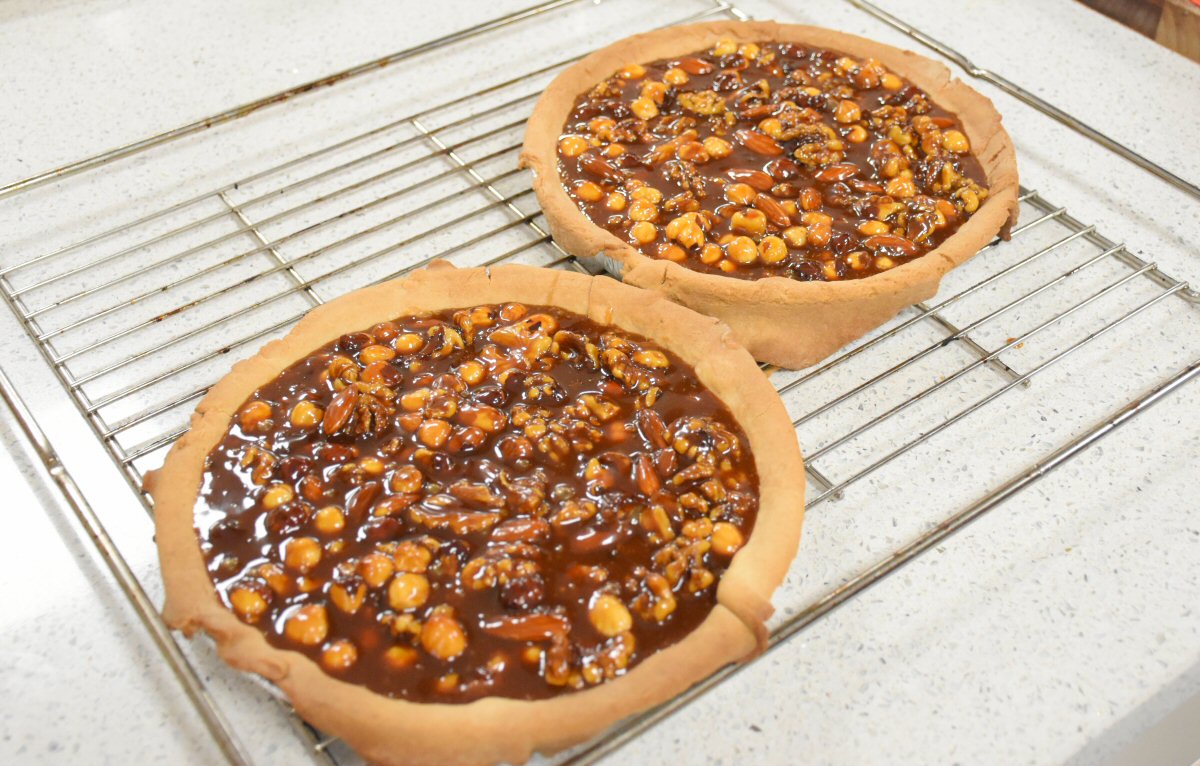 No surprise when I say that it was a bit emotional leaving Coghlans Derbyshire Wine and Food Experience Centre knowing that that was the last class we'd be doing with Chef Lilley. But ever the go-er, Chef decided to channel his inner model (not the first time you've posed, eh, Simon…. we saw the pics!) and spread himself out over his counter for us all to get a group photo!!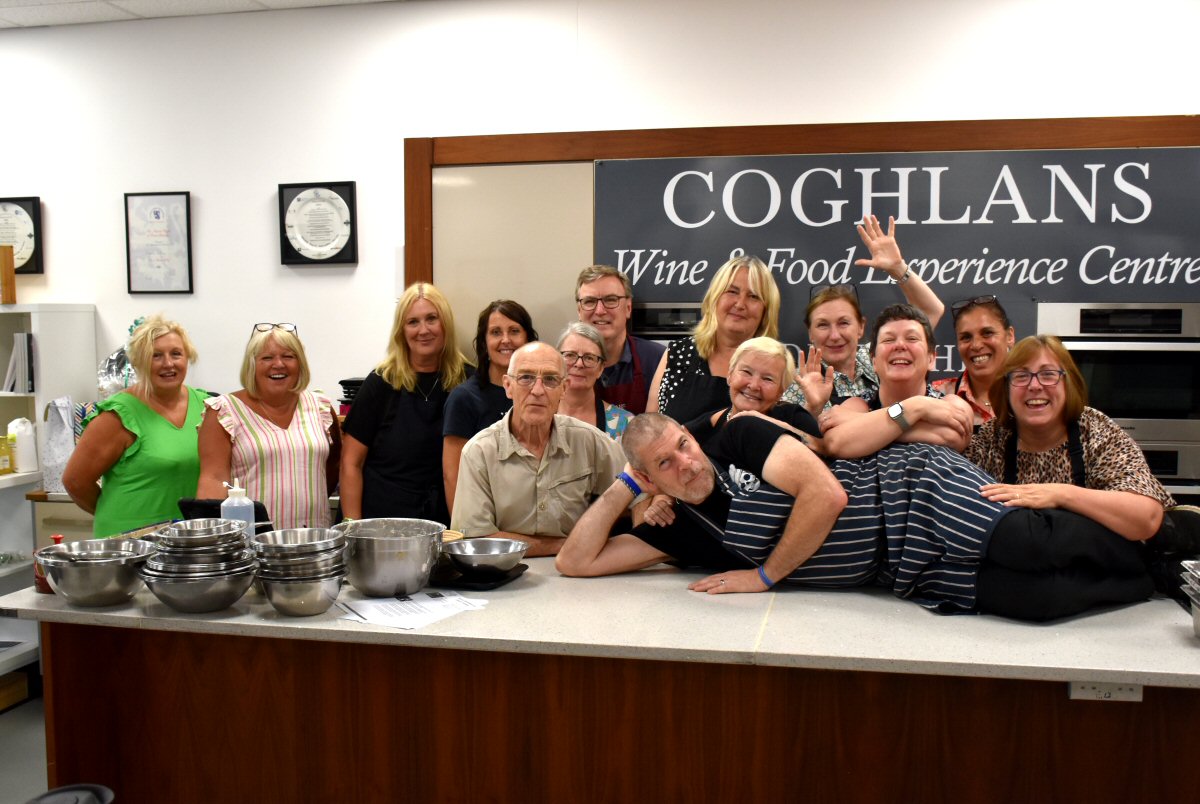 I have been kept in the loop as to what's coming next at Coghlans, post-Simon, but am sworn to secrecy, so you'll just have to trust me when I say that it's going to be good 😊. As I said, earlier, keep your eyes firmly on the Coghlans website www.cookingexpert.co.uk ; there's already some course dates for later in the year on there, so give Lisa a buzz on 01246 453131 to book your place.

To re-do a quote from Hitchhikers Guide to The Galaxy: "So long, Chef; and thanks for all the cakes!" Seriously though, Simon, thank you from the bottom of my heart for allowing me to be part of the Coghlans family and for giving me the confidence to try new dishes and techniques. Good Luck in your new adventure; Cup 19 is ruddy lucky to have you 😊!
Some form of incentive was provided to visit this venue
read more
Read Some Of Our Recent Reviews
---

Demo & Dine Event at Coghlans Food and Wine Experience, Rowsley They say you can't keep a good thing down, don't they? Well, Coghlans Derbyshire Wine and Food Experience Centre had a bit of a shake-up recently when Chef Simon left Read The Article

---

Mongolian BBQ Class With Chef Meg at Coghlans Food and Wine Experience, Rowsley What an absolutely ruddy brilliant afternoon that was!!! I love all the classes at Coghlans Derbyshire Wine and Food Experience Centre at Read The Article

---

The New Sushi Course With Chef Meg at Coghlans Food and Wine Experience, Rowsley I love doing the cooking classes at Coghlans Derbyshire Wine and Food Experience Centre, you all know that, but I have to say that the Sushi class Read The Article

---

Indian Cooking Class With Chef Meg at Coghlans Food and Wine Experience, Rowsley I love being at Coghlans Food and Wine Experience Centre; it's my happy place. I'm not the world's best cook (my eating skills are second-to-none, but Read The Article

---

East Lodge Wine Maker's Dinner By Coghlans Food and Wine Experience, Rowsley You all know that I love my food (else there'd be no point doing the blog really, would there?!), but I also like wine; imagine my joy, then, at receiving the phone Read The Article

---

Moroccan Cooking Class With Chef Will at Coghlans Food and Wine Experience, Rowsley Well, didn't I feel like the new kid in the playground? Why, you ask? because there was a new Chef at the helm at Coghlans Derbyshire Wine and Read The Article

---

Wine Tasting and Cheese Pairing Event At Coghlans Wine and Food Experience Centre Bank Holidays are already fabulous, aren't they? But one thing guaranteed to make them extra special is to be doing a 'Wine and Cheese Pairing' Read The Article

---

Wine Tasting and Chocolate Pairing Event At Coghlans Wine and Food Experience Centre Over the years I've had some pretty awesome Easter Bank Holiday Weekends, but I can't recall one better than the one just gone (2023)! Read The Article

---

Bread Making at Coghlans Food and Wine Experience For The Real Bread Campaign For those of you who didn't know, it was 'Real Bread Week' 18th-26th February 2023 and someone who has a real passion for Read The Article

---