Wine Tasting and Cheese Pairing Event At Coghlans Wine and Food Experience Centre
---
Published On Wednesday 10 May 2023 by Sticky Beak
See Recent Experience Reviews | See All Recent Reviews


Bank Holidays are already fabulous, aren't they? But one thing guaranteed to make them extra special is to be doing a 'Wine and Cheese Pairing' experience at Coghlans in the Peak Village 😊. I'm a total cheese-a-holic; seriously, I could live without anything…but not cheese! The Man isn't so fussed about dairy delights so I was expecting to be getting the lion's share of his portion as the afternoon progressed – it didn't quite work out that way, but more of that later.
STM (Steve The Magnificent, for those who haven't read my other blogs about my other Coghlans escapades!) was at the door, waiting to greet the afternoon's guests and hand them a freshly poured glass of Montelvini Prosecco Treviso DOC Brut. What a way to kick off the proceedings, eh? 😊. With everyone present-and-correct, we were shown through to our stations in the swanky, Miele kitted out kitchen at Coghlans and we popped our smart black aprons on.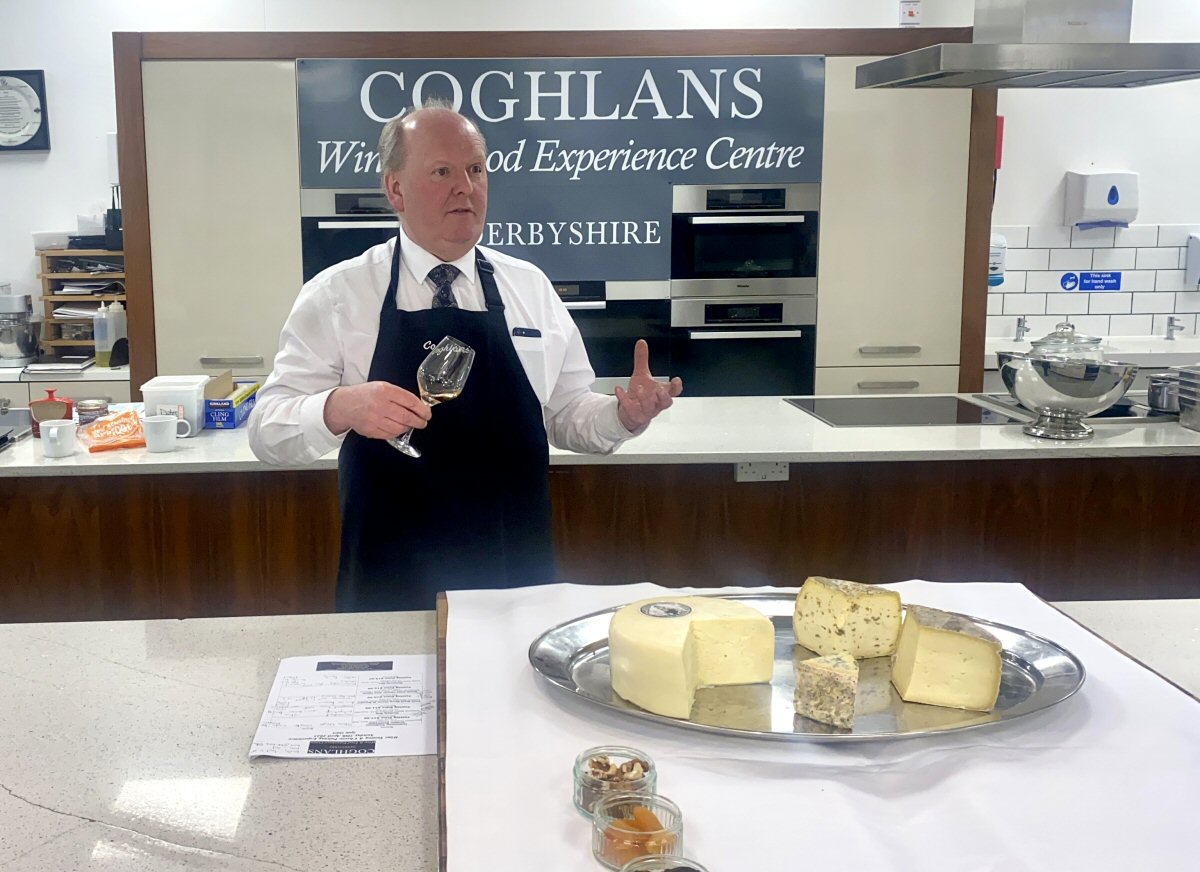 Straight away, my beady eye was captivated by the tray of cheeses and breads (made by Janet Coghlan, Andrew's wife), as well as the plate of crackers and savoury biscuits…not to mention the quartet of dishes that held Figs, Dates, dried Apricots and mixed Nuts! Andrew had got the cheeses out of the fridge a few hours earlier to ensure that we would be eating them at their prime, flavour-wise. First note taken: remove cheese from fridge at home at least 2 hours before wanting to savour it, otherwise the flavours really don't come through and are pretty 2 dimensional!




To go with our Prosecco (which Andrew happily topped up for those that had drunk theirs already…oops!) we were served Cotherstone Traditional Teesdale Wensleydale, lovingly made by a Mrs Joan Cross, with milk from her family's herd of cows. This was a young cheese, and one that was a mix of curds and whey, so it was quite soft and moist; I really loved how sweet and creamy this 'dales-style' cheese was 😊. Produced and sold 'as-is', this morsel has a natural shelf-life of 2-4 months, but when sold at outlets such as markets, they add elements in to prolong this to about a year. The colour of this cheese changes colour seasonally, as the character of the milk produced is influenced by the quality of the grass/silage eaten by the cows. The Prosecco was a beautifully fruity number, but when eaten with the cheese, this seemed to pop even more; yummy, yummy for my tummy!




Next up was a Durham Brie (actually made in North Yorkshire, not Durham), a gorgeously creamy, rich minx that was paired with a bold, aromatic Semillon from Ashbrook Estate in Australia. This pairing was pretty much as perfect as you could want, because the confident citrus taste of the wine balanced the fat content of the Brie and, in the mouth together, the flavour of the wine seemed to enrich and blossom. Much to my dismay, His Nibs ate all the brie; I was sure I'd be getting some passed my way, but, no.




Our third cheese was made with Sheep's' milk by Simon Lacey: Fresh Reeth Sheep Cheese St Benedict, partnered with a rosé from Aix-En-Provence in France: Chateau Beaulieu Provence Rosé. This particular wine is very fruity on the palate and the berry ripeness certainly hit my tongue! To balance this 'sweetness' out (although it isn't a sweet wine) were the sharp, salty tones of the relatively young (3-6 months old) cheese; I picked up a sweeter hint at the front of my mouth and an Ozonic edge at the back of my tongue. Still no sign of His Nibs sharing his dairy spoils, so I munched away on the assortment of nuts and fruit to console myself! The dried fruits, by the way, are available to buy from Grape Tree at the Peak Village; just in case you fancy some for yourselves 😊.
The penultimate cheese was again made by Simon Lacey, but from cow's milk this time, and mingled with Green Olives – surely, I was going to get 'double bubble' now: His Nibs doesn't like Olives? I couldn't resist tucking into this beauty and got rewarded with a clean grassy flavour -and also Olives' unmistakeable taste! Unfortunately, it didn't seem as if His Nibs had got the 'share' memo and I was once again left like a baby bird, my mouth gaping hopefully every time he picked up a bit of cheese and cracker ☹. Pinot Noir (we were sipping Moulin de Gassac Pinot Noir from France) is considered a 'light' red and, whilst it wasn't as dark as the last wine we were due to taste, it had a beautiful deep colour that matched its 'heavy legs'. So good were the legs on this wine (Andrew had called the Semillon 'Thunder Thighs', and this was exactly the same) that it simply formed a solid rim around the glass, rather than streams! We all sloshed the wine around the glasses, keeping our palms firmly fixed over the glass to avoid spilling a single precious drop, and our nostrils twitched appreciatively at the 'jammy' notes that wafted up. When just sitting in the glass, you get Elderberries and herb tones at the edge of your nose, but agitating the liquid more releases other layers of aroma to revel in. This is definitely 'more' than you would expect from a typical Pinot Noir and was the wine that got the top-spot from me 😊.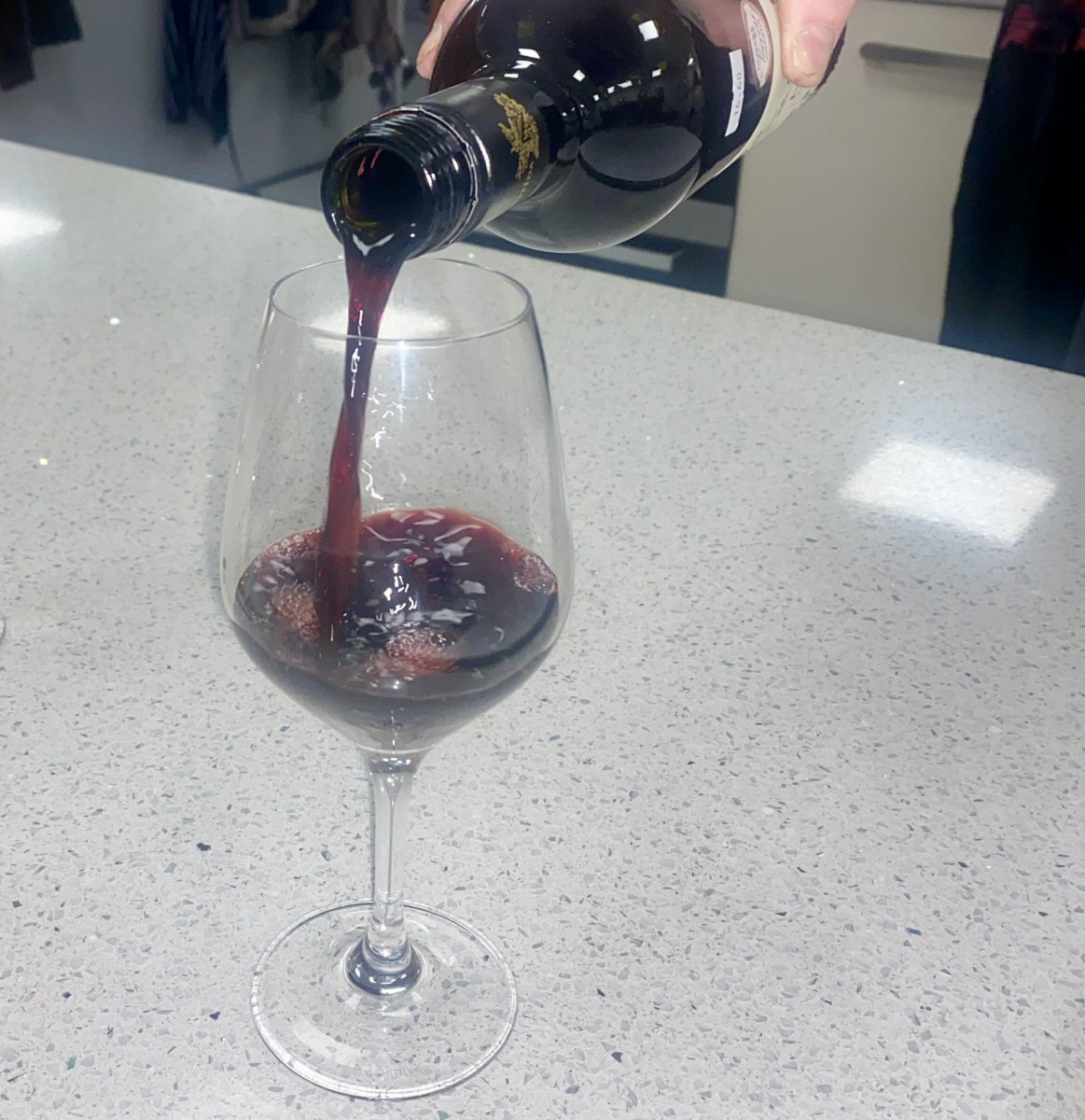 Last, but definitely not least, was the single-farm cow's milk 'Richmond Blue': a Stilton-recipe blue cheese, the third cheese we'd had that was made by Simon Lacey. Finally, I got a double helping of cheese, but not before The Man Bird had gamely tried a bit – blue cheese proved to be a step too far though! This blue boy was rich, creamy and musky, and I was looking forward to seeing what the wine would bring to the flavour party when eaten together. Ladies of a certain age will know exactly what I mean when I say that the South African, Nitida Cabernet Sauvignon was a marvellous deep shade that brought to mind Chanel's iconic 'Rouge Noir'. If you could fall in love with a wine just by its looks, this madam would have us all under her spell 😊. As I channelled my inner wine expert (slurping the wine enthusiastically to wash it all over my tongue) I certainly got the tannins and phenols that Andrew was describing, along with Eucalyptus and Herb wafts in my mouth. Cabernet Sauvignons are described as the power houses of red wines, and this had certainly got some oomph to it!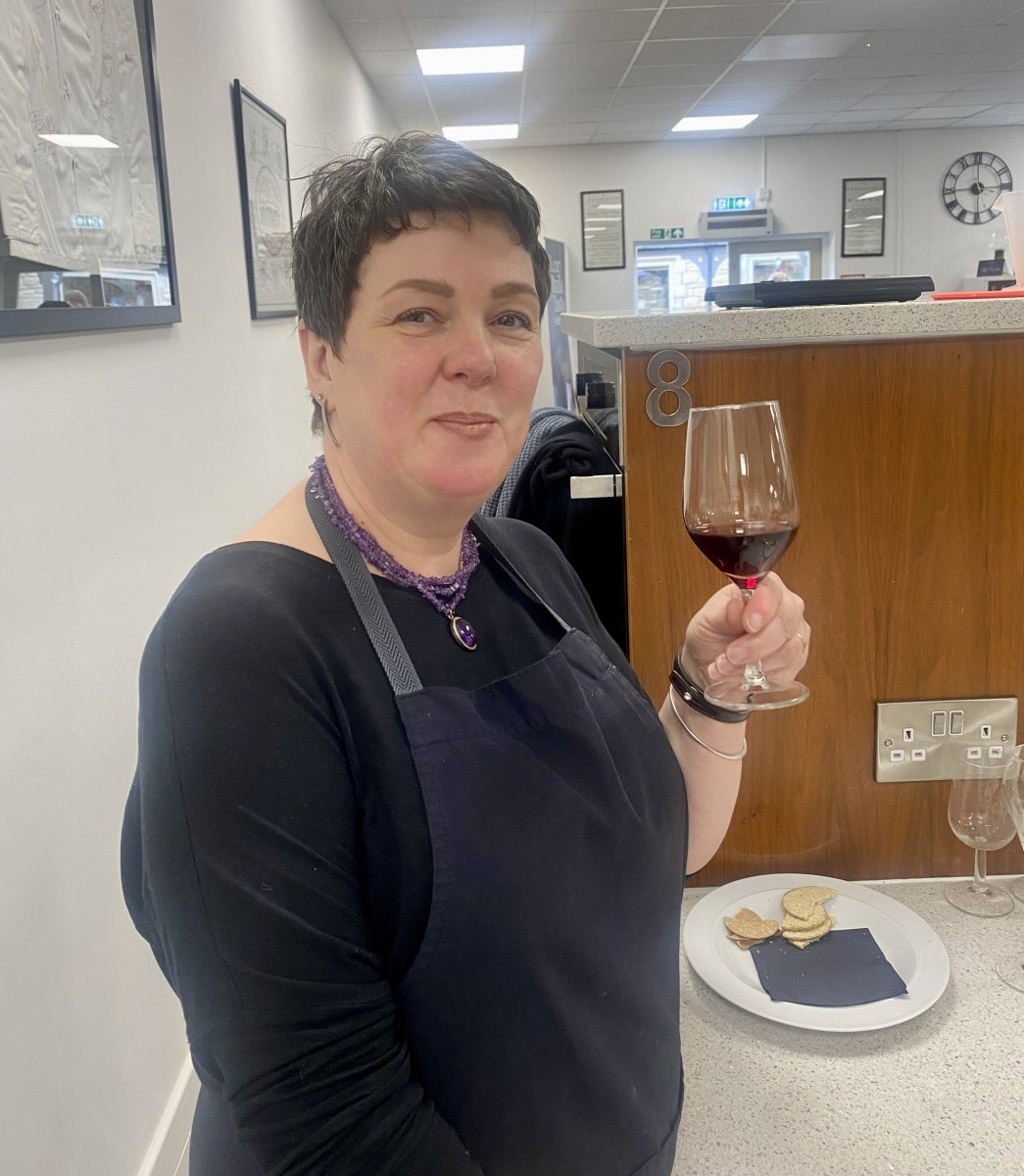 Throughout the afternoon, Andrew peppered the event with information and detail, along with plenty of anecdotes to keep the interest levels high. In fact, one of the great things that Andrew manages to do is bring the back stories of the wines and food producers to life. Throughout his time, he's been to plenty of the actual vineyards, so Andrew describes the scenery, and the families, bringing them to life for you. When it came to the cheeses on this particular experience, Andrew again was describing Simon (Lacey) and Joan (Cross) in amazing detail; so much so that I felt as if I could've sat down next them and talked as if we'd known each other for ages!!

Another brilliant thing about these events is that there's opportunity to purchase the food and drinks that you've just enjoyed 😊. This time, we bought some of the Cotherstone Traditional Teesdale Wensleydale and the Fresh Reeth Sheep Cheese St Benedict to have for supper (greedy monkeys that we are!!), as well as some of the Semillon and Pinot Noir for later dates. When you attend one of these pairing events you get a super tasty (pun intended!) discount on the wines, so it would be daft not to take advantage, wouldn't it?!

Many, many thanks to Andrew and Lisa for the kind invitation again to attend one of your wonderful events; His Nibs and myself really are very grateful for the opportunity 😊 😊. If this has got your juices flowing then head over to the website www.cookingexpert.co.uk to see more dates and availability, or give Lisa in the office a buzz on 01246 453131 to book your place.
Some form of incentive was provided to visit this venue
read more
Read Some Of Our Recent Reviews
---

Demo & Dine Event at Coghlans Food and Wine Experience, Rowsley They say you can't keep a good thing down, don't they? Well, Coghlans Derbyshire Wine and Food Experience Centre had a bit of a shake-up recently when Chef Simon left Read The Article

---

Mongolian BBQ Class With Chef Meg at Coghlans Food and Wine Experience, Rowsley What an absolutely ruddy brilliant afternoon that was!!! I love all the classes at Coghlans Derbyshire Wine and Food Experience Centre at Read The Article

---

The New Sushi Course With Chef Meg at Coghlans Food and Wine Experience, Rowsley I love doing the cooking classes at Coghlans Derbyshire Wine and Food Experience Centre, you all know that, but I have to say that the Sushi class Read The Article

---

Indian Cooking Class With Chef Meg at Coghlans Food and Wine Experience, Rowsley I love being at Coghlans Food and Wine Experience Centre; it's my happy place. I'm not the world's best cook (my eating skills are second-to-none, but Read The Article

---

East Lodge Wine Maker's Dinner By Coghlans Food and Wine Experience, Rowsley You all know that I love my food (else there'd be no point doing the blog really, would there?!), but I also like wine; imagine my joy, then, at receiving the phone Read The Article

---

Moroccan Cooking Class With Chef Will at Coghlans Food and Wine Experience, Rowsley Well, didn't I feel like the new kid in the playground? Why, you ask? because there was a new Chef at the helm at Coghlans Derbyshire Wine and Read The Article

---

Chef Simon's Farewell Class At Coghlans Wine And Food Experience Centre All good things must come to an end, they say, don't they? Well, at Coghlans Derbyshire Wine and Food Experience Centre at the Peak Village in Rowsley, Chef Read The Article

---

Wine Tasting and Chocolate Pairing Event At Coghlans Wine and Food Experience Centre Over the years I've had some pretty awesome Easter Bank Holiday Weekends, but I can't recall one better than the one just gone (2023)! Read The Article

---

Bread Making at Coghlans Food and Wine Experience For The Real Bread Campaign For those of you who didn't know, it was 'Real Bread Week' 18th-26th February 2023 and someone who has a real passion for Read The Article

---