Wine Tasting and Chocolate Pairing Event At Coghlans Wine and Food Experience Centre
---
Published On Thursday 20 Apr 2023 by Sticky Beak
See Recent Experience Reviews | See All Recent Reviews


Over the years I've had some pretty awesome Easter Bank Holiday Weekends, but I can't recall one better than the one just gone (2023)! His Nibs and I were invited along to Coghlans Wine and Food Experience Centre at the Peak Village in Rowsley to participate in their 'Wine Tasting and Chocolate Pairing' event.
As you'd expect on a Bank Holiday, the Peak Village was very busy, but Fledge managed to find a spot and we did a bit of retail therapy before we headed in to Coghlans, where STM (Steve The Magnificent, my Pork Pie and Sausage making partner-in-crime) himself was in attendance for the free wine sampling that the team were also doing.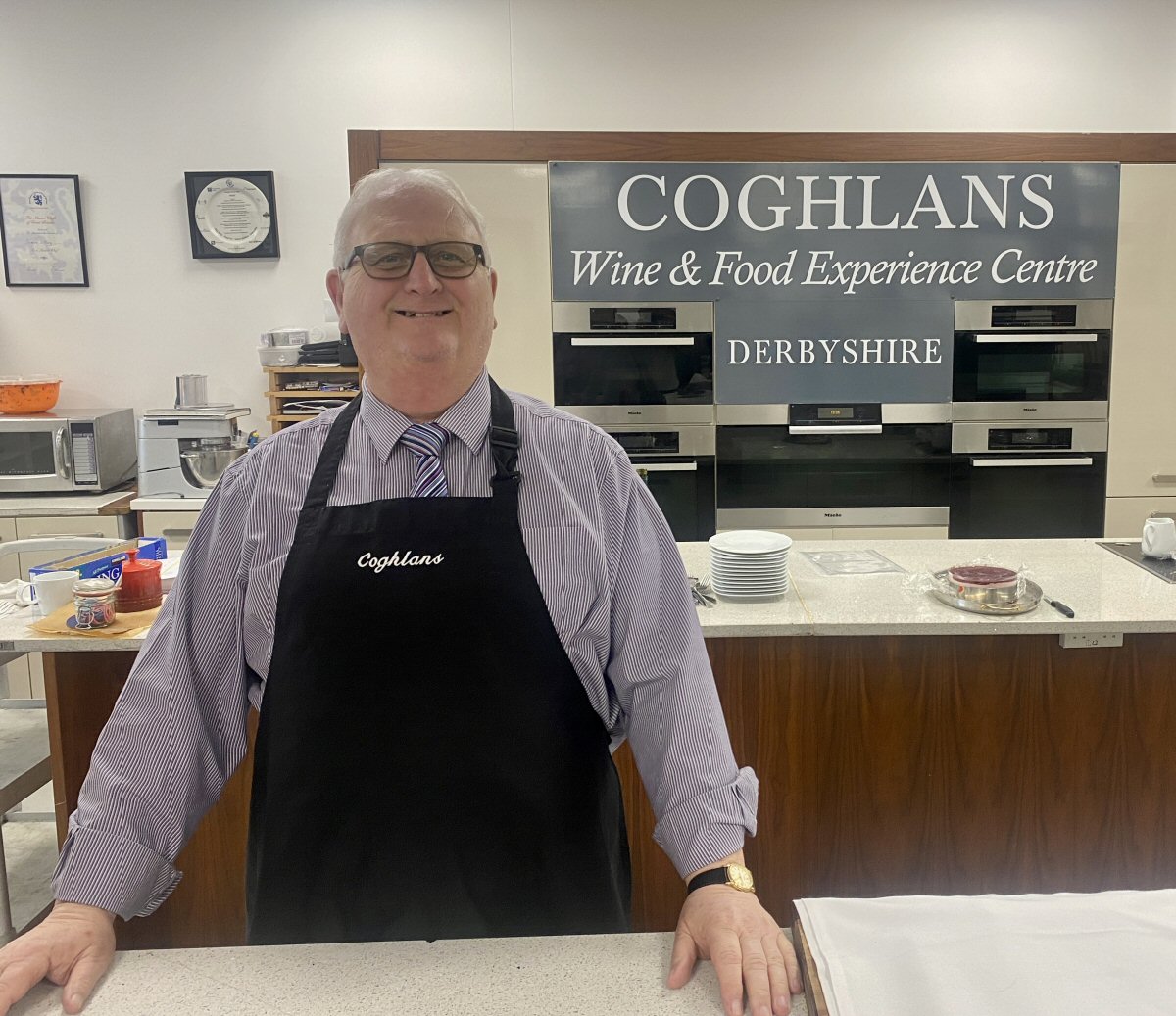 There were 12 folks attending the event (including us two), so each station had a pair at it and there were all the glasses laid out in readiness, as well as plates that held truffles, Brownie, Tiffin and Torte that would be savoured with a different wine as the afternoon progressed. Next to us was a lovely chap called Stuart (a blog follower) and his wife, Amanda; it's always great to put 'faces to names' for us, and I have to say that they were fantastic people who made our afternoon even more fun – thanks guys.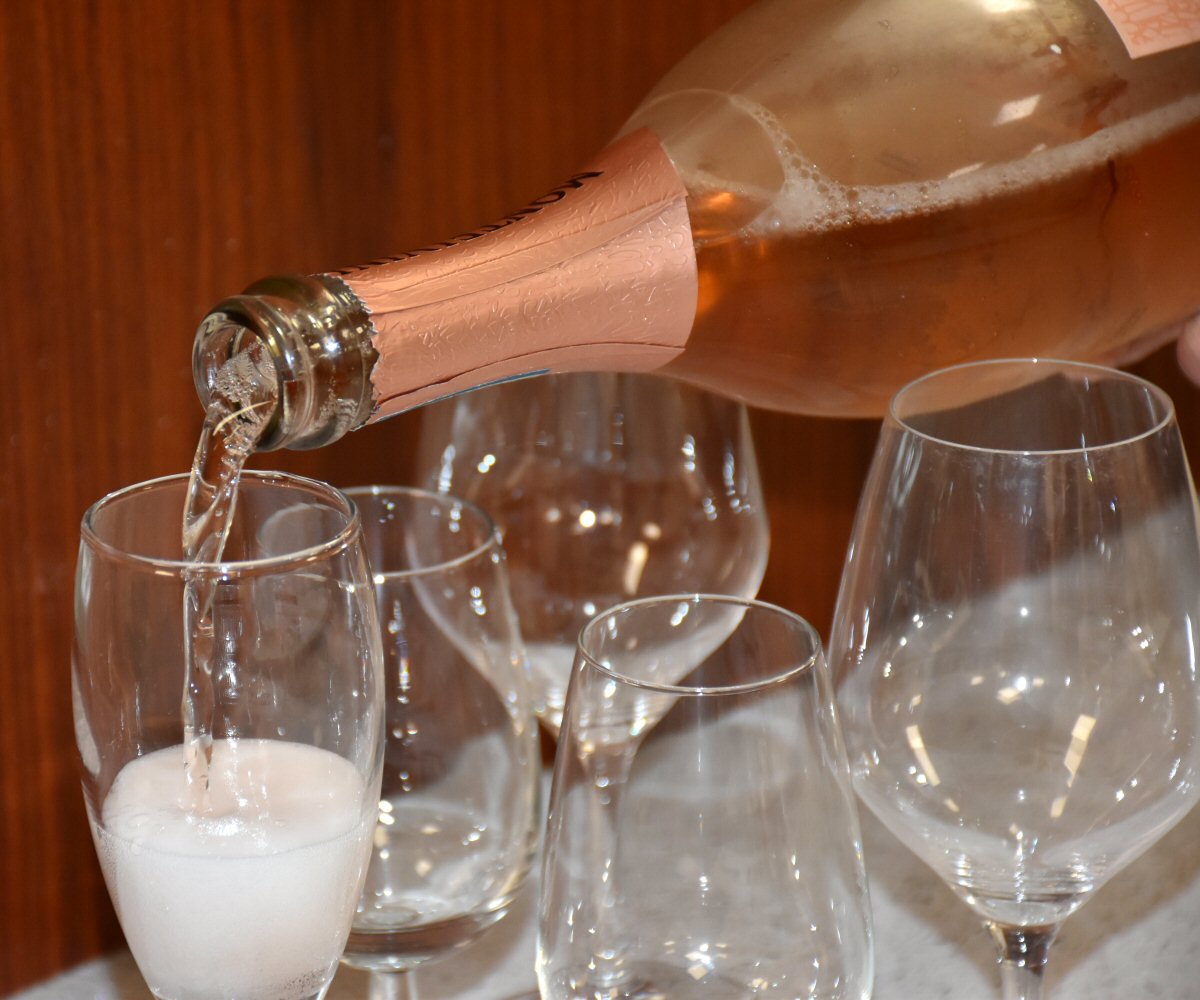 Andrew Coghlan (based at Coghlan's Barningham site) gave us a brief over-view of the event and then poured out the welcome drink: Montelvini Prosecco Rosé Brut. We all admired the streams of bubbles twirling through the pretty liquid, and here came our first lesson of the day: size matters, well it does when it comes to bubbles in Prosecco and Champagne, anyway! Apparently bubble size comes from the method used to produce the sparkling wine; traditional and autoclave methods result in small bubbles that rise from the bottom of the flute, whereas CO2 gas injection (cheaper mass production method) gives you larger bubbles that begin anywhere in the flute, though typically higher up than the bottom. The lesson? Look at the size and angle of your bubbles (oh, the potential for innuendo, here!). Also, for your legal buffs out there; by law, Prosecco has to age for at least 12months, Champagne for 24 months…just in case you wondered.




Our first wine 'proper' was also a Rosé: Moulin de Gassac, from France; this was paired with a White Chocolate, Strawberry and Champagne Truffle. Throughout the afternoon we were going to be following the same procedure of swirling the wine in its glass (looking for 'legs' and ripeness), tasting it by itself, then eating the chocolate, then drinking the wine again to see how its perceived taste had changed. What I love about wine tasting and/or eating is that everyone single one of us will interpret the tastes and flavours differently – there literally is no right or wrong way! I'm not a wine buff by any stretch of the imagination (I just know what I like and what I don't), but I love listening to the complexity of learning how to become a 'nose' or a sommelier.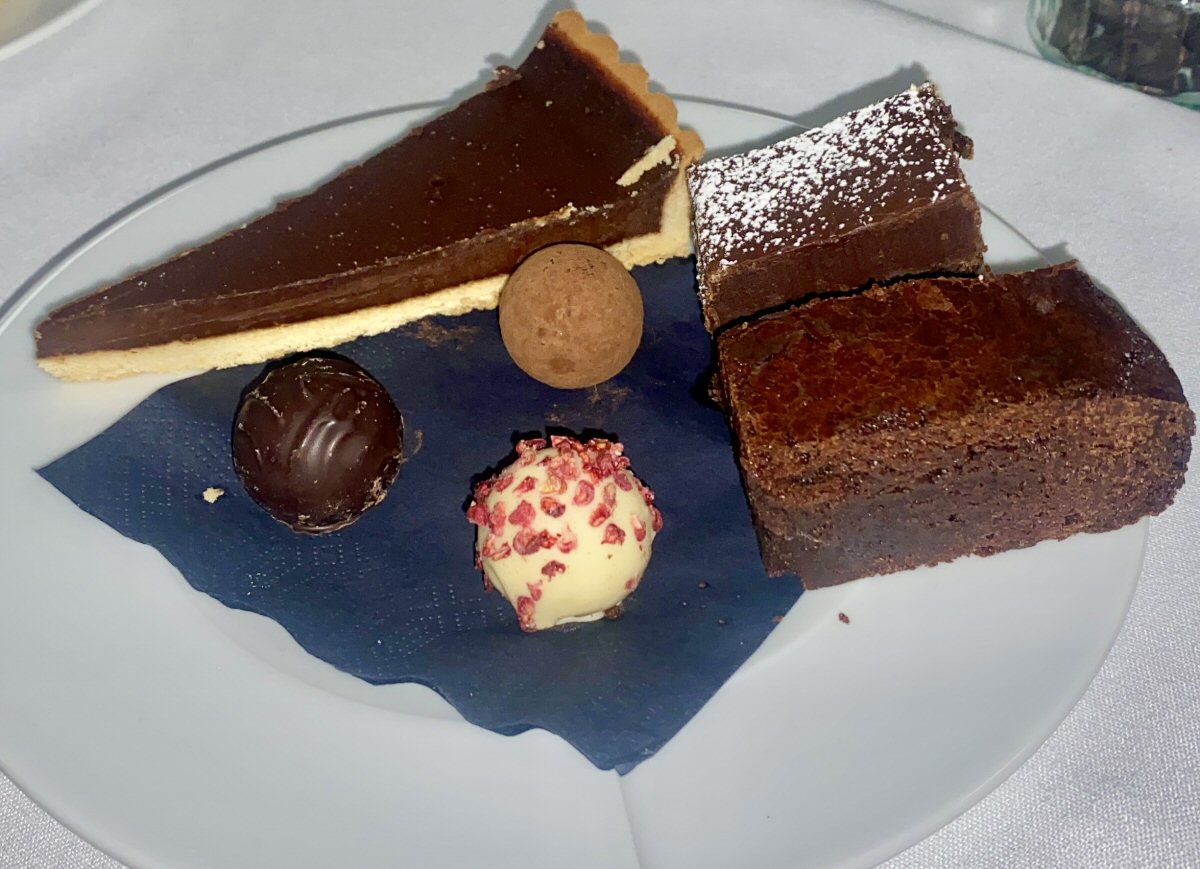 Andrew Coghlan dishes out the information in a totally un-snobby way, and encouraged us all to share what we were experiencing in whatever language we use: I personally compare wines in terms of weight, i.e., light or heavier, some used words such as floral, fruity, or berry-tones. Apparently, the little prickle I got on my nose was down to the acidity of this wine; who knew?! Our taste buds also detect different chemical components in different places: fruity tones on the front of the palate, acidity on the side, aaaaaand… red wines have way more histamine content than white or rosé ones, which is why those with Asthma often sneeze after imbibing. Luckily you can bypass this by snaffling a Piriton or other anti-histamine medication before you partake of the grape.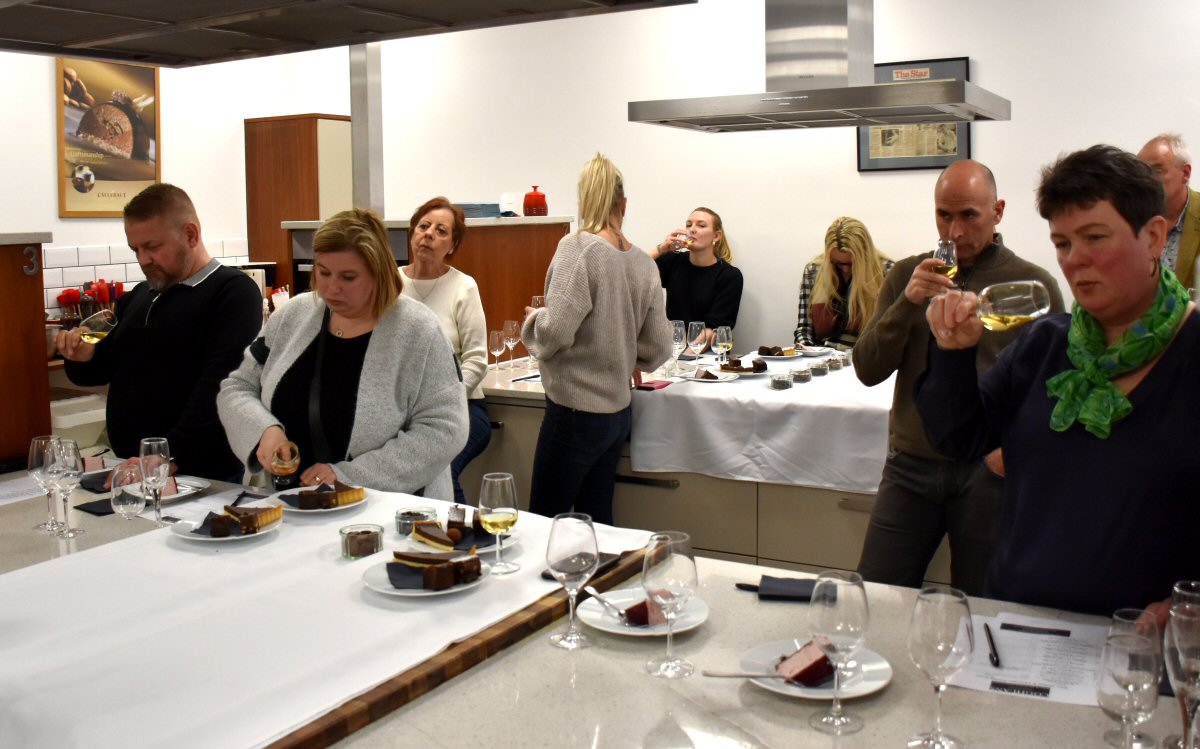 The afternoon was basically a Chemistry lesson, and I was loving geeking out again; at school I was fascinated by the reactions and interactions between elements, but my maths wasn't strong enough for A-level. Keeping it simple, the up-shot is that it's an awful lot easier to pair wines to dark chocolate than it is to white chocolate!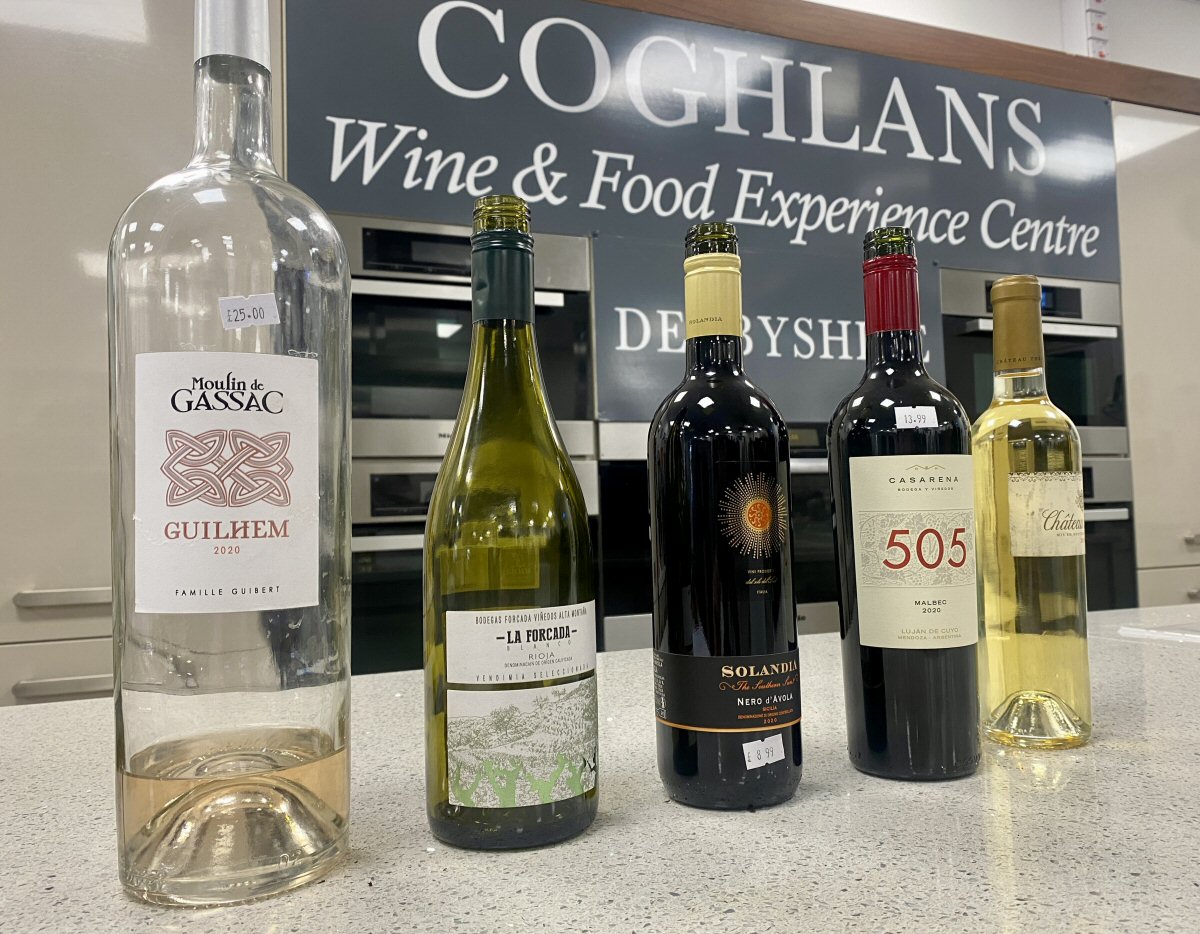 We moved on to La Forcada Blanco Rioja from Spain; now, I do love a white Rioja (as Jacqui from Olive Moroccan restaurant in Belper will be able to confirm!), so I was really looking forward to trying this. This particular wine is a bit different to other Blanco Rioja's in that it's based around White Grenache and Sauvignon Blanc grape varieties; whatever, it makes for a gorgeously crisp tipple that blasted my mouth with citrus notes and a nice sharpness from the tannins, with oakiness at the edge of my mouth. As we swirled the gold/straw colour liquid (which indicates it is aged in oak, rather than a paler lemon colour for 'un-oaked' wines) around the glass we all cooed appreciatively at the legs it had. Legs generally indicate the percentage of alcohol there is in a liquid: the higher the alcohol content, the more viscous a liquid is, and the better 'legs' it has – meaning it will cling to the surface of the glass longer. Anyway, what you really need to know is that this is a jolly nice wine (available to purchase at Coghlans Peak Village unit for £15.50 a bottle), especially when accompanied by Chef Simon Lilley's moreish White Chocolate, Cherry and Kirsch Delice – pinch me, I'd died and gone to gastro heaven!




From Spain, we moved to Italy and a slinky number called 'Solandia Nero d'Avola', which was paired with Andrew's wife, Janet's, gluten-free Chocolate Brownie. The grapes in this wine are grown at altitude in Italy's warmest climate, and when I took a sniff, I got spice and pepper coming through, not dissimilar to Syrah or Shiraz (another wine I like!). This was beautifully juicy and fruity and, after drinking it when I'd eaten the Brownie, it gained a delicious warmth and rounded smoothness.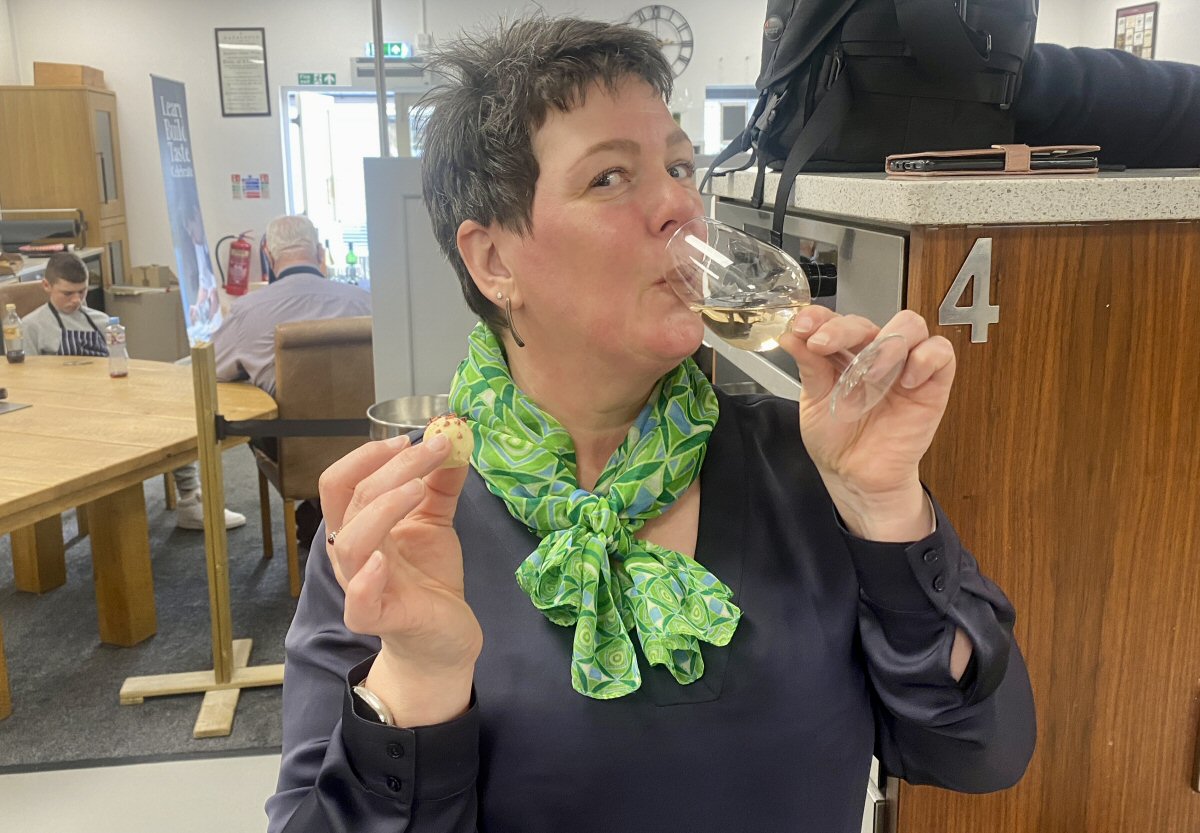 Also made by Janet Coghlan was a decadent piece of Ganache-topped Tiffin, which we paired with another red; the Casarena 505 Malbec from Argentina's Mendoza region. The 71.8% Cocoa, Honey liqueur-laden, Tiffin was superb by itself (as was the Malbec!), but this pairing really was a match made in heaven: rich, dark cocoa and a big, boldly confident wine that gets smoother the more time it's left to breathe. For me, this was the pinnacle of the afternoon but we had one last wine and chocolate pairing to sample…




On our plates was a big slice of Chocolate Orange Torte, and with no preamble whatsoever, His Nibs picked it up in his hands and began to chomp away; the rest of us used our pastry forks to cut the torte into smaller pieces before eating it! At 78% cocoa content, this was seriously indulgent and there were grins of happiness all around the room as folks revelled in its luxury. I will be the first to admit that sometimes my nose plays tricks on me, but even so, I was a bit side-swiped when I thought the final wine (Chateau Thenac Moelleux 2015, France) had a bit of a musty smell to it! Perhaps I'm giving myself too much credit here, but Andrew explained that dessert wines are all made with grapes that have had a fungus, Botrytis cinerea (aka 'Noble Rot') on their skins. Basically, this fungus alters the chemistry within the grape, splitting its skin so that water escapes and what is harvested is more like a raisin than a grape. As he began to describe this wine, Andrew did say that we might detect honey notes and a slight fustiness on our noses – vindication for me! Dessert wines are characteristically sweeter than other wines, and this is thanks to the fact that fermentation is stopped before all the sugars have been turned to alcohol. Personally, I didn't like this wine; but I don't like sweet wines in general, so this didn't come as a surprise to me. The Man Bird has a sweeter tooth though, so he happily drank the rest of my glass: waste not, want not, as he said!




Although this was the conclusion of the Wine Tasting and Chocolate Pairing event, Andrew was happily taking more questions from us all and expanding on particular wines that people had enjoyed. As well as the wines we'd tried, there is a whole raft of other bottles to purchase at Coghlan's if you're so inclined, with prices to suit all budgets.




Don't despair if you missed this event either, there are other dates available: Wine Tasting and Cheese Pairing on Sunday 30th April 2023 and Sunday 25th June 2023, Wine Tasting and Chocolate Pairing on Sunday 21st May 2023, Wine Tasting and Canape Pairing on Sunday 16th July 2023, and Wine Tasting and Fruits of the Land Pairing on Monday 28th August 2023. All of these experiences have a 2pm start time.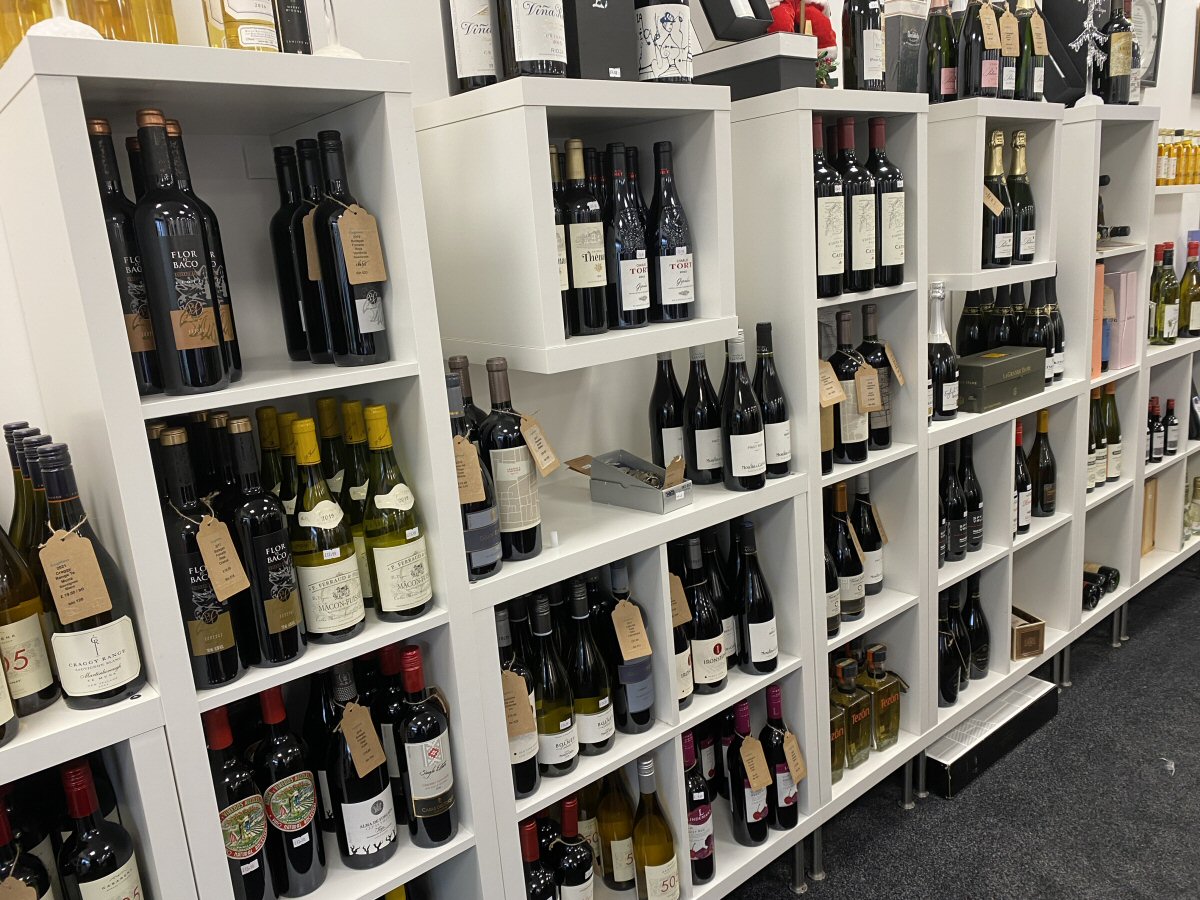 To find out more information on the full range of experiences, give Lisa a buzz on 01246 453131 or nip in when you're at Peak Village (it's unit 10a, next to Cotton Traders); you could also email food@cookingexpert.co.uk or visit the website www.cookingexpert.co.uk.

What an absolutely fantastic afternoon this had been; the perfect end to the Easter Bank Holiday weekend! Thank you again to the Coghlan's team for inviting me along, I always have such a wonderful time.
Some form of incentive was provided to visit this venue
read more
Read Some Of Our Recent Reviews
---

Demo & Dine Event at Coghlans Food and Wine Experience, Rowsley They say you can't keep a good thing down, don't they? Well, Coghlans Derbyshire Wine and Food Experience Centre had a bit of a shake-up recently when Chef Simon left Read The Article

---

Mongolian BBQ Class With Chef Meg at Coghlans Food and Wine Experience, Rowsley What an absolutely ruddy brilliant afternoon that was!!! I love all the classes at Coghlans Derbyshire Wine and Food Experience Centre at Read The Article

---

The New Sushi Course With Chef Meg at Coghlans Food and Wine Experience, Rowsley I love doing the cooking classes at Coghlans Derbyshire Wine and Food Experience Centre, you all know that, but I have to say that the Sushi class Read The Article

---

Indian Cooking Class With Chef Meg at Coghlans Food and Wine Experience, Rowsley I love being at Coghlans Food and Wine Experience Centre; it's my happy place. I'm not the world's best cook (my eating skills are second-to-none, but Read The Article

---

East Lodge Wine Maker's Dinner By Coghlans Food and Wine Experience, Rowsley You all know that I love my food (else there'd be no point doing the blog really, would there?!), but I also like wine; imagine my joy, then, at receiving the phone Read The Article

---

Moroccan Cooking Class With Chef Will at Coghlans Food and Wine Experience, Rowsley Well, didn't I feel like the new kid in the playground? Why, you ask? because there was a new Chef at the helm at Coghlans Derbyshire Wine and Read The Article

---

Chef Simon's Farewell Class At Coghlans Wine And Food Experience Centre All good things must come to an end, they say, don't they? Well, at Coghlans Derbyshire Wine and Food Experience Centre at the Peak Village in Rowsley, Chef Read The Article

---

Wine Tasting and Cheese Pairing Event At Coghlans Wine and Food Experience Centre Bank Holidays are already fabulous, aren't they? But one thing guaranteed to make them extra special is to be doing a 'Wine and Cheese Pairing' Read The Article

---

Bread Making at Coghlans Food and Wine Experience For The Real Bread Campaign For those of you who didn't know, it was 'Real Bread Week' 18th-26th February 2023 and someone who has a real passion for Read The Article

---