Bottomless Brunch At Turtle Bay In Derby
---
Published On Sunday 17 Jul 2022 by Sticky Beak
See Recent Dining Out Reviews | See All Recent Reviews


The timing of the invitation from the Turtle Bay team in Derby to go and sample their Bottomless Brunch couldn't have been better; not only was it going to be The Man Birds' birthday a couple of days later, we'd got friends over for the weekend so they could come with us. Very kindly, His Nibs and I were 'comp'd' our brunches, so we split the cost of the other two between us: everyone wins then, don't they?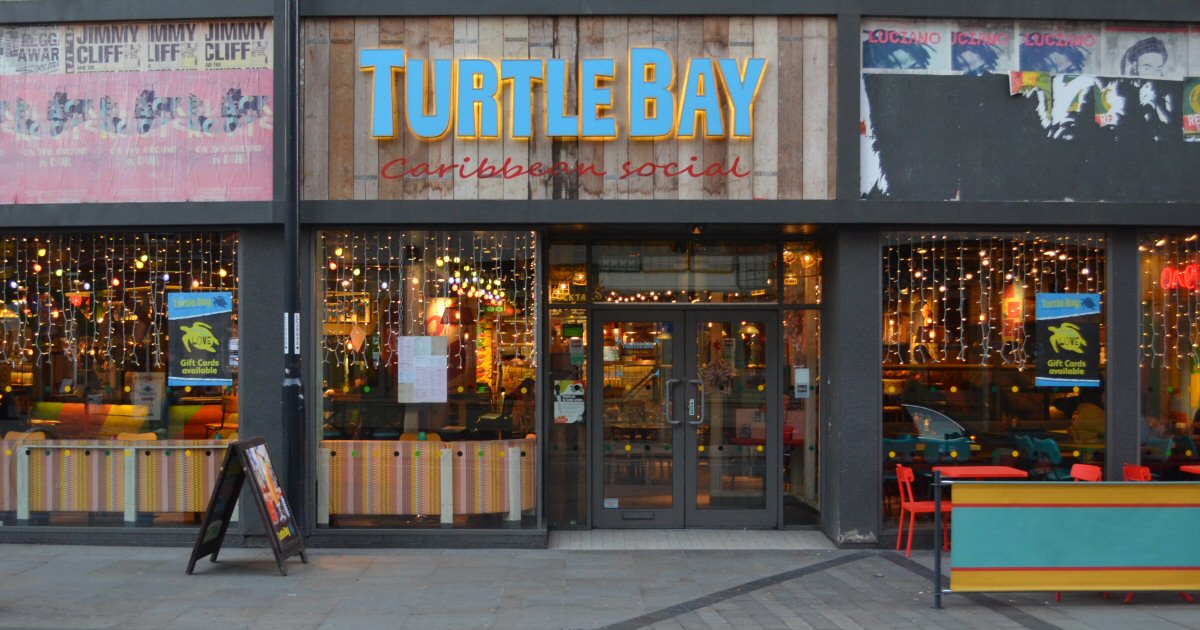 Getting us into the city safely (and responsibly, seeing as we were going to be drinking) were trentbarton buses and their fab drivers on the nines service, and it wasn't long before we reached our destination and the fun could commence!
As a fully paid up member of the craft ale appreciation club, The Bolton Wanderer had researched a couple of venues in the vicinity of the bus stop and Turtle Bay where he could avail himself (along with the easily led Man Bird!) of some extra refreshment. First stop, then, was The Derby Brewing Tap House where some Deya and Polly's got the full attention of 'the chaps'; Bestie Bird and me opted for alcoholic grape juice instead. TBW spent ages yapping to the fella behind the bar, and it was really nice to see their passion and knowledge in action.




When we rocked up to Turtle Bay the party was already in full flow and a vibrant bubble of conversation and laughter could be heard clearly; it was celebration central with a large dose of Caribbean feel good and chill in the mix for good measure! The front-of-house person took us to our table and handed us over to our server for our brunch session, the lovely Luke – what a total legend he turned out to be. Quick as a flash there was a bottle of Prosecco and a round of Raspberry Reggae's on our table, so we clinked glasses to toast His Nibs' birthday and Bestie's new job (she has brains as well as beauty, my buddy).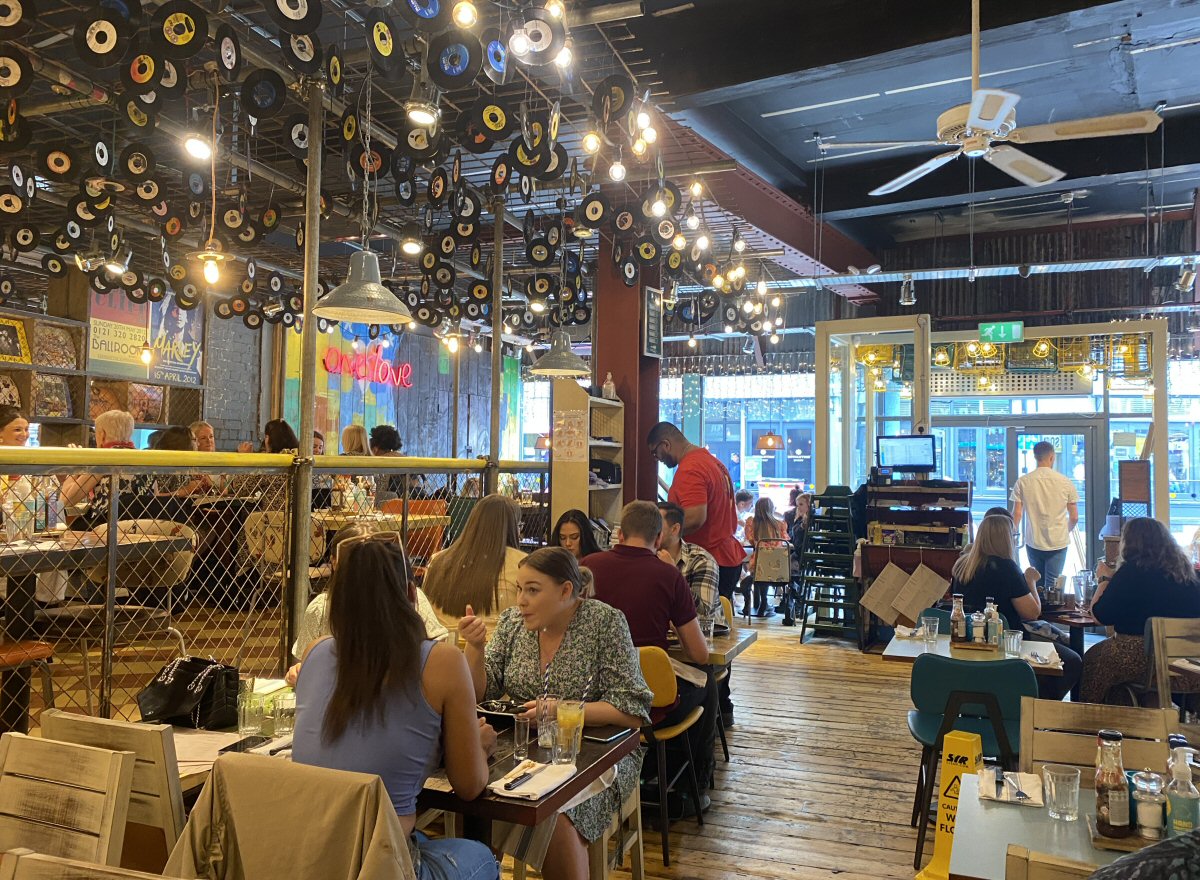 We were having the standard bottomless brunch, which is £31.50 per person and includes a breakfast, brunch, burger or Roti roll for the eats and unlimited cocktails (the FULL range!), Prosecco, draught Red Stripe, Brixton Pale Ale, juice, soda and hot drinks to refresh yourselves. If you want to have the pick of any main dish on the mouth-watering menu at Turtle Bay, then you simply pay an additional £4.30 (as well as individual dish supplement charges) per person to do so. I fancied the Big Vegan Grill Down and The Man went for the (meaty) Big Kingston Grill Down; Bestie Bird had the Shack Stack Burger and TBW opted for the Chicken Buddha Bowl. In our usual style we ordered some Grilled Jerk Halloumi and Festivals (Dumplings) as extra sides to share between us all.




As our brunch dishes were arriving, so were another round of cocktails; this time it was the scrummy coffee based 'Jamaican Wake Up' variety, comprising Tia Maria, Vanilla, Coconut Milk and Cold brew Coffee. I tucked into the dinky roasted Tomatoes (deliciously intense in their sweetness) and grilled field Mushroom on my plate whilst His Nibs started chowing down on his Jerk-pimped Bacon and Sausage.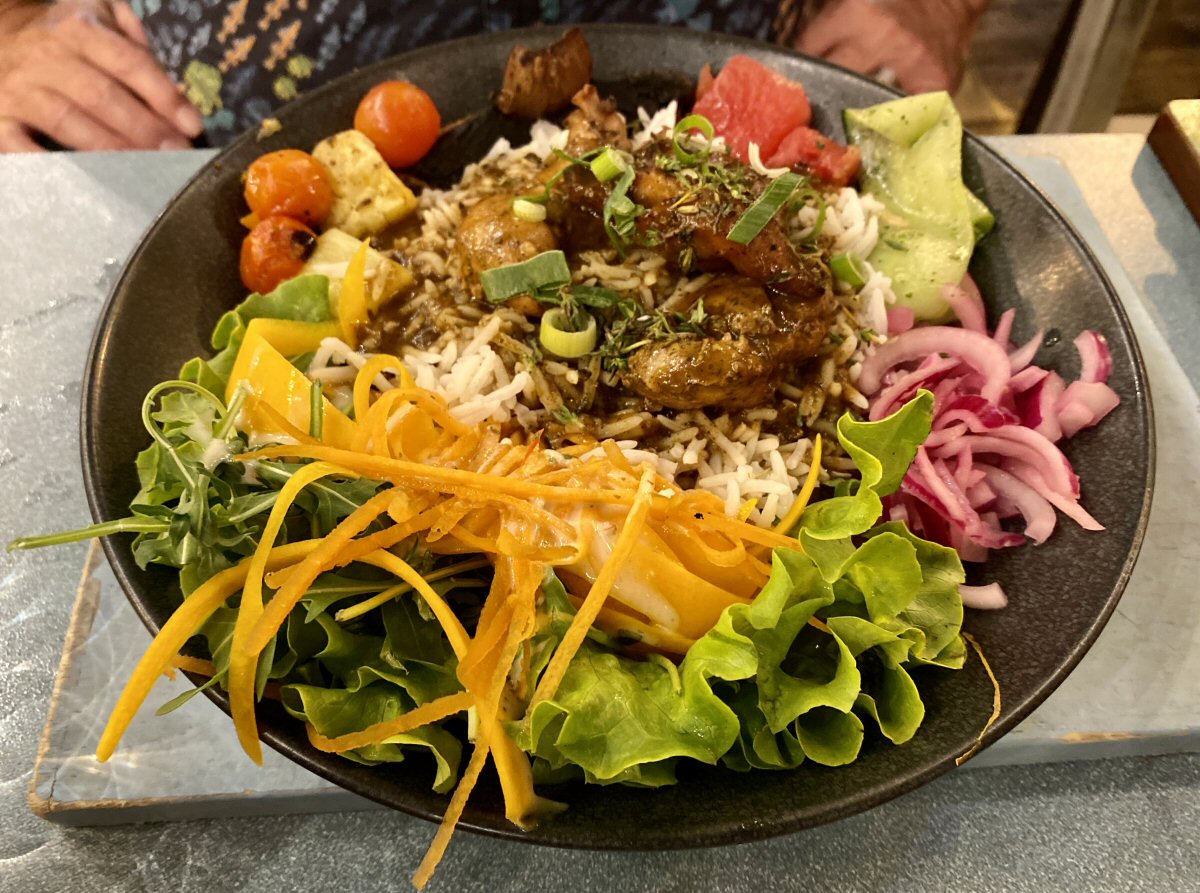 Across the table, TBW began munching on the rainbow that was his Buddha Bowl; honestly, the Turtle Bay team couldn't have got any more colours on that plate! Deep tasting, pulled Chicken thigh meat was nestled amongst bright toned Beets, sweet fresh Pineapple and Watermelon, creamy Avocado and tangy, crunchy Pink Onions – so you can imagine the symphony of flavour that his palate was experiencing! Steamed rice, peppery Rocket leaves, juicy Tomatoes, softened Squash chunks, Mushroom, and Cucumber Chutney also added their vibrant tastes to this dish, and I have to say that it looked so good that I was kicking myself for not choosing this as my meal. Still, it gives me a good excuse to indulge in another brunch in the future.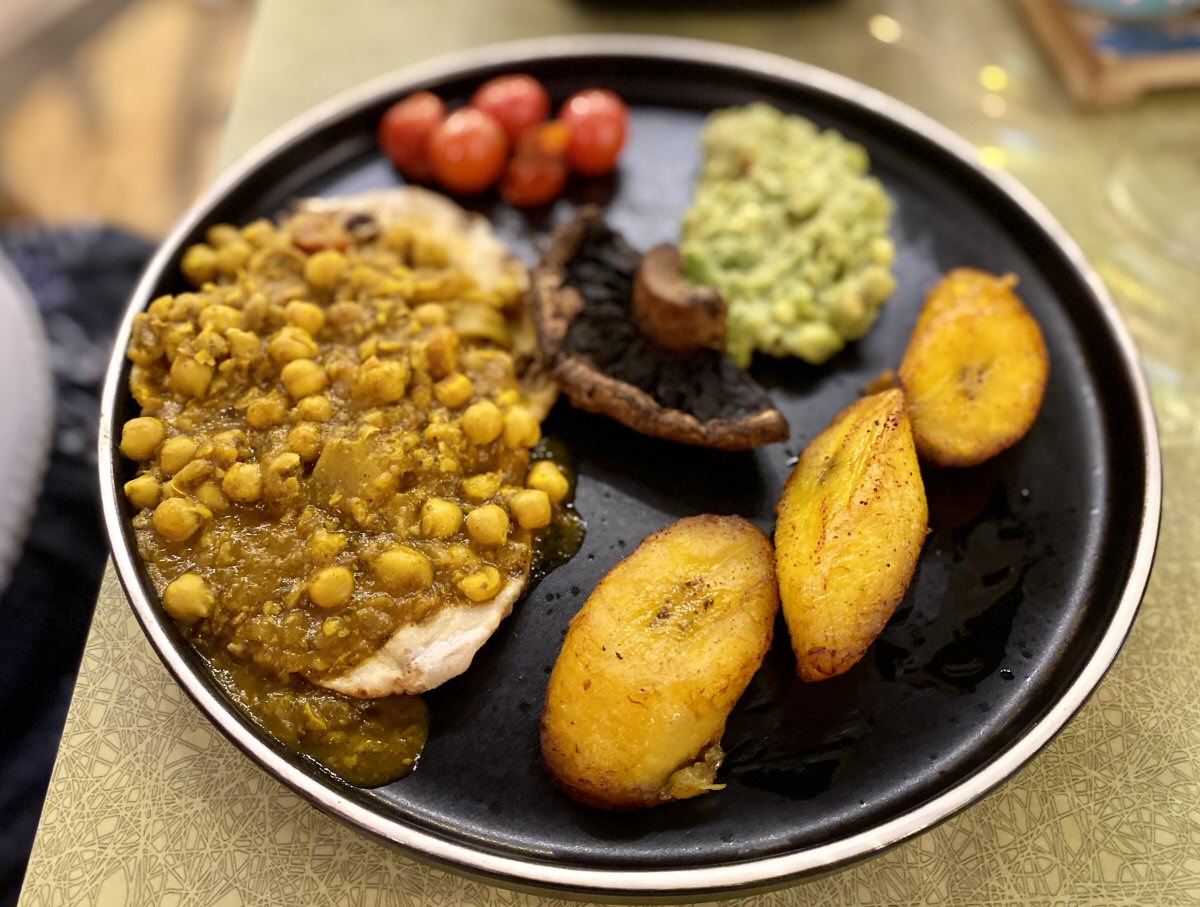 I have to say though, that my sweet Plantain, smashed Avocado and kicking Curried Chickpeas were doing a great job of keeping my taste buds entertained and satisfying my keen appetite. The grilled Roti bread was the perfect texture of soft (but not soggy) and substantial (but not tough or dry). Another thing going down a treat with us all were the Festivals; their pillowy inners contrasted well with the crisp outer and a delicate, creamy taste couldn't fail to please, could it?.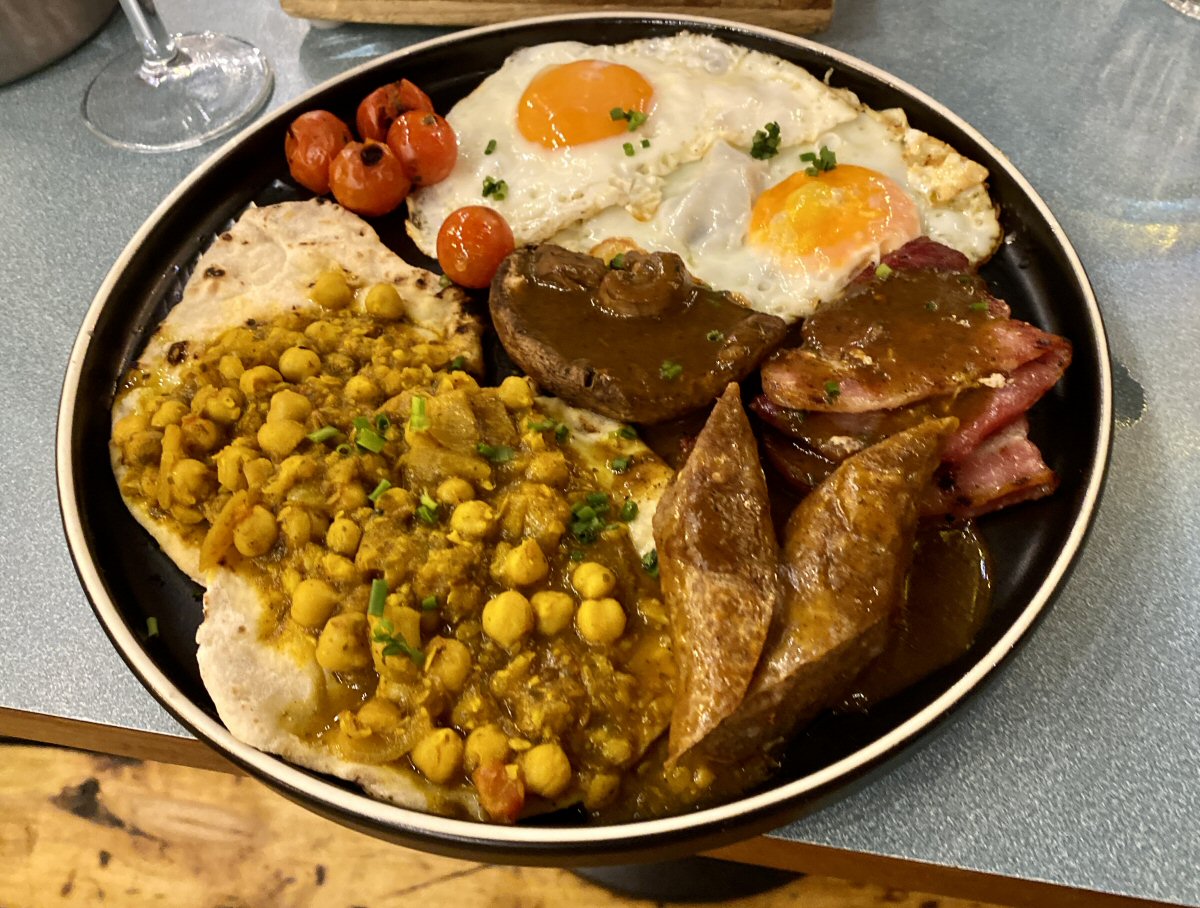 The Man Bird passed his mushroom over to me (yay!!) but declined to share the Bacon, Sausage, Curried Chickpeas, Tomatoes and grilled Roti -got my own (of the non-meaty items), cheers fella, so not bothered about those! I should just mention that His Nibs' morsel carries a £2 surcharge over and above the standard brunch price; apparently it was worth it though. Just like its British counterpart, the Big Kingston Grill Down is a proper plateful of yumminess...with the added bonus of those tongue-tingling spices.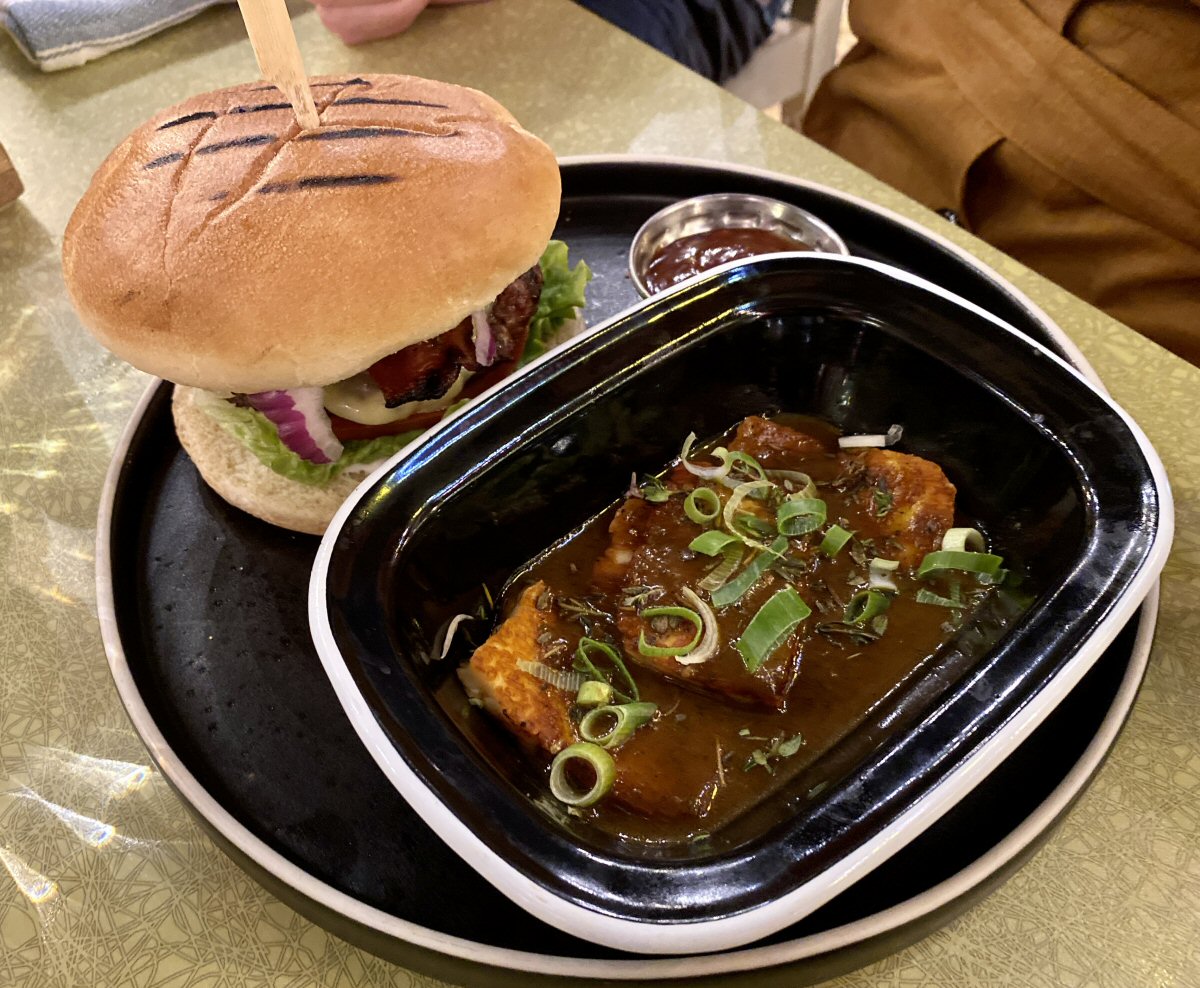 Bestie had been quietly (see, miracles do happen!) chomping away on her Shack Stack Burger, commenting on the beautiful depth of flavour the beef patty had and, in full stealth mode, had nearly got away with not sharing her Jerk Halloumi! I did manage to pinch a bit and it was delicious; if you're a fan of Halloumi you'll love it anyway, but combined with those glorious Caribbean spices it was the bomb. As well as the beef patty, there was lots of thick jerk-pimped Bacon to tuck into so meat-lovers will be very satisfied with this particular offering of Turtle Bay's. There's something mesmerising about melted cheese oozing seductively down a stacked burger, but the team at Turtle Bay go all-out and slather Jerk Tomato sauce on as well so you get a double whammy of visual delight. A look can convey a thousand words they say, and Bestie Bird's facial expression was saying this is hella tasty!!!!!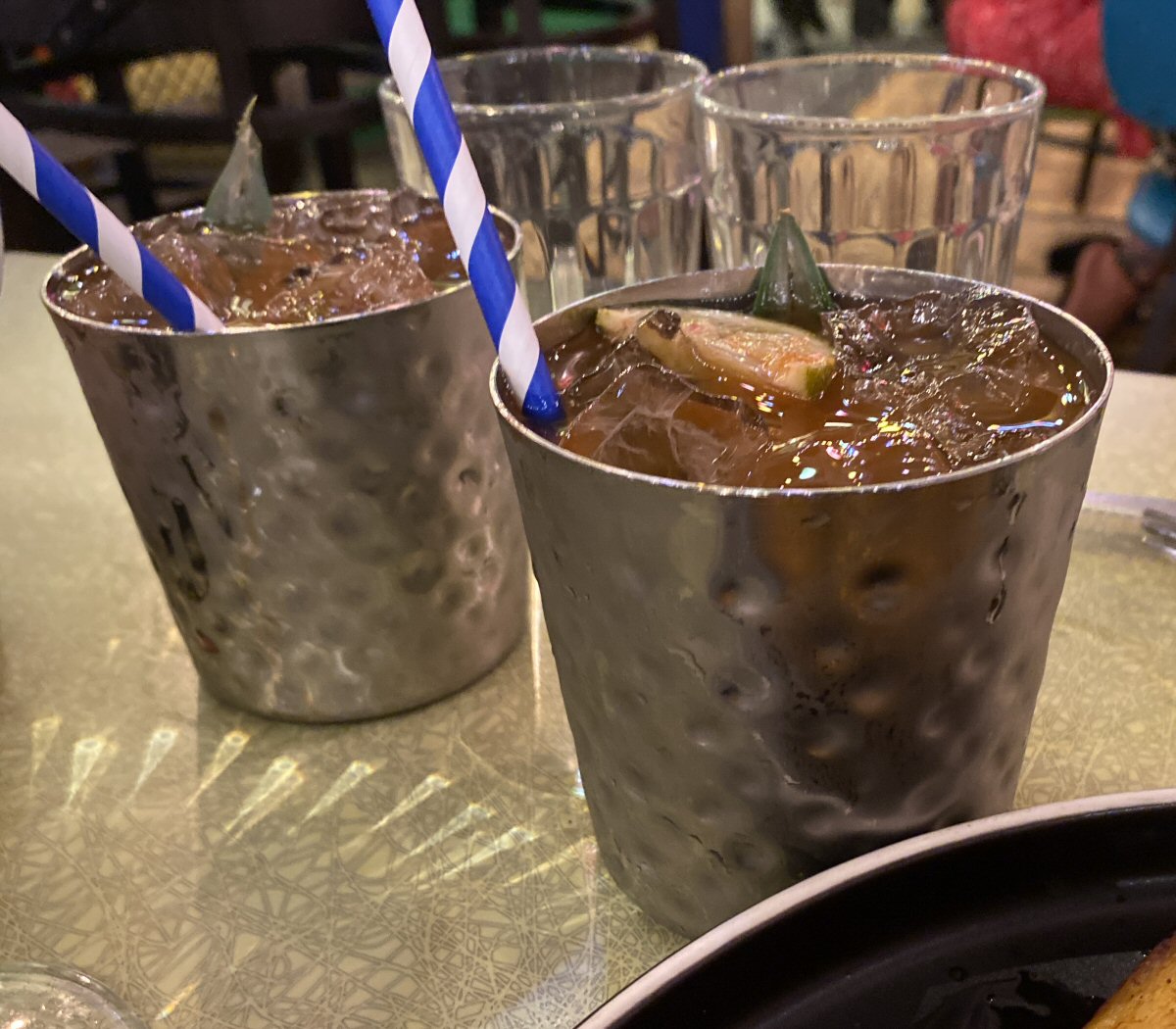 Whilst we'd been munching, Luke had done several check-backs; grabbing water for us and another couple of rounds of cocktails (Reggae Rum Punch and Zombies), and his colleagues were also doing a great job looking after their guests in such a busy venue. Luke was the Caribbean personified with his wide smile, laid back charm and wicked sense of humour; sometimes a person just 'belongs' in a certain venue, and Luke + Turtle Bay is perfect.




I will admit that I'm one of those folks that, when it comes to drinks, sticks to pretty much to what I know and like, but thanks to Turtle Bay offering their entire range of cocktails on the bottomless brunch it was the ideal opportunity to try some new tipples. I was already a new fan of the Jamaican Wake Up, so was well up for trying the Coconut Espresso Martini; to be fair it wasn't wildly different to the standard Espresso Martini, it just had the gentle taste of Coconut at its periphery. Bestie fancied trying the Kingston Solero whilst the rest of us opted for 'Tingaling's', as she liked the sound of the sweet Mango and Passionfruit combo in her choice rather than the sharper Pomegranate and Grapefruit in ours. We all agreed that the Strawberry Daiquiri's were fab, though we had been expecting them to be thicker in consistency – it took us a while to realise that they weren't frozen. Be kind, we'd had a few by this point and our senses weren't at their sharpest!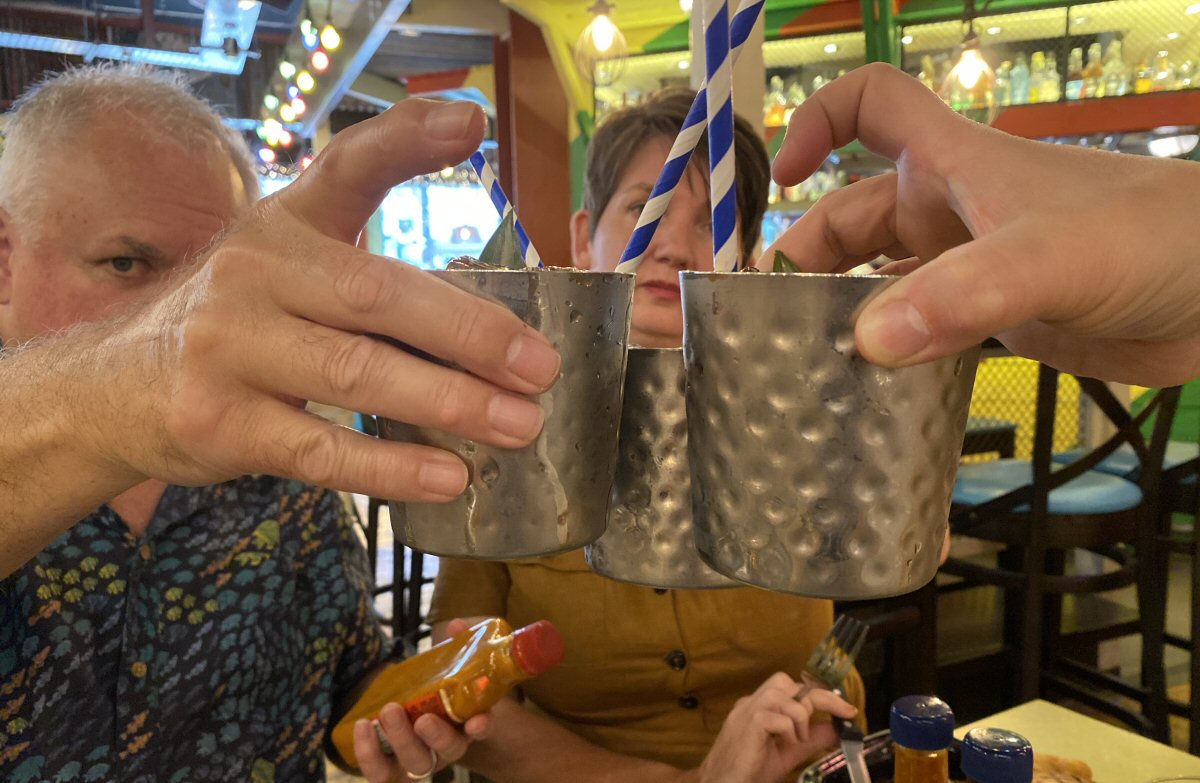 It wasn't until the next day that His Nibs and I realised that we hadn't had our beloved Marley Mojitos – how the heck had that happened?! As I always say though; it's a good excuse to revisit on another occasion. Ever the optimist, that's me.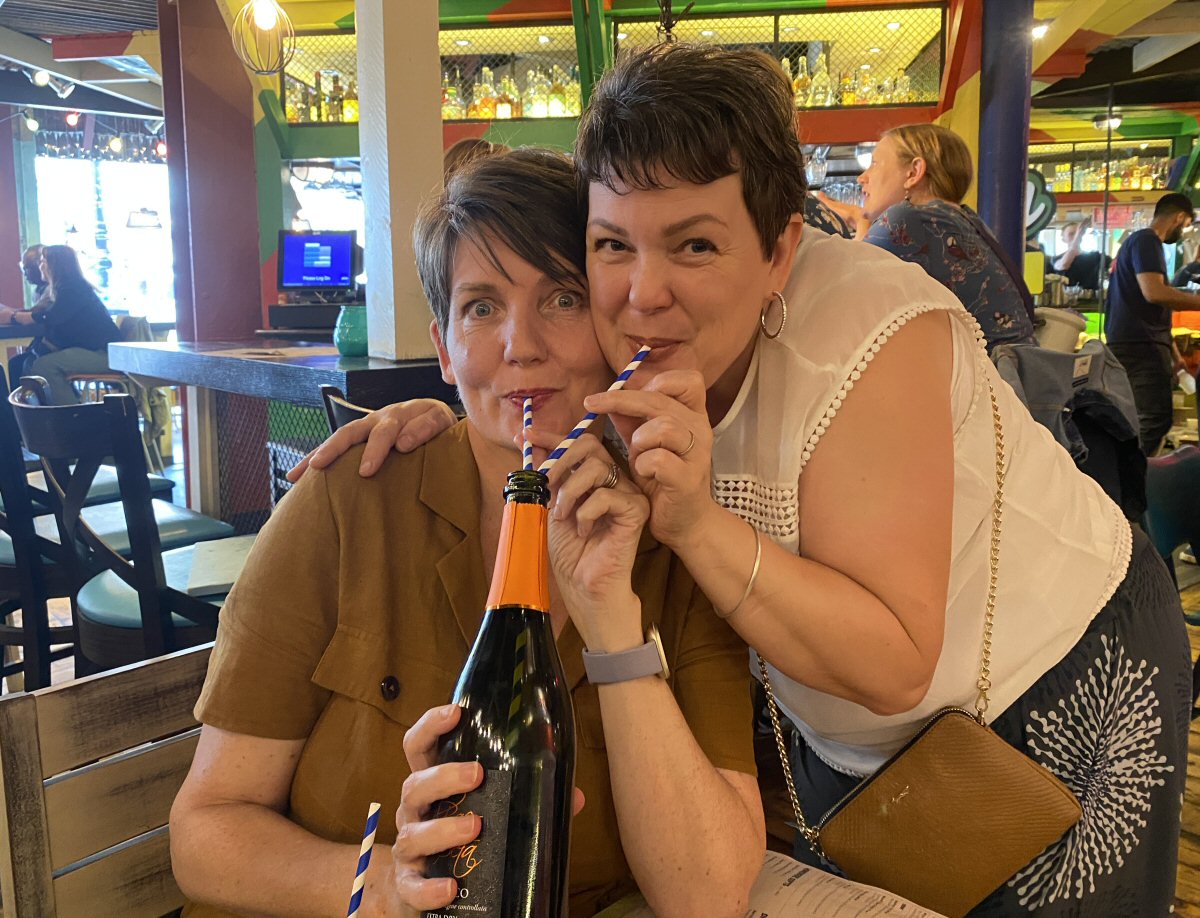 Our group agreed that the two hour slot for Bottomless Brunch was plenty thanks to the food and drinks service being so efficient. Luke had kept a keen eye on our drinks and when we were nearing the bottom of our glasses came over to take our next order, rather than waiting until we'd completely drained them; this little detail really does make all the difference, trust me!

Thank you to the team for the invitation to be your guests and for taking such fantastic care of us; you made our double celebration a real occasion. Hot Wings given to Turtle Bay in Derby and another thank you to the fab drivers at trentbarton buses for getting us to and from the city, both in good time and safely. To book a Table at Turtle Bay in Derby either ring up on 01332 344100 or go online www.turtlebay.co.uk
Some form of incentive was provided to visit this venue
read more
Read Some Of Our Recent Reviews
---

Out For Dinner At The Bear Inn, Alderwasley If it's the full on, single track road, rural Derbyshire experience that gets your motor running, then the journey to The Bear Inn at Alderwasley will have you in joyous raptures. For those of you who are Read The Article

---

Lunch At The Recently Opened Chatsworth Kitchen At Peak Village, Rowsley Everyone who knows me, knows I love Chatsworth (always have, always will) so when the invitation to sample lunch at the newly opened Chatsworth Kitchen Read The Article

---

A Visit To Vietnamese Street Kitchen, Resorts World, Birmingham Way back in the day (pre-covid) Fledge had bought me and The Man Bird tickets to see Mrs Browns Boys live and finally, after a couple of false start reschedules, the day of Read The Article

---

Sunday Lunch, A Museum Tour & Painting A Piece Of Denby At Denby Pottery Village It wasn't long ago that His Nibs and I visited the Denby Pottery Village to sample the Afternoon Tea at Bourne's Coffee Shop and Bistro (it was superb Read The Article

---

Afternoon Tea At Santo's Higham Farm Hotel & Restaurant Aaaaaarggggh, don't you love your children??!! A while back, His Nibs had spotted a great deal on Groupon (you know what a bargain hound he is!) and thought it would be Read The Article

---

Sunday Lunch At The Countryman Pub & Dining, Kirkby-in-Ashfield We finally got to visit a venue thats been on our radar for quite a while, The Countryman Pub and Dining in Kirkby-In-Ashfield! A few weeks ago we tried to book a table for dinner Read The Article

---

Dinner At The Divan Turkish Restaurant In Chesterfield Chesterfield was welcoming us back again for our latest review visit; this time to the newly opened Turkish restaurant, The Divan, on Lordsmill Street. Owner Tuncay (along with Read The Article

---

Breakfast At Marsh Green Farm Shop & Cafe, Kelstedge Ah, you've gotta love a Bank Holiday curve-ball, haven't you? His Nibs and I headed over to Mummy Birds' gaff with the intention of having a leisurely couple of hours at the Sunday Read The Article

---

Afternoon Tea at Bourne's Coffee Shop and Bistro, Denby Pottery Village You all know that The Man Bird and I do like an Afternoon Tea; I mean, who doesn't?! Just a few miles down the road from the nest is Denby, home to the world-renowned Read The Article

---