Dinner At The Divan Turkish Restaurant In Chesterfield
---
Published On Sunday 26 Jun 2022 by Sticky Beak
See Recent Dining Out Reviews | See All Recent Reviews


Chesterfield was welcoming us back again for our latest review visit; this time to the newly opened Turkish restaurant, The Divan, on Lordsmill Street. Owner Tuncay (along with Aisha and Laura) welcomed us warmly inside, eager to show off his pride-and-joy, and it was indeed like stepping into a restaurant abroad – the sun was even shining brightly!
The large open plan space houses plenty of freestanding darkwood tables and mid-back chairs that are all nicely spaced apart so that conversations can be kept private, but not so far apart that you feel adrift from adjacent diners. Pale wood floors are complimented by honey-toned stone effect walls that have large prints of historic landmarks on them; the effect is one of a temple's pillars, something the recessed wall lights accentuate. My eye was immediately drawn to those fabulous hanging glass lanterns that you see when holidaying abroad - I love them! Several clusters of these were dotted around the restaurant, but the most prominent group took pride of place at the middle of a large, mustard hued dome in the centre of the dining area. A deep marine/petrol blue colour was the other main shade in the decor scheme of this spotlessly clean venue.




Divan offers a great choice of drinks, all at very reasonable prices; you can pick up a bottle of house wine for £16.95, cocktails are all £7 and His Nibs' beloved Efes lager is available in pint bottles (which I think was about a fiver). There's a good range of soft drinks, including Ayran (a traditional Turkish yoghurt drink, which I had) and Laura offered us a jug of water for the table as soon as we'd sat down.




Tuncay cooks dishes that provide a good representation of Turkish cuisine and its extensive range of flavours. I think a lot of folks are apprehensive of Turkish food, thinking that they're going to be too spicy for them, when in fact this isn't the case at all. Yes, there are chillies in some dishes (usually served Chargrilled as a final touch on main courses), but they aren't strong enough to make your lips and tongue tingle. What you get instead is a plethora of herbs and spices used to create a symphony of taste sensations that really do leave your palate wanting more!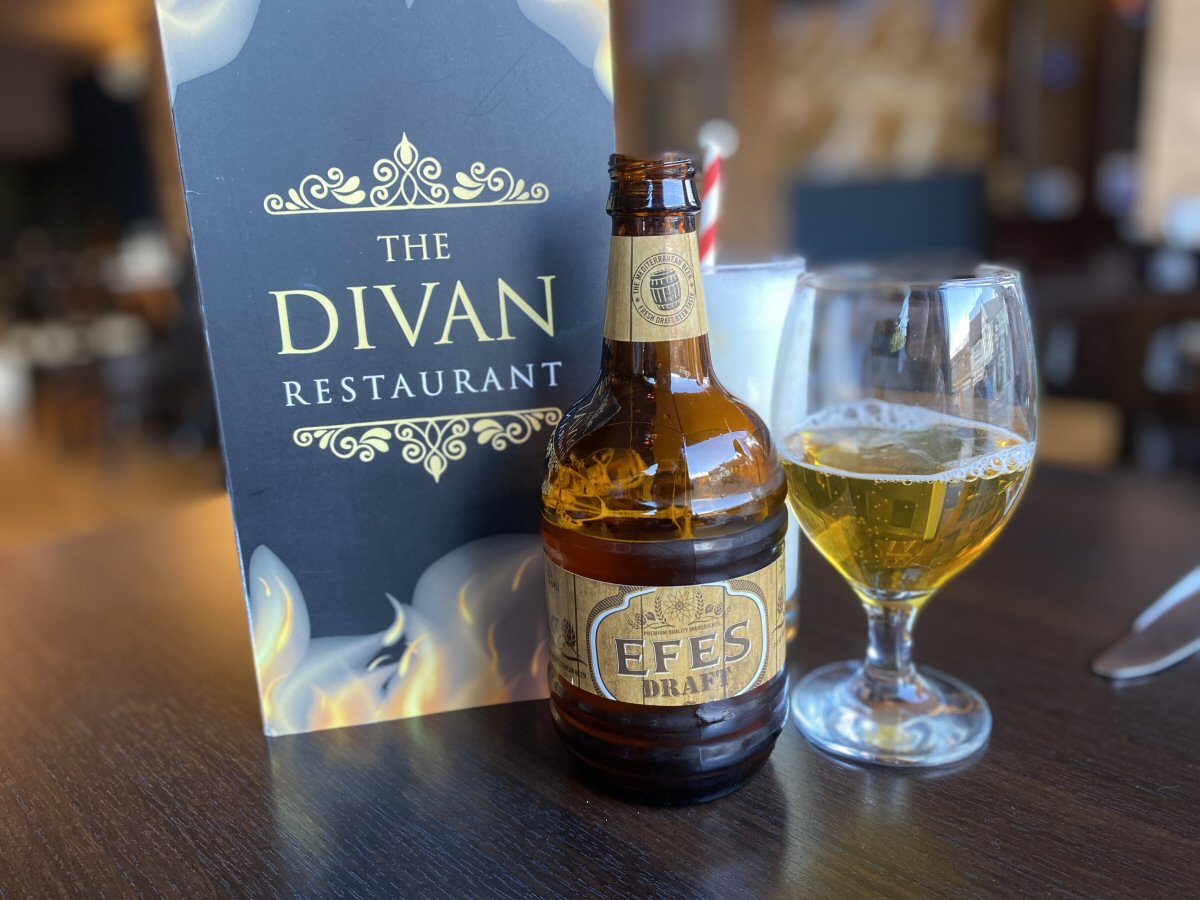 To get our salivary glands woken up and the gastric juices flowing, Laura brought over a basket of toasted, seeded bread and some Tzatziki and Spicy Turkish Salsa in pots for us to tuck into. As soon as I tasted that first mouthful of garlic-laced Tzatziki I was transported back to memories of holidays in Turkey and a massive smile lit up my face. The Man Bird likes spicier things than me, in general, and he had exactly the same joyous reaction when the heat of the Tomato, Onion, Green Pepper and herb Salsa hit his taste buds. We both looked at each other with that 'oh yes, this is going to be a fab evening!' expression; bring on the starters proper.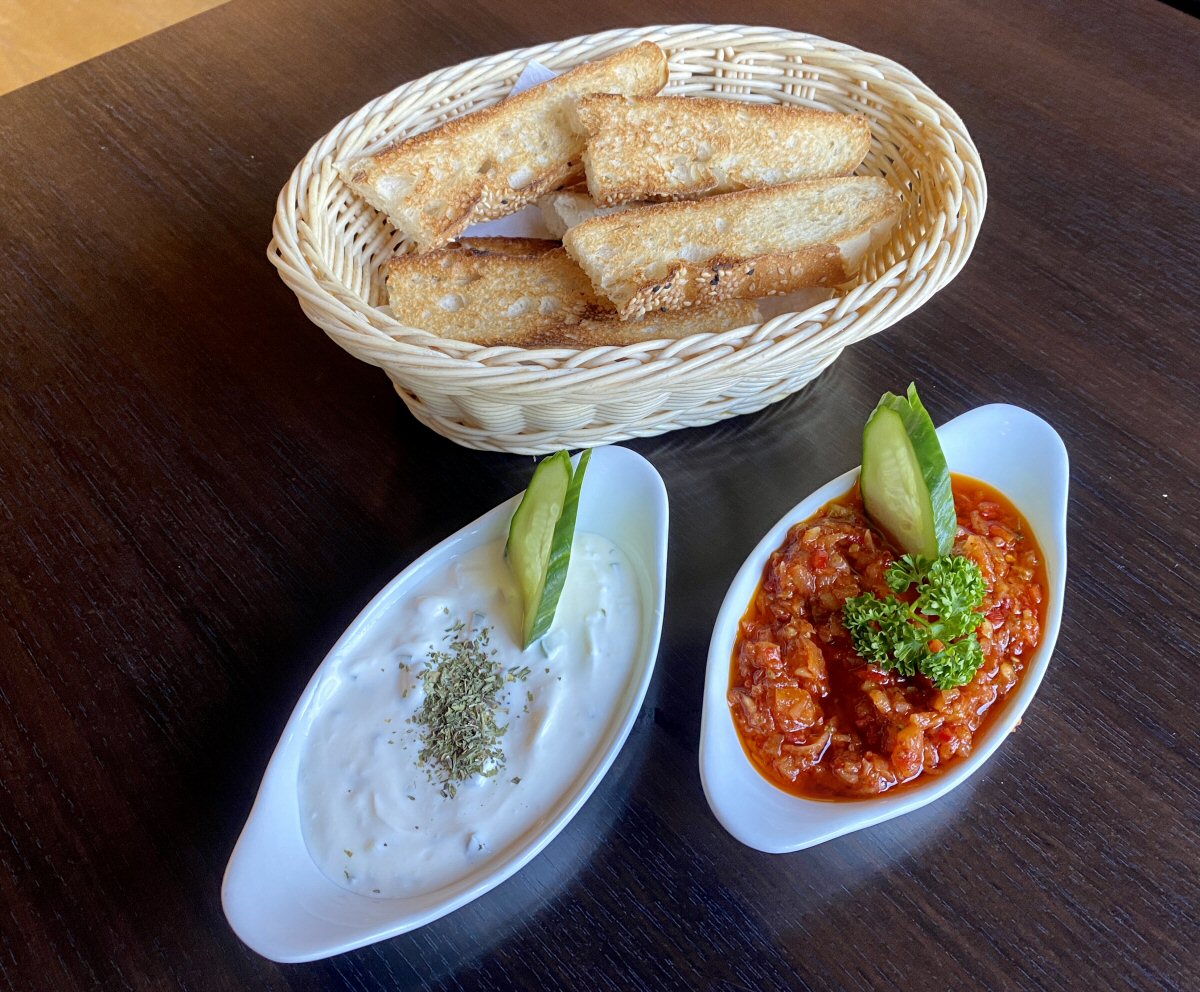 Laura asked if we'd like some more of the bread and dips after she'd taken our food order, to which we nodded enthusiastically. I chose Grilled, Smoked Red Pepper stuffed with Feta Cheese (£6) to start, followed by Kulbasti (£16.95) for my main; His Nibs went for Stuffed Meatballs (£6.95) and Chef's Special (£18.50). From our table we could see into the kitchen and it wasn't long before mouth-watering aromas wafted gently over to us, making my tummy rumble!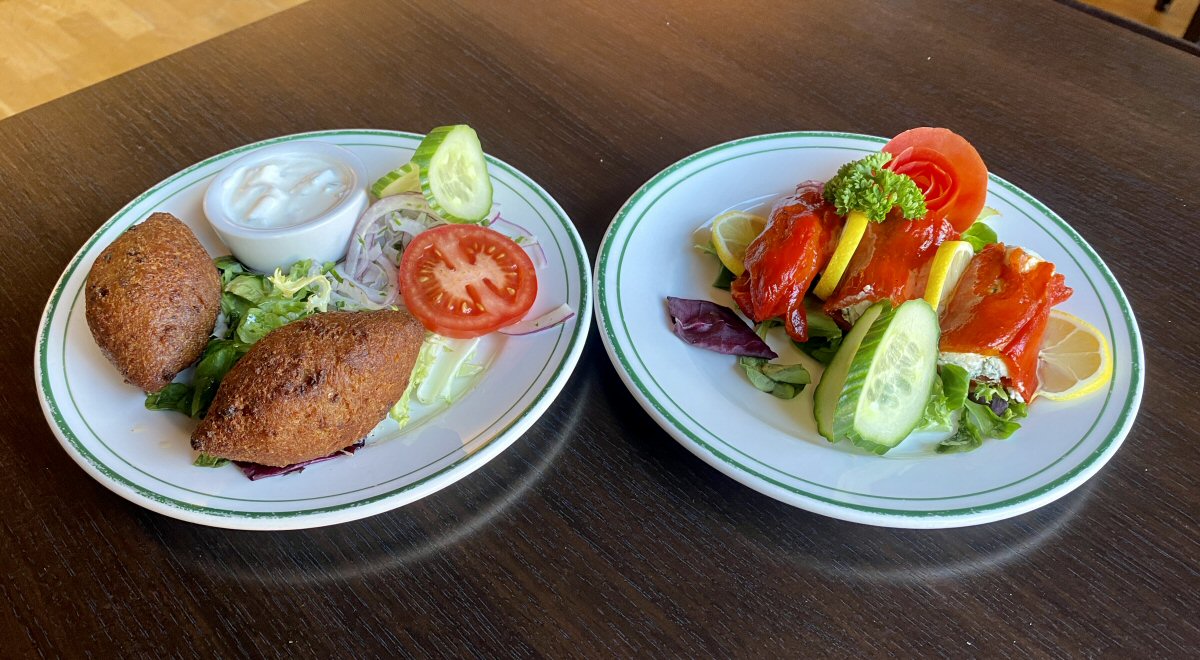 They say you feast with the eyes first and, wow!, what a feast this was going to be. My stuffed Red Peppers were rolled and nestled between slices of fresh Lemon and resting on a bed of mixed leaves, so you can imagine how colourful it looked. A delicate rose made of Tomato and sprigs of fresh curly Parsley garnished the dish and everything was arranged with precision to maximise its visual appeal. The flavours burst within my mouth, all bright and clear and full of happiness; I particularly loved how the softened Peppers' natural sweet taste had been intensified by being roasted and charred. Tangy Feta had been whipped and combined with herbs before being used to fill the centre of the Red Pepper rolls, and the cheese and vegetable's flavours complimented each other perfectly. Freshness is key to this type of simple, unfussy dish; there's no place to hide if any element is less than perfect, and Tuncay clearly doesn't compromise on using fresh ingredients.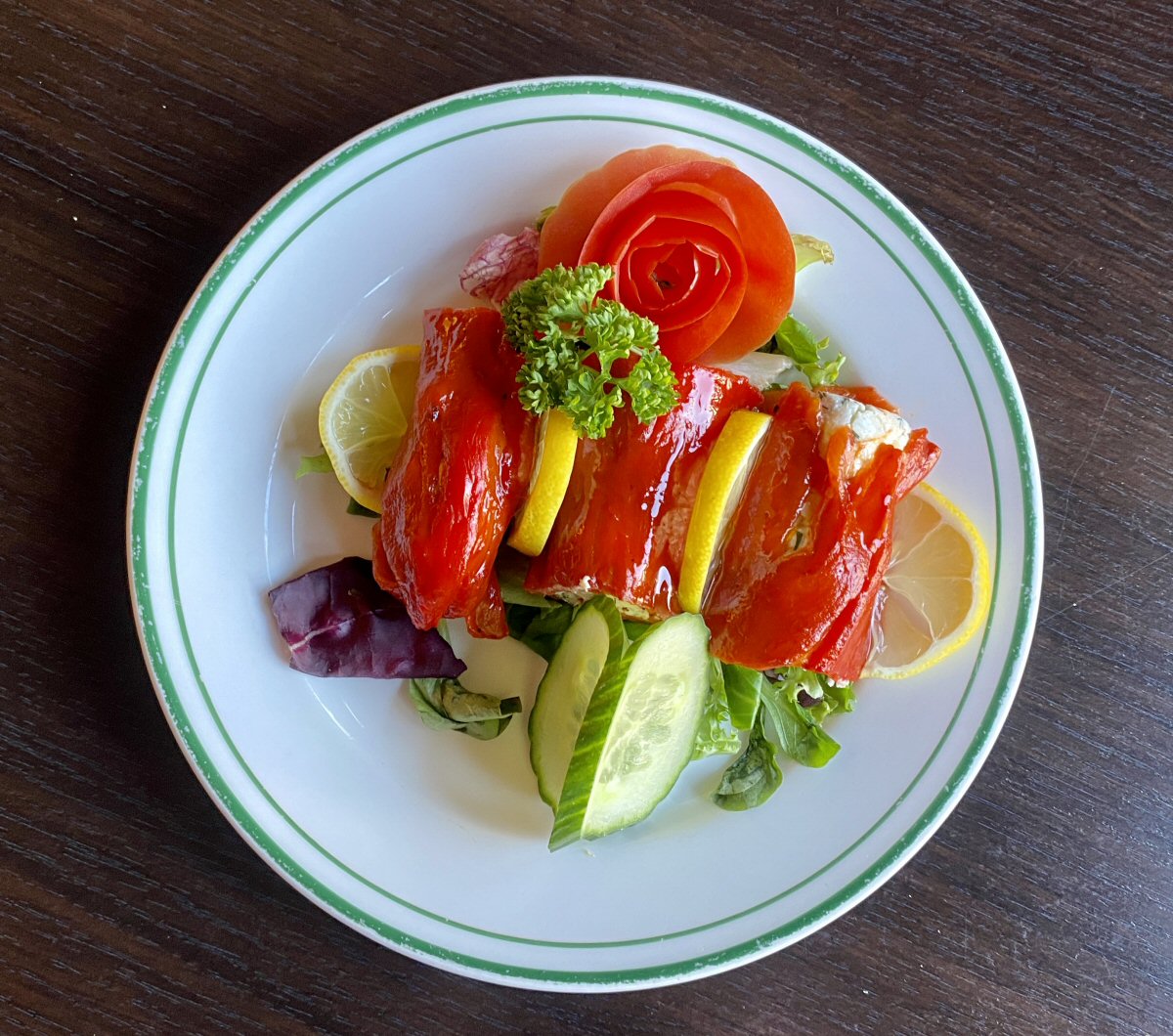 A pair of Rugby ball shaped meatballs graced His Nibs' platter, ably showcased by mixed leaves, Cucumber, Tomato and a Red Onion and herb salad, and a separate pot of natural, herbed Yoghurt. The centre of the meatballs was a very tasty mixture of minced Beef, Bulgar Wheat, Walnuts, onion and Herbs whose earthy, sweet, savoury notes were certainly hitting the mark with His Nibs! The outer was a curious texture, somewhere between a batter and pastry, and it was lovely and thick; now, you might expect from the description that it was going to be claggy or maybe greasy, but it was neither of these things. It was just wickedly delicious and very satisfying.




Laura came to check we were enjoying our starters and I think was a bit bowled over by the enthusiasm rolling off of us! We are the sort of people that show our emotions easily (especially me; my face will say it all!) and we always say that if you're happy show it and say it – so we did. Whilst she came to check on our progress, Laura also took the opportunity to ask if we needed more drinks. It was at this point that a family group (kids, parents and grandparents) came in and without batting an eyelid they were all seated together and high chairs brought over; the chairs weren't needed, so got put back in their place, but it was nice to see that families are welcomed and catered for at Divan. I should just say that kids have their own menu as well, priced at £7.95.

It isn't often I get food envy because I'm always happy with my own choice, but the set meal platters that came out at the family table turned my head!! Laura and Aisha both saw my jealous look and the fact that I practically drooled at the banquet of colourful vegetables and meats not heading over to me, and couldn't suppress a giggle at my reaction. Next time (and we will definitely be going to The Divan restaurant again!!) I am ordering this, whether The Man agrees or not; priced at £42 for 2 people or £84 for 4 folks and comprising hot and cold Mezze starters, a range of mains AND pudding, this represents fantastic value for money!

Anyway, back to our table...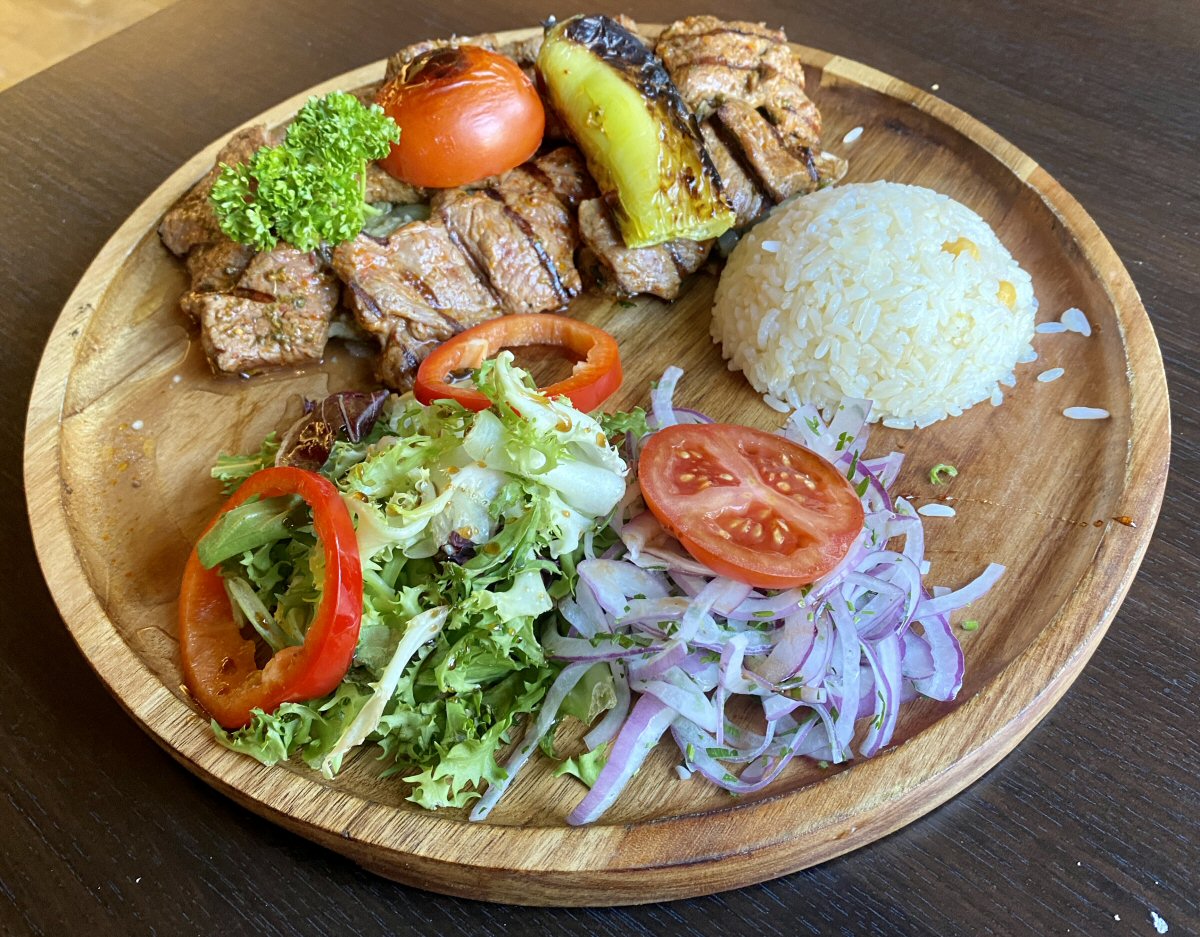 I'd ordered Kulbasti, a simple sounding dish of Charcoal grilled Lamb Fillet on a bed of Smoked Aubergine. What Tuncay served up was anything but simple, either in terms of taste and texture or in presentation; what I got was a smorgasbord of deliciousness. The Lamb was thinly sliced and spread across a bed of softened Aubergine, thinly sliced Onions and skin-on baby Potatoes that were a yummy hybrid of jacket/roasties. My palate was cocooned by the juicy, sweet earthiness of the Lamb and the soft, fragrant flesh of smoked, roasted Aubergine, ably assisted by fluffy grains of rice and whole Chickpeas that had been arranged in a precise timbale on the platter. To balance the sweeter elements of this dish was a colourful salad of lightly dressed bitter leaves and a gorgeous red onion and herb salad. The lamb in this dish wasn't spiced, it was herbed, and the clean taste of fresh Thyme was unmistakeable in my mouth; this was utterly glorious, compliments to you, Tuncay.




His Nibs' taste buds were getting a full-on performance from the selection of Chicken, Lamb and Feta in the Chef's Special; at every mouthful there was something else for them to focus on! Each variety of Lamb (Kofte, Shish and Chops) had been cooked with different combinations of spices, so The Man got varying heat levels and different tones of sweet/earthy washing over his palate. The marinated Chicken was flavoursome and juicy thanks to Tuncay's expert cooking skills on the charcoal grill; no chance of dry, rubbery over-cooked meat whilst he's Chef! I'd had a bite from my whole charred Pepper before passing it over to The Man, meaning he'd got two of this particular delicacy to savour, and he does so like them – well, it was his birthday, so I had to play nicely didn't I ?! Crisp Samosa pastry encased the Feta cheese and herbs, eliciting a clear 'crunch' when bitten into as well as revealing its warm, scrummy contents. The dinky Potatoes were also on His Nibs' plate, but he got a halved grilled Tomato as well.

Both meals had been exquisitely presented, with vegetable art and fresh herbs used to full advantage; the placement of each element of the dishes meant that colours popped against each other for maximum visual impact, and different textures had been incorporated to increase interest for the senses. Obviously, this made life easy for us from a photographic point-of-view, but on a serious note for everyday dining I think that a lot of Chefs could take notes from Tuncay! There was no mistaking the pride and passion that Tuncay has for his craft, it came through from that first glance to the last mouthful taken (and there were a lot of mouthfuls to take; this gentleman is a feeder, for sure!).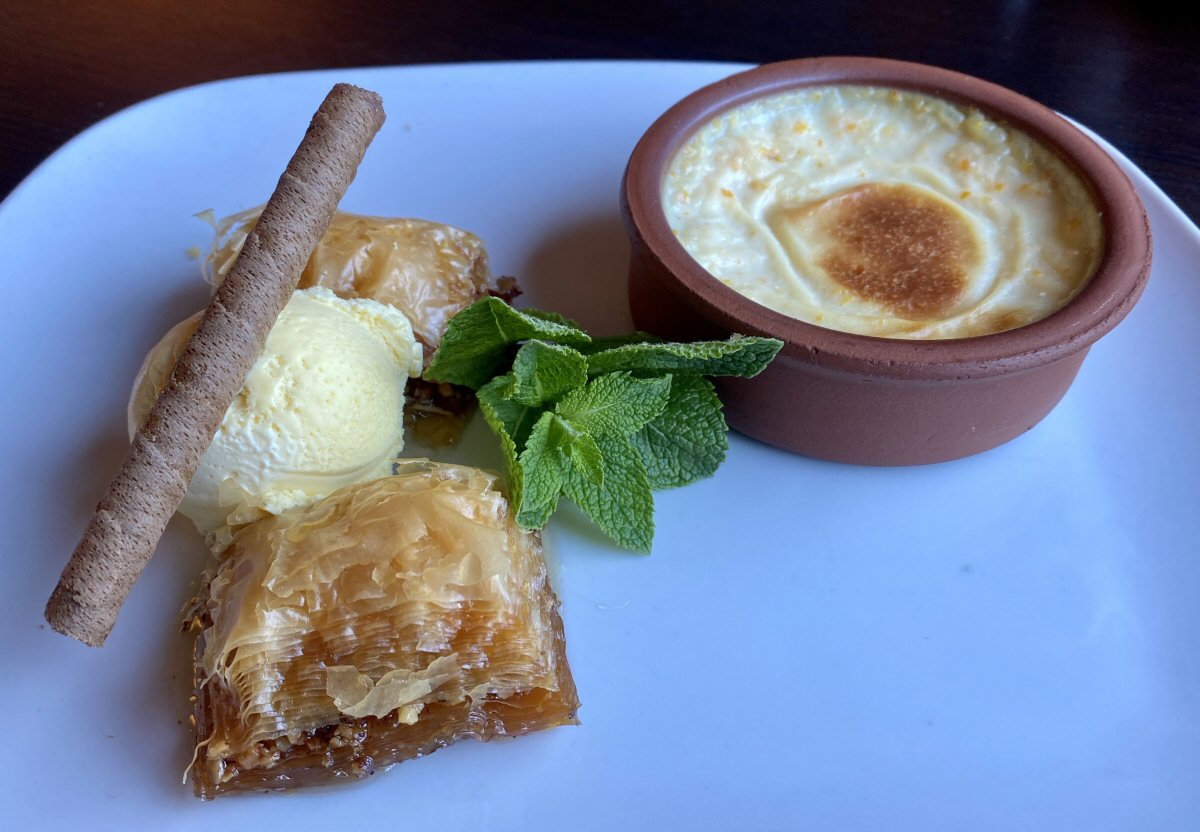 Laura and Aisha had been checking on us as we progressed through the main courses (so had the main man; yes, Tuncay, I spied you peeking!), so they knew we were pretty full, which probably explained the slightly amused look on Laura's face as she placed two desserts in front of us, "from Tuncay"!! Miraculously, a space in my tummy opened up the very moment my brain registered that Baklava was before me!

I love Baklava, which is unusual because I don't relish sweet things that make your teeth tingle as a rule; but there's just something wonderful about the combination of ultra-thin pastry, honey and chopped nuts in my mind. I smiled as the pastry melted on my tongue like a snowflake, once again being transported back to Turkish climes....but more than happy in the knowledge that I can now indulge in it closer to home.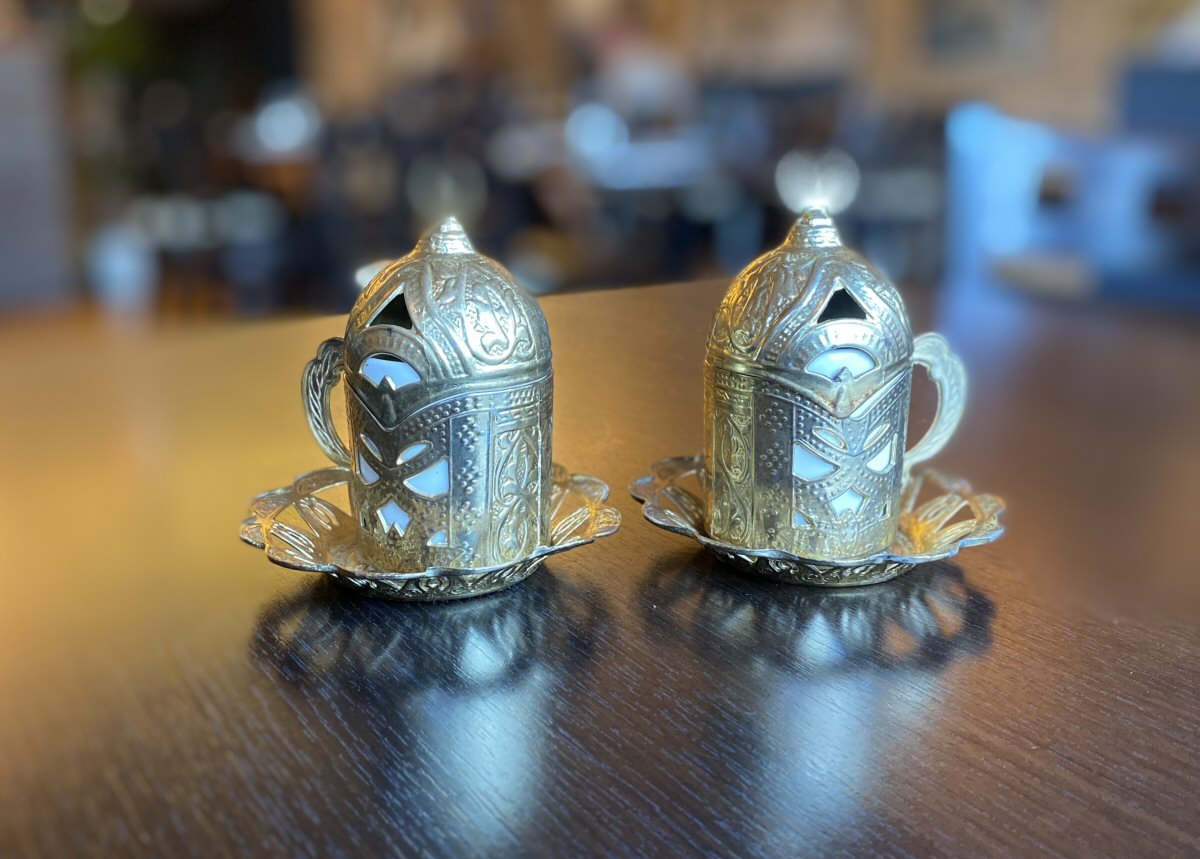 Our other dessert was the Turkish take on Rice Pudding; we Brits need a moment to register the fact that this is served chilled rather than the warm way we do it! Before you pull a face at the thought of cool rice pud, let me just describe the indulgently creamy texture of this morsel. This was comforting and luxurious in that beautiful 'clings to the insides of the cheeks' kind of way, with a silkiness that has you sighing with joy. A hint of Orange from the barely-there peel folded into the cream mixture elevated this pudding magnificently on our palates. What a superb finish to a fantastic meal!

You've no doubt gathered that I am going to be whole-heartedly giving Hot Wings to Tuncay and his team in Chesterfield, but there's even more good news to share with you. Every Sunday-Thursday you can grab yourselves a two course feast for £15.95 per person (excluding the Mixed Grill, Chef's Special, Lamb Chops and Steaks), which is brilliant given that many of the other main courses cost more than this alone! To book your table (which I would strongly advise you to do) simply ring 01246 234153. When you visit, don't send me food-porn pics, ok? I don't think I could take the thought of looking at such delicious food and not being able to savour it myself!
Some form of incentive was provided to visit this venue
read more
Read Some Of Our Recent Reviews
---

Out For Dinner At The Bear Inn, Alderwasley If it's the full on, single track road, rural Derbyshire experience that gets your motor running, then the journey to The Bear Inn at Alderwasley will have you in joyous raptures. For those of you who are Read The Article

---

Lunch At The Recently Opened Chatsworth Kitchen At Peak Village, Rowsley Everyone who knows me, knows I love Chatsworth (always have, always will) so when the invitation to sample lunch at the newly opened Chatsworth Kitchen Read The Article

---

A Visit To Vietnamese Street Kitchen, Resorts World, Birmingham Way back in the day (pre-covid) Fledge had bought me and The Man Bird tickets to see Mrs Browns Boys live and finally, after a couple of false start reschedules, the day of Read The Article

---

Sunday Lunch, A Museum Tour & Painting A Piece Of Denby At Denby Pottery Village It wasn't long ago that His Nibs and I visited the Denby Pottery Village to sample the Afternoon Tea at Bourne's Coffee Shop and Bistro (it was superb Read The Article

---

Bottomless Brunch At Turtle Bay In Derby The timing of the invitation from the Turtle Bay team in Derby to go and sample their Bottomless Brunch couldn't have been better; not only was it going to be The Man Birds' birthday a couple of days later Read The Article

---

Afternoon Tea At Santo's Higham Farm Hotel & Restaurant Aaaaaarggggh, don't you love your children??!! A while back, His Nibs had spotted a great deal on Groupon (you know what a bargain hound he is!) and thought it would be Read The Article

---

Sunday Lunch At The Countryman Pub & Dining, Kirkby-in-Ashfield We finally got to visit a venue thats been on our radar for quite a while, The Countryman Pub and Dining in Kirkby-In-Ashfield! A few weeks ago we tried to book a table for dinner Read The Article

---

Breakfast At Marsh Green Farm Shop & Cafe, Kelstedge Ah, you've gotta love a Bank Holiday curve-ball, haven't you? His Nibs and I headed over to Mummy Birds' gaff with the intention of having a leisurely couple of hours at the Sunday Read The Article

---

Afternoon Tea at Bourne's Coffee Shop and Bistro, Denby Pottery Village You all know that The Man Bird and I do like an Afternoon Tea; I mean, who doesn't?! Just a few miles down the road from the nest is Denby, home to the world-renowned Read The Article

---