A Visit To The Recently Opened Ranch Gourmet Burgers In Ripley
---
Published On Tuesday 7 Jun 2022 by Sticky Beak
See Recent Dining Out Reviews | See All Recent Reviews


The Man Bird and I do like a good burger, so we were gutted to hear that one of our fave hangouts in Derby was closing its doors and (in true glutton fashion) decided to commiserate in a newly opened burger eaterie, Ranch Gourmet Burger in Ripley!
Located on the town's Oxford Street, this venue has a spacious, open-plan layout with booth tables at the periphery and high level, free standing tables and chairs in the centre. I loved the rope and cage 'chandeliers' that illuminated the centre of the space, accompanied by black pipe and exposed bulb sets on the walls and matte black pendant lights above the booths. The floor is tiled in a pale greige (loosely echoed on the lower walls) and a warm coral/sand tone paint on the upper walls contrasts brilliantly with the dramatic inky blue ceiling. Plenty of faux foliage hangs from the ceiling to soften any starkness and add a touch more colour.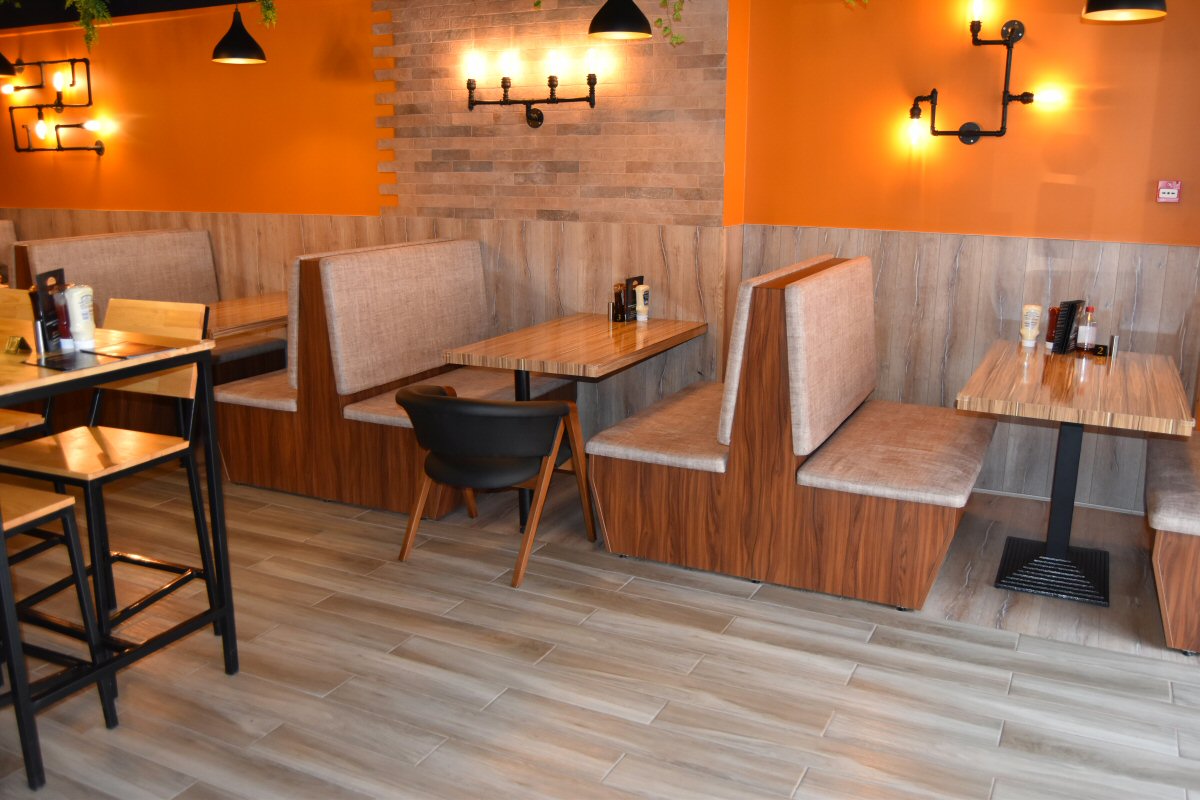 We parked our bums in one of the booths and a member of the team came over to take our drinks orders: a pair of diet cokes (cans, £1.50 each), although I had been tempted to have one of the Ice Cream Milk Shakes (£5.20).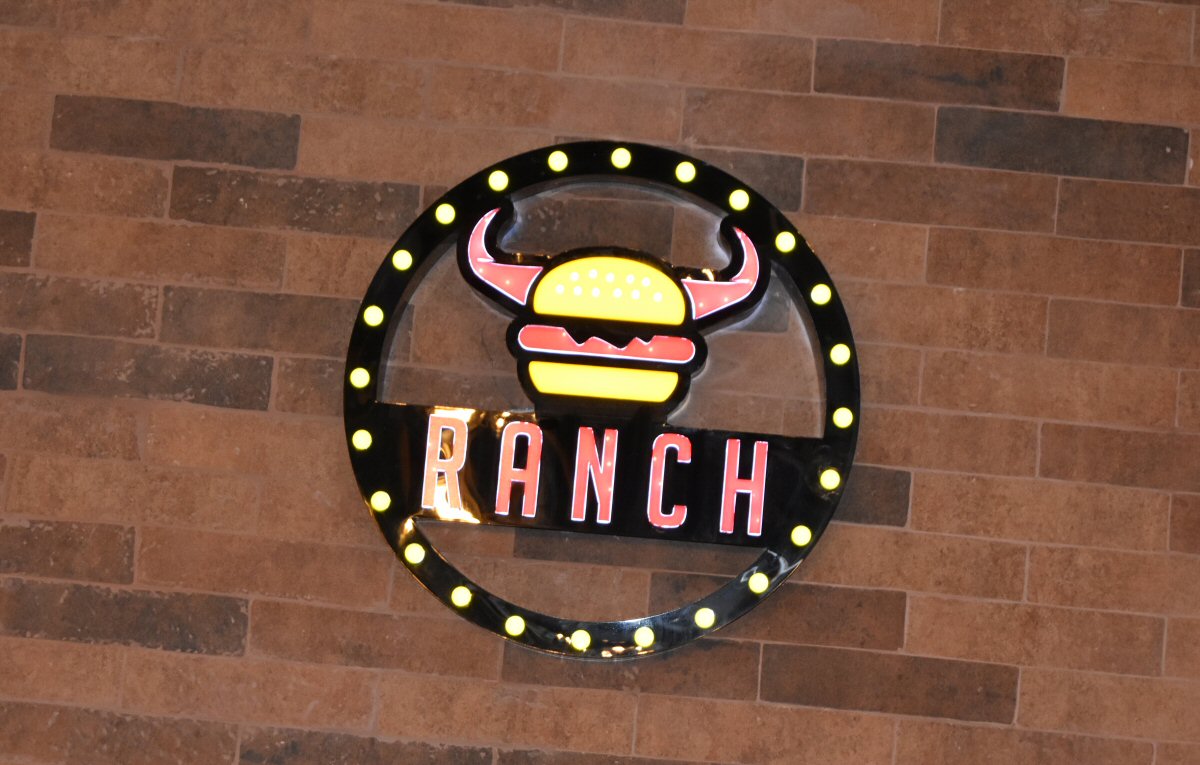 There are 7 beef burgers, 5 chicken burgers and 2 vegetarian burgers on the menu, ranging in price from £4.90 to £8.10 and a whole host of sides, including the usual suspects of Fries and Onion Rings as well as some more imaginative morsels like Mac 'n' Cheese Bites and Frank's Hot Wings (between £2.50 - £4.70).




Showing good time management skills, our server took our food order when she'd returned with our drinks, glasses, and fork n napkin combo. I fancied the BBQ Beef Burger with Cheese, Caramelised Onions, Mushrooms, Lettuce, Tomato, Gherkins, BBQ sauce and Ketchup, whilst His Nibs went all-in with the monster that is the 'Meat and Greet': double Beef Patties, Pulled Beef, Cheese, Caramelised Onions, Lettuce, Gherkins, Tomato, Ketchup and Mustard. We ordered a portion of seasoned chips to share, as well as some Onion Rings and Cream Cheese Jalapeno Bites.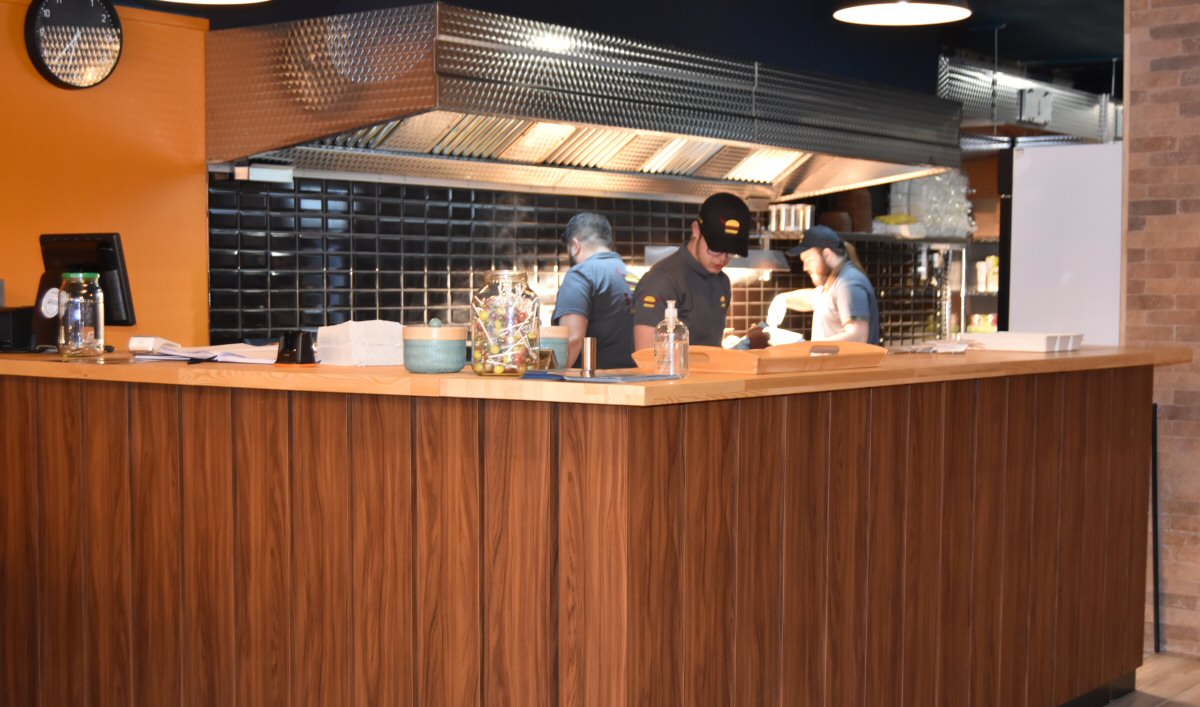 As soon as the order hit the counter, Chef got to work in the large open kitchen preparing our meals; I do like open kitchens, you get the hustle and bustle as well as the delicious aromas wafting over to you (plus, you get to see exactly how clean and organised a venue is!). The phone was ringing merrily away, so clearly the folks of Ripley like themselves a cheeky takeout, and more people came through the doors to have a relaxed meal with family or friends. As you would expect, Ranch Gourmet Burger is child-friendly and there are high chairs available if you should need one.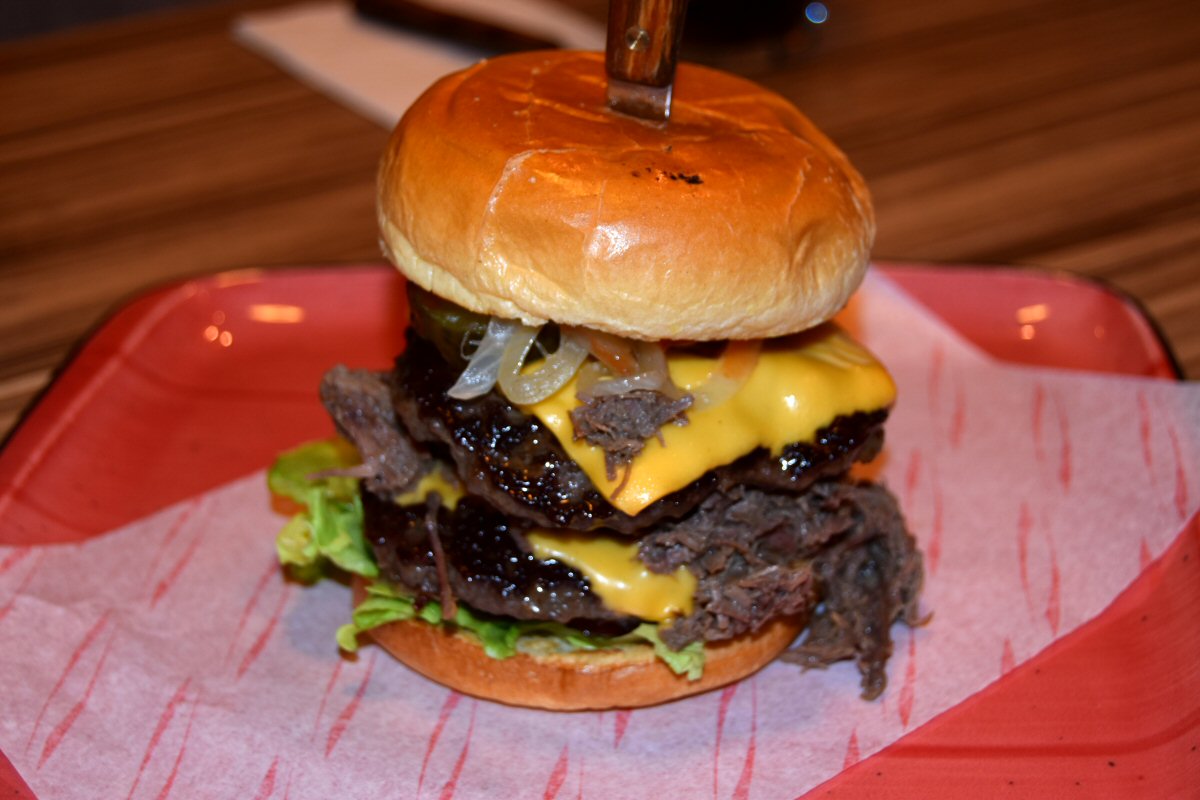 We didn't have long to wait for all our order to come out and we tucked straight in – if your tack-sharp brain spotted the fact that only a fork is placed on the table, don't panic, the accompanying knife is used to secure the massive burgers together. I had to have a chuckle as I watched The Man Bird gamely try to use his hands to chomp at his choice, there was no way he was going to fit that in his mush! Eventually common sense (or perhaps it was impatience?!) prevailed and he used the cutlery to cut the sizeable morsel into manageable pieces.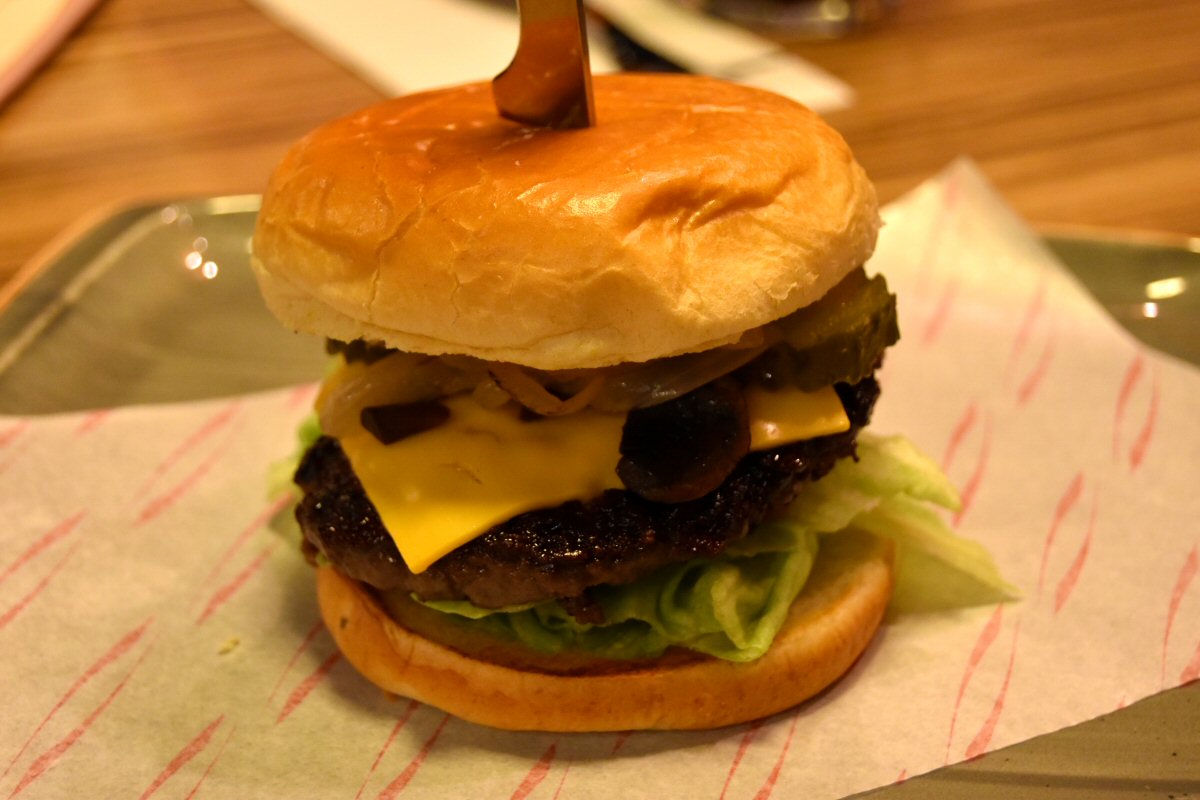 The burgers are hand prepared on-site at Ranch and you can tell: they're not stupidly dense as to break your teeth, instead they have that perfect texture that satisfies but crumbles slightly too as you bite into its juiciness. The flavour is superb; rich and deep and undeniably beefy and, paired with a plethora of classic garnish items, makes for a real taste-bud pleaser. Pulled Beef added an extra zhuzh to the Meat and Greet minx and was incredibly tender, melting in The Mans' mouth instantly.




A point to note is that the burgers are slightly pink in the middle: they're cooked, trust me, but a lot of folks still gasp if they see a pink burger when they're not expecting it. Only panic if you can taste raw meat and/or your food isn't hot all the way through! I was very happy with the temperature of our food; Ranch may be classic 'high street' and offer takeaway food, but the quality is far better. Talking of temperature, I should offer a top tip to those of you who order the Cream Cheese Jalapeno Bites: they are bloody hot when they first come out, so give them a couple of minutes to cool and you'll not burn your tongue (like dufus here did!!).




My choice of BBQ Burger might've sounded humble in comparison to His Nibs' choice, but let me tell you that it was every bit as stunning. The substantial beef patty was beautifully complimented by the sweet, smoky notes of the BBQ sauce, and melted cheese added that great comfort factor in the mouth. Cool, crisp Lettuce and Tomato provided some nice texture, mingling with the softer elements of sliced Mushroom and Caramelised Onions. I did (just!) manage to squish my burger to a size that I could use my hands to hold it whilst I munched, but if it had been a double patty number I wouldn't have been successful.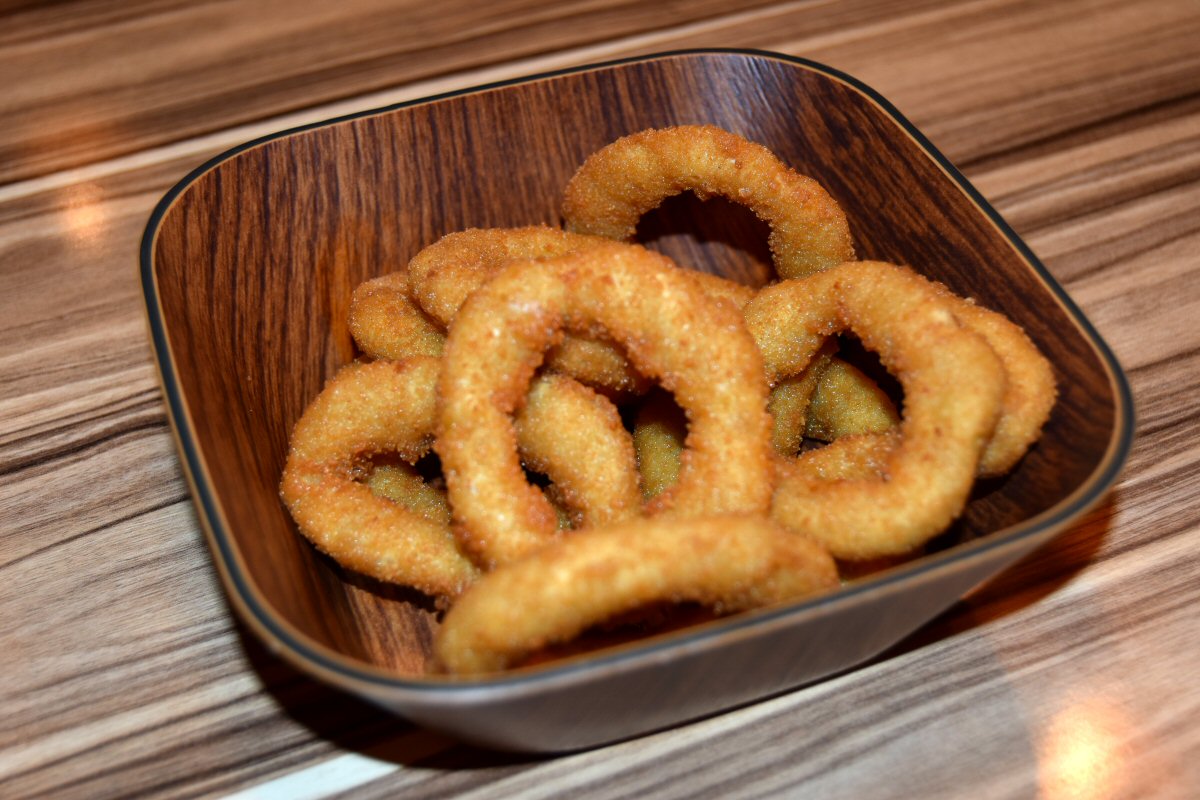 Our server came to check we were happy with our food and then set about cleaning up after a table of diners that had just left. One thing I can say with certainty is that cleanliness is taken seriously at Ranch Gourmet Burger; a brush is used to sweep under each table when it's vacated, before it's wiped over and re-laid with cutlery.




The Onion rings were bought-in ones, but good quality, and there were plenty of them in the portion size. There wasn't much remarkable about them; they were crispy on the outside with softened Onion to bite into that had a pleasing taste – pretty much as you'd want them to be. However, the seasoned chips are worthy of special mention! A large basket held them (good job we'd gone for a single portion) and all of them - not just the top few - had been dusted with a bright toned spice powder that really did get the palate's attention. Those who like a kick to their food will certainly love the seasoning used here, though it is a sneaky monkey that unleashes its full power over several seconds, and with a cumulative effect!




Ranch also offers hot drinks, so we rounded our time there off with our usual black coffees (£1.90), but I must confess that I contemplated rebelling with a Galaxy Hot Chocolate (£2.10)! We'd spent a really pleasant evening in this new Ripley eaterie, and would happily come back – especially if we're doing a spot of shopping in the town. Hot Wings awarded here.
No incentive was provided to visit this venue
read more
Read Some Of Our Recent Reviews
---

Breakfast At Marsh Green Farm Shop & Cafe, Kelstedge Ah, you've gotta love a Bank Holiday curve-ball, haven't you? His Nibs and I headed over to Mummy Birds' gaff with the intention of having a leisurely couple of hours at the Sunday Read The Article

---

Afternoon Tea at Bourne's Coffee Shop and Bistro, Denby Pottery Village You all know that The Man Bird and I do like an Afternoon Tea; I mean, who doesn't?! Just a few miles down the road from the nest is Denby, home to the world-renowned Read The Article

---

All You Can Eat At The River Garden Cantonese Restaurant In Belper As is the seemingly never-ending pattern of our weekends at the moment, The Man Bird and I had been busy gardening/re-seeding/pruning/digging, so when it came to sorting Read The Article

---

Back For Dinner At The Bulls Head In Repton As far as greetings go, perhaps the best one we've received came on our visit to The Bulls Head at Repton. As I stepped out of the jalopy I heard a familiar sound; a Robin chirruping away merrily Read The Article

---

A Post Shopping Lunch At Qoozies, Chesterfield We were on a mission over the Bank Holiday Weekend: Operation 'Get New Curtains for Mummy Bird' was go, go, go!! It turned into Operation 'New Curtains, New Towels, and New Bedding', so Read The Article

---

Dinner At The Devonshire Arms In Beeley We seem to have visited a few other sites on the Chatsworth Estate, so it was lovely to receive an invite to dine at The Devonshire Arms at Beeley; it's been a while since we were last here. As soon as Read The Article

---

Burgers With A Side Order Of Sass At Karens Diner, Sheffield 'Freaky Friday' feeling, anyone? I felt a bit like the Fresh Prince of Bel Air, except instead of 'my life got flipped, turned upside down' it was a case of 'my dining experience got flipped Read The Article

---

Dinner At Cocina Restaurant At Casa Hotel, Chesterfield Regular readers of the blog will know that The Man and I recently visited the Peak Edge Hotel for dinner, a venue owned by Chesterfield business man Steve Perez. Our latest outing saw Read The Article

---

Sharing A 40oz Tomahawk At The Galleon Steakhouse, Chesterfield We Brits are used to Bank Holidays being a let-down usually when it comes to the weather, so when the forecast was for (mainly) fine conditions it was a case of Read The Article

---