Dinner At The Devonshire Arms In Beeley
---
Published On Sunday 29 May 2022 by Sticky Beak
See Recent Dining Out Reviews | See All Recent Reviews


We seem to have visited a few other sites on the Chatsworth Estate, so it was lovely to receive an invite to dine at The Devonshire Arms at Beeley; it's been a while since we were last here. As soon as we stepped over the threshold we were greeted warmly by the gentleman behind the bar and asked how we could be helped.
Within the blink of an eye we'd had our drinks order taken at the bar and been escorted over to our table in the 'snug' area, in front of the impressive stone fireplace (which wasn't in action, thanks to it being a warm evening). This area comprised three tables, but ours was the only free seated one; the others all had a mix of chairs and banquette seating.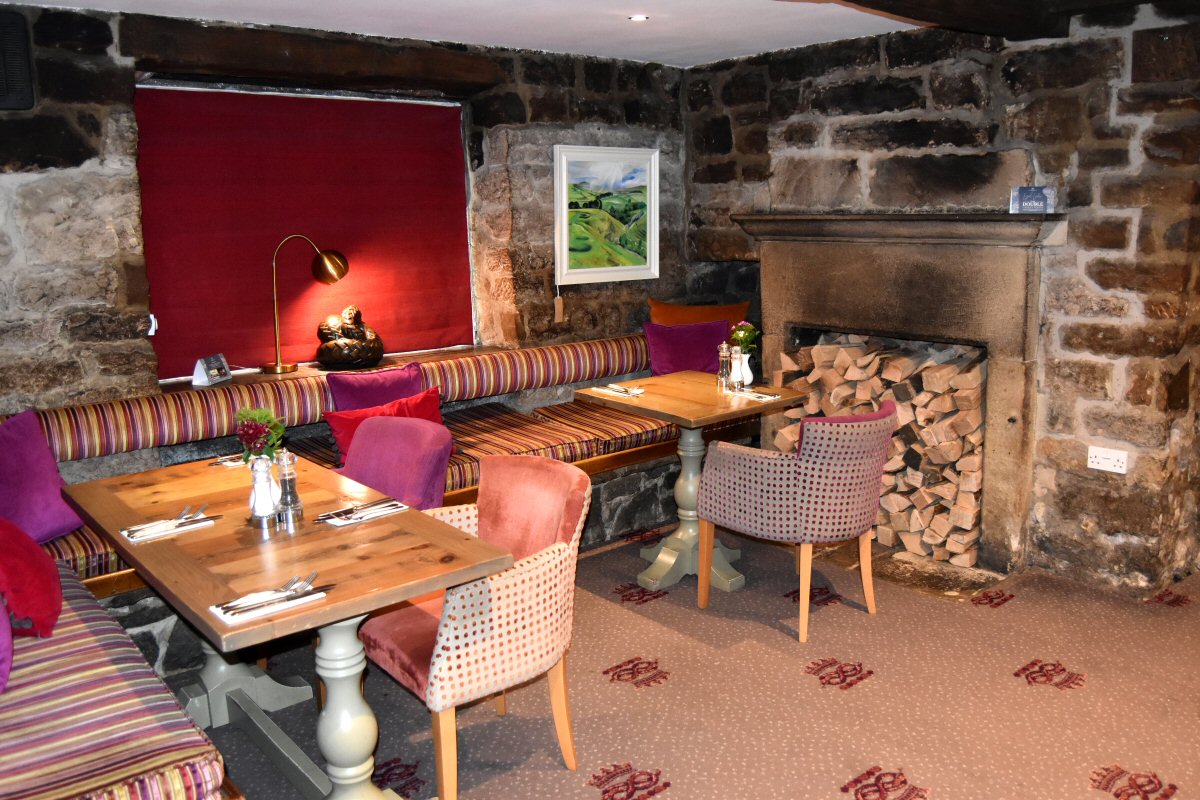 Against the backdrop of the Devonshire motif carpet was a pleasing colour scheme of warm, cheery brights that wove harmoniously together rather than clashing. A mixture of original artworks by local artists and more traditional prints provided a relaxed feel to the space, so you could just unwind and enjoy your drink and/or meal.Fresh in-season blooms, Sweet Williams, decorated each table and their colours echoed those of the furnishings; the Chatsworth teams always pay attention to such tiny details and it's one of the things I absolutely love about the estate. Despite such meticulous care, there is no snobbery at any of the Chatsworth venues; everyone is welcome, along with the dog(s) and there were plenty of canines at Beeley with their well-trained humans!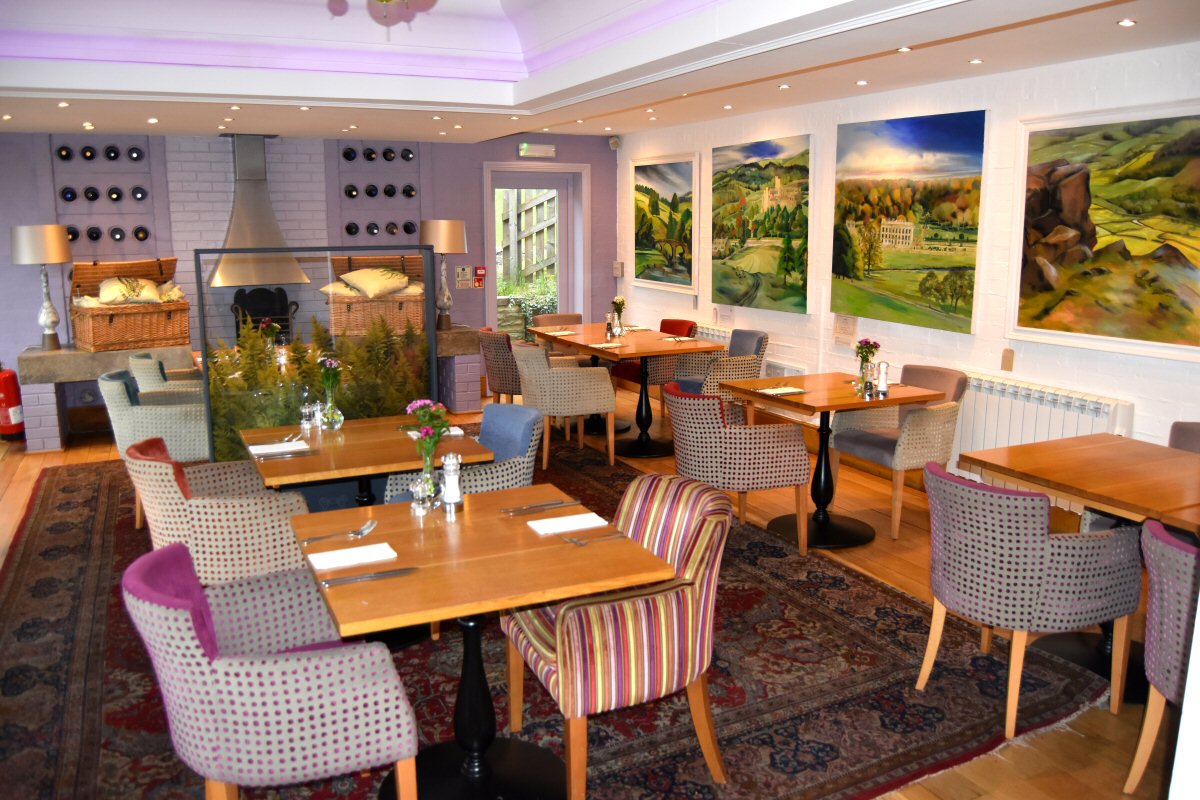 Having settled in, it was time to get down to the serious task of deciding what to have for dinner. Whilst we were deliberating, we were offered the Cured Fish Plate (Halibut, Egg Yolk, Straw Potatoes) from Chef to get our digestive juices flowing and it wasn't long before one of the team placed the delicately hued platter in front of us. The lovely firm flesh of the Halibut had been sliced into manageable pieces and dressed with herb oil and the rich, pastel yellow egg yolk. Gorgeously slender, super-crispy matchsticks of potato topped it all and provided a wonderful hit of texture as well as imparting a salt tang in my mouth, thanks to the seasoning Chef had used as a nod to the fish's marine origins. Personally, I found the cured Halibut to be excellent; His Nibs tried a couple of bits before deciding it was a little too 'fishy' for him. Honestly, that man! Oh well, more for me; thank you, Lady Fortune.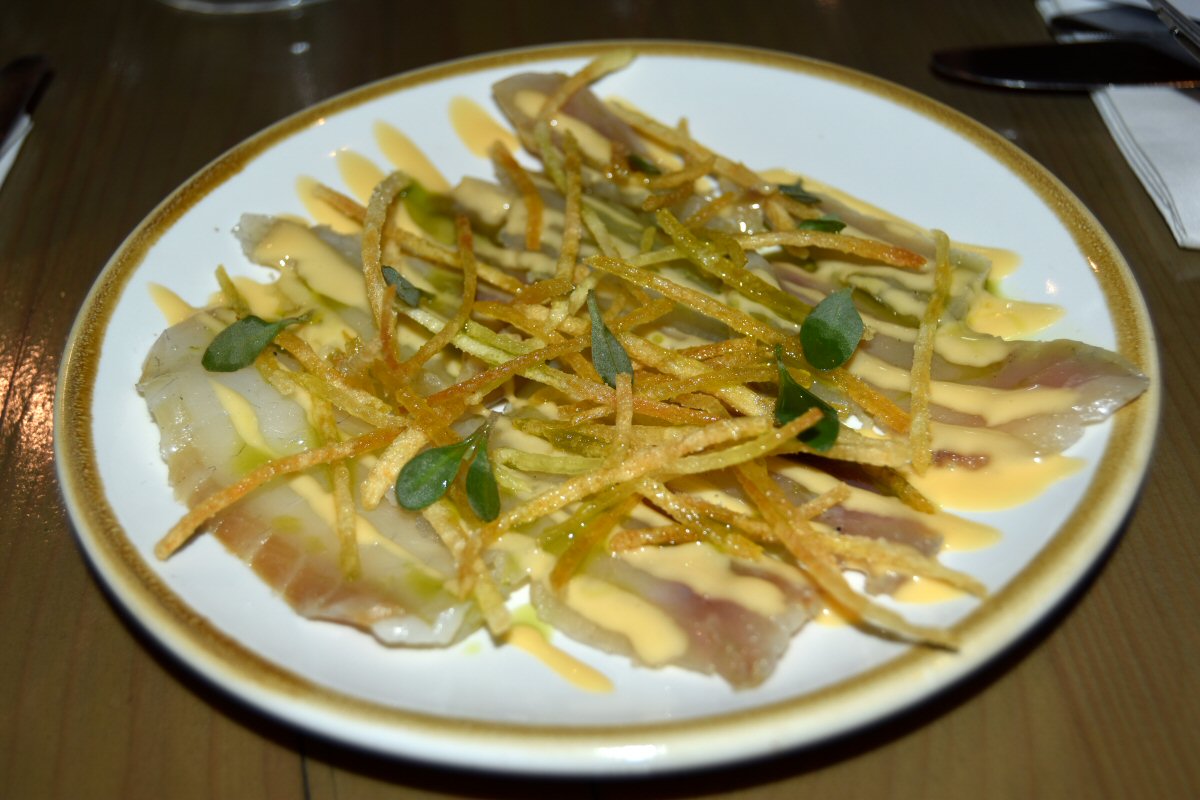 Occasionally a dish piques my interest and this was one such evening; I spied the Stuffed Crispy Pigs' Trotter and opted for that, having never had it before. His Nibs went for a more usual choice of Wye Valley Asparagus, served with XO Hollandaise and slow-poached Beeley Bantam Egg.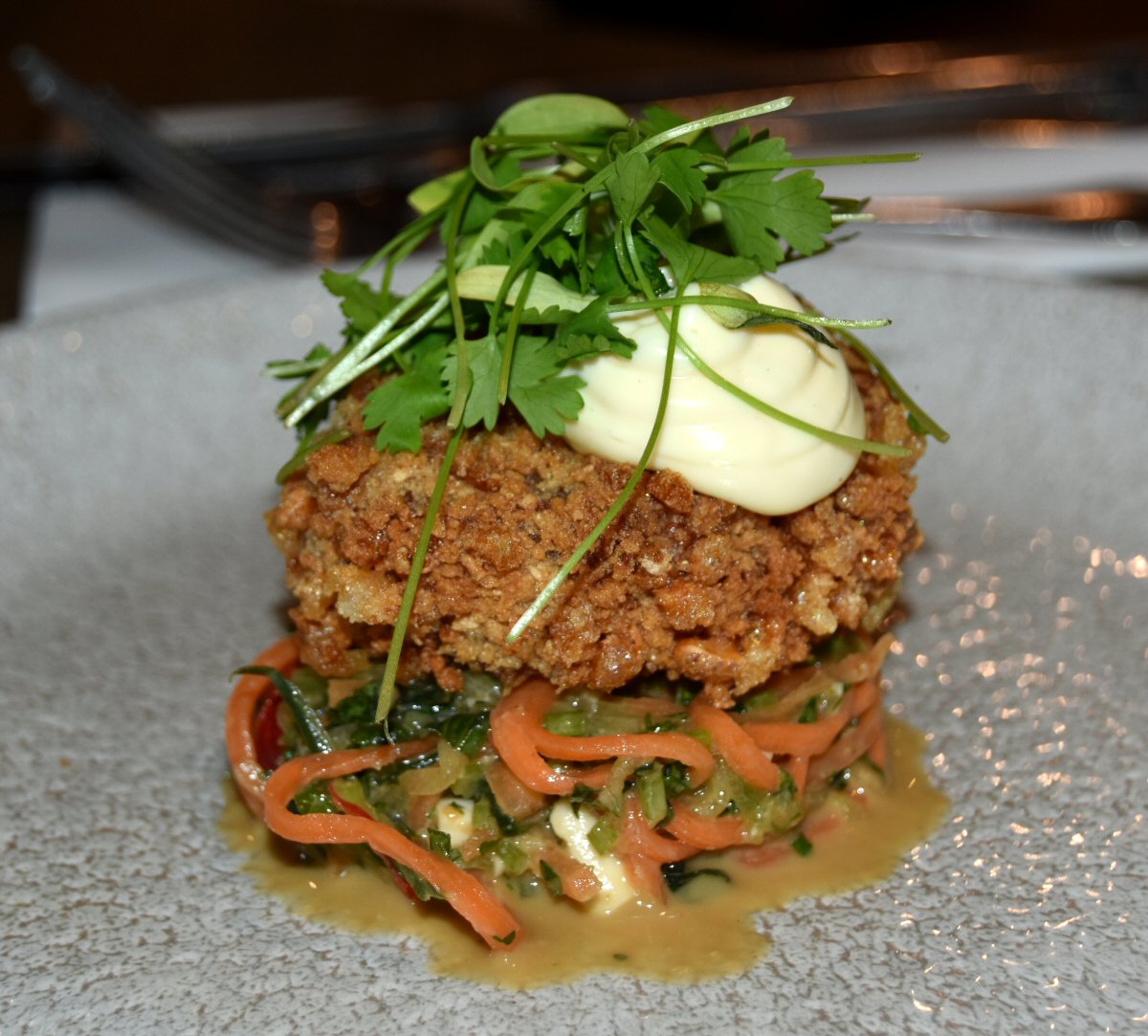 Regular readers know that I have a weird thing about crunch sounds, so imagine my delight when I cut into the marvellously thick coating of the trotter and was rewarded with a clear, distinct 'crack'. Underneath the deep golden outer was the pale cream of softened fat (not gristle as many of you were no doubt imagining at 'pigs, trotter') and this was silky, slightly warm and beautifully creamy in flavour. There wasn't too much of it either, though you would perhaps think a porcine foot would be quite fatty, and it balanced the robust, rich flavour of the trotter meat that I can perhaps best describe as even more Gammonier than Gammon itself! Added body was given to the trotter by the finely shredded black Fungus and preserved Mustard Greens, as well as some extra oomph that stood up to the meat element really nicely. Julienned vegetables and pieces of Peanut added a splash of colour and plenty of crunchiness in my mouth, with the spicy Szechuan flirting at the periphery of my palate to add the perfect amount of heat.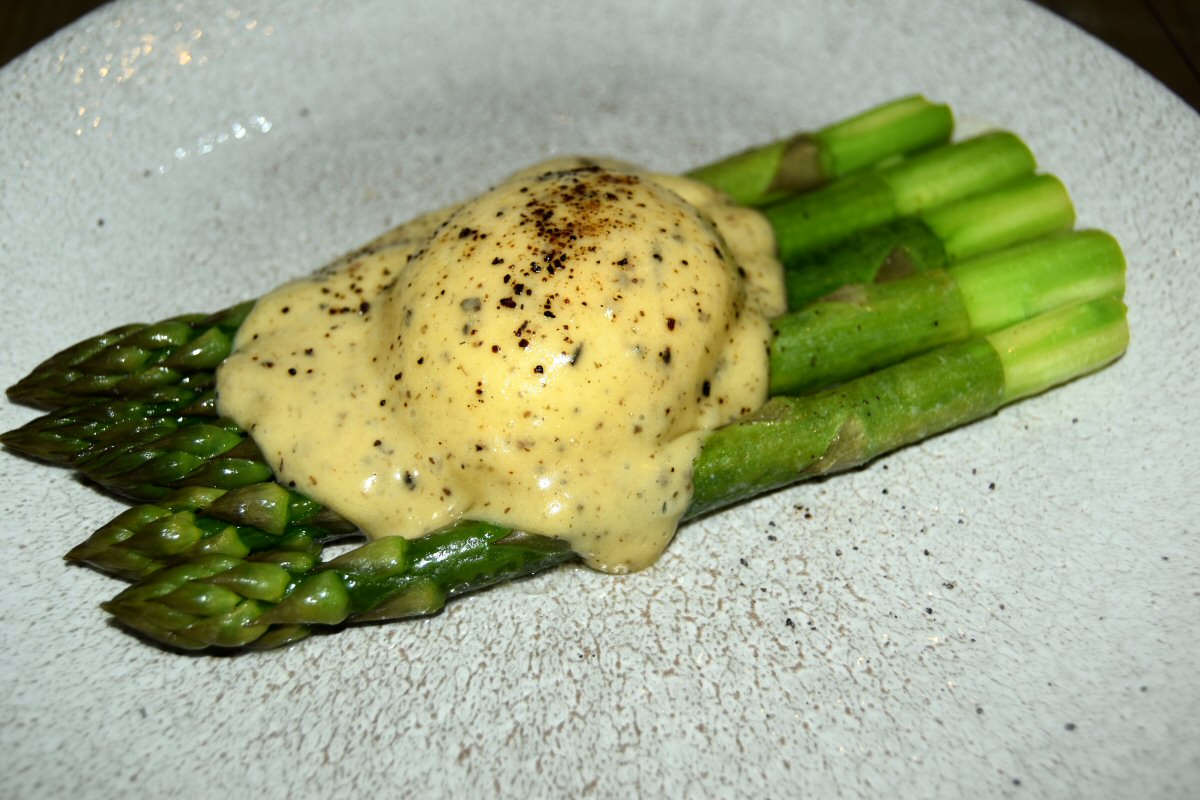 There's something smile-inducing about verdant spears of in-season Asparagus and the way it 'pops' on a plate when classically partnered with the paler tones of Hollandaise and a freshly poached egg. The Man Bird was indeed smiling with pleasure at the sight before him, and his smile widened further when that first glorious bite stimulated his taste buds. Bouncy and bright with a grassiness to it, the Asparagus spears really did epitomise late spring and its lushness, and this bliss was added to by rich honeyed notes from the yolk of the Banty hen. I tell you what, this morsel came from a very happy little chook! For those that don't know, XO is a sauce (originating from Hong Kong) that has definite umami overtones to its taste so, paired with the creamy taste of the Hollandaise, this went jolly nicely with the Asparagus to make a superb starter.




Our server, Tom, was one of those people whose energy and optimism cannot fail to lift your spirits and he had checked we were happy with our starters, coming back to clear away our clean starter plates with perhaps the broadest smile you'll ever see! Whilst he was doing the check-back he took the opportunity to refill our water- and wine glasses, leaving nothing to chance that might dull our dining experience.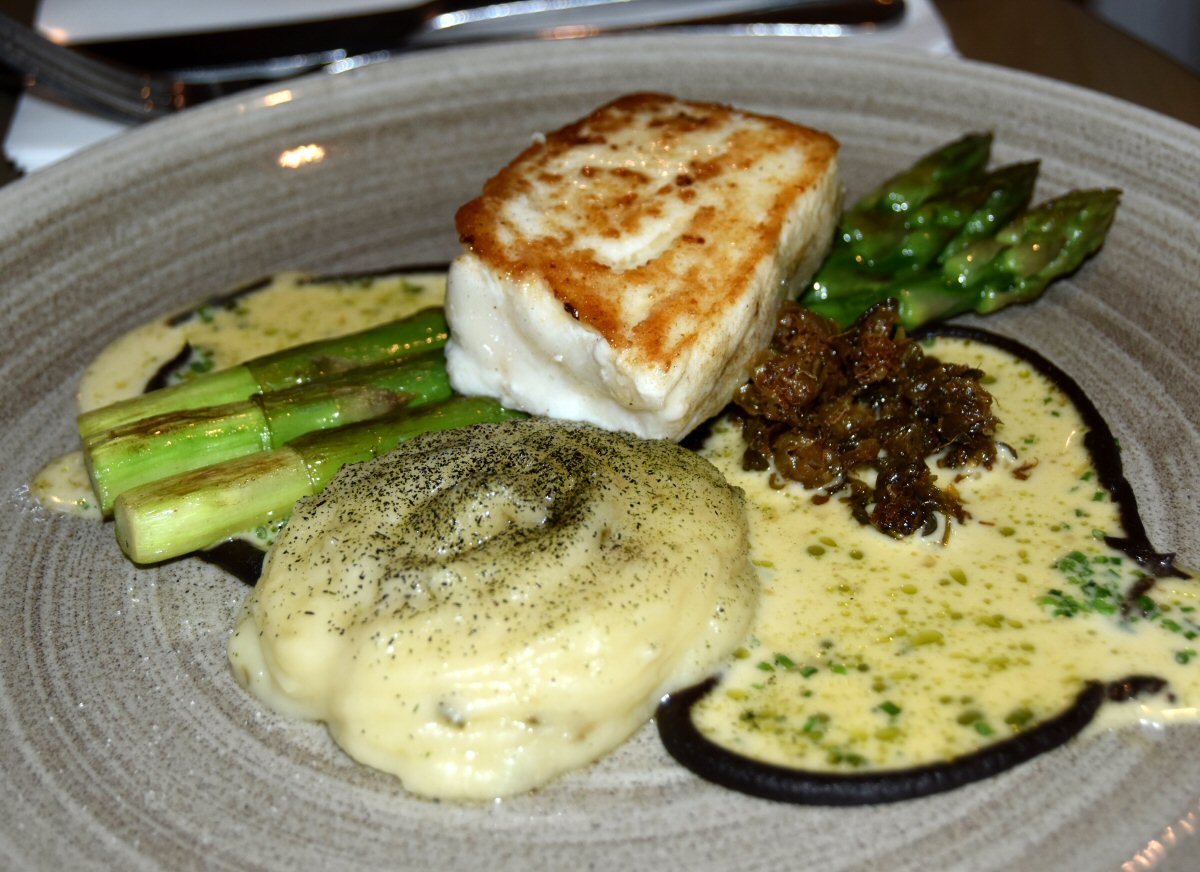 I chose (again) the Halibut for my main course; there seems to be a passion for this particular fish on menus at the moment, not that you'll get any complaint from me! At The Devonshire Arms they roast the Gigha Halibut (sustainably sourced from the Island of Gigha) and pair it with Tartar Pomme Purée, Asparagus, Wild Garlic and Noilly Prat sauce – as you can imagine, this makes for a stunning plate of food. The mild, sweet tasting flesh was cooked perfectly and its firm texture had a nice resistance to my bite – there's nothing worse than soggy, mushy fish, in my opinion - and I allowed myself to be lost in the sensations washing over my tongue. Balancing the sweetness of the Halibut were the dry notes of the Noilly Prat used in the sauce, and the Tartar Pomme Purée with its lightly sharp edge. Wild Garlic had been used in dark swirls to decorate the plate and provided its distinctive rounded Allium flavour to the meal. This was a totally delicious dish.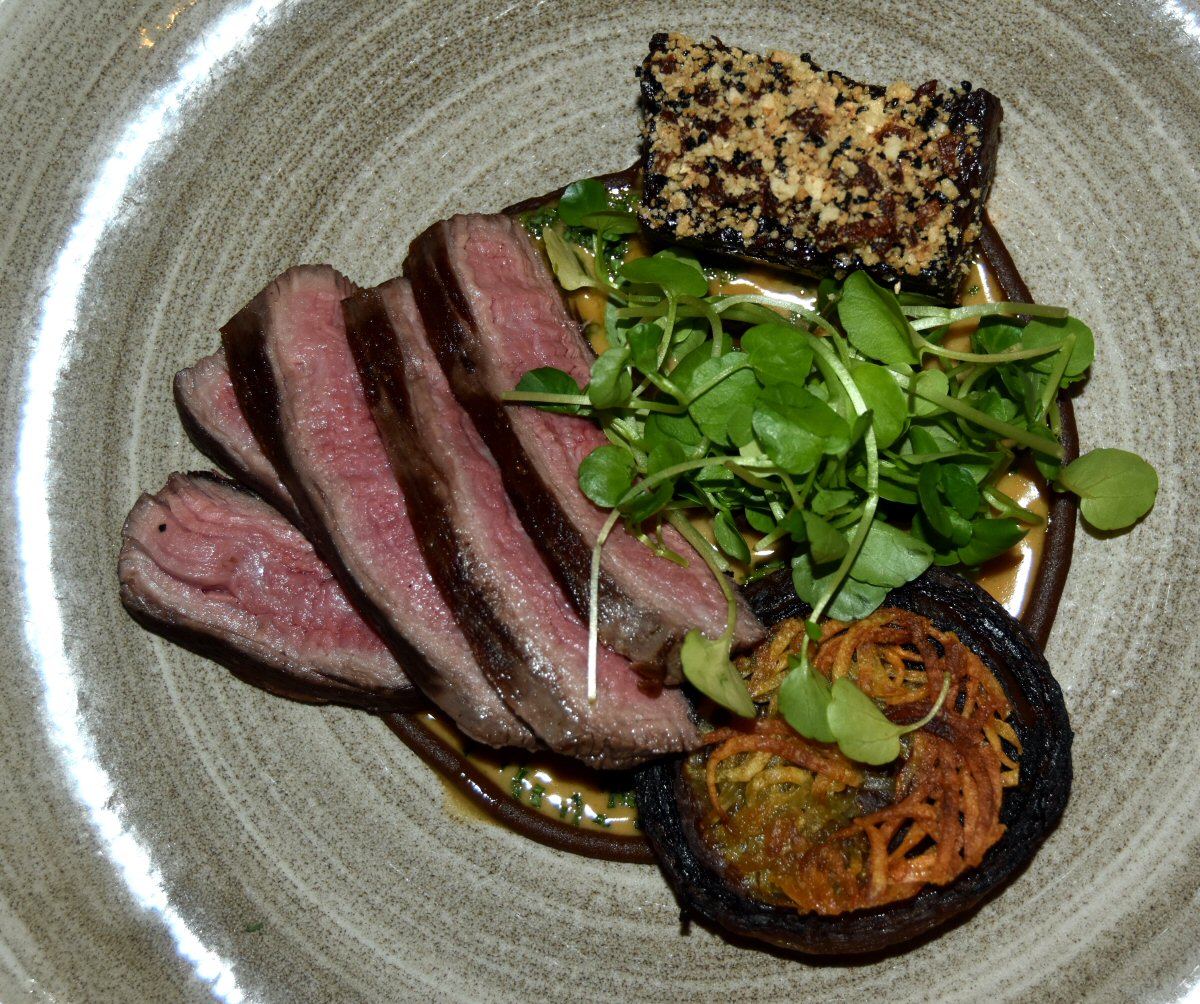 His Nibs loves Chatsworth Estate Lamb, but having had Lamb recently, had the Chatsworth Beef in his sights instead. Chef did a (pink in the middle) flat-iron steak which was tender-as-you-like and a rich, deep taste to die for that was paired with a punchy au poivre sauce, whose whole corns added visual impact on the plate. Jacobs Ladder, aka Short Rib, had been treated to a plethora of processes designed to enrich and maximise its flavour transforming it into a pastrami morsel. Folks often (mistakenly) hear the word 'pastrami' and immediately think of New York deli's and attach the notion that the meat will be really strong in taste and maybe not as tender as they would like. How wrong they would be! To make pastrami, the meat is first brined and then partially dried before being seasoned with herbs and spices; smoking and steaming completes the process, resulting in a surprisingly delicate-tasting cut of Beef that is silky and smooth on the tongue.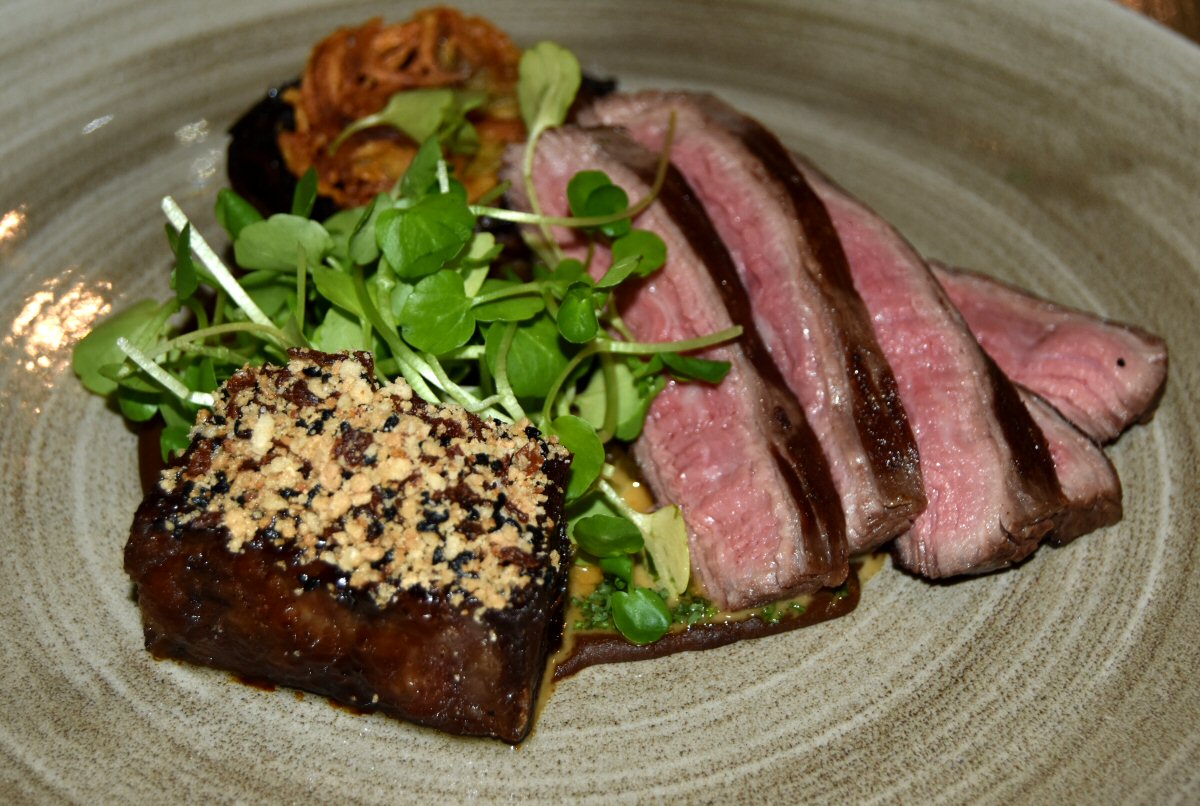 Steaks are natural bed-fellows with Onion but nothing is ever as you imagine at a Chatsworth Estate restaurant, and this occasion was no exception! Chef uses Roscoff Onions (mild tasting, pink onions from the region of France with the same name) and stuffs them with perhaps the most intense, fragrant concentration of Caramelised Onion you'll find on the planet, and then tops it with a miniscule Onion crunch. His Nibs' face said it all; the mega-wattage of his smile could've powered the National Grid all evening. Needless to say, The Man's plate was squeaky clean when Tom came to take it (and mine) back to the kitchen.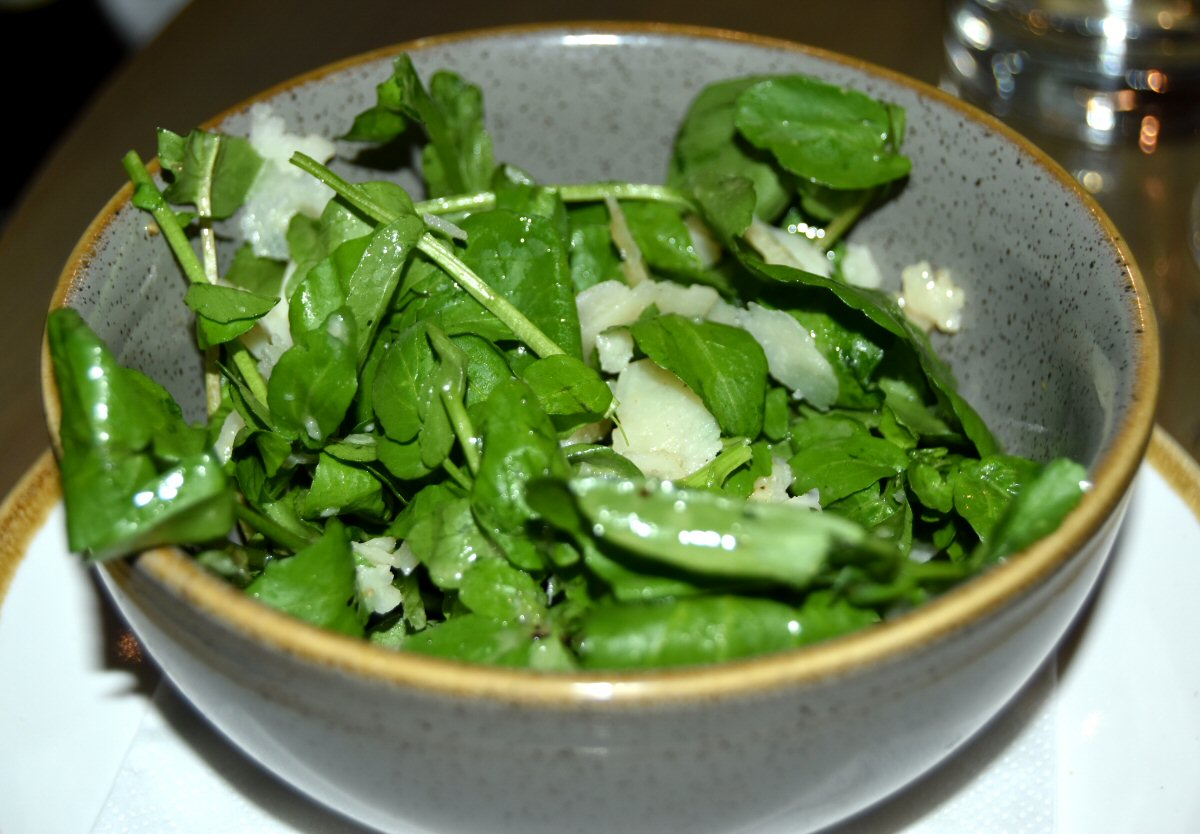 We'd ordered sides of Watercress and Parmesan Salad, and Peakland White Cheesy Triple Cooked Chips and both dishes were punchy in their flavour profiles. I love the strong pepper hit you get from Watercress, and it's actually a really nutritious plant that contains lots of vitamins and minerals – you know what I'm like about getting in my 5-a-day! Parmesan has its own strong character that stands up well against other intense flavours, so it was the ideal partner here. Likewise, the Peakland White cheese had a superb salty twang that acted as a seasoning to the marvellously crispy chips. Whilst His Nibs concentrated on the chips, I was stealthily munching my way through the crumbled pieces of cheese; between the two of us, we made short work of the bowl of yumminess.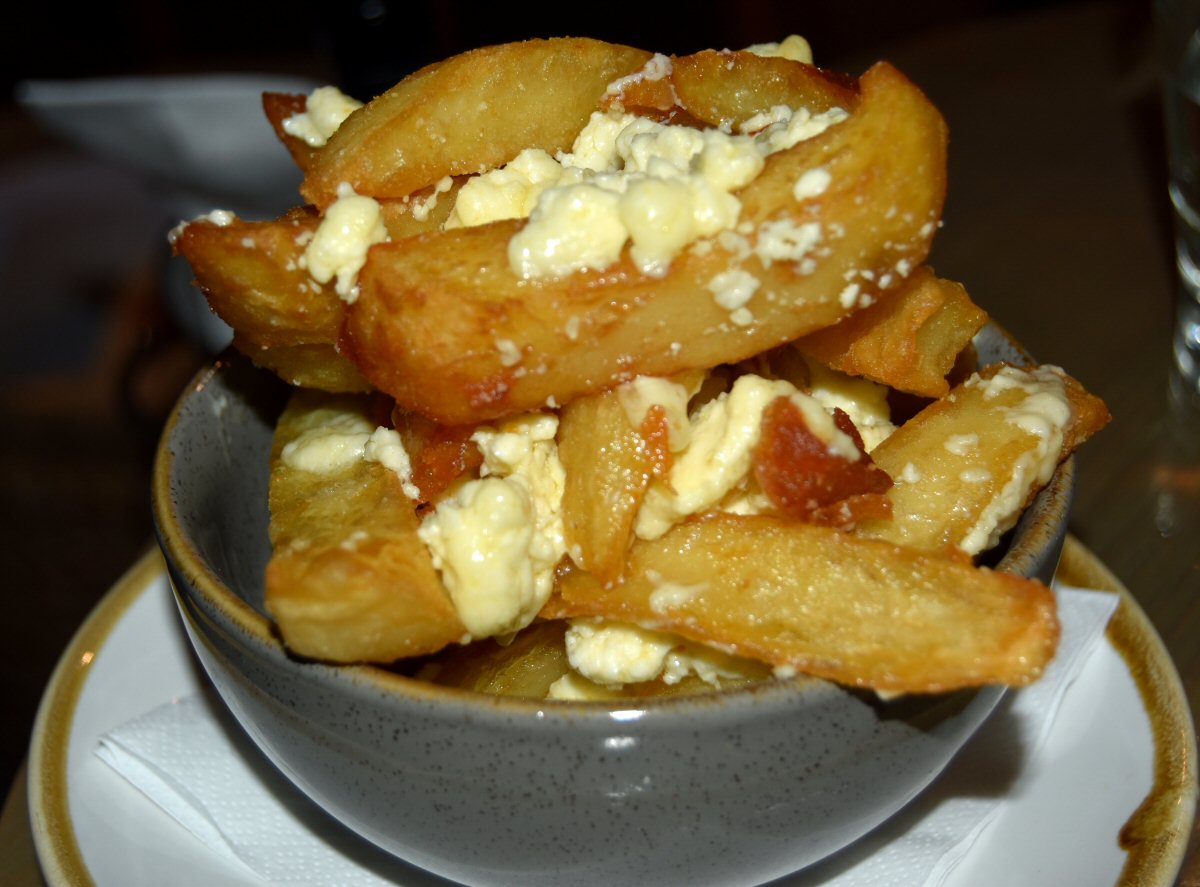 As previously mentioned, the service had been spot-on from the moment we arrived and Tom did his main course check-backs, discreetly keeping an eye on our progress and topping glasses up as and when necessary.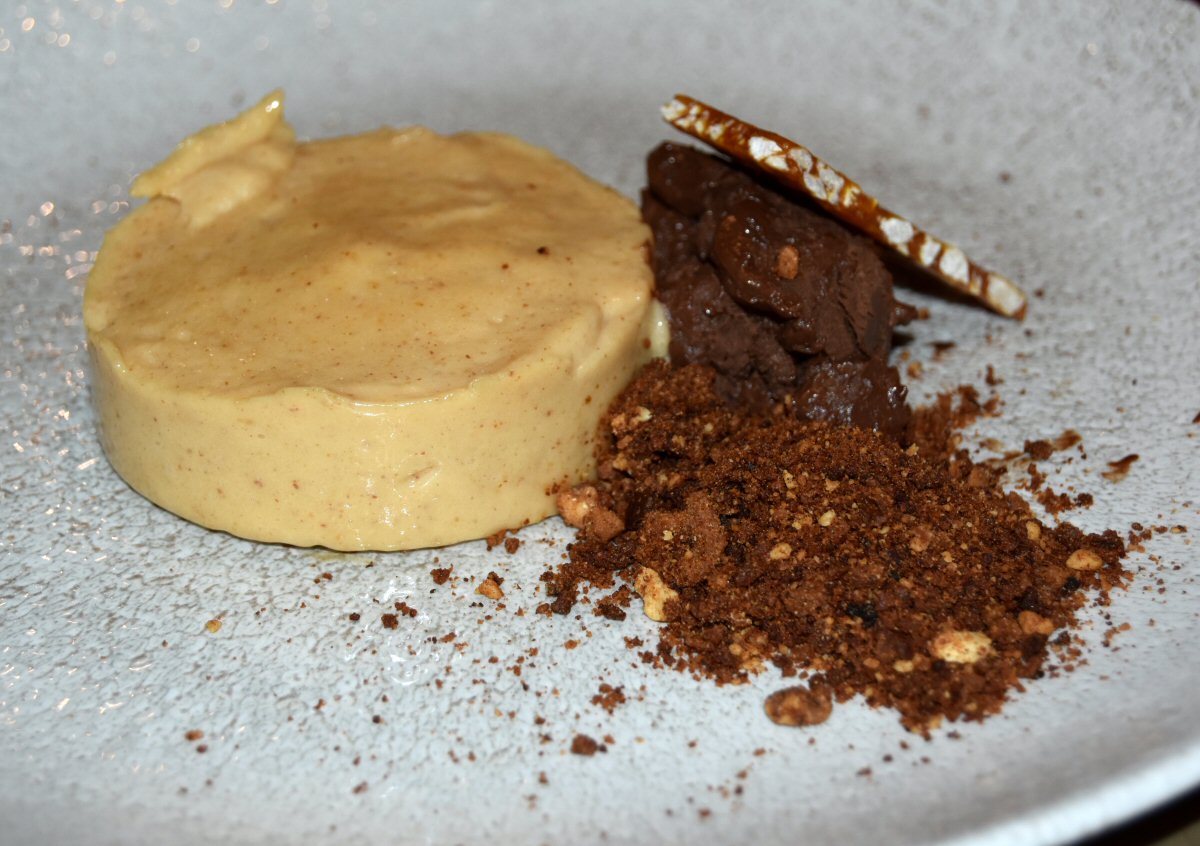 For dessert, I had spied the Peanut Butter Parfait with Chocolate Cremeux, Brittle, and Caramelised White Chocolate Crumble and The Man opted for his favourite, Sticky Toffee Pudding with Vanilla Ice Cream, Sticky Toffee and White Chocolate Crumble, and Brandy Snap. Those of you who are in the PB fan club (I'm a fully paid-up member!) will totally get where I'm coming from when I say that this parfait was utterly moreish, combining a gloriously creamy texture with the addictive taste of Peanut Butter. This was edible heaven!! Providing a brilliant contrast to the rounded buttery mellowness of the parfait was the intense, lightly bitter dark chocolate Cremeux; now, this pairing had my taste buds in a complete melt-down of delight already, but the addition of toffee-esque brittle and an ultra fine crumble had my senses in total rapture!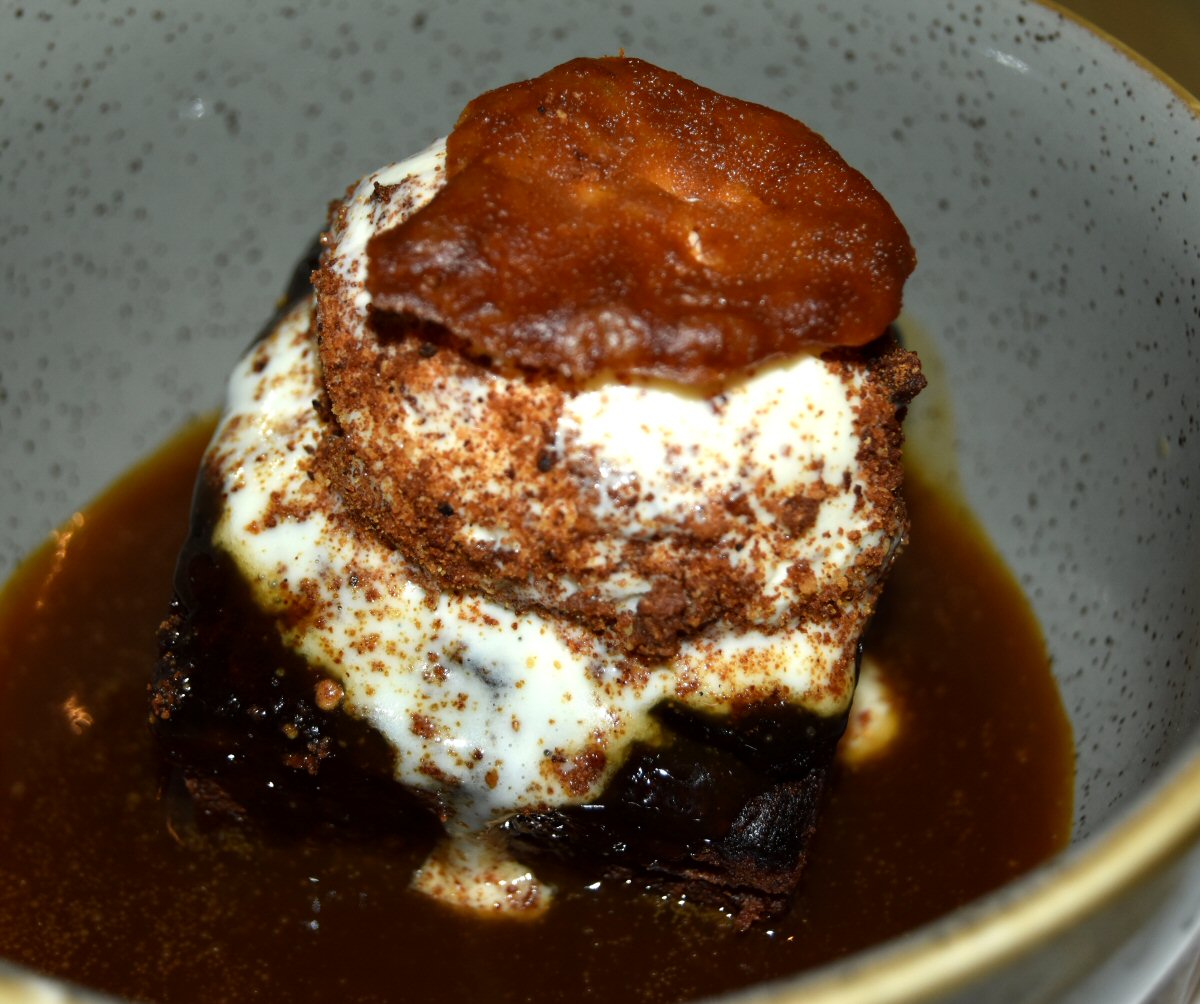 The Man Bird was happily tucking into the pleasingly dense textured Toffee pudding, and commented on the depth of the toffee flavour it had; the richer, the better in his book! There was also plenty of wickedly indulgent sauce to enjoy and each spoonful had both components on it, so His Nibs' tummy was being thoroughly spoilt. Dinky pieces of Brandy Snap and crumble added a fantastic textural element to this dessert as well as layering even more taste into the mouth. A superb, rounded Vanilla Ice Cream was really all this magnificent pud needed to complete it, it really was delicious!

We rounded off our meal with our usual choice of black coffees, reflecting on what a lovely evening we'd had again at The Devonshire Arms in Beeley village. Hot Wings happily awarded again to this great team, and many thanks for the kind invitation to revisit you. To book your table simply visit their web site.
Some form of incentive was provided to visit this venue
read more
Read Some Of Our Recent Reviews
---

Breakfast At Marsh Green Farm Shop & Cafe, Kelstedge Ah, you've gotta love a Bank Holiday curve-ball, haven't you? His Nibs and I headed over to Mummy Birds' gaff with the intention of having a leisurely couple of hours at the Sunday Read The Article

---

Afternoon Tea at Bourne's Coffee Shop and Bistro, Denby Pottery Village You all know that The Man Bird and I do like an Afternoon Tea; I mean, who doesn't?! Just a few miles down the road from the nest is Denby, home to the world-renowned Read The Article

---

All You Can Eat At The River Garden Cantonese Restaurant In Belper As is the seemingly never-ending pattern of our weekends at the moment, The Man Bird and I had been busy gardening/re-seeding/pruning/digging, so when it came to sorting Read The Article

---

Back For Dinner At The Bulls Head In Repton As far as greetings go, perhaps the best one we've received came on our visit to The Bulls Head at Repton. As I stepped out of the jalopy I heard a familiar sound; a Robin chirruping away merrily Read The Article

---

A Visit To The Recently Opened Ranch Gourmet Burgers In Ripley The Man Bird and I do like a good burger, so we were gutted to hear that one of our fave hangouts in Derby was closing its doors and (in true glutton fashion) decided to Read The Article

---

A Post Shopping Lunch At Qoozies, Chesterfield We were on a mission over the Bank Holiday Weekend: Operation 'Get New Curtains for Mummy Bird' was go, go, go!! It turned into Operation 'New Curtains, New Towels, and New Bedding', so Read The Article

---

Burgers With A Side Order Of Sass At Karens Diner, Sheffield 'Freaky Friday' feeling, anyone? I felt a bit like the Fresh Prince of Bel Air, except instead of 'my life got flipped, turned upside down' it was a case of 'my dining experience got flipped Read The Article

---

Dinner At Cocina Restaurant At Casa Hotel, Chesterfield Regular readers of the blog will know that The Man and I recently visited the Peak Edge Hotel for dinner, a venue owned by Chesterfield business man Steve Perez. Our latest outing saw Read The Article

---

Sharing A 40oz Tomahawk At The Galleon Steakhouse, Chesterfield We Brits are used to Bank Holidays being a let-down usually when it comes to the weather, so when the forecast was for (mainly) fine conditions it was a case of Read The Article

---