Dinner At Cocina Restaurant At Casa Hotel, Chesterfield
---
Published On Sunday 22 May 2022 by Sticky Beak
See Recent Dining Out Reviews | See All Recent Reviews


Regular readers of the blog will know that The Man and I recently visited the Peak Edge Hotel for dinner, a venue owned by Chesterfield business man Steve Perez. Our latest outing saw us revisit another of his properties, the Four-Star Hotel, Casa (in Chesterfield) to the Cocina restaurant; it has been a few years since we last dined here, so we were looking forward to seeing how it had fared.
Being a corporate hotel, there is plenty of parking – always a bonus. Having snagged a spot close to the entrance we made our way through the doors and walked to reception; it's been a while and we couldn't quite remember where Cocina was! The lovely lady behind the desk soon set us straight and we headed up the stairs and turned left where we were warmly greeted by the restaurant's hostess and taken to our lovely corner banquette table. From this spot in the corner we could see the open kitchen pass clearly, where Head Chef Tom Marr and his team were hard at work already.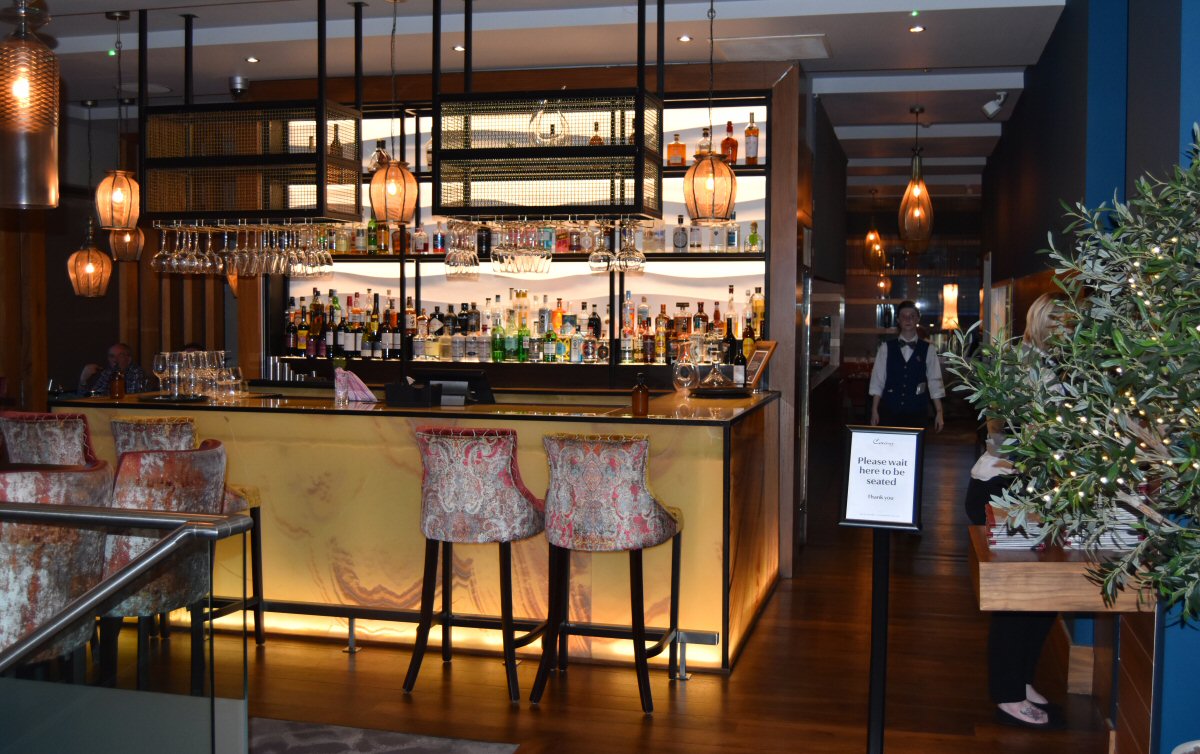 Taking a few minutes to admire Cocina's decor, my eyes were treated to a variety of stylish, contemporary features such as the interspersed marble carpet and wooden flooring and seating in Teal, Claret, Grey, and burnt Orange that were echoed in the paint on the walls and in the upholstery of the banquettes. Lighting was provided by modern cage-type fixtures, their warm glow punctuated by fringing above the tables and at the windows. Music in the background provided a great ambience without interfering with the flow of conversations. Having settled ourselves in, the next item on the agenda, so to speak, was to see what food was on the menu.




As a nod to Steve's Spanish heritage there is a section of the menu dedicated to 'Sharing Plates', an assortment of dishes that you can either share 3 or 4 of together, or have singly as a starter. Prices range between £7 and £14 and include morsels such as Chorizo, Serrano Ham, and Chilli and Szechuan Pepper Baby Squid. Had it not been for the fact that our perennial favourites (Pan Seared Scallops and Devon Crab) were on the menu, His Nibs and I may well have gone for one of these temptations.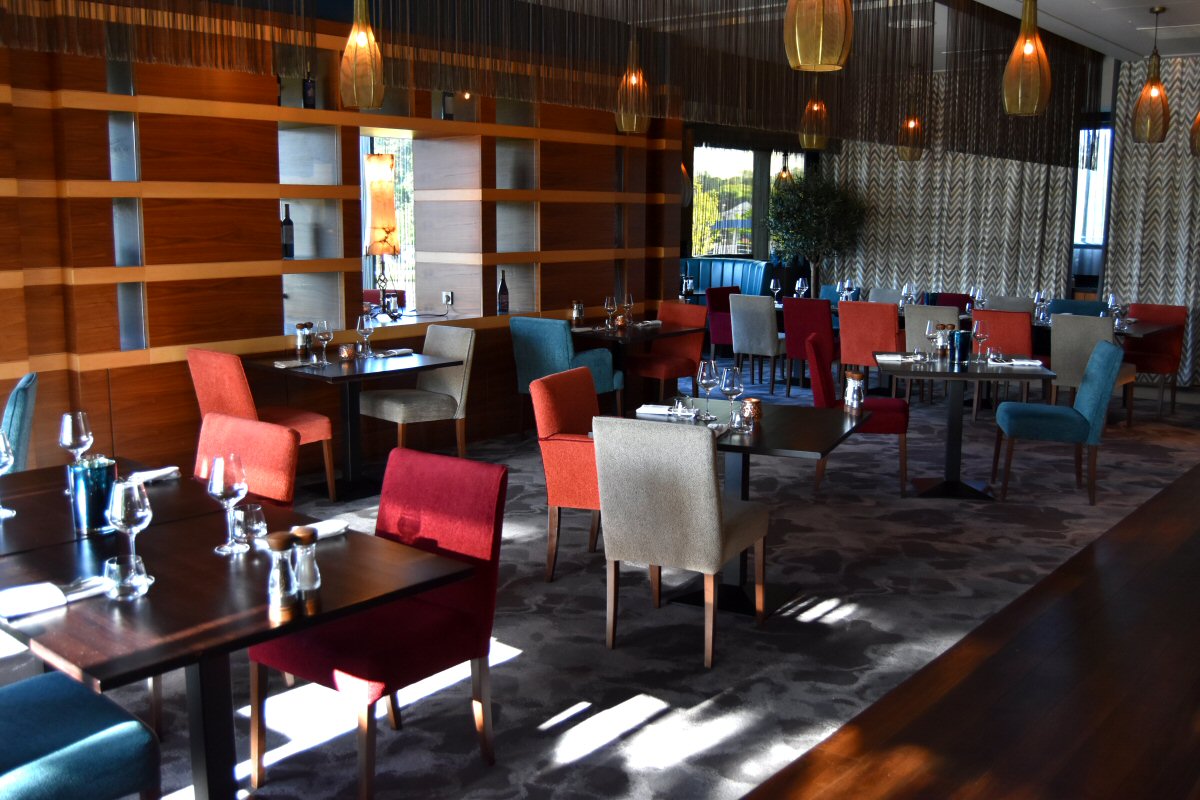 Our lovely (primary) server for the evening was Emily, and she'd got us swiftly sorted out with drinks; Malbec for me and a bottle of Peroni for The Man -there are no draught lagers at Cocina, but there's a wide choice of bottled ones to select from. A very swish glass carafe filled with iced water also appeared at our table from Emily's hand, and she filled our glasses for us.

It wasn't long from our starter orders being taken to Chef and the glorious plates of yumminess being placed before us. As you would expect from a 2AA rosetted restaurant, the presentation of the food was just sublime; each server vessel had been chosen to showcase its contents with maximum visual impact – after all, they say we eat with the eyes as well as the mouth, don't they?




The Man Bird's eyes goggled at the sight of the trio of beautiful Scallops on his plate; they peeked coyly at him from beneath their topping of an impossibly fine Pancetta and Onion Hash. Despite its finesse, the Hash had a superb depth of flavour to it that was quite dazzling on the palate, seeming all the more insistent against the subtle fragrant flesh of the Scallops. A Jersey Royal and Leek veloute swirled around the plate, imparting a wonderful Allium twang in the mouth, paired with the gentle nuttiness of the potato. His Nibs said that the overall impact of the dish was one of surprising delicacy and that all the flavours had woven together in harmony.




I had been served with a delightful pair of Crab Katsu quenelles whose bodies were attractively flecked with verdant herbs that married perfectly with the sweet, perfume of the white Crab meat. Great Chefs are always most respectful of the creatures that provide the meaty canvas that they create their art from, and strive not to waste any part. On this occasion, Chef Tom had used the Crab's brown meat in a mayonnaise that was both creamy and rich, with a tantalising sweetness to it. The vibrant Watercress purée and Yuzu oil both added a welcome sharpness on the palate, whilst puffed grains and charred Corn added a superb textural dimension to the dish.

Emily and her colleague, Amy, had kept a discreet eye on our progress (as well as checking that we were enjoying our food); our water glasses never ran dry and when we had cleared our plates they were soon whisked away, and we began the earnest task of anticipating what our mains would bring!
For mains we had chosen Walton Lodge Cannon of Lamb (Him) and Pan Roasted Halibut (me) and sides of Ribbon Salad with Citrus dressing, and Sautéed Green Beans and Shallots. Both dishes contained many elements within them; no doubt our taste buds would be kept as busy as Chef is when he weaves his culinary magic.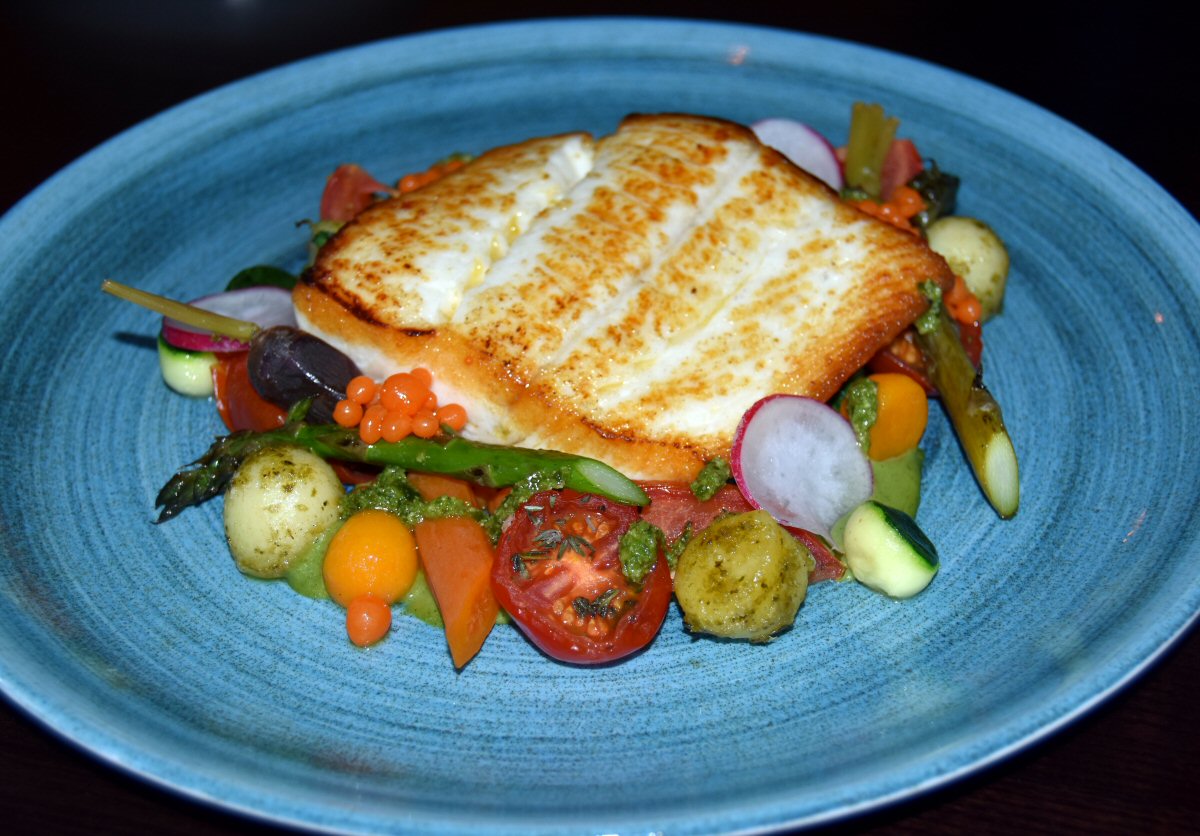 The gentle, sweet taste of my thick Halibut loin was determined enough that it withstood the sterner notes and intensity of air-dried Tomatoes, the Basil and Pine Nut dressing and thinly sliced Radish. In-season Wild Garlic leaves had been tenderly steamed to wilt them and preserve their flavour and hint of texture, matched with the wonderful concentrated taste of another in-season vegetable, Asparagus. A mix of colourful heritage Carrots (baby ones) added their optimistic bounce to the dish, as well as some rather pleasing colour. This was a tantalising plate of food, make no mistake.




His Nibs had been bowled over by the Lamb Cannon, revelling in its flesh as it bestowed a kiss tenderer than that of new lovers on his tongue and left its whisper soft creaminess lingering there. A Rosemary herb crust on the Cannon provided a gloriously bright note in the mouth, partnered superbly by a very tasty Pea and Mint veloute. As well as the cannon, Chef had prepared crispy Lamb Belly and this was far more punchy and rich on the palate but also had a creamy mildness in its fattier parts. Wye Valley Asparagus and Baby Heritage Carrots had both been perfectly cooked to retain some firmness and leave their flavours undiminished.




Somehow Chef Tom Marr managed to find 5 minutes to come and chat with us, explaining that he loves dishes to be heavy on vegetables other than potatoes and with a generous amount of protein at a dish's core. Where possible, Chef sources ingredients locally and changes the menu regularly to utilise produce at the peak of its taste.




Both sides were delicious. My ribbon salad was an edible rainbow of taste and texture, the mixed leaves and thin vegetable ribbons brought together seamlessly by a bright, tangy citrus dressing that enhanced everything it coated! You certainly get your 5-a-day here. Chef's experience in the top-notch kitchens at The Peak Edge Hotel shone through with the Green Bean and Shallot dish: it goes without saying that the veg was perfectly al dente (and prettily garnished with diced Tomato and herbs), but serving it in a mini skillet with tongs to serve the slender beans was next level slick. Touches like this are what sort the wheat from the chaff!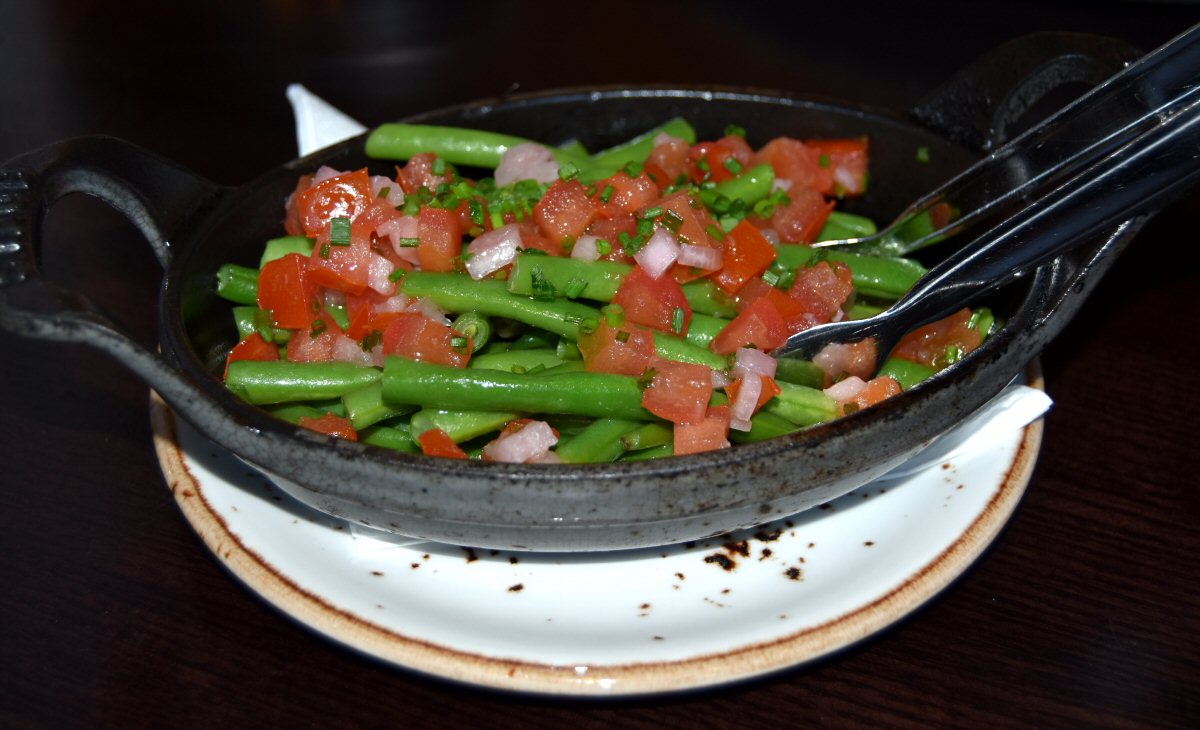 I don't know why servers waste their energy asking us if we want to see the dessert menu, well, I do: it's out of politeness and it's their job!, but let's be honest, we're always going to say yes to dessert! The total pig in me could've eaten every single dessert on offer at Cocina, thanks to the choice being so scrummy, but I eventually whittled it down to the dreamy sounding Yoghurt Parfait with grilled Nectarine, crunchy Oats, Freeze-dried Yoghurt and Walton Lodge Honey. The Man Bird chose my reserve choice, the Chocolate Orange Fondant with Mandarin Ice Cream, charred Blood Orange segments and a sprinkle of Popping Candy – I did have an agreement from His Nibs that I could have a good mouthful of the fondant, though!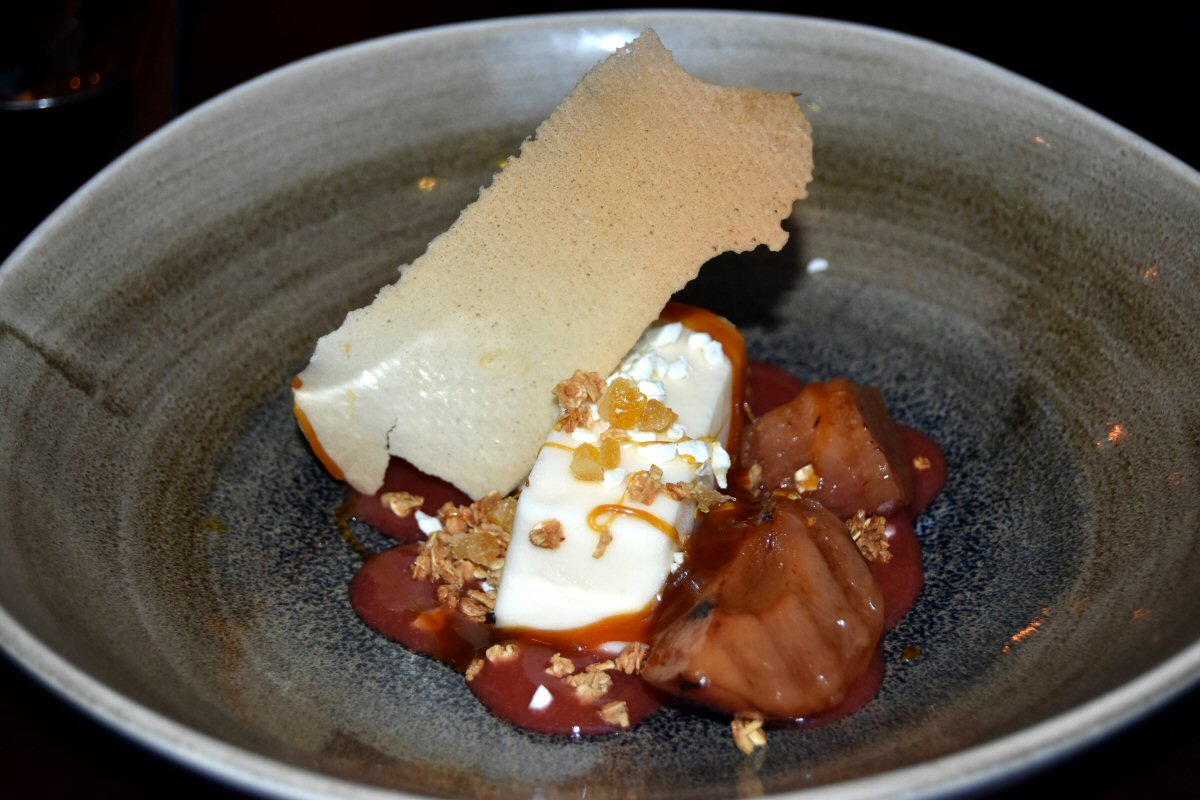 The Yoghurt Parfait was sublimely silky in my mouth, gliding dreamily over each surface that it caressed with its cool fingers. I loved the perfume of the Walton Lodge Honey; it swirled daintily with the decadent creaminess of the Yoghurt Parfait and the even more concentrated freeze-dried Yoghurt pieces that garnished the dish. As described, the Oats were indeed crunchy and gave a superb textural component to my dessert which was joined by the grilled Nectarine halves and their firm flesh. The fruit gave a wonderfully exuberant zhuzh to what would otherwise have been a very delicate dessert and I loved the fact that the grilling of the Nectarine intensified its sweetness. This had been a lovely, light dessert that didn't leave me stodged up at the end of my meal.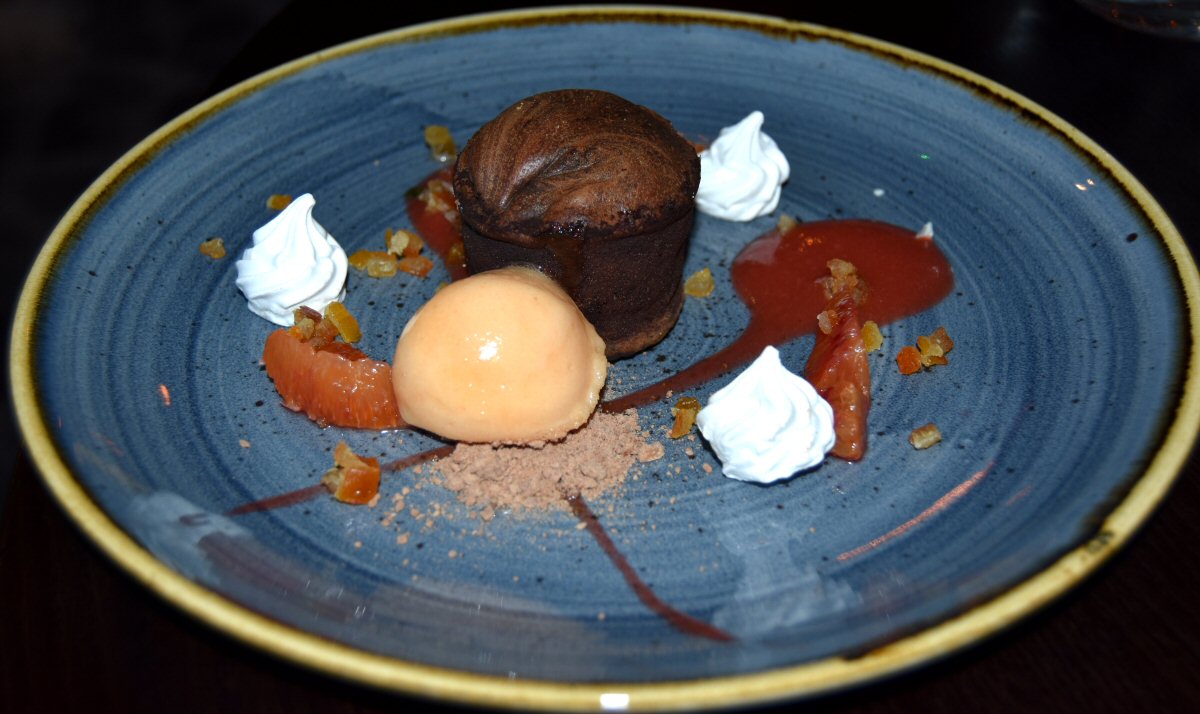 Leaving His Nibs no chance at all to renege on our deal, I dived straight in with my spoon and cut into the Fondant, revealing its molten centre. This dessert looked fantastic but I'm happy to say that it tasted even better! The cocoa hit zoomed directly to the brain's pleasure centre and, bam, happiness flooded my body. Chef had skilfully balanced out the fondants' unbridled luxury with the cleaner, bright notes of charred Blood Orange and also provided a great contrast of temperatures between the warm pud and the cool Mandarin Ice cream. Taking us both back to the glory days of our childhoods was the grin-inducing popping candy; who doesn't love the symphony of mini explosions that erupt in your mouth from this iconic sweet?! The temptation was to just gobble up the desserts, so good were they, but we reined in our enthusiasm (and gluttony!) and took our time to fully appreciate their charms.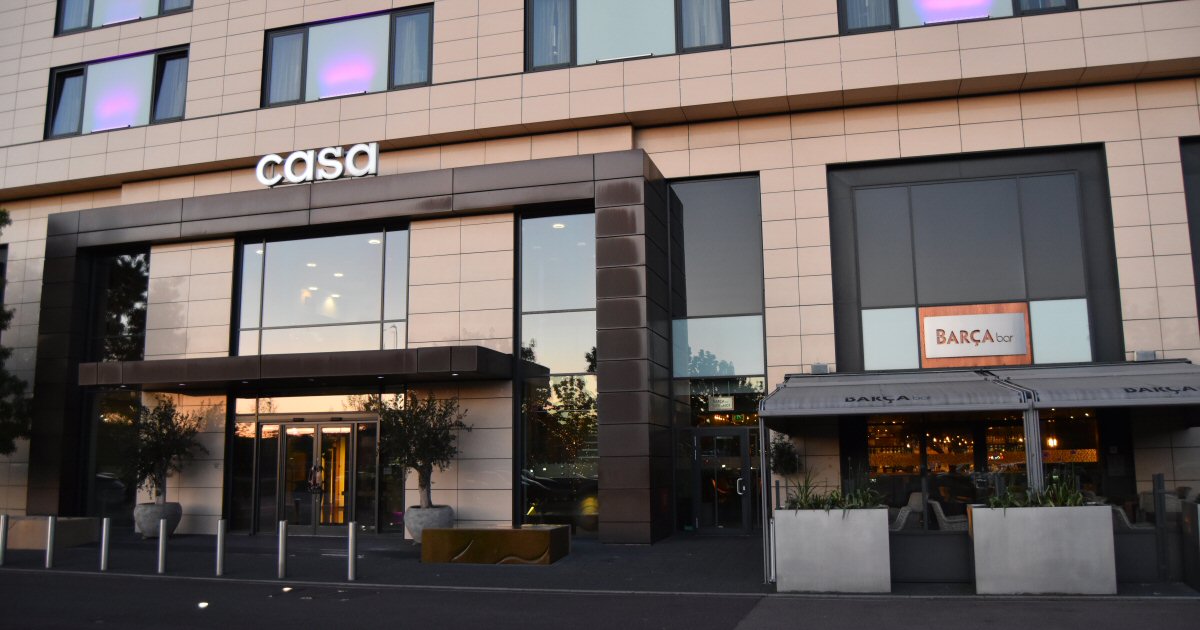 Emily came to clear our plates and cutlery away, taking our order for black coffees at the same time – good time management, right there! Cocina at Casa serves a beautiful after dinner coffee, whose intense flavour clears the palate but has no hint of bitterness to its finish; perfect. We'd had a wonderful evening at Cocina; the service, surroundings and food were all impeccable, so I'm more than happy to award Hot Wings to this fantastic Chesterfield venue. To book your table at Cocina restaurant, visit their web site at casahotels.co.uk/eat/cocina-restaurant/
Some form of incentive was provided to visit this venue
read more
Read Some Of Our Recent Reviews
---

Breakfast At Marsh Green Farm Shop & Cafe, Kelstedge Ah, you've gotta love a Bank Holiday curve-ball, haven't you? His Nibs and I headed over to Mummy Birds' gaff with the intention of having a leisurely couple of hours at the Sunday Read The Article

---

Afternoon Tea at Bourne's Coffee Shop and Bistro, Denby Pottery Village You all know that The Man Bird and I do like an Afternoon Tea; I mean, who doesn't?! Just a few miles down the road from the nest is Denby, home to the world-renowned Read The Article

---

All You Can Eat At The River Garden Cantonese Restaurant In Belper As is the seemingly never-ending pattern of our weekends at the moment, The Man Bird and I had been busy gardening/re-seeding/pruning/digging, so when it came to sorting Read The Article

---

Back For Dinner At The Bulls Head In Repton As far as greetings go, perhaps the best one we've received came on our visit to The Bulls Head at Repton. As I stepped out of the jalopy I heard a familiar sound; a Robin chirruping away merrily Read The Article

---

A Visit To The Recently Opened Ranch Gourmet Burgers In Ripley The Man Bird and I do like a good burger, so we were gutted to hear that one of our fave hangouts in Derby was closing its doors and (in true glutton fashion) decided to Read The Article

---

A Post Shopping Lunch At Qoozies, Chesterfield We were on a mission over the Bank Holiday Weekend: Operation 'Get New Curtains for Mummy Bird' was go, go, go!! It turned into Operation 'New Curtains, New Towels, and New Bedding', so Read The Article

---

Dinner At The Devonshire Arms In Beeley We seem to have visited a few other sites on the Chatsworth Estate, so it was lovely to receive an invite to dine at The Devonshire Arms at Beeley; it's been a while since we were last here. As soon as Read The Article

---

Burgers With A Side Order Of Sass At Karens Diner, Sheffield 'Freaky Friday' feeling, anyone? I felt a bit like the Fresh Prince of Bel Air, except instead of 'my life got flipped, turned upside down' it was a case of 'my dining experience got flipped Read The Article

---

Sharing A 40oz Tomahawk At The Galleon Steakhouse, Chesterfield We Brits are used to Bank Holidays being a let-down usually when it comes to the weather, so when the forecast was for (mainly) fine conditions it was a case of Read The Article

---