A Visit To The Seafood And Champagne Terrace At The Cavendish Hotel, Baslow
---
Published On Wednesday 11 May 2022 by Sticky Beak
See Recent Dining Out Reviews | See All Recent Reviews


I know The Man and I must seem calm and collected to a lot of you, so let me shatter that bubble right now by describing what happened when a certain invite came in. The invitation was from the Devonshire Hotels team, asking if we would like to be their guest on the Seafood and Champagne Terrace at The Cavendish Hotel in Baslow: the reaction was "OMG!! Would we like to?!.... Um, let me see if I'm free..... heck, YES!!!" *crazy, happy dancing around office* No shred of dignity was left in my expression of total and utter joy; not even the tiniest smidge!! I love Chatsworth and everything to do with it, and I'm not bothered who knows it.
The car park was extremely busy when we pulled in, so His Nibs had to park the Jalopy in a spot at the bottom – good job I hadn't decided to wear those heels that had been tempting me from my wardrobe! The Seafood and Champagne Terrace is located through the little stone archway just past the main entrance, housed on a pristinely manicured lawn, and we were escorted along the wooden walkway to our table under the canopy. Each seat is covered with a thick, pale sheepskin and neutral toned woollen throw, so right from the get-go luxury, pampering and indulgence is the tone. This is possibly the swankiest pop-up in the country, and is definitely THE swankiest place to be in the 'shire!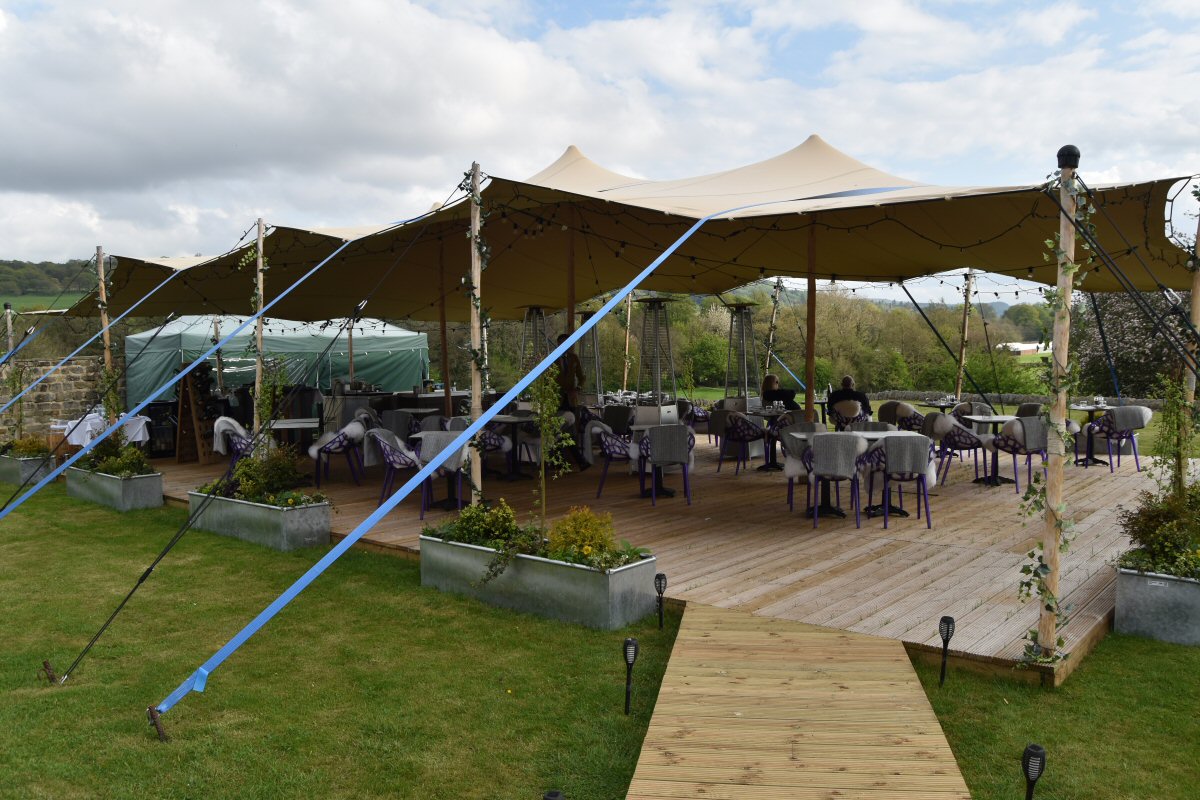 Whenever you visit the Chatsworth estate (and this applies to any part of the group) the one thing you can be sure of is the highest quality, friendly service matched by a knowledge of product that is breath-taking; for example, as we were asked which Champagne we'd like, it was mentioned that Laurent-Perrier is the house Champagne served throughout all the Chatsworth venues and that there are 59 different Marques available! #mindblown




I'm sure that there are Champagne buffs out there, but I'm not one of them (something I admitted straightaway!) so we opted for the 'basic' (nothing is basic about Champagne though, is it?!) La Cuvee bottle. His Nibs had been convinced that I'd go for the Rosé variety, so he was surprised when I didn't; always keep a man on his toes, ladies ;)! Each table has its own portable ice bucket and after expertly popping the cork and pouring our first glass, the bottle was housed back in its chilled bath with a cloth draped around its neck. Whilst pouring, the Sommelier commented "lovely Perlage", referring to the amount (and finesse) of the bubbles coming from the Champagne: definitely a case of 'Bubbly by name, bubbly by nature!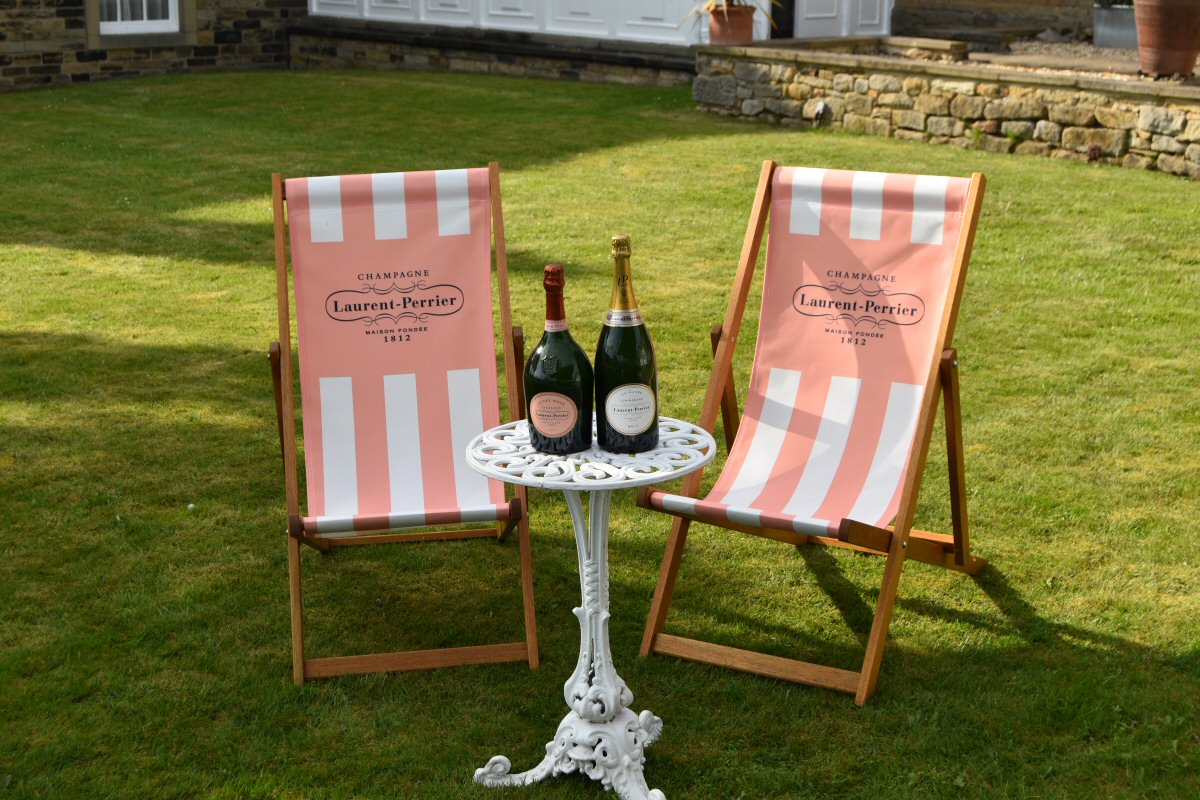 Adam Harper is the Head Chef at The Cavendish Hotel and was preparing for a busy evening in his kitchen; the restaurants were full and a party was booked in for the Kitchen Table experience, but he managed to come out for a quick chat and it was lovely to see him again. It was Joe, his Assistant Chef, who was cooking on the terrace for us that evening and we were apparently "in good hands"; and if Adam says that, you know he means it.
For starter, The Man went for Focaccia with Hummus, Olive Oil and Balsamic, and Olives and I fancied the Smoked Salmon with Capers, Lemon, Crème Fraiche, and Brown Bread. Our server for the evening was a lovely flame-haired young lady named Sarah and, whilst she went to take our order over to Chef, another member of the team came to fire up one of the sleek, stylish heaters because it had dropped a little chilly as the sun had dropped low in the sky. The view over the fields and hills was simply stunning and we could hear a couple of cock Pheasants calling from below; one of which made his way up to the edge of the terrace garden during the evening's progression!




A short while later we were tucking into our first courses, and very yummy they were too! I had several sumptuously thick slices of delicate pink Salmon to savour, and a gentle hint of smoke combined with their inherent natural sweetness washed softly over my palate. Did you know that Capers/ Caper Berries aren't berries at all; they are actually the flower buds of the plant? Just thought I'd do a little knowledge enhancement of my own – well, it might come up in a quiz situation, you never know! Anyhow, these little green sort-of-spheres imparted a gorgeous citrus tang (reminiscent of Green Olives) that lifted the Salmon notes in the mouth, enhanced by the squeeze of juice I'd extracted from the wedge of fresh Lemon on my plate. Another sharp zing came from the pearls of Crème Fraiche that decorated the platter and all the elements danced perfectly to provide a wonderfully balanced dish to begin my Seafood and Champagne Terrace experience.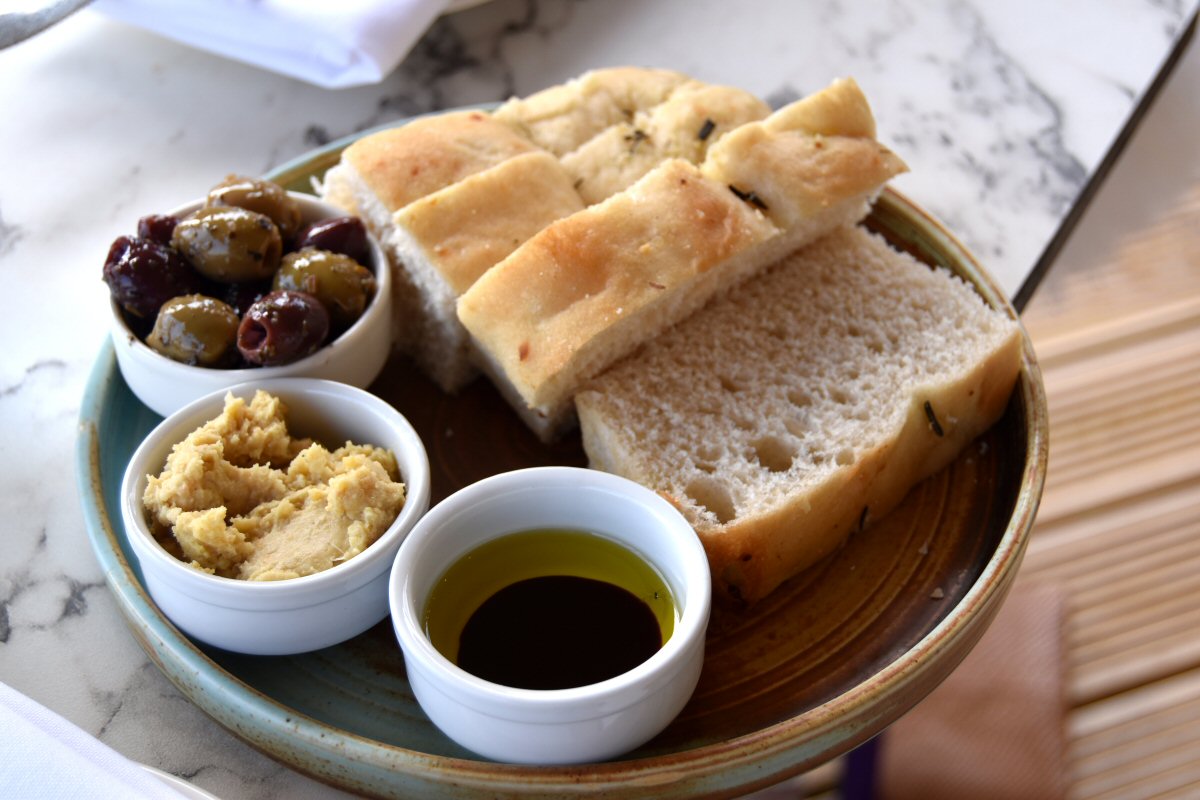 His Nibs' Focaccia was sliced thick enough that he could appreciate its fragrant, yeasty taste as well as the crust that comes from Olive oil pooling in the numerous pockets on the breads' surface before it gets cooked. The lightly textured Hummus had a beautiful swoop of Garlic in it that bounced playfully in the mouth, without scuppering any chance of a romantic smooch on the terrace! I got to enjoy the mixed Olives, their fruitiness transporting me to Mediterranean climes and happy memories of holidays past; these moreish little minxes still remain a step too far for The Man to try (not that I'm sorry!). He did get to have some of the delightful Extra Virgin Olive Oil though, its pale green/yellow liquid providing a 'Yin' contrast to the dark 'Yang' tone of the tart-yet-sweet complexity of the Balsamic.




Our taste buds were now on full alert, and very much looking forward to our choices of main course: BBQ Sea Bream with Fennel, Apple, and Radish for His Nibs and BBQ Tiger King Prawns with Kimchi Salad for me. We also ordered sides of Cavendish Superfood Salad and French Fries to complete our feast of mains.

At this juncture Sarah came over to refresh our Champagne flutes (having deftly cleared our starter plates away) and here came one of those 'uh-oh' moments, courtesy of Mother Nature. You're never going to win against Nature, especially in rural settings, so I wasn't fazed in the slightest by the situation - being a bit more worldly-wise! - but Sarah was a little non-plussed; ah, the innocence of youth, how I wish I still had it!

A very cheeky Gnat, no doubt egged on by the rest of his buddies that were buzzing about with nothing better to do on a late spring evening, had decided to chance his arm (or should that be wing?!) and blag a slurp of my Champagne. Unluckily for him, he paid the ultimate price and lay there, dead as a proverbial Dodo, in my drink- I would say suck it up, buttercup, but he'd already done that!! So, poor Sarah clearly couldn't continue to refill my glass and there were two scenarios that could play out: either I could a) go full-on Diva/ Karen and demand a new glass of bubbly or, b) simply fish the pesky blighter out of the flute with my finger. I went for option B; far simpler and quicker, and probably something for Sarah to tell her mates about later.




All of the dishes offered on The Seafood and Champagne Terrace lend themselves to al fresco dining; none are complicated to execute, but are bursting with colour and flavour. Chef Joe expertly set to, assembling ingredients and cooking them to unleash all their tantalising flavour.

The Man Birds' Sea Bream was deliciously meaty in texture, satisfying his appetite superbly well whilst simultaneously holding his palate in its thrall with a clean, delicate taste that delighted the senses. Chef had chosen the crisp, bright flavours of Fennel, Apple and Radish (all thinly sliced or julienned) that complimented, rather than overwhelmed, the fish and it was a case of mission completed, judging by the huge smile of satisfaction on His Nibs' face.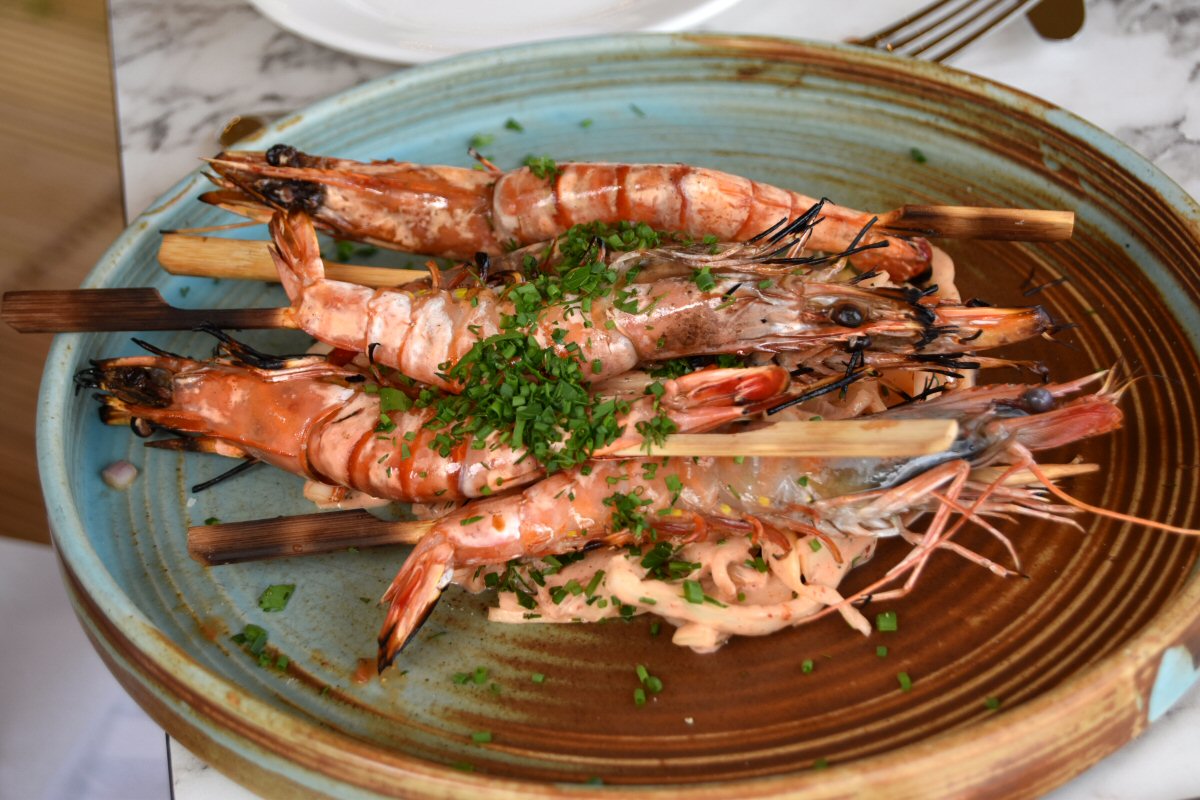 Equally marvellous was my own choice of BBQ Tiger King Prawns, each of which had been impaled on a wooden skewer before being cooked to pinky perfection. Sarah had thoughtfully brought over a finger bowl of warm water with a slice of fresh lemon in to the table, and after carefully prising the head and shell off each morsel I dunked my digits in to remove any excess juices. I have had, well, a lot, of Prawns in my time but these beauties were among the tastiest: sweet, succulent, gently fragrant – you name it, they were it....and then some. Being perfectly honest, I had been a bit underwhelmed when I read the menu and Kimchi salad was all the Tiger King Prawns came with, but having had them, they really don't need anything else! The Kimchi was brilliantly punchy and tangy, with a great fiery kick that surprised my palate after a couple of seconds, and its crunch was very welcome too.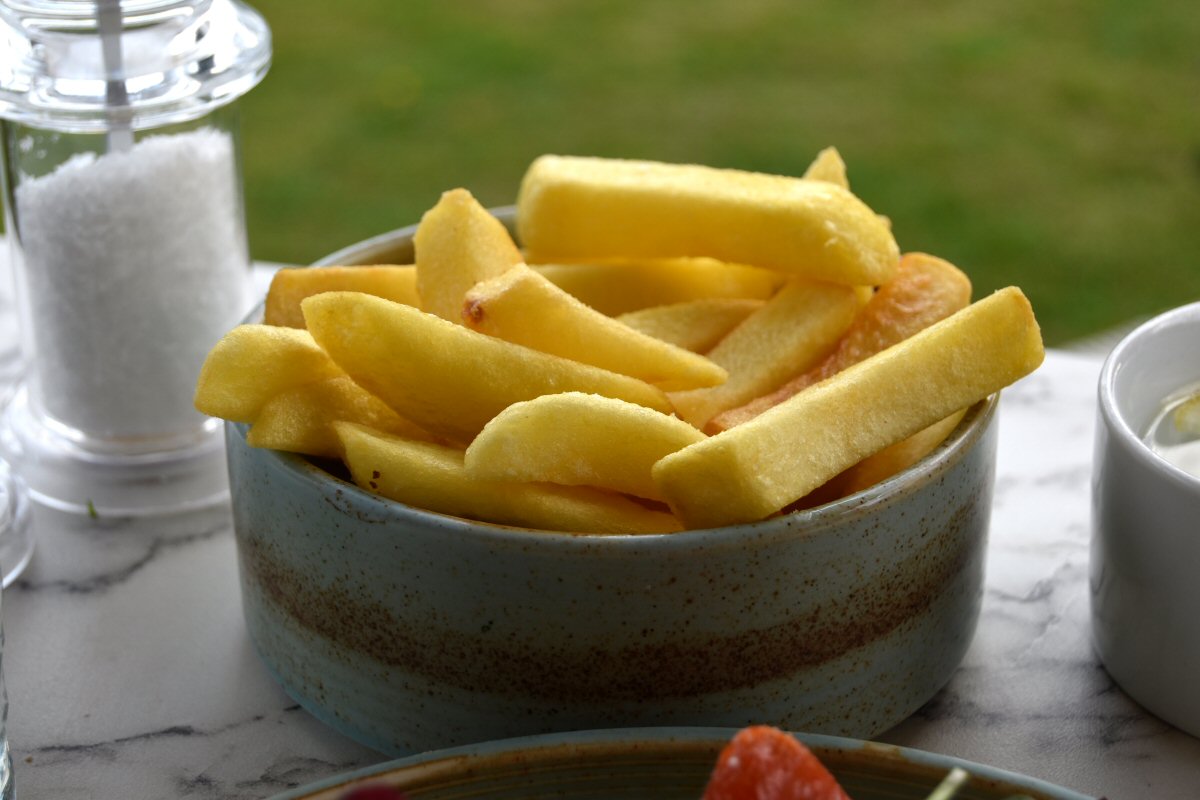 You've all heard me wax lyrical about the French Fries at The Cavendish Hotel on previous occasions, so I won't bore you, but they were just a fab as ever-, with their uber-crisp outers and light-as-a-cloud inners. For those who like to tick all the health boxes with minimal fuss or effort, I present to you your new best friend; please be up-standing for the Cavendish Superfood Salad. This genius contains tiny balls of Mozzarella, cubes of Feta, intense Sun-Dried Tomatoes, Pumpkin Seeds and Sunflower Seeds (both rich in healthy oils and nutrients), Fennel, Radish, Apple, and Mixed Leaves. Impressive or what?! Better still, it tastes amazing, has loads of texture and crunch, and provides a superb, colourful visual appeal as well.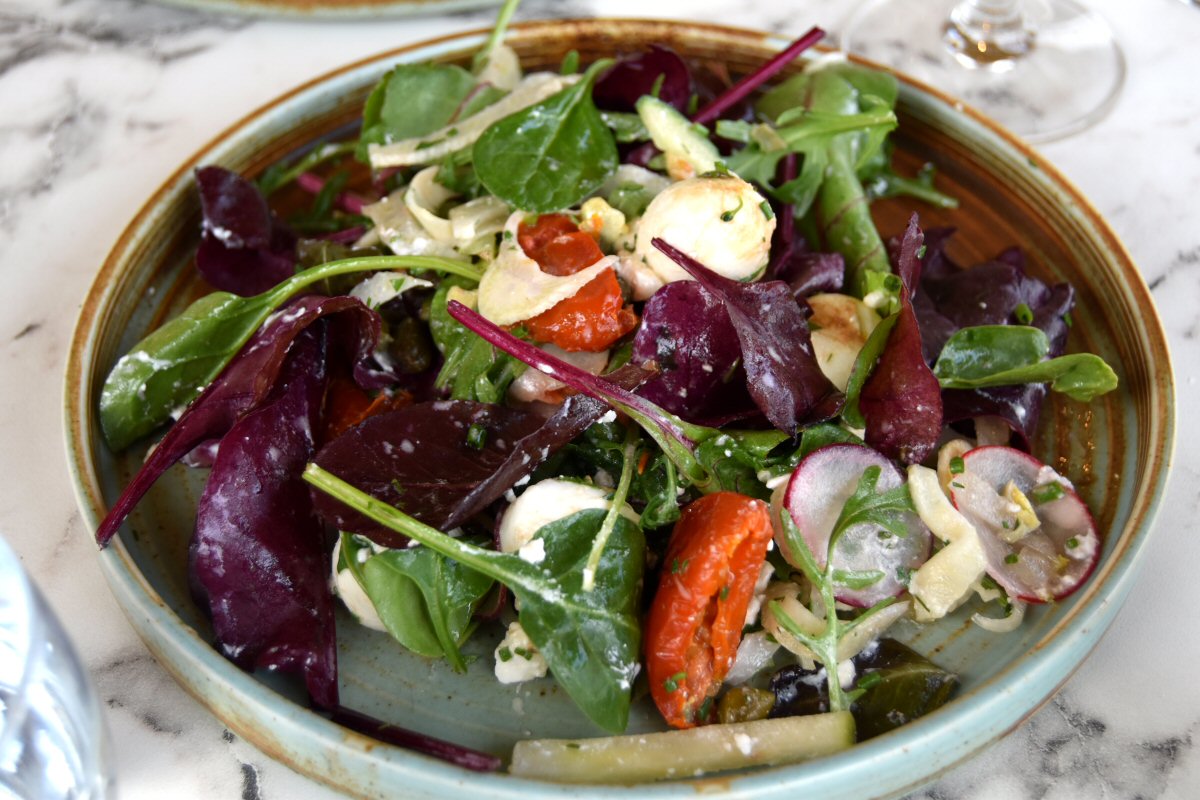 For pudding we had Chocolate Cheesecake with Coffee and Hazelnut (my selection) and BBQ Pineapple with Bourbon, Lime, Mascarpone and Caramel (The Man).His Nibs was a jolly happy chap as he took his initial taste of Pineapple; this sweet fruit had had its natural sweetness concentrated, thanks to the sugars within its sunny flesh caramelising over the BBQ heat. Moreover, the fruit had been pimped up with a serious slug of Bourbon whose heat made its presence known at the back of The Mans' throat as he swallowed! Sweeping in to cool matters down in the mouth was the wickedly creamy quenelle of Mascarpone (which also had a sharp Lime splash to it) and caramel that clung to the cheeks and coated the tongue.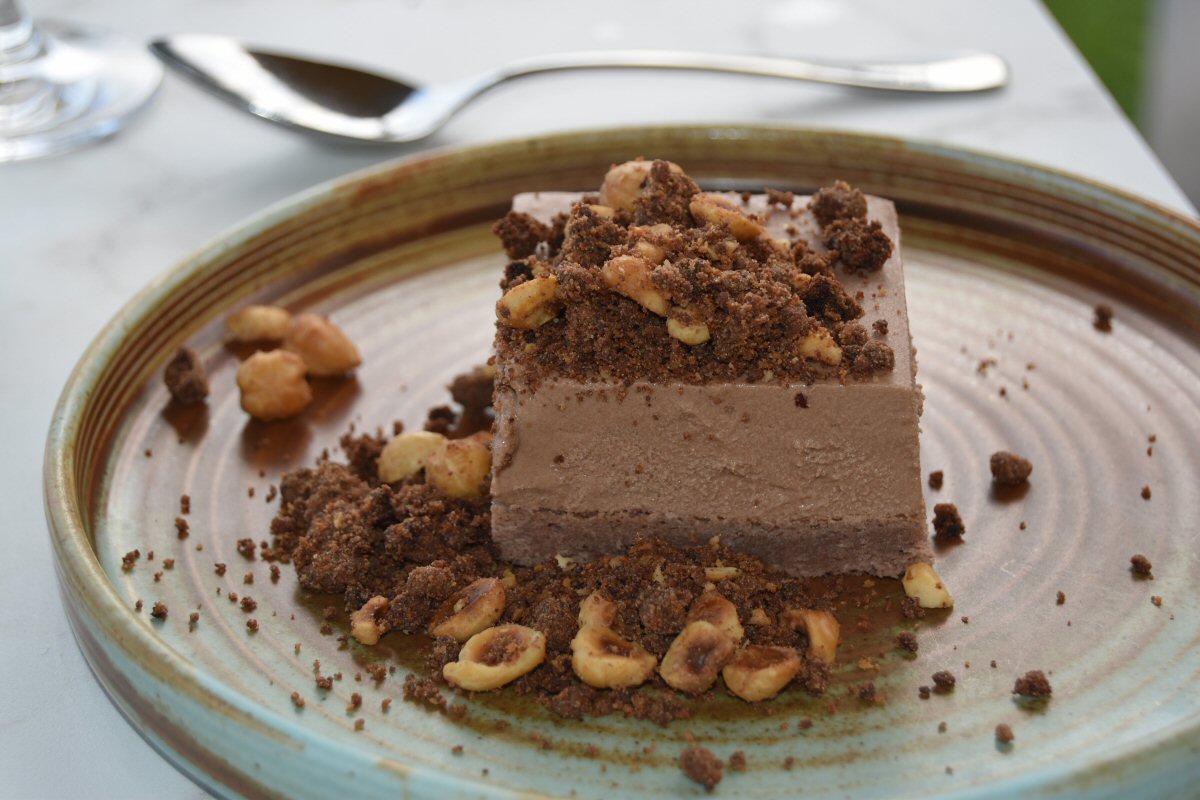 Usually it is me that opts for fruity desserts and His Nibs goes for Chocolate, but Bourbon and I don't make good bedfellows and, given the strength of the alcohol, I'm glad I swerved it! My taste buds were even happier as they felt the full impact of the cocoa laden cheesecake body; it was incredible. For those of you who are a bit cautious when it comes to chocolate desserts (fearing them to be too heavy a conclusion to the meal) let me say that this delight was surprisingly light in texture and coffee taste and didn't sit heavy on my tum at all. Toasted half and whole Hazelnuts provided a glorious textural component to this pud as well as being sweet and slightly smoky. Yep, this was a perfect end to my meal.




We finished off with a Cafetiere of coffee and I found myself desperately wishing that the DeLorean would materialise and I could relive the evening all over again! Surely to goodness, if we can have space tourism, we can have time travel (yes, I know we can't, but wouldn't it be fabulous if we could?).

I know I'm stating the obvious here, but throughout the evening the service we'd had was top-notch. Not just Sarah, but the whole team, had been wonderful; check backs had been done, used cutlery and crockery smoothly removed, and glasses remained mysteriously full (I never remembered them being topped up – other than the fly-gate incident - so slickly was it done!).




Your Graces, The Duke and Duchess of Devonshire, could I just make one request please; can your Lambs be asked to refer to the Debaaatts (Debretts) Ovine guidelines of modern road etiquette? Honestly, the little monkeys were determined to frolic and chase each other across the road as we made our way home! We must've stopped at least a dozen times, although I blame the mothers – they were (for some bizarre reason!) avidly licking at the cats' eyes in the centre of the road and paying not a jot of attention to their offspring.

Joking aside, we had a memorable evening at the Seafood and Champagne Terrace at The Cavendish Hotel, and are more than happy to award Hot Wings to this excellent team. For those of you lucky enough to be attending the Chatsworth Horse Trials (13th-15th May2022) then why not enhance your occasion by booking a table for yourselves?.If you're not attending the Equine event, then make it your summer mission to visit another time; the terrace is open Saturday, Sunday and Mondays currently (hopefully Thursday and Fridays too if more staff can be recruited!). To make a reservation get in touch on 01246 582311 or visit https://devonshirehotels.co.uk/champagne-terrace-derbyshire/
Some form of incentive was provided to visit this venue
read more
Read Some Of Our Recent Reviews
---

A Family Dinner At Thai Thai Restaurant In Chesterfield Thanks to the weather being kind, it had been all hands on deck at Mummy Birds gaff and so we hadn't quite got around to organising Sunday Lunch! There was no way in hell Read The Article

---

Burger and Beer Mondays At The Railway Inn, Shottle It wasn't long ago that we had a Flock outing for Sunday lunch at The Railway Inn at Shottle (and really enjoyed it) so when we were invited to try out their newest offering Read The Article

---

Dinner At The Red Lion At The Peak Edge Hotel Sometimes you visit somewhere that is already wonderful but, when you know that there is more to come, gives you that shiver of excitement up and down your spine. This is exactly the feeling Read The Article

---

A Tasty Lunch At The Vegan Revelation Cafe, Belper Vegans, you have got an absolute bobby dazzler of a cafe here; non-vegans prepare to have your taste buds bowled over and have your 'no meat' notions over-turned - and I do include myself Read The Article

---

Dinner At The Recently Refurbished Bay Leaf Indian Restaurant, Heanor Can you believe we were out again with Mummy Bird; she's becoming quite the social Tribal Elder! The last time she'd seen Faz was at his previous restaurant (Nirvana) Read The Article

---

Dinner At The George At Hathersage You can't fail to be impressed by The George at Hathersage when you first clap eyes on it; the huge stone building commands your attention with its imposing beauty. It has its own car park too Read The Article

---

Dinner At The Seafood Cave and Grill, Matlock Bath I love seafood (yes, even cockles and winkles!) so I was beyond excited to receive an invite from the owner of The Seafood Cave and Grill in Matlock Bath, Ian McGhie, to sample the food Read The Article

---

Sunday Lunch At The Spanker, Nether Heage As many of you lovely peeps are aware, we recently did a poll on the blogs Facebook page asking for your favourite venues to have Sunday Roasts at. Well, you all certainly got involved, voting for Read The Article

---

Burgers And Loaded Fries At Cravings Street Food Bistro, Sutton-in-Ashfield Boyf Birds' parents had been to a local eaterie recently that they felt would be right up our street (food), so we decided to pay said venue - Cravings Street Food Read The Article

---