Dinner At The George At Hathersage
---
Published On Sunday 1 May 2022 by Sticky Beak
See Recent Dining Out Reviews | See All Recent Reviews


You can't fail to be impressed by The George at Hathersage when you first clap eyes on it; the huge stone building commands your attention with its imposing beauty. It has its own car park too, but that's a bit more 'bijoux' - especially if you have a larger vehicle, if you get my drift (not that you'd be able to drift in it!). Thankfully the jalopy isn't massive so The Man manoeuvred into a vacant spot pretty easily.
Inside, The George has a beautifully spacious reception area that serves both the restaurant and the accommodation, with the bar area off to the left. Straightaway, one of the team came to ask how they could help us and when we said we were booked in the restaurant for a meal, swiftly confirmed the booking and then escorted us to our table. Top marks for customer service.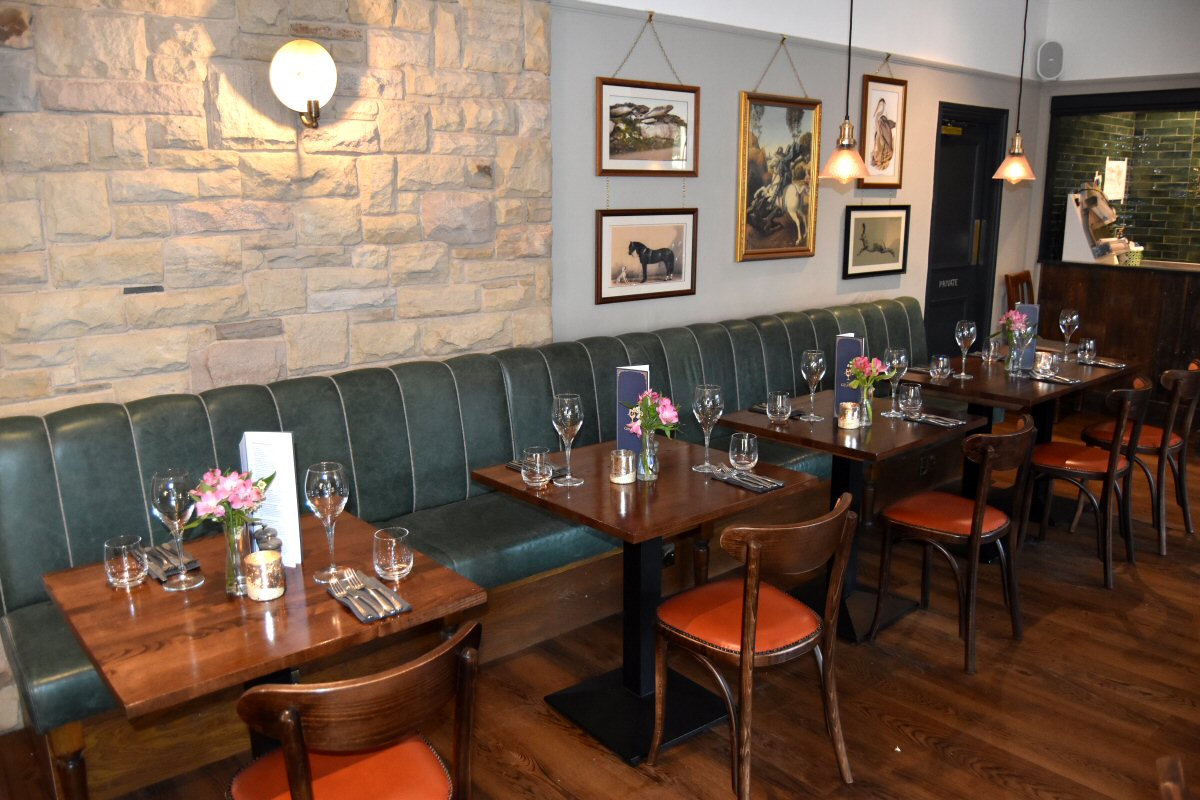 The George has a fantastic wine menu that offers a massive choice of grape juices; lagers and beers are changed regularly so they aren't in print, but just ask one of the team – they don't bite! Whilst we ordered our drinks, the lovely young lady told us about the two dishes that were unavailable that evening in case we fancied them and got disappointed. Another fab bit of customer service from this super-friendly team! We were also asked if we wanted water for the table and opted for 'Chateau De Derwent' (tap water/council pop) – I've got to say that it wasn't my favourite tap water, it reminded of the stuff we got in Lincolnshire when I lived there. I much prefer Amber Valleys' tipple, which is perhaps as well, seeing as we live there!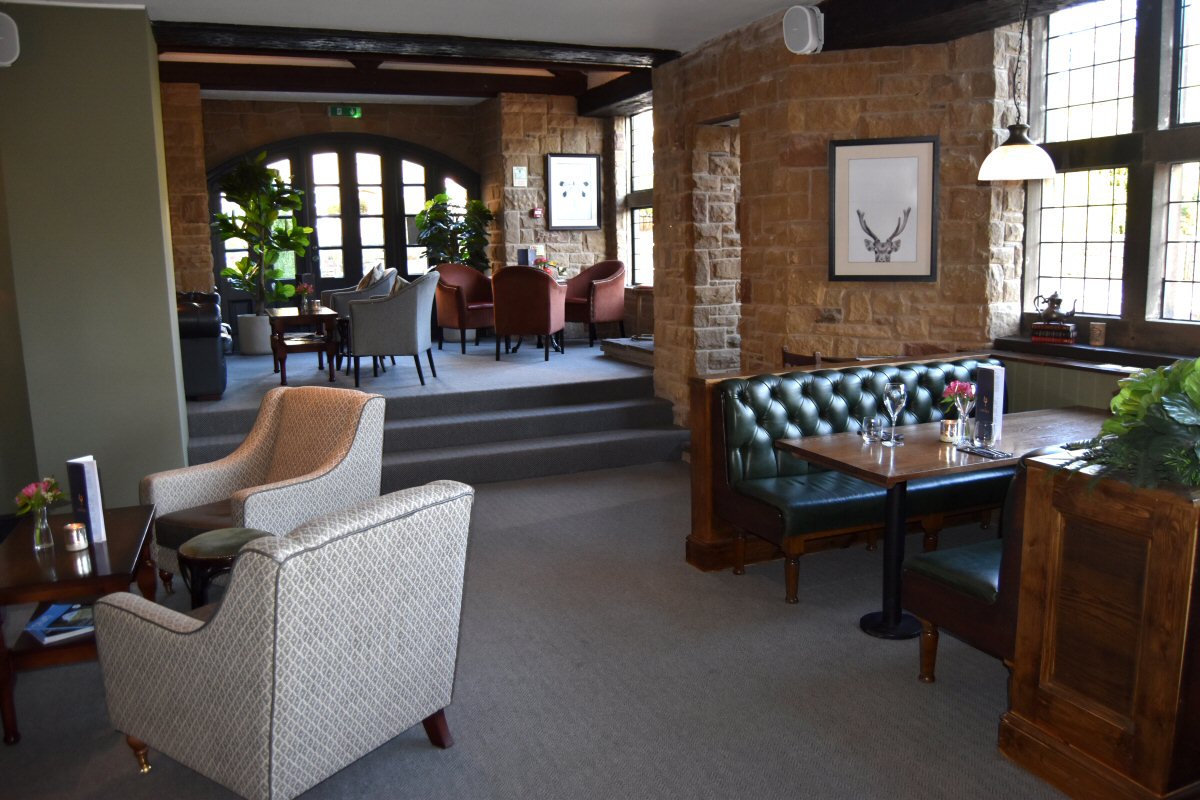 As soon as we sat down at our table a sense of calm washed over me, thanks to the calming colour palate used to decorate the space. Putty toned walls were hung with nature and rural pictures and the perfectly pitched lighting was a mixture of globe fittings in the centre and pendants above the tables at the edge of the space. Green banquette seating was down one long wall and allowed the maximum amount of diners to be accommodated without being squished in like Sardines, and the free standing wooden tables were paired with chairs upholstered in Morris-inspired fabric in green and salmon tones.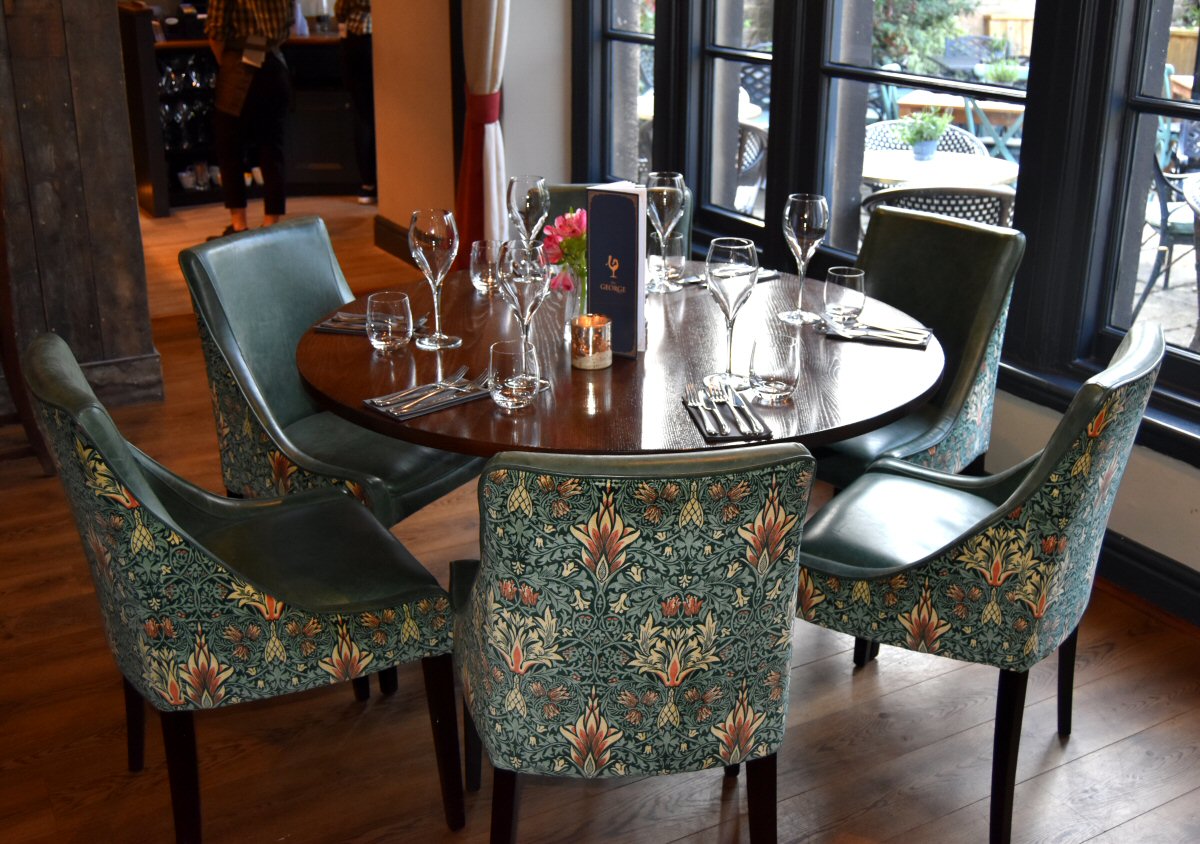 The first dish on the starters section is a homemade Scotch Egg (£7.95), so His Nibs didn't bother to look at the other choices!! I was torn between the White Crabmeat Pâté (£8.25) and the Tartlet, eventually settling on the Tartlet (£7.25).




It wasn't long before our starters were winging their way over to us and we tucked in hungrily. I honestly don't think you would find a deeper sunset coloured, richer tasting egg yolk if you scoured the entire kingdom! The look of pure joy on The Man Bird's face said it all as he took that first bite; he remarked on how crisp and crunchy the outer crumbed coating was and the Sausage meat and Black Pudding blanket that cosseted the egg itself was utterly divine. A peppery Rocket salad and punchy Honey Mustard Mayonnaise added some zip that cut nicely through the richness of the egg, bringing a lovely balance of tastes and textures to this starter.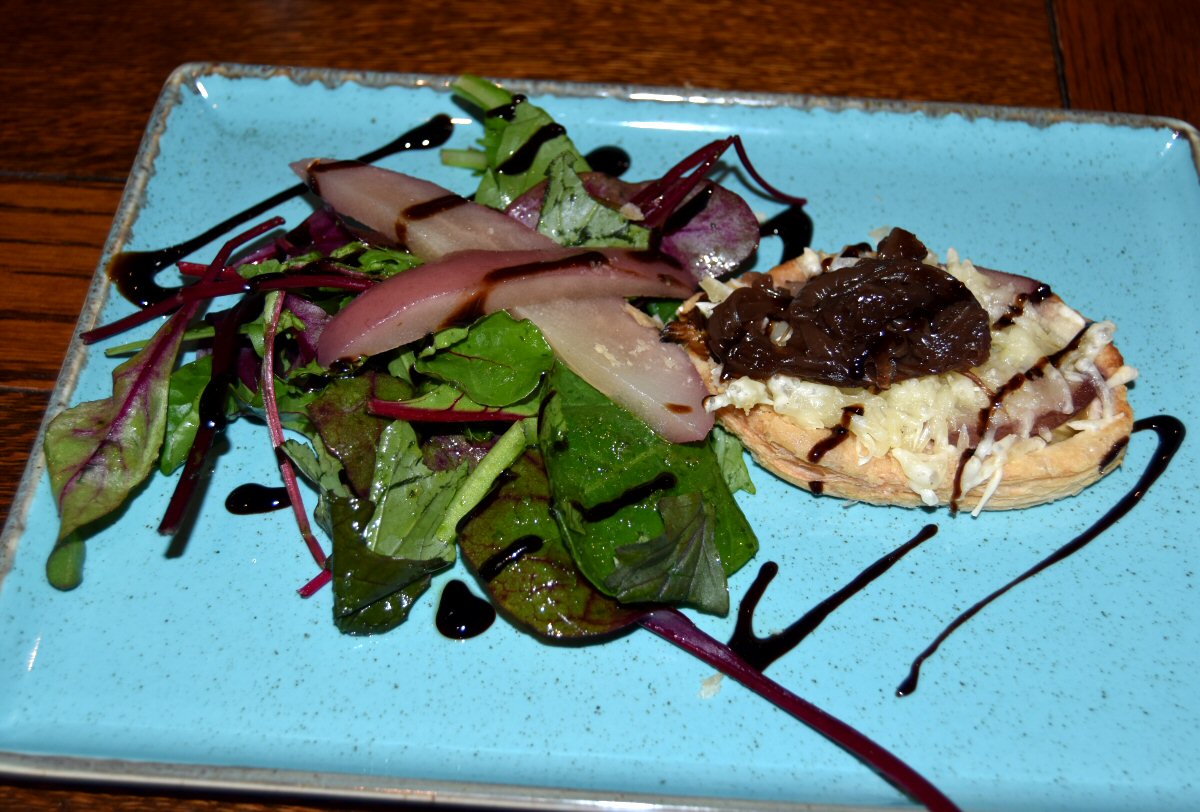 I was presented with an individual puff pastry tartlet and colourful partner of mixed leaves and slices of Poached Pear. Roasted Fennel, Red Onion and Blueberry Chutney and Vegan Cheese were contained within the puff pastry, so I was expecting a rampant onslaught of flavour to hit my taste buds. In the event, whilst it was very nice, the result was actually very subtle; a bit too subtle for me if I'm being totally honest. I wanted the glorious bounce of anise from the Fennel, and I wanted there to be a hint of firmness to this herb, so I was a little crest-fallen when neither of my wants materialised. The chutney was nice; full of flavour and comfortingly soft on the tongue. Now, before anyone accuses me of being anti-vegan, I am going to firmly state that I'm not; what I am though is anti-unremarkable, and I'm afraid that this is what I thought of the Vegan cheese. It wasn't that it was vegan cheese, it was the fact that it was so mild and (frankly) bland in flavour; surely there is a mature/extra mature vegan cheese out there, and if so, this would have been so much tastier.

As I say, this is my particular interpretation of this starter; others out there may well think it's the proverbial bees' knees. The warm , poached Pear was gently fragrant and still just-firm, adding some much needed crunch in my mouth, and the mixed leaf salad not only looked pretty, it tasted yummy too. That's the beauty of everyone having different palates and tastes – as my Mummy says "it wouldn't do if we all liked the same thing" – which isn't to say I didn't like it, I did; I just didn't have the same love affair with it that His Nibs had had with his starter.

For mains we'd chosen Sage and Chorizo stuffed Pork fillet, wrapped in Parma Ham with sautéed Kale, mashed Potatoes and served with a creamy Sage and Chorizo sauce and crispy Bacon (£17.95) and slow-cooked Rump of Lamb in a North African Tagine, served with Rocket and a Quinoa and Pomegranate salad (£20.50).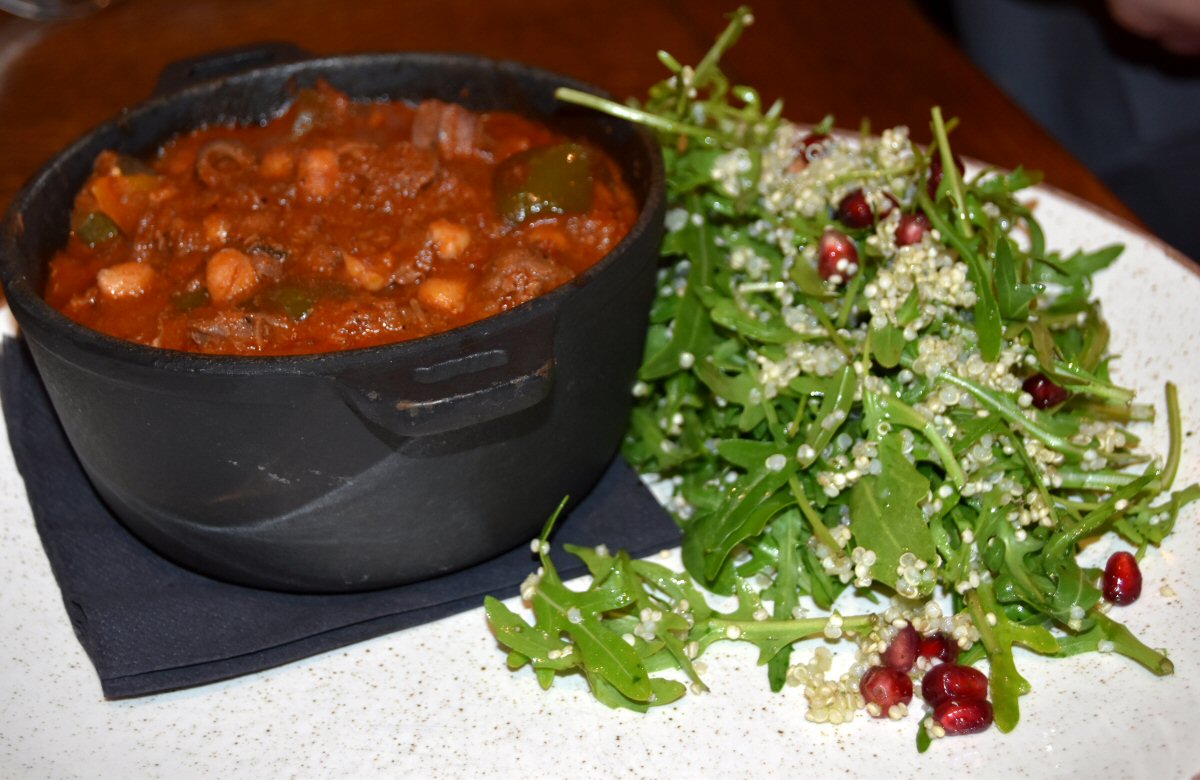 Clearly I was having a numpty night because I'd thought that my Tagine would come served in an individual sized Tagine; it didn't, it came in a (still lovely) cast iron pot. The Lamb was very much in evidence - Chef certainly doesn't skimp on the meat portion he serves - and it was cooked to absolute juicy perfection, literally melting in my mouth. There was a warming mix of spices used in the sauce that complimented the Lamb's earthiness and sweetness, and Peppers, Chickpeas, and sliced Black Olives made this a hearty, satisfying meal. For those not familiar with North African or Moroccan cooking this dish provides a good starting point from which to explore the flavours of this wonderful genre of cuisine. I asked for some bread with which to soak up the last of the sauce, and I really think that a flatbread (maybe Cumin seed studded?) would've been a nice touch –The George makes its own Pizzas so could easily do flatbreads to go with the Tagine; just an idea, Chef. Intensely sweet/sharp Pomegranate seeds and Quinoa added a nice shot of texture, along with the fresh intensity of Rocket.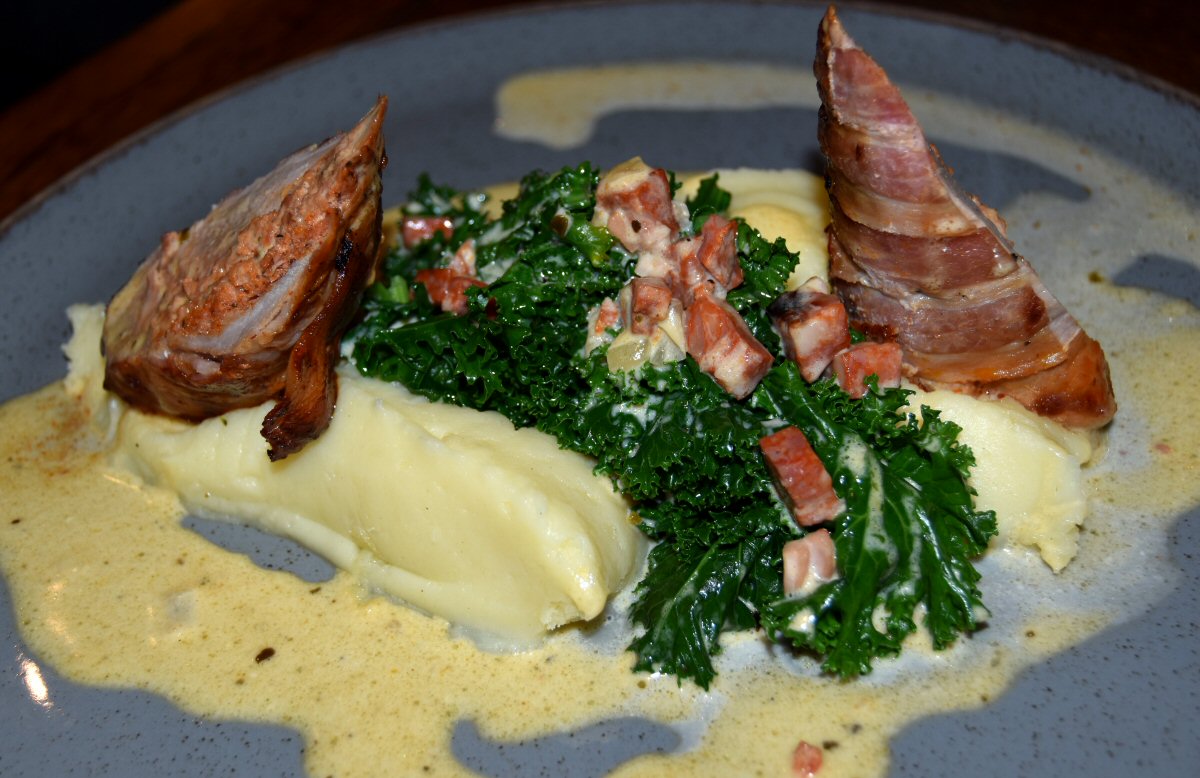 His Nibs' choice of Sage and Chorizo stuffed Pork fillet was bang on the money! The stuffing really was a work of art; at first you think it's heavy on the Chorizo but then the Sage blooms on the palate, and the balance of flavours is total perfection. If not treated and cooked with respect, Pork can sometimes be on the dry side but Chef clearly knows his craft because the meat was mild, creamy and gorgeously moist. The Sage and Chorizo sauce was wickedly creamy with the same great kick that the stuffing had, so the two elements layered together superbly well. Verdant, young Kale had been skilfully sautéed to retain all of its beautiful flavour and a bit of bite, texture-wise. The Man Bird said that it was the glass-smooth mash that had caught his attention the most; crispy Bacon pieces formed part of this dish and the Potato had a hint of the Bacon to it – perhaps from the use of its juices in seasoning it? Anyhow, the whole dish had been a joy to eat according to His Nibs.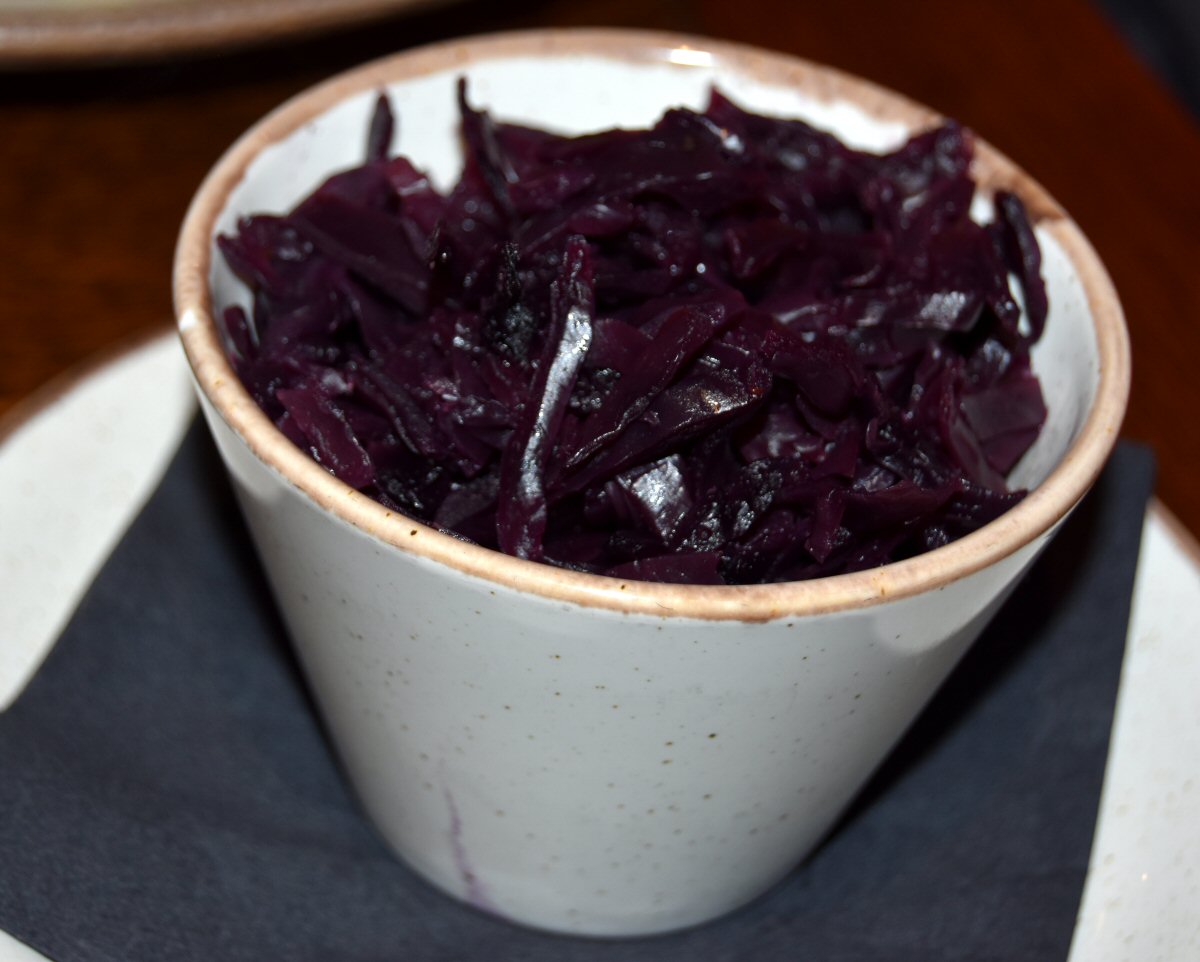 We'd also ordered a side of Braised Red Cabbage (£3.50) and this was a plentiful and flavoursome addition to our table. I did almost order an extra mixed salad (£3.50) but figured that I already had enough salad on my plate, and this turned out to be the right decision.

For pudding I chose The George's homemade Spiced Apple Strudel with Vanilla Creme Anglaise (£7.50) and The Man opted to have a flourless Chocolate Brownie with homemade Strawberry sauce and Salted Caramel Ice cream (£7.50) which shook the life out of me; I would've bet my house on him choosing the Sticky Toffee Pudding with Butterscotch sauce and Vanilla Ice Cream!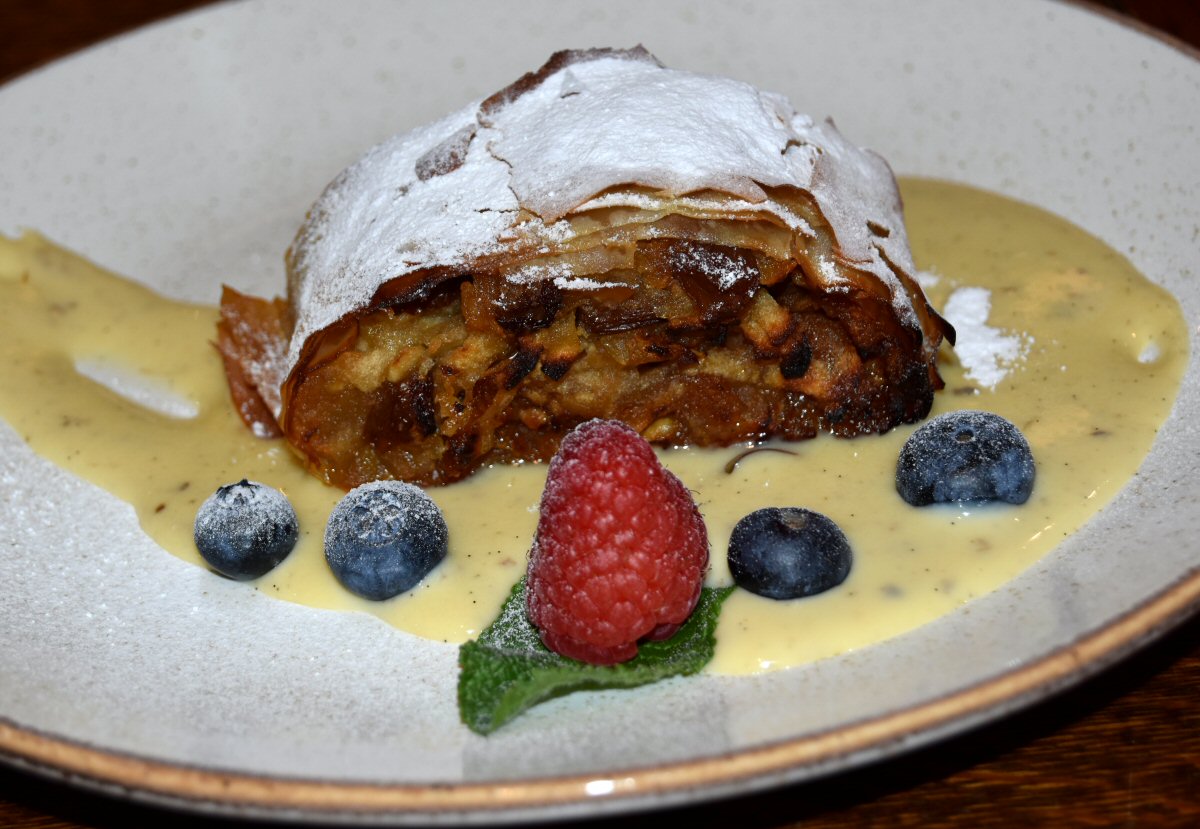 I couldn't tell you the last time I saw Apple Strudel on a menu, it's one of those superb puddings that have gone out of fashion; thankfully Chef here appreciates its merits and has included it on his menu. Crisp, thin Filo pastry, dusted with icing sugar, housed a marvellously scented grated Apple and Sultana mix. This minx was thoroughly delicious and was paired perfectly with a simple, room-temperature Creme Anglaise (that's custard to you and me!) whose warm vanilla note sang on the taste buds. A selection of fresh fruits (Blueberries, Strawberries and Raspberries) added the final flourish to this marvellous pudding – all hail the Strudel say I!!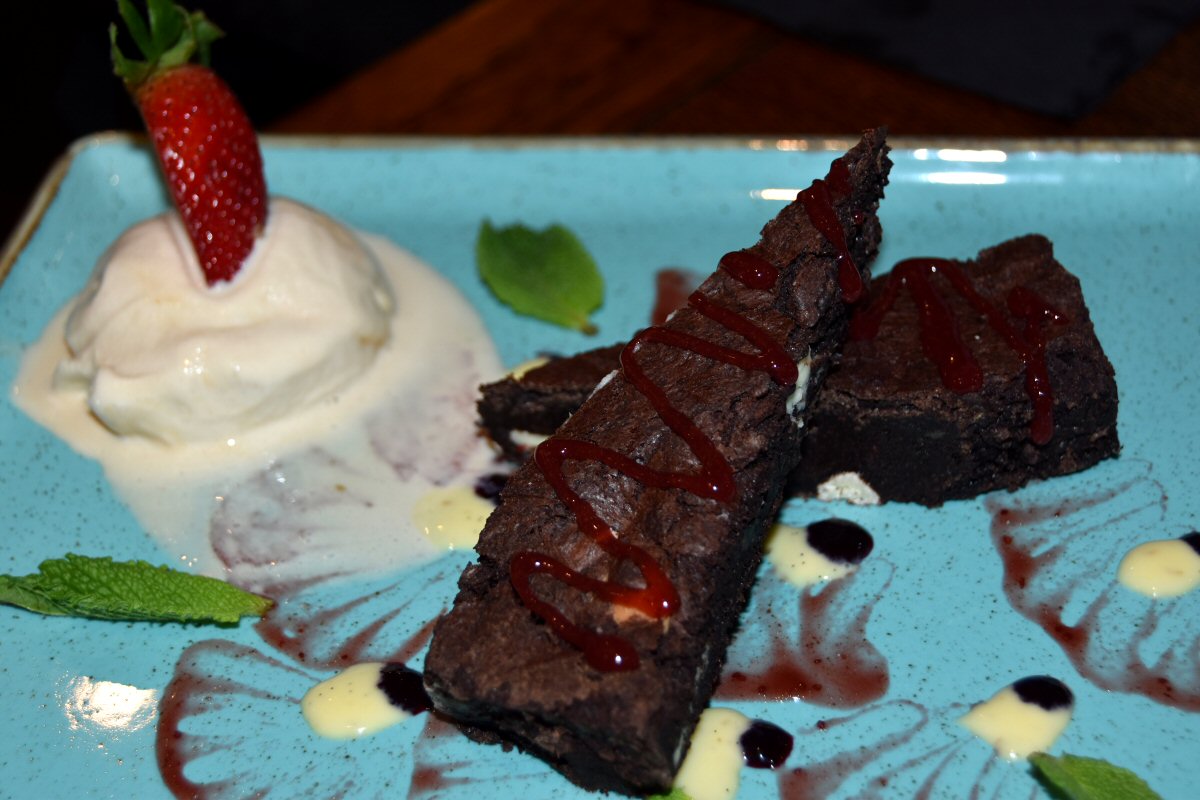 Despite my scepticism at The Man Birds' choice of dessert, I have to admit that it was a mighty fine one. This (flourless) Brownie was everything you would want in this morsel: a nice crisp crust and ridiculously gooey centre with a good wallop of Cocoa taste. Chef's version is even more chocolatey than chocolatey and is Nirvana for cocoaphiles like His Nibs! Something so intense needs an equally confident flavour partner and the homemade Strawberry sauce stepped up to the plate with some serious swagger, laying down its concentrated taste as if clearing the pot at the World Poker Championships. In contrast to the warmth of the Brownie was the coolness of the gorgeous Salted Caramel Ice cream whose silkiness lingered in the mouth very pleasingly.

We finished off our meals with a couple of black coffees from the Roastery in Sheffield, taking our time to savour its rich aroma and flavour. Throughout the evening the staff members had all been incredibly attentive, making sure we were enjoying our food at each course and checking that we were ok for drinks. It had been a lovely evening and I'm happy to award Hot Wings to The George at Hathersage as I had been to do with its sister venue, The Maynard at Grindleford.
Some form of incentive was provided to visit this venue
read more
Read Some Of Our Recent Reviews
---

A Family Dinner At Thai Thai Restaurant In Chesterfield Thanks to the weather being kind, it had been all hands on deck at Mummy Birds gaff and so we hadn't quite got around to organising Sunday Lunch! There was no way in hell Read The Article

---

Burger and Beer Mondays At The Railway Inn, Shottle It wasn't long ago that we had a Flock outing for Sunday lunch at The Railway Inn at Shottle (and really enjoyed it) so when we were invited to try out their newest offering Read The Article

---

A Visit To The Seafood And Champagne Terrace At The Cavendish Hotel, Baslow I know The Man and I must seem calm and collected to a lot of you, so let me shatter that bubble right now by describing what happened when a certain invite Read The Article

---

Dinner At The Red Lion At The Peak Edge Hotel Sometimes you visit somewhere that is already wonderful but, when you know that there is more to come, gives you that shiver of excitement up and down your spine. This is exactly the feeling Read The Article

---

A Tasty Lunch At The Vegan Revelation Cafe, Belper Vegans, you have got an absolute bobby dazzler of a cafe here; non-vegans prepare to have your taste buds bowled over and have your 'no meat' notions over-turned - and I do include myself Read The Article

---

Dinner At The Recently Refurbished Bay Leaf Indian Restaurant, Heanor Can you believe we were out again with Mummy Bird; she's becoming quite the social Tribal Elder! The last time she'd seen Faz was at his previous restaurant (Nirvana) Read The Article

---

Dinner At The Seafood Cave and Grill, Matlock Bath I love seafood (yes, even cockles and winkles!) so I was beyond excited to receive an invite from the owner of The Seafood Cave and Grill in Matlock Bath, Ian McGhie, to sample the food Read The Article

---

Sunday Lunch At The Spanker, Nether Heage As many of you lovely peeps are aware, we recently did a poll on the blogs Facebook page asking for your favourite venues to have Sunday Roasts at. Well, you all certainly got involved, voting for Read The Article

---

Burgers And Loaded Fries At Cravings Street Food Bistro, Sutton-in-Ashfield Boyf Birds' parents had been to a local eaterie recently that they felt would be right up our street (food), so we decided to pay said venue - Cravings Street Food Read The Article

---