Dinner At The Seafood Cave and Grill, Matlock Bath
---
Published On Sunday 24 Apr 2022 by Sticky Beak
See Recent Dining Out Reviews | See All Recent Reviews


I love seafood (yes, even cockles and winkles!) so I was beyond excited to receive an invite from the owner of The Seafood Cave and Grill in Matlock Bath, Ian McGhie, to sample the food he showcases. If it's a unique venue you're after too, then you're not going to get much more special than a restaurant within its very own cave! Located just off the main road down a little cobbled alley next to an Esoteric supplies shop, The Seafood Cave is at the end of a courtyard which is covered and provides extra seating during busy times (you can also dine with your pooch in this area, too).
Keen to keep things simple, Ian has painted the textured restaurant walls in a fresh white to maximise light and glass witch-balls hang in the window as a nod to seafarers. Black 'spider lights' hang from the ceiling, casting their illumination far and wide throughout the open plan restaurant, and each table has a tea light in a wooden holder on it. The tables themselves are solid, chunky wood numbers and we had the chef's table which is smack-bang in front of the open kitchen; my beady eyes were on stalks watching all the action as it happened and the aromas were driving me mad with anticipation!!




Ian cooks alongside his head chef, Luigi Demico, and the pair of them move around the compact kitchen like a well choreographed pair of dancers; it's quite beautiful to watch, actually. One of the lovely team had taken our drinks orders and Luigi created an amuse bouche of Beetroot Salmon Carpaccio for us to savour whilst we decided on our food orders. Now, The Man Bird doesn't like 'fishy fish', so I thought my luck was going to be in, but no; putting on his big boy pants, His Nibs tried a tiny piece of the Carpaccio and, having discovered that ultra-fresh fish isn't fishy (?!), proceeded to scoff the rest of the morsel. Oh well, some you win, some you lose.




Being a Scotsman, Ian is no stranger to the delights of fresh fish and, with having a restaurant up in Lossiemouth as well, gets the pick of the fresh catches from the boats. Fed-Ex does a daily delivery down to land-locked Derbyshire to ensure that The Seafood Cave and Grill also has the very best marine morsels to tempt its diners. Each day is a surprise for Ian and Luigi – they literally have no idea what's inside the chilled boxes until the moment they open them!




To start with, I'd chosen the Taste of The Sea Platter (£15 for one person, £25 as a sharer) and The Man went for his beloved Seared Shetland Scallops (£15) served simply with confit Tomato, pickled Fennel and charred Orange. My platter was like a list of the sea's who's who: Surf Clams, Beetroot Salmon Carpaccio, Poached Mussels, Baby Squid, Portsoy Smoked Salmon, Baby Prawn Marie Rose, Arbroath Smoky Mousse and homemade bread.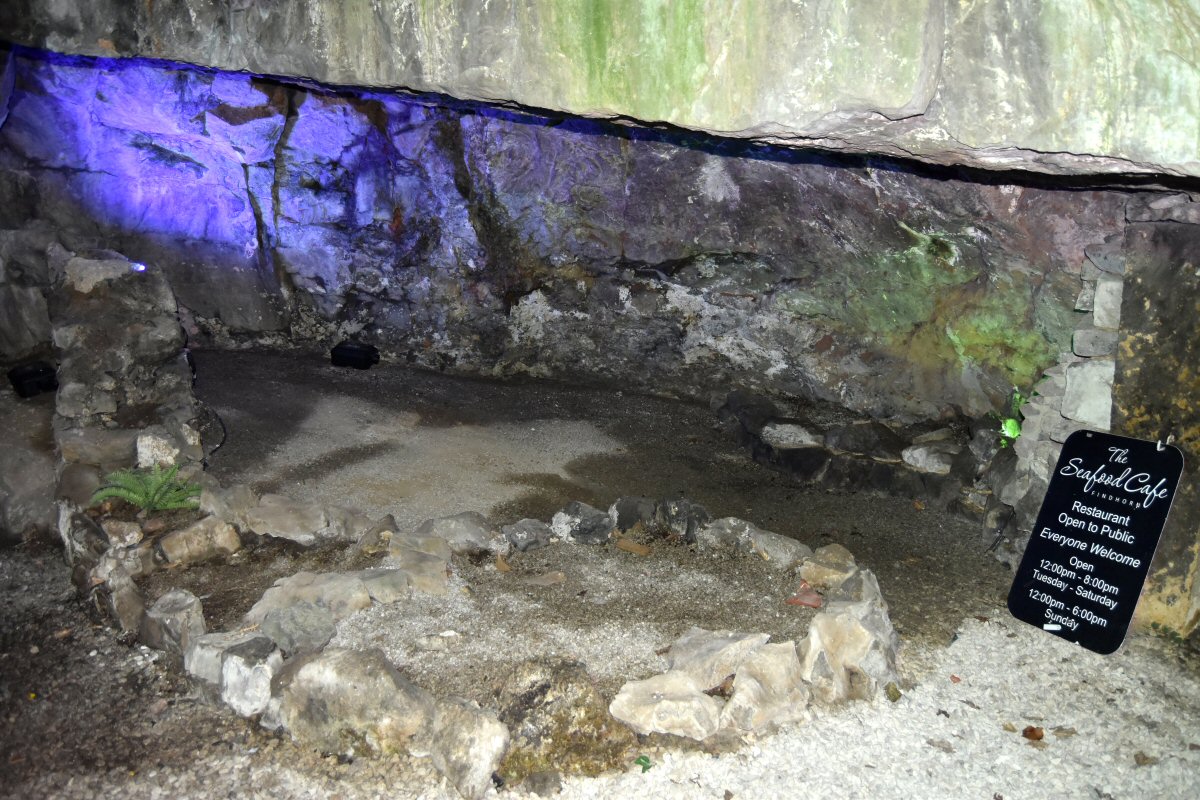 As our check went through to Chef, the flurry of activity picked up the pace, and soon two platters were being assembled, their colourful salad garnishes carefully placed for maximum visual appeal. There are only about 20 covers in The Seafood Cave and Grill, but Ian had a team of 3 ladies serving to ensure that food was taken off the pass as soon as it was ready – no waiting under heated counters here!




Only one word describes my Seafood Platter, and that is 'wow'!! The presentation was simple but stunning and allowed every single element to be appreciated by the eye. Slices of Beetroot Salmon Carpaccio were a gorgeous ruby colour and the fragrant Salmon flesh had taken on the earthy tones of the Beetroot, something that my palate really enjoyed. The Surf Clams were still in their shells so I prised them out and savoured their beautiful sweet flavour; the poached Mussels were also in their shells and I was pleased by their generous size and meaty texture in my mouth.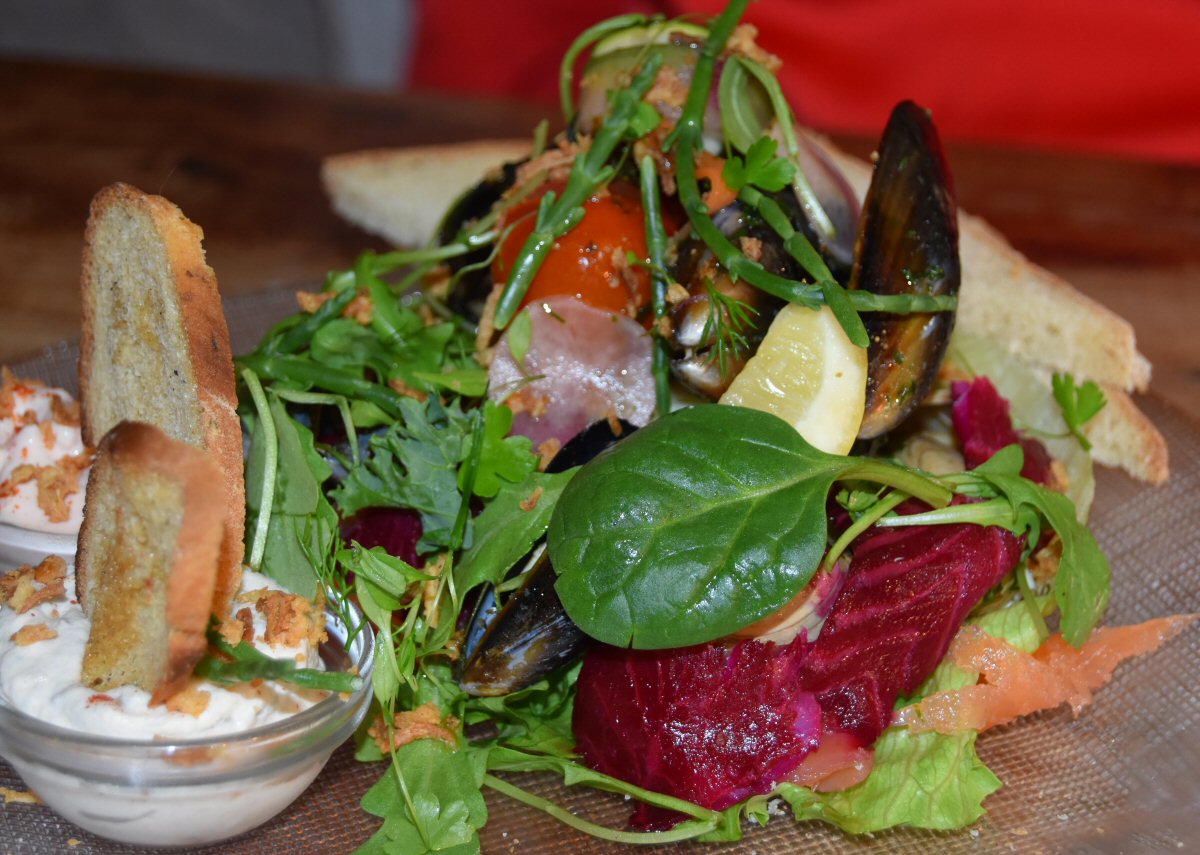 Ian uses plenty of fresh herbs in his dishes, and along with the crunchy Samphire these provided a clean, vibrant taste on the tongue. I turned my attention to the first pot of deliciousness on my platter, the Arbroath Smoky (smoked Haddock) Mousse, and plastered plenty of it on one of the slices of crunchy bread; the flavour was full-on, ripe with that delightful smoke flavour and rich, creamy Haddock taste.




The Baby Prawn Marie Rose was in the second pot and I sighed with contentment as the sauce's gentle tang washed over my tongue, followed closely by the succulent, gentle perfume of the prawns' flesh. More smokiness rolled over my palate as I ate the slices of Portsoy Smoked Salmon, then by way of contrast, a mild creamy taste from the perfectly cooked, soft Baby Squid. This had been an absolute pleasure to eat right from the very first bite, and I sorely wished that the DeLorean really did exist; I'd have travelled back several minutes to eat this all over again, quite happily. Oh, just as a side note, this platter is served chilled, not warm as you may usually expect.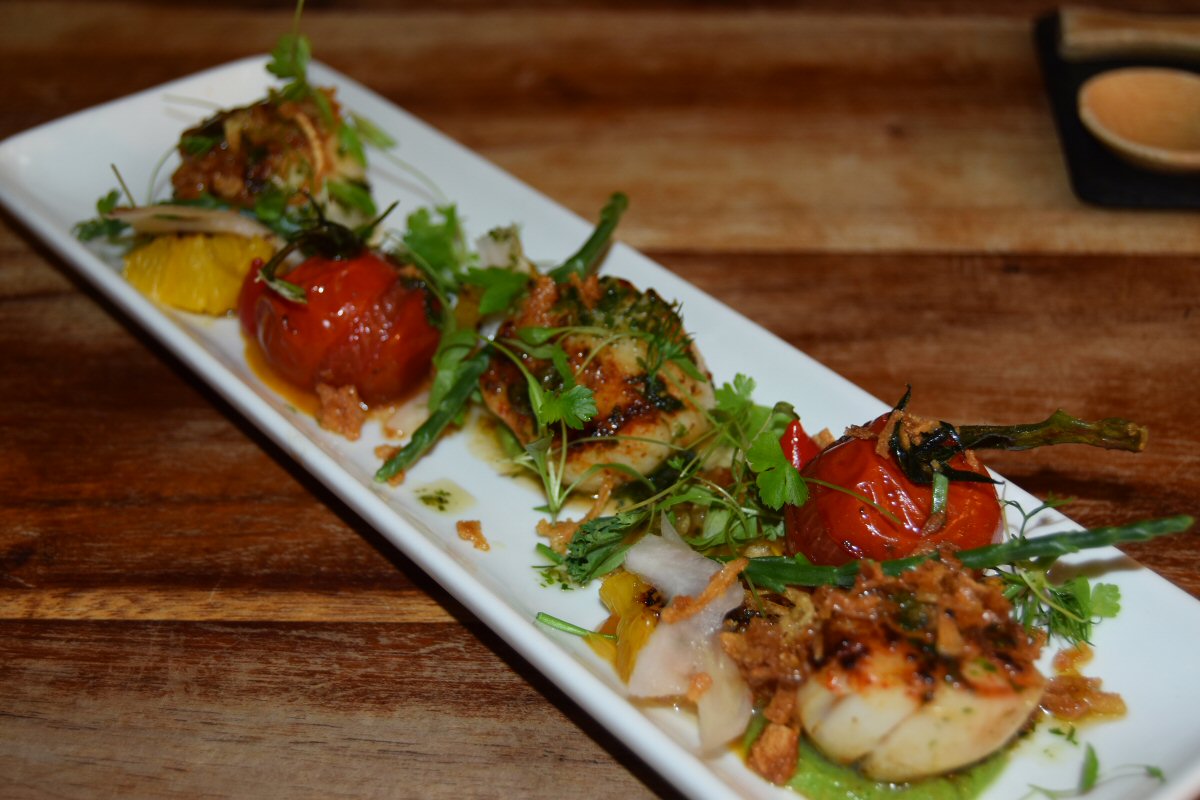 The Man Birds' Seared Shetland Scallops stood proudly on the platter, confident in how great they looked and tasted. His Nibs' senses were seduced and caressed by a plethora of tastes and textures: sweet, tender, fragrant, juicy and soft were all uttered reverentially from The Mans' lips as he surrendered to their charms. A bouncy Pea purée partnered the Scallops very nicely, as did the bright notes of Fennel and Samphire, with intense confit vine Tomatoes and charred Orange also adding their tuppence worth to the gastro party.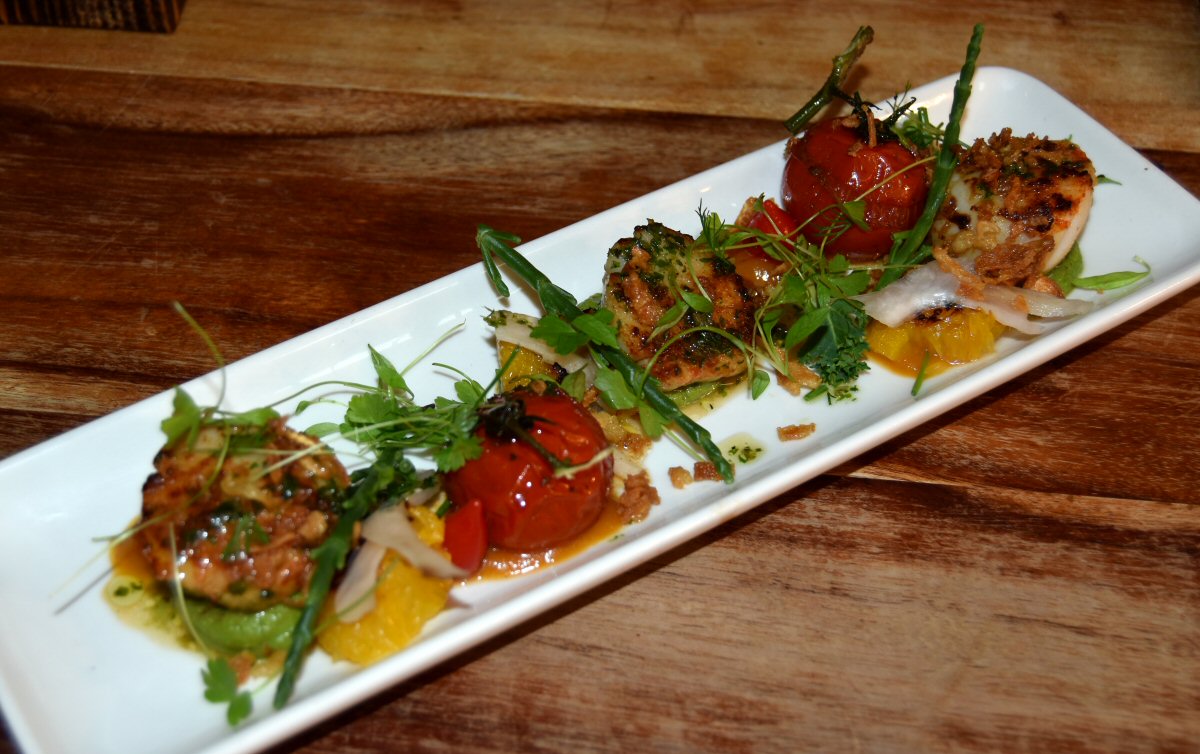 Both Ian and Luigi kept a discreet eye on our progress and reactions as we were eating our starters, and the lovely ladies that were serving also enquired as to our satisfaction. When the clean plates had been taken away, one of the team asked if we'd like some chilled water for the table and a few moments later (after replying, yes please) a bottle and pair of glasses appeared.

For his main course The Man Bird had chosen the Posh Fash Fae Peterheid,£20, (admit it, you all just did your best wee Jimmy Crankie voice in your head just then!!!), a choice comprised of Codling Fillet, Scallop and King Prawn Mousse, Seared Scallops, Pea Purée, Tenderstem Broccoli , Samphire and Roasted Roots, and Truffled Parmesan fries. The plan was for him to pass the Mousse over to me (you all know his aversion to anything Prawn related!) but this was scuppered by the fact that the Scallop and King Prawn mousse was encased in the centre of the Codling fillet! Sometimes, things happen for a reason and on this occasion it served to demonstrate that uber-fresh seafood doesn't taste strongly at all, so it was with more than a smidge of surprise that His Nibs found himself clearing his plate of every last scrap! Needless to say, the vegetables were cooked to perfection and were full of flavour, and the Truffled Parmesan fries were every bit as superb as your salivating mouth is imagining that they would be. I did, however, get the trio of King Prawns that had been grilled and served on a skewer; clearly The Man had reached his limit for 'fishiness' for the day, and "they looked too obviously like prawns" (?!!).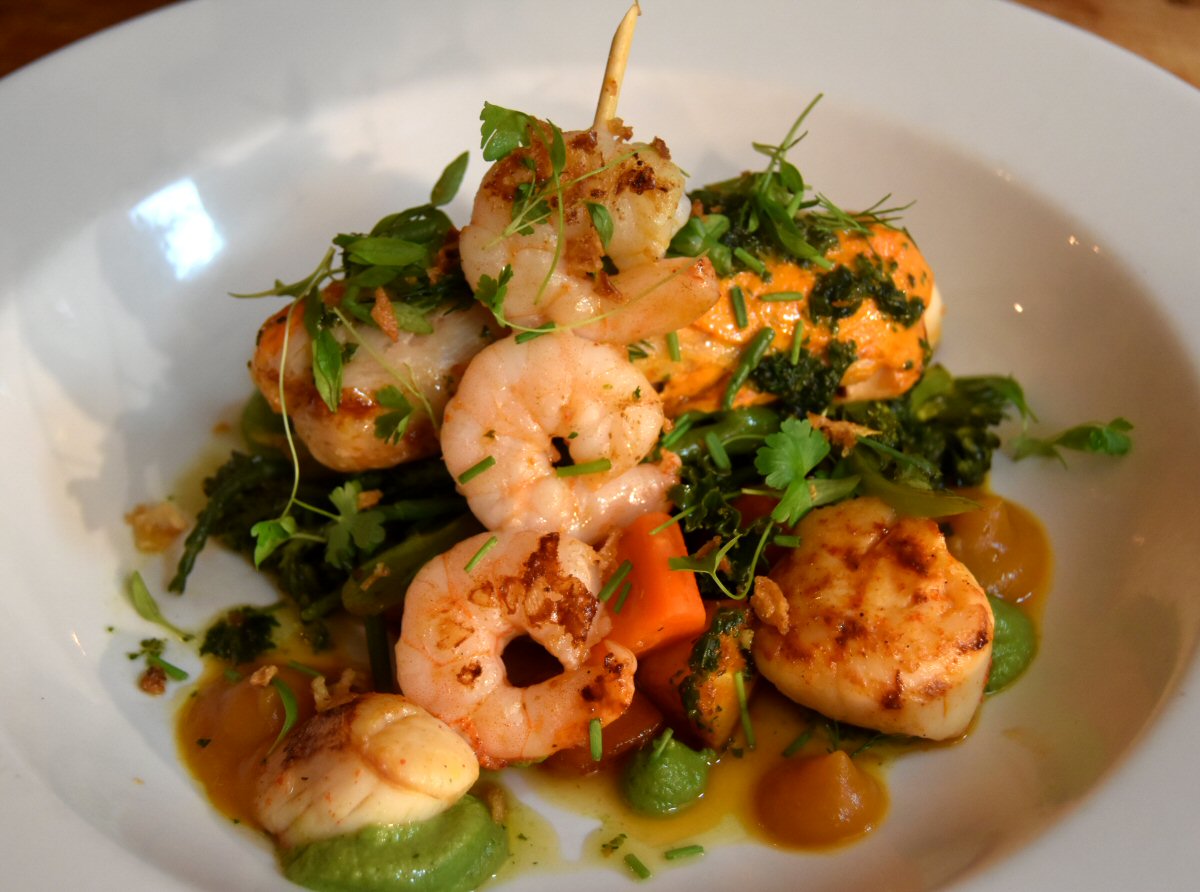 Immersing myself into Ian's world of daily surprises, I opted for the Seafood Mixed Grill (£25) for my main, a dish that is described as 'today's Market Fresh selection of Grilled and Seared Seafood'. On this evening, I was treated to Salmon, Halibut, Seabass and Monkfish, so my palate experienced a diversity of tastes and textures: firm to soft, creamy and mild to sweet and buttery and everything in between. The high protein content soon had my tummy full to the brim, so much so that I had to pass over the roasted Tomatoes to His Nibs; no such luck for him though when it came to my seasoned fries and garlic butter that I used to dunk them in! I really loved the fact the Ian and Luigi use simple seasonings with the fish and seafood, they allow the marine flavours to take their rightful place, centre stage on the palate.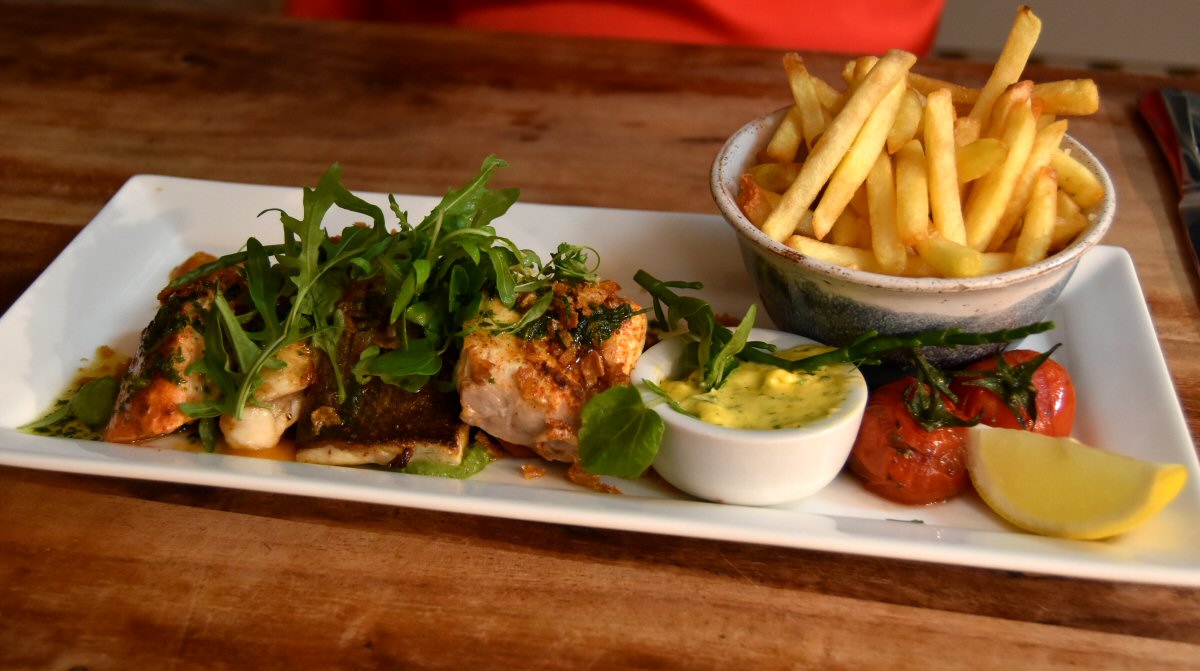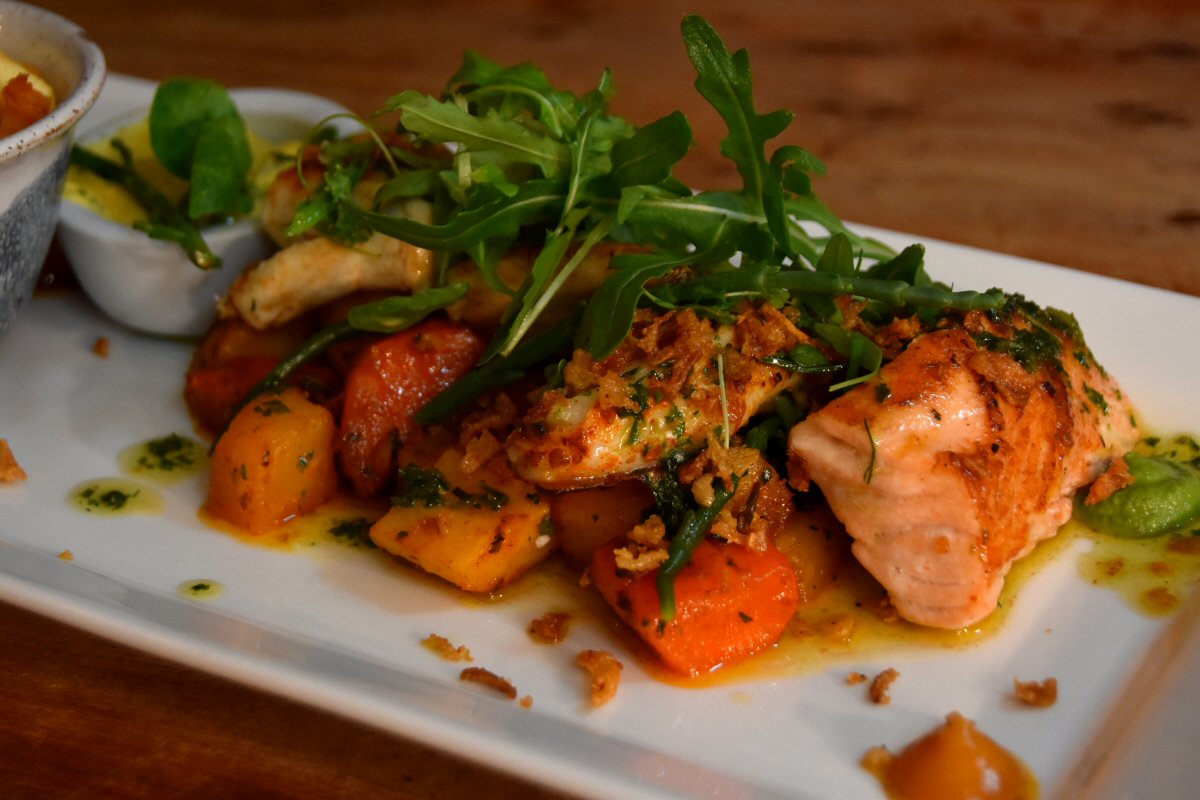 We really should've known better (seeing as our tums were pretty much at capacity) but the lure of homemade puds was too great to resist! I succumbed to the temptation of Luigi's Limoncello soaked Sicilian Lemon Cheesecake (£7) and The Man fell for the Sticky Toffee Pudding (also £7)- quelle surprise!

My cheesecake was the perfect finale to what had been a stunning meal; its amazingly light sponge base was gloriously lemony and provided a wonderful platform on which the luxuriantly rich (yet beautifully light) cheesecake mousse body perched. The fruity tone was continued by a delicious Strawberry Ice Cream and a crunchy Honeycomb sliver added shot of texture. This was one of those desserts that utterly captivates you, so, Ian, if Luigi doesn't show up for work again you can probably bank on it being down to the fact that I've kidnapped him and am having him make this morsel for me 24/7!!!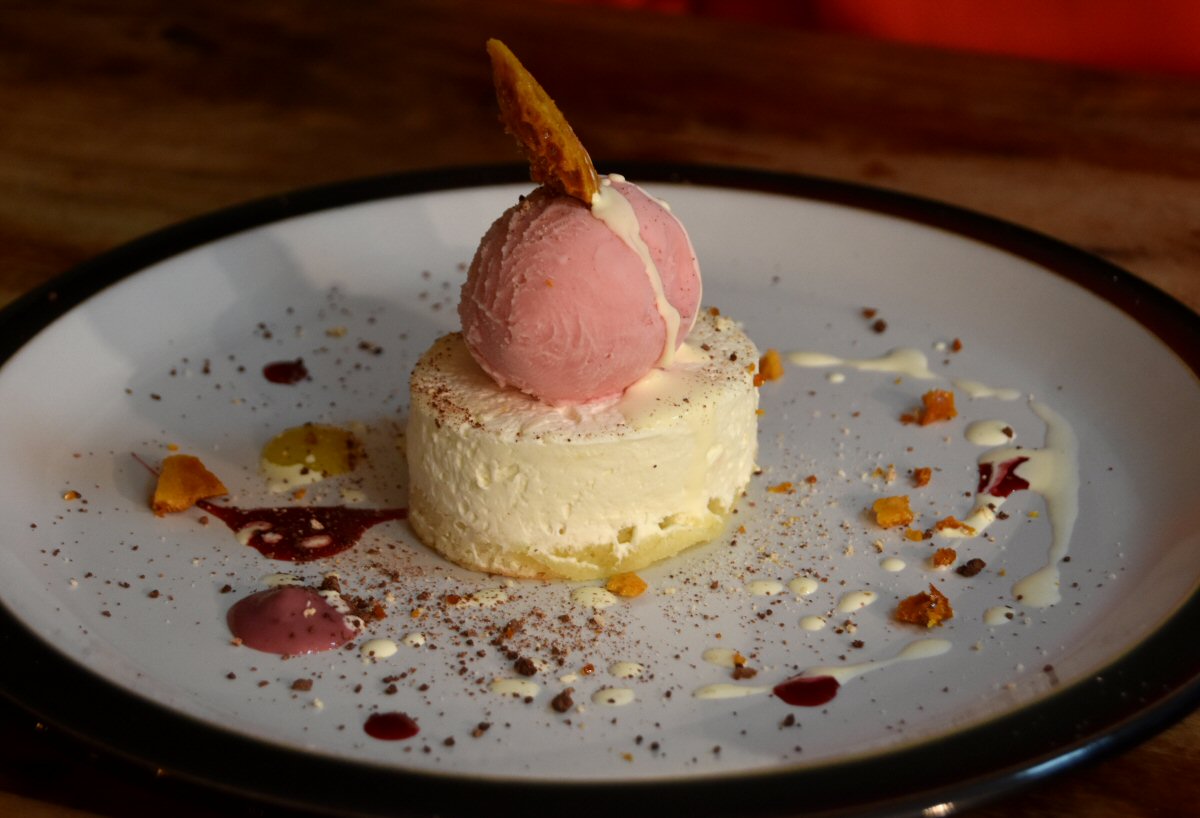 King Connoisseur of the Sticky Toffee Pud realm (aka The Man Bird) was busying himself with scoffing this sweet treat, grinning like a loon to himself with pleasure as he did so! As with my dessert, the sponge was wondrously light with a rich toffee flavour that was echoed by the decadent, thick and sticky toffee sauce that coated the top. All the accompaniment this minx needed was a Vanilla Ice Cream and Honeycomb shard, with an extra flourish of fruit coulis and chocolate sauce on the plate for a visual 'wow' factor.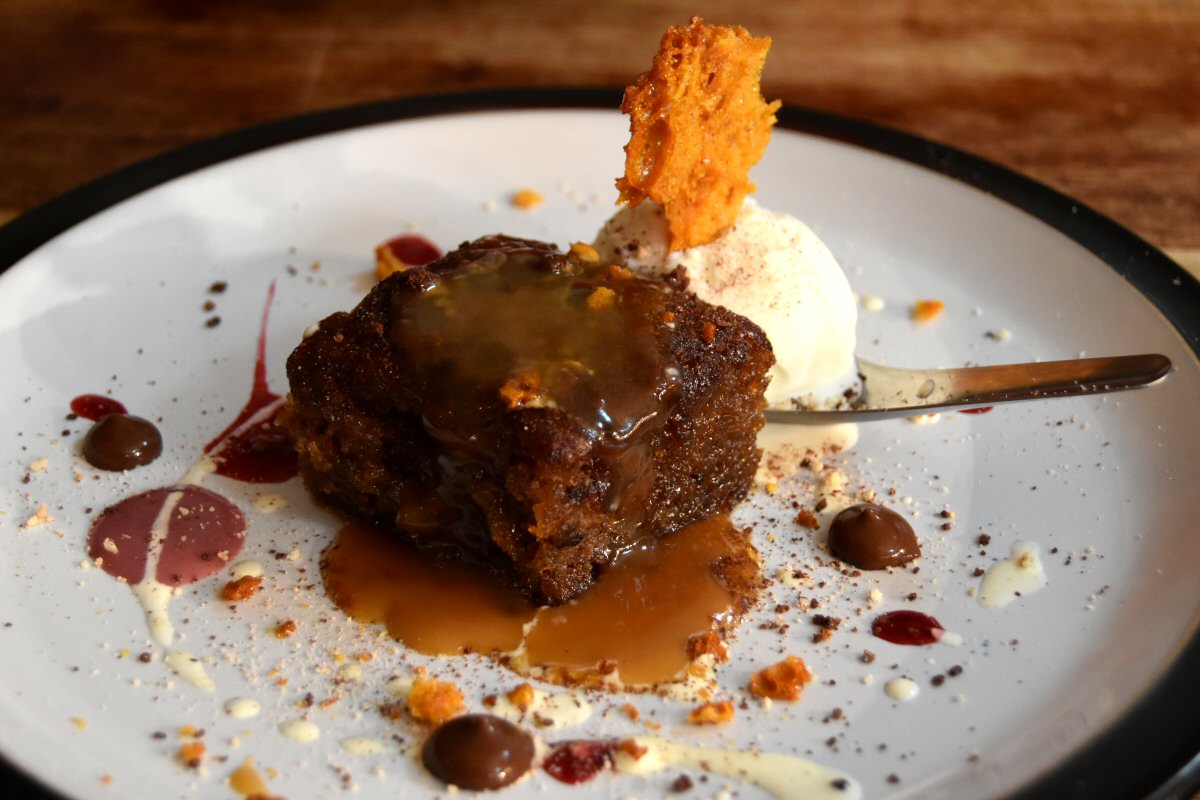 From start to finish, this had been a magnificent evening; the venue is very special, the people are all so friendly and welcoming (with great service, to boot) and the food is excellent. This is definitely one of my new favourite places to eat!!! Best of all, you don't have to like seafood – Ian offers Chicken, Steak and Gnocchi for those that don't like fish or seafood, so everyone is catered for. Thank you, thank you, thank you Ian, for inviting us along to your fantastic restaurant, we loved every.single.second. Hot Wings flying happily over to you and your team!!

To book your table, head to their website www.theseafoodcave.biz
Some form of incentive was provided to visit this venue
read more
Read Some Of Our Recent Reviews
---

A Family Dinner At Thai Thai Restaurant In Chesterfield Thanks to the weather being kind, it had been all hands on deck at Mummy Birds gaff and so we hadn't quite got around to organising Sunday Lunch! There was no way in hell Read The Article

---

Burger and Beer Mondays At The Railway Inn, Shottle It wasn't long ago that we had a Flock outing for Sunday lunch at The Railway Inn at Shottle (and really enjoyed it) so when we were invited to try out their newest offering Read The Article

---

A Visit To The Seafood And Champagne Terrace At The Cavendish Hotel, Baslow I know The Man and I must seem calm and collected to a lot of you, so let me shatter that bubble right now by describing what happened when a certain invite Read The Article

---

Dinner At The Red Lion At The Peak Edge Hotel Sometimes you visit somewhere that is already wonderful but, when you know that there is more to come, gives you that shiver of excitement up and down your spine. This is exactly the feeling Read The Article

---

A Tasty Lunch At The Vegan Revelation Cafe, Belper Vegans, you have got an absolute bobby dazzler of a cafe here; non-vegans prepare to have your taste buds bowled over and have your 'no meat' notions over-turned - and I do include myself Read The Article

---

Dinner At The Recently Refurbished Bay Leaf Indian Restaurant, Heanor Can you believe we were out again with Mummy Bird; she's becoming quite the social Tribal Elder! The last time she'd seen Faz was at his previous restaurant (Nirvana) Read The Article

---

Dinner At The George At Hathersage You can't fail to be impressed by The George at Hathersage when you first clap eyes on it; the huge stone building commands your attention with its imposing beauty. It has its own car park too Read The Article

---

Sunday Lunch At The Spanker, Nether Heage As many of you lovely peeps are aware, we recently did a poll on the blogs Facebook page asking for your favourite venues to have Sunday Roasts at. Well, you all certainly got involved, voting for Read The Article

---

Burgers And Loaded Fries At Cravings Street Food Bistro, Sutton-in-Ashfield Boyf Birds' parents had been to a local eaterie recently that they felt would be right up our street (food), so we decided to pay said venue - Cravings Street Food Read The Article

---