A Flock Sunday Lunch At The Marquis Pub & Kitchen, Codnor
---
Published On Wednesday 22 Dec 2021 by Sticky Beak
See Recent Dining Out Reviews | See All Recent Reviews


Mummy Bird fancied a week off Sunday lunch duties and I'd love to say that The Man and I stepped up, got organised and bought the roast joint; sadly, the truth is that we didn't, so we booked a table at The Marquis Pub and Kitchen instead! There's plenty of parking on-site, so we only had to walk a matter of yards to get to the entrance and make use of the hand sanitiser that was placed there. Towards the rear of the venue there is a function room, which was in use when we visited, and then as you walk to the front of the pub you see the bar, and this is where we met the team and confirmed our reservation.
Having ordered drinks and been shown where our table was (right in the bay window) we took in our surroundings whilst looking at the menu choices. The Marquis manages to be both traditional and modern and has a really nice vibe to it that is echoed by the friendly team. A fairly neutral colour palate for the decor keeps things nice and chilled as well as maximising the light, and there's a mix of wooden and carpeted seating areas which I guess (?) marks out those who are just supping and those who are dining as well.

The Marquis Pub and Kitchen serve Sunday lunch from Noon up until 4pm, but there are also small plates and sharers, Pie of the Day or Lasagne to eat for those who don't fancy a traditional roast. Children can join adult family members in enjoying a Sunday lunch at a reduced price of £7.95; adult prices are £10.95 for Pork or Beef, £9.95 for the Butterflied Chicken Breast, and £8.95 for the vegetarian option.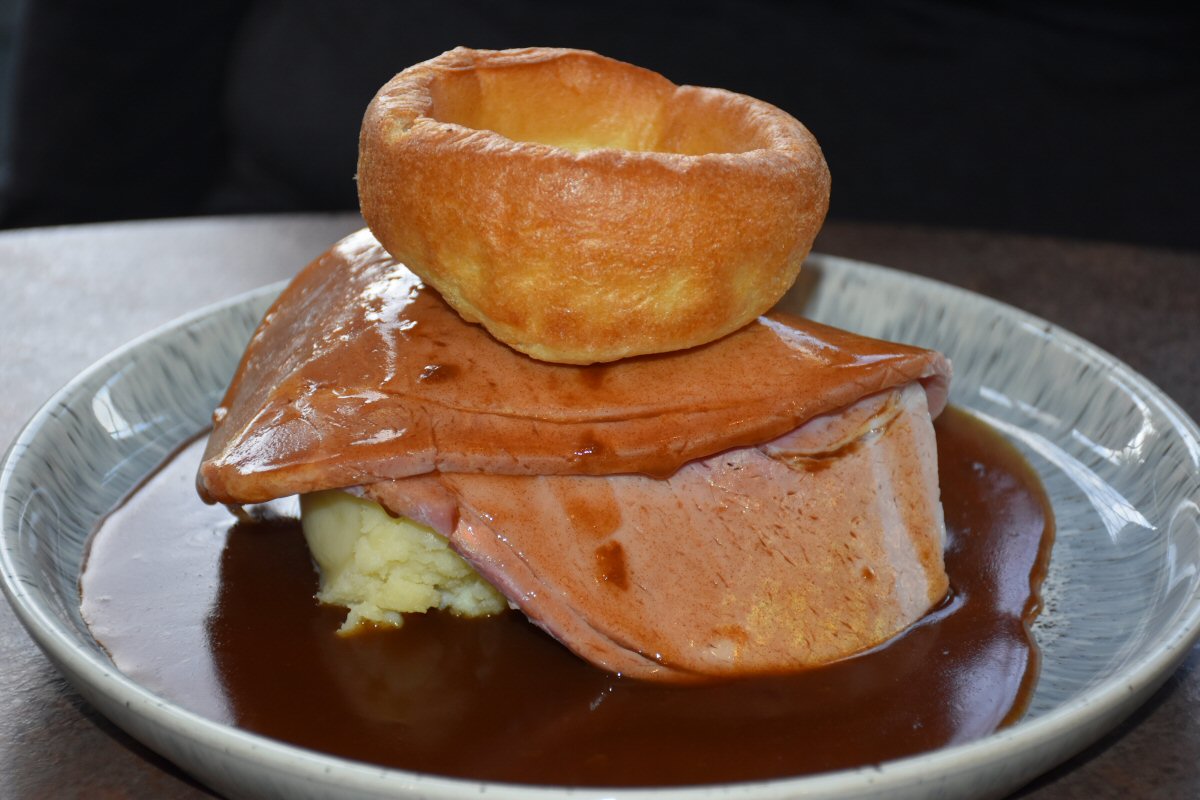 I fancied the Gammon, The Man went for Derbyshire Roast Beef, and Mummy Bird had the Butterflied Chicken Breast; all meals come with roasties, Mash, Seasonal Greens, Cauliflower Cheese, Cheese and Leek Gratin, Stuffing,, Yorkshire Pud, and gravy. We weren't waiting overly long before Chef himself and lovely lady member of the team were bringing our roasts out to us, and wowee did they smell good! On the plates were the meats/poultry, Yorkie, Roast Potatoes and Mash all complimented by plenty of rich gravy (which we were offered more of, but declined as there was more than enough) , the vegetables came in 3 separate bowls.




Both His Nibs and I had three slices of meat on our plates, and both were lovely and tender in the mouth. I had expected my Gammon to be thicker than it was; it was more akin to the Ham you would find in 'Ham, Egg and Chips' but it was extremely tasty with a beautiful salty tang to it. Mummy Bird remarked on the moistness and mild, creamy taste of her Chicken as she savoured mouthful after mouthful. His Nibs was equally smitten with his Derbyshire Beef's deep flavour and the fact that there were 3 slices – he initially missed the third one as it was perfectly stacked on top of another.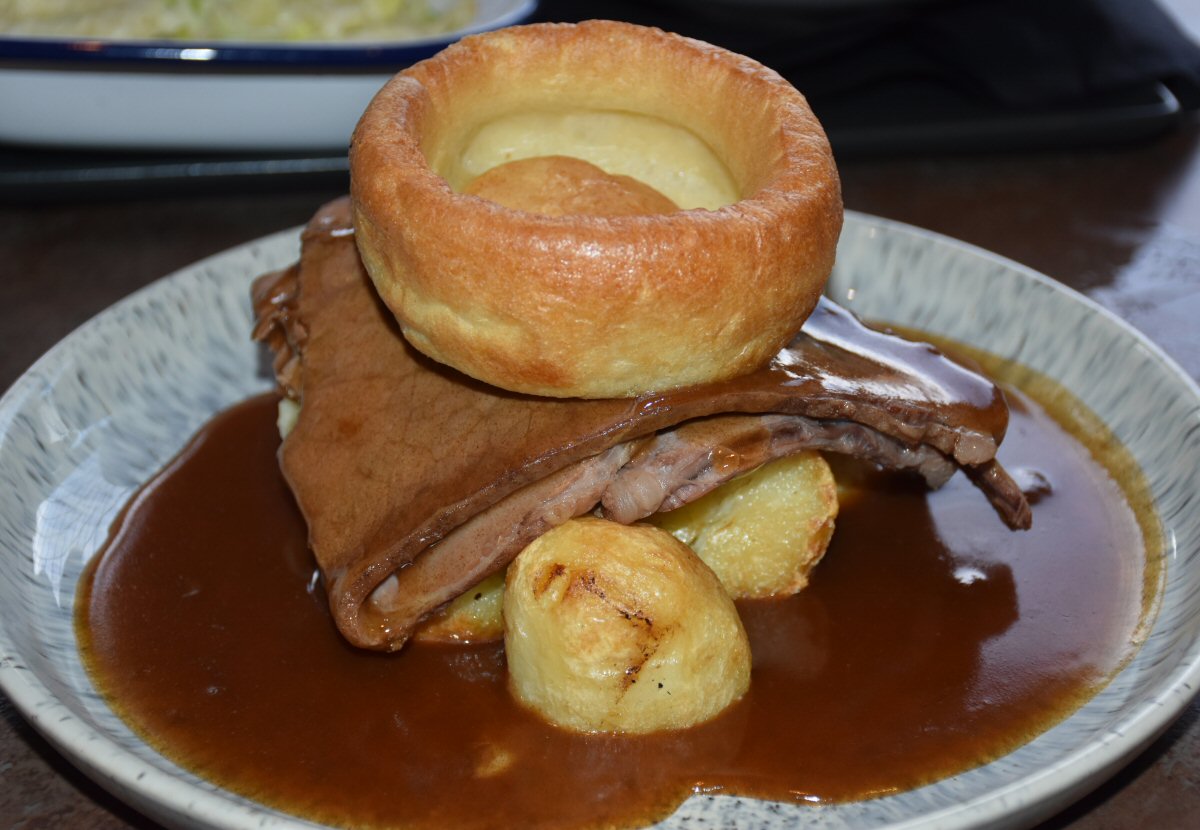 One thing the classic British roast has to have is the Yorkshire Pudding; is it even a roast if this iconic morsel isn't on the plate?! Over our time in the review game, we've scoffed our way through scores of the yummy minxes and there's nothing better than a homemade one. For whatever reason, Chef at The Marquis Pub and Kitchen doesn't make his own Yorkies (although I'm sure they'd be fab if he did) but we didn't moan too much as the bought-in ones we had were of a very high standard.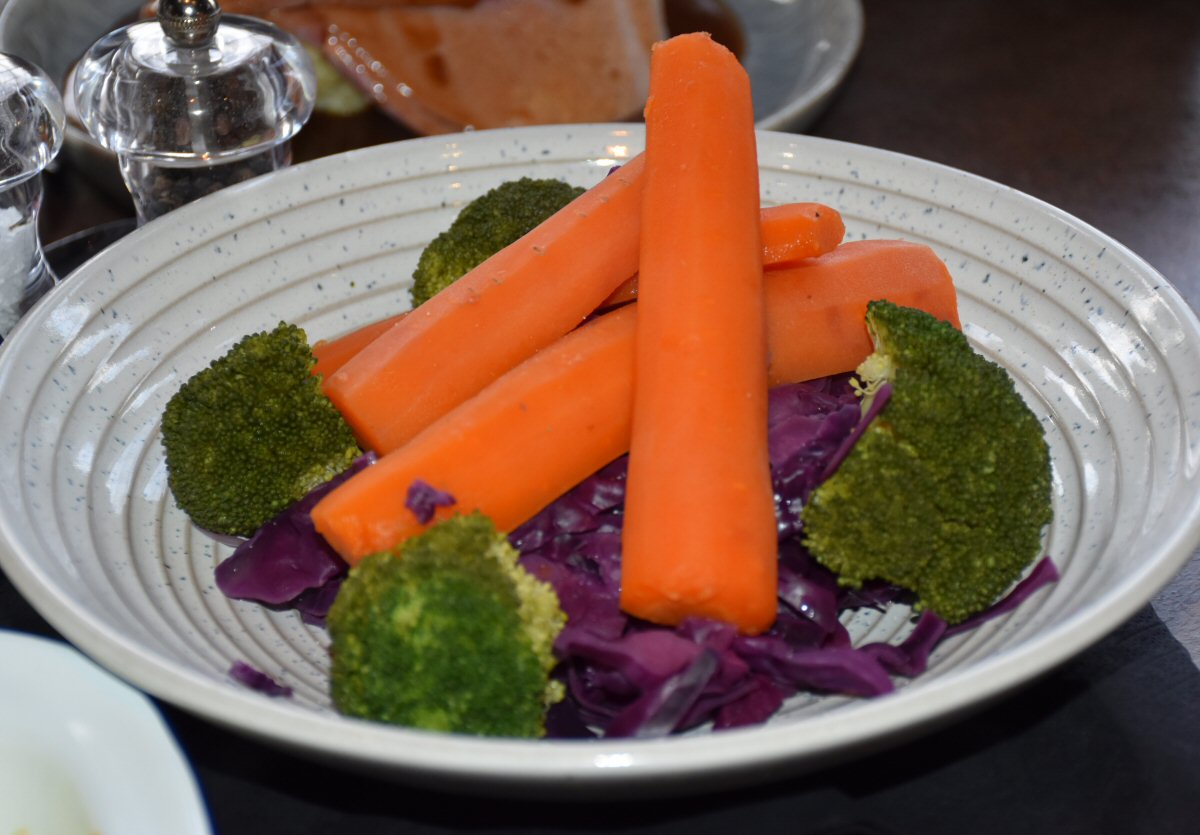 We couldn't be grumpy with Chef for long though; his Cheese and Leek Gratin was amazing! The verdant baby Leeks had been very thinly sliced and topped with plenty of Cheese before being cooked to golden perfection. We loved how the vegetable still had some crunch to it, there's nothing worse than soggy, watery Leeks; as if to prove the point, we couldn't see a single drop of water at all in the bowl! I have wanged on enough in the past about limp Cauliflower too, but I would've liked the Cauli to have been cooked another couple of minutes longer; it was just the wrong side of al dente for me.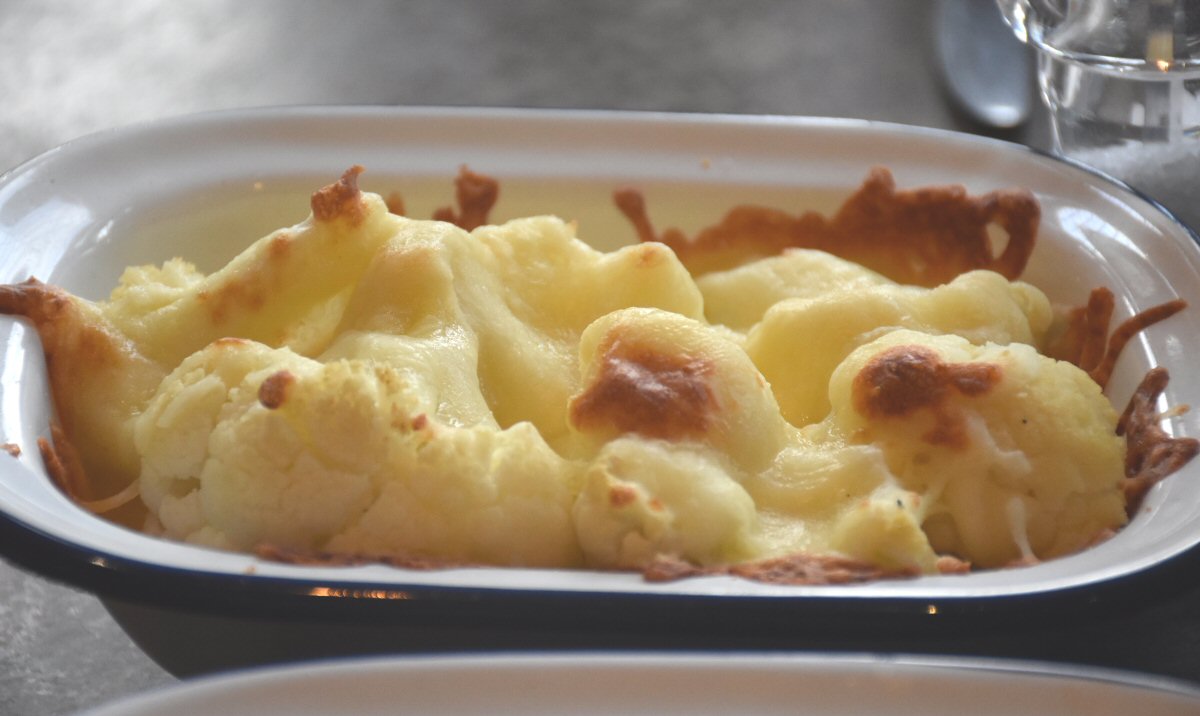 One vegetable that was cooked absolutely bang on the money was the halved Carrots – they were heavenly. Whole florets of Broccoli and ribbons of Red Cabbage were also spot-on in terms of texture, and we were more than happy with the variety of vegetables that came with our roasts. Speaking of 'roasts', the roast potatoes on our plates were delicious with their golden outers and fluffy insides that melted on the tongue; even better though was the Mash. As with Yorkshire Puds, we have all scoffed plenty of Mash in our time, but all felt that this was possibly the best we've had with a roast dinner! The potato was smoother than satin on the tongue, but it was the seasoning that set it apart from all the other versions that have passed our lips; honestly, this mash was the bomb!!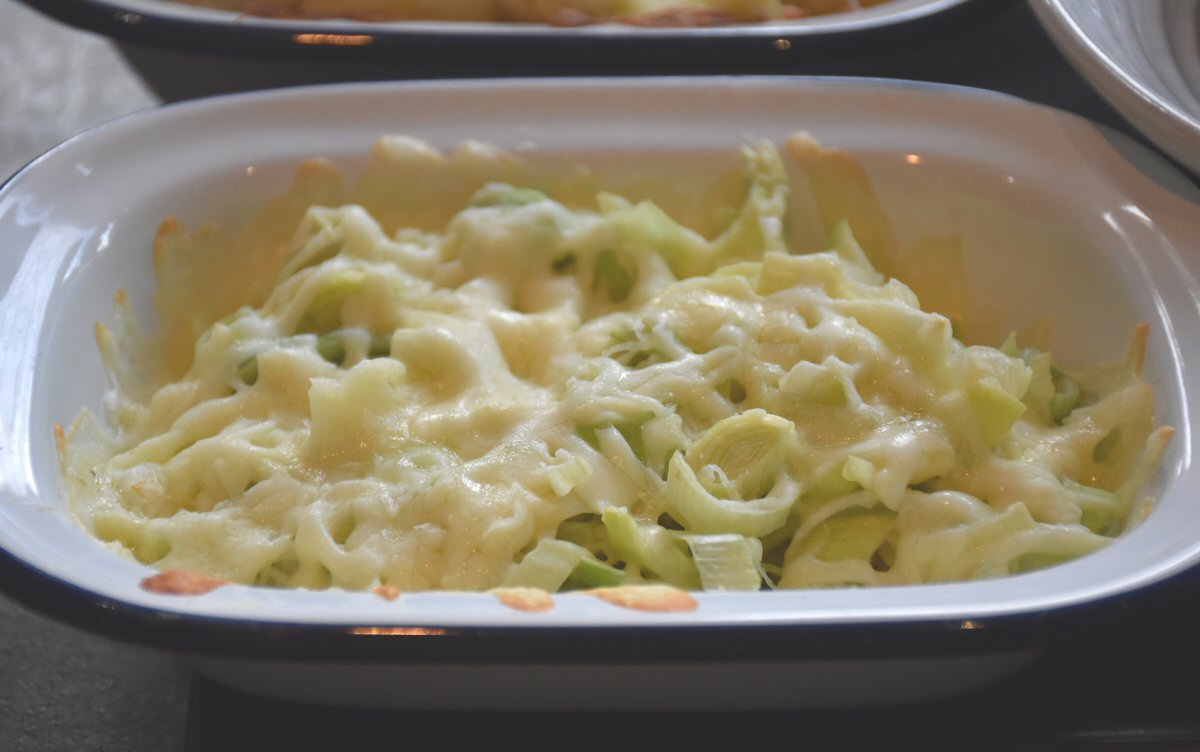 It took us a while, but we were determined to finish every last crumb on our plates. I hadn't got room for any dessert (I know, I was as shocked as you are right now!) but Mummy Bird and His Nibs ordered Belgian Waffles with Caramel sauce and Chocolate Brownie.

The warm Brownie was wickedly cocoa rich and temptingly gooey in the middle, making The Man grin in delight each time he spooned some into his greedy mouth. Sometimes a dessert is so good it only needs a scoop of plain Vanilla Ice Cream and the Brownie at The Marquis is one of those stars. You would think that, having had a hearty main course, His Nibs would take his time over pudding, wouldn't you? Nope, he walloped his way through this at an indecent rate of knots!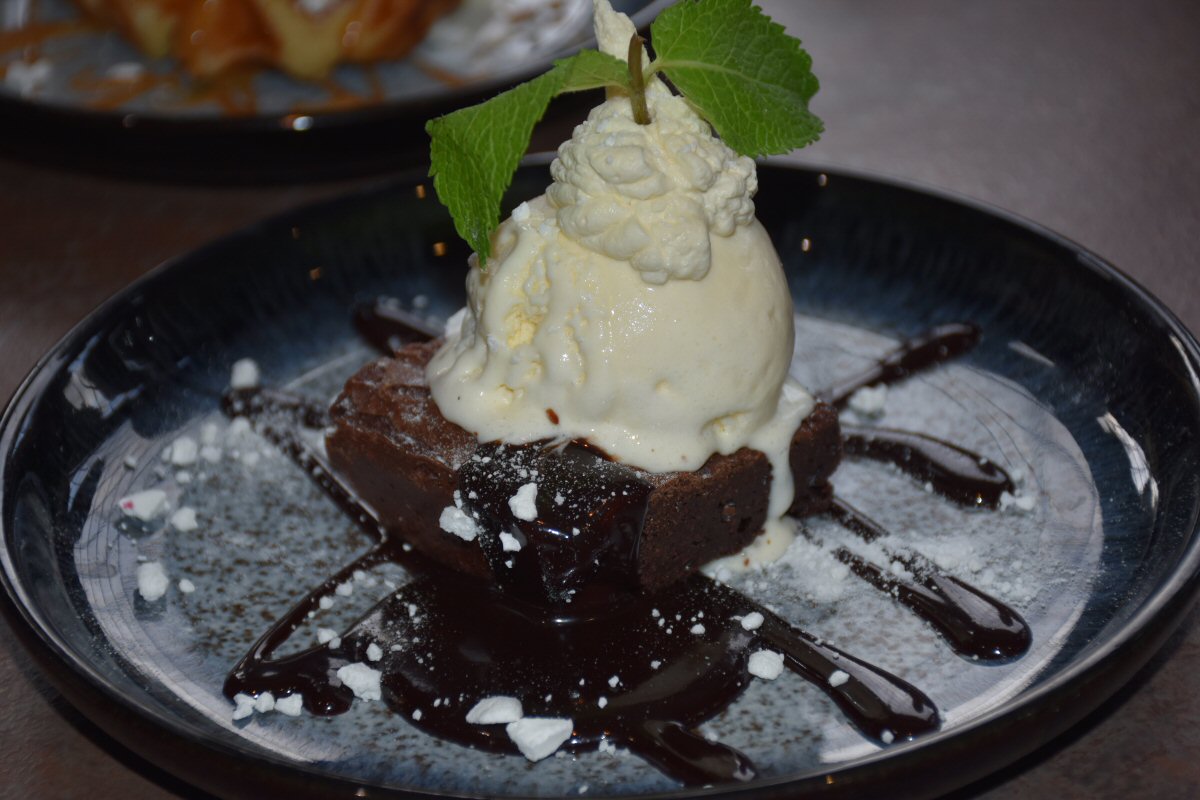 Mummy Bird, ever the lady, took a bit more time to make her way through the intricate lattice of the Belgian Waffle. This morsel was sweet and light in the mouth, and there was a gentle crispness to its outside as the spoon cut into it; inside though, the waffle was fluffily soft. Silky smooth Caramel sauce provided the perfect partner to the drier waffle, imparting a lovely level of moisture over the tongue.




Throughout our time at The Marquis Pub and Kitchen on Codnor Denby Lane the staff all looked after us with so much care and attention; nothing was too much trouble for any of them, whether it was refreshing drinks, bringing extra sauces or simply checking we were enjoying our food, everything was done in a friendly way and with big smiles on their faces. Hot Wings are happily awarded to this wonderful local team, and we'll certainly be back to try out the menu on a weekday evening.
No incentive was provided to visit this venue
read more
Read Some Of Our Recent Reviews
---

A Family Dinner At Thai Thai Restaurant In Chesterfield Thanks to the weather being kind, it had been all hands on deck at Mummy Birds gaff and so we hadn't quite got around to organising Sunday Lunch! There was no way in hell Read The Article

---

Burger and Beer Mondays At The Railway Inn, Shottle It wasn't long ago that we had a Flock outing for Sunday lunch at The Railway Inn at Shottle (and really enjoyed it) so when we were invited to try out their newest offering Read The Article

---

A Visit To The Seafood And Champagne Terrace At The Cavendish Hotel, Baslow I know The Man and I must seem calm and collected to a lot of you, so let me shatter that bubble right now by describing what happened when a certain invite Read The Article

---

Dinner At The Red Lion At The Peak Edge Hotel Sometimes you visit somewhere that is already wonderful but, when you know that there is more to come, gives you that shiver of excitement up and down your spine. This is exactly the feeling Read The Article

---

A Tasty Lunch At The Vegan Revelation Cafe, Belper Vegans, you have got an absolute bobby dazzler of a cafe here; non-vegans prepare to have your taste buds bowled over and have your 'no meat' notions over-turned - and I do include myself Read The Article

---

Dinner At The Recently Refurbished Bay Leaf Indian Restaurant, Heanor Can you believe we were out again with Mummy Bird; she's becoming quite the social Tribal Elder! The last time she'd seen Faz was at his previous restaurant (Nirvana) Read The Article

---

Dinner At The George At Hathersage You can't fail to be impressed by The George at Hathersage when you first clap eyes on it; the huge stone building commands your attention with its imposing beauty. It has its own car park too Read The Article

---

Dinner At The Seafood Cave and Grill, Matlock Bath I love seafood (yes, even cockles and winkles!) so I was beyond excited to receive an invite from the owner of The Seafood Cave and Grill in Matlock Bath, Ian McGhie, to sample the food Read The Article

---

Sunday Lunch At The Spanker, Nether Heage As many of you lovely peeps are aware, we recently did a poll on the blogs Facebook page asking for your favourite venues to have Sunday Roasts at. Well, you all certainly got involved, voting for Read The Article

---

Burgers And Loaded Fries At Cravings Street Food Bistro, Sutton-in-Ashfield Boyf Birds' parents had been to a local eaterie recently that they felt would be right up our street (food), so we decided to pay said venue - Cravings Street Food Read The Article

---