Dinner At The Recently Opened Tipu Sultan In Nottingham
---
Published On Monday 13 Dec 2021 by Sticky Beak
See Recent Dining Out Reviews | See All Recent Reviews


One of the best things about the blog is seeing new venues open and getting invited along to see what they offer. Tipu Sultan in Sherwood only opened its doors about 6 weeks ago, so His Nibs and I were very excited to be asked to be their guests.
It's not often I'm lost for words but, WOW! Even from the kerb, Tipu Sultan has presence; you can see the signage clearly from a couple hundred metres away, and there is plenty of parking at the front, side and rear of the restaurant. The venues logo, Tipu Sultan's head, is illuminated and stands proudly at the entrance, greeting you as you walk up the steps and through the door. As you soon as we walked through the door my jaw just dropped; as you know, I am a bit (a lot!) obsessed with lighting and everywhere my eye looked there were magnificent chandeliers. Seriously, it.was.just.beyond!!!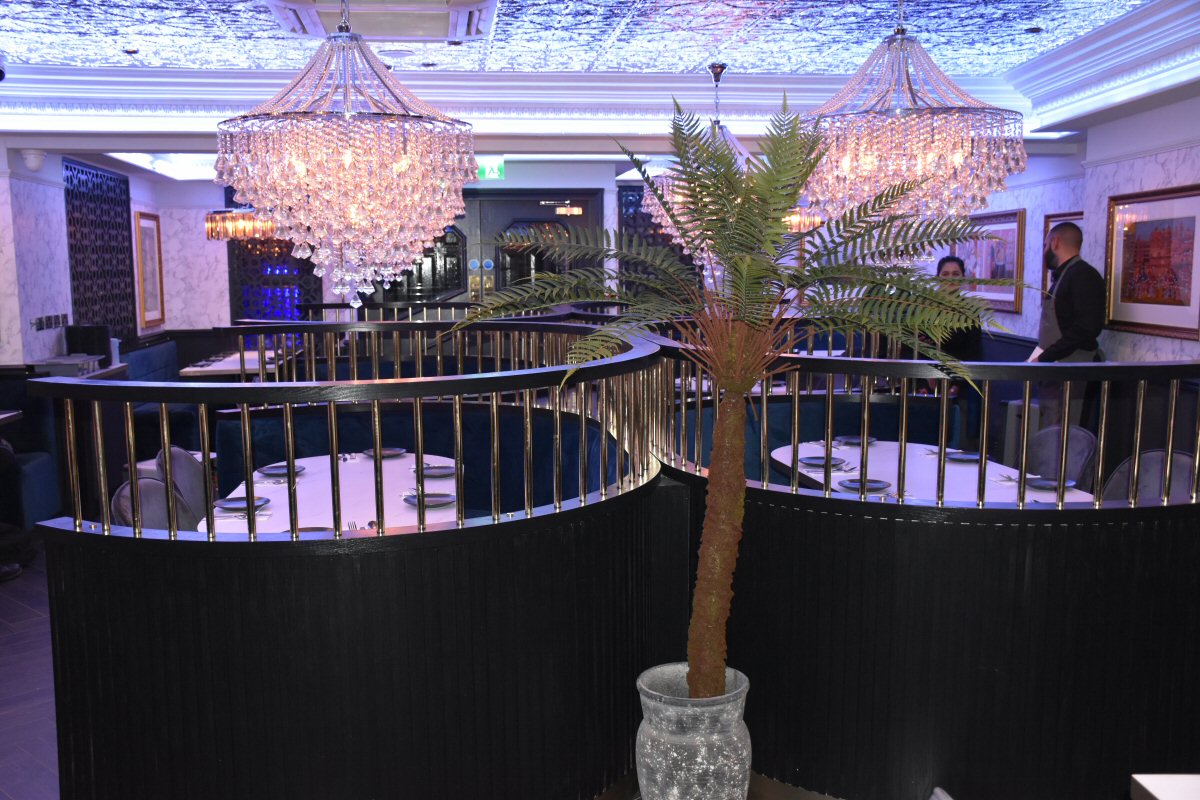 We were given a tour of the venue by the owner, Saif, and some of the highlights are the large group tables which have their own statement statement chandeliers (yes, they do deserve the double impact wording, trust me) and unique decor, the embossed mirror-effect ceiling. Even the toilets are spectacular: each cubicle in both sets of facilities have mobile phone holders in them AND their own chandelier – I kid you not!!! I recognised the chandeliers in the toilets, they were the centre pieces in another venue we have visited; this should give you an idea of the standard Tipu Sultan has set, when other venues' statement lighting is their toilet lighting! Even the wash bowls are stunning: large round, burnished gold numbers with automatic taps...lush.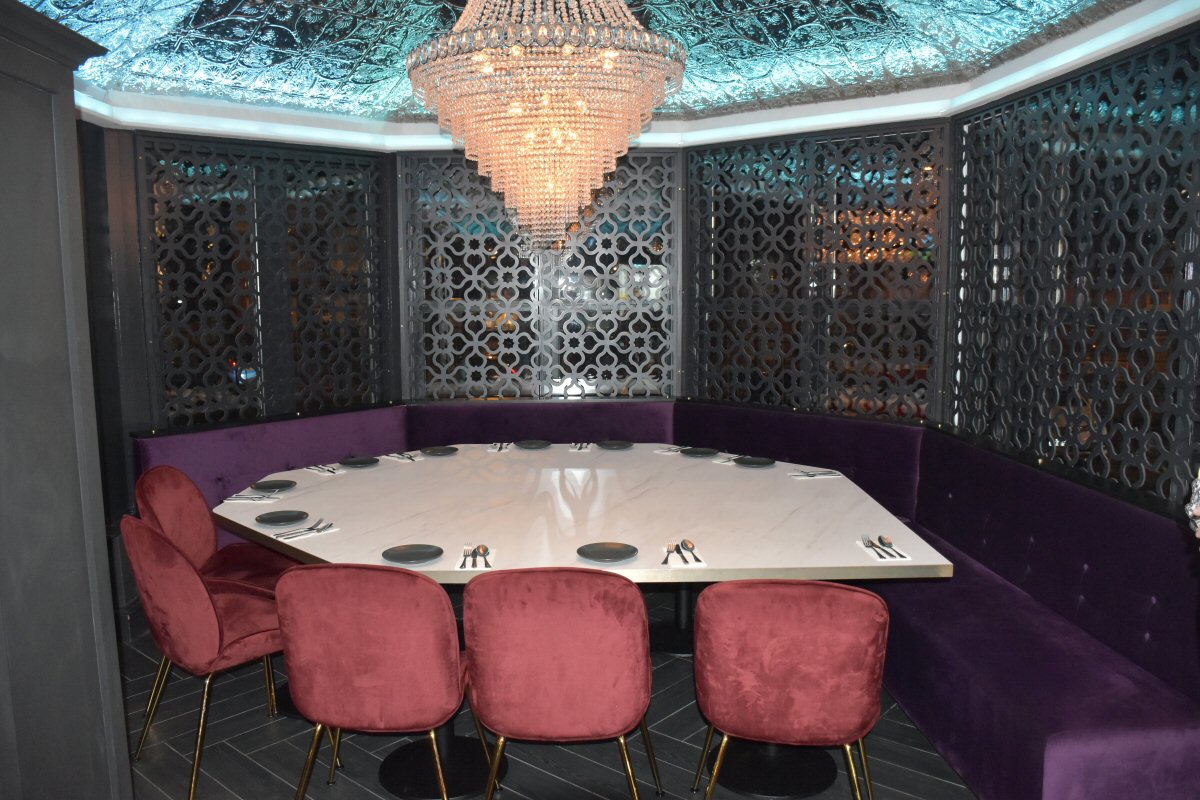 Formerly a pub, Tipu Sultan is still a large open plan space but it has all been gelled together nicely with pale flooring and white marble-effect walls being constant factors throughout. To stop the restaurant being bland and homogenous, the team have subtly changed the colour scheme of the chairs at free standing tables and grouped different types of chandelier together. This gives a gentle structure to the venue and allows it to flow seamlessly and it works very well. Our table was one of the crescent moon shaped booth numbers, swankily kitted out with a padded, deep teal banquette seat and striking golden metal railings.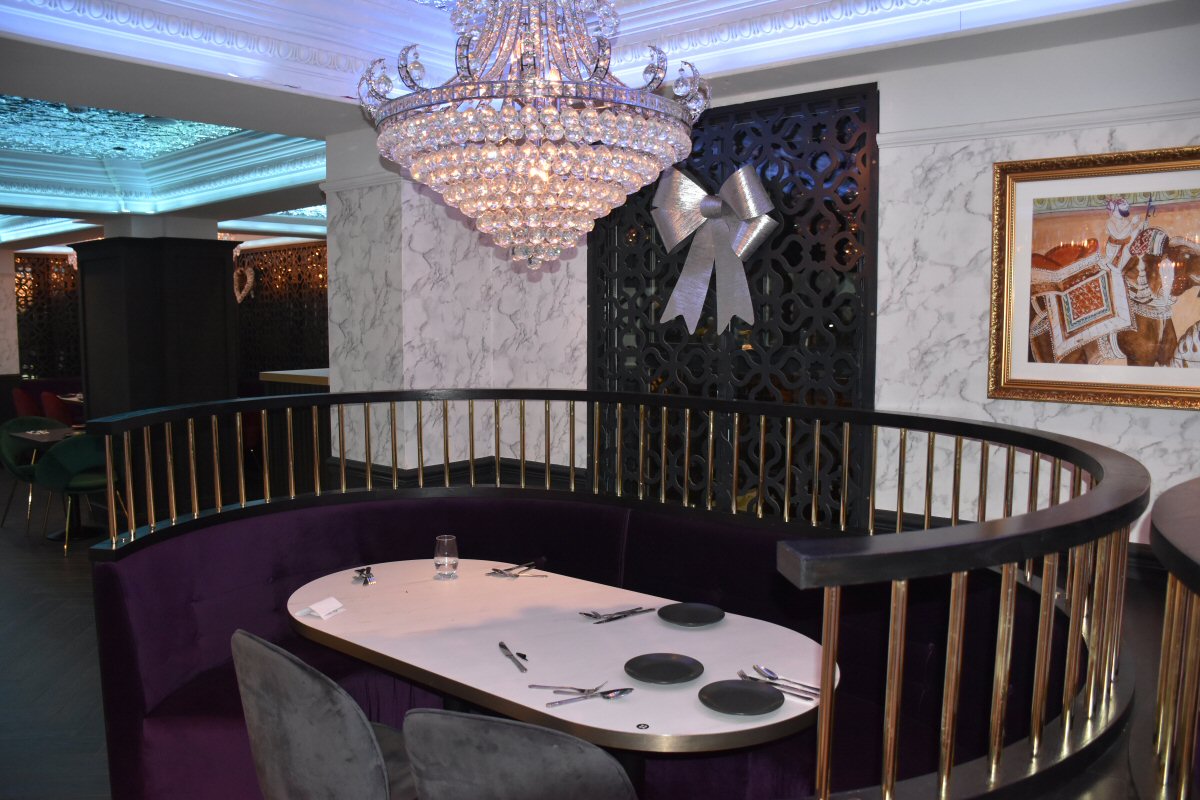 Moments after we sat down, a lovely young lady came over to ask if we would like some Poppadoms and pickles to nibble at whilst we chose our drinks and food. Tipu Sultan offers a trio of pickles and chutneys: Onion salad, Spiced Mango chutney and a marvellously kicking sauce that was an eye-catching ruby red tone. Our server for the evening was a very dapper, polite chap called Iflak (Iffy, as he introduced himself) and he sorted out a jug of salted Lassi for me and a strawberry Mojito for The Man. I should just point out that The Man Birds' drink was alcohol free and that Tipu Sultan doesn't sell alcohol or allow it to be consumed on the premises.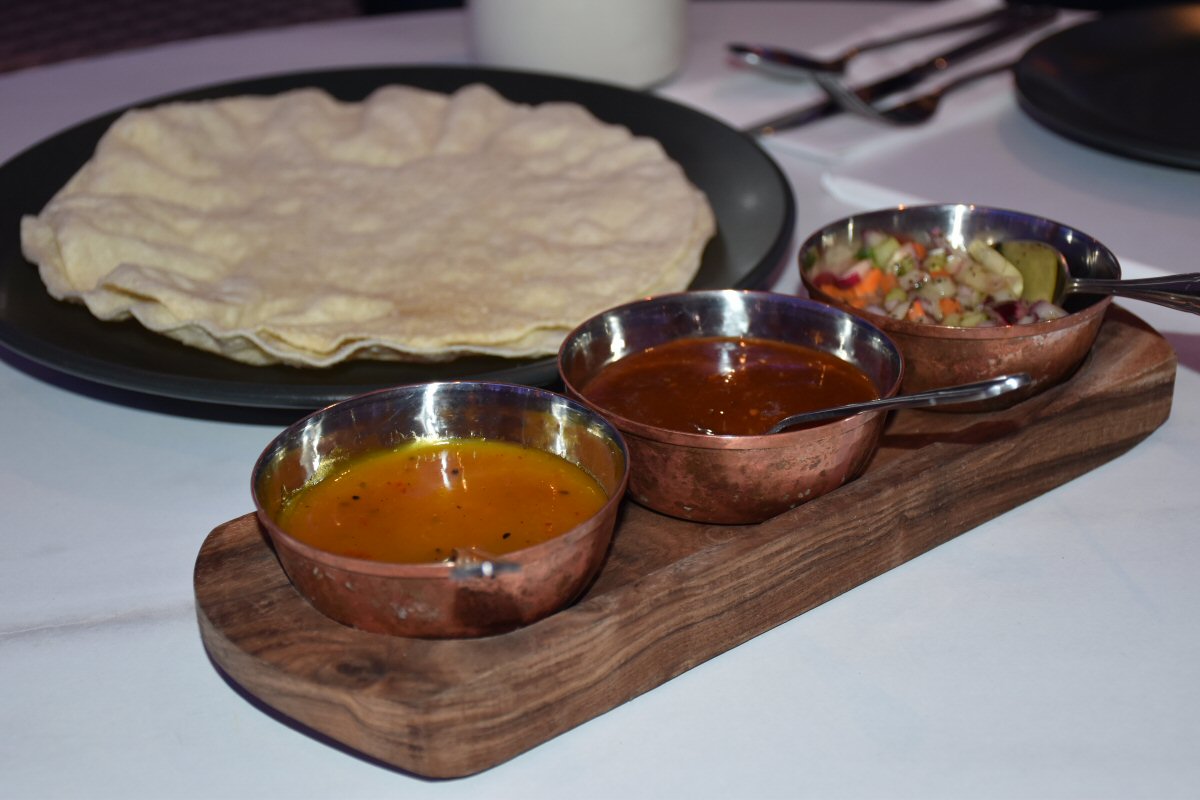 We'd ordered the Sultani Meat Platter to share as our starter, priced at £22.95, because it offered a good selection of the dishes Chef offers from his kitchen: Seekh Kebab, Murgh Seekh Kebab, Murgh Haryali Tikka, Tandoori Wings, Sultani Chops and Desi Murgh Tikka. Talking of Chef and his kitchen, at Tipu Sultan it is an open plan design which was allowing all the delightful aromas to drift through the restaurant. Needless to say, His Nibs and I kept sniffing the air appreciatively, our mouths watering as we did so.




It wasn't too long before a large platter was gently being placed in the centre of our table, and after inhaling all the tempting aromas and photographing them from all angles (c'mon dude, I'm starving!), we began our meal in earnest. The Seekh Kebab was certainly making its presence known on our palates, thanks to the fresh Green Chilli we could see nestling amongst the juicy, flavoursome minced Lamb. This morsel had quite a close texture to it, different from its more open, chicken cousin, but both kebabs were skilfully seasoned and spiced so that the meat wasn't over-powered, and we really enjoyed them. The Murgh Haryali Tikka had a gorgeous verdancy to it, no doubt down to the Coriander and Mint used in its marination; both herbs were bright on the palate and my tongue was enthralled by the moistness of the poultry. Equally delicious was the sunset orange/red of the Desi Murgh Tikka; the chicken breast meat was succulent and soft, bouncing in the mouth with its rainbow of spices and herbs.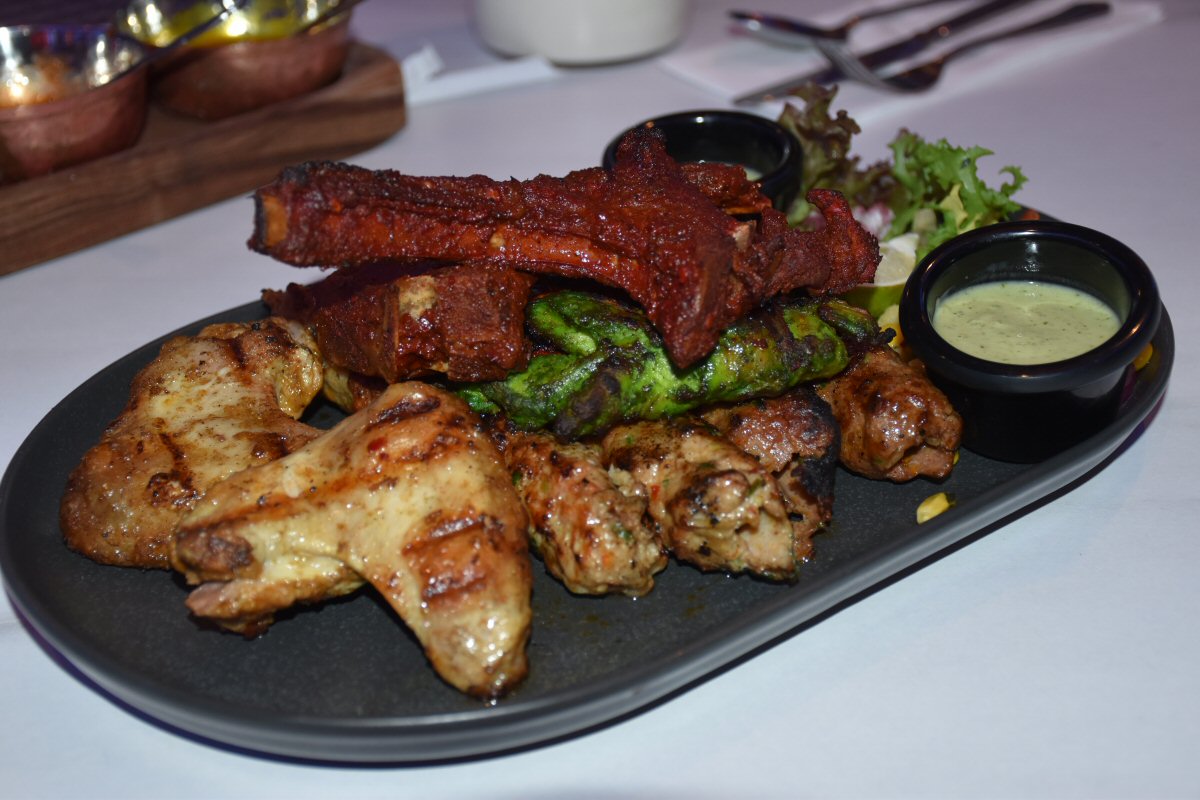 To my surprise, His Nibs tucked into the Tandoori Wings (crisped skin and all!); normally, it's me that has the monopoly on wings because he reckons that it's too much faff for too little reward – lazy bones (no pun intended, but quite a good one, don't you think?). Large Lamb chops beckoned us to try them and, whilst The Man Bird went for his cutlery, I dived straight in with my fingers, having learned that the only way to get every last scrap of meat off the bone is to get stuck in and chew it! This was a beautiful example of how Indian cuisine elevates the humble chop into something remarkable; it was juicy, rich, bursting with flavour and very, very moreish. A simple Chick Pea, Sweetcorn, Cucumber and Pepper side salad provided a superb vegetable distraction from the meat feast on the platter, and was lovely and light on the palate as well as being pleasing to the eye.

For main courses we chose the Lamb Hyderabadi Handi and Karahi Murgh Sultani, both priced £10.95 and described as '2 chill hot' on the menu. When Iffy took our orders though, he asked if we wanted them cooking mild, medium or hot; it's always encouraging when a chef is skilled enough to tweak his dishes according to requests – plus it shows that the food is cooked to order rather than just mass prepared in tubs and heated up. I do like to see a distinct divide between kitchen and floor staff and this was clear to see at Tipu Sultan; a team of kitchen runners carried the food from the pass to the diners, whist the front of house team did the table service for ordering food and drinks and customer care. This system was running nice and smoothly in the main, testament to the hard work put in during the previous 6 weeks.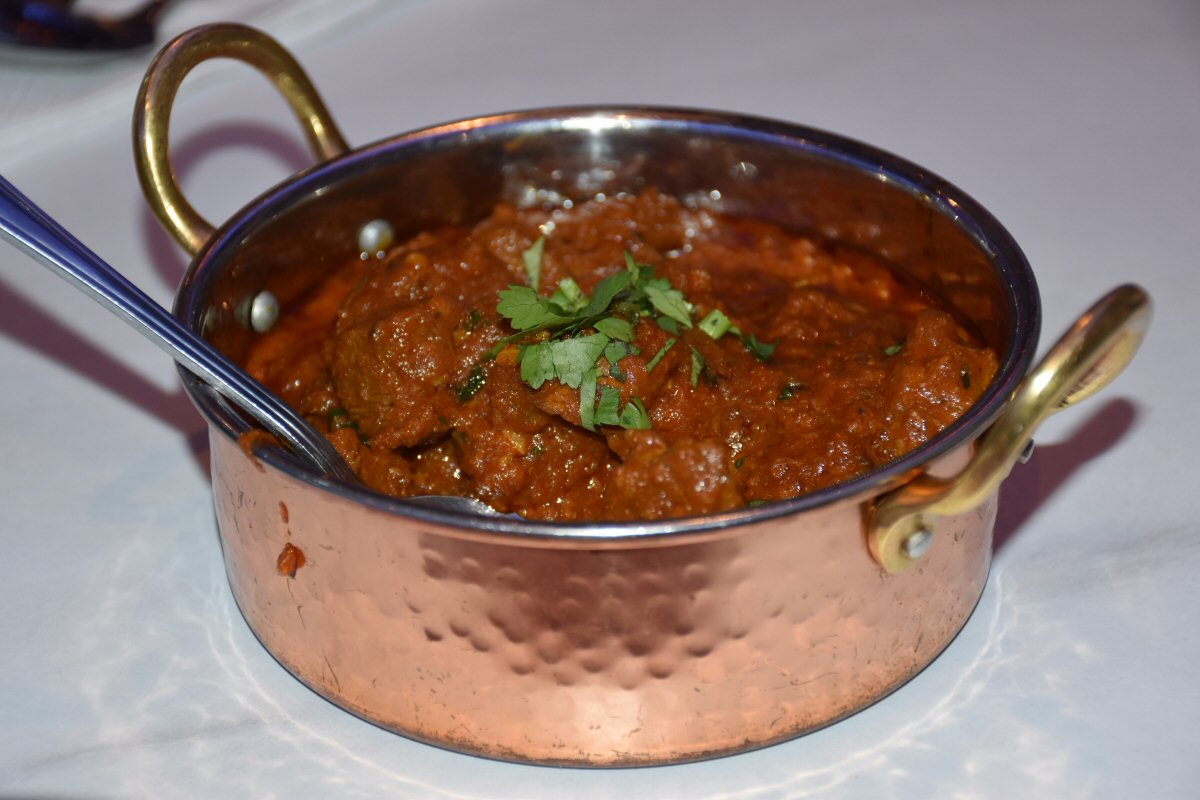 My curry was absolutely chock-full of strong, flavoursome Lamb chunks and the sauce that contained it was pleasingly thick so that it didn't slide off my cutlery as I scooped it up. The herbs and spices in this curry are Chef's secret recipe, maybe even a family blend passed down, but their strength was exactly medium, just as I'd requested. There was no sweetness per se to this particular sauce but the taste was wonderfully rounded on the palate with layer upon layer of spice opening like a Lotus blossom in my mouth. His Nibs' chicken dish was no less satisfying, with plentiful pieces of breast meat that bathed in an unctuous sauce and coated the inside of his cheeks. When compared with my dish, the Karahi Murgh Sultani had a sour edge to it that was rather refreshing to savour.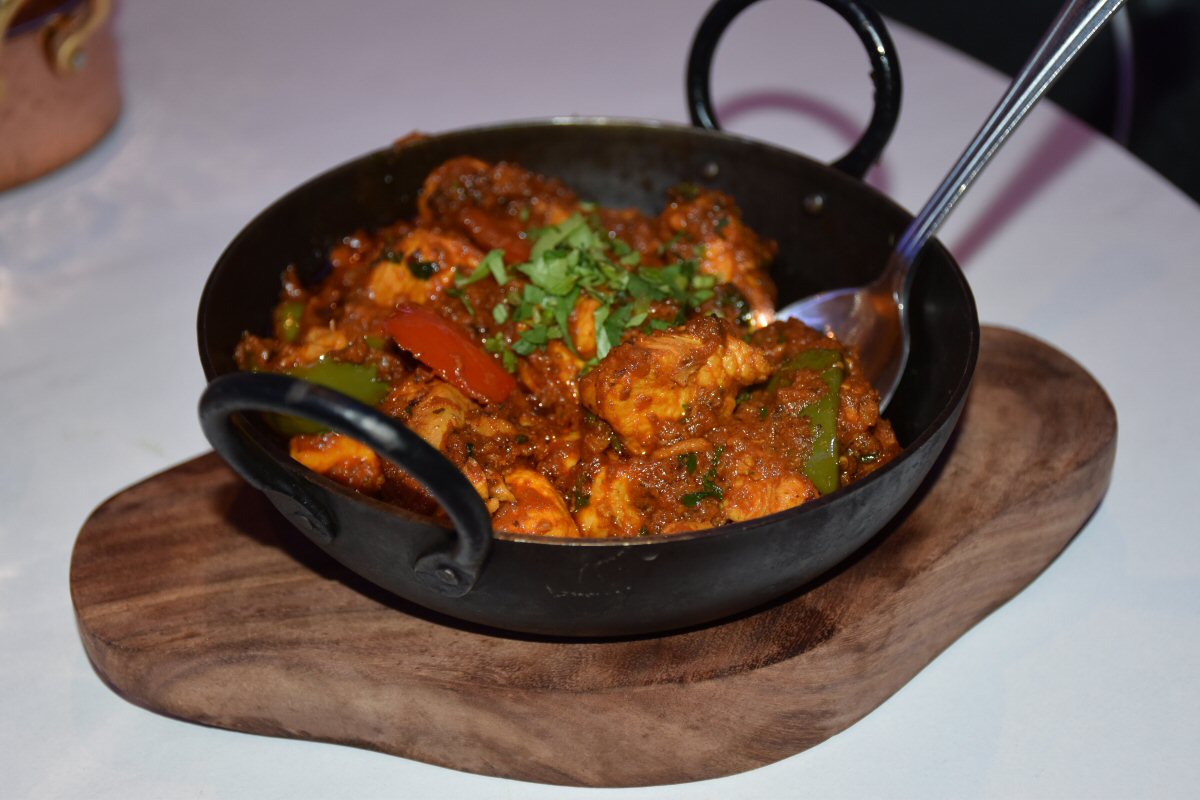 To go with our curries we shared a portion of Pilau rice and Lacha Paratha bread, priced at £3.25 and £3.55 respectively. The Lacha Paratha was the Mille Feuille of the bread world, it really was, and its delicate, buttery layers melted on the tongue and provided the perfect means to scrape up every last vestige of curry sauce from the bowls. I have said it before, but the humble rice accompaniment can make-or-break an Indian meal and there are so many fancy-pants types of rice out there that it was a bit of a shock to see that Tipu Sultan offers just two choices: steamed Basmati rice or Pilau. However (as I have also stated previously) it is sometimes the simplest things that are the best, and the Pilau rice was stunning in the mouth. Long grains of Basmati rice had been bathed in Ghee/clarified Butter and spritzed with the most luxurious spice of all, Saffron. Everyone interprets the flavour of Saffron differently but here it imparted a very subtle sweet-yet-earthy note that complimented the (David Dickinson hued!) Onion's concentrated taste perfectly. A simple garnish of fresh Coriander added a pop of colour to this creamy coloured side dish, as well as providing a dose of bright, clean flavour on the tongue.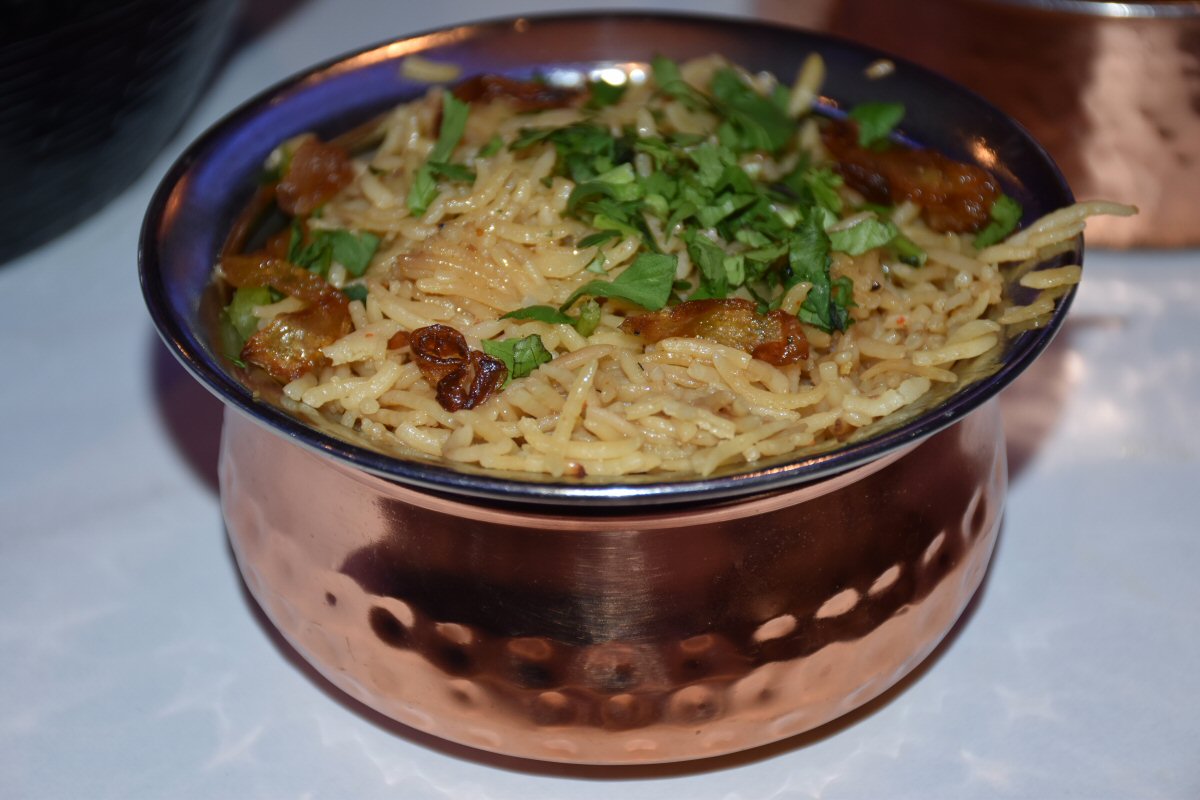 Throughout our evening, Iffy and his colleagues had been checking on our happiness and progress with the meal and nothing had been too much trouble. Numerous diners had joined us at varying intervals, especially family groups, and I always love to see young children dining with their family. Western culture has lagged behind on this front unfortunately although I think we are catching up, finally, just not on this particular evening. For a fledgling business, Tipu Sultan certainly seems to have caught the imagination, and support, of its local Sherwood community, as well as folk from further afield.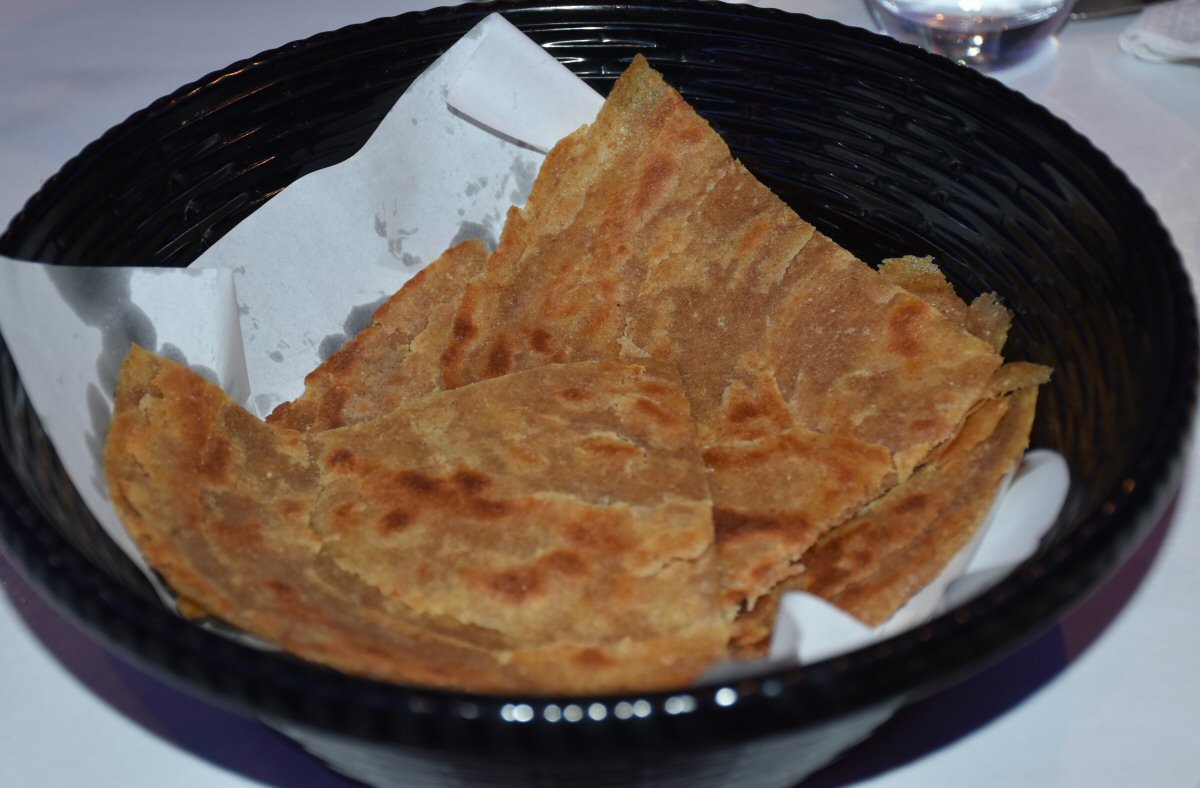 Our tummies were so full that even the lure of Ras Malai and Gulab Jamun couldn't tempt us to indulge in dessert, so we opted for a couple of black coffees to conclude our meal at Tipu Sultan. We sat back against the very comfy banquette and chatted about what a superb evening we'd had. I tell you what, if you want serious bragging rights when you invite friends out to dine, then the opulence of Tipu Sultan and the quality of the food on offer will be bang on the money!!!

Hot Wings very happily awarded to this breath-taking Sherwood restaurant; I see huge success in future for you! To book a table, call 0115 6483326, but do it well in advance because this place will become Nottingham's latest hot-spot very quickly I reckon.
Some form of incentive was provided to visit this venue
read more
Read Some Of Our Recent Reviews
---

A Family Dinner At Thai Thai Restaurant In Chesterfield Thanks to the weather being kind, it had been all hands on deck at Mummy Birds gaff and so we hadn't quite got around to organising Sunday Lunch! There was no way in hell Read The Article

---

Burger and Beer Mondays At The Railway Inn, Shottle It wasn't long ago that we had a Flock outing for Sunday lunch at The Railway Inn at Shottle (and really enjoyed it) so when we were invited to try out their newest offering Read The Article

---

A Visit To The Seafood And Champagne Terrace At The Cavendish Hotel, Baslow I know The Man and I must seem calm and collected to a lot of you, so let me shatter that bubble right now by describing what happened when a certain invite Read The Article

---

Dinner At The Red Lion At The Peak Edge Hotel Sometimes you visit somewhere that is already wonderful but, when you know that there is more to come, gives you that shiver of excitement up and down your spine. This is exactly the feeling Read The Article

---

A Tasty Lunch At The Vegan Revelation Cafe, Belper Vegans, you have got an absolute bobby dazzler of a cafe here; non-vegans prepare to have your taste buds bowled over and have your 'no meat' notions over-turned - and I do include myself Read The Article

---

Dinner At The Recently Refurbished Bay Leaf Indian Restaurant, Heanor Can you believe we were out again with Mummy Bird; she's becoming quite the social Tribal Elder! The last time she'd seen Faz was at his previous restaurant (Nirvana) Read The Article

---

Dinner At The George At Hathersage You can't fail to be impressed by The George at Hathersage when you first clap eyes on it; the huge stone building commands your attention with its imposing beauty. It has its own car park too Read The Article

---

Dinner At The Seafood Cave and Grill, Matlock Bath I love seafood (yes, even cockles and winkles!) so I was beyond excited to receive an invite from the owner of The Seafood Cave and Grill in Matlock Bath, Ian McGhie, to sample the food Read The Article

---

Sunday Lunch At The Spanker, Nether Heage As many of you lovely peeps are aware, we recently did a poll on the blogs Facebook page asking for your favourite venues to have Sunday Roasts at. Well, you all certainly got involved, voting for Read The Article

---

Burgers And Loaded Fries At Cravings Street Food Bistro, Sutton-in-Ashfield Boyf Birds' parents had been to a local eaterie recently that they felt would be right up our street (food), so we decided to pay said venue - Cravings Street Food Read The Article

---