A Visit To The New Orchard Restaurant At The Hunloke Arms
---
Published On Wednesday 8 Dec 2021 by Sticky Beak
See Recent Dining Out Reviews | See All Recent Reviews


It's been a while since The Man and I last visited the Hunloke Arms at Wingerworth, in no small part due to the blooming pandemic – cheers, Covid, can you please do one now, we're all fed up of you! Like many businesses, the team behind the Hunloke Arms decided to take the lockdowns as an opportunity to re-think their vision, and it was as a result of some hard graft that His Nibs and I were invited to visit and view the fruits of their labours.
There's no mistaking the enthusiasm the Hunloke Arms has for Christmas: you can see the lights on the miniature tress and building itself from about half a mile away!! #Festive Goals, right there! We parked the jalopy in one of the spaces in the second tier of the car park and made our way up the stairs; burning calories off, ready to scoff them back on inside.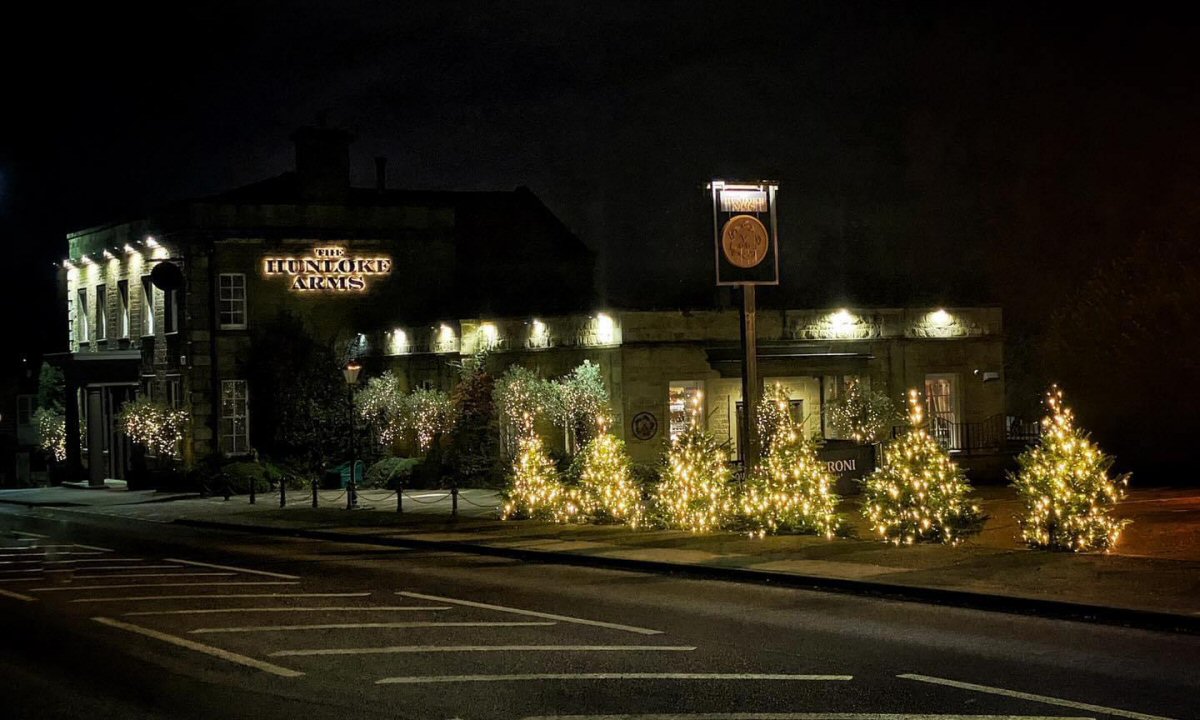 I love the heavy door drape that is used on colder days at the Hunloke Arms; as you move it aside, you instantly get a glimpse of the bar area and downstairs seating, and it always give me a buzz to see the energy in that bit of the venue. As usual, we were greeted warmly and our reservation confirmed, then a team member escorted us to the newly opened 'Orchard' dining area (the other upstairs room is named the Hunloke Falls).




The transformation of the upstairs area has clearly been given a lot of thought and there is a very clever positioning of a blossom tree that spans the full height of the building, allowing it to marry the two (distinct) floors together in a subtle, flowing way. When you get fully upstairs, the effect of the decor hits you with no apology whatsoever! You are cocooned beneath a lush canopy of cherry blossom whose petals are gently infused with light from a harem of lanterns placed among them. We were sat at the far end of the Orchard room so we got the no-holds-barred effect of the plethora of 'trees' and their laden boughs. The blossoms hang lower (easy ladies, don't get het up!) you feel like you're being cuddled; in fact, if you're tall you could probably touch them whilst you're seated.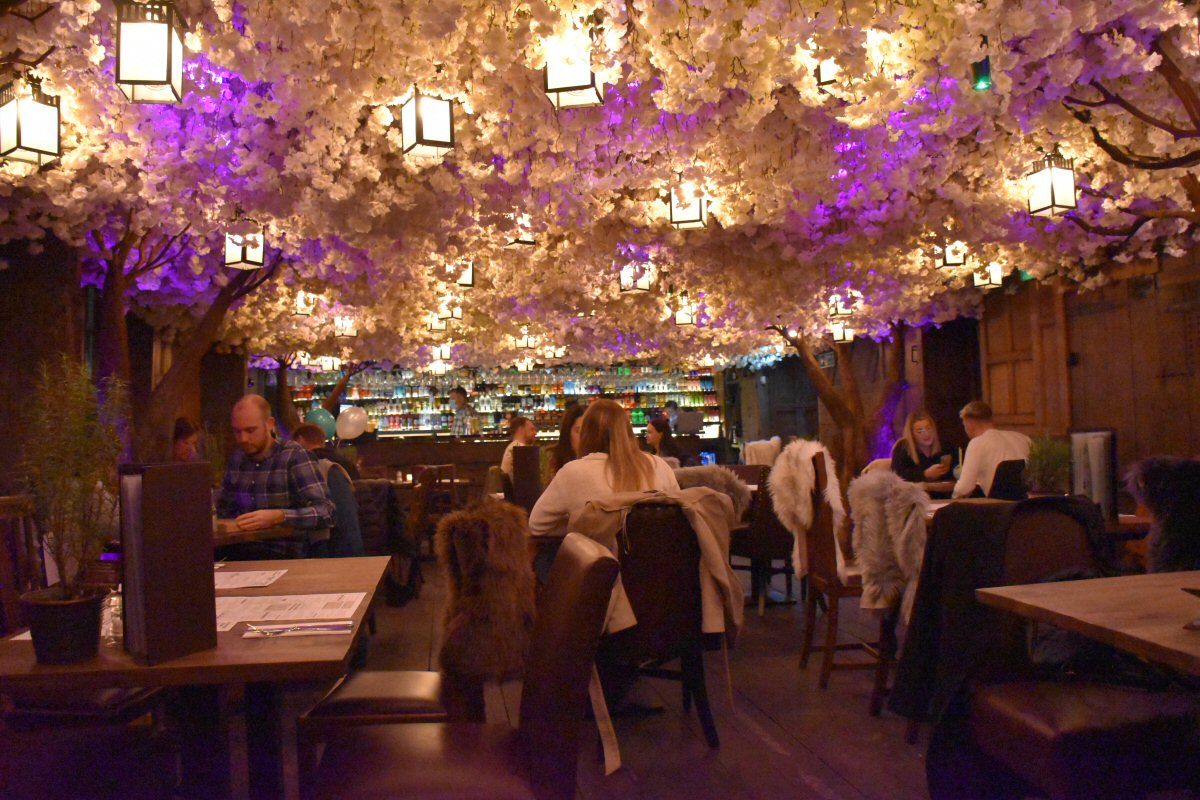 Hunloke Falls is a smaller space for more intimate dining/occasion bookings and seats about 16 people. There is a single blossom tree in this area and a fantastic feature water wall that has the distinctive Hunloke Arms logo illuminated in front of it; the fishes look like they're swimming in mid-air!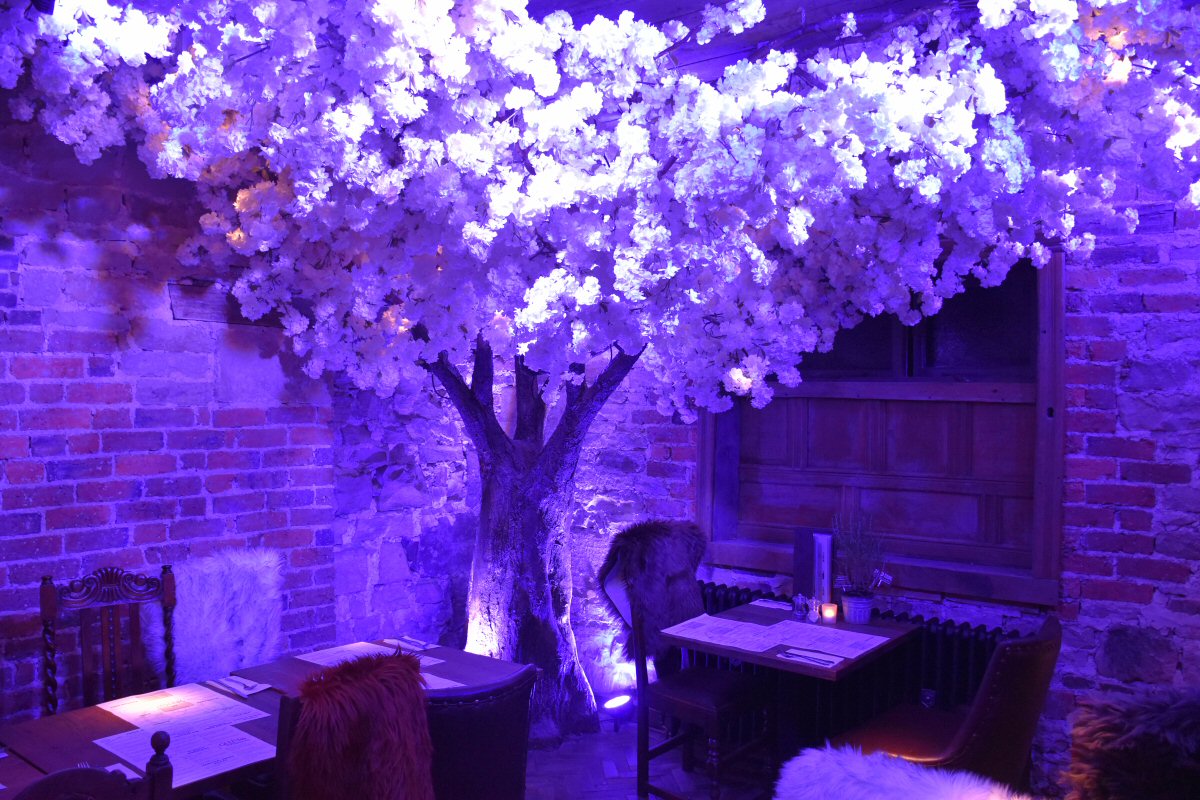 Our server for the evening was Josie (Josephine) and she was so, so friendly. It wasn't long before she'd sorted out our drinks order and walked us through the new menu items that were on offer. As we toasted each others' health, we made our choices: Korean Chicken (£5) and Chilli Beef (£5.75) Bao buns, Falafel (£2.50), Goats Cheese (£2.50), Spiced Lamb (£2.80) and Cod (£2) small Yakatori sticks to pick at as starters, then pizza to follow. I chose the Morocco pizza (£11), His Nibs went for the Seattle (£12) one, and we had a Tomato Garlic bread (£5) to share.

A table of friends next to us were enjoying a Festive dinner and when you order this particular dish you get a cracker, so they all donned their paper hats (good call ladies) and looked great, I have to say. It wasn't long before I stopped gawping at everyone thanks to the speedy arrival of our Bao Buns and small Yakatori sticks; they took all my attention and after the obligatory photos, we greedily dived in.




I tried the Korean Chicken Bao bun first and it was gorgeous! I loved the crunchy outer coating, it had a superb amount of seasoning to it, but then the chicken breast was incredibly soft and succulent and that became my new best friend. There was a great punch from the Ginger (one of my fave spices) and the garlic played gently on my palate too. Gochujang sauce certainly brought some flavour to the party with its sweet and salty notes coming to the fore before the spicy kick, well, kicked in. This had certainly got my taste buds' attention! Equally fab was the punchy Chilli Beef Bao bun; this beaut certainly isn't a wall-flower in the taste league! The strips of Beef are themselves tender and they have a nutty edge to them (and some crunch) thanks to the Sesame seeds that adorn them. Itty bitty julienned carrot shreds add a wonderful texture, and a pop of colour, to this fantastic bun, and soy adds a depth of flavour on the palate that will delight any gourmand.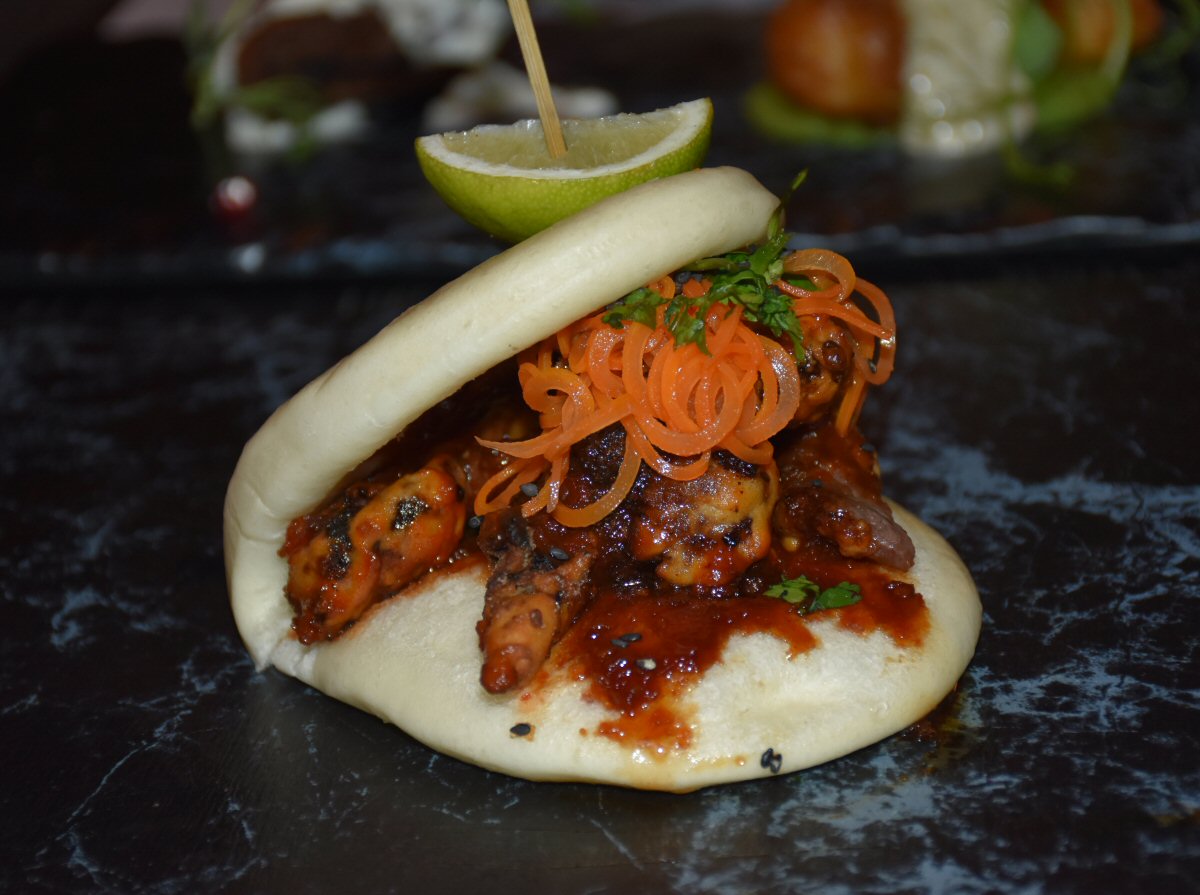 I loved how my Goats Cheese in my Yakatori stick had been tightly wrapped in a rose pink slice of Parma Ham before being cooked; not only did it look pretty, it kept the melty cheese nicely contained so that it didn't drip everywhere. Both of these elements have a distinct saltiness to them, so the sweetness of the Red Onion jam was a very welcome addition that balanced things out beautifully in my mouth. I had gone for the Sweet Potato falafel balls for my second small Yakatori stick and this was utterly delish. The Sweet Potato hadn't been completely mushed, so although it was soft, there were chunks of it to bite into which definitely made it more interesting to eat. Bright, clean tasting pea shoots added colour as well as taste and contrasted well with the orangey tone of the spicy Harissa paste. Talking of Harissa, it certainly was spicy, so this isn't for amateurs to spice and heat to dig into! I dibbed a bit of His Nibs' Tzatziki into my mouth to calm things down a bit...and I don't mind heat; you have been warned, folks.




The Man was happily chowing down on his Spiced Lamb Yakatori stick, revelling in the depth of flavour the minced meat had to it and the array of spices that had been utilised to season it. Silky, creamy Tzatziki cooled things down on his tongue and crunchy Pomegranate seeds burst to life in his mouth when he bit into them. I had been expecting His Nibs to go for the Halloumi or Cajun Chicken as his second choice of stick, so I was surprised when he ordered the Cod goujon variety. After taking the first bite of this morsel The Man passed me a bit to try and, wowsers, I was floored by how great the Cod was! The fish was incredibly sweet and soft, without being insipid and was partnered beautifully by soft, fragrant mushy peas and a tangy Tartare sauce. Starters had been received by our tummies and palates very well, and we were excited to get our chops around the pizzas.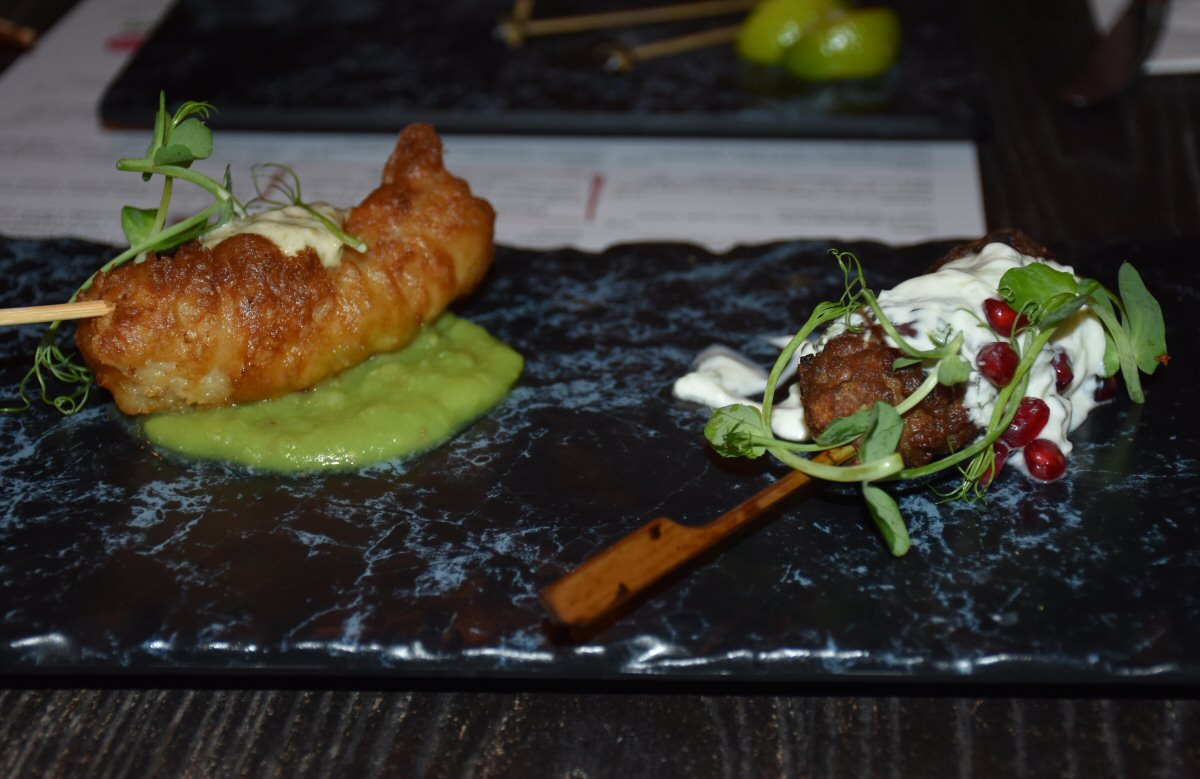 Josie had been checking on our progress and soon cleared the starter dishes away for us, laying fresh cutlery and napkins before us. We said that we were ok for drinks when she enquired if she could get anything else for us before informing kitchen that we were ready for our mains.

When the Pizzas and Tomato Garlic bread arrived, His Nibs and I just looked at each other and went "uh oh, we forgot how big these were"!!! We'd also forgotten how ruddy scrummy they are too, but were very happy to get reacquainted with this fact. The Man Bird likes a bit of spice on his pizzas so the Pepperoni on the Seattle morsel suited him down to the ground...as did the copious amounts of pulled Pork, and Chicken that were bathed in BBQ sauce and the Hunloke Arms' homemade, rich Tomato sauce. Cheese fiends will love the classic combo of Mozzarella and Parmesan (of which there is plenty) and a sprinkle of fresh Parsley adds colour and a clean, bright taste which lifts the flavour a notch on the palate.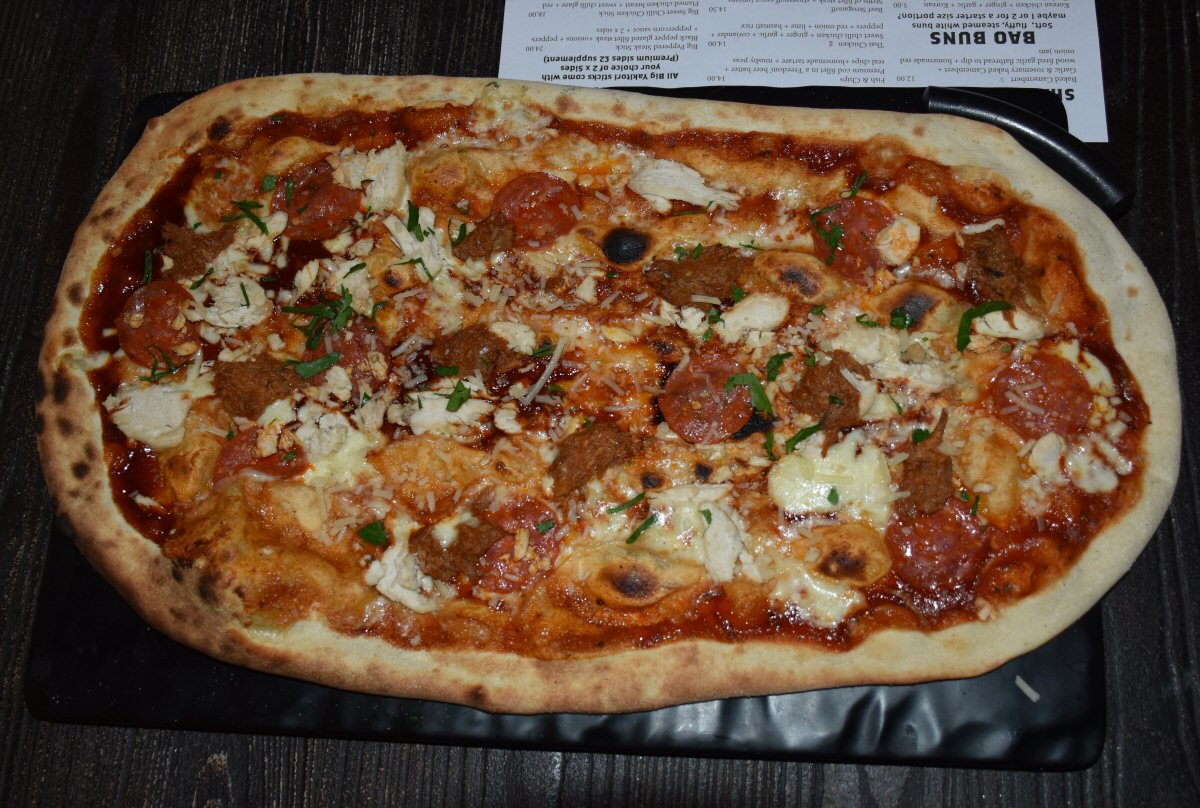 Sometimes I fancy going off-piste a little from my usual seafood-based pizza choices (I love Prawns, Anchovies or Tuna on a pizza!) and the flavours of Morocco were calling to me on this particular evening. A taste base of Moroccan spices, mint yoghurt and marinated Olives provided the perfect back-drop for Feta and Mozzarella to frolic on, joined by crisp lemon, intense sun-dried Tomatoes, softened Aubergine and creamy Artichoke hearts. I also had the clean taste of fresh herbs to enjoy, but I was treated to Mint rather than Parsley.




Both pizzas were fully loaded with toppings, but there was absolutely no sogginess whatsoever to the pizza base; just crisp, fresh flavours bouncing in our mouths. The pizza bases aren't bland either at the Hunloke Arms; they have a superbly fresh dough taste to them that is a little bit toasty in character and has a brilliantly satisfying chew time to it. Honestly, these are pizzas that deserve to be raved about; even if pizza isn't your 'thing' you'll enjoy them.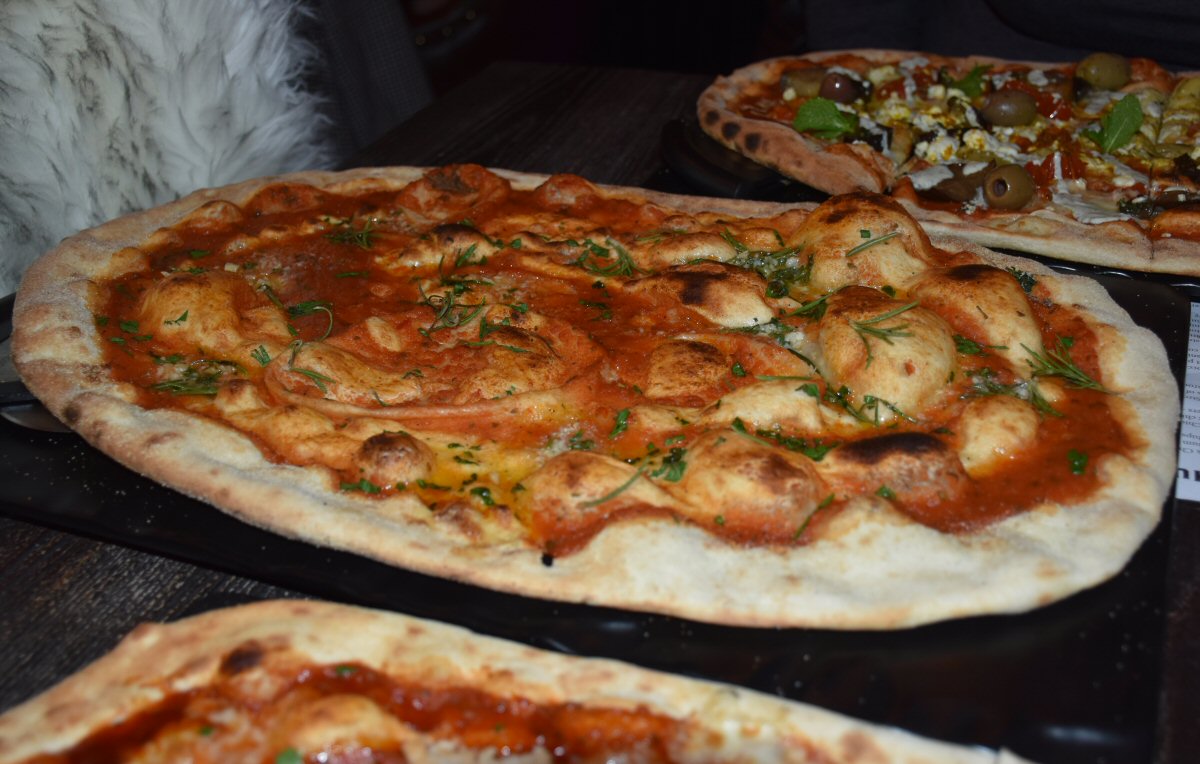 It became apparent from the moment that we were served our magnificent pizzas that we weren't going to be able to eat them AND the garlic bread, so we made the decision to leave that untouched and bring it home to eat at our leisure. We had the Tomato Garlic bread for lunch the next day and it was still gorgeous, despite the indignity of being warmed up in the mee-cro-wah-vay (microwave, I'm just channelling my inner Nigella!).




I had been hell-bent on having some of the famous 'made fresh, daily' Gelato that the team at the Hunloke Arms serve, but I had to admit that it would've just been wasted on me on this occasion; good excuse for a return visit though, eh?!

Hot Wings happily awarded to this superb Chesterfield eaterie; there really isn't anything to not like: the cocktails are fab, the food is fab, the team are fab, and the venue itself is just stunning. You do need to book ahead though; it's a very popular place, with a massive fan-base. Thank you for inviting us along to experience the wonderful Orchard room, it's incredible.
Some form of incentive was provided to visit this venue
read more
Read Some Of Our Recent Reviews
---

Lunch At The Recently Opened Chatsworth Kitchen At Peak Village, Rowsley Everyone who knows me, knows I love Chatsworth (always have, always will) so when the invitation to sample lunch at the newly opened Chatsworth Kitchen Read The Article

---

A Visit To Vietnamese Street Kitchen, Resorts World, Birmingham Way back in the day (pre-covid) Fledge had bought me and The Man Bird tickets to see Mrs Browns Boys live and finally, after a couple of false start reschedules, the day of Read The Article

---

Sunday Lunch, A Museum Tour & Painting A Piece Of Denby At Denby Pottery Village It wasn't long ago that His Nibs and I visited the Denby Pottery Village to sample the Afternoon Tea at Bourne's Coffee Shop and Bistro (it was superb Read The Article

---

Bottomless Brunch At Turtle Bay In Derby The timing of the invitation from the Turtle Bay team in Derby to go and sample their Bottomless Brunch couldn't have been better; not only was it going to be The Man Birds' birthday a couple of days later Read The Article

---

Afternoon Tea At Santo's Higham Farm Hotel & Restaurant Aaaaaarggggh, don't you love your children??!! A while back, His Nibs had spotted a great deal on Groupon (you know what a bargain hound he is!) and thought it would be Read The Article

---

Sunday Lunch At The Countryman Pub & Dining, Kirkby-in-Ashfield We finally got to visit a venue thats been on our radar for quite a while, The Countryman Pub and Dining in Kirkby-In-Ashfield! A few weeks ago we tried to book a table for dinner Read The Article

---

Dinner At The Divan Turkish Restaurant In Chesterfield Chesterfield was welcoming us back again for our latest review visit; this time to the newly opened Turkish restaurant, The Divan, on Lordsmill Street. Owner Tuncay (along with Read The Article

---

Breakfast At Marsh Green Farm Shop & Cafe, Kelstedge Ah, you've gotta love a Bank Holiday curve-ball, haven't you? His Nibs and I headed over to Mummy Birds' gaff with the intention of having a leisurely couple of hours at the Sunday Read The Article

---

Afternoon Tea at Bourne's Coffee Shop and Bistro, Denby Pottery Village You all know that The Man Bird and I do like an Afternoon Tea; I mean, who doesn't?! Just a few miles down the road from the nest is Denby, home to the world-renowned Read The Article

---

All You Can Eat At The River Garden Cantonese Restaurant In Belper As is the seemingly never-ending pattern of our weekends at the moment, The Man Bird and I had been busy gardening/re-seeding/pruning/digging, so when it came to sorting Read The Article

---