Festive Fun at The Scotsman's Pack Country Inn, Hathersage
---
Published On Tuesday 30 Nov 2021 by Sticky Beak
See Recent Dining Out Reviews | See All Recent Reviews


It's officially official now, Christmas is a-coming!! The Coca Cola advert always signals that the Big Man isn't going to be long in visiting, but when we got an invite to sample the Festive menu at The Scotsman's Pack Country Inn at Hathersage it got one step closer – eeeeek!!!! Our visit coincided with the first snow of 2021(typical!) and it was a bit harem-scarem up in t'hills, so we were very relieved to walk through the doors of this traditional, listed building.
The Scotsman's Pack is a stunning building anyhow, but the team have truly worked their magic and transformed it into a wonderland, dressing it up to the nines in festive finery. There were verdant garlands a go-go, Nutcrackers proudly standing to attention from various points, miniature pine cone festooned Christmas trees and Reindeer peering eagerly over tables – perhaps hoping to garner a treat or two from diners?! It really was a sight to behold, and if you weren't fully in the seasonal mood, then this venue would certainly propel you into it.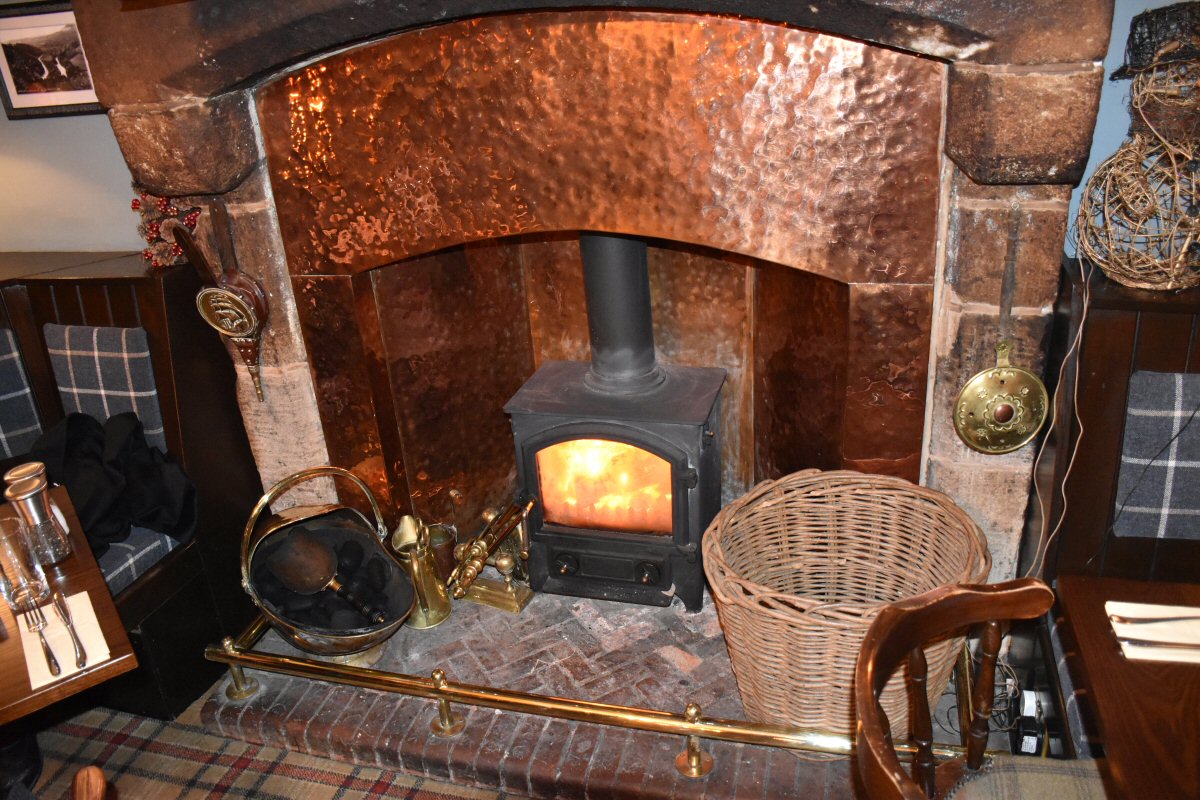 After introducing ourselves at the magnificent bar, we were shown to our table that was situated adjacent to the jaw-dropping stone fireplace. The log burner was kicking out some serious heat- the perfect antidote to the atrocious conditions outside- and we soon thawed out.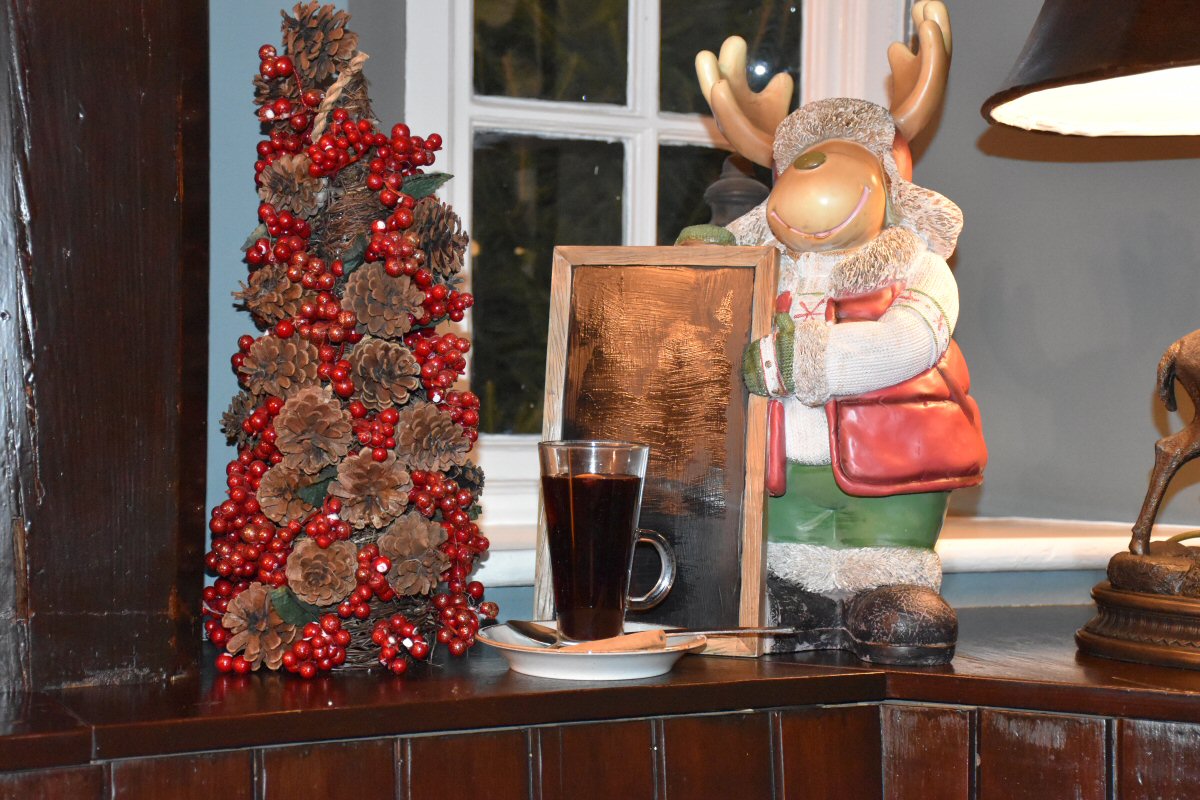 Our festive meal began with a glass of Mulled Wine; now I'm not usually a fan of this tipple (mainly because folk tend to over-sweeten it – bleurgh! – or use a cheap wine) but I have to say that the one served at The Scotsman's Pack was super. I liked the fact that it wasn't sugar laden, so the true flavour of the wine came through, and it was a good quality wine: win-win. Warming spices (think, Cloves, Star Anise, and Cinnamon etc.) sparkled on the palate, gently tingling down my throat as they did so. The table was set with all the bells and whistles, so to speak, so His Nibs and I duly pulled our crackers, donned the paper hats (it's the law, no?!) and recited the jokes printed on slips. We had definitely got our festive on!!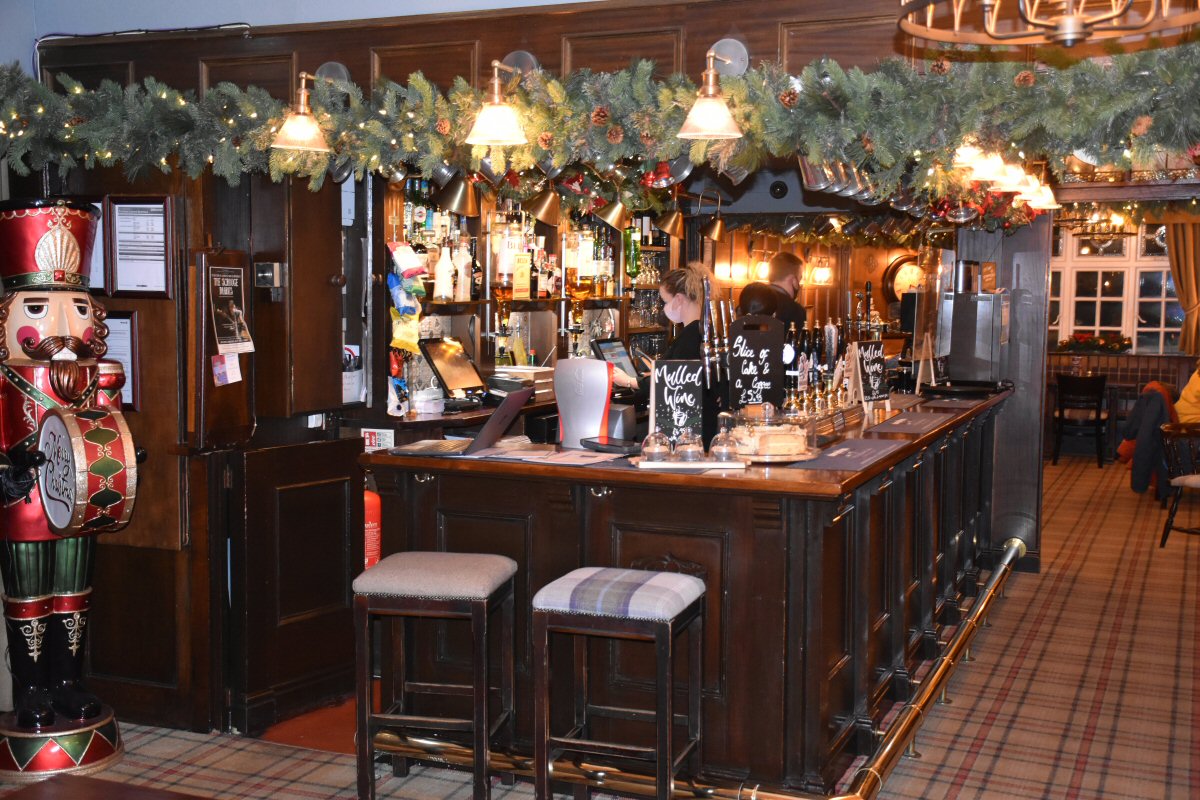 One of the team took our drinks orders and asked if we were ready to start our feast, which we were, so we toasted each other's health (me with a cheeky Malbec, him with Coke) and sat back in the chairs as we took in more of the decor. Moody slate blue/greys provide the base tones and these are echoed in the check pattern of the woven upholstery that covers the chairs and banquette seating. Lamps give a cosy glow from their window positions, in addition to the ceiling lighting that creates a relaxed, inviting ambience.

Each course on the festive menu has four choices and costs £22 per person for two courses or £28 per person for all three; naturally, we were there to sample the full trio of temptation, and it wasn't long before our choices were being placed in front of us.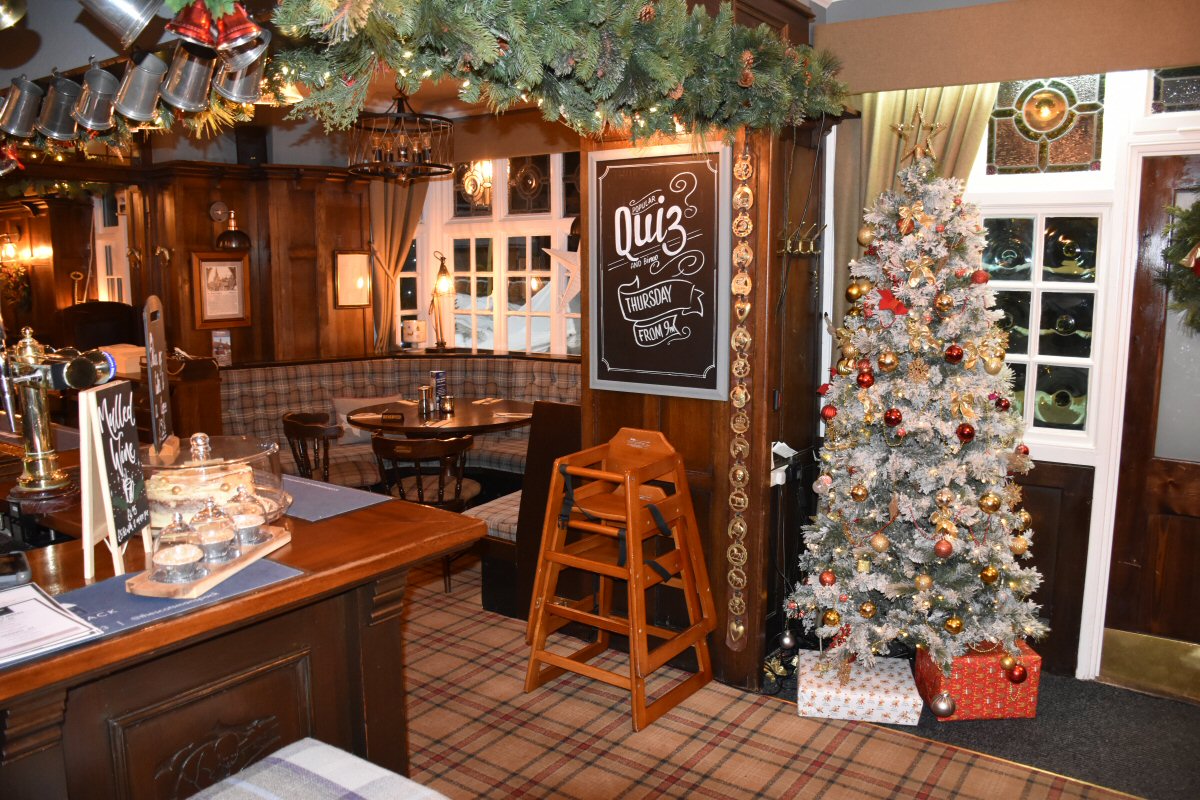 I'd gone for Chestnut and Wild Mushroom Tatin with Madeira reduction, whilst The Man had fancied the sound of the Smoked Duck with Celeriac Remoulade and Hazelnut. His Nibs' Duck was presented in thin slices which allowed the subtle smokiness to come through and the meat just melted on the tongue. Remoulade is a posh, pimped up version of coleslaw and this one was wickedly soft and creamy in the mouth with Celeriac's natural, gentle earthy-yet-nutty taste revealing itself nicely. A lovely textural element came via the sweet Hazelnuts whose flavour blended beautifully with the other components of this dish.




My tartlet, whilst looking perfectly presentable, wasn't going to win the eye-candy stakes but it made up for its lack of pizazz with its flavour! This morsel was glorious, it really was. Buttery, flaky puff pastry contained a lovely mix of sweet, earthy mushrooms that delighted this Fungi fiend. Both the mushrooms and the Chestnuts had some bite left to them and my palate revelled in their satiating, meaty texture. I think that Chestnuts are still a bit misunderstood and under-appreciated; personally I love their sweet, creamy, buttery taste and was a very happy camper to be munching away on them this particular evening. A smattering of caramelised Onions added the final piece to this culinary gem and it will come as no surprise when I say that I ate every single crumb (as well as the bitter leaves that had accompanied the tartlet!). A sumptuous Madeira glaze tasted divine and added a seductive glossiness to the tartlets surface; this really was a superb dish and, if the portion size was increased, I could happily eat this as a main.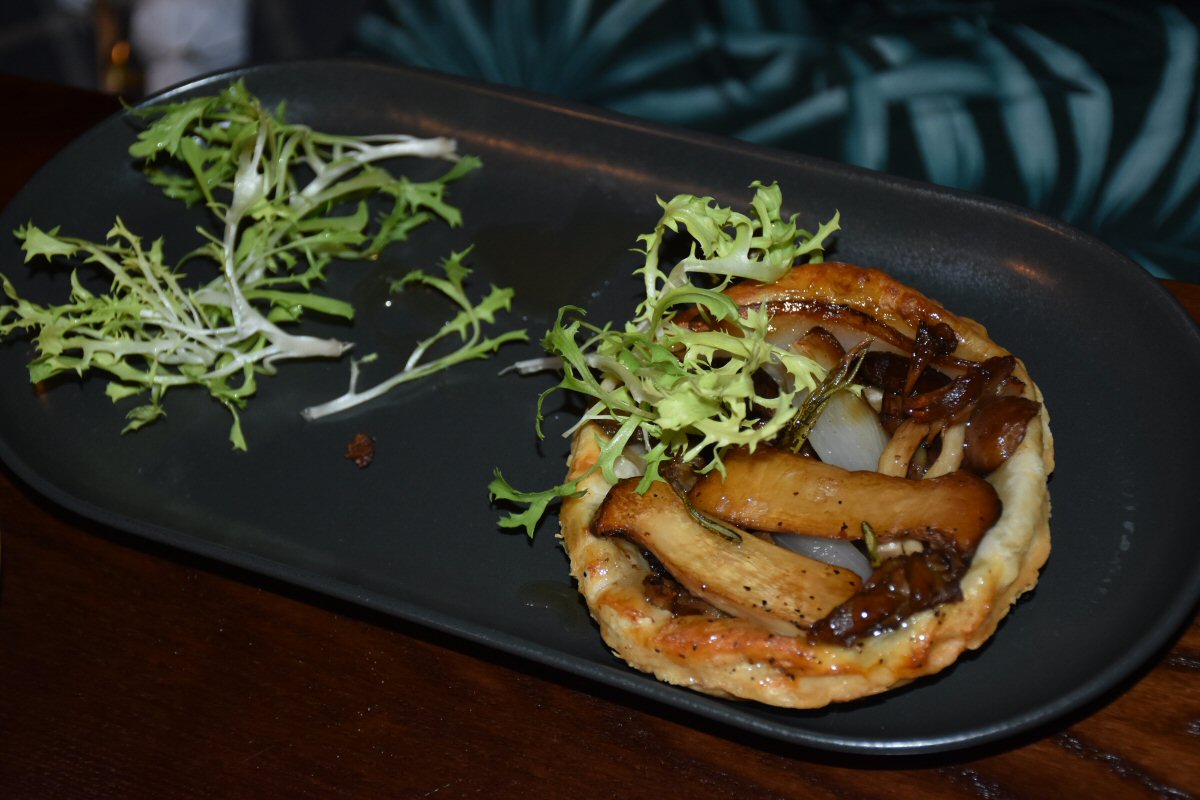 Whilst we'd been munching away, several members of the team came to check we were enjoying our food and took the chance to offer more drinks, so we grabbed some water for the table (which had been offered earlier , but we hadn't fancied it at the time). At this point a family group came in to dine and remarked "yay, we get a hat"; I did feel a little bit horrid for a moment because the hats only come out if you're having the festive menu. I wasn't sad enough to offer up my hat though – just call me Grinchy Beak!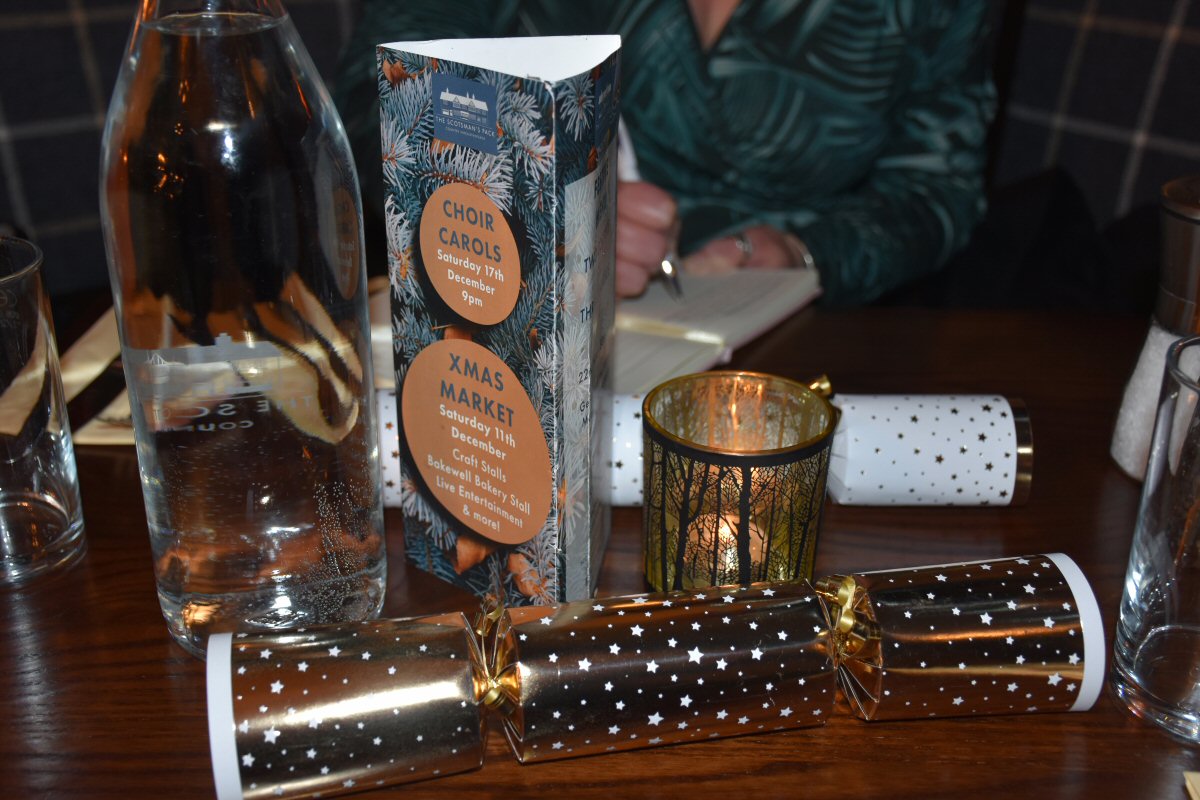 I don't normally go for Turkey and trimmings on a festive menu because, if I'm being brutally honest, I think that if a Chef can't produce a decent Christmas lunch/dinner then they really shouldn't be in a professional kitchen. Harsh? Maybe, but that is what my thoughts have been up to now. I don't know what made me go for this option at The Scotsman's Pack, but it turned out to be a superb piece of divine intervention.




The Turkey was marvellously moist and succulent and had been sliced nice and thickly, which is how I serve it at home. I really enjoyed the fragrant honey roast Parsnip, taking my time to savour its intense taste. Equally delicious were the Orange glazed Carrot halves, with their gentle citrus notes whispering to my palate as their softened flesh seduced my teeth and tongue. There are a couple of elements in a Christmas meal that I am picky about: soggy Sprouts and Pigs in Blankets that repeat on me all day. How relieved was I, then, to experience still-firm Sprouts with a rather yummy Chestnut Butter gloss coating them and meaty little piggies whose flesh didn't have me tasting them again once I'd devoured them. Top marks, Chef Charley. The piece-de-resistance though were the numerous duck fat roasties; these minxes were absolutely blinding!! There was such a crispy outer to these spuds that His Nibs heard the crack as I cut into them from across the table – the best bit (for me) was that they weren't at all tough to chew and the inners were ridiculously soft and fluffy. More gravy was provided in a separate pot, which I thought was a nice touch; plus the fact that it meant my plate wasn't swimming in gravy, which would've made me suspicious that the bird was dry –which it most definitely wasn't!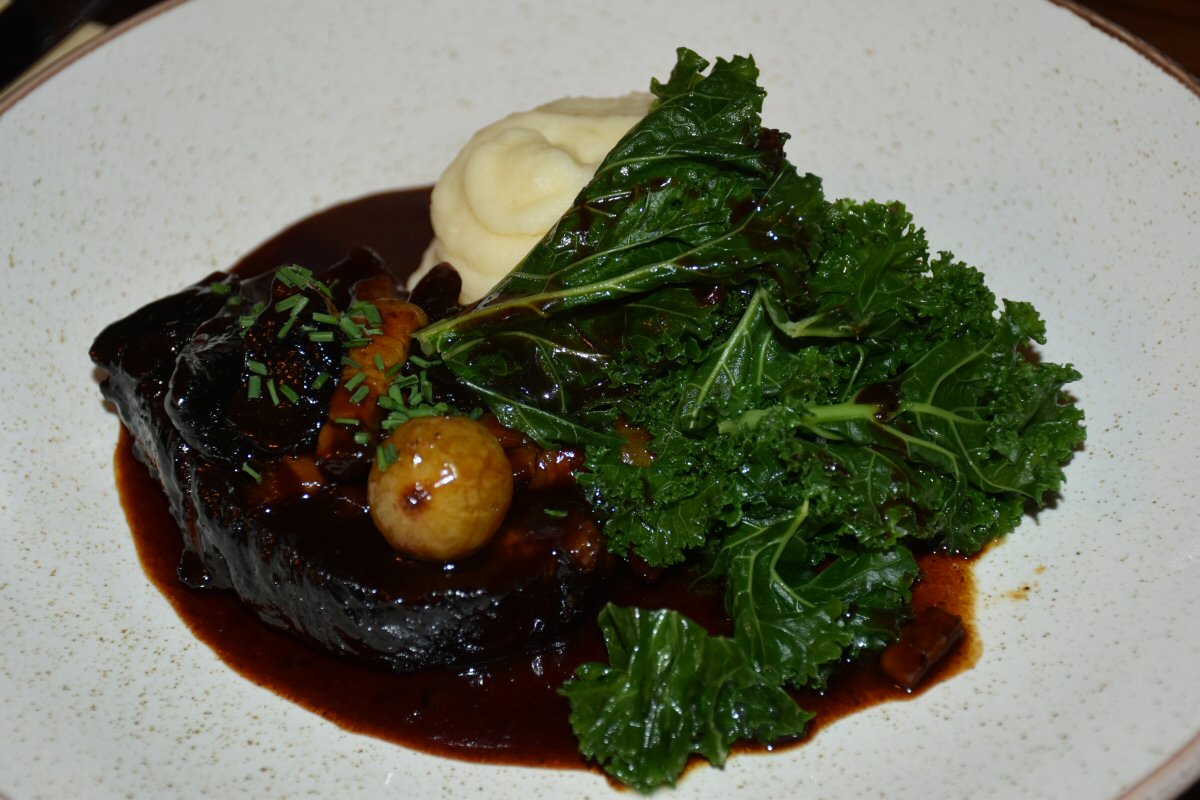 His Nibs had chosen the Braised Brisket of Beef with Bourguignon sauce, Celeriac Purée and Kale for his main course and (as with my meal) there was an extra jug of sauce for him to help himself to, ad lib. The beef brisket looked like a steak, it was so thick, and had a marvellously deep flavour to it that had him grinning with delight. Thanks to Chef's skill in the kitchen, the meat was uber-tender and fell apart at the merest touch from the knife. A glass-smooth purée of Celeriac provided the perfect subtle contrast to the richness of the beef, lifting things a little on the palate; its pale colour also stood out against the dark tones of the brisket. The al dente Kale was beautiful, its deep verdancy posing proudly on the platter; taste wise, this vegetable was superbly earthy in flavour - which suited the intense taste of the beef – and it wasn't tough or chewy because young leaves had been used. Both of us dipped our fingers into the jug of sauce and were just discussing whether it would be unseemly if we asked for some bread to mop it up with when one of the team came along to clear away the clean plates! Moral of the tale; Be quicker off the mark!

Being the good wifey that I am (!!), I let The Man Bird have first dibs on choice of puddings and he went for the Chocolate Fondant with Black Cherry Sorbet, so I had the Coconut and Black Cherry Trifle with Gingerbread and drunken Cherries.




My trifle looked gorgeous; dark, moody Gingerbread formed the bottom layer and then delicate swirls of Cherry jelly and Coconut cream played together merrily above it. Fellow Trifle lovers will rejoice when I say that there was the most delicious 'sluuuuuurp' as my spoon pierced the surface of the dessert. It was most indelicate, which is simply how a good Trifle should announce itself, don't you think?! The Coconut-laced cream reminded me of the top layer you get in a tin of (full fat) Coconut Milk, it was that thick and soft. Adorning the whole Trifle was a crown of boozy Cherries and I'd love to say that I didn't wallop them all down in quick succession; we all know that that would be a massive fib though – they did get guzzled down! I loved the fact that you could actually taste the Cherry in the jelly, rather than it being insipid, and I especially loved the potent taste of the spicy Gingerbread. All the flavours married together harmoniously on the palate, making this a real 'Christmas cracker of a pud.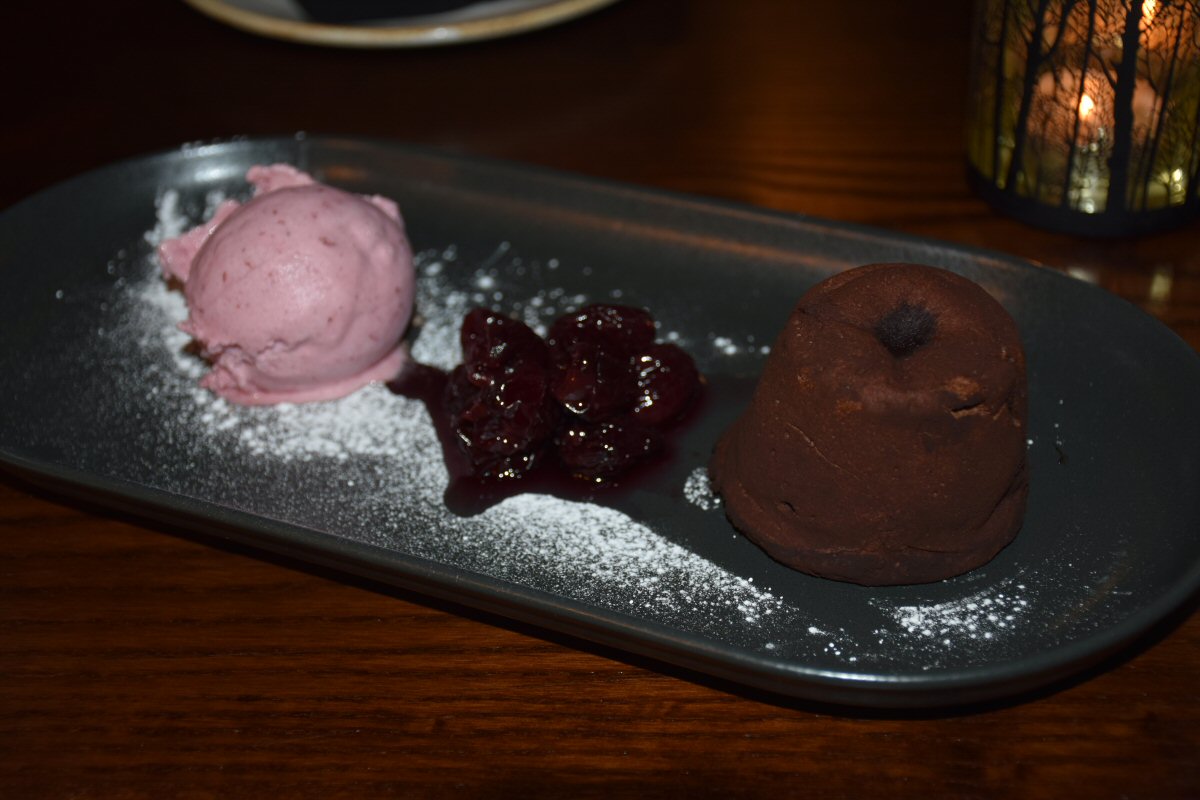 His Nibs' Chocolate Fondant seriously couldn't be more cocoa-y if it tried! Chocoholics will literally think all their Christmases are about to come at once with this superstar. The light spongy outer delivers a robust enough cocoa punch to have you on the dessert ropes, but the molten, puddly middle will knock you clean out with its intensity. There was a smattering of drunken Cherries nestling up against the fondant (which The Man loved!), so it was down to the cool, crisp Cherry Sorbet to bring His Nibs back to his senses. If the DeLorean was available we'd definitely have been using it on this particular evening!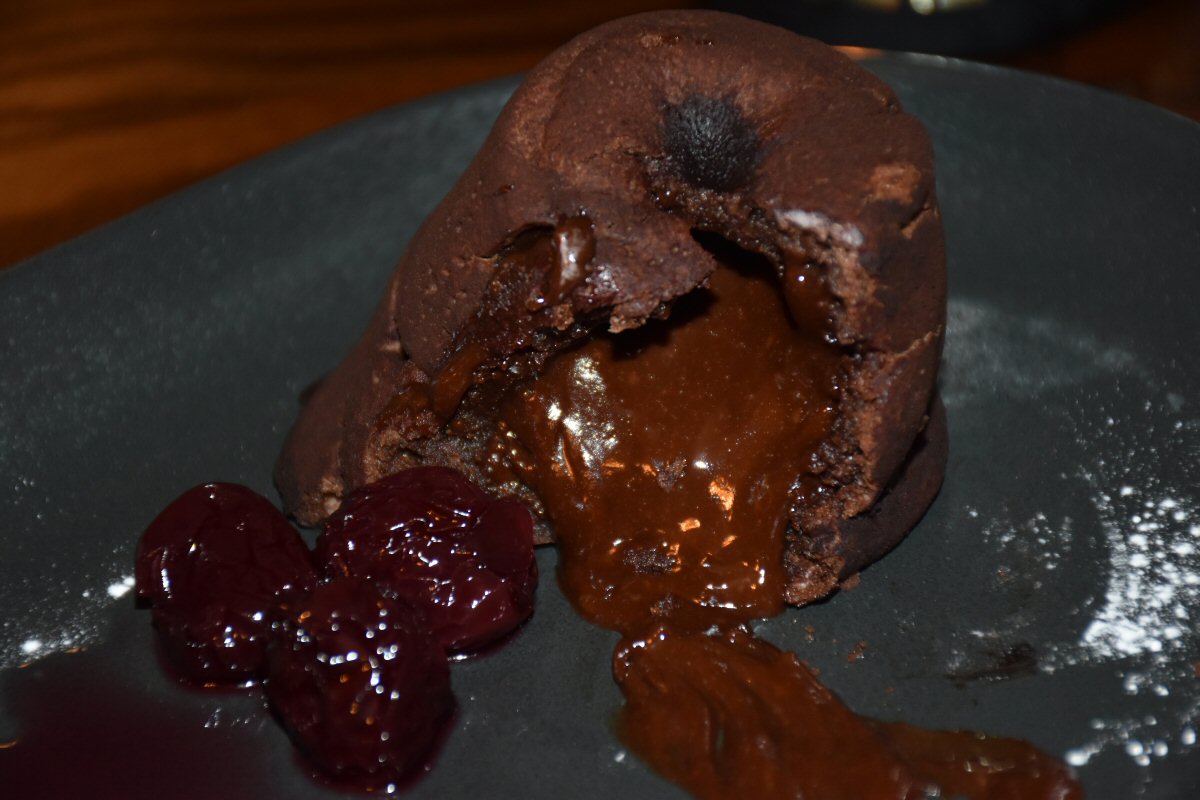 Coffee and Mince Pie forms the final course of the Festive Menu at The Scotsman's Pack in Hathersage, but we skipped it in order to make our way back home; the light had gone and the temperature was dropping, making the already treacherous roads even icier. It was a shame to dart off; in better climes we could've stayed much, much longer. I suppose it's a good excuse to return though, not that we need an excuse! Hot Wings happily awarded to this superb team. Thank you, Teresa, for inviting us along.

To book your table just give the team a call on 01433 650253. Oh, and if you book the Festive menu Monday-Friday, Noon-5pm then you can snag yourselves a 10% discount on the price; cher-ching!!.
Some form of incentive was provided to visit this venue
read more