Sunday Lunch At Fairways At Chevin Golf Club, Duffield
---
Published On Sunday 28 Nov 2021 by Sticky Beak
See Recent Dining Out Reviews | See All Recent Reviews


The Man Bird and I were lucky enough to be invited to sample the evening a la carte menu at Chevin Golf Club recently, so we were thrilled to be asked back to try the Sunday Dinner Menu. Given that weekends are family time for our flock, we asked if Mummy Bird could come with us and Holly said that that was no problem at all.
Fairways serve their Sunday Roast from Noon up until 5pm and when we rocked up at 2pm there were plenty of diners already tucking into some seriously good smelling grub, including a large family group that included children. I always love to see families dining together; personally, I think it's important for children to be comfortable eating in more formal settings than at home as it teaches them valuable social skills.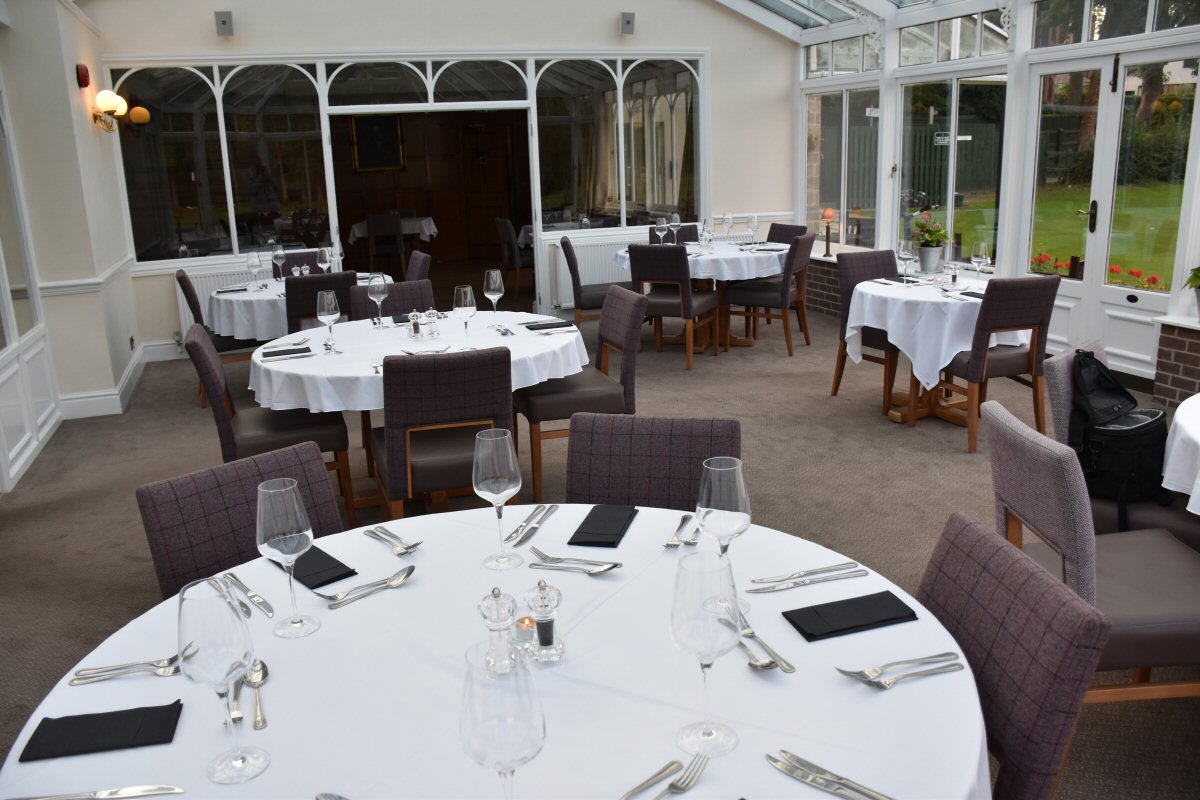 Out on the green there were plenty of golfers taking advantage of the dry conditions to partake in a hole or two – no doubt either working up an appetite for later or looking forward to a tipple at the '19th hole' aka the clubhouse bar! The ever-gorgeous Holly took us over to our table and then Charlie took our drinks orders whilst we looked at the menu choices. FYI, if you indulge in 3 courses you get a most welcome 10% discount on your bill, which isn't to be sniffed at, is it?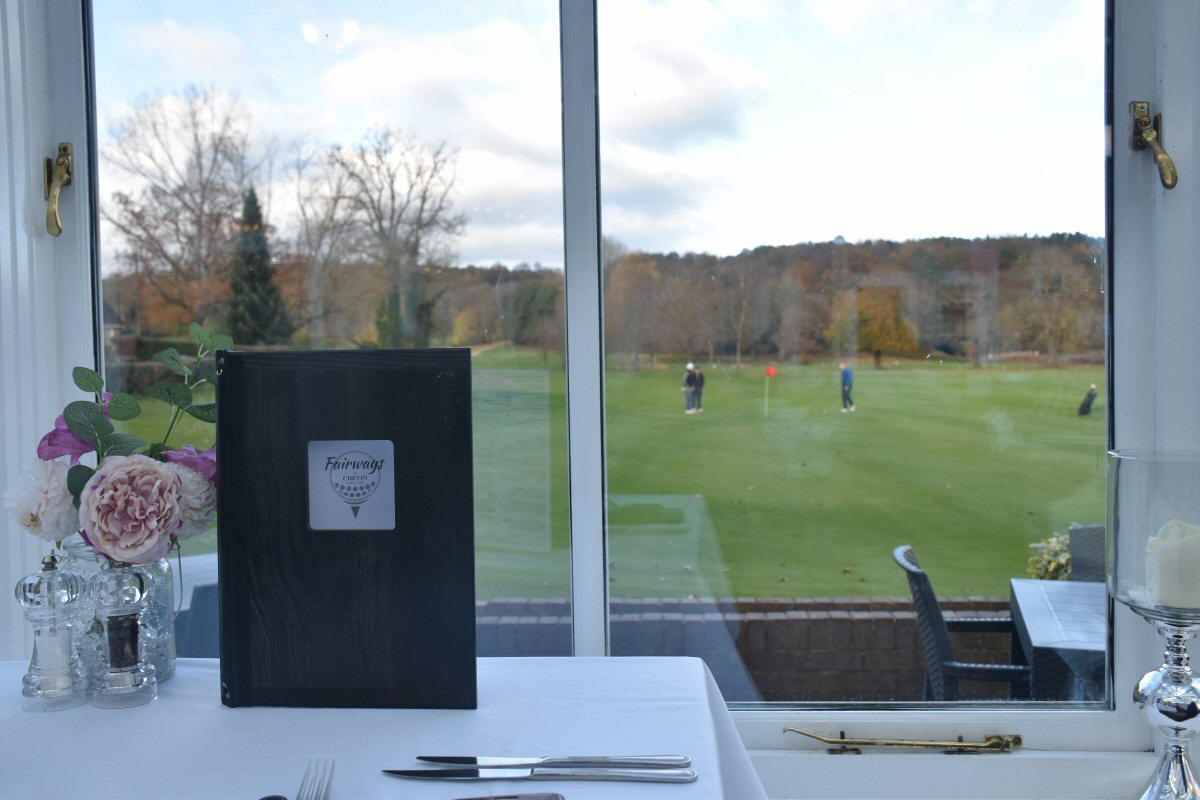 There was a bit of deliberation as to whether we could manage all 3 courses and, if not, which course would we sacrifice? The consensus was to forego starters and concentrate our efforts on mains and puddings, tempting though the starters were. I decided to have the slow cooked, Minted Lamb Shank with Chive Mash and Tenderstem Broccoli (£15.95), Mummy Bird went for the Salmon with Minted New Potatoes and Asparagus (£14.95) and His Nibs chose the trio of meats option – Lamb, Sirloin Beef and Pork,£18.95 – as he was ravenous!

Charlie was returning with our drinks at this point, so he took our food order, smiling as we ordered extra portions of Cauliflower Cheese and Mange Tout and Green Beans with Toasted Hazelnuts, both priced at £2.50 for individual portions or £3.50 for table-sized portions. I am just going to re-iterate the fact that you don't have to be a member of the Golf Club to dine at Fairways, whatever the day of the week or time of day. Having had it myself, I can 100% recommend the evening a la carte menu, available Thursday-Saturday; this changes seasonally, and Chef Tom has some dazzling dishes on offer!!




Anyway, back to the meal at hand. I couldn't help but giggle as I saw Mummy Birds' face when the massive piece of Salmon was placed before her; she was definitely going to have her work cut out with this minx! Mind you, my own Lamb Shank wasn't exactly a tiddler in the size stakes, and His Nibs' meat feast certainly wasn't! Those with hearty appetites will LOVE this monster meal.

The Salmon fillet had a beautiful herb crust and pea shoots adorning its rose-toned flesh, and Chef had crisped the skin to perfection. So good was that first bite, Mummy decided not to squeeze the fresh Lemon wedge over it as she declared the Salmon to be 'just perfect, and not needing any addition to it'. The flesh was moist and sweet and very, very moreish – just as well it was a generous size then! Mummy Bird said the New Potatoes had a gentle sweet nuttiness to them and they yielded easily to the bite, and she loved the tender spears of Asparagus too. Chef had also made a white, herbed sauce to accompany the Salmon and this was indulgently smooth and creamy in the mouth, but didn't detract from the other delicate flavours on the plate.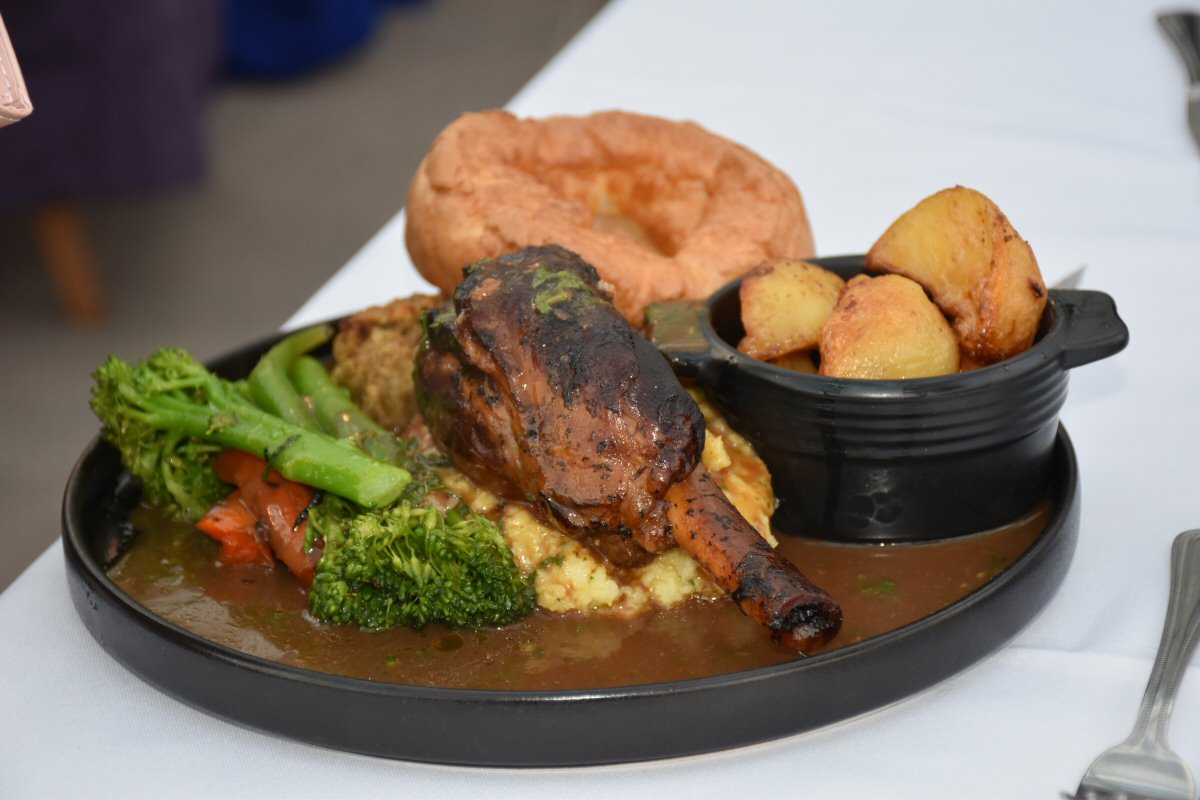 My Minted Lamb Shank was utterly glorious with a tenderness that saw it melt instantly on my tongue. Equally superb was its depth of flavour; there was a richness that lingered and a sweetness that mesmerised – it really was stunning. I'm a sucker for having mint sauce with a bit of 'Larry' and the one at Fairways was the best I think I've had (other than Mummy Birds', obvs!); it was macerated fresh mint, so the flavour was as good as you're going to get, and the sharp vinegar added a zing on the palate as it brought out the herbs' clear taste.

Chef Tom's Yorkshire puds are amazing too; they have a crisp golden top and a paler, softer (not soggy!) base, but it's the taste of them that really gets you excited – they're not floury, bland morsels in the slightest. The perfect sphere of stuffing was punchier than most I've had, which I was more than happy to taste because I think that stuffing should play a central part in any self-respecting roast dinner. Back at the nest, I regularly pimp up the mash, so I was very happy with the Chive variety that Chef Tom served up, and relished the gently oniony note at its periphery. Roasties are also a cornerstone of a Sunday lunch and the ones at Fairways are bob-on with their ultra-crisp outers and pillowy inners. I liked how they were housed in a separate little pot too so that they weren't at risk of getting softened by the gravy; this is a small touch that makes a massive difference, and one that sorts the wheat from the chaff, as they say.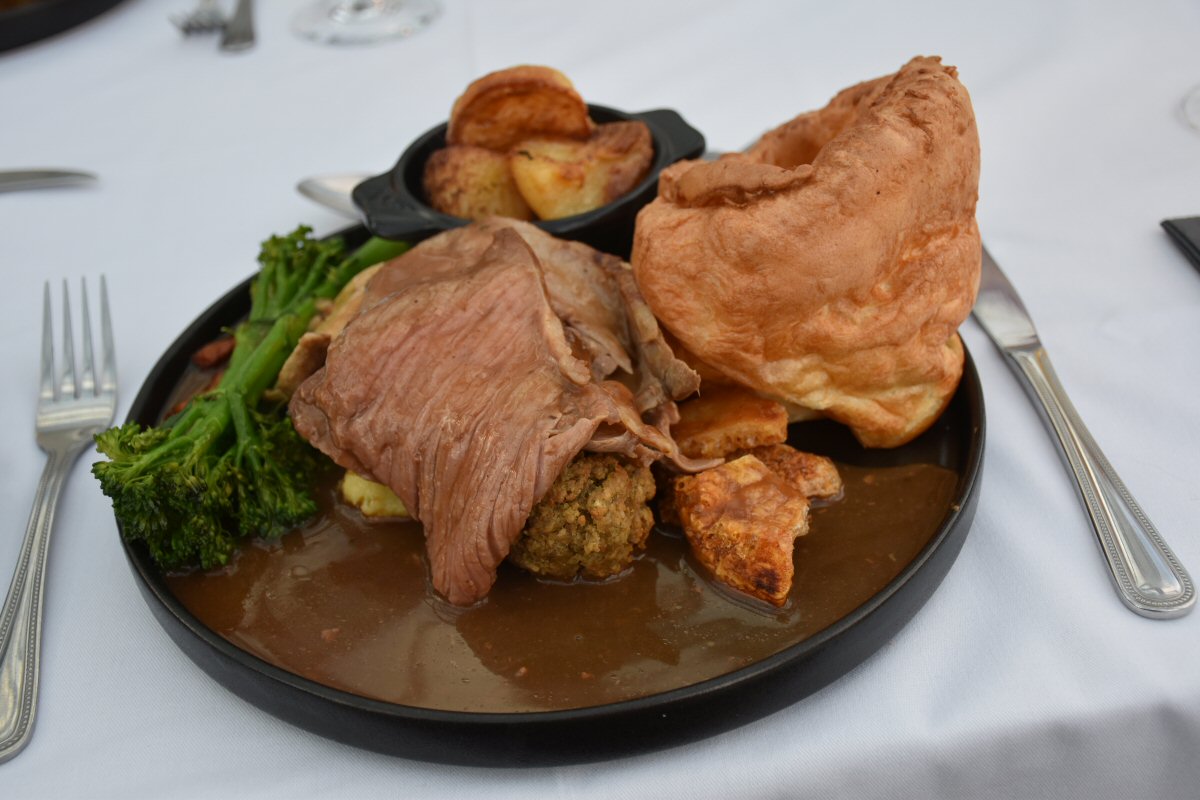 As a huge fan of Carrots since being a little chick myself, I was very impressed with the sweet glazed vegetable on my plate: it was comfortingly squishy from being slowly and lovingly roasted in the oven and its flavour was brilliantly intensified during the process. In contrast to the soft, sweet Carrot was the nicely crunchy stalks of Tenderstem Broccoli whose more savoury taste was also clear in the mouth. I have to mention the Red Wine Gravy that the roast dinners come with: this is the stuff of dreams, let me tell you, with its pleasingly thicker texture that lets it cling to anything it touches and gorgeous, rich flavour. All too often, gravy is treated as the poor relation but a great version can enhance the meal it's paired with, which is exactly what it did here.




The Man Bird was in heaven with his trio of meats, all of which were sliced thickly and placed one on top of the other, so you got a lovely surprise as you got to each successive morsel. The Sirloin beef was pale blush in the middle and its fibres were wonderfully soft so they just melted on the tongue, leaving their sweet taste as they did so. For some bizarre reason, The Man doesn't like crackling (I know, weirdo, right?!) so I was the grateful, eager recipient of it and it was wickedly crunchy, making a clearly audible sound across the table as I bit into it. I think there is a perception that crackling is greasy, but the whole point is to render the skin and fat down to a level that it is thin and crisp; if done with patience and skill the result is stonkingly good and yet again Chef scored top marks. The Pork itself was deliciously mild and creamy as well as being moist; again there can be a prejudice that Pork is a dry meat, which is completely false if it's cooked properly.




It's no secret that I adore Cauliflower Cheese and I almost cried with happiness when I had the first mouthful of Chef Tom's interpretation at Fairways restaurant! For a kick-off the florets were lovely and large, and cooked absolutely bang on the money, but it was the plentiful white, cheese-pimped sauce that stole the show. This sauce was gloriously unctuous and grabbed each piece of vegetable like a determined toddler so that it ended up in your mouth rather than on the table – there's nothing more soul destroying than watching a miserably thin sauce drip off your cutlery, is there?




Just as delicious were the Rosemary oil bathed Mange Tout and Green Beans; both veg were pleasingly firm and bouncily bright in the mouth, with a nutty crunch provided by the toasted Hazelnuts. I was surprised by how enthusiastically The Man Bird was eating them, which just goes to show how yummy they were!
Charlie and his team members had been keeping a close eye on our progress, checking that everything was to our liking, and they smoothly cleared away our clean plates in readiness for our desserts. For our second course, Chef Tom had got something up his sleeve that he was keen for us to try: his 'mini Magnums', his homage to Walls' iconic ice creams. My philosophy is to never argue with a Chef, so we ordered those, as well as the Coconut Bavois and Strawberry shaped Mousse – all desserts are priced £6.50.

There is no questioning Tom's attention to detail: the 'Strawberry' had dinky Poppy seeds representing the seeds that pepper the natural fruits' outer surface, and the colour was that of peak-ripe Strawbs. Inside was a beautifully light, rosy toned mousse that had the most sublime taste to it, not at all fake and cloying. A buttery shortbread case provided a platform for this magnificent morsel to sit in and we all smiled in delight as we bit into it.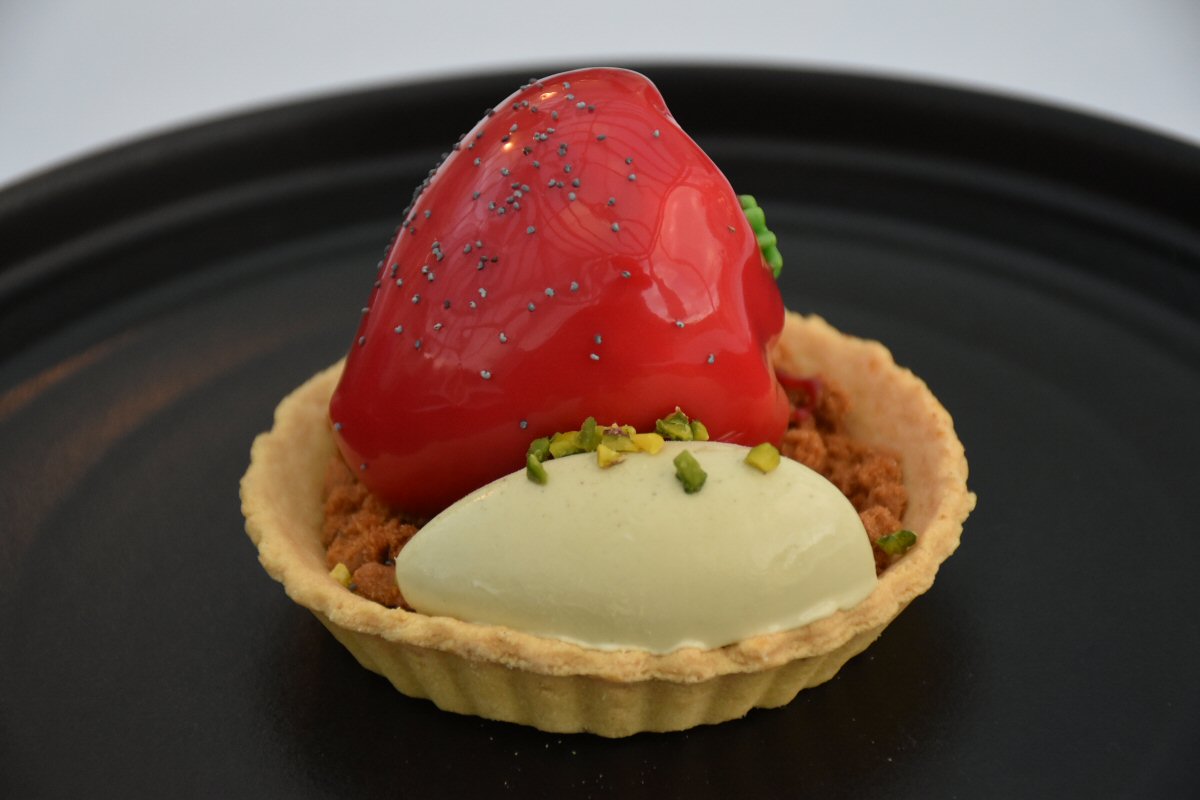 The Coconut Bavois was equally strong in its visual appeal with the pale Bavois contrasting with the dark chocolate half shell that housed it and the golden tones of the Coconut cake and crumb that they both sat upon. We all commented on the superb contrasts within this dessert: the smooth Bavois, the crunchy crumb and cake, and the coolness of the boisterous Malibu Granita.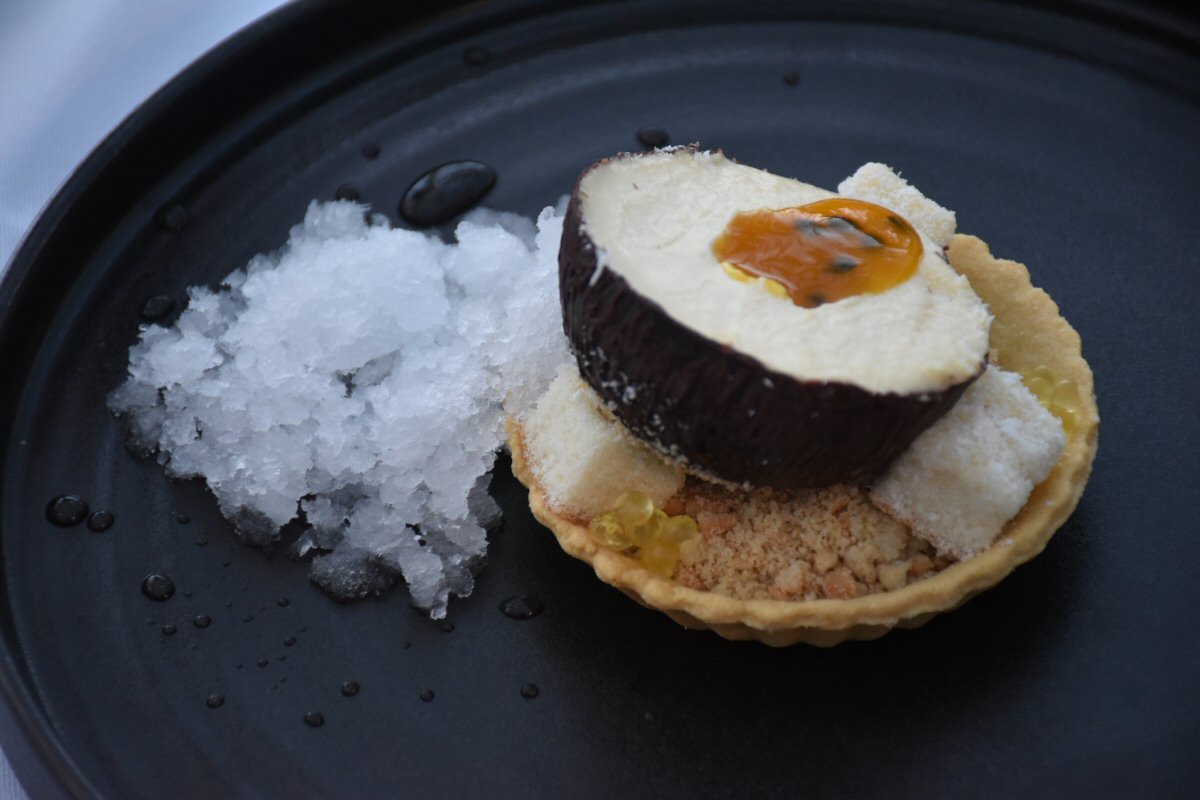 Our final temptation was the quartet of mini magnums, all decorated in varying patterns of white and dark chocolate and filled with Raspberry, Coconut, Berry or Pistachio Ice Creams. A reverential hush descended over our table as we gave Tom's creations our full attention. Without exception, there was a satisfying 'crack' as our teeth broke through the chocolate shell and we eagerly rounded up any stray shards that tried to escape us. Each lolly's flavour was true to its description and it wasn't long before all evidence of their existence was erased in the vaults of our greedy bellies!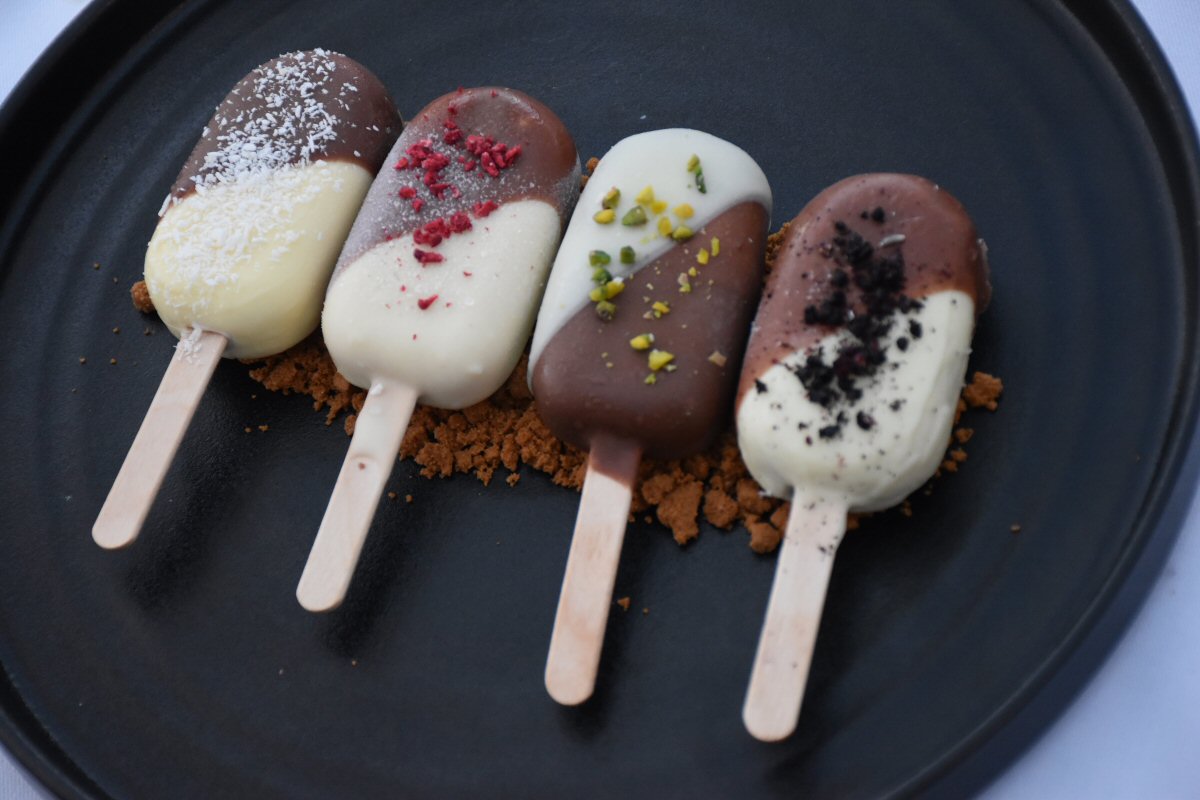 Chefs are notoriously shy when it comes to meeting their guests and Tom was no exception, only coming out because Holly was eager for us to put a face to the dishes, so to speak. Ladies, this young man is not only scorchingly talented in the kitchen, he's hotter than a proverbial hot-plate!! I am known for my lack of restraint sometimes and, before I had time to engage my brain-to-mouth filter, I'd blurted out "are you married... just asking for a friend?"! Honestly, I don't know who wanted the ground to open up and swallow them more: me, Tom or my long-suffering hubby!

The important fact here though is that Tom is a very talented young Chef and is a star to watch out for in the future, so how lucky are we to have him at a local Derbyshire venue? Go ahead and find out how tasty his gastro creations are for yourselves by booking a table at Fairways restaurant at Chevin Golf Club in Duffield – remember, you DON'T HAVE TO BE A MEMBER OF THE CLUB TO DINE!!! Hot Wings happily awarded to this super-friendly Duffield team. Thank you Holly for inviting us back, and thank you Chef for producing such wondrous meals!
Some form of incentive was provided to visit this venue
read more
Read Some Of Our Recent Reviews
---

Lunch At The Recently Opened Chatsworth Kitchen At Peak Village, Rowsley Everyone who knows me, knows I love Chatsworth (always have, always will) so when the invitation to sample lunch at the newly opened Chatsworth Kitchen Read The Article

---

A Visit To Vietnamese Street Kitchen, Resorts World, Birmingham Way back in the day (pre-covid) Fledge had bought me and The Man Bird tickets to see Mrs Browns Boys live and finally, after a couple of false start reschedules, the day of Read The Article

---

Sunday Lunch, A Museum Tour & Painting A Piece Of Denby At Denby Pottery Village It wasn't long ago that His Nibs and I visited the Denby Pottery Village to sample the Afternoon Tea at Bourne's Coffee Shop and Bistro (it was superb Read The Article

---

Bottomless Brunch At Turtle Bay In Derby The timing of the invitation from the Turtle Bay team in Derby to go and sample their Bottomless Brunch couldn't have been better; not only was it going to be The Man Birds' birthday a couple of days later Read The Article

---

Afternoon Tea At Santo's Higham Farm Hotel & Restaurant Aaaaaarggggh, don't you love your children??!! A while back, His Nibs had spotted a great deal on Groupon (you know what a bargain hound he is!) and thought it would be Read The Article

---

Sunday Lunch At The Countryman Pub & Dining, Kirkby-in-Ashfield We finally got to visit a venue thats been on our radar for quite a while, The Countryman Pub and Dining in Kirkby-In-Ashfield! A few weeks ago we tried to book a table for dinner Read The Article

---

Dinner At The Divan Turkish Restaurant In Chesterfield Chesterfield was welcoming us back again for our latest review visit; this time to the newly opened Turkish restaurant, The Divan, on Lordsmill Street. Owner Tuncay (along with Read The Article

---

Breakfast At Marsh Green Farm Shop & Cafe, Kelstedge Ah, you've gotta love a Bank Holiday curve-ball, haven't you? His Nibs and I headed over to Mummy Birds' gaff with the intention of having a leisurely couple of hours at the Sunday Read The Article

---

Afternoon Tea at Bourne's Coffee Shop and Bistro, Denby Pottery Village You all know that The Man Bird and I do like an Afternoon Tea; I mean, who doesn't?! Just a few miles down the road from the nest is Denby, home to the world-renowned Read The Article

---

All You Can Eat At The River Garden Cantonese Restaurant In Belper As is the seemingly never-ending pattern of our weekends at the moment, The Man Bird and I had been busy gardening/re-seeding/pruning/digging, so when it came to sorting Read The Article

---