Burgers And Cocktails At The Blind Rabbit, Nottingham
---
Published On Sunday 21 Nov 2021 by Sticky Beak
See Recent Dining Out Reviews | See All Recent Reviews


If you're a dickhead, stop reading this now; and if you can't read this, stop drinking! Confused? Well head over to The Blind Rabbit's web site and read their 'house rules', and all will become clear. Nottingham welcomed another new venue in August 2021, but this one has a seriously different vibe to its city peers. For one, it channels a distinctly Yankee vibe and secondly, it takes no prisoners!
From the pavement The Blind Rabbit looks like any other old, distinctive building in historic Nottingham, but step inside and you could be in a downtown New York bar. The lower-than-usual level of lighting takes a couple of seconds to get used to, but it instantly relaxes you and cossets you in its warmth – a bit like the staff, who greeted The Man Bird and I like old friends. Dark wood floors and tables add even more atmosphere, with coloured glass shades casting soft hues around the space and over the tables.
We were shown to one of the booth tables and informed to go to the (mahooooooosive!!) bar to place our order when we'd decided what we fancied. Whilst we perused the menu we rocked along to the fab soundtrack playing in the background, a real mix of soft rock and pop; think The Boss, Fleetwood Mac, Red Hot Chilli Peppers etc. His Nibs is even nebbier than me (a shock to hear, I'm sure!) and couldn't resist going upstairs to the Club House which is where the large screens are located for those who want to watch any sports fixtures.
The Blind Rabbit team are clearly of the opinion that it's better to do a few things well than a lot of them in a mediocre fashion, so the menu isn't the widest ranging you'll find. Saying that, although there are only Burgers, Fries, Wings and Sides to choose from - no Desserts (other than a shake, but more of that later) – each section of the menu has plenty of options; for example, there are 11 burgers alone to choose from! I loved the fact that all the burgers come with a choice of fries and a sauce included in the price; keep it simple to win me over.




Another thing The Blind Rabbit do stonkingly well is Cocktails; if you can't find something to pop your cherry, there's summat up with you. Either that or you're dead. The biggest problem is narrowing it down to which temptation you fancy: being frankly honest, I could've pitched up, stayed all night and drunk my way through the list!! Eventually I settled on the 'Little Italy' number (£9.45), a Gin-base minx accompanied by Limoncello, Elderflower, Lemon, Apple and Soda which was as deliciously fruity and refreshing as it sounds. The Man Bird opted for the 'Stewed, Screwed and Tattooed' cocktail, priced at £8.95, which is a blend of Dark and Spiced Rums, Honey, Lime, and Ginger Beer, and comes with a rub-on, transfer Tattoo. So, you're wondering, did the drink live up to expectations? Well, he got 'tattooed', and it was certainly strong enough to get you 'stewed' after a couple of them; did he get screwed? I couldn't possibly say – a lady doesn't kiss and tell!! Cocktail aficionados will be stoked to hear that The Blind Rabbit do Happy Hour, 2-4-£9.95 cocktails Monday-Thursday, Noon-7pm and 10pm-Midnight.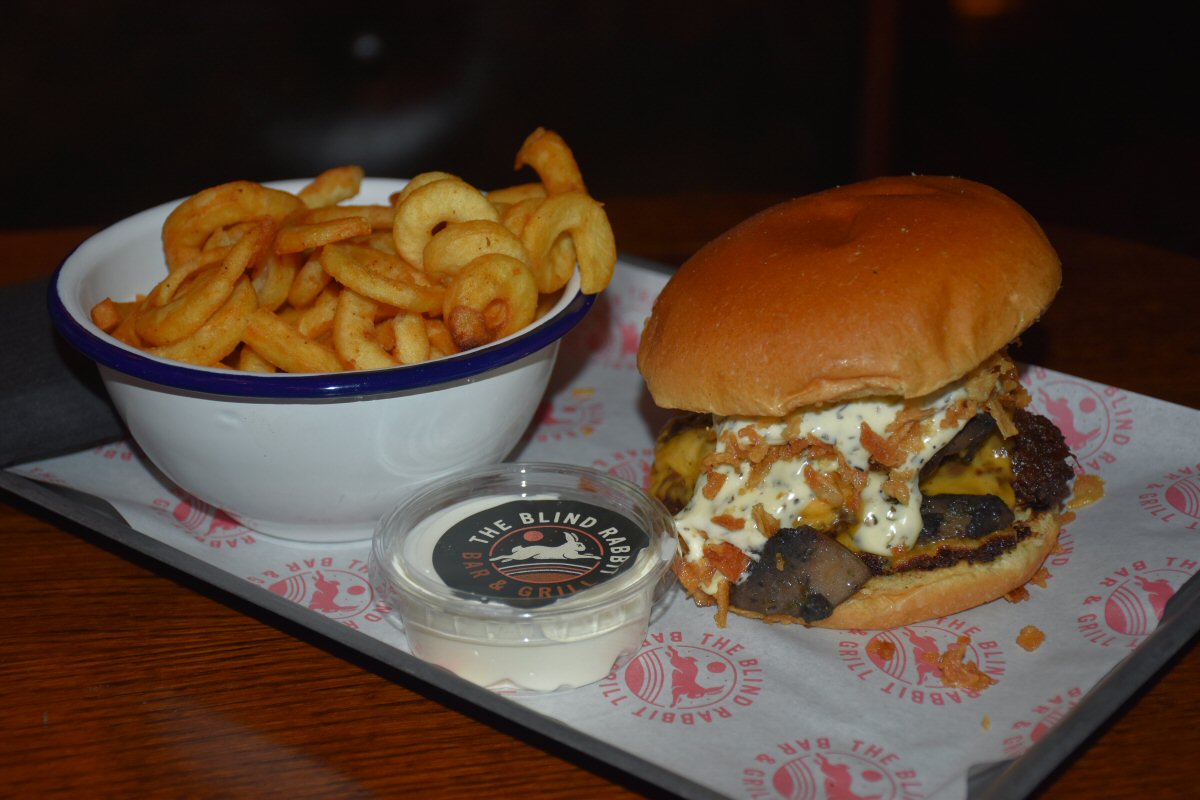 My Burger of choice was the 'Ross From Friends' (£11.95;double Beef Patty, Cheese, Garlic Mushrooms, Blue Cheese, Crispy Onions, and Herby Garlic Mayo) and His Nibs went for the house signature offering, 'The Blind Rabbit' (£13.95; double Beef Patty, Cheese, Special sauce, Bacon, Crispy Onions, Pickles, Jalapenos, Onion Rings and Chorizo). To go with our burgers we chose curly fries (me), skinny fries (him) although you can also select Lattice ones if you prefer those, and I had Sour Cream, whilst The Man had his beloved Chipotle sauce; Buffalo, Frank's Hot Sauce, House BBQ, Vegan Mayo, Salsa or Signature Burger Sauce are also available.




If you're a dainty eater or have OCD neat-freak tendencies, then the burgers will spin you out! These weighty beasts are lusciously juicy, flavour packed, and will have you licking your fingers repeatedly and scooping up wayward bits from your plate all the time.

His Nibs commented that The Blind Rabbit burger was most definitely a fully-loaded morsel – no squishing this bunny down before it disappeared into his gastro hole! In tandem with the full flavoured ground beef were thick slices of proper farmhouse Bacon, so this was a protein packed burger that had a very satisfying 'chew time' in the mouth. There was a nice textural element to savour from the Crispy Onions and the Onion Rings, as well as plenty of tang from the Jalapenos, Special sauce and Pickles. Chorizo added a fab smokiness on the palate which was picked up by the Chipotle sauce that His Nibs had chosen to go with his meal.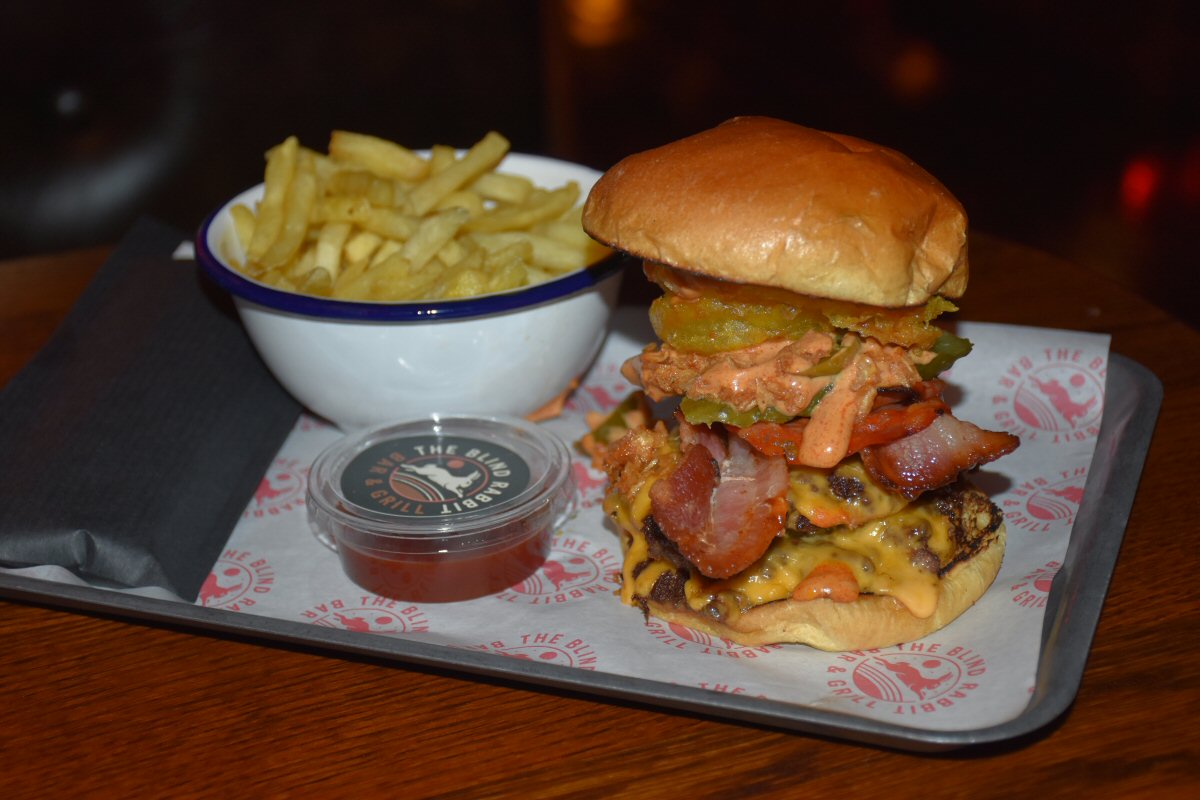 Just like its namesake, my burger was every bit as good-looking and characterful as Ross from Friends – though thankfully there were no glow-in-the-dark bits to it! The cheeses were both gooey enough to have me scooping rogue bits up and licking my fingers, and the distinctive taste of the Blue cheese came through gently enough that even if you're not a fan, it won't put you off. I liked the subtle crunch of the crispy Onions too, and there really was nothing not to love about this stunning burger.

I'm not gonna lie though, this isn't food that you can scoff down in a hurry – unless you want a bout of indigestion later. If it's a lighter bite you're after then you'd be better served by opting for some loaded fries or Nachos, or even some chicken wings (vegan 'wings' are available too). There are some options on the 'sides' menu too that would be suitable for grazing, such as Lots of Tots ('Tater Tots) or Mac n Cheese.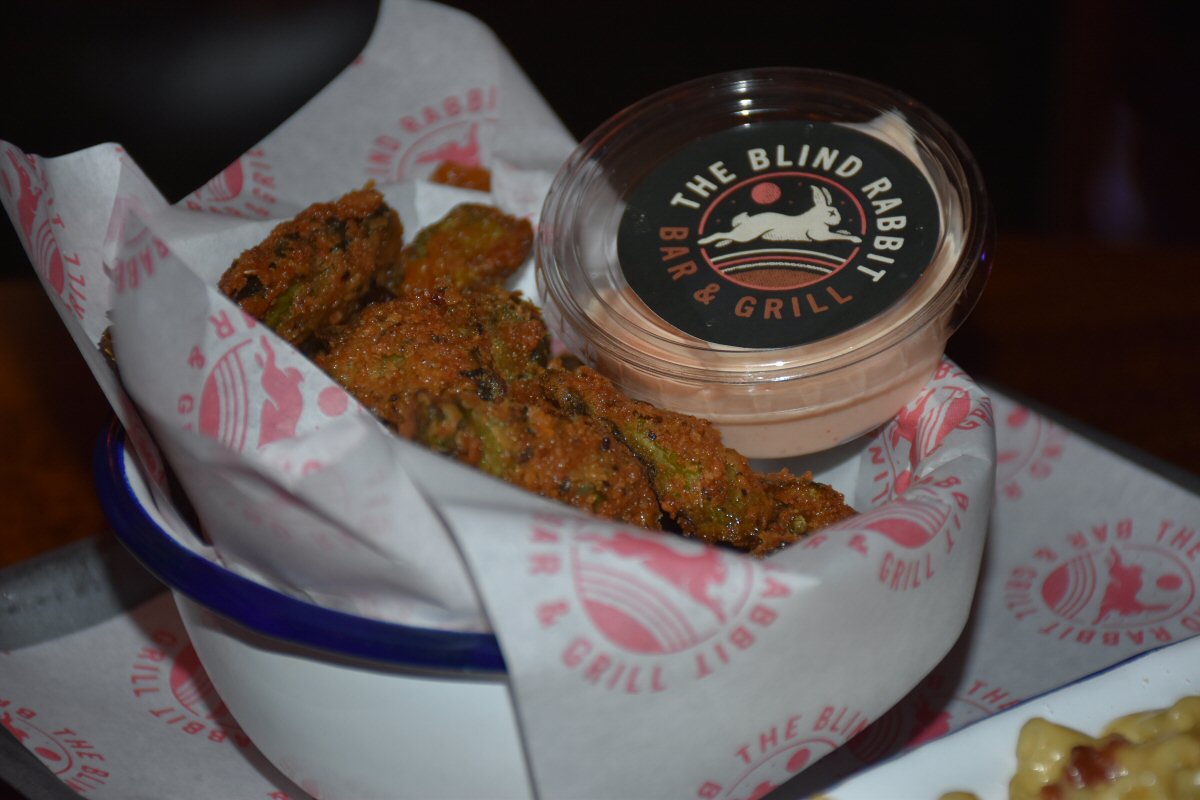 The Man Bird and I chose Frickles, £4.50 (Fried Pickles – yum, yum!!) and Mac N Cheese, £5.50, as our side dish choices and (much to my fury!) The Man Bird declared that he quite liked them. No, no, no – is nothing sacred anymore??! He wasn't wrong though, the Frickles were frikking delish; sliced, rather than halved or whole, they were super-crunchy on the outside with their light batter coats (not at all greasy) with their natural sourness providing a great balance. Spicy, fiery Sriracha Mayo added a healthy dose of zhuzh in the mouth, keeping the taste stakes high.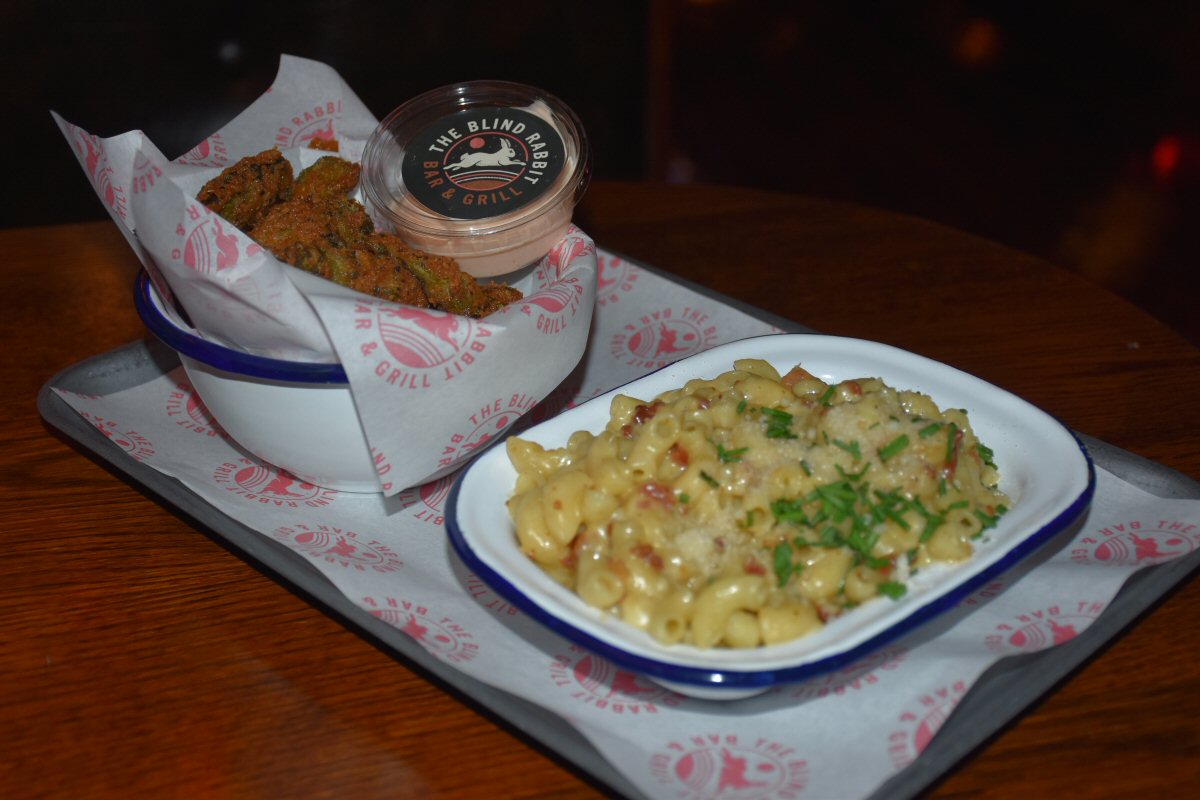 Fans of Mac N Cheese will totally get my enthusiasm for those wondrous 'strings' that appear when you plunge the fork into the belly of the dish and the pale yellow strands desperately try to cling to their pasta-mama. Our forks were twirling like whirling dervishes as we attempted to rein the cheese threads in and into our mouths, and it's testament to our determination and gluttony that we succeeded. The best feature was that the sauce wasn't particularly 'wet' so it didn't drip everywhere as we frantically dug into it, although the pasta had also been cooked spot-on so that it had a hint of bite to it and no sogginess whatsoever. Yes, Chef! Crunchy, crispy Bacon pieces added some texture and a splash of fresh herbs gave a nice pop of colour, as well as providing a brightness on the palate.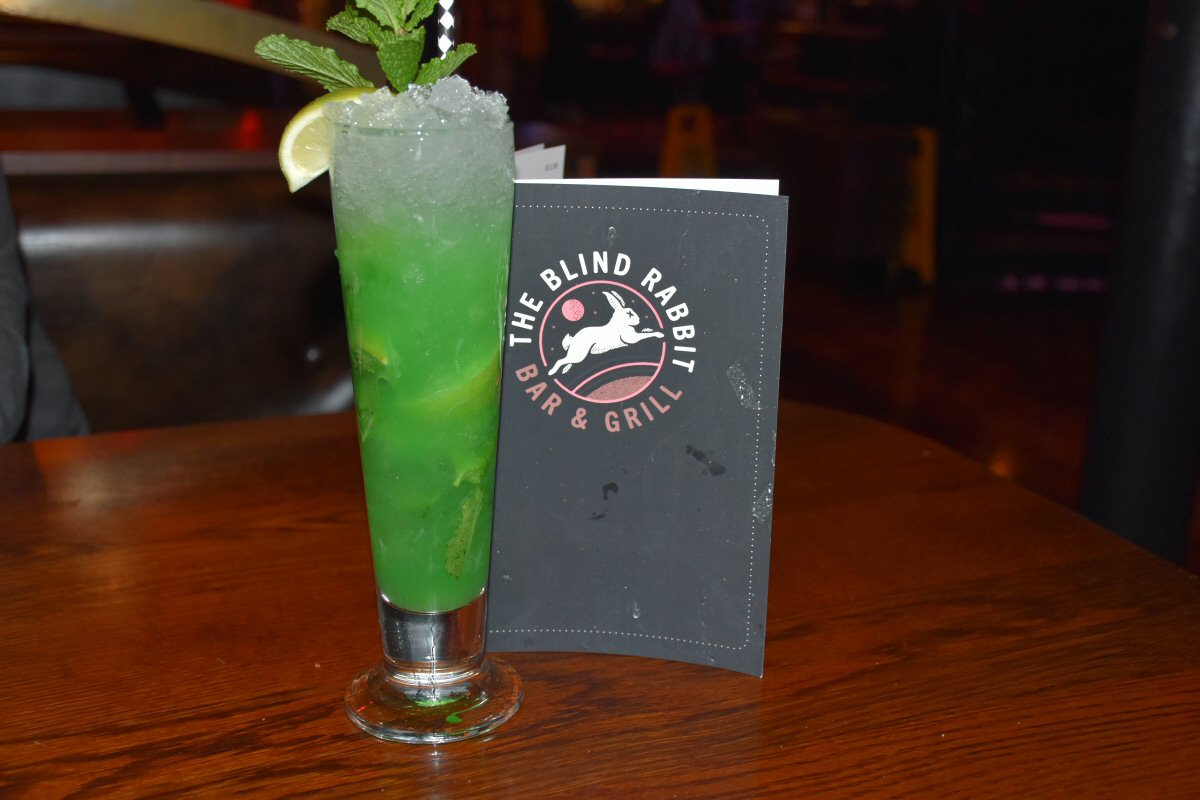 It won't surprise you when I say that both our bellies were fully stuffed, but I couldn't resist the lure of the Reese's Peanut Butter shake (£5.95) that you can also pimp up with alcohol for an extra £3 – which I did, whilst His Nibs settled for a 'Nojito' (£4.25) seeing as he was the designated driver. Needless to say, if you don't like Peanuts, don't have the shake; personally, I love 'em, so this was liquid heaven in my opinion – made even better by the whole Reese's PB cup on top! The Man Bird said he was pleasantly surprised by the Nojito; other than it being a bit sweeter than its Rum containing cousin, there was no difference to a Mojito: the Lime zip and Minty freshness were still there to be enjoyed.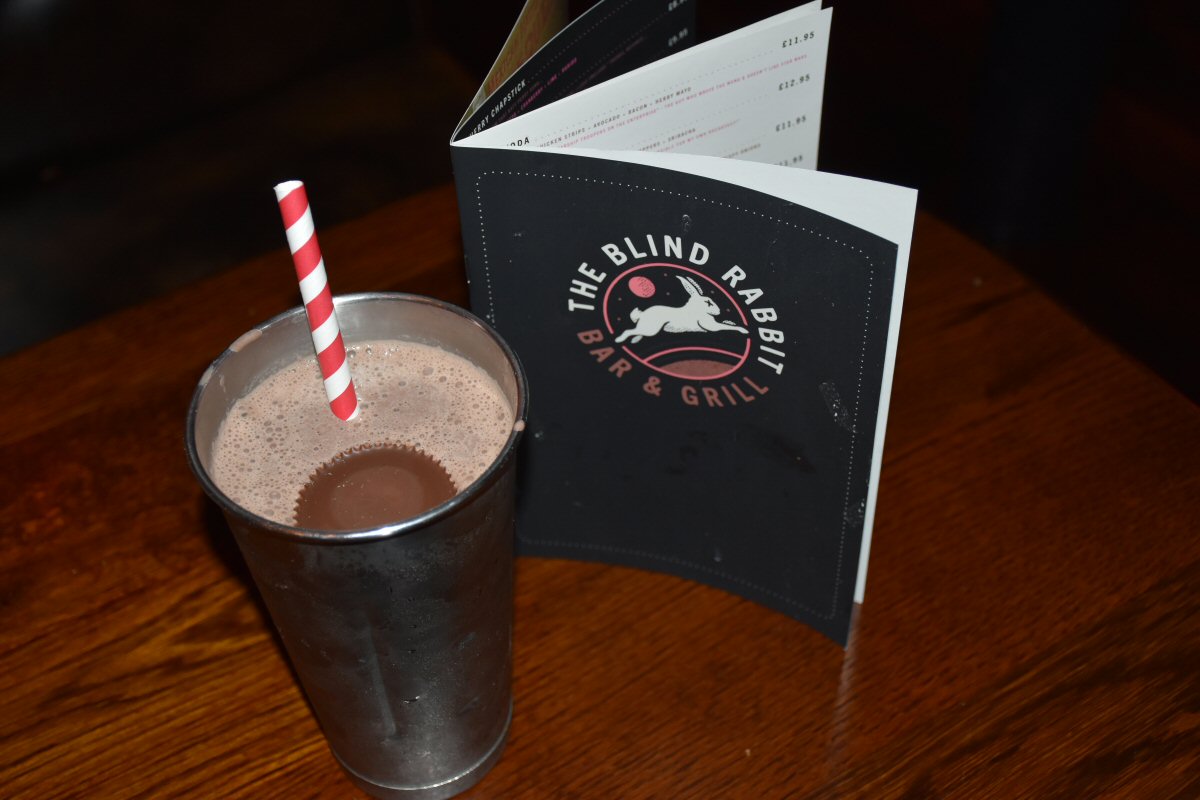 Throughout our time at The Blind Rabbit, the team were all superb, with no exceptions. Any time we needed something there was someone there, and there were plenty of staff on the floor just waiting to help other diners out if needs be without being oppressive. We were asked if we were enjoying our food and crockery was cleared away when used so that the table was kept clean and tidy for us. When something's this good, it seems a shame for all the family not to be able to share in it, but luckily The Blind Rabbit team are Child- and Dog-friendly – as long as they're well behaved and leashed (the dogs, obvs, not the ferals!).Honestly, this was one of those venues that had been a real joy to experience and I'm very happy to award Hot Wings to this superb team.
Some form of incentive was provided to visit this venue
read more