Out For Dinner At The Devonshire Arms, Pilsley
---
Published On Sunday 7 Nov 2021 by Sticky Beak
See Recent Dining Out Reviews | See All Recent Reviews


People that know me know that I absolutely love all things Chatsworth, and I don't hide the fact! Imagine how happy I was, then, to receive an invitation from The Devonshire Arms at Pilsley's Chef, Adam Thackeray, asking if His Nibs and I would like to sample some of the seasonal dishes he has on offer. You bet we would!!
It was a horrible wet and windy evening as we pulled into the car park, but we had to reverse out of it and park on the road due to there being no spaces; clearly other folk realise the allure of the Chatsworth estate, too. The dark dankness of the weather was soon disappearing from our minds as we spied the beautiful warm tones of the autumnal wreath hanging on the entrance door which was determined to set the tone within the Devonshire Arms.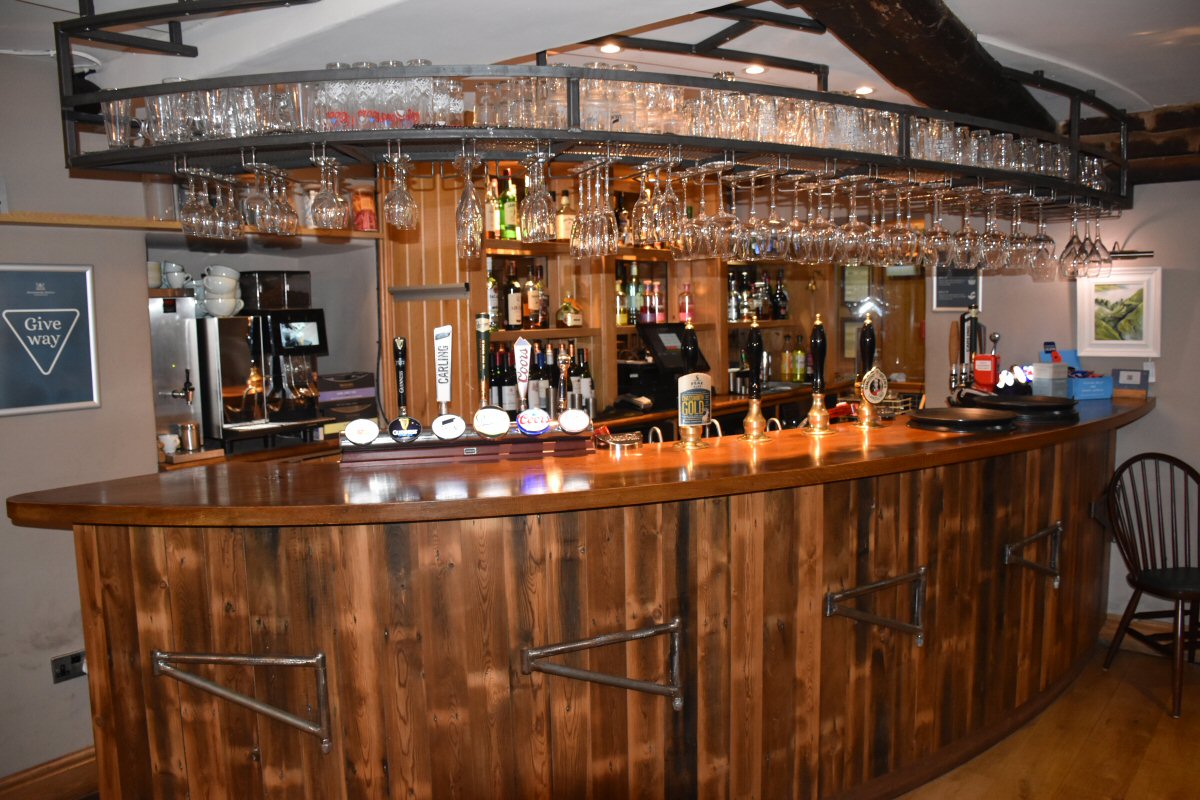 A friendly greeting from Holly (and the flames flickering to life in the log burner) dispelled any lingering chill in the bones and we were taken over to the table in the corner, right beside the burner - perfect. As you would expect from the Duke of Devonshire's estate, there was a superb wine selection to choose from and I deviated from my perennial favourite, Malbec, in favour of a Chilean Pinot Noir; The Man had a pint of Staropramen lager.




Even though it was early evening we were far from being the sole diners; many of the tables in this superb village Gastropub were already taken, and the smells in the space were intoxicating! It took me a while to realise the reason for an uncommonly large amount of children: it was half term break, so lots of families were taking the opportunity to visit this part of the country – and why wouldn't they want to see 'The Palace of the Peaks"?




As we perused the menu I took the time to appreciate the finer details of the venue. A couple of features that immediately took my eye were the Stag-printed wall paper near to the kitchen door, and the Missoni inspired fabric that covered the padded banquette. Another nice touch (Covid necessitated) was the Fern decorated screen that separated our table from the other one that shared the banquette seating with us; functional doesn't have to be frumpy.

One of the team brought out a freshly baked loaf of bread and some farmhouse butter for us to nibble on and asked if we were ready to order; we were.For starters I opted for the Goats Cheese Pannacotta with Walnut, Garden Beetroot and Pumpkin Seed (£8) and The Man went for Pork Belly with Cauliflower and Cockles (£9). Main course selections were Loin of Scottish Venison, Suet, Turnip and Redcurrant (my choice, £26) and Loin and Cheek of Derbyshire Beef with Celeriac, Pickled Onion, and Chips (£24.50). The bread was delicious; nice and malty, which paired brilliantly with the smooth, creamy butter and we took our time to savour it whilst waiting for our starters to arrive.




He's going to kill me, but it's too funny not to share. You all know that His Nibs doesn't do Mushrooms in any way, shape or form; to him they are devil's food a.k.a. 'slugs'. It follows therefore, in his logic, that you wouldn't name said Satan spawn, right? So when he spotted another starter dish of 'Hen of the Woods, Croissant, Basil', The Man asked me "is that a specific type of poultry?" I couldn't answer for laughing, and the couple at the next table tried to suppress a smirk, but I spotted it. When I finally got myself together, I explained that Hen of the Woods are a type of Mushroom that grow at the base of Oak trees; you should've seen his face – I don't know whether he wanted the ground to swallow him up, or gip at the thought of Mushrooms!




The starters were wonderfully presented to maximise their appeal, something which really got illustrated when we viewed the photos at home; His Nibs' starter hadn't looked the most photogenic morsel in-the-flesh, but the pictures proved otherwise! The thick piece of Pork belly was soft and tender to be cut into and equally lovely in the mouth with its creamy taste – it was the crisped Onion topping that really shone on the palate immediately though .Cockles were an unusual addition to this dish and one that worked really well with their meaty texture and mild flavour. Humble Cauliflower was transformed into something extraordinary by Chef; the intensity of the Cauliflower purée was sublime in the mouth, the simply cooked pieces were characteristically mild, then the thinly sliced vegetable was wickedly crunchy and tart.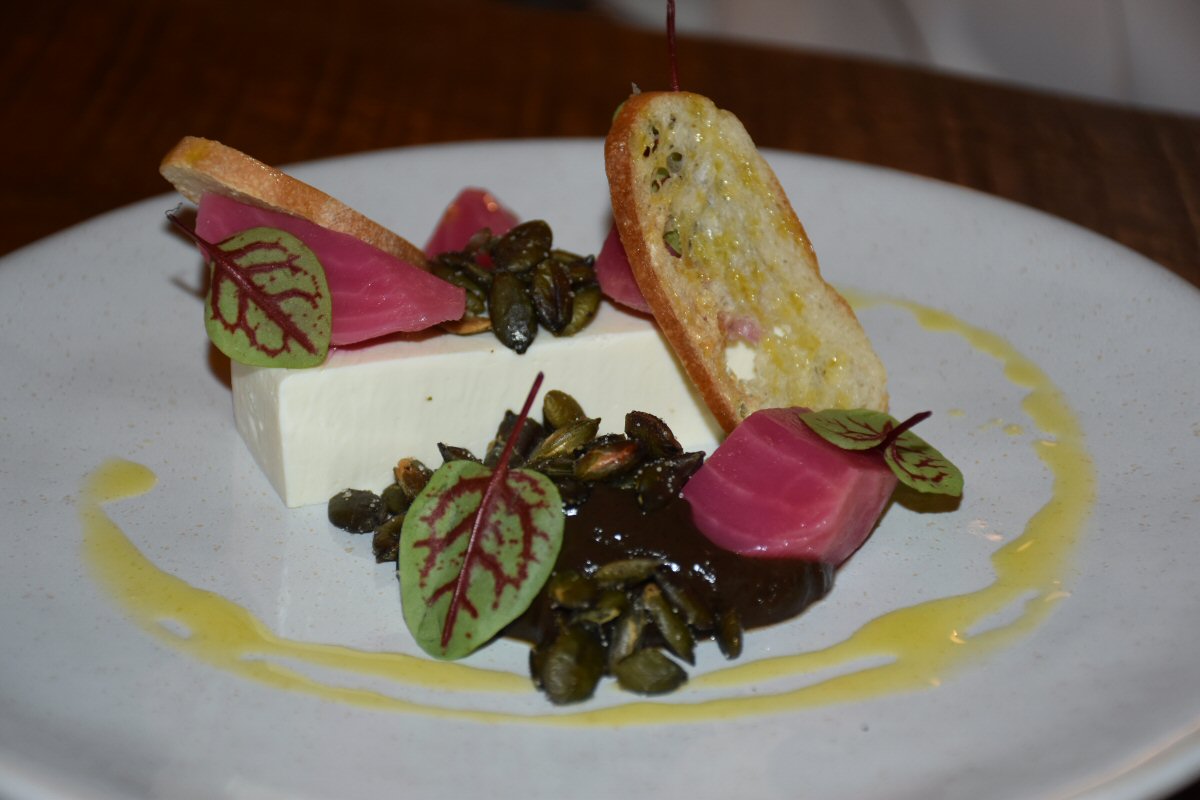 My Goats Cheese Pannacotta was stunning, and served as a slice rather than the usual round dome shape. I savoured the rich musky flavour that revealed a salty tang at its edge, pairing it with a smidge of the Walnut ketchup that has its own distinctive earthy zing. For a dose of visual appeal Chef had included the beautifully pink and cream marbled Beetroot, still firm and with a delicious pickled tartness on the tongue. Each quarter of the Beet had been artfully decorated with a micro-leaf. Crunch was also provided by the nutty tasting Pumpkin Seeds that had been lightly toasted to intensify their taste, and I thought that this was a superb seasonal starter.

Both of us were feeling nice and toasty by this stage, thanks to the brisk heat being generated by the log burner, and needed some water to cool us down. Holly was soon bringing over a large jug of iced, orange slice-pimped water and a couple of glasses; service is one of the things that you can be assured of at The Devonshire Arms in Pilsley, it really is second-to-none.

Before long, our main courses were being gently placed before us and after the obligatory photos were taken, we tucked in. A trio of lovely thick slices of Venison loin with flushed pink centres had pride-of-place on my platter and their wondrous, gamey flavour burst onto my palate as energetically as I imagine the deer itself once bounded over the landscape. More Venison had been shredded and incorporated into an individual suet pastry pie; the taste of both elements was delicious.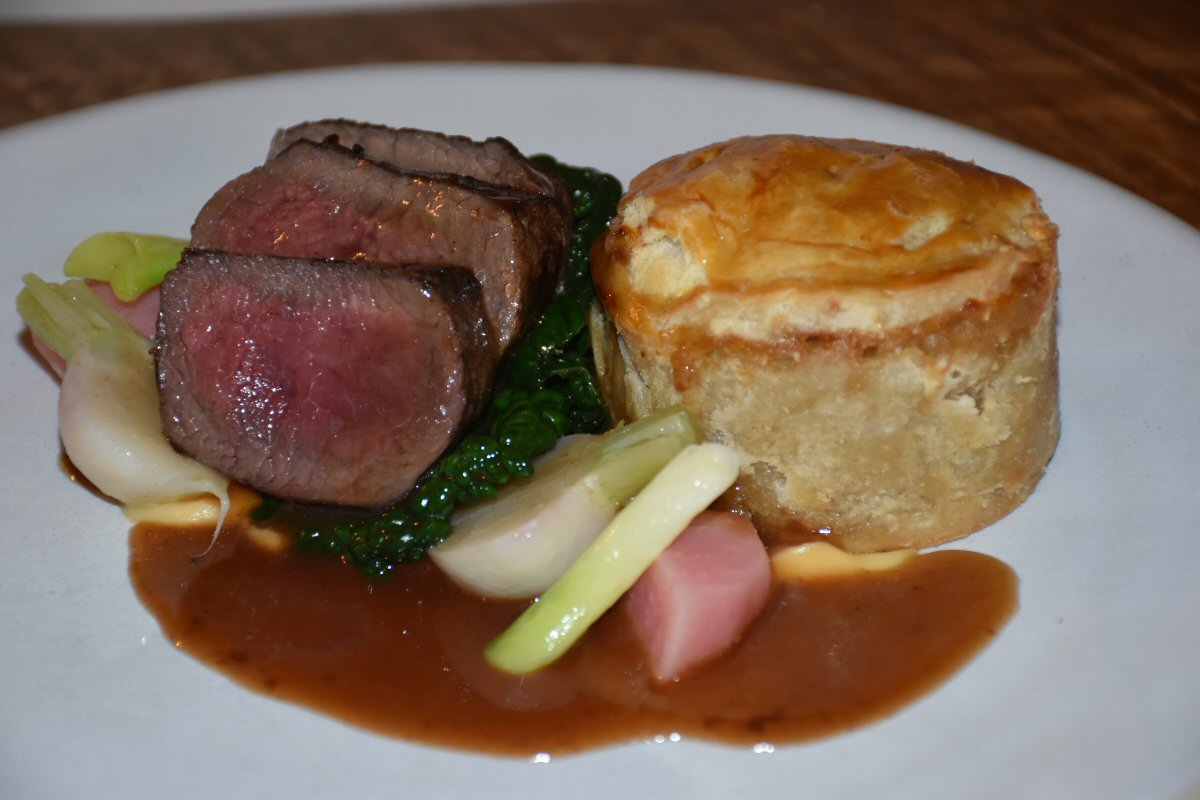 I remember my Nana making suet pies when I was a young chick and the flavour of Chef Adam's morsel took me right back there, to her kitchen with all its smells, bustle and heat. This pie was proper belly warming comfort food, the perfect counter to the chill and dampness outside, and could easily be a main course in its own right. Baby Turnips had been trimmed and halved and were perfectly cooked to retain some firmness and allow their delicate sweet, lightly peppery taste to come through. Turnips have received a bad rap over the years, which is a shame because if they're not over-cooked (which is what makes them bitter) and used whilst young and tender rather than old, stringy and tough, they are a superb vegetable to use over autumn and winter. Chef ramped up the complexity of taste combinations in this dish with his inclusion of Ruby-toned Redcurrants, whose tart, bouncy flavour contrasted against the earthy and sweet notes already in this dish. I also loved the way the currants' colour flashed against the deep verdancy of the Cabbage leaf that provided a base for everything on my plate. Even the jus was amazing; ridiculously moreish – good job we refused the offer of a second bread loaf earlier on, else I'd be dunking it in and asking for more jus!!




The Man Bird was happily munching away on his Derbyshire Beef, remarking how deep the Cheeks' flavour was, which was in marked contrast to its falling-apart tenderness.This cut was topped with gorgeous crispy onions that had a sigh-inducing, sweet smokiness to them. I sneaked a peek at the loin and thought to myself that my luck would be in as he progressed more and more towards the heart of its clearly rare centre. Turns out I was right, although I didn't get as much as I figured I would because it had been properly rested so that it wasn't oozing any juices (which is what His Nibs can't stomach).A subtle sheen of colour came via the swirled Celeriac purée whose Celery-esque, gently nutty taste scored well, and this was partnered with what I would call a Caramelised Onion 'putney': a hybrid between a purée and chutney. The flavour of the putney was somewhat more pronounced than the Celeriac and its sweet, treacly tones married well with the root vegetables' character.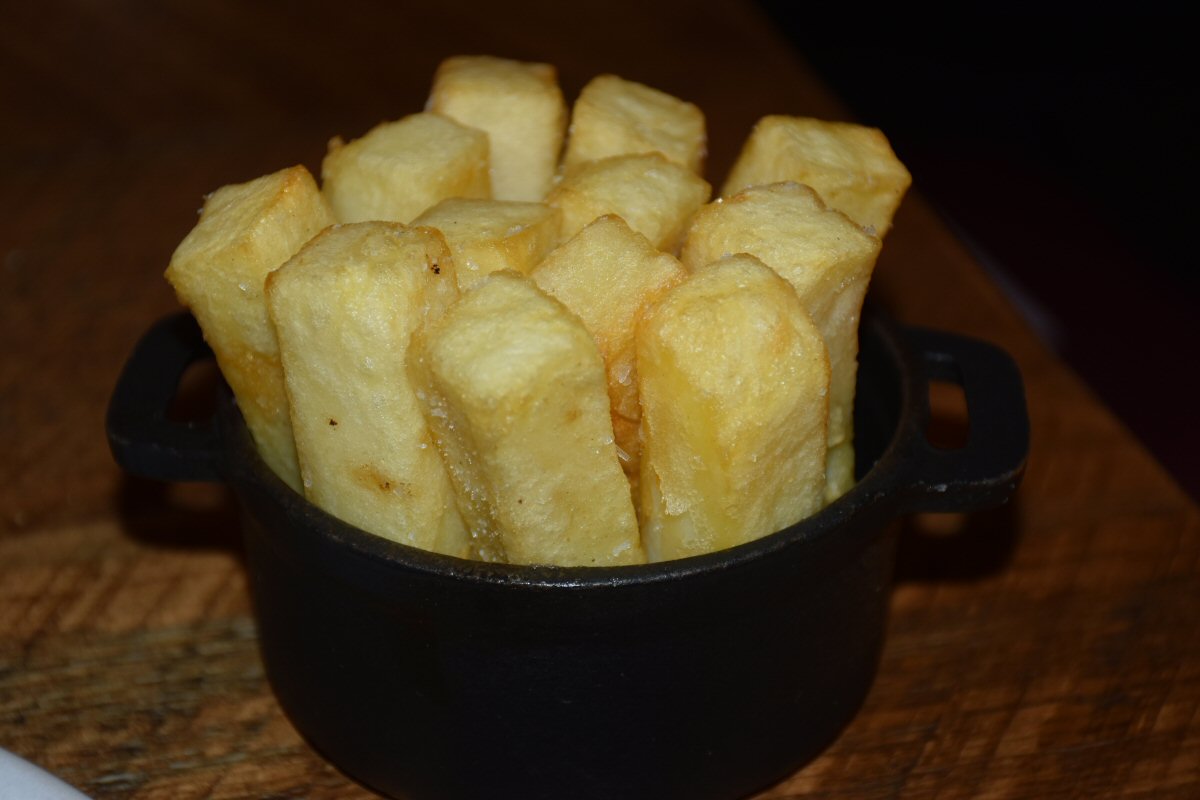 I had passed overt this dish because of the chips; I'm not the worlds' biggest fan of spuds anyhow, and I just wasn't feeling them on this evening – what a blooper that turned out to be! Chef Adam Thackeray's chips are possibly the best in the county, and I honestly do mean that. The Potato is cut into military-precise rectangles before being fried to the perfect 'chip gold' hue, but it was the crisp outer that had me flummoxed. Without a shadow of doubt, this was the thinnest – and I mean impossibly thin! - outer layer that we'd clapped eyes on but it was logic defying in its crispiness; you could hear the crunch when you bit into it, yet it was so thin I peeled it away from the pillow soft inner with no effort, or remnant of the other layer left behind. Mind boggling. The taste of the chips was also superb; just saying.

Being the seasoned foodie professionals that we are (read: total gluttons!), we had saved that space in our tummies dedicated to pudding. Both of us adore a 'proper' Rice Pudding, but I pulled rank (!) and got dibs on it, so The Man went for Chocolate Tart with Pineapple and Lemon.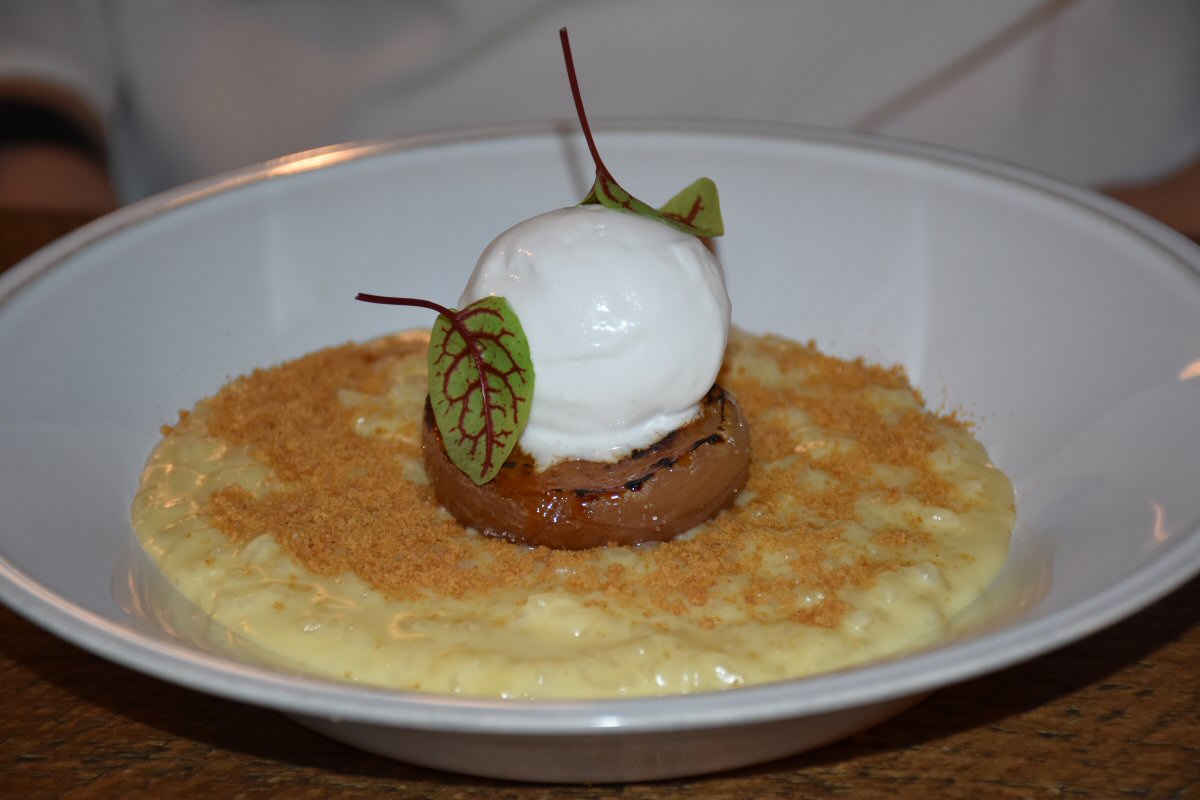 Let me just clarify though, this was no ordinary Rice Pud, oh no, not by a long chalk. Chef Thackeray melds pieces of Stem Ginger into the thick, creamy confines of his (still just-firm) rice temptation so that its warmth permeates every single grain. This was utterly mesmerising and I desperately found myself wishing that now would be the perfect moment for a DeLorean to appear! A word of caution though; you do have to be a fan of this spice to appreciate its beauty, otherwise it really isn't the pudding choice for you. Gingers' heat was skilfully tempered by the sweet, fragrant taste of a halved Peach that had been griddled to maximise its flavour, and temperature heat was contrasted by cool, creamy Coconut Ice Cream.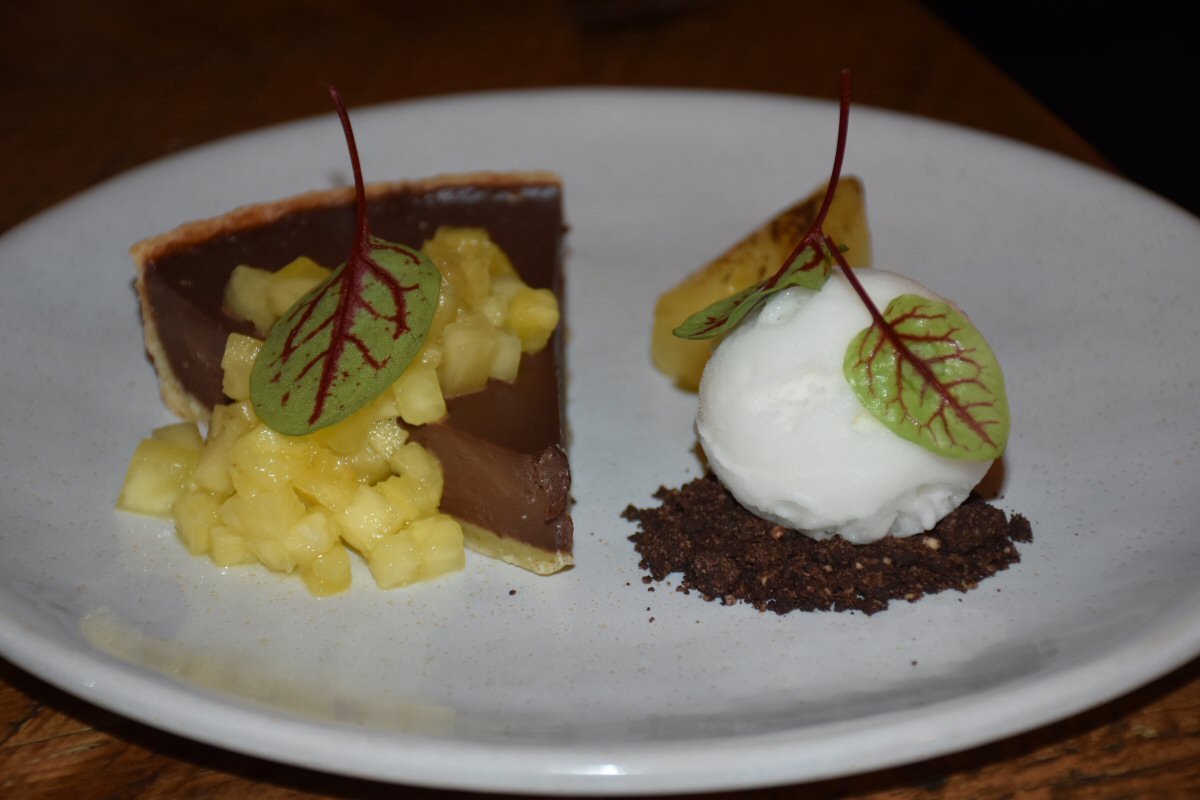 It wasn't just my pudding that was captivating though; His Nibs' dessert choice was every bit as brilliant. The Chocolate Tart itself was stupidly, ridiculously, rich in taste – the stuff dreams are made of. Willy Wonka himself couldn't have outdone Chef here. The smooth Ganache centre was totally hypnotic on the palate with a sublime ability to stick to the roof of your mouth just enough that you had no choice but to surrender to its charms for a second longer than was decent. An insanely delicate (though indulgently buttery) pastry case housed this decadence and it was left to fresh, bright Pineapple to restore some decorum to The Man Birds taste buds – they were getting really quite giddy! Any vestiges of delirium were sent packing by crisp Lemon Sorbet, both by the clarity of its sharp notes and its chillier temperature.

Our gluttony did come at a price though: neither of us had room for a coffee, daft as it sounds. It had been one of those evenings where we really didn't want it to end - but as with all good things, end it must. You will already have gathered that The Devonshire Arms at Pilsley is more than review-worthy, but I will still type the words that make it official: Hot Wings gladly awarded to this wonderful team and thank you, Chef, for inviting us.
Some form of incentive was provided to visit this venue
read more