Dining In At Delhi Signature In Pye Bridge
---
Published On Tuesday 2 Nov 2021 by Sticky Beak
See Recent Dining Out Reviews | See All Recent Reviews


During lockdown there were still a lot of businesses that decided to start up, and one of them was in a village close to the Nest in what used to be an old pub, The Dog and Doublet. Obviously we couldn't go and dine-in during the various lockdowns so we ended up ordering a takeaway to try in the interim – all of which was scrummy and got reviewed.
Now that restrictions have eased, The Man and I have been gadding about left, right and centre, and one evening it dawned on us that we haven't actually got around to dining in at Delhi Signature! Needless to say, that situation swiftly got rectified and we headed off in the jalopy to Pye Bridge. Delhi Signature has its own small car park on site, with room for about 8-10 cars so we found a spot and then walked through the front door.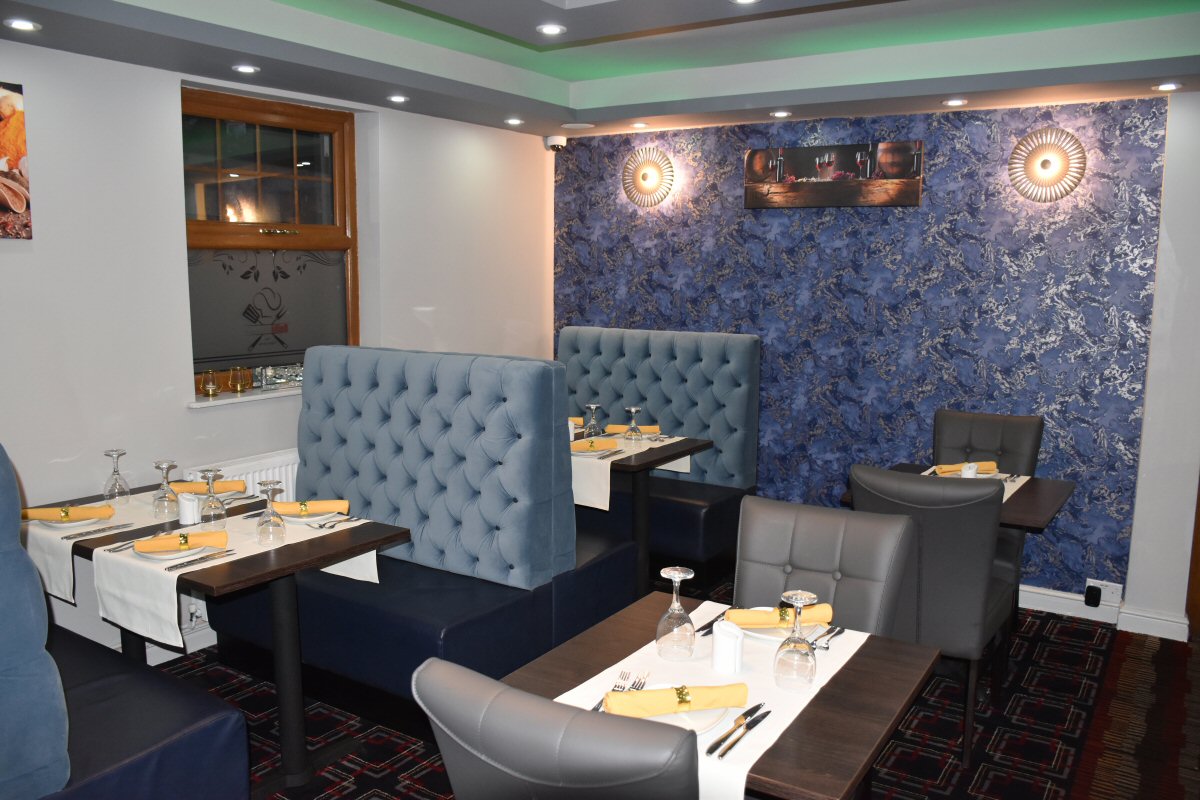 There must be a trend in decor within the Indian restaurant fraternity of varied, colourful down lights because we had seen something similar at a venue in Kimberley. The level of lighting was on the brighter end of the scale at Delhi Signature, as recessed lighting added even more illumination, so you don't a flash on your camera that's for sure! I loved the deeply padded pale blue/grey banquette booth seating, it was very comfy and nice and private. The room had a few features to break it up, so it wasn't just one large, soul-less space.




His Nibs ordered a pint of draught Cobra and I had a large glass of Malbec, both of which were soon slipping down nicely to kick the weekend off! Our server brought over a platter of Poppadoms for us, with an accompanying quartet of pickles: Mango Chutney, Onion Salad, Lime Pickle, and Raita. What I really liked was the fact that the pickle tray comprised of larger-than-average bowls so you don't have to keep pestering for top-ups; I know I'm a piggy, but don't want the fact particularly confirming in black-and-white, if you get me?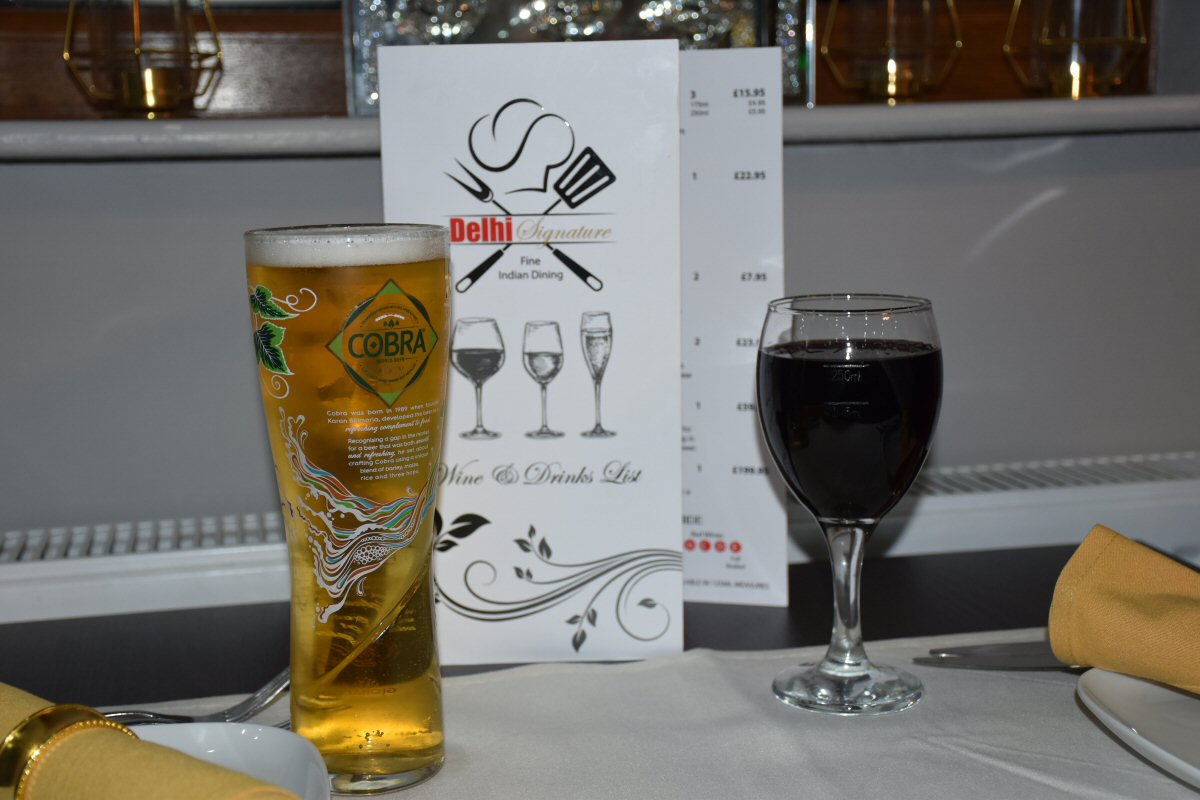 The crispy, non-greasy Poppadoms were soon getting broken up and the pieces dunked into the pots of yumminess; I am a massive fan of the tangy, sour spiciness of the Lime Pickle so that was the first port of call for me and The Man went for his beloved Onion Salad. When he put the nibbles down, our lovely server had taken the starter and mains orders from us to save time (slick move) and The Man opted for Hot Lamb (£5.95) followed by Chicken Tikka Rim Jhim (£9.95), whilst I chose the Lahori Lamb Chops (£5.95) and the Jalpari, a Salmon dish (£11.95). We also ordered some Garlic rice (£3.75) and a Coriander Naan bread (£3.50), both of which we share between us on an ad hoc basis.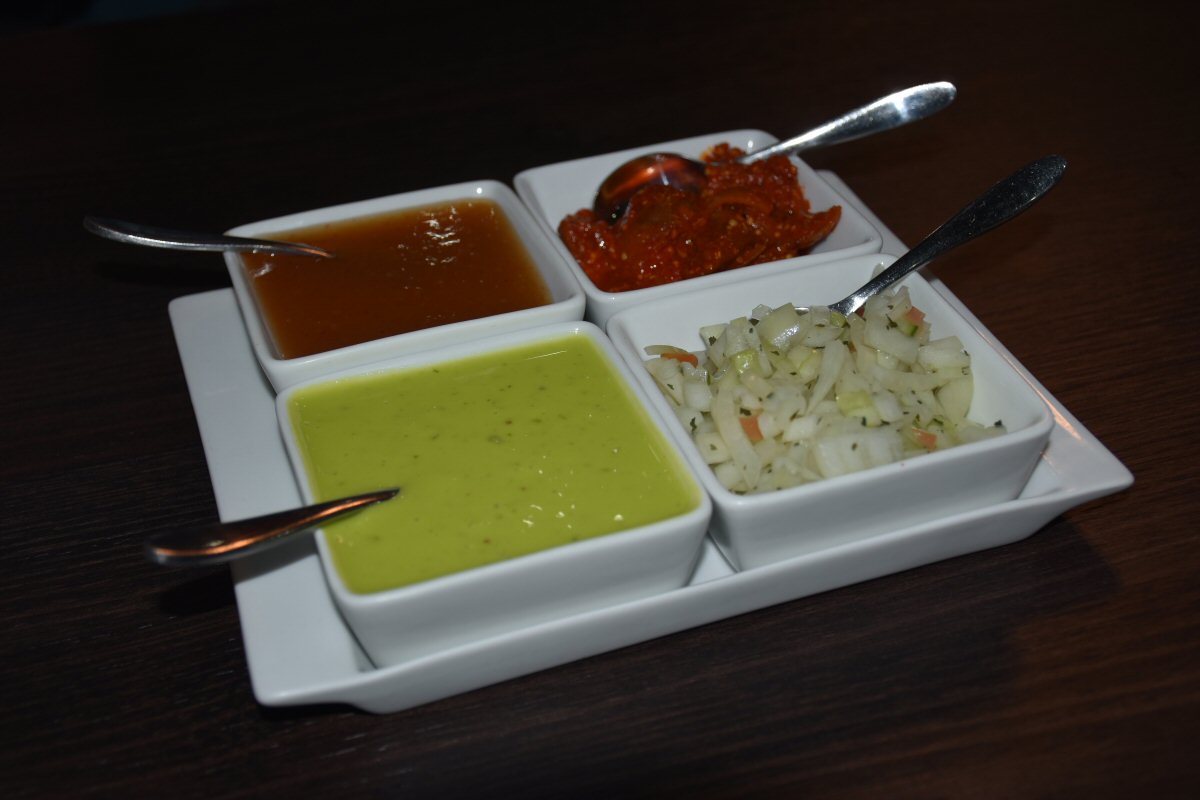 It wasn't long before the sizzling starter platters were being placed before us, and the aromas were extremely enticing; as soon as the photos were done, we both tucked in eagerly. The Man Birds' Hot Lamb was pieces of tender Lamb that had been fried with sliced Onion, Peppers and fresh Green Chillies, and he commented on how soft and flavoursome the Lamb was as he took that first bite. The spices and fresh chilli in this dish gave it a mighty punch on the palate, but not so much that it left an unpleasant tingle; His Nibs said that it did go rather nicely with the Cobra beer though! I was offered his side salad of Tomato, Cucumber and Iceberg Lettuce, so happily munched on double portions of healthiness, as my starter also came with salad garnish.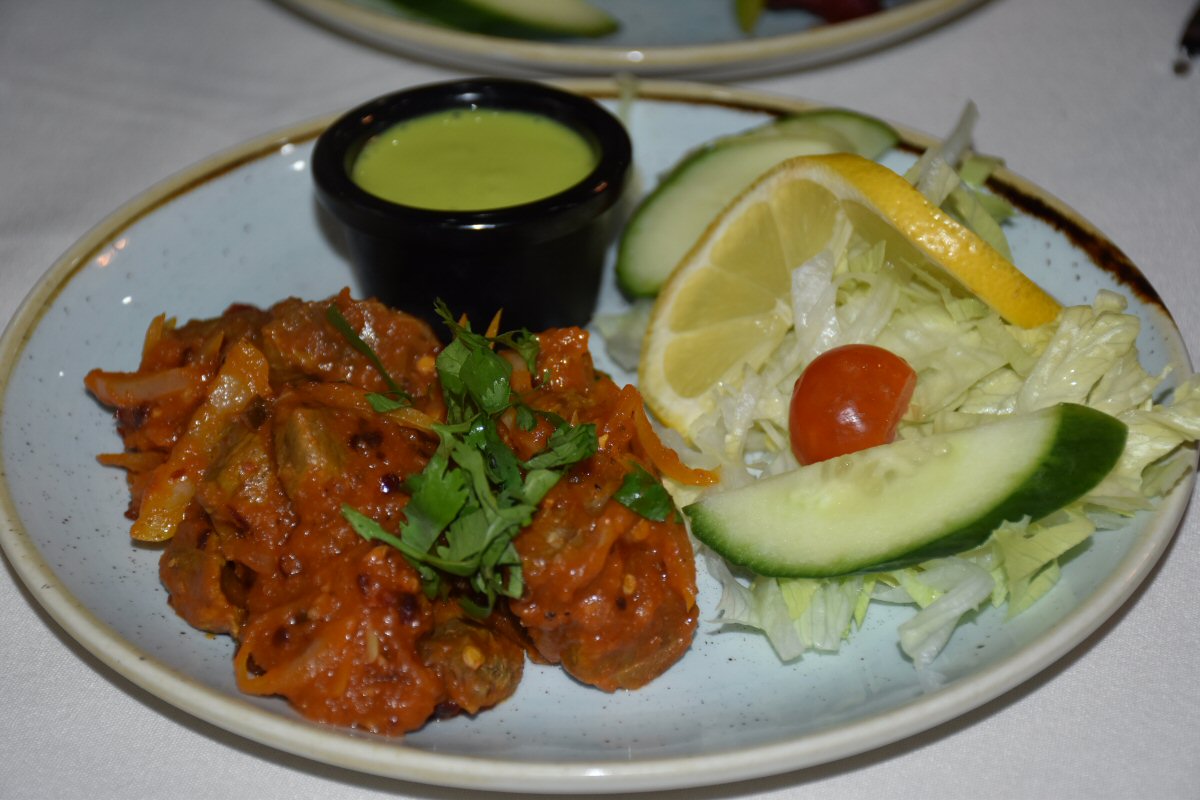 My trio of Lahori Lamb Chops were also beautifully tender and soft to the bite, and there was a surprisingly large amount of meat on each one; not that I was complaining. The great thing with this particular starter was that it was jam-packed full of layers of spice without it having a ridiculous heat to it; a common misconception is that spice=heat/tingle - it doesn't have to, if done skilfully.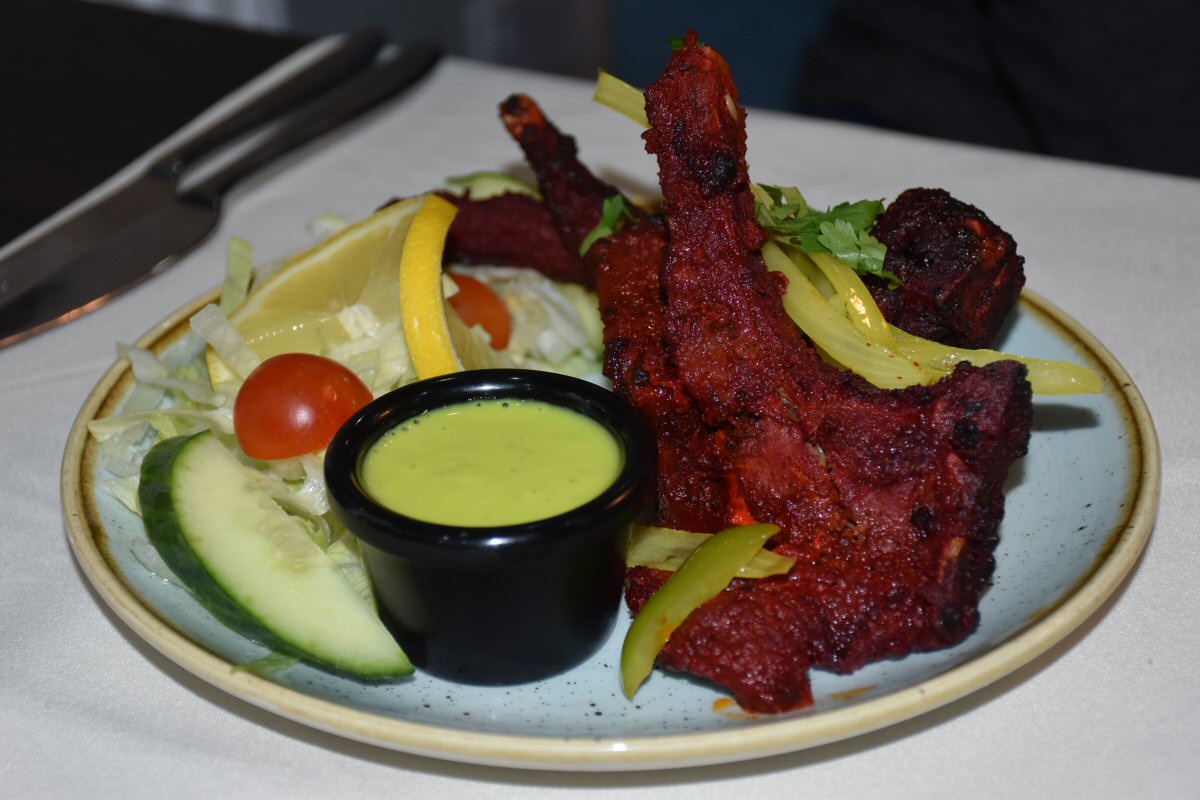 With the starters dispatched, we sat back and chatted whilst our main courses were being cooked and during this time more diners came into Delhi Signature as well as several takeaways being picked up. Mustak had popped out to say hello briefly whilst we were eating our starters, but he was being kept fairly busy in the kitchen with all the orders; it wasn't too long, though, before our nostrils were twitching at the delights placed before us.

The Man Birds' Chicken Tikka Rim Jhim is a medium hot dish that contains Garlic, Green Chillies, Coriander and spices as well as plenty of large pieces of marinated Chicken breast meat. The Delhi Signature team are feeders if the portion size was anything to go by, and it was nice to see that it wasn't a case of the curry being all sauce and no meat; you could clearly see the poultry nestled in the dish. Both His Nibs and I are 'dunkers'; that is to say that if we get a good thick sauce, we can't resist dipping bread in to scoop it up, and the Tomato-based Rim Jhim sauce was perfect for doing just that! My Jalpari sauce was also an ideal candidate for this method of eating.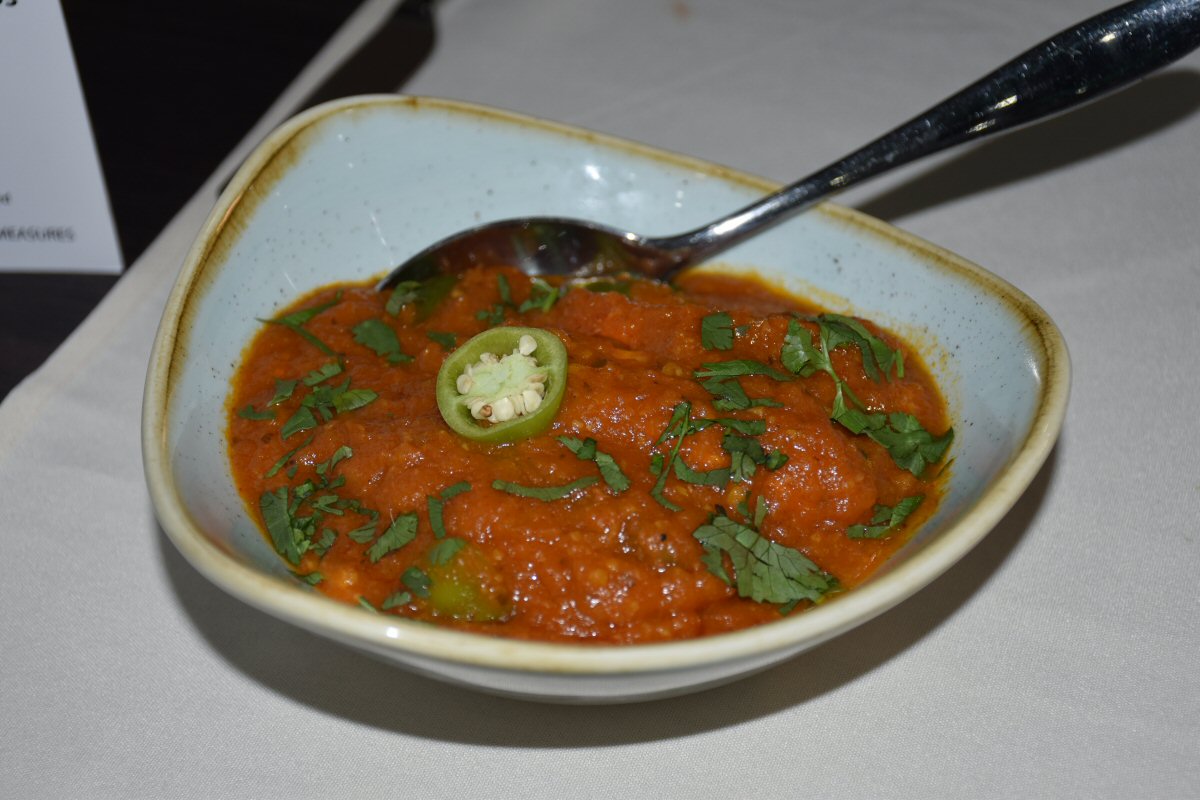 I was a bit taken aback by the sheer size and thickness of the fresh Salmon fillet that was happily cocooned in the medium rated Coconut milk, Mustard seed, Green Chilli and fresh Curry Leaf sauce! I've eaten some hefty bits of Salmon in my time, but this one was up there with the biggest of them; it was also sweet, succulent and juicy: an absolute joy to eat.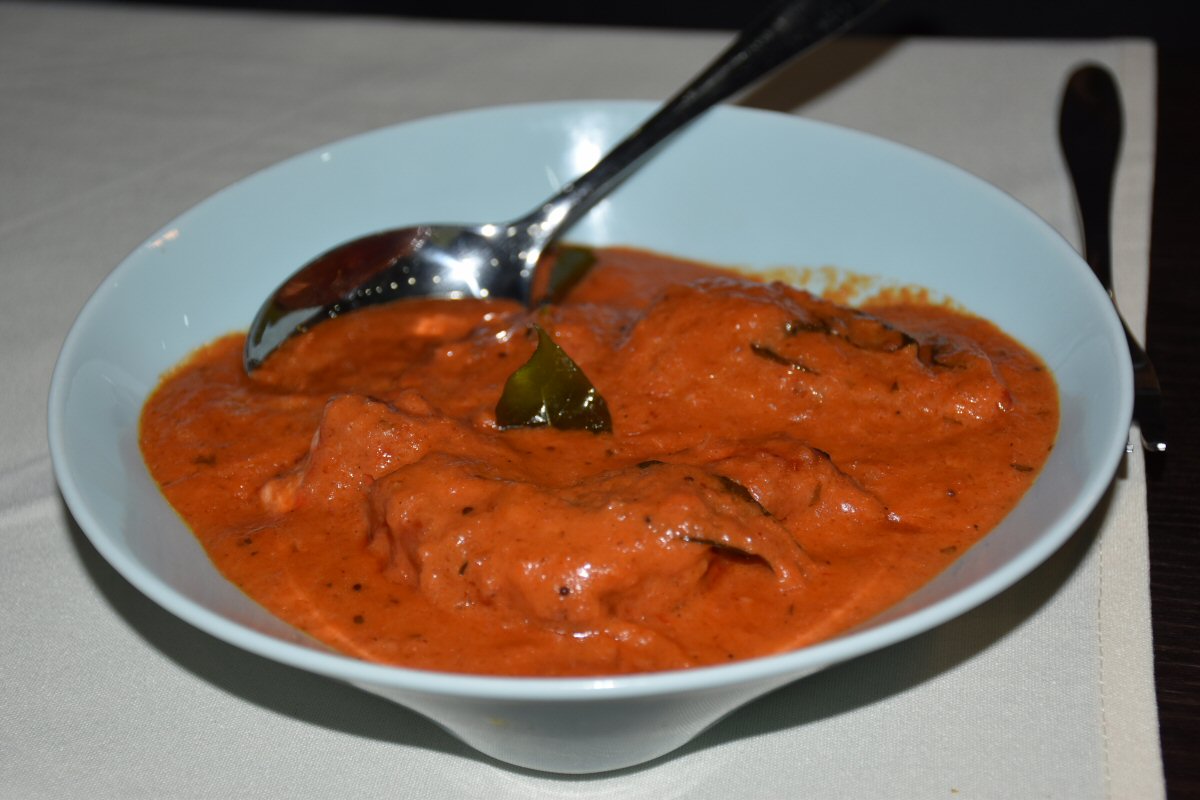 Delhi Signature's Garlic rice is something a little extra; between the fluffy grains are lots of sweet, roasted Garlic pieces that all rush to impart their gorgeous, mellow notes on the palate. Not all rice dishes are created equal, that's for sure, and this is a winner! Needless to say there wasn't a single grain left in the serving bowl!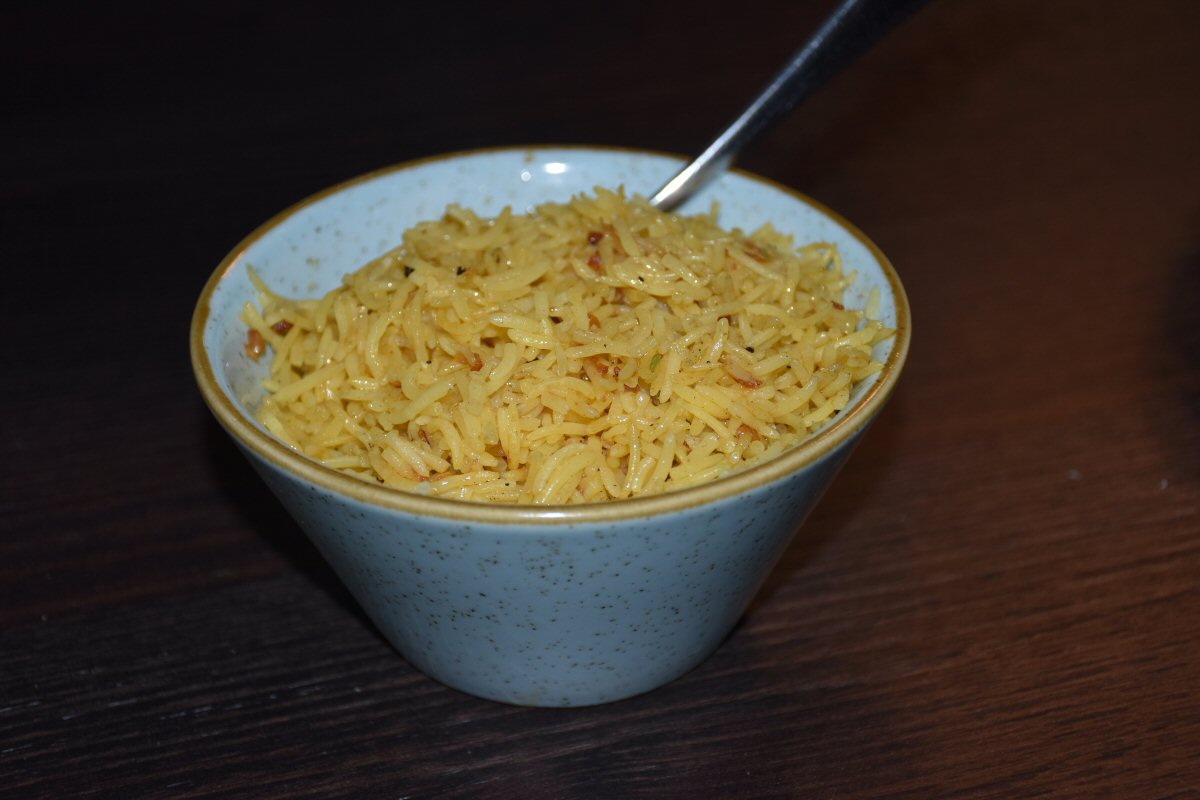 One of the cornerstones of a good Indian meal, for me, is the Naan bread, and Chef at Pye Bridge's Delhi Signature restaurant makes them as light as a cloud with a delicious taste to them and nice 'chew factor'. The Coriander variety wasn't lacking the distinctive fragrant herb, which not only ensured it tasted bang on but also gave it a brilliant, colourful visual appeal. The Man and I both liked its thickness too because it meant that we could scoop up good amounts of sauce on each piece before scoffing the whole lot: maximum taste, minimal effort!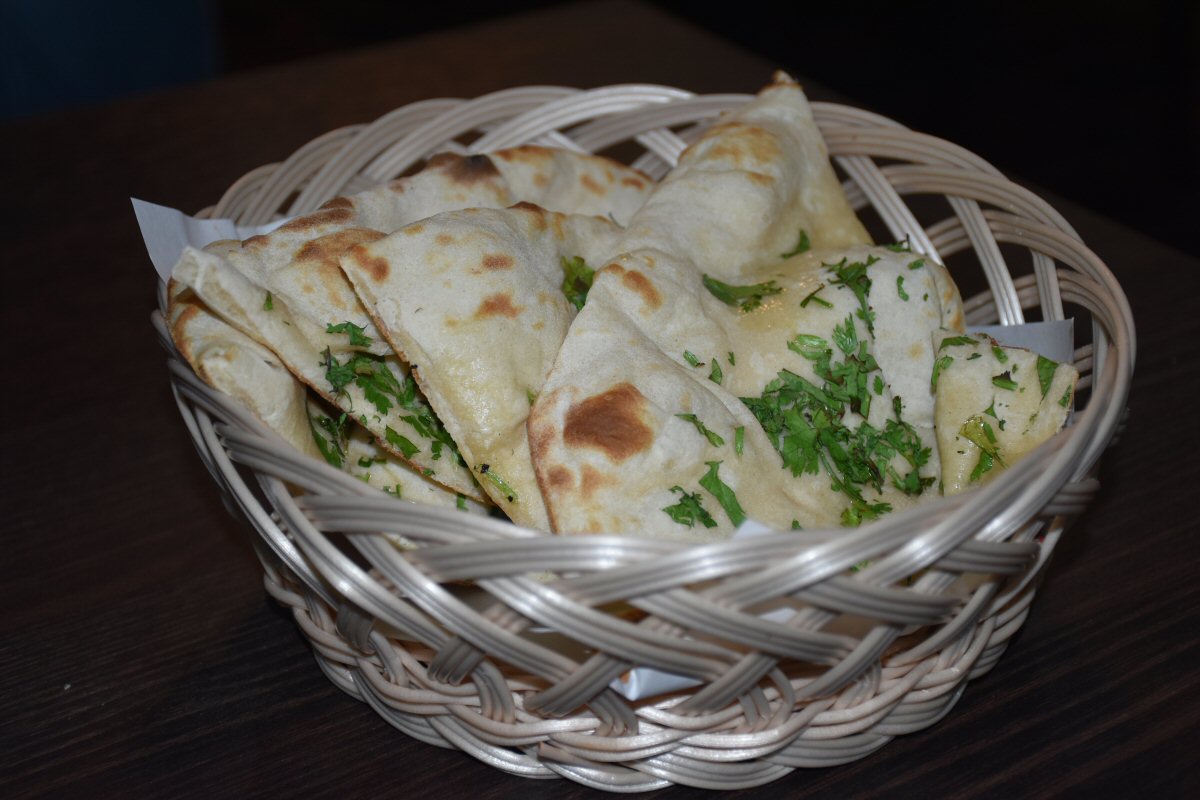 A pair of squeaky clean plates went back to the kitchen (as well as praise for the Chef's efforts) and we turned our attention to the dessert menu. To be honest, we weren't expecting great things from this course – it's usually just Kulfi and Sorbets, or novelty Ice Creams for kids, isn't it? On this occasion we were pleased to be wrong: there were still sorbet and Kulfi on the page, but they were listed with Fudge Cake, Cheesecake, a Mint Bombe, and a variety of Ice Creams that weren't in tacky plastic containers.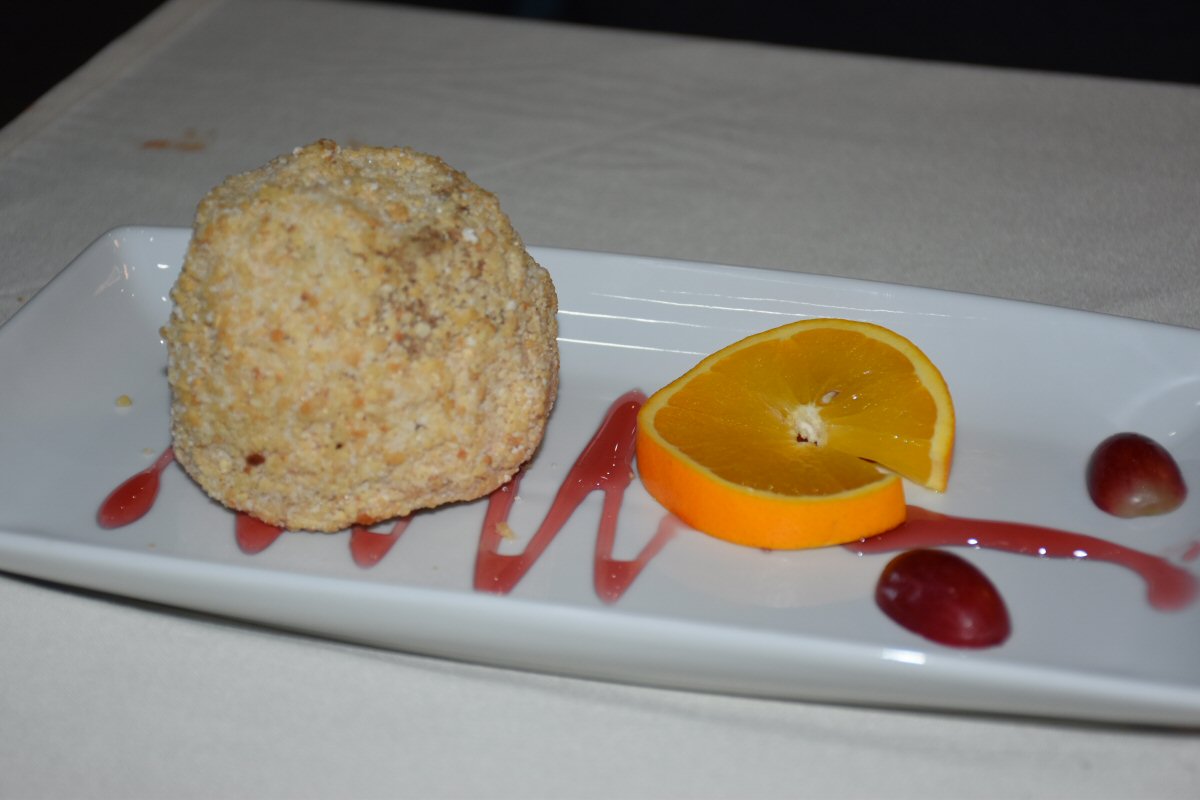 The Man Bird ordered the Malteser Cheesecake (£4.95) and I went for the Hazelnut Crunch (also £4.95) a caramel sauce-rippled Vanilla Ice Cream that is rolled in mixed, roasted nuts for texture and flavour. As a nut lover (don't be frisky, you lot!) this was a real delight to eat and the sweet Hazelnut tones partnered the warm, rounded Vanilla Ice Cream wonderfully. I was extremely pleased with the choice I'd made to conclude my meal.




Fans of Malteasers will adore this particular dessert that His Nibs went for: it has the iconic sweet garnishing its top and the cheesecake's base contains chocolate chips which marry well with the malty-tasting cheesecake topping. An extra cocoa hit comes via the dusting of cocoa powder that coats the entire dessert, adding a dramatic visual impact.

We'd had a great evening at Delhi Signature in Pye Bridge and felt thankful that we'd decided to visit on the spur-of-the-moment; sometimes fate is a wonderful thing. Hot Wings awarded to this friendly, great food-producing team. To book a table, give them a buzz on 01773 604819.
No incentive was provided to visit this venue
read more