A Return Visit To Cosmo Nottingham For Their Re-Opening Night
---
Published On Sunday 10 Oct 2021 by Sticky Beak
See Recent Dining Out Reviews | See All Recent Reviews


Some things in life just make you smile; Cosmo's hologram logo shining on Milton Street's pavement in Nottingham is one of mine! Imagine how happy I was, then, to receive an invite for The Flock to attend the re-opening night on Wednesday 7th October 2021. If you think it's been a long time coming, spare a thought for the owner, James, and his wonderful team of Chefs, Hosts and serving staff!
His Nibs parked the jalopy in nearby Trinity Square, although if you use Q-Park (near Rock City) and ask for a validation ticket from your server, you'll get a whopping 25% discount on your parking –not to be sniffed at! Like a guiding star, the hologram was a beacon to those attendees who'd won competition tables, and the stairs (to food heaven) were lit up beautifully. Waiting for us in reception were a team of hosts and, having ticked our names off the guest list, we were escorted to one of the booth tables that are now pimped up with hygiene screens that actually look bang tidy - dunno how they've managed to make something functional look sleek and stylish, but they have!




Our server for the evening was Dan, a very dapper young man who is studying something ridiculously clever (Financial Mathematics!!) at Nottingham Trent Uni. Dan soon got us sorted out with drinks from the massive range of wine, cocktails, beers and spirits (there are unlimited soft drink and water options too) and then ran through the new hygiene and safety measures in place at Cosmo. You don't have to wear a face covering, but it is strongly recommended whilst you're moving around the restaurant between one of the 10 live cooking stations and other counters. There are stations with disposable gloves to wear before you grab yourself a plate, but if for any reason you can't wear these then there is sanitiser located at these stations too for you to use. Knives, Forks and Napkins are brought over to the table for you and are housed in lovely silver toned buckets.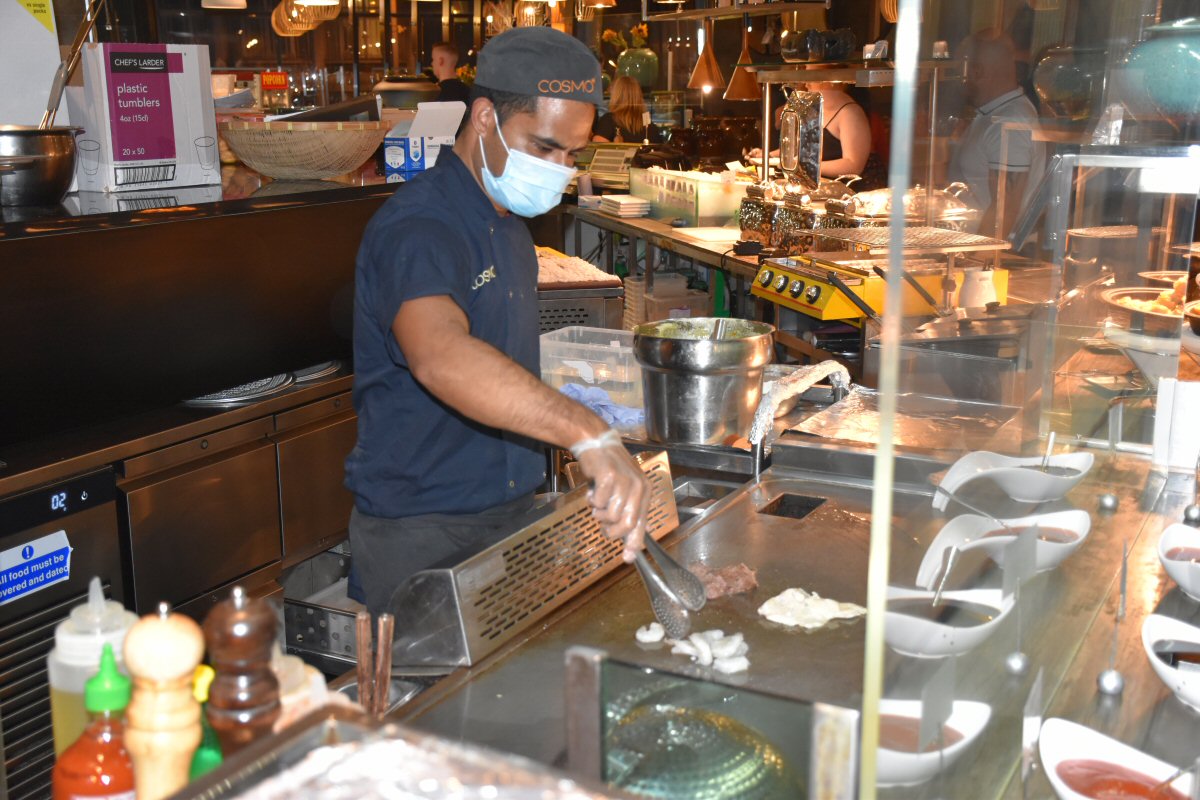 The first place we headed was to the Teppanyaki station - I've missed this sooooo much!! Chef appeared almost god-like to us as he whipped up plates of yumminess for us, including Chicken, Steak (cooked to your liking) and massive, juicy King Prawns. Mummy Bird popped some Teppanyaki sauce on her selection; I went for Soy and Sweet Chilli sauces and The Man had a fiery Pepper sauce and some of the Teppanyaki one. Close to the Teppanyaki station is a bar with all manner of scrummy salads, so Mummy and I popped 3 Bean- , Sweetcorn-, Greek- and Cous Cous- varieties on our plates too... some Edamame beans and mixed Olives may also have found their way onto my plate too. They just jumped on there, honest!




You can always tell when we're enjoying the food because we go quiet and there was a definite silence in our group as we busied ourselves with making a dint in the food mountains before us. The Man Bird was first to rise and declare he was going for seconds in the 'House of Spice' section of Cosmo where all manner of Curries can be found, returning a short while later with Lamb Jalfrezi, Chicken Tikka, Chicken Tikka Masala, Gobi Mutter (Cauliflower), Chicken Biryani, Tarka Daal, Onion Bhajis, Vegetable Samosas, Pilau rice and Naan bread. You may be wondering how on earth he fitted all of this on one plate: he didn't, the greedy bugger had only filled 2 plates up!! Honestly, you can't take him anywhere!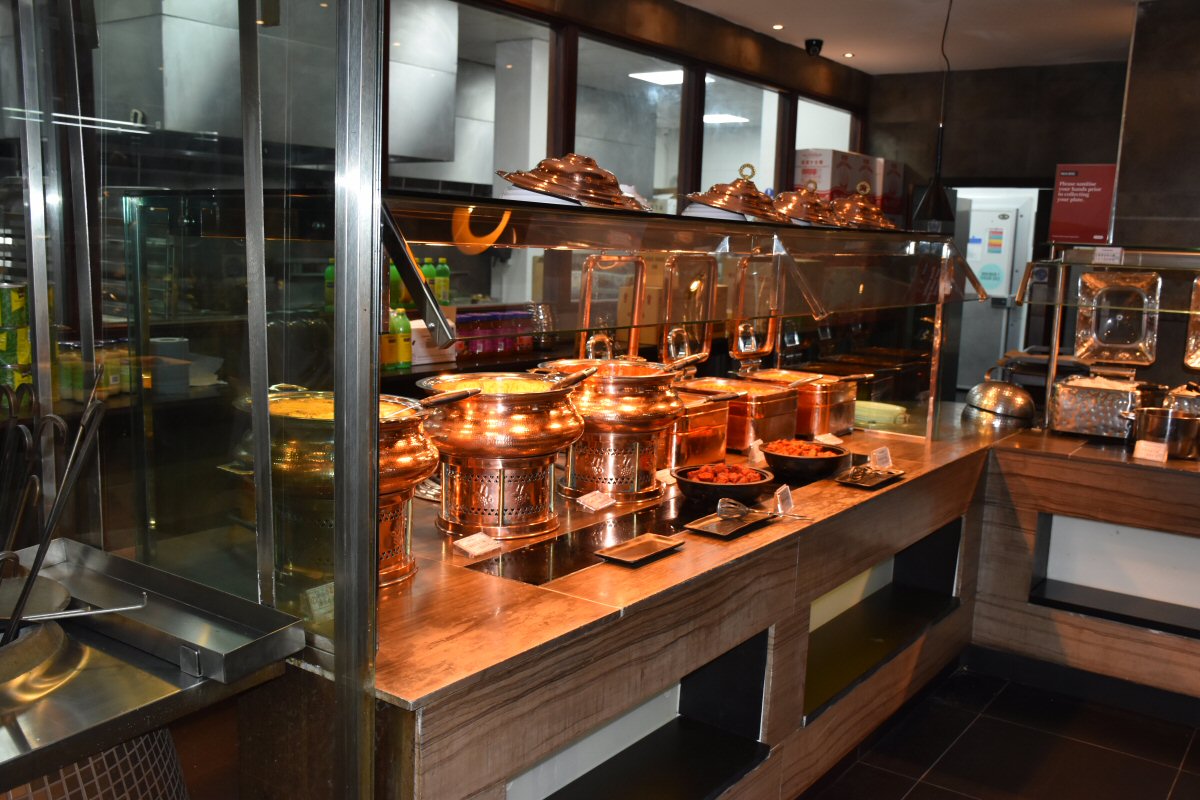 Mummy Bird and I went to get some Duck and pancakes with Hoi Sin, Cucumber and Spring Onion from one of the stations, and the lovely lady Chef also popped some Garlic and Chilli pimped Prawns on. We carried on the Oriental theme with some Singapore Noodles, Chicken Satay, Tempura Vegetables and Singapore style Vermicelli; I spotted my beloved Custard Bao Buns and I'm not ashamed to say that I scoffed no less than 4 of these beauties over the course of the evening!! They are very moreish; I defy anyone not to fall under their spell after that first bite.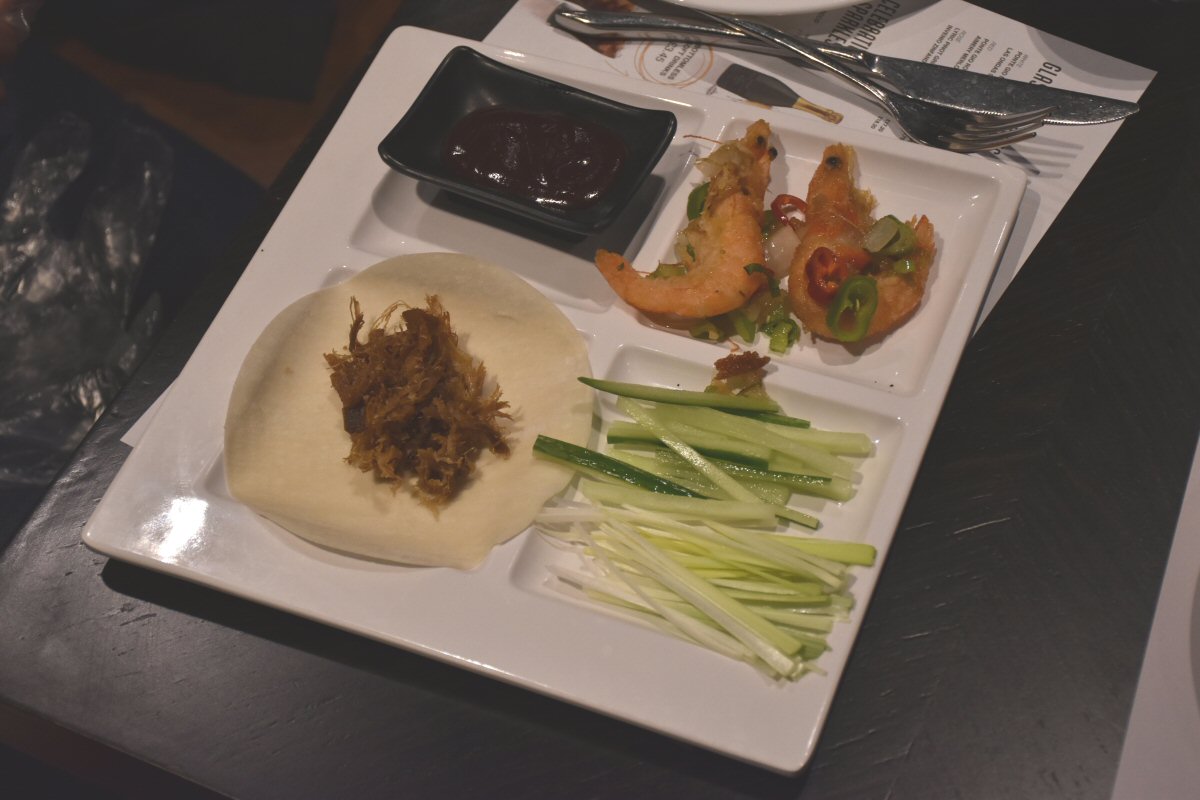 After the second full plate of delicious morsels, Mummy Bird admitted defeat, but me and The Man ploughed on and went back to try even more of the astounding 150 dishes that can be on offer at Cosmo! His Nibs returned with more Teppanyaki delights, whilst I went for Seafood with Garlic and Chilli (the King Prawns were among the largest I've ever seen!), Kimchi and a piece of Steamed Fish. Those of you that read the blog regularly will know how fussy I am when it comes to fish, so this was a bold move; you would be forgiven for thinking that under buffet conditions the white fish would dry out, this was certainly at the back of my mind if I'm being honest. My rationale was this: if the Cosmo team can pull off succulent steamed fish, then anyone should be confident in their kitchen's capabilities. I am pleased to say that not only was the fish good, it was marvellously soft and succulent; the fish was creamy and sweet in taste with a lovely moistness to its flesh – not a bit of dryness in sight!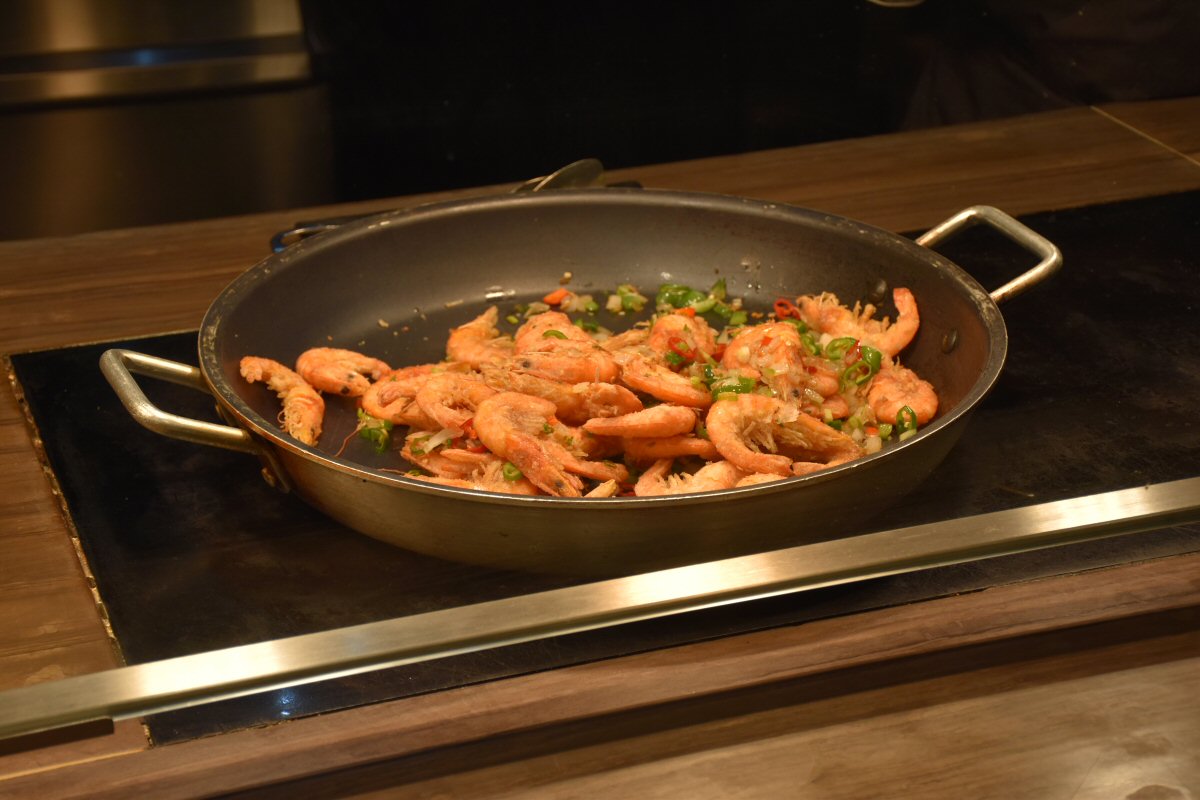 Whilst we all took a break from eating, we swapped 'notes' and chose favourites from the evening – there were so many we couldn't agree on one winner. The one thing we all agreed on though was how flavoursome and fresh the food had been, and you certainly couldn't fault the selection of cuisine types on offer: Chinese, Thai, Indian, British, and Italian dishes are all represented. What I have always loved is the amount of families that go to Cosmo, and I think that the appeal is multi-faceted: the atmosphere is relaxed, the food is very wide-ranging, and it lets kids try umpteen new things that they might otherwise not do.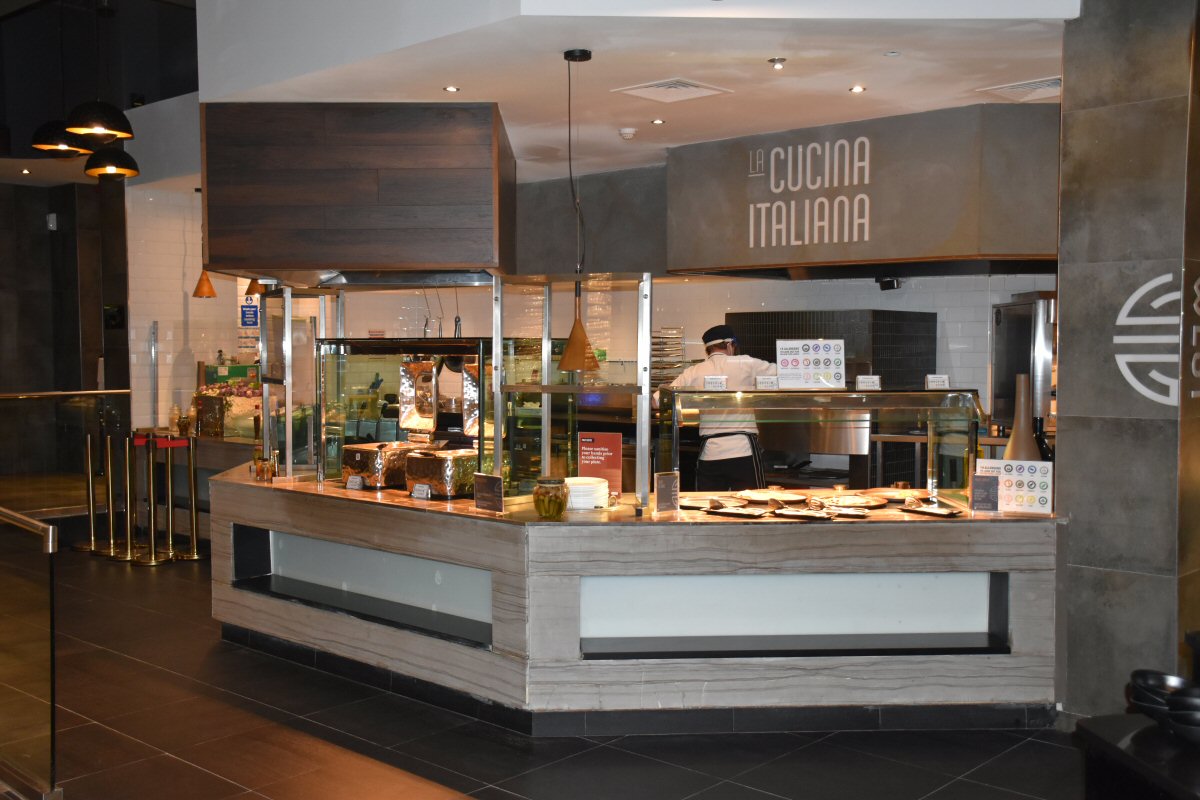 Having taken a brief respite from munching, we all girded our loins and went once more into the (gastronomic) breach, into the dessert section. This is, quite frankly, an Aladdin's Cave of sweet treats and we were like proverbial kids in a candy shop! Mummy Bird's eyes popped out on stalks as she spied the first counter, laden with all manner of cheesecakes; I can't swear to it, but I'm sure she was doing 'Eeny Meeny Miny Moe' under her breath !! When she returned to our booth there was a big wedge of Vanilla Cheesecake sitting proudly in the middle of her platter, surrounded by an individual tub of Strawberry Ice Cream, a piece of Hazelnut Brownie and a block of Chocolate Mousse Cake. Good to see you showed some restraint, Mummy!




Not that I could talk: I came back with some Apple and Almond Cake, Chocolate Mousse cake and an Individual Trifle that surpassed my expectations: it had three distinct layers (jelly, custard, cream) and the jelly had sponge at the bottom and pieces of fruit within it (just like the trifles Granny used to make). His Nibs -yet again- had taken the biscuit (no pun intended!), loading up his platter with Chocolate Fudge, Lemon Meringue Cake, Carrot Cake, Fizzy Cola Bottles, and Sour Apples; I have to admit though, it did look pretty.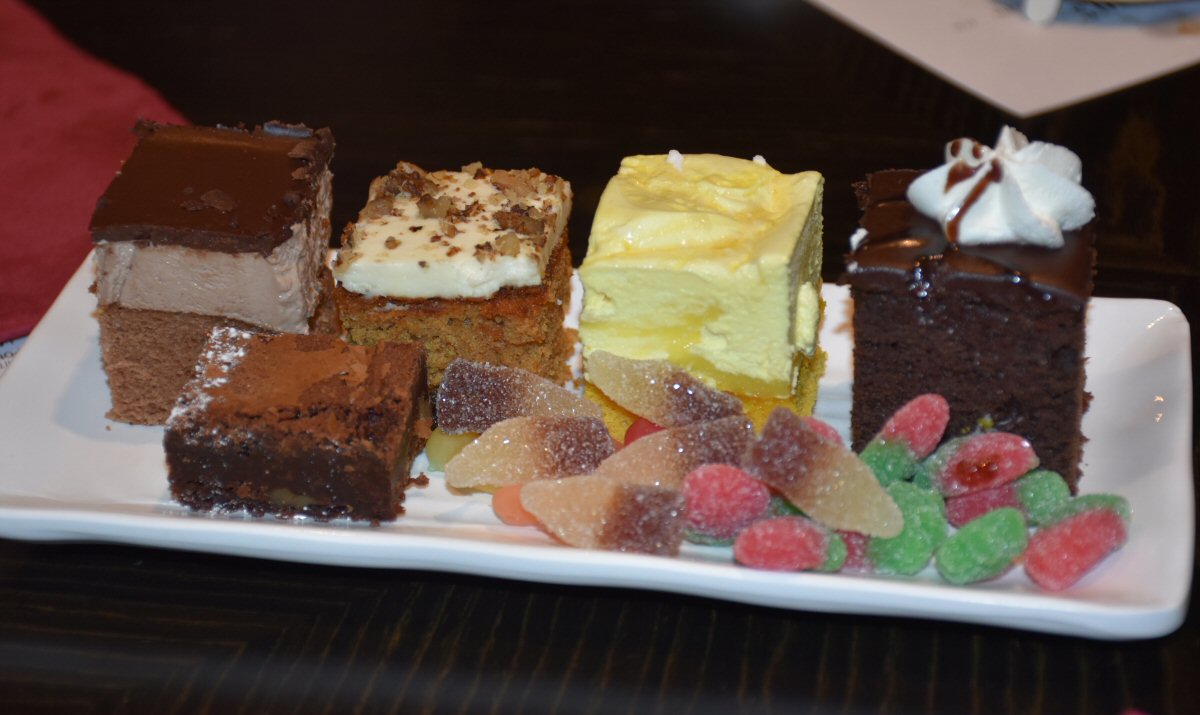 I have no idea how we managed to get up from the table, our tummies were so stuffed. We practically rolled down the stairs like a tribe of Weebles (Google it, kids), but we were so happy we didn't give a rats' a*s!! What a fab evening it had been, and it was so good to see Cosmo back to its buzzing best; we've missed you guys! Hot Wings happily awarded to James and his superb team.
Opening times and prices for Cosmo Nottingham are: Mon-Thurs 5-10pm £15.99 per person, kids £8.99 each, Friday 5-10.30pm £16.99 pp, kids £8.99, Saturday lunch Noon-4pm £13.99, kids £7.99, Saturday Evening 5-11pm £18.99, child £9.99, Sundays and Bank Holidays Noon-9pm £16.99 per person, children £8.99. There are also two VIP rooms available by pre-booking for parties, celebrations or corporate functions if needed.
Some form of incentive was provided to visit this venue
read more