Portuguese Cooking at Coghlans Cookery School, Stancliffe Hall
---
Published On Sunday 26 Sep 2021 by Sticky Beak
See Recent Experience Reviews | See All Recent Reviews


There's nothing I love more than spending a few hours at Coghlans School of Wine, Food and Dining at the beautiful Stancliffe Hall. Jordan North has Turf Moor as his 'Happy Place', well Coghlans is one of mine! I have no idea why they keep inviting me back, I'm the biggest pain in the derriere in a kitchen you can imagine, but I am deliriously happy that they do –so massive thanks to the team. Chef Simon Lilley is an absolute hero when it comes to his tutelage; he has never failed to enable me to produce a feast for the Flock, and when you're in class with him, it's clear why he is a Master Chef of Great Britain.
Although Covid restrictions have eased, the tight-knit team at Coghlans are erring on the side of caution when it comes to everyone's safety. I waited in my car as instructed, until asked to enter, and used the automatic hand sanitiser as I entered through the door. Steve The Magnificent (STM) was having a rare day off, so it was his lovely wife, Janet, who took my temperature before I was permitted to enter the swanky, Miele kitted-out kitchen. Single use, disposable pinnies are still the order of the day and bottles of water are provided for participants as and when they require them – I cannot wait to don the proper pinny once again and savour one of STM's fantastic cuppas.




There were four of us attending the half-day Portuguese Cookery Class: myself, friends Debs and Jilly (I hope I've spelt that right!) and a charming gent named Paul who lived in Foolow – a very beautiful village. I was looking forward to recreating the classic dish Bacalao (Portuguese Salt Cod Stew) which is one of Andrew Coghlans family recipes -his Aunt Doreen's, if I remember right – and I had the pleasure of tasting this at one of the Supper Nights held at Coghlans before Lockdown ruined our fun. Debs and Jilly were salivating over the Portuguese Tarts/ Pasteis de Nata that we would be making in the class, and I have to say that I was also looking forward to making and eating them!




First up though, Chef had us prepare the dough for the Pao Doce, a Portuguese Sweet Bread that apparently goes well with Pico Cheese; I guess that makes sense seeing as Pico is an intense tasting cheese with a salty tang to it. My arms were aching by the time we'd made and kneaded the dough to activate the gluten; I was glad I'd skipped my weights workout at the gym that morning let me tell you! We all dutifully put the dough in a 40 degree oven to just help it prove in the time we'd got, but obviously you can take your sweet time at home.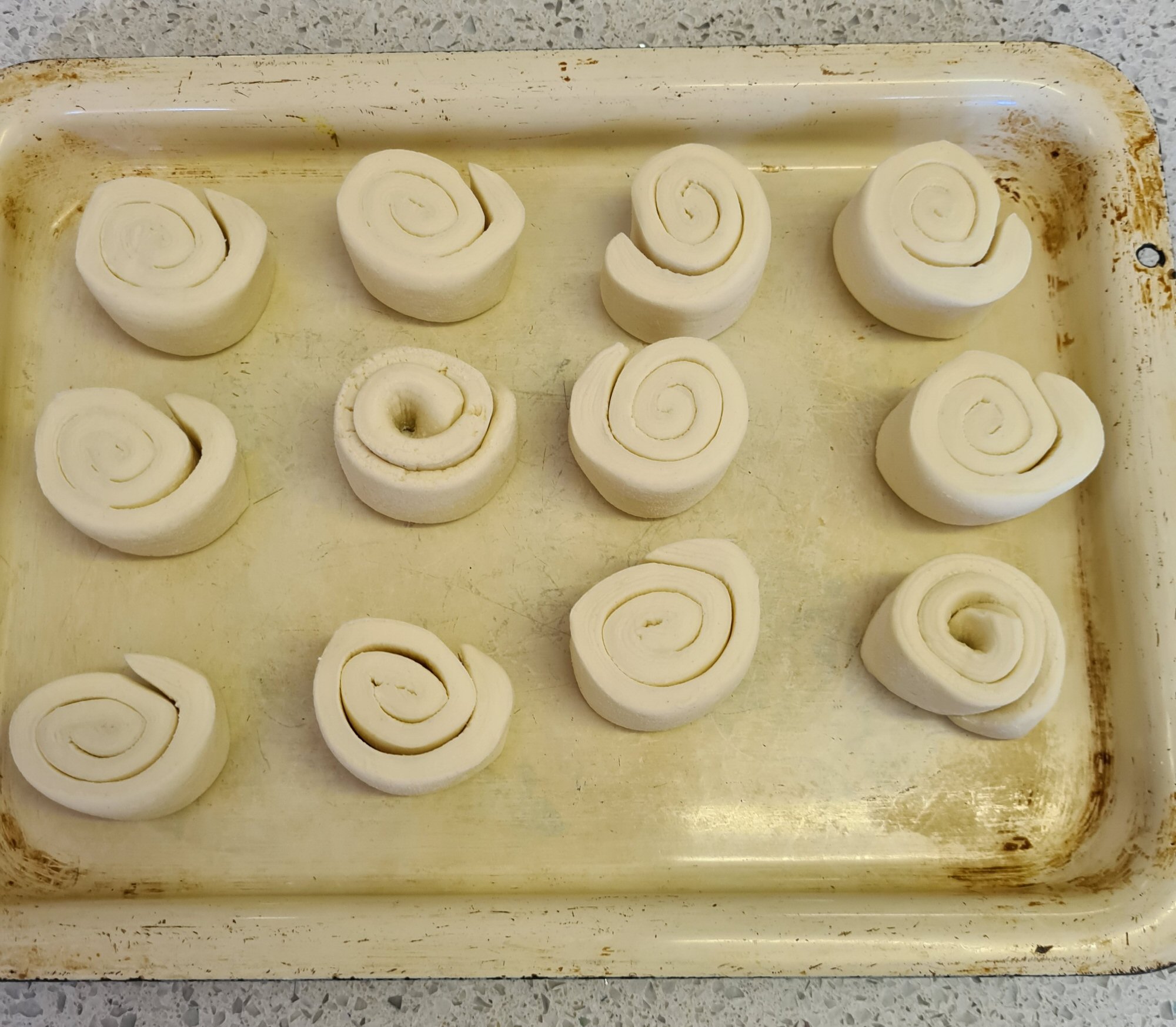 It was time to turn our attention to chopping the vegetables for the Bacalao; Simon had already been soaking our Cod fillets to remove the excess salt because this process would usually need to be done 24 hours ahead at home. We also rolled out our puff pastry for the scrummy Portuguese Tarts and then set to, making the sumptuous Almond and Vanilla flavoured custard filling. I will confess to licking my spoon when the custard was ready – purely for quality control purposes, obviously! I wasn't the only one who had a sneaky taste though, so I didn't feel too bad; actually, scratch that, I didn't feel bad at all, what am I saying?!




In between bouts of activity we were all taking the time to chat and Chef Simon was answering all our questions throughout the session. Before I knew it, we were all assembling the Bacalao in our takeaway trays, carefully layering the fish, olives, peppers, potatoes, onions and hard boiled eggs, drizzling each layer with olive oil. Bacalao is a curious stew in that it is a fairly dry one, the liquid coming from the oil and water within the vegetables; this doesn't detract from how incredibly rich in flavour it is though.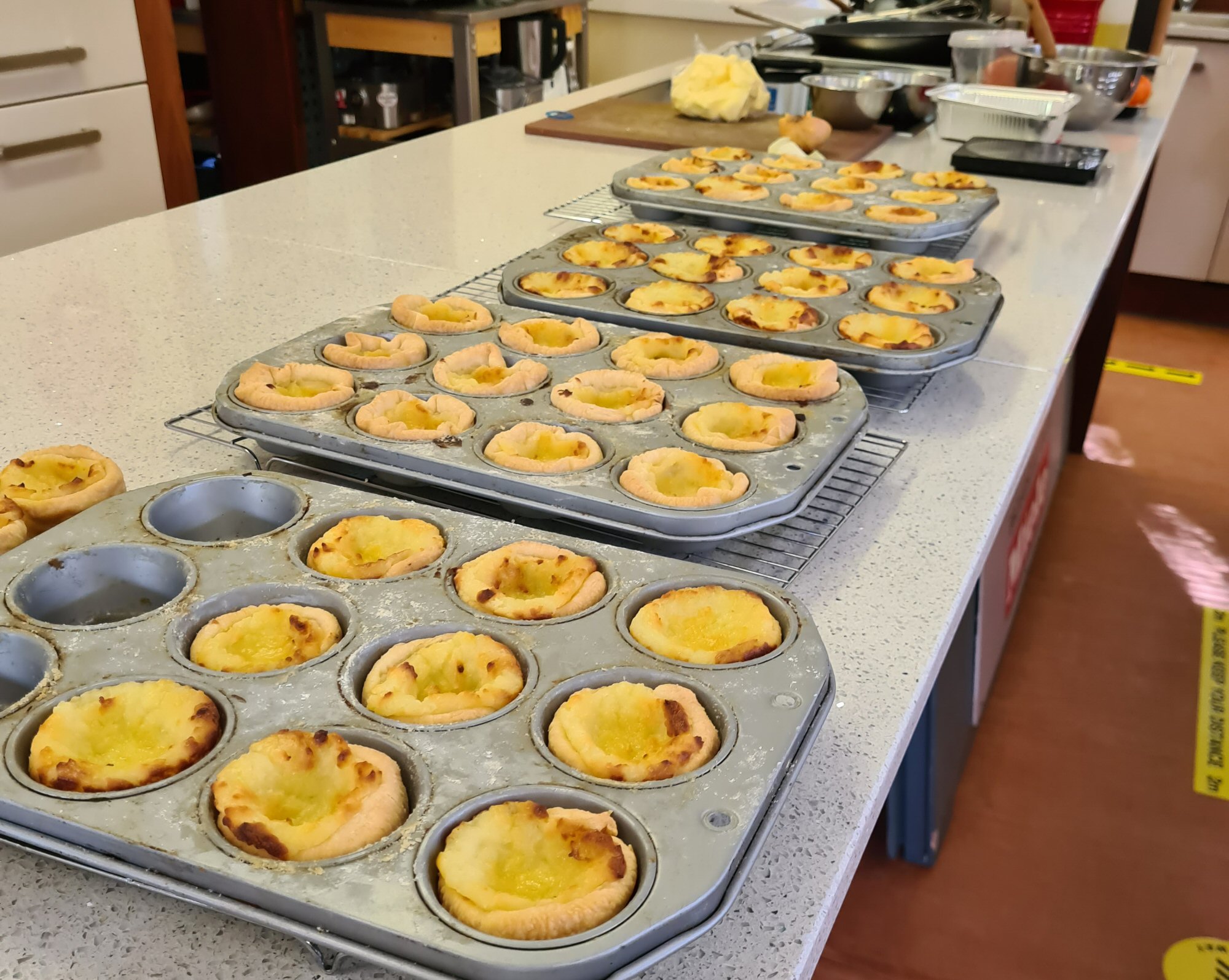 I don't think I've ever been quite as interested in the oven as I was whilst the Pasteis de Nata were cooking! There was a definite hush in the kitchen from us all as we waited (not so) patiently until we could retrieve the muffin tray from the oven's warmth and pop it onto a wire rack. The five minutes or so that we had to wait until we could pop each tart out of the muffin tin were possibly the longest 5 minutes I've ever experienced; honestly , we were all like cats on hot bricks, hopping from foot-to-foot, counting down the seconds! Chef couldn't help but grin at our antics.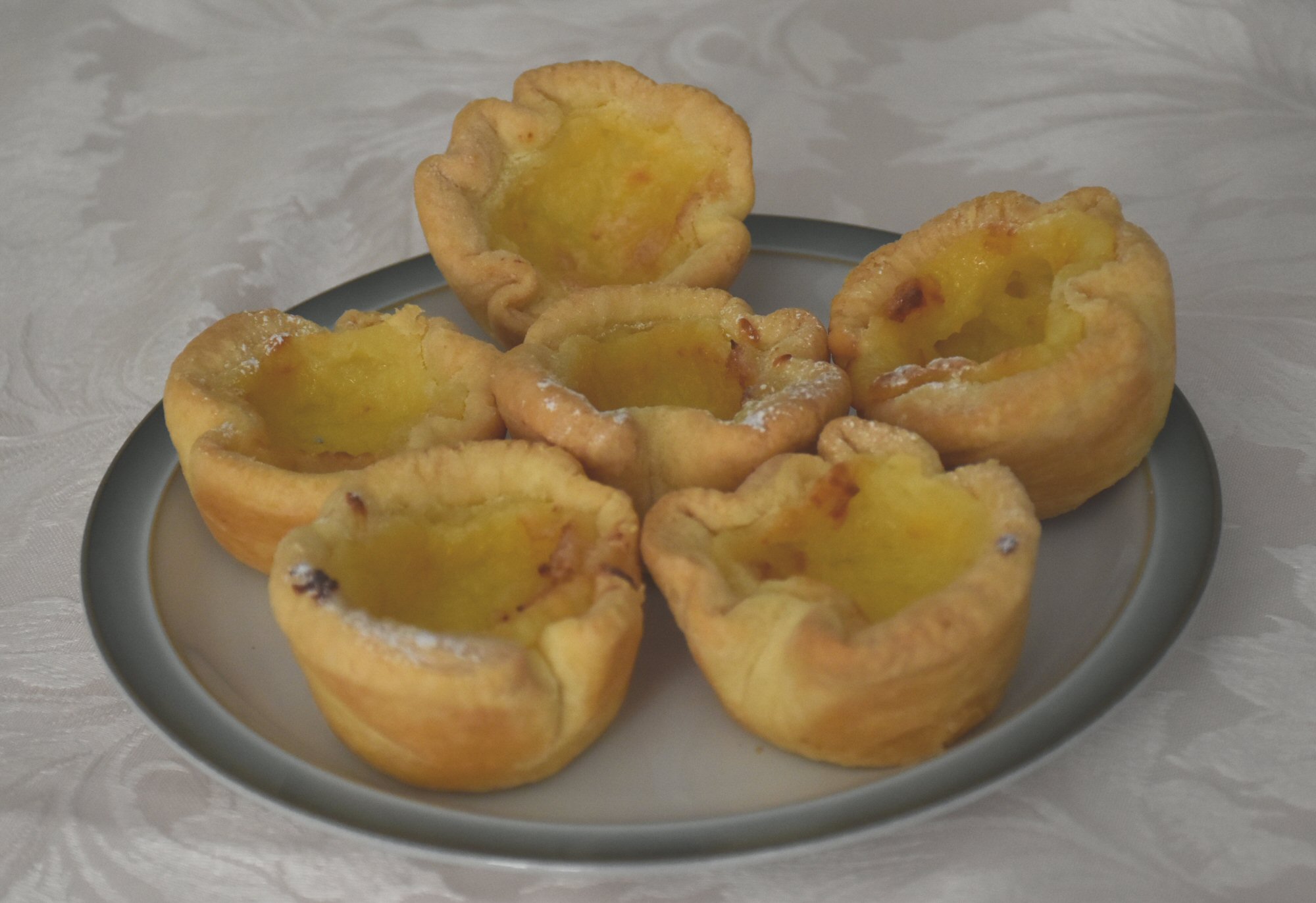 No surprise, then, when I say that I greedily popped one in to my mouth! Crikey, it was moreish... another one swiftly followed its sibling into my tummy; I felt absolutely no guilt either, just in case you wondered! All our efforts got packaged up at the end of the class so that they could safely make it back home, and we bade each other goodbye as we walked across the courtyard to our respective cars.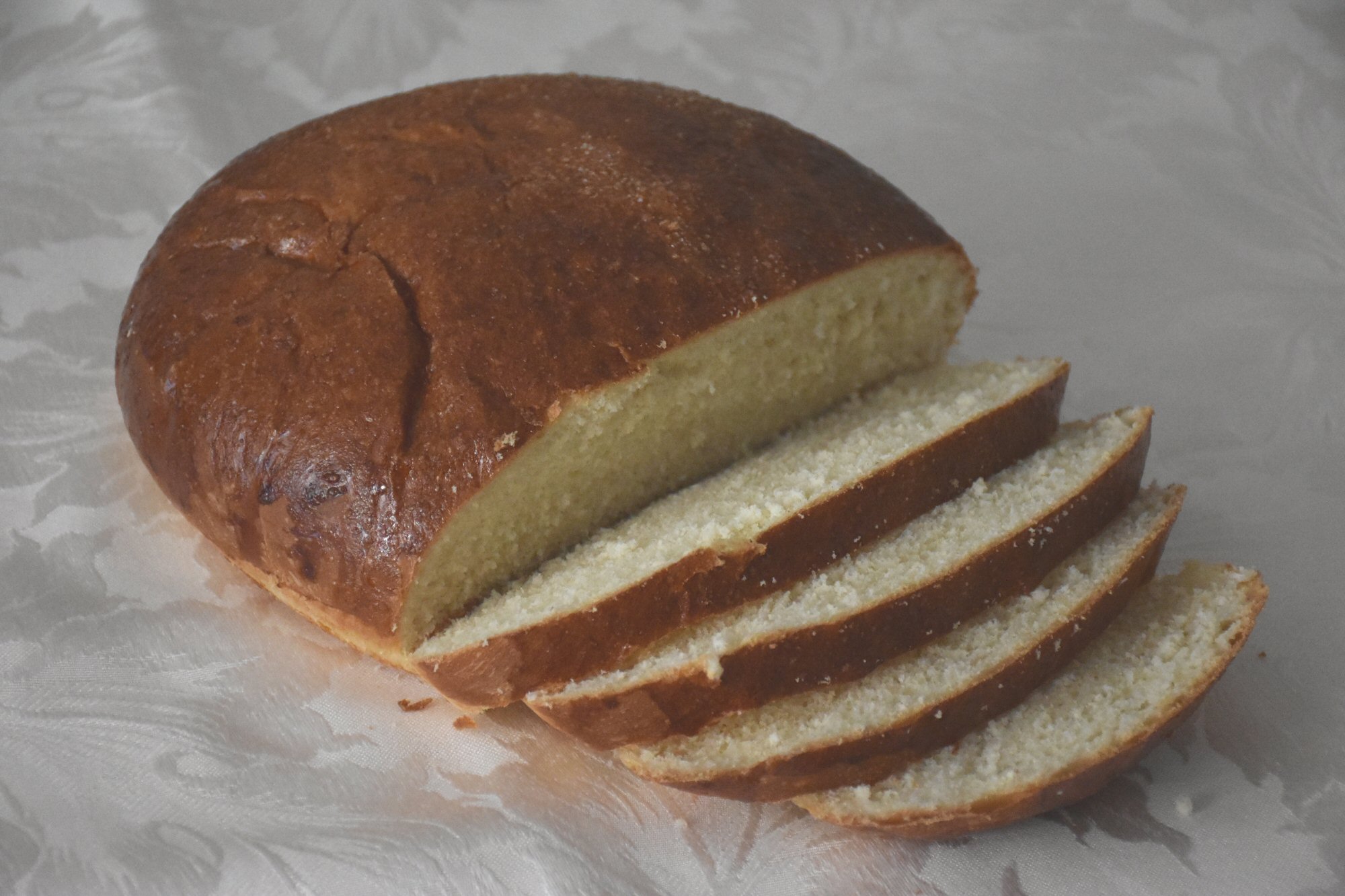 If you ever want to feel super-popular with your friends and family all you have to do is attend the Portuguese Cooking class at Coghlans; Mummy Bird and His Nibs were glegging out of the window awaiting my return, and they came out to 'help me' with the bags I was carrying!! Thankfully Chef Lilley had worked his magic again, and I had somehow produced a veritable feast for the Flock.




Coghlans are hoping to reintroduce their dining evenings in early 2022, Covid restrictions permitting; if you have never been to one of these, I can assure you that they are well worth checking out. Each time His Nibs and I have been to one we have had a fantastic experience; as well as relishing top-notch food and drink, you make friends with like-minded folks, so it is a most enjoyable social event too. There are loads of half day and full day classes on offer as well, so go and have a look on the website for details and availability.

Thank you for inviting me along again, team Coghlans, I had a serious amount of fun. Hot Wings given for this brilliant experience! If possible, do you think I could just have a little camp-bed set up in the corner of the kitchen? Chef would never know I was there, promise ;).