Dinner At Fairways At Chevin Golf Club, Duffield
---
Published On Thursday 9 Sep 2021 by Sticky Beak
See Recent Dining Out Reviews | See All Recent Reviews


It's no secret that The Man Bird and I are beyond jammy in what we do; we get to visit some cracking venues and meet passionate folks around the 'Shire and over its borders. Occasionally though, we have to pinch ourselves that we really are at such a spectacular place and sampling top-notch food; this was one such occasion, at Fairways at Chevin Golf Club in Duffield.
Before I get into the review 'proper', let me just give you an inside tip so that you don't do what we did. There are two car parks at the golf club: one near the golf supplies shop (the ProShop to those in the know) and one further down, near the clubhouse; park in the furthest one down the driveway, the one near the clubhouse because a) it'll save your heels (me) and b) when it's dark outside you won't trip up on the kerb (His Nibs!). You can thank me later.




Some regulars at Angelo's at The Kings Head in Duffield will recognise Hollie from there; well she is now the driving (golf pun there!) force behind this latest venture that wants to deliver not only good grub for daytime golfers, but fine dining for them, their families and friends, and the general public too. Yes that's right people, YOU DON'T HAVE TO BE A MEMBER OF THE GOLF CLUB TO DINE THERE!!! I'm not shouting at you, by the way, I'm just making sure that you see the fact that you can just ring up and book a table to dine there, just by being Joe public.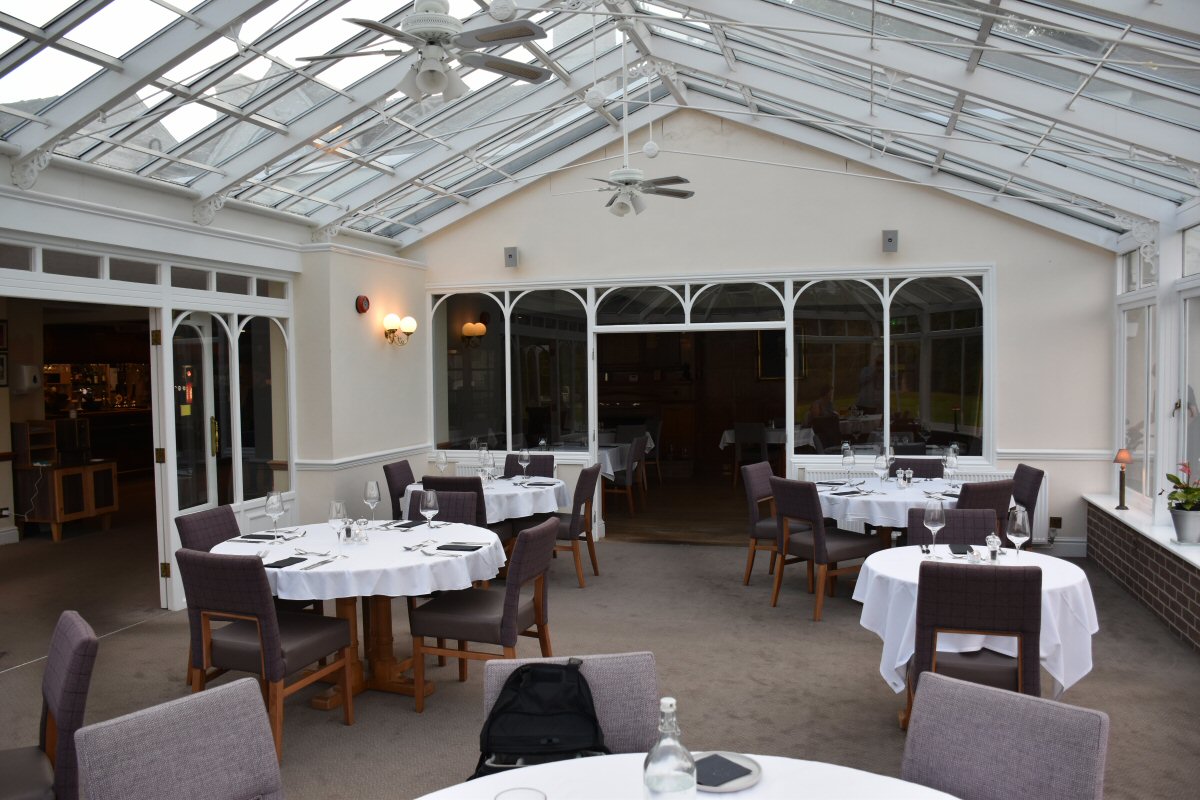 So having walked past the immaculately tended flower beds and their beautiful blooms, we stepped inside and were warmly greeted by Hollie herself and asked where we'd like to sit: in the main dining room or in the conservatory. Given that it was dry, fairly bright evening, we chose to sit in the light, airy surroundings of the conservatory and enjoy the stunning views over the fairway. I actually like the stark difference between the two environments – the conservatory is light and bright, the main dining room is more traditional 'club feel' with its wood panelling and plaques with winning members names in gold mounted on the walls. Both areas have classically white-cloth set tables, shining cutlery and gleaming glass-ware, so it depends what ambience you prefer. On dry, warm days you could even sit out on the terrace and dine at one of the rattan tables!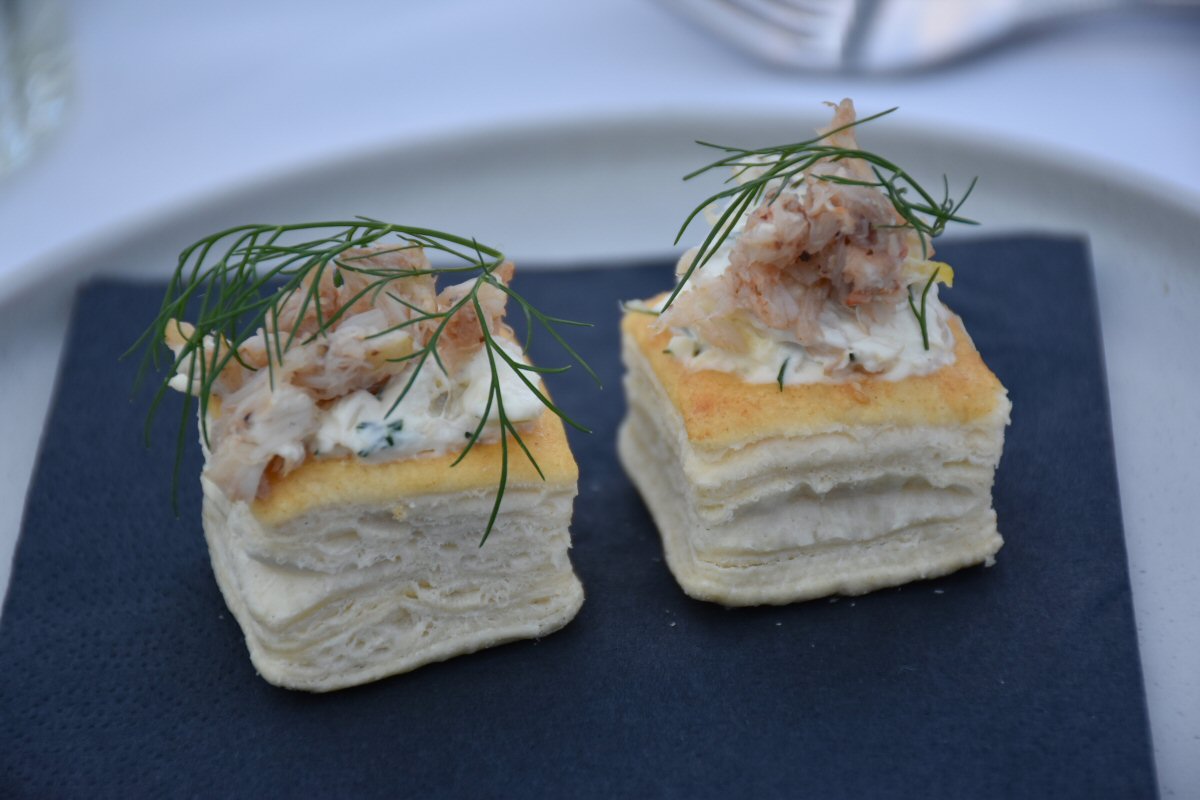 Once we'd ordered water and drinks from Charlie (our server for the evening, who turned out to be a total superstar), we settled in to study the extensive menu. It isn't often I look at a menu and can't make up my mind, but there was so much choice and so many dishes that I loved! The fates were clearly looking down on us because Hollie came to the rescue and said that Chef, Tom, (the Head Chef) was happy to serve a bit of everything; previous experience has taught us not to argue with Chef, so that's what we went with. Before that though, there was the tiny matter of the complimentary amuse bouche to deal with: Crab Vol-au-Vent.

Wickedly thin puff pastry squares housed a creamy concoction of light, sweet Crab meat, complimented by the bright anise tones of the Dill fronds used to garnish the top. Our interest was piqued by this morsel and our juices began to flow in anticipation of what was to come.




The first morsel we dived into was the Smoked Salmon Mousse; Smoked Salmon and King Prawn Mousse, wrapped in Oak-smoked Salmon slices and served with toasted Rye bread and Tempura Prawn. His Nibs was a bit sceptical of this because he finds Salmon too 'fishy', but as I tried the King Prawn and Salmon mousse I thought he'd actually get on with it; he gamely tried a bit and was pleasantly surprised that he liked it as much as he did, but he did say he couldn't eat a lot of it. I was bowled over by the fresh hit of herbs in the mousse; not only did they add flavour to bring out the delicate fish and seafood notes, they added a pop of colour too. The Tempura batter on the prawn was super light and not at all greasy, and I squeezed over some juice from the wedge of fresh citrus used as a garnish to really add some zip in my mouth. Rye bread has a denser texture than some other varieties and this high-lighted the fine character of the mousse nicely.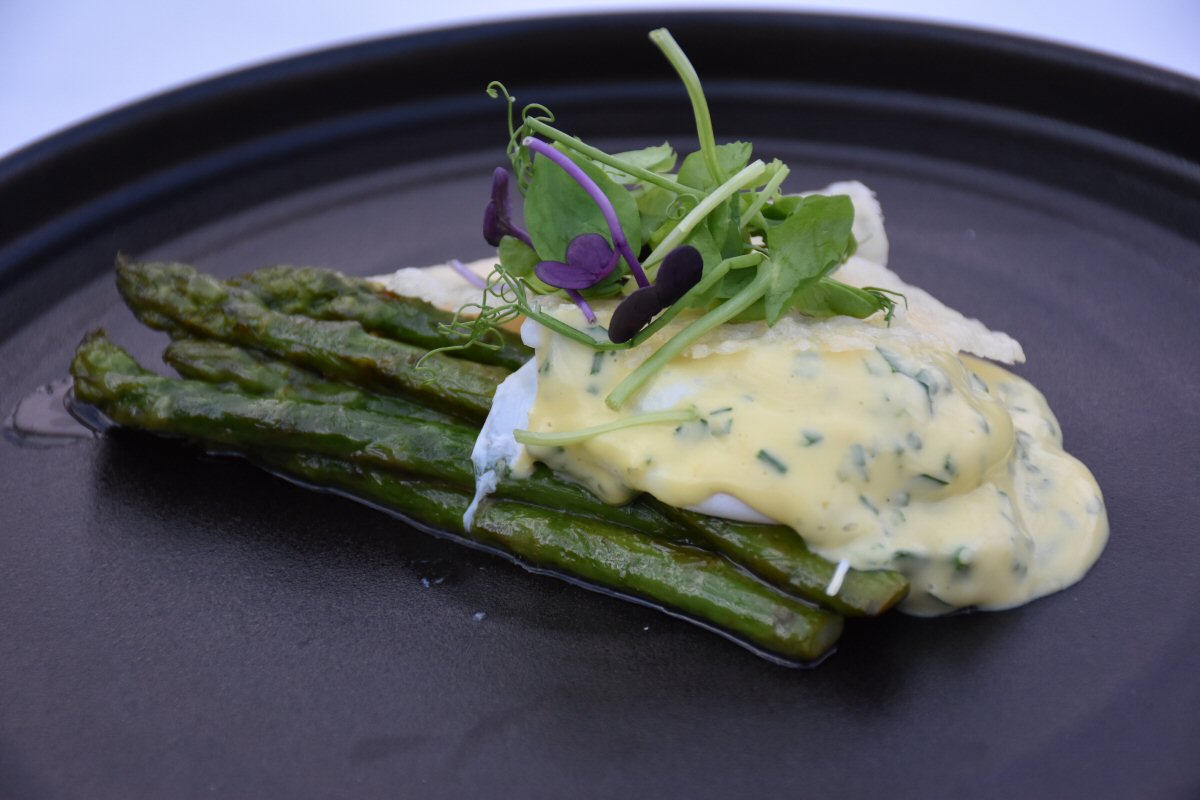 His Nibs busied himself with the classically elegant pairing of Asparagus and Poached Egg (accompanied by a Chive and Parsley Hollandaise sauce, Parmesan crisp and confit Egg Yolk) – commenting how smooth and creamy the sauce and egg yolk were as he piled his fork up! The spears of verdant Asparagus were beautifully firm, yielding a gentle crunch when bitten into and releasing a superb clean taste to partner the richer elements.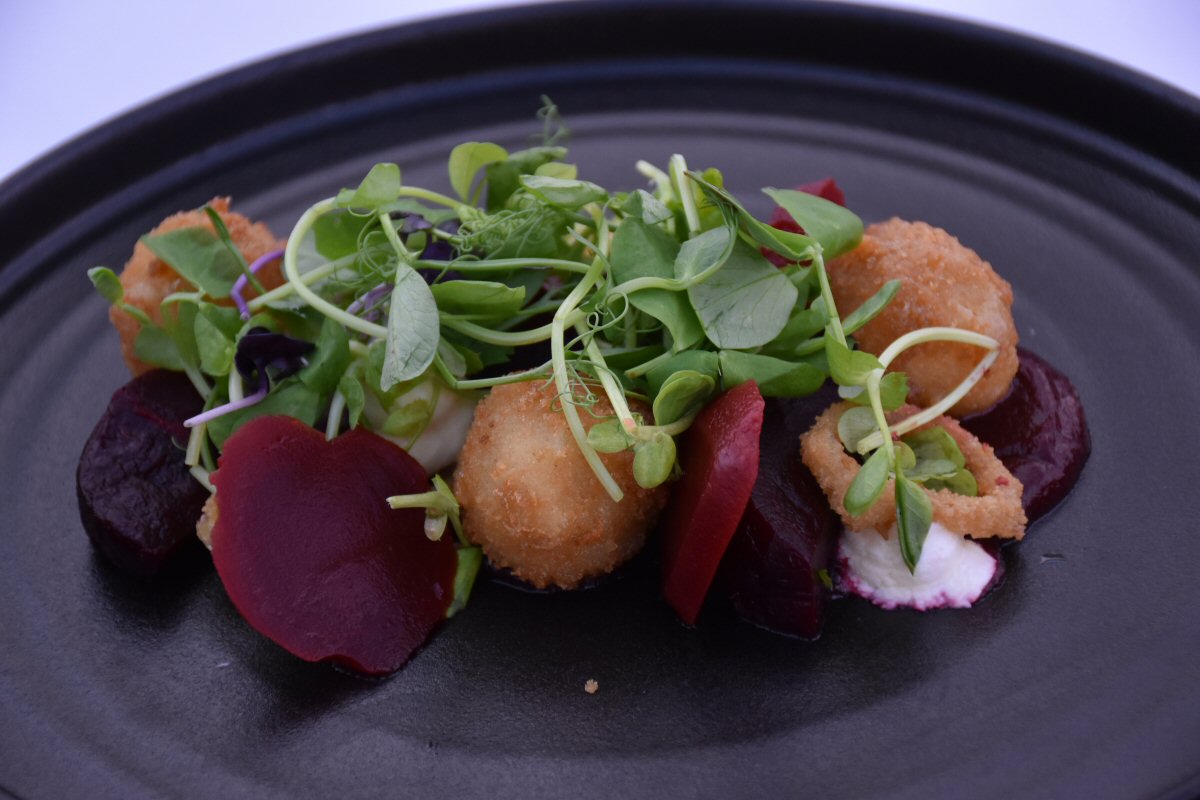 Whilst he was doing that, I tucked into the gorgeous Goats Cheese and Beetroot platter. This dish was a joy to look at with its bright colours: ruby Beetroot, green Watercress and white Cheese. I do love me some musky Goat Cheese and here it was served melted in crunchy fried Bon-Bons and as a gossamer light mousse; both incarnations were marvellous and I loved how the Beetroot was presented in different guises too. As well as honey-roasted slices, there were slices of sharp pickled Beet and a decadently rich, earthy purée whose depth of flavour bowled me over. Dinky circles of crispy Shallots added more texture to this just-about perfect summer starter.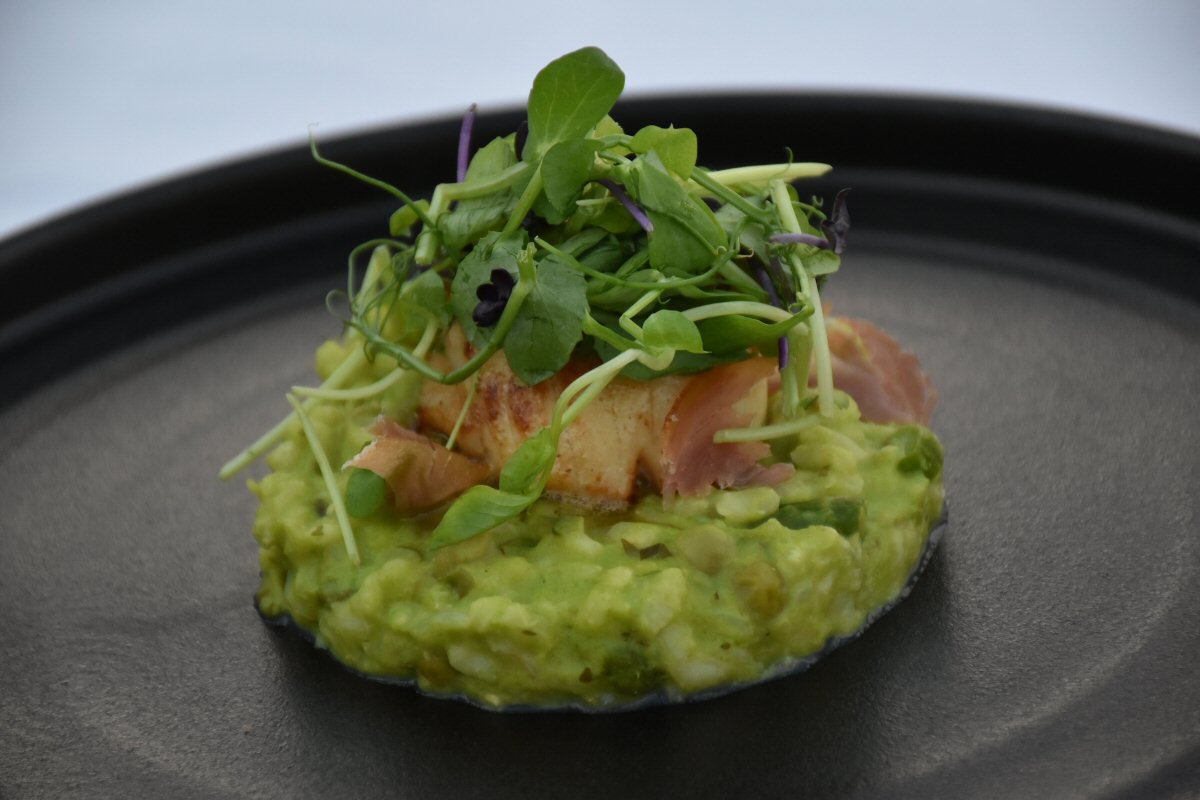 It was a bit of a bun fight when it came to the pan-seared Scallops served on Pea and Mint Risotto with Prosciutto and micro Herbs! There was a single (huge, it has to be said) Scallop sitting proudly on its verdant Risotto throne and The Man and I looked at each other with a 'it's mine!' look on our faces, lunging forward with forks poised at the same time. His Nibs narrowly won but, ever the gent, cut the seafood in half and passed it over to me; that right there is why I married this dude!. The Scallop was fat, sweet and juicy, perfectly cooked and its gentle taste was well met by the rounded crushed Pea and Mint Risotto whose grain was absolutely spot on 'Al Dente'. A delightful salty hint came via the thinly sliced Prosciutto ham; too much seasoning would've sunk the delicate balance in this starter, but Chef Tom clearly knows his craft and steered well clear of this trap.




The final player in our starter course quintet was the utterly stunning Chicken Liver Parfait topped with a divine Cointreau jelly and served with toasted Ciabatta, a quenelle of Caramelised Onion butter and peppery Rocket leaves. As soon as I popped the first bit of parfait in my mouth it melted like silk on my tongue and I grinned in delight, revelling in its luxury and robust taste. The bouncy Cointreau jelly and sweet-but-smoky Caramelised Onion butter lightened the mood brilliantly, and some welcome crunch came from the toasted Ciabatta.

All five starters had been superbly presented, with not a single micro herb frond out of place! Every colour, taste and texture had been represented across this selection, but individually each dish was eye-catching as its components popped against the matt black plates it came on. Chef had served us smaller-than-usual portions of the starters because we were sampling so many, so I can definitely say that you'll need to take your appetite with you at Chevin Golf Club!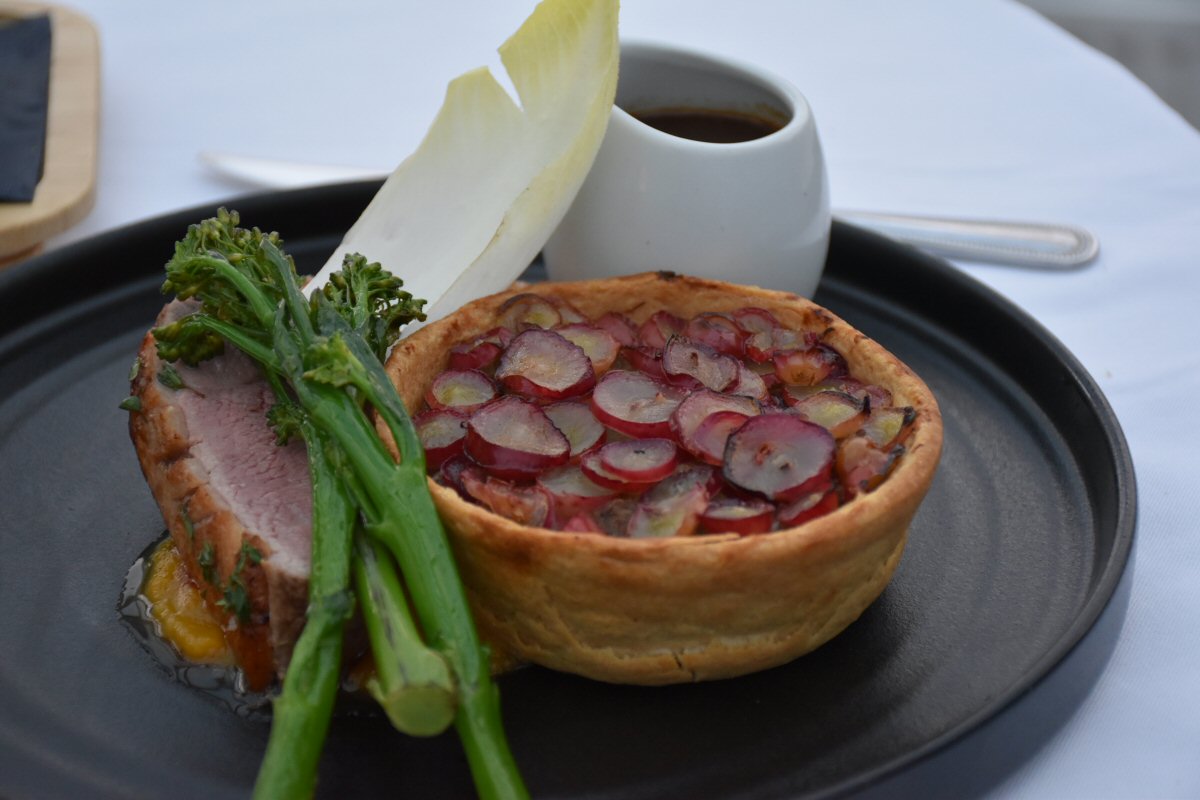 As we were valiantly ploughing our way through this veritable smorgasbord of gastro magnificence, Hollie, Charlie and the lovely Shannon all checked that we were happy and had got sufficient refreshments. When they came to check our progress they couldn't disguise their surprise that we'd managed to finished all 5 dishes! We did have to say to Hollie that we weren't hopeful of being able to do likewise if Chef offered us the same number of mains; Chef (like us) doesn't like wastage, so we opted to choose a single main each. I fancied the Duck and The Man went for Lamb.




My Honey and Thyme-glazed Duck breast had been cooked skin side down to retain its moistness and the served pink meat was indeed tender and juicy in my mouth, with just a hint of sweetness from the honey coming through. The most eye-catching component of this dish was, without doubt, the Duck Leg Tartlet with its almost sculptural, thinly sliced Red Grape top; the fruit adding a superb balance to the earthier leg meat's flavour. It was the pastry case that had my tongue in raptures though; melting the instant it touched its heat. Bringing a surprisingly good element to the dish was the humble Butternut Squash, transformed here into silky smooth, earthy but sweet, marvellousness.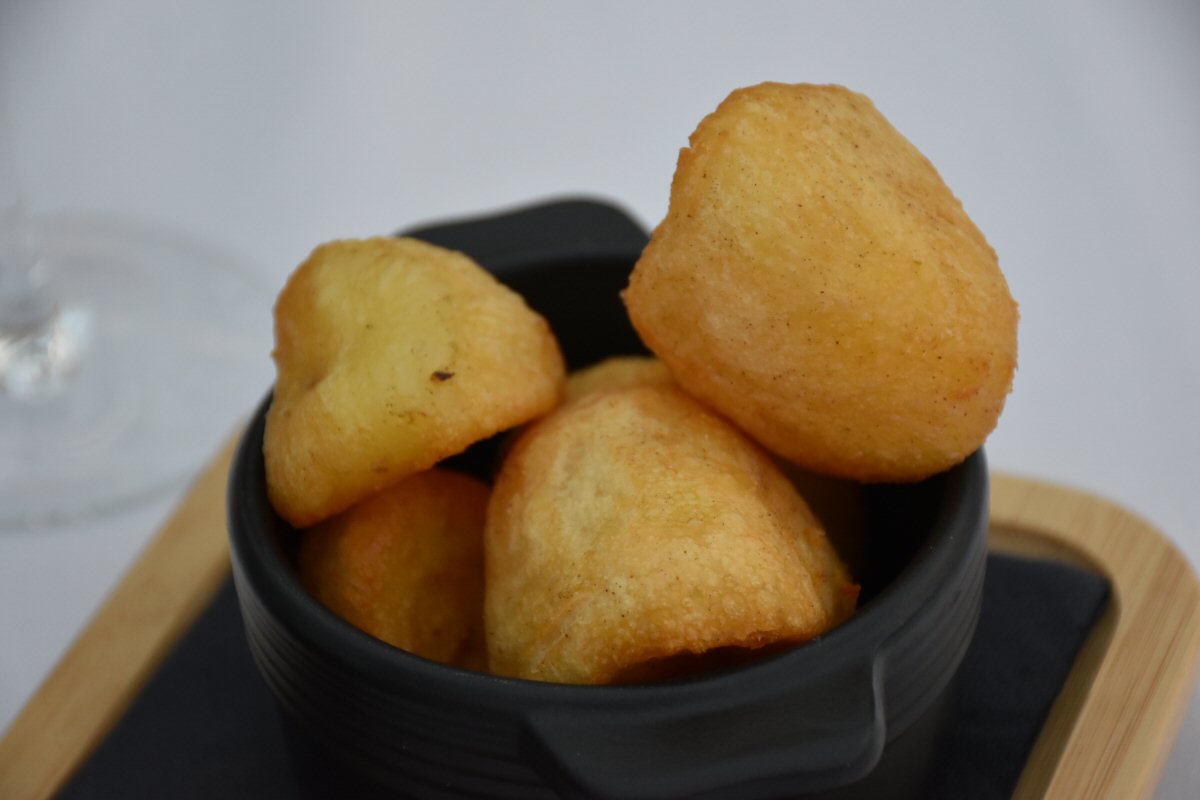 Throughout the time that we've done the blog, His Nibs and I (mainly His Nibs, it has to be said!) have scoffed through a mountain of roasted potatoes; none quite as fabulous as the ones served at Chevin Golf Club by Chef Tom though. These are just beyond! Ultra crisp, golden outers were slightly dishevelled which had let the fat crisp them up more than if they were 'unrumbled', resulting in a wicked crunch being audible when I cut into them – the same technique had been used on the Man's spuds too.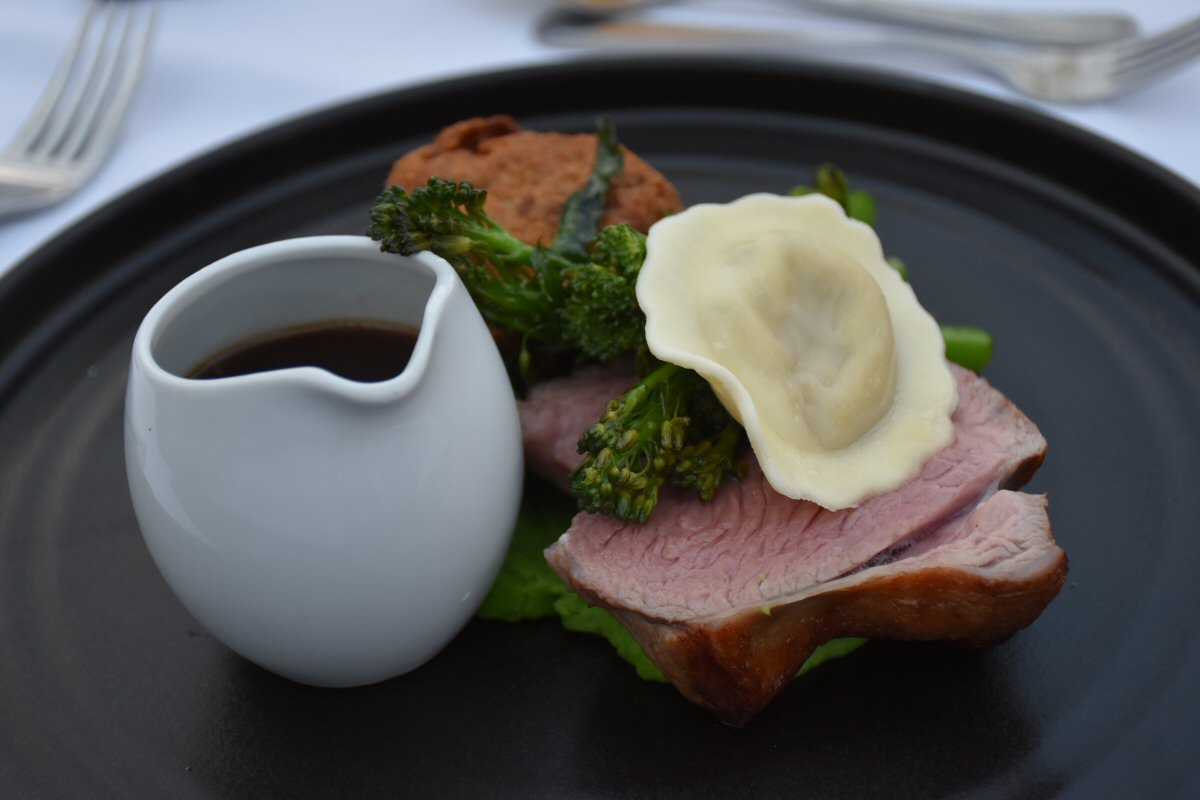 His Nibs took his first taste of the Lamb shoulder, smiled to himself, and silently passed me a piece to try. Talk about stratospherically rich in flavour; this must've been one bloody happy Lamb in the field is all I can say!! Far more delicate in taste, though just as good, was the served-pink rump of Lamb that balanced lazily on a bed of bouncy Pea purée. The wild Mushroom Ravioli was gorgeous; the pasta case was cooked perfectly firm to the bite and the mix within it was wonderfully earthy and sweet. Much to His Nibs' surprise was the Mint Jus; he's not a fan of strong Mint flavour, but commented on how marvellously it went with the robustness of the meat juices here. It was even better when a Roastie got dunked deep into it, trust me!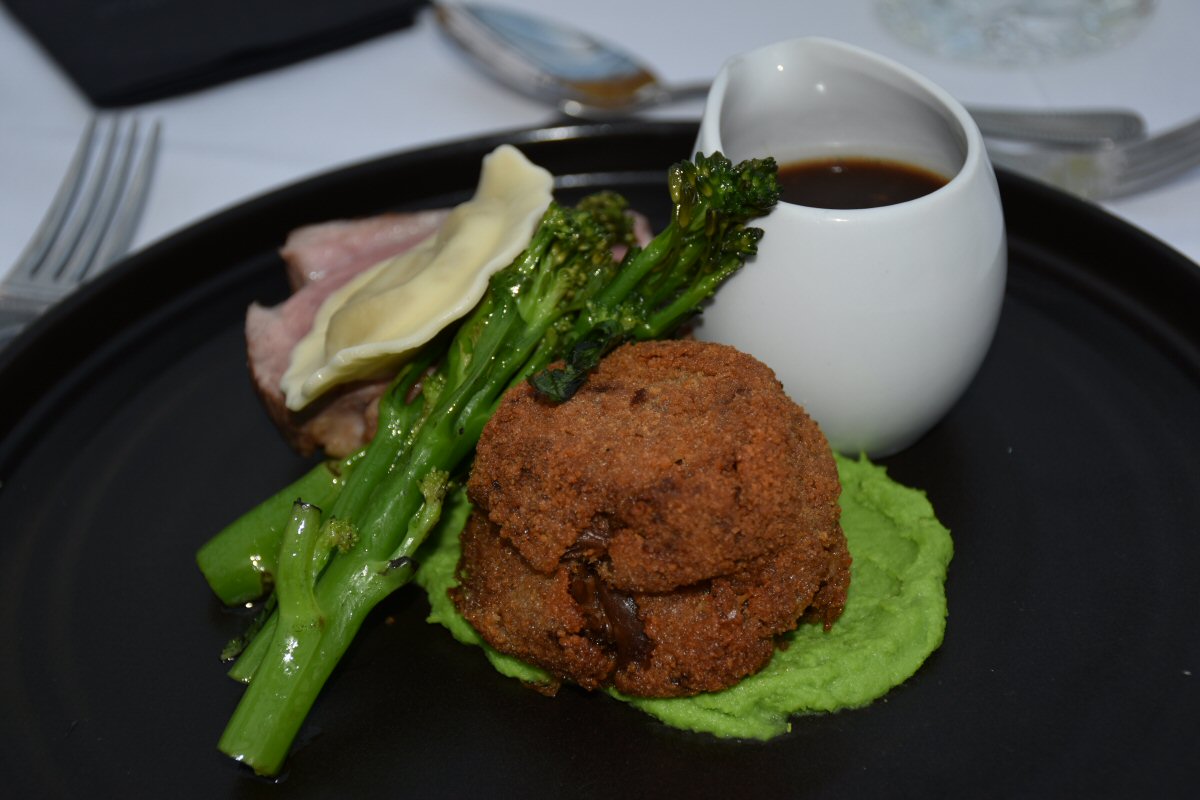 With the previous two courses (plus extras) being so good, there was no way we were going to pass pudding up! The Man Bird chose his beloved Sticky Toffee Pudding with Custard (rather than Vanilla Ice Cream) and I settled on the Lemon Tart (I nearly went for the Crème Brulee).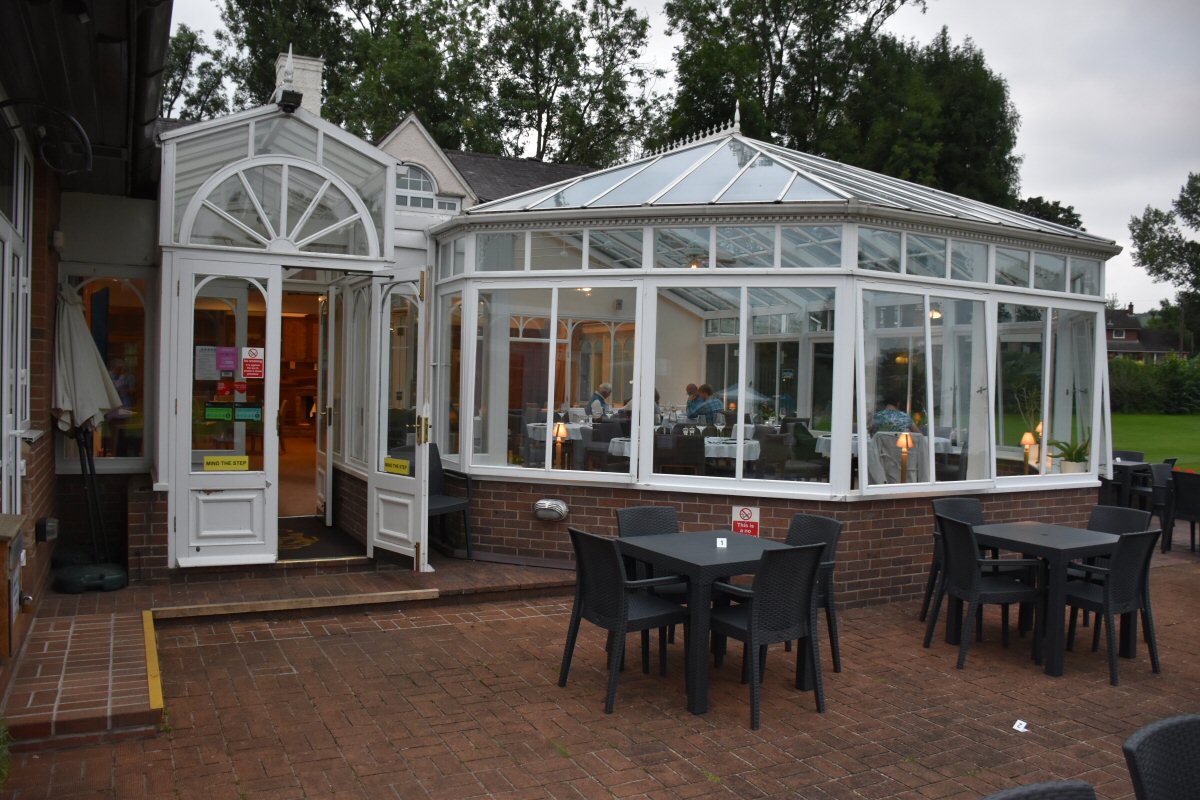 Happily, the Sticky Toffee Pudding was rich in taste but lighter in texture so it didn't lay heavy on the tummy. Texturally it wasn't completely smooth but wasn't as coarse as some His Nibs has sampled over the years; each Chef interprets this British favourite differently and here in Duffield, aficionados won't be left wanting with the rich flavour. A thick, decadent dark toffee sauce seduced The Mans' palate completely, revived by the steadfast character of a good, piping hot, homemade Vanilla Custard (which you can have as much of as you require).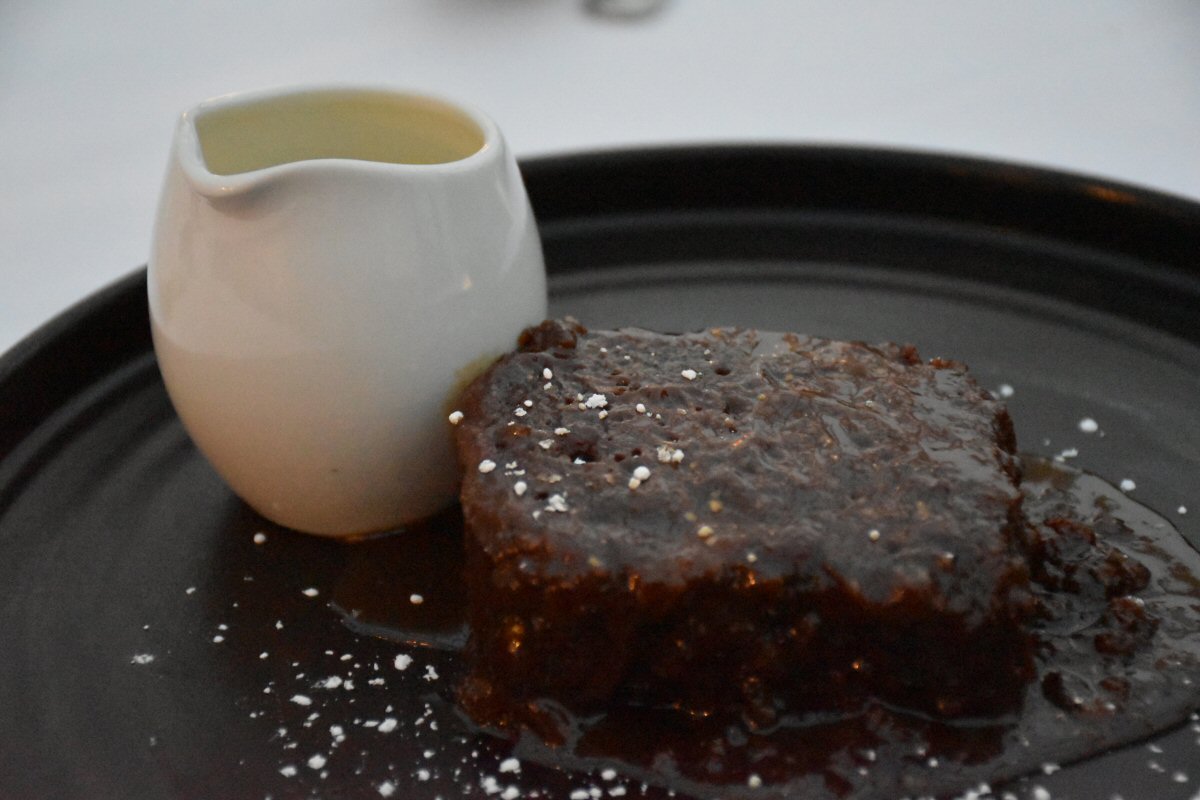 My Lemon Tart had a gorgeous pastry bottom to it and the ratio of base to filling was perfect, in my opinion. The Lemon filling managed, somehow, to be wonderfully sharp initially and then reveal gentleness at the back of the tongue and throat a few seconds later. Its thick texture allowed it to coat the inside of my greedy mouth thoroughly and be fully savoured. Now, you all know that I'm not good with Meringue but I was feeling rebellious, so I did snaffle a mouthful of the light Meringue blanket that covered the Lemon mix as well as a piece of the Lime- and Lemon- zest flecked Meringue shards before I passed the remainder over to The Man. A pastel hued Lemon Curd anchored the scoop of mellow Vanilla Ice Cream to the plate and individually they were lovely, but swirled together; oh man, this was something totally glorious!




We finished off our meals with a couple of black coffees from Saquella along with a nutty Macaron and Chocolate Truffle from Chef Tom's fair hands! It's no exaggeration to say that we rolled out of the conservatory at Chevin Golf Club in Duffield, but we were more than happy to relinquish any shred of dignity we had in the face of such a feast.




It isn't often that fine dining quality food comes at an affordable price, or at least achievable as a treat of you're on a budget, but thanks to the teams vision of making great food accessible to all it is possible here at Chevin Golf Club. The starters ranged in price from £6.95 -£8.95, the mains courses are between £13.95 - £26.95 and all desserts (barring the cheese board at £6.95) are £5.95.

Hollie plans to shake the menu up every couple of weeks, as well as changing it seasonally, to keep things fresh and interesting, but it won't be a total change. Those who wish to have breakfast, lunchtime light bites, the all day menu and Sunday Lunch will still be able to do so, safe in the knowledge that all the favourites are there continuously.

Food service times are 9am- 8.30pm Monday- Saturday, and 9am – 6pm on Sunday. I always advise booking ahead to guarantee the date and time that you wish you dine, and it's no different here. All that remains for me to say is... Hot Wings unreservedly awarded here, and thank you, Hollie, for your kind invitation to experience the food and service you offer at Chevin Golf Club in Duffield. P.S if you can't find Tom one day, I've kidnapped him ;)!!

And remember... you don't have to be a member of the Golf Club to dine here!!
Some form of incentive was provided to visit this venue
read more
Read Some Of Our Recent Reviews
---

A Family Dinner At Thai Thai Restaurant In Chesterfield Thanks to the weather being kind, it had been all hands on deck at Mummy Birds gaff and so we hadn't quite got around to organising Sunday Lunch! There was no way in hell Read The Article

---

Burger and Beer Mondays At The Railway Inn, Shottle It wasn't long ago that we had a Flock outing for Sunday lunch at The Railway Inn at Shottle (and really enjoyed it) so when we were invited to try out their newest offering Read The Article

---

A Visit To The Seafood And Champagne Terrace At The Cavendish Hotel, Baslow I know The Man and I must seem calm and collected to a lot of you, so let me shatter that bubble right now by describing what happened when a certain invite Read The Article

---

Dinner At The Red Lion At The Peak Edge Hotel Sometimes you visit somewhere that is already wonderful but, when you know that there is more to come, gives you that shiver of excitement up and down your spine. This is exactly the feeling Read The Article

---

A Tasty Lunch At The Vegan Revelation Cafe, Belper Vegans, you have got an absolute bobby dazzler of a cafe here; non-vegans prepare to have your taste buds bowled over and have your 'no meat' notions over-turned - and I do include myself Read The Article

---

Dinner At The Recently Refurbished Bay Leaf Indian Restaurant, Heanor Can you believe we were out again with Mummy Bird; she's becoming quite the social Tribal Elder! The last time she'd seen Faz was at his previous restaurant (Nirvana) Read The Article

---

Dinner At The George At Hathersage You can't fail to be impressed by The George at Hathersage when you first clap eyes on it; the huge stone building commands your attention with its imposing beauty. It has its own car park too Read The Article

---

Dinner At The Seafood Cave and Grill, Matlock Bath I love seafood (yes, even cockles and winkles!) so I was beyond excited to receive an invite from the owner of The Seafood Cave and Grill in Matlock Bath, Ian McGhie, to sample the food Read The Article

---

Sunday Lunch At The Spanker, Nether Heage As many of you lovely peeps are aware, we recently did a poll on the blogs Facebook page asking for your favourite venues to have Sunday Roasts at. Well, you all certainly got involved, voting for Read The Article

---

Burgers And Loaded Fries At Cravings Street Food Bistro, Sutton-in-Ashfield Boyf Birds' parents had been to a local eaterie recently that they felt would be right up our street (food), so we decided to pay said venue - Cravings Street Food Read The Article

---