Dinner At Simla Indian Restaurant, Kimberley, Nottingham
---
Published On Thursday 12 Aug 2021 by Sticky Beak
See Recent Dining Out Reviews | See All Recent Reviews


Well dear readers, I am wondering where on earth the warm summer has gone because it certainly isn't in the Midlands at the minute! Thanks to a kind invite from the Simla Indian restaurant team in Kimberley, I wasn't going to go cold; what the weather lacked in warmth and heat, their food and hospitality would more than make up for.
Simla has been running since 1992 (retaining the same original Chef as well!) and is located a little off the beaten track from the town centre, on James Street. The venue doesn't have its own dedicated car park but there is on-road parking outside and plenty of free car parks close by that offer up to 3 hours during the day up from 8am until 6pm, after which time you can stay unlimited. Having parked up, The Man Bird and I had a slow wander down to Simla, and when we stepped in the door we received a lovely warm welcome that set the tone for the rest of the evening.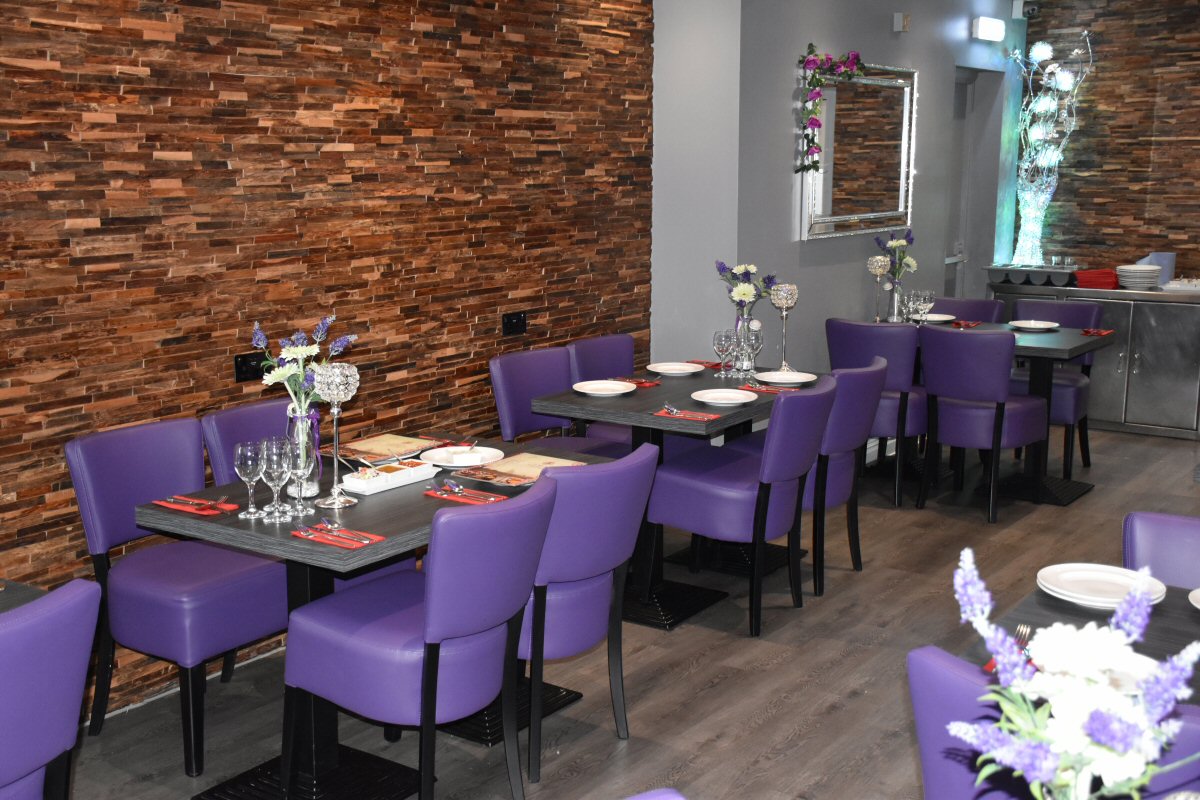 What I really liked about the venue is that there is a front area with seating for guests picking up takeaways or waiting for a table at busy times, and then the main dining space is further back – complete with a bar that is absolutely crammed with every possible wine, beer and spirit you could want. Just a note though; the Simla team don't currently offer cocktails (but the Malbec I had was a corker, and made up for this #justsaying). His Nibs' eyes lit up when he spied Kingfisher lager on draught...no prizes for guessing what his choice of refreshment was!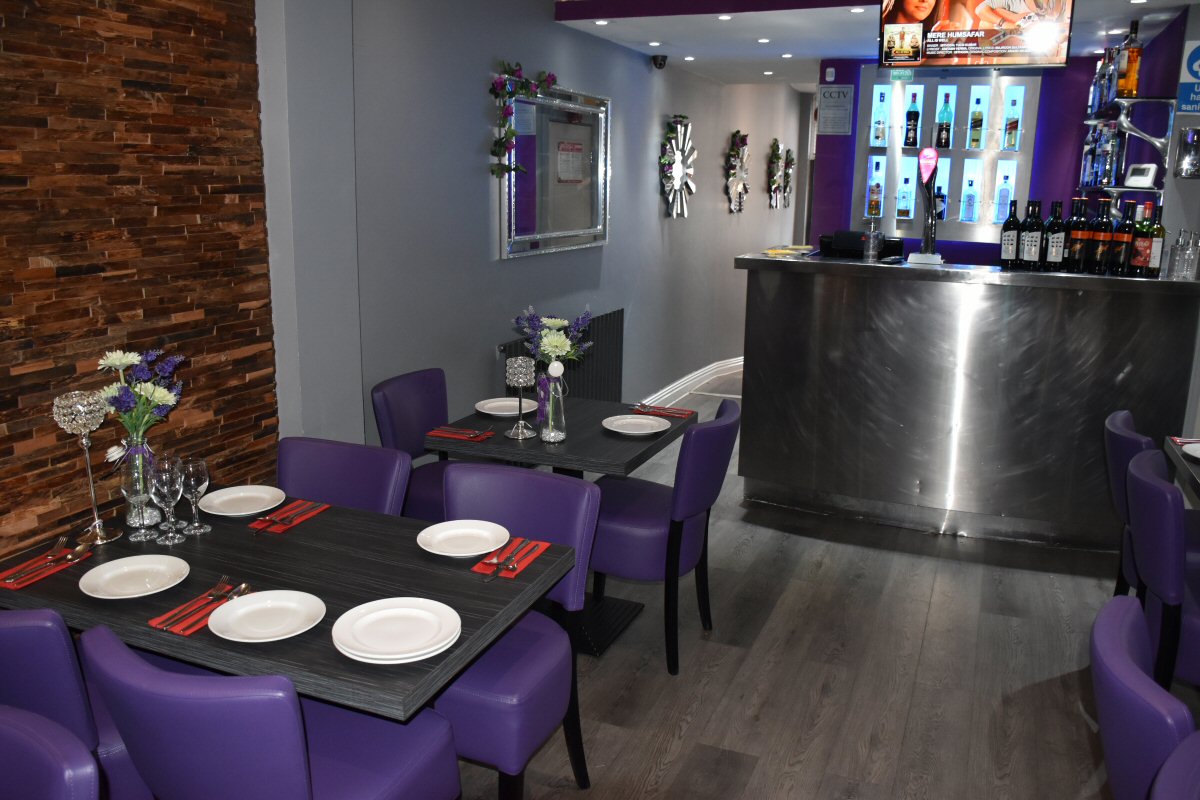 The lovely Anwar was our server for the evening and he went to fetch some iced water for the table too as we tucked into the Poppadoms and pickles that were magically on the table when we arrived. If you reserve table in advance then a beautiful assortment of pickles is set out waiting for you, which I think is a thoughtful touch; let's face it, having Poppadoms and pickles to nibble on as you decide what you fancy is pretty much the law at an Indian restaurant! I piled on my beloved Lime Pickle and Minty Yoghurt, His Nibs bagged the Onion salad and Mango Chutney; good job we like different things, else there could soon be fisticuffs if we weren't playing nicely!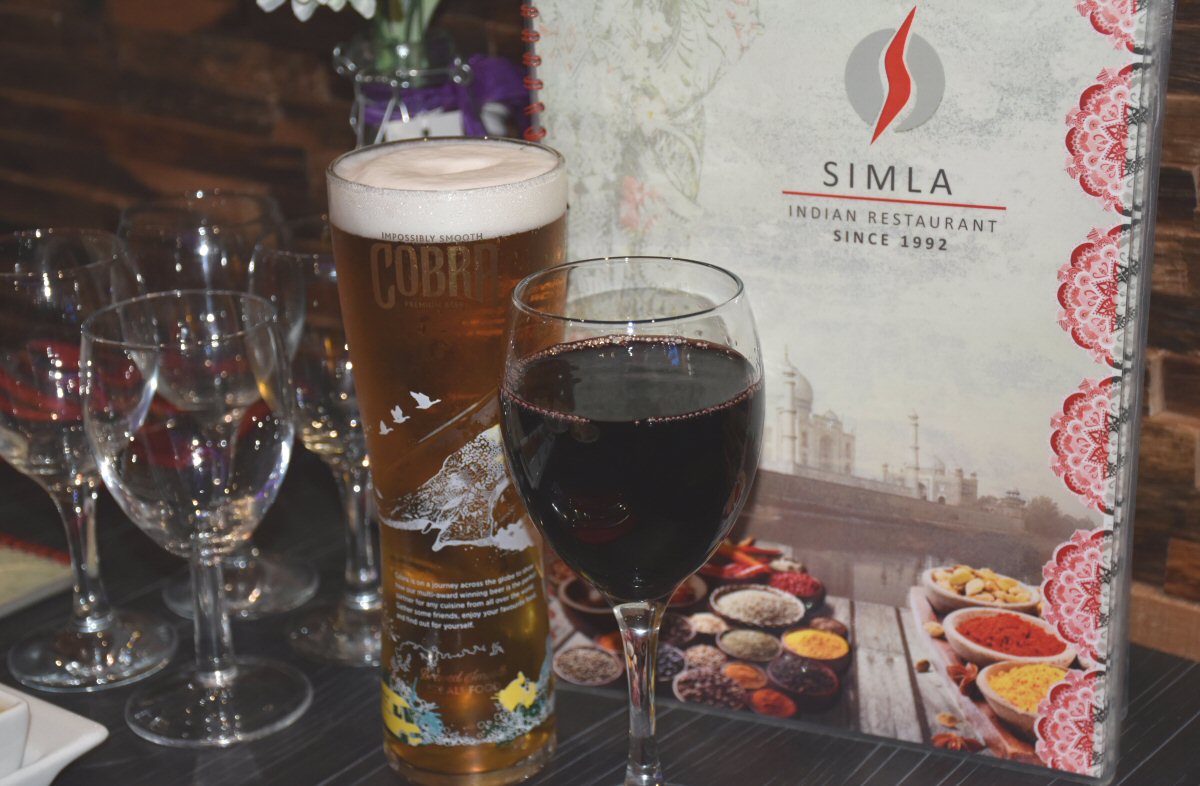 Anwar gave us a few minutes to look over the menu and I took the opportunity to have a gleg at my surroundings. Ali, the owner (who had extended the invite to us to visit) has used the time in lockdown wisely to refurbish Simla and create a unique environment that has a superb ambiance to it. The lighting managed to be striking (especially the central, purple back-lit light which takes up a huge amount of space on the ceiling) whilst being dimmer than many establishments which immediately creates a more intimate, relaxed feel for diners. Each table is simply set with cutlery, napkins, a sparkly, stemmed tea light holder, and a simple bottle that housed an arrangement of purple and white faux flowers.




The purple colour is picked up by the mid-back chairs at each dark wood table, and a lighter tone comes from the pale grey flooring that stops Simla being too dark. Four of the tables are located at the side of a spectacular textural wood wall that houses power points and USB chargers too – very handy for tech-savvy diners.

It isn't often The Man and I struggle to choose dishes, but there were so many delights to choose from that we decided to ask Ali if we could go off-piste and just let Chef, Shezad, create a bespoke offering for us. Thankfully Ali agreed and Anwar, bless him, came over to discuss particular likes/dislikes with us so that Shezad could unleash his skills and conjure up a veritable feast!




The aroma of spices being heated and food being cooked soon began to seep from the kitchen and waft through the restaurant and we weren't the only diners to turn and sniff the air appreciatively! Anwar placed platters bearing a fruited salad, Cucumber and fresh Lemon before us, just ahead of the starters coming out, and what a selection we'd got: Chicken Chaat, Paneer Tikka, and Masala Fish and Mixed Tandoori – both of which came as sizzling platters, which added a bit of wow factor.




I do love fish, as you know, so the first morsel I tried was the Masala fish; the flesh was moist and succulent with a gorgeous sweetness to it that was complimented by the crisp outer coating and its array of spices. This had come served with charred Red Peppers and these were surprisingly subtle in taste, playing a supporting role to the fish rather than competing with it. His Nibs agreed that this was a lovely dish, tucking into a decent sized piece himself.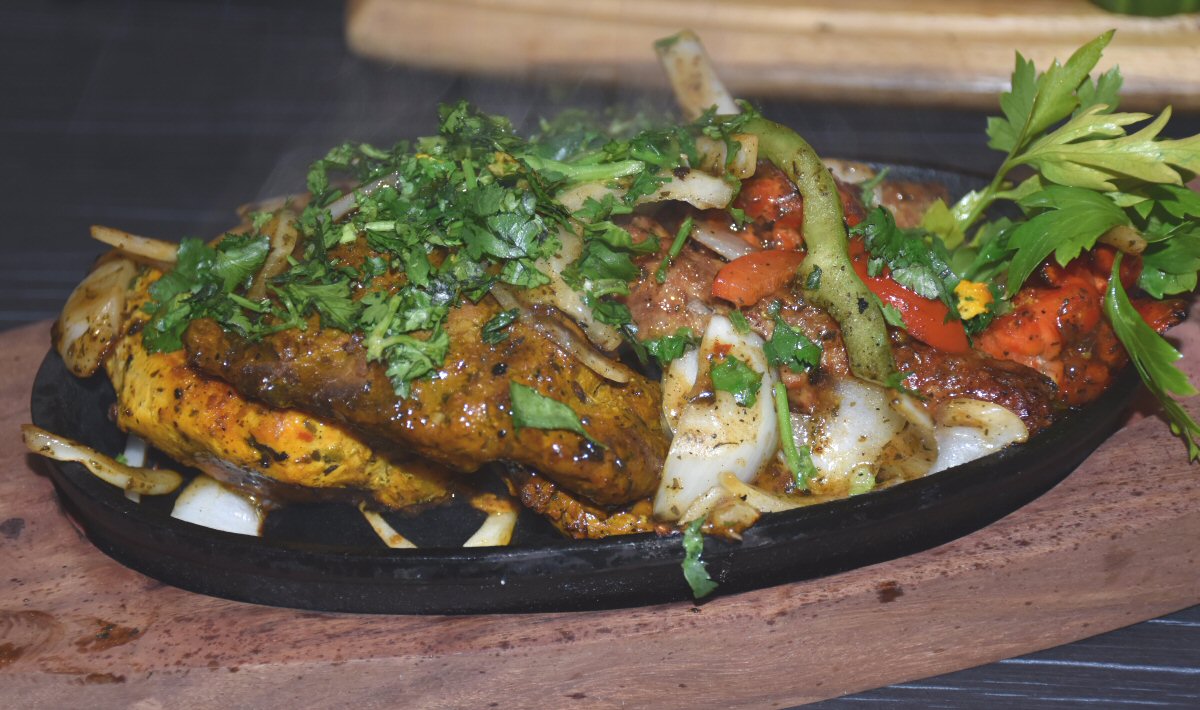 There's something exciting about a Mixed Tandoori selection, it looks a real smorgasbord of temptation, especially when presented as superbly as it was at Simla. With no decorum at all, His Nibs grabbed pieces of Lamb AND Chicken (!) whilst I reached to grab both of the huge king Prawns. Both meats and the seafood were superb; juicy, tender, and full of flavour. The sliced Onions and Peppers added a great crunchiness to the dish, skilful use of spice blends lent a complexity to this perennial favourite starter, and a generous layer of fresh herbs added taste and visual appeal too.




With the above mentioned starters both being medium spiced and quite robust, we thought that the Chicken Chaat might be milder, thanks to Mango and Yoghurt being mentioned in its description. To be fair, the cheeky sauce did lure us in with a sweetness that was delicious in the mouth, but then our palates got ambushed by a definite fiery element! The combination of this sauce and the tender, moist poultry pieces was a definite winner in our eyes.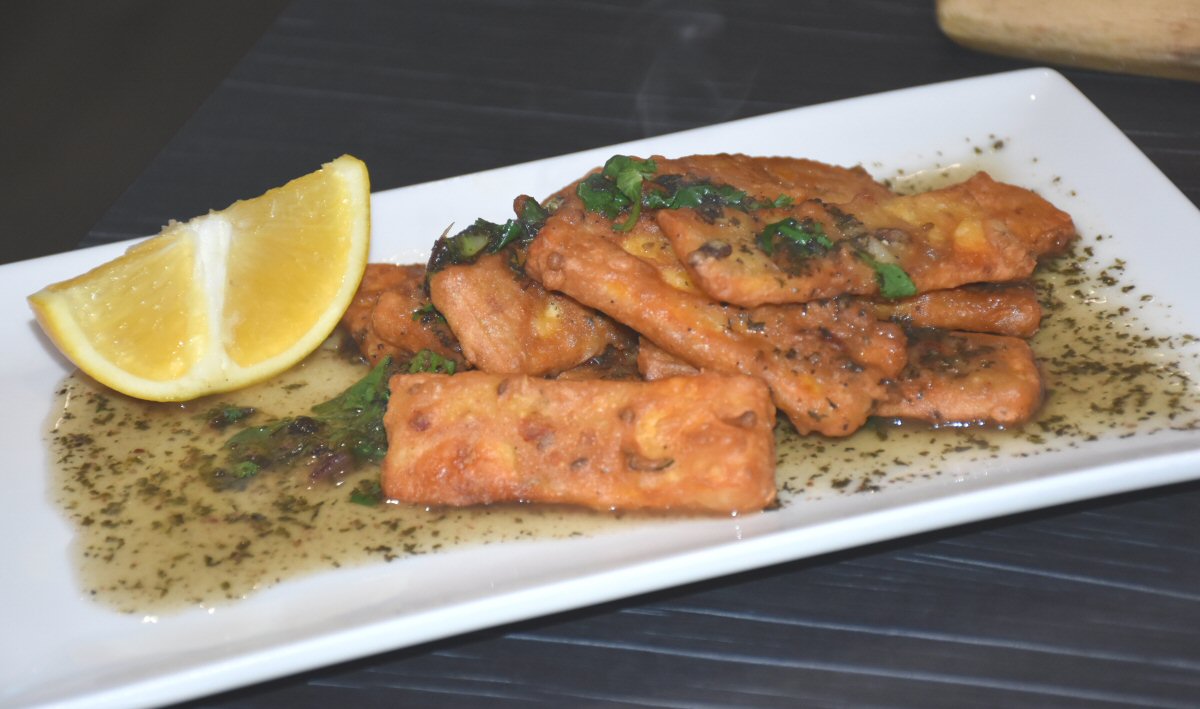 The dark horse of the starter selection was the Paneer Tikka. At first glance, marinated cheese doesn't sound as if it's going to set the world alight, does it? Let me tell you though, the Paneer had a lovely thin coating that was delicately spiced to bring out the creaminess of the dairy element and the mint sauce was just divine! I could eat this time and time and time again.

Chef was clearly in the mood for feeding; we hadn't been expecting quite so much to kick things off, and certainly not the volume of food in each dish! Ali had said that they would be 'bite-sized' portions! The Man and I looked at each other with that 'chin up, chest out' attitude – braced for the mains and sundries to arrive.




We had Coriander and Garlic Naan and Keema Naan breads at the ready for scooping up sauce, as well as Mushroom rice (complete with Cinnamon Bark and whole Cloves within the grains), and the curries Chef had made were Lamb Balti, Garlic Chilli Chicken and Vegetable Puneer. In a flurry of activity, Anwar arranged all the food on the table and bade us tuck in and enjoy – after he'd gone to grab more drinks for us.




The two breads were completely different to each other: the pillow soft Coriander and Garlic morsel was sweeter and lighter in the mouth than its spiced meat-stuffed counterpart. Thanks to it being more intense, the Keema Naan went really nicely with the spicier curries – particularly the punchy Lamb Balti. Talking of the Balti, the spice combination here was 'heavier' and more seductive than the more predictable ones in the Garlic Chilli Chicken dish, although both dishes were super-tasty. The pieces of Lamb were rich in flavour and had a glorious melt-in-the-mouth texture that both of us loved and the Chicken had been perfectly cooked too, to keep it juicy and tender. Chef Shezad's decades of experience really do come through in his creations.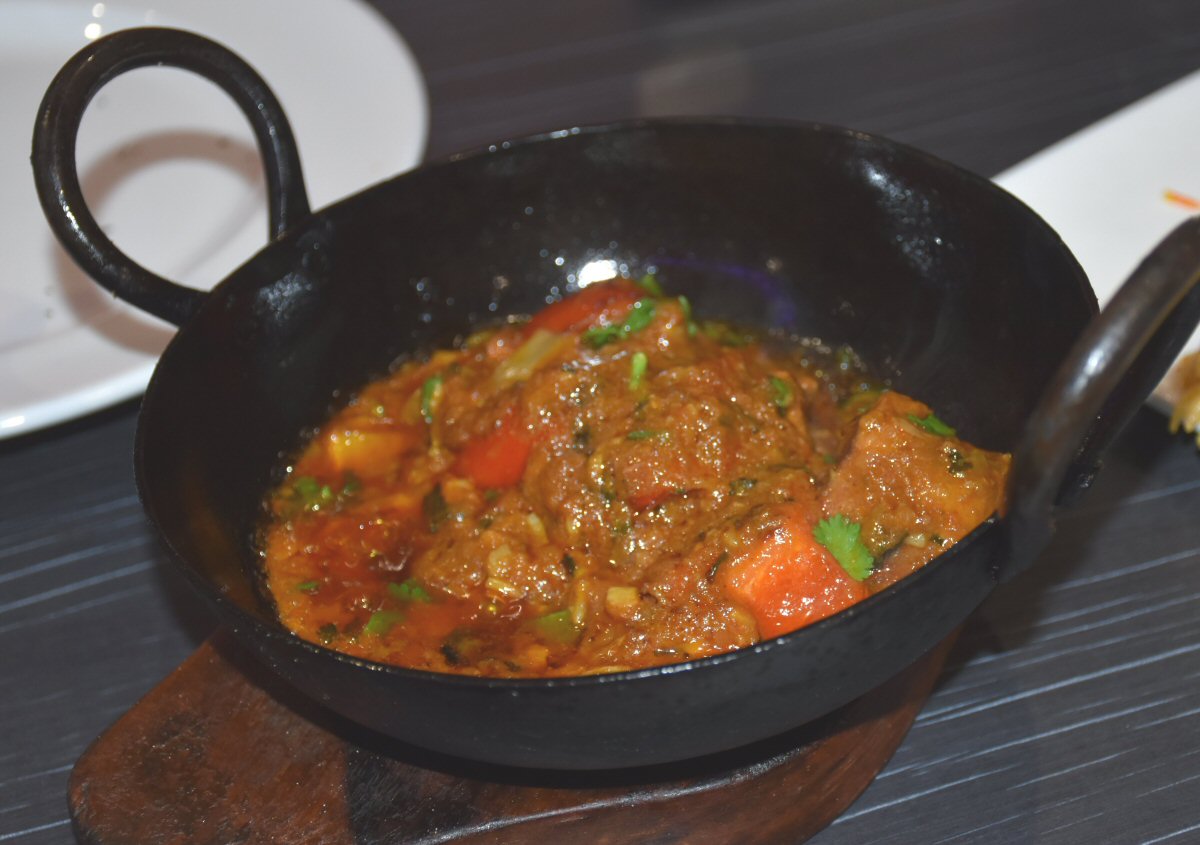 For those who don't do spice but want plenty of taste for their hard-earned pennies then you could do far worse than the Vegetable Puneer; this was really satiating and full of taste and texture. Creamy wilted Spinach had been torn and made into a thick 'sauce' that the chunks of softened (but not soggy) Potato and mild flavoured Paneer threaded through. To ramp up the comfort food factor, the whole thing was smothered with more cheese and cooked until golden. Best of all was the fact that when you scooped it up there were enticing ribbons of cheese stretching down, you know the ones that just beg to be grabbed by fingers and wrapped around forks?




Despite our best efforts we didn't manage to finish all the food but Ali let us take the rest home in a doggy bag to have later. All the food had been piping hot and each dish had distinct characteristics to be savoured, rather than them all blending into one as could easily have been the case in the hands of a lesser Chef. Kimberley, you are blessed with a real beaut of an Indian venue, keep supporting it! Ooooh, I should mention the fact that Simla do outside catering as well, so if you've got a party planned and fancy something a bit different food-wise, why not consider these guys?.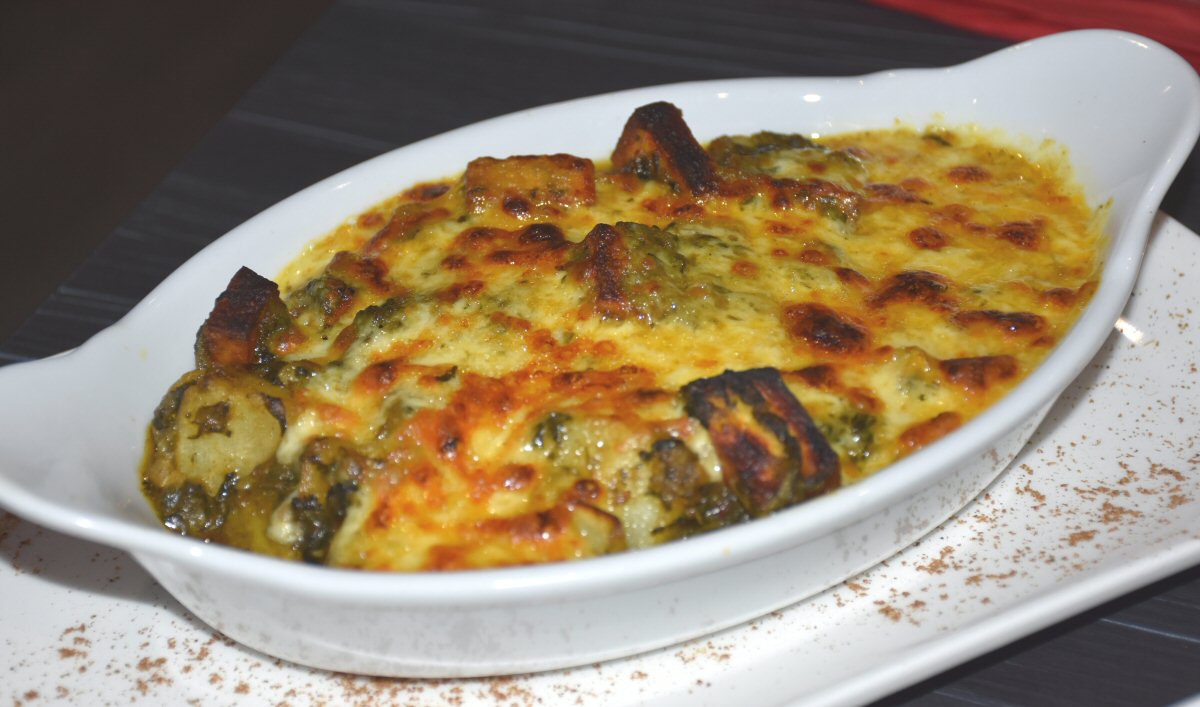 Simla is open every day of the week between 5.30-11.30pm, and although it isn't currently on offer, does an all-you-can-eat buffet on Mondays at £9.95 per person – keep your eyes peeled for when it comes back, but in the meantime go and visit Simla anyhow.

Hot Wings awarded to Ali and his team, including Ali K the takeaway packer, who we didn't get to meet as he was kept very busy all night fulfilling orders.
Some form of incentive was provided to visit this venue
read more