A Flock Sunday Lunch At The Shepherds Rest, Bagthorpe
---
Published On Friday 11 Jun 2021 by Sticky Beak
See Recent Dining Out Reviews | See All Recent Reviews


As you know, we do rather enjoy a flock Sunday lunch; sometimes though we don't always fancy cooking it for ourselves! Mummy Bird clearly wasn't feeling it, and suggested we go out for a roast instead. After a bit of debate as to where to go, we settled on The Shepherd's Rest at Lower Bagthorpe. During the various versions of lockdown we have had several takeaway meals from Reece and his team and they've always been superb, so we were curious as to whether the eat-in meal would be just as good. Only one way to find out, so we booked a table and headed over.
There is plenty of parking available, so Fledge (who was the designated driver on this occasion) was happy - I swear that kids nowadays think they can't walk more than 50 metres! The massive beer garden and childrens play area were bright and colourful from all the flowers in bloom and the Weeping Willow was looking majestic as it towered over the space. All of us used the outside hand sanitiser and told the lady that we'd got a booking so that she could show us to our table.




Once we were seated a young lad asked what we'd like to drink; I fancied the Malbec but they hadn't got any, but he'd thought it was Mummy Birds wine they hadn't got (she'd ordered Pinot Grigio, a white wine) and was reeling off Shiraz, Cabernet Sauvignon and Merlot as alternatives she might like. We put him back on the right track, and despite his embarrassment he soon returned with the drinks for us all. There's no point getting huffy I don't think: a) nobody is perfect and b) we all started from somewhere, and we could all do well to remember it. Plus, he was quite shy, but so incredibly polite that you couldn't help but like him; so, as we're all getting back into the swing of dining out, let's give folks some leeway and #bekind eh?




There were no hiccoughs with the food order though. Fledge had Gammon, Boyf Bird had Pork and Gammon, Mummy Bird had Turkey, I had Lamb and Beef, and His Nibs opted for Gammon and Beef. Adult roasts are priced at £10.95 per person, but you can add an extra meat for £2 or have three meats for an extra £3. The meats come with all the usual accoutrements, but you can opt to add Cauliflower Cheese, Gratin Dauphinoise Potatoes and Pigs in Blankets for an additional cost if the mood takes you. We ordered a portion each of Cauliflower Cheese and the Dauphinoise to share amongst ourselves.




It was lovely to see the pub busy with diners, not only for Reece and his team but also for the buzz and 'normality' it gave. Obviously there were all the covid safety trappings in clear view, but still, it was nice just to be out again. The adjacent table to ours was also occupied by a family, but one with younger children, and there were also couples taking the opportunity to enjoy this traditional British meal.




His Nibs was taking full advantage of not driving and had downed his first pint of Moretti quicker than usual so as the server brought our meals over he ordered another! I really liked the fact that two of Reece's serving team brought the food out to us, it meant that we all could tuck in pretty much at the same time – there's nothing worse than a large party getting served in dribs-and-drabs. I'm also pleased to report that a trio of gravy boats were put at intervals on the table, so we could all add the delicious-smelling sauce without having to reach right to the other end and disturb munching family. Can you imagine the looks of disgust that would elicit?!!




Given that the beef is supplied by Barlows it was only ever going to be bloody tasty, but it was divinely tender too and just melted on my tongue. I have to say that the lamb was superb as well; some people think that lamb is fatty, but I have to say that this morsel wasn't at all. The Man Bird was impressed with his beef and gammon, and generously gave me a bit of the gammon to try; again there can be a perception that gammon is salty, but not from the kitchens of The Shepherd's Rest. Instead, the gammon was beautifully tender and full of flavour – something that both Boyf and Fledge commented on. As the only member in our group that had chosen pork, I asked Boyf Bird what he thought to it and got the reply "superb". After probing a bit more, I elicited that the meat was moist and tender and very tasty. Mummy Bird had fancied turkey, which is rare for her, and she was more than pleased with her choice; the poultry was cooked skilfully to retain its juiciness and its delicate taste.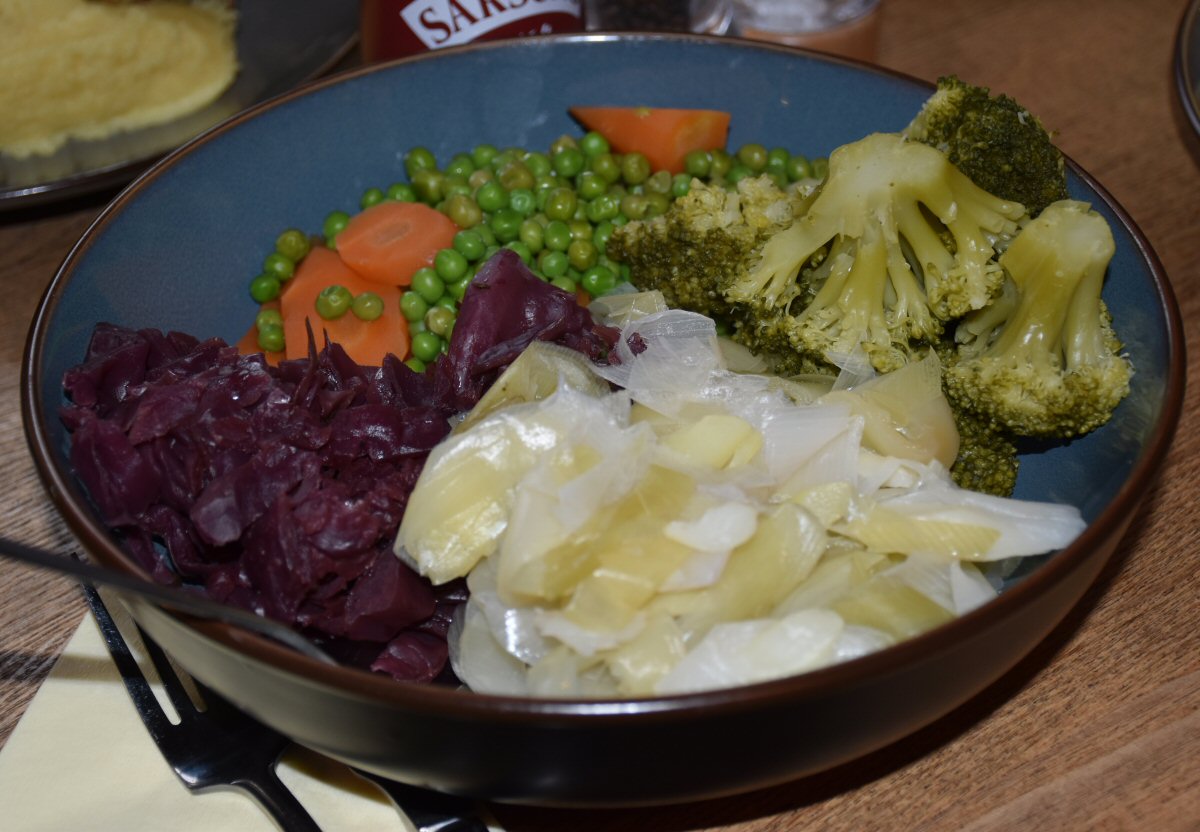 All the vegetables were excellent: none had been overcooked and there were plenty of each to go at. As there was a group of us, we had a big bowl of Carrots, Peas, Broccoli, Leeks and Red Cabbage which allowed us to select our favourites and amount accordingly. On the plates were the mashed potato, stuffing wedge, roasties, parsnip and massive homemade Yorkshire pud; combined with the vegetables in the bowl and the extras we'd ordered you can imagine how full our plates were!! The cauliflower cheese was incredible; really flavoursome cheese in a sauce that wasn't overly 'wet', which meant it clung to the cauli florets brilliantly and didn't end up down my blouse (always a bonus). Ditto with the gratin dauphinoise potato; it wasn't ridiculously sloppy as some can be and the garlic hints came through nicely on the palate. The potato was still just-firm to the bite too: perfect.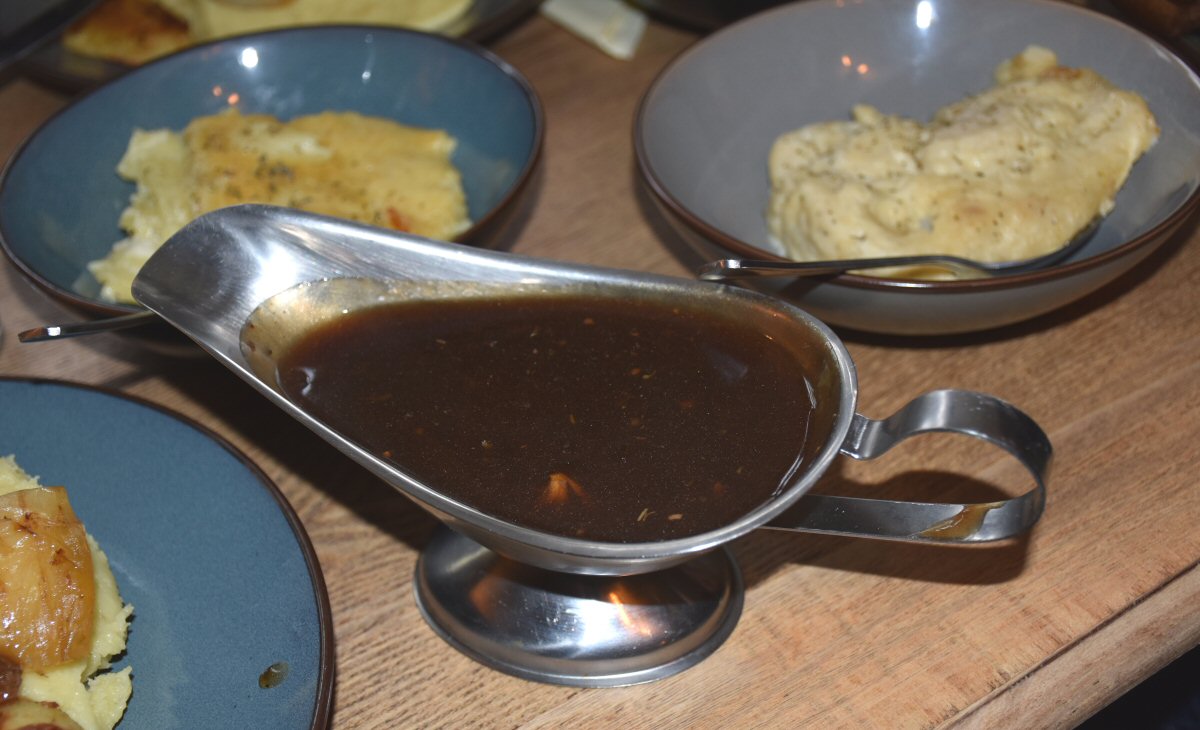 I'm not sure whether he was being truly greedier than usual (or that the lager was making him think he was unbeatable in the appetite stakes) but His Nibs went on to have pudding!! Reece's chef produces a wickedly rich Sticky Toffee Pudding which The Man asked to have with custard. The huge square of pud arrived not with custard, but with a moat of indulgent Toffee sauce – clearly Reece knows His Nibs' weak spot! I have to say that the piece I tried was glorious, it really was, and had I had any room left in my tummy I would've ordered this myself.




The total bill for the 5 Sunday Roasts (including sides and upgraded meat options), 1 dessert, 2 large glasses of wine, 3 pints of Moretti, 2 pints of diet Coke and a pint of Lemonade came to just over £116, which we thought was more than good value for both the food and the service we had received throughout our meal. All the team members couldn't do enough for us and to say they've been off work for so long, they did a great job. I have to say that the young lad will make a great addition to the team at The Shepherd's Rest; he just needs to gain more confidence in himself and brush up on what's a white wine and what's a red wine – in fairness, I didn't know at that age either!

It was also gratifying to discover that, other than temperature fluctuations between leaving the venue and getting back to our house with takeaway dishes during lockdown, there was no difference in quality or quantity to the food we ate on this occasion. It isn't going to be long before I'm back for the Saturday Steak Night to see if that's as good to eat-in as it was takeaway, too.

I would strongly recommend reserving a table though; The Shepherd's Rest at Lower Bagthorpe is a very popular venue, and rightly so. Hot Wings swiftly given here again.
No incentive was provided to visit this venue
read more