Sunday Lunch Takeaway From The Shepherds Rest, Lower Bagthorpe
---
Published On Tuesday 27 Apr 2021 by Sticky Beak
See Recent Take Away Reviews | See All Recent Reviews


It's the time of year when the garden grabs your attention and you suddenly realise that there is a whole raft of jobs to do outside; well, you're not alone and The Flock had certainly got a long list of stuff to do! No-one can say that we don't roll our feathers up and get stuck in, and after a hard weekend of toil it was time to refuel with a good old Sunday roast. Diddle to cooking it ourselves though; we were shattered, so it was time to make a call to Reece and The Shepherds Rest team in Lower Bagthorpe and let them take care of us.
As well as a choice of 6 meats: Pork, Lamb, Beef, Turkey, Gammon or Chicken, there are 3 vegetarian options to select from: Veggie Lasagne, Mushroom Tart or Nut-Roast. Standard prices are Adults £10.95, children £5.95; you can add an extra meat choice on for £2 or go all-out and have all 6 meats for an additional £3. There are some other add-ons too: Sausage or Gratin Dauphinoise Potatoes (£2 each) and Cauliflower Cheese at £1.50.




It won't shock regular readers of the blog to hear that The Man Bird went the whole nine yard/six meat option!!! Lockdown hasn't diminished his gluttony! I wasn't far behind him though with my decision to have Beef and Gammon, and BB went for Lamb and Pork. Mummy Bird and Fledge were the sensible members of The Flock and just had Gammon. Despite knowing Reece and his team are feeders (never, ever go and dine at The Shepherds Rest unless you take your appetite with you!) I still ordered 2 portions of the Cauli Cheese and Dauphinoise Potatoes to accompany our meals; well we had been grafting hard you know, in case I haven't already mentioned it!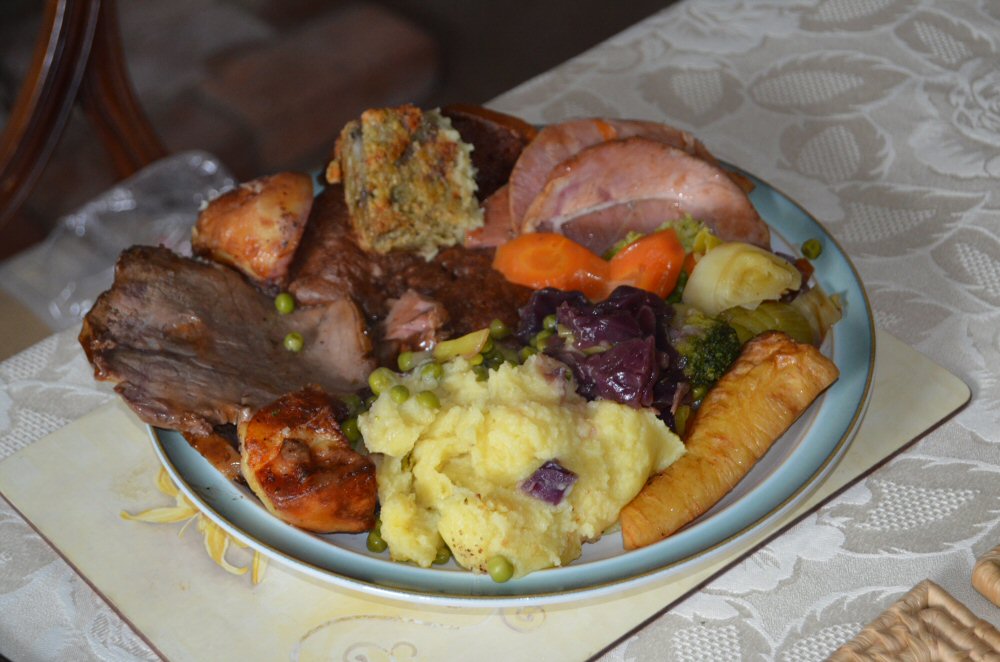 The young 'uns volunteered to go and fetch the food whilst Mummy Bird and I set the table and His Nibs sorted libations out. We unpacked the two fully laden bags and plated up the meats and veggies, decanted the masses of meat-juice gravy into boats and dished the Cauliflower Cheese and Gratin Dauphinoise Potatoes into serving vessels. I cannot describe the aroma of the sumptuous roasts fully, at least not in a capacity to really do them justice; suffice to say that there was a quintet of hungry Horaces drooling in anticipation of that first mouthful!




I defy anyone not to fall in love with the rich, creamy, ultra-smoothness of the mashed potato. It was one of those instant hits that have you grinning with happiness, and thankfully Reece and his Chef aren't stingy with the portion size they dish out. I had BB's Red Cabbage and His Nibs' Parsnip, which I traded for Roasties (again, these minxes are perfect: crisp outers, pillowy soft inners) and just about managed to fit them onto to my piled-as-high-as-Everest plate! There were also Broccoli florets, Carrot, sautéed Leeks, and Peas to tuck into – all perfectly cooked and plentiful. The Cauliflower cheese had a superb, lightly crisped, golden outer to it, and the cheese sauce was pleasantly thick so that it clung to the vegetable florets rather than dripping thin and miserably from the fork. Also hitting that sweet spot was the creamy, comforting slices of Dauphinoise Potatoes; the potato was nice and floury in the mouth, with a bit of substance still about it that satisfied the teeth and tongue. Both extra accompaniments were wonderfully seasoned, as was the gravy which was herb-pimped for an additional hit of taste.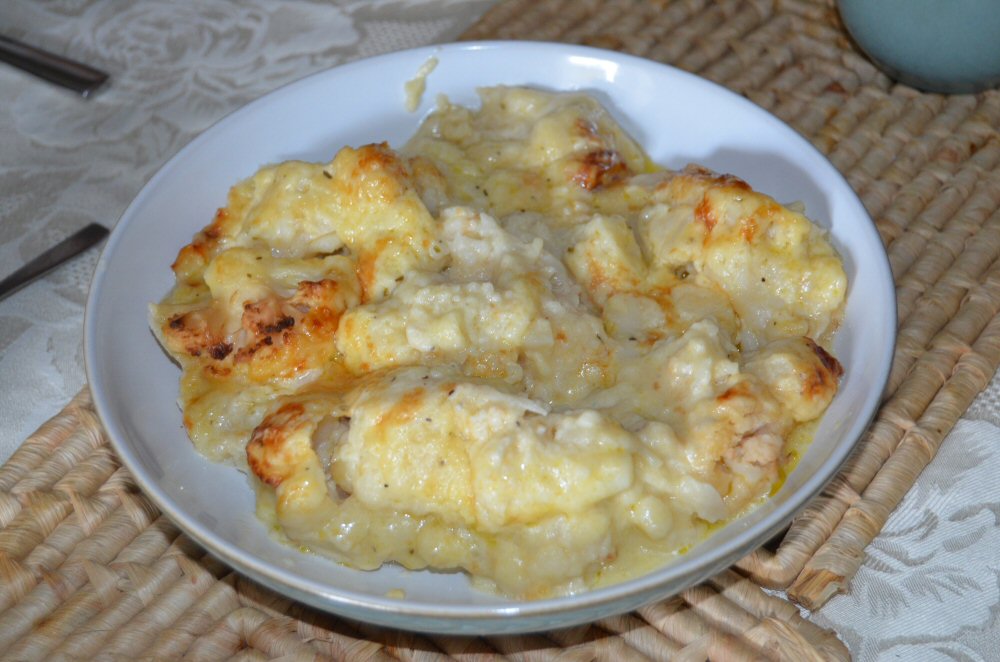 You're perhaps thinking "stop wanging on about the vegetables, woman, and tell us about the meat"; well I was about to, but as the saying goes, I was saving the best for last. Without exception, every cut of meat was uber-tender and melt-in-the-mouth; the cutlery was pretty much redundant in all honesty and the merest pressure had the meat sorted into bite-size pieces instantly.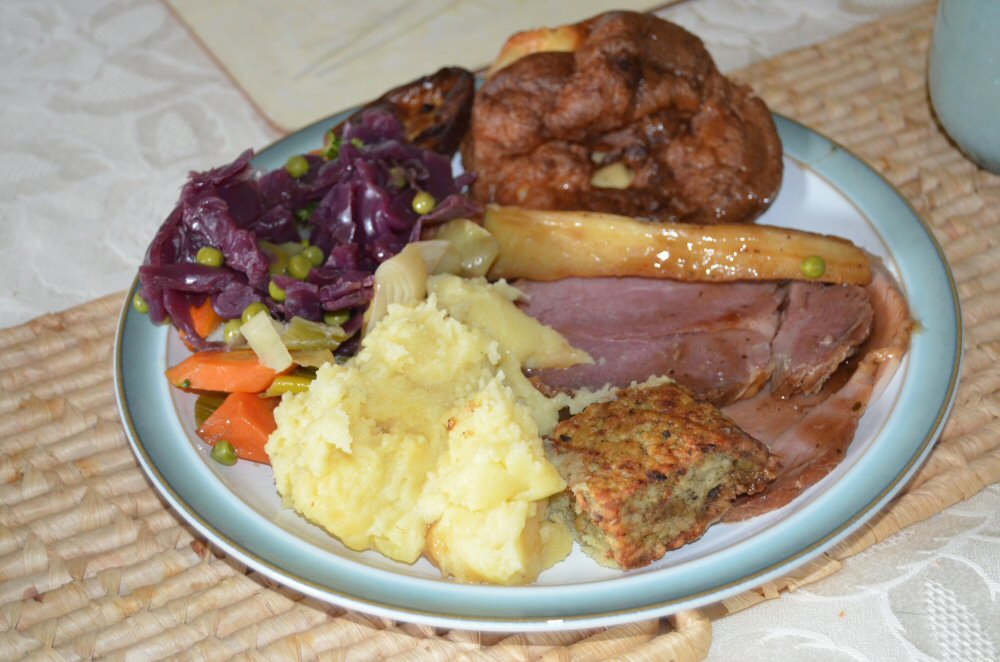 Flavour-wise, too, the meats and Poultry were all fantastic; the creamy taste of the Chicken breast and the Turkey slices were gorgeous and both birds had been cooked to retain their juiciness – there's nothing worse than dry, rubbery poultry is there? Mummy Bird, Chickadee and I all swooned over the depth of flavour from the substantial Gammon slices that were on our plates; it was sweet and juicy with a bit more oomph than the poultry naturally has. BB's Pork had less of a saline hint to it than the Gammon and was earthier in flavour, but it was every bit as tender and moist; he also said the Lamb was incredible: tender, moist and sweet-but-robust in taste. His Nibs and I both had Beef on our plates and this was without doubt one of the nicest bits of Beef I've had on my Sunday plate. It just melted on the tongue and it was rich tasting, but in a soft, rounded way rather than a brash, in-your-face manner.




During this whole pandemic, lockdown malarkey we have had some superb Sunday lunches from a variety of venues, but this one takes the crown we reckon! Well done to Reece and The Shepherds Rest team in Lower Bagthorpe – you definitely get awarded Hot Wings!! P.S, you beat The Man Bird, there were some scraps left on his plate!!

If you fancy getting your chops around this superb lunch (and why the heck wouldn't you?!) then pre-order by emailing the team or by doing it via the Facebook page.
Read Some Of Our Recent Reviews
---

An Indian Takeaway Delivered By Delhi In Eastwood I sometimes think that the universe is tab-hanging on my conversations, and I will tell you why. A couple of weeks ago The Man and I were out with our good friends Mr and Read The Article

---

Takeaway Afternoon Tea from The Orangery at St Elphin's Park, Darley Dale One of the things I love about the blog is getting to try things out before they really go 'live' out in the big wide world, and on this occasion (Mothers Day Read The Article

---

A Weekend Takeaway from Kathmandu Gurkha, Ripley It's been a busy few weeks for The Man Bird and I, and with the forecast for the weekend being superb, it was going to get even busier. With that in mind, we planned to stuff our Read The Article

---

A Fool-Proof Valentines Dinner from Arthur's In Belper The Man Bird and I have cooked a Steak dinner (or gone out for one) for Valentines Day for as long as I can remember, but thanks to lockdown still going strong there was no chance Read The Article

---

Pick 'em' Mix; Sweets delivered to your Door Everybody likes sweeties don't they; I'm not saying you have to have them every day or anything, but I bet that we can all think of a favourite sweet from our childhoods or adult lives. Read The Article

---

A Valentines Day Breakfast Platter From Crazy Cooks Caterers In Alfreton How do you celebrate the first Valentines Day in #lockdown? With a bought-in breakfast of course. But not just any old brekkie; this was a revved-up platter from Read The Article

---

A Takeaway Sunday Lunch From The Schoolhouse, South Normanton Mummy Bird declared that she was having a week off from doing Sunday Lunch for the flock (a very well deserved rest, may I add) and thought Read The Article

---

Takeaway Burgers And Kebabs From Starr Cottage Kitchen @ The Belper Tap Sometimes, when a day has been a particularly good one (and lets face it, there ain't many of those in lockdown 3.0!), you just need to celebrate with a burger Read The Article

---

Pie Night Takeaway from The Three Horseshoes In Clay Cross I'm never the most motivated person when it comes to cooking, I'll freely admit; but the combination of cold weather and dark nights leaves me even less enthusiastic Read The Article

---