A Post Lockdown Visit To Lotus Indian Kitchen At Mercia Marina
---
Published On Thursday 22 Apr 2021 by Sticky Beak
See Recent Dining Out Reviews | See All Recent Reviews


Woo Hoooooo, we're out, out, out! Being 'out out' is fantastic in normal times, but being 'out out and outside' as lockdown 3.0 is being eased is even flipping better! Thankfully the weather was on our side and it was a gorgeous spring evening; to be fair, it could've been slinging it down and everyone would still've come out!
Readers of the blog will know that His Nibs and I have dined at Lotus Indian Kitchen at Mercia Marina before, but this is the first time we've dined outside on what is the patio/deck area between the restaurant and the marina. I have to say that I really liked what Sunny and his team have done to transform the usually indoor eaterie into a space that can offer customers a superb experience in what are far-from-usual times.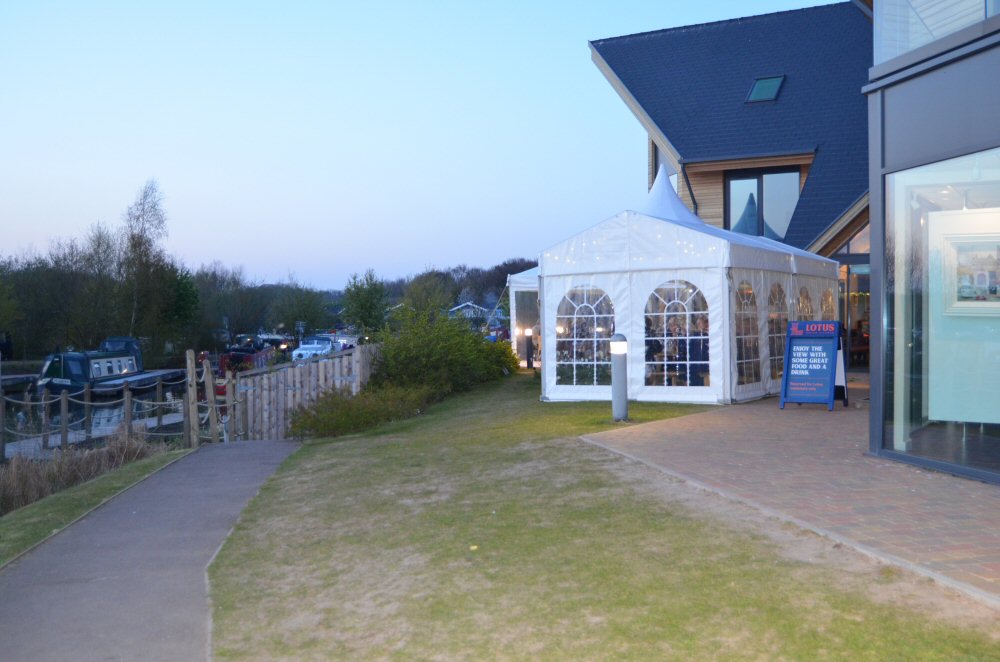 The beautiful gazebo has a white top that you could easily imagine as a boat sail (well we are at a marina, so let's stay with the nautical vibe, folks), and its clear sides keep out any stray breeze whilst affording you a wonderful view of the in-bloom flower border and the water beyond. There are two hefty patio-style heaters that are used in this back area too; perfect for keeping the chill off in late evening after the sun has set. There is also a small seating area to the front of the restaurant too, but this is uncovered and without heaters and kept, primarily, for walk-in customer use.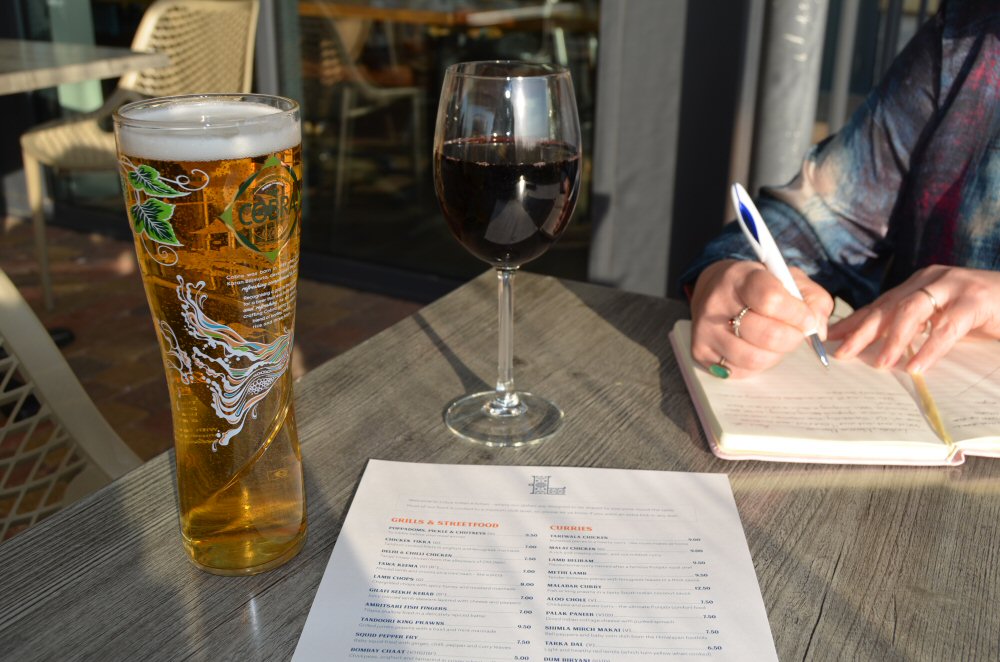 The Man Bird was beyond happy as he ordered his beloved Cobra lager on draught (he says that nothing compares to it being on draught, as opposed to from a bottle) and I fancied a glass of Malbec. Our lovely server, Kallum (also the shift manager), came back to me with news that there wasn't a single drop of Malbec left, but recommended the Rioja - normally available by the bottle only – instead. Now, I'm a big believer in things happening for a reason, and it turns out that the Rioja was an absolute gem of a wine that paired magnificently with all the flavours of the food I had during the evening. Good call, Kallum; superb product knowledge, my friend. Just for the record, I would definitely recommend having a bottle of this (if you like a red wine) to go with your meal at Lotus.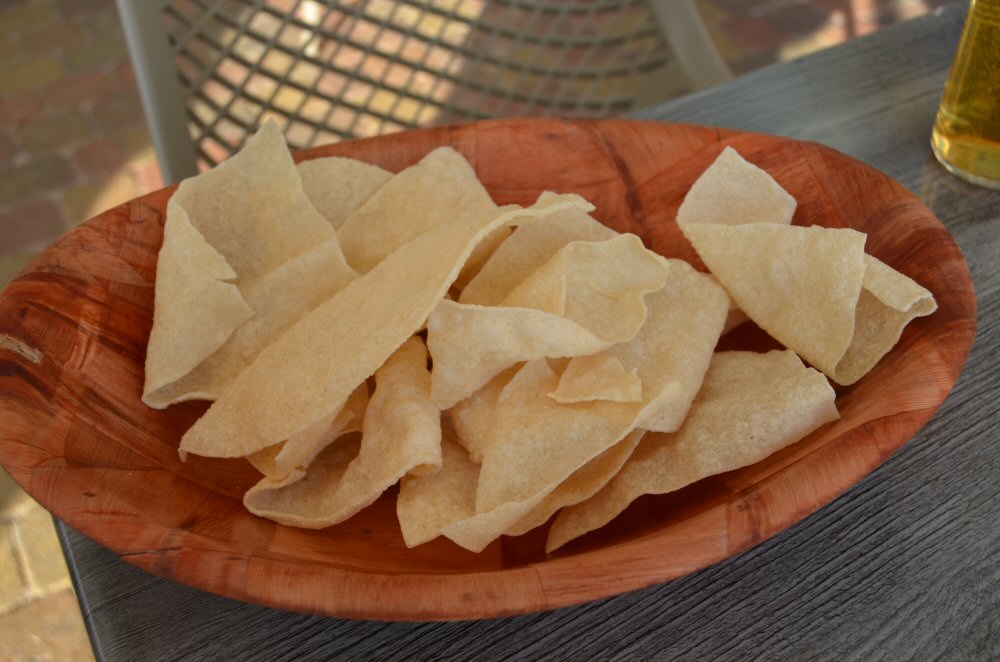 You can't go for an Indian meal without nibbling on Poppadoms, Pickles and Chutneys; you just can't, it's the law. As we sat at the table, munching contentedly away on the ultra-crispy Poppadoms, dipping their edges into the piquant Lime pickle, Mango chutney and herbed yoghurt offerings, we eventually settled on our eating strategy for the occasion. It may surprise you that it wasn't just as case of "order everything in sight in case we can't come out again for another 6 months", tempting though it was (!). Instead we drew on our previous experiences at Lotus Indian Kitchen and remembered that the portion sizes are very generous; with that in mind, we opted for a quartet of dishes from the 'Grills and Street Food' section of the menu as our starters. For the main course we chose to share a curry (Lamb Beliram), Pilau rice and a Fig and Coriander Naan. We were hoping that there would be a smidgeon of room for a dessert after, as we've never quite managed to sample them here – due to always being overly ambitious with the first two courses!




There was a good mix of diners, as I glanced around me: groups of young people, groups of older friends, families, couples, and even a couple of tables with their (very well behaved) dogs. Lotus Indian Kitchen manages to offer great service and food in a beautiful venue without any fuss or stuffiness, and I think it has such a universal appeal because of the flexibility its menu offers. The grill and street food section in particular is sort of 'tapas style' so that you can choose a wide variety of dishes and everyone will have something they like. And if you still want something "more" , then you can go on to have a more traditional curry and accompaniments; the best of both worlds, if you think about it.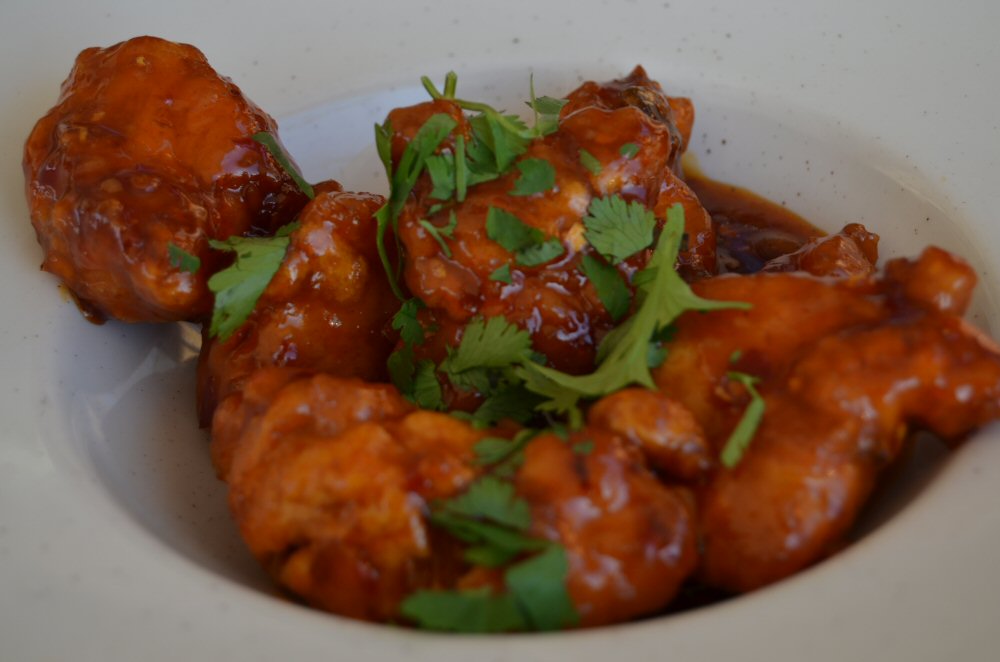 His Nibs can't come to Lotus without ordering the Delhi 6-Chilli Chicken – it's quite possibly his favourite Indian dish anywhere, so that was our first choice. We also chose the Squid Pepper Fry, Palak and Kale Pakora Chaat and Mushroom Kurkure.
It wasn't long before Kallum and his colleague, Connor, were bringing out this aroma-dense quartet of yumminess for us to savour, and we tucked straight in.

The Delhi 6-Chilli Chicken was utter perfection; thick pieces of ridiculously tender, moist Chicken breast just melted on the tongue and we both grinned with happiness. The Man Bird loves the fiery, sweet-yet-sharp sauce that coats each piece of chicken, and I have to agree that it is rather good. Its best bit though, in my opinion, is that its multi-faceted flavour doesn't have your lips and tongue tingling uncomfortably; you get all the spiciness without the sting.




Tiny rings of squid made up the Squid Pepper Fry and there was a lovely large bowl of them to enjoy, with a dish housing the dipping sauce set in the middle. The batter that coated the squid was wonderfully crisp and crunched smartly as it was bitten into; contrasting with the creamy, tender seafood underneath. Both His Nibs and I rated the curry dips earthy tones; it seemed to enhance the sweeter, silky character of the squid.




The simple description of the Palak and Kale Pakora Chaat ("Spinach and Kale Fritters with Yoghurt and Pomegranate") doesn't do this dish justice, trust me. Chef coats the vegetables with a gossamer fine batter, akin to Tempura, making a gorgeously light, crunchy morsel that crams in masses of flavour for the palate to swoon over. On a personal note, I eat this totally guilt-free as I reckon it easily counts as 1 of my 5-a-day! Fresh Pomegranate seeds add a pop of colour as well as more texture, and creamy natural yoghurt and tangy Tamarind dive in to add to the taste profile of this great dish.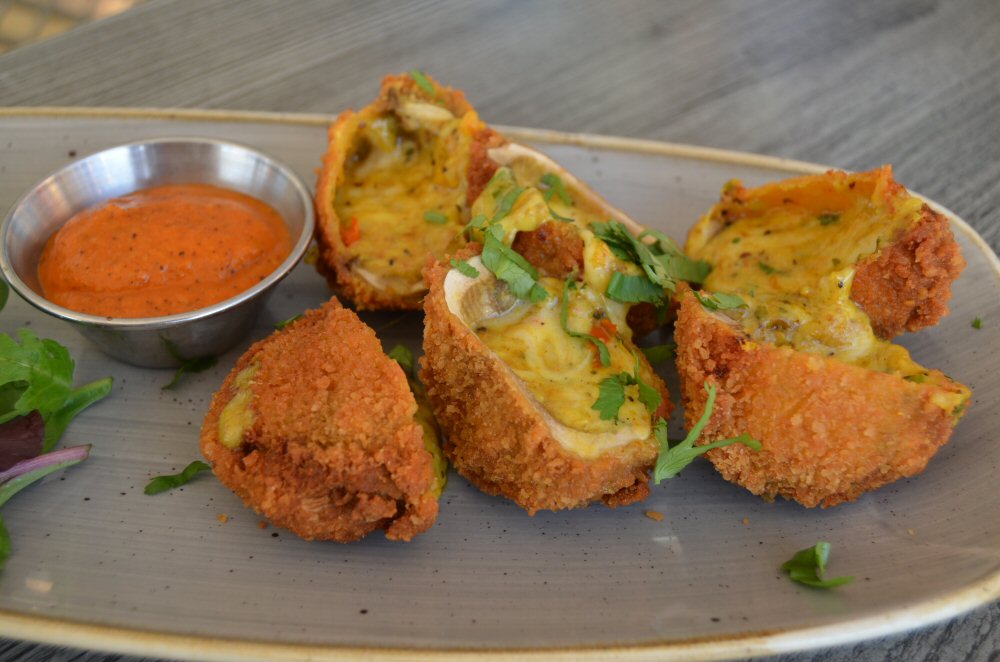 I just fancied the sound of the Mushroom Kurkure - mushrooms stuffed with cheese and peppers in a light batter – and even managed to persuade His Nibs to try a bite! The lovely, large mushrooms were coated in perhaps the thickest, crispiest and 100% non-greasy batter in the universe (really!) and served halved to display the oozing contents of the middle. I love warm, gooey melted cheese and, combined with super-finely chopped peppers, it was blooming divine as it oozed over my tongue. Fresh Coriander had been generously scattered over the vegetables and its clean, bright taste bounced in my mouth exuberantly, with the zingy tomato relish added a final flourish to this excellent offering.

Kallum, Connor and their colleague Lauren were all working seamlessly together, making sure that each diner was happy with their food and drink, and taking the time to have a chat. In the course of working the space, they each asked if we were enjoying our meal and if we needed our drinks refreshing. This last point reminds me that we were offered water for the table without having to ask; I know it's a small thing, but it really does make all the difference, I think, to the quality of a customers' experience. Another brownie point to the Lotus Indian Kitchen team.

With our starters finished, and the plates cleared away, it was time to look forward to our shared main course curry and sundries. We didn't have long to wait, just the usual small lapse as you normally get when food is cooked fresh-to-order, and soon Kallum brought it all over to us.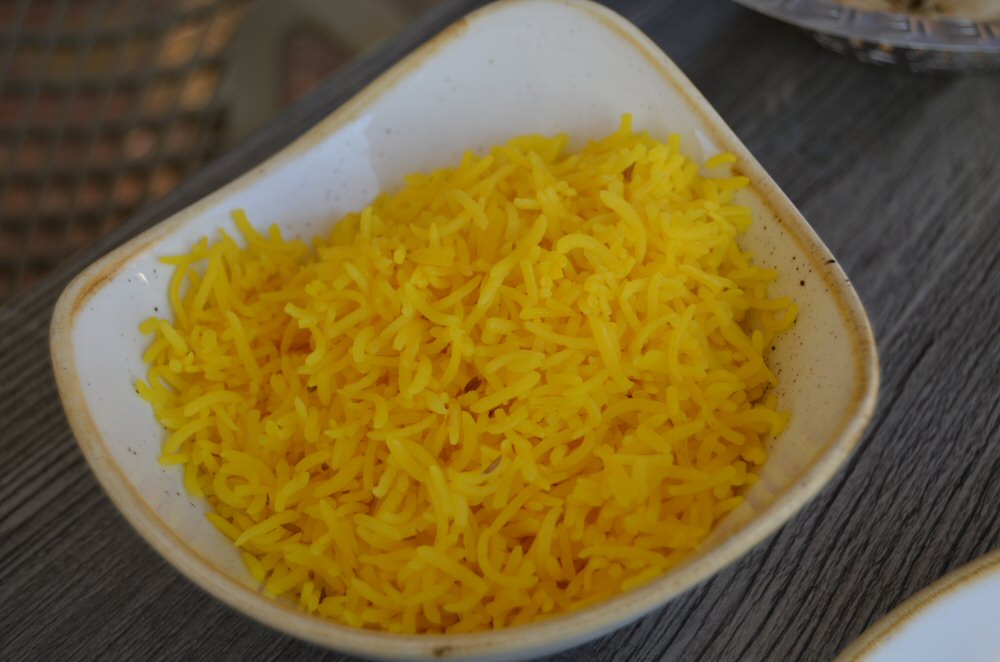 In keeping with the (now) setting sun, the Pilau rice was a rich shade of yellow and each grain was fluffy and separate from its neighbour. Scattered amongst the rice were flecks of spice seeds and these added a hint of crunch and a burst of flavour that proved to compliment the notes within the Lamb Beliram curry. Generously sized chunks of Lamb were beautifully tender to the bite and had that lip-smacking sweet-but-earthy flavour that was robust enough to partner the hearty sauce that surrounded them.




I have waxed lyrical previously on the merits of the Fig and Coriander Naan bread served at Lotus, and do you know what; I'm going to do it again, simply because it is just.so.bloody.amazing! Yes, it's only bread, I get that (a cloud-like, light one though!); but the sweet, sticky, fragrant Fig puree that is cocooned within it explodes over the taste buds and envelops the senses with its charms. It could easily be over-whelming but the clean, no-nonsense Coriander reins it in and balances the flavour perfectly. Honestly, you do need to give this a whirl when you visit Sunny and his team at Willington's Mercia Marina: you can thank me later.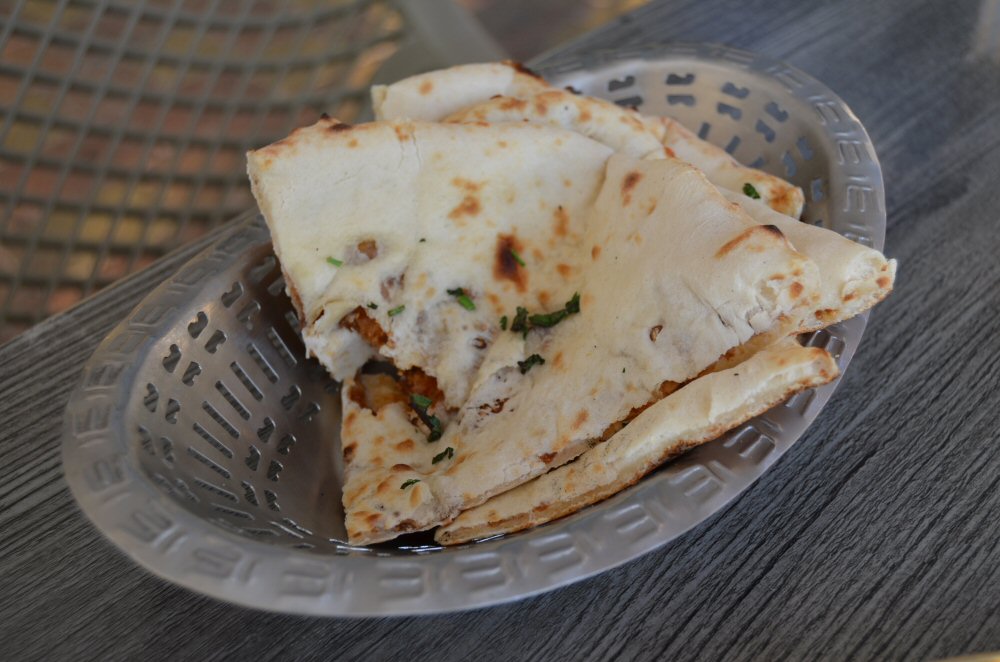 For the first time, we had succeeded and saved room for dessert! We were playing nicely (it won't last, don't worry) and shared Gulab Jamun and Chocolate Chai Brownie. Normally these come with Vanilla Ice Cream but we were giddy with the excitement of being 'out out' and asked if we could have Kulfi with them instead; Mango with the Brownie, Pistachio with the Gulab Jamun. Luckily, Lauren indulged us: how spoilt did we feel?

The brownie itself was just amazeballs (crisp on the top, soft and gooey in the middle), but the warming notes of Cinnamon and Ginger elevated it into something other-worldly. Happily, all the elements married together harmoniously, rather than jarring against each other, and the result was soul-satisfyingly good. Factor in the fruity Mango with the spices and Chocolate and we really did have a great pud to finish off the meal.




There's no escaping the fact that Gulab Jamun isn't a dentist or dieter's friend, but sometimes you simply have to throw caution to the wind and think "to heck with it" and indulge. The dumpling balls were intoxicatingly soft and sweet, intensified by the accompanying Rose syrup and we gobbled them up, indecent in our greed. I think the warm, rounded notes of Vanilla Ice Cream would go marvellously with the Gulab Jamun but do you know what, I think the Pistachio Kulfi added something just as good (if not better).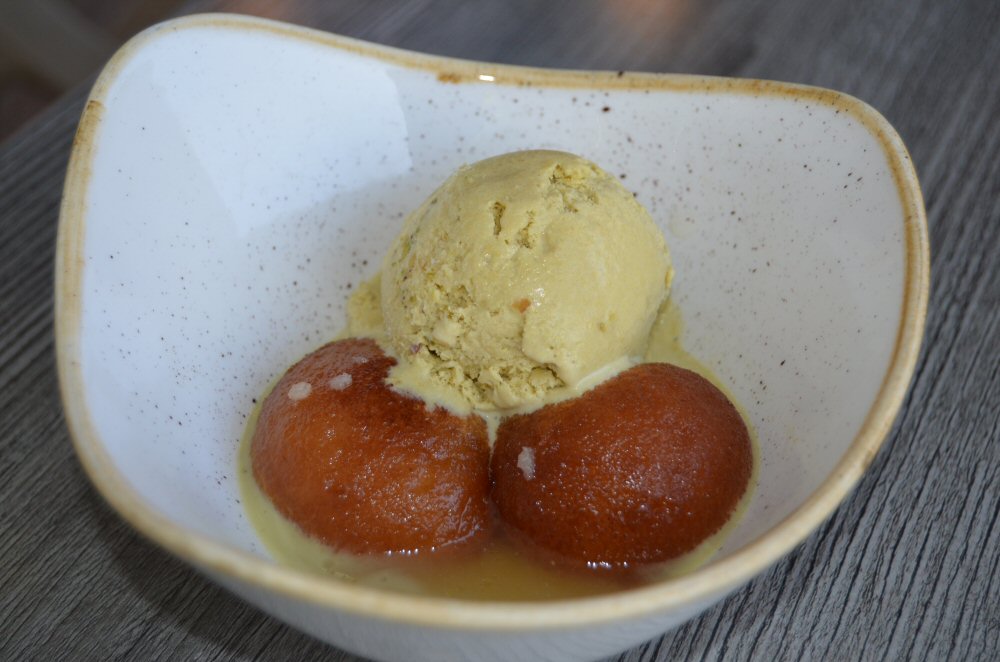 A couple of rich-roast, black coffees brought the meal to a close, and although it was a simple thing, it was oh-so-nice to do it again! Hot Wings awarded to the Lotus Indian Kitchen team; all the usual covid safety measures were there (Track and Trace, sanitiser, clearly marked one-way system) so you can dine with peace of mind, and the addition of the outside space is a positive dimension here rather than being a necessary add-on. I'm not sure if Sunny plans to keep the gazebo and heaters after April, so if you want to take advantage of some al-fresco dining in glorious surroundings then get in touch with the team to book your table.

NEWS JUST IN (from Sunny himself)!!! : Lotus Indian Kitchen will be open from Noon instead of its usual time of 5pm for the early May Bank Holiday on Monday 3rd May 2021. Get booking your table now, because they'll soon go! .
Some form of incentive was provided to visit this venue
read more