Takeaway Burgers And Kebabs From Starr Cottage Kitchen @ The Belper Tap
---
Published On Thursday 11 Feb 2021 by Sticky Beak
See Recent Take Away Reviews | See All Recent Reviews


Sometimes, when a day has been a particularly good one (and let's face it, there ain't many of those in lockdown 3.0!), you just need to celebrate with a burger and a kebab! We had it on good authority from our Belper friend and fellow foodie Sam aka Voltaire Electrical that there were some fine specimens to be had at Starr Cottage Kitchen (SCK) at The Belper Tap in the town, so we placed our order and went off in the jalopy to collect it. Usually, Friday means Kebabs and Saturday is when Burgers are the stars of the show, but Adam and Zak very kindly did us both for the purposes of the Blog – and we are very grateful to them for that.
Fledge had ordered the Bacon Cheese burger (£10): aged beef patty topped with American cheese, Bacon, Ketchup, Mustard, Pickles and sliced white Onion; I did think she might've gone for the MacBelper burger, but she surprised me. Mummy Bird also fancied a burger and chose the Belper Moo option (£11): aged beef patty, Bacon, Rocket, Stilton, Caramelised Onion and Aioli. Starr Cottage Kitchen serve all their burgers with Rosemary fries included in the price – nice. One thing to note is that they serve their burgers cooked to order and medium, so expect to see pink in the middle of your morsel!

His Nibs and I are both partial to a "dirty kebab"; they remind us of mis-spent (or rather, well spent as we see it!) student days, so we chose to try the shish kebabs on offer at Starr Cottage Kitchen. I went for the vegetarian Falafel and Halloumi type (£9) and The Man had the Chicken Durum one (also £9). Both come with Turkish salad, Garlic Yoghurt, SCK Chilli sauce and fries on the side. Adam and Zak, the chaps behind SCK at The Belper Tap, have just taken ownership of a swanky new Kebab machine and were keen to show it off to us, so we also got a boxed up portion of Chicken Doner meat and chips, usually priced at £8, to tuck into (which was super yummy btw, so thank you guys).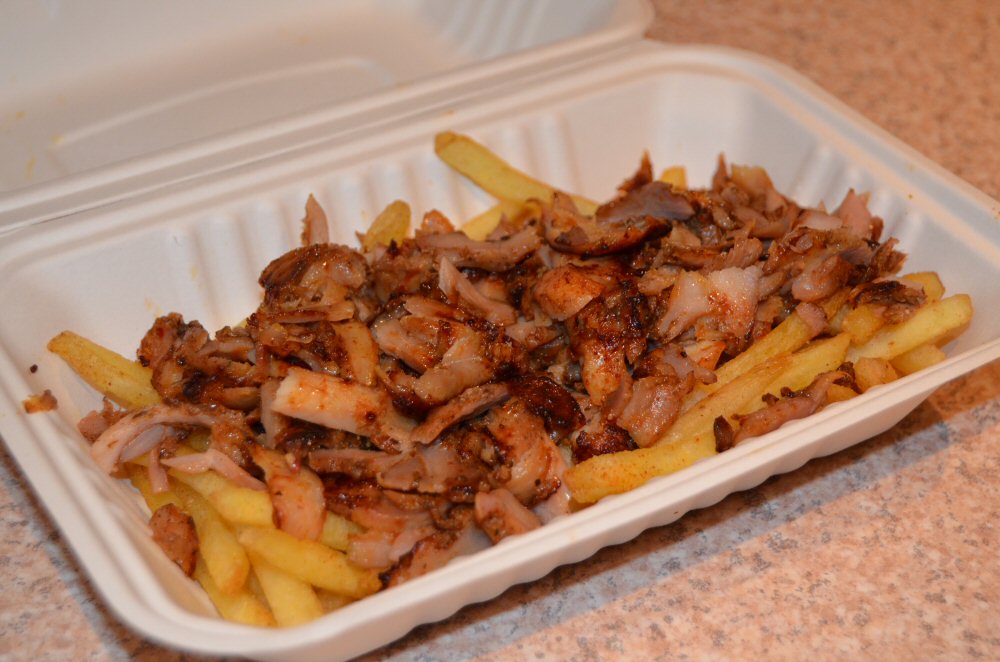 Adam Rawson knows his onions, so to speak, having been Young British Foodie (YBF) Chef in 2015, as well as London's Hottest Young Chef according to the Evening Standard and Best Burger in London 2015/16! Adam is joined by his colleague of 3 years, Zak Cross, as they both take over the kitchen in The Belper Tap, so if you live in the local area don't forget to pay them a visit and #supportlocalbusiness.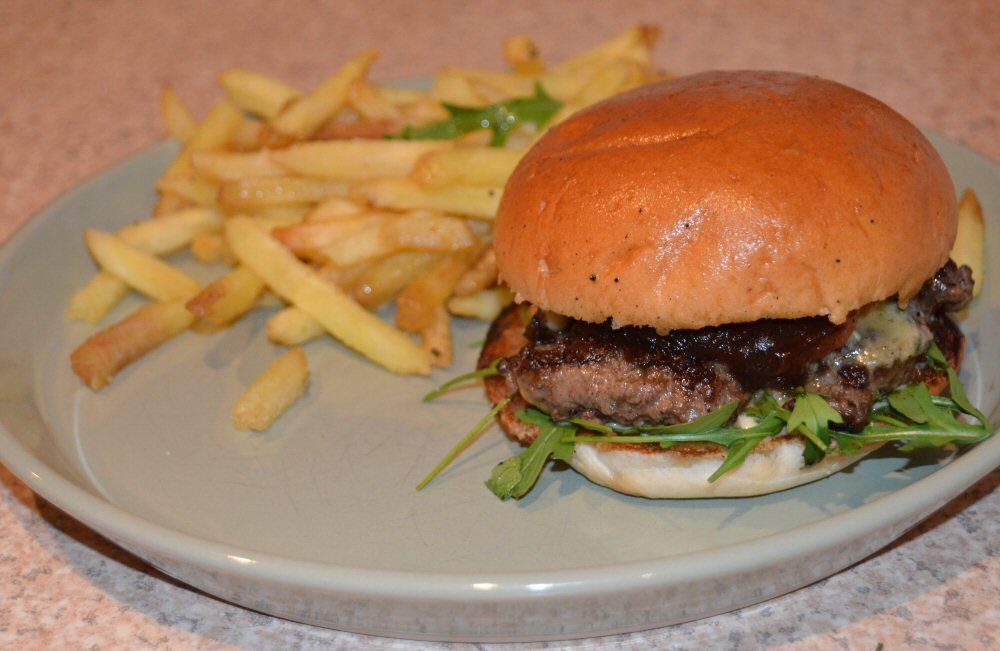 Both the burgers are whoppers, proportion-wise, and they have taste and texture to match. On the outer is a delicious toasted, buttery Brioche bun that cocoons all the other yummy elements. My Nana (god bless her) always used to say that you can't make a silk purse out of a sow's ear, which basically means that if you don't have quality ingredients to start with, you're never going to make a tasty meal. The SCK team only use the best meat and vegetables in their dishes and it's an investment that really pays off; the aged, rare breed beef they use is supremely juicy in the mouth and nice and soft to the bite. Good beef (and any meat, in general) has a fulsome flavour if it's been reared well, the diet and conditions playing a significant part in its taste, and we all commented on its quality here. Mummy Bird likes a bit of blue cheese and said that the Stilton in her Belper Moo burger was lovely; it came through clearly on the palate but didn't overwhelm the other components. Peppery Rocket danced in the mouth alongside the sweeter, subtler notes of Caramelised Onion and gently garlicky Aioli brought up the rear, adding a little more moisture as well.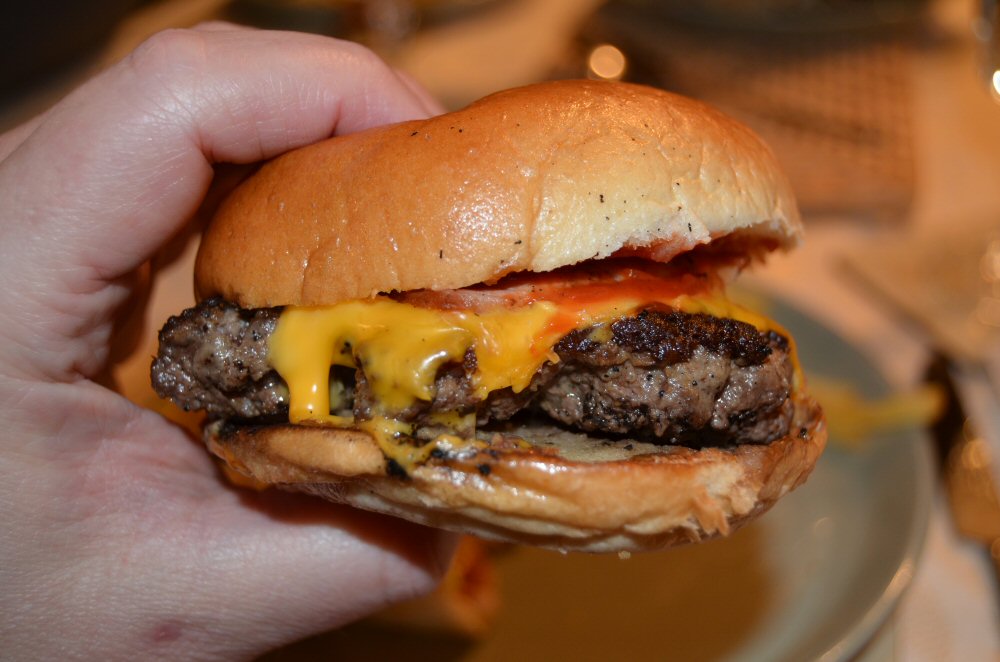 Chickadee had gone for a classic Bacon Cheeseburger and this morsel was as equally praised as its Belper Moo cousin had been. The patty got the thumbs up from this burger-fiend, and she liked the way the American cheese slice had softened and moulded around the curves of the burger without being too soft and oozing everywhere. The white Onion had been finely chopped and its crunch was very welcome in the mouth – the pickle got passed over to me and I thoroughly enjoyed its tang and crispness. Adam and Zak put Ketchup and Yellow Mustard in this burger and it would've been all-too-easy to get the wrong proportion and end up with too much heat, but thankfully there was the perfect blend of sweet Tomato taste and pungent Mustard heat.




The Rosemary fries still had their skins on, so you can feel smug in that you'll be topping up your fibre quota for the day as you munch on these beauts! Flavour-wise the fries had a gorgeous tone to them and they were nicely soft inside, protected by a gently crunchy outer. You got a gentle whiff of the herb on them too, but it wasn't strong at all so even if you don't "do" Rosemary you'll still like them. His Nibs' and my kebabs also came with fries, but just plain-Jane ones rather than herb-pimped versions, but they were just as tasty.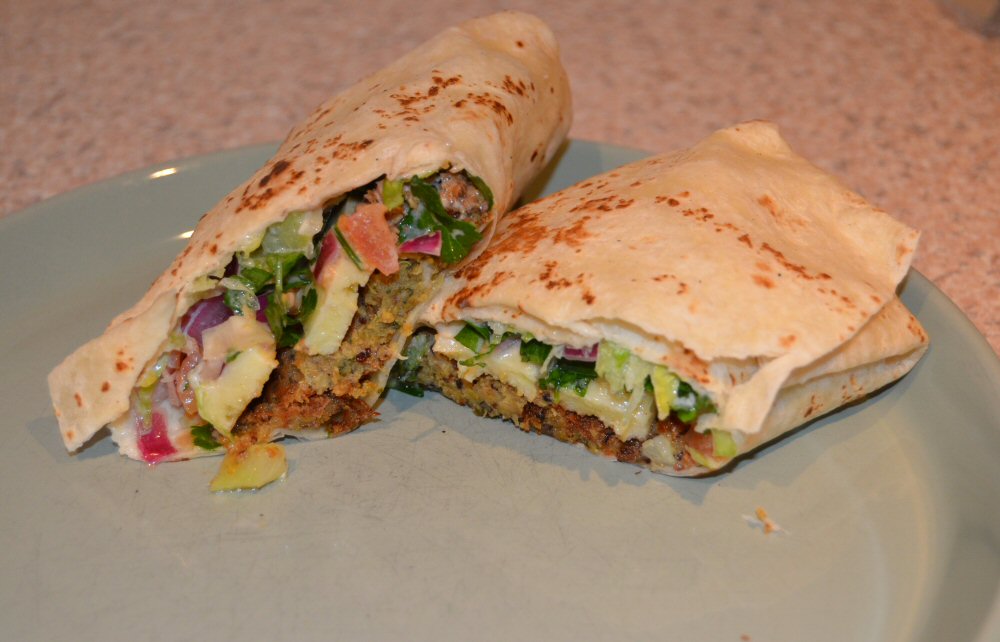 Now as you know, I do like my meat, but the sound of the Falafel and Halloumi Shish just got my juices flowing so I decided to take the plunge and go for it. What a blinding decision that turned out to be – props to me! A superbly soft, warmed Tortilla contained the Falafels, thick slabs of Halloumi and a colourful Turkish salad of Cucumber, Red Onion, Tomato and lots of fresh Parsley. A slick of creamy natural Yoghurt and tangy SCK sauce gave a good amount of moistness to the dish without making the tortilla go soggy. Adam and Zak don't skimp on the amount of filling in their kebabs so it was very filling, even for our big appetites! I was surprised by how spicy the Falafels were – I was expecting the Chicken Durum to be the spicier kebab of the two – but it wasn't a lip-tingling, fierce heat, more a twist-your-tongue type that has the taste buds' full attention.




The Man Bird was tucking into the Chicken Durum shish kebab with his customary gusto, and was pleased to discover that the poultry was nice and tender still. Personally, I found it to be a bit too charred for my taste and once I'd become consciously aware of its smokiness that was all I could focus on. In total contrast, The Man immersed himself in the charcoal note and thought it married well with the pungency and spice of the SCK chilli sauce. This shows what I always say to people that read this blog: taste is purely a personal, subjective observation and just because I/we think a certain way, doesn't mean that you will experience the same thing.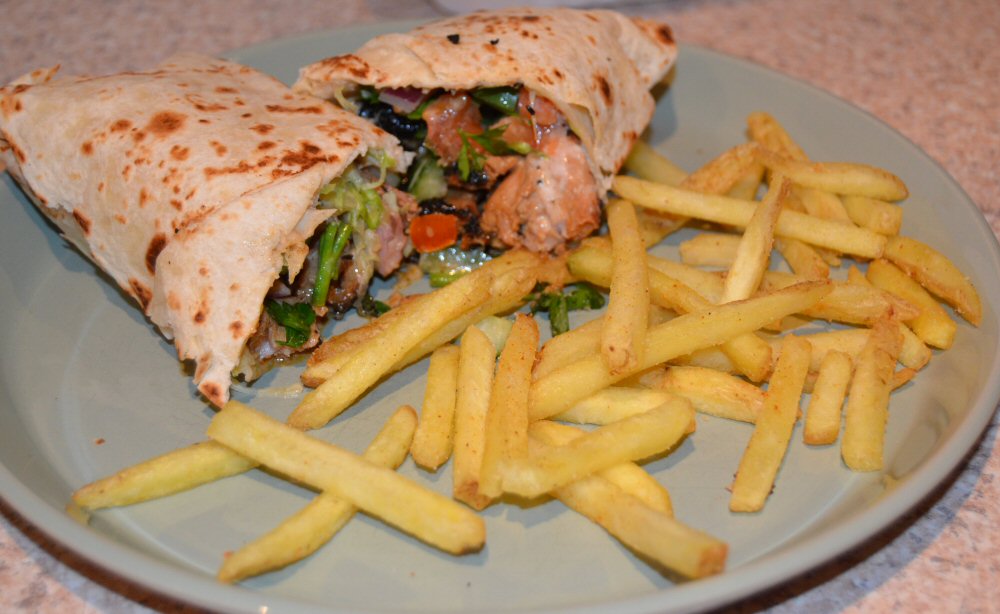 The best thing for you to do is use the blog as a starting point-cum-guideline and go with dishes that appeal to you; obviously things like presentation and quality of meat and vegetables, service and wait times between courses are pretty fixed in the standard you should expect, but taste is very personal.

So, would we visit Starr Cottage Kitchen at The Belper Tap again? Definitely.