A Pre-Lockdown Visit To The Schoolhouse Restaurant In South Normanton
---
Published On Sunday 10 Jan 2021 by Sticky Beak
See Recent Dining Out Reviews | See All Recent Reviews


Lockdown 2.0 was fast approaching in a matter of hours, but The Man Bird and I were going out in a blaze of glory! I was sweating my little feathers off at the gym until 8pm (the usual cut-off time at the moment for most restaurant tables) but Martin and Sophie from The School House restaurant in South Normanton had very kindly said we could come in at 8.15pm as long as we pre-ordered our meals – not a problem at all.
His Nibs does most of the driving so it's not often he gets to have more than a pint; with it being local to us (and the fact that I wouldn't really be in the mood to drink much after the gym!) I said that I would drive back after our meal. We managed to get parked right outside the restaurant on the road –their own car park is tiny, so most folk just pull up on the road outside.

We used the hand sanitiser at the entrance, scanned the track and trace QR code into our phones and were greeted by Martin, who showed us to our table just inside the lovely fairy light adorned, brickwork arch (it feels like you're going into a gastro Narnia!). There was another mini bottle of hand sanitiser on the table, so we could use that as and when we needed.I love the feel of this old building; it has amazing high ceilings that create a great sense of space and there are items around the room that pay homage to the fact that the restaurant used to be the village School House.




I settled in with a standard glass of Cabernet – and a jolly cheeky one it was too - and His Nibs got stuck in to what would turn out to be the first of three pints of Peroni! Thanks to having pre-ordered our meals we didn't have too long to wait before our starters were served to us. I'd gone for pan fried Langoustines with Smoky Chorizo and Avocado Mango Salsa (£6.75) and The Man chose the School House Corned Beef with Sauce Gribiche and Pickles (£6.50).

My Langoustines were plump and juicy with that gentle, sweet, fragrant flavour characteristic of them, and this was matched gorgeously by the smoky, spicier notes of the Chorizo. The salsa was bright and clean, cutting its way through the more robust tastes wonderfully well. I loved picking the whole Langoustine from the top and removing its shell myself; the juices were dripping over my fingers and I greedily licked them all off.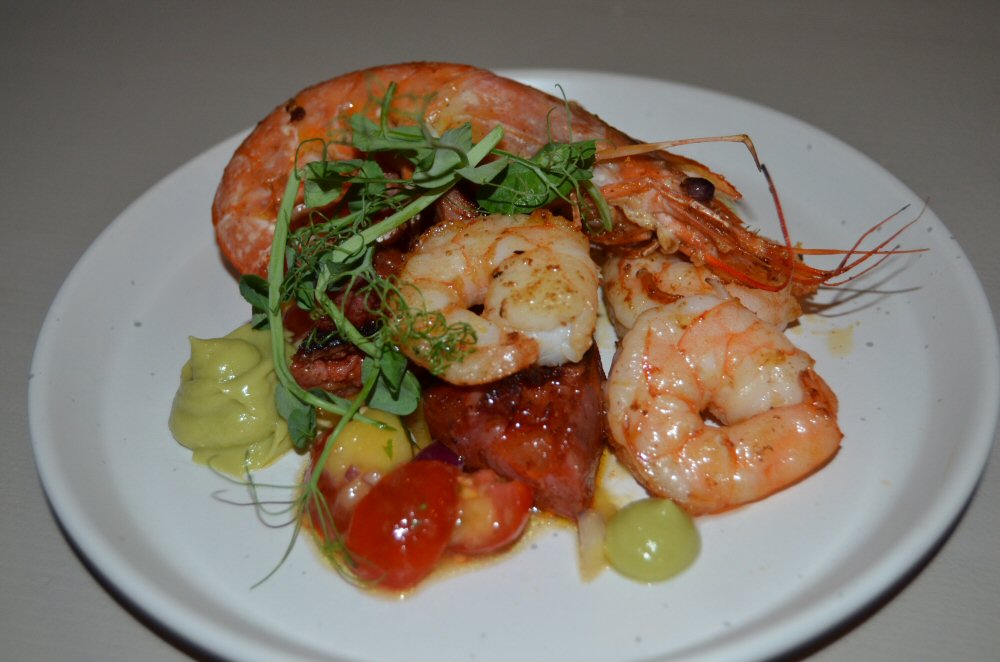 The Man Bird does have a soft spot for Corned Beef and will eat that vile canned stuff quite happily, although why I don't know, as the 'proper' stuff is so much tastier. Corned Beef is salt-cured Beef, usually Brisket, and the termed 'Corned' refers to the large-grained Rock Salt (corns) used in the curing process. As well as salt, spices and sugar can be used in the curing mix, so if you were to eat Corned Beef at several different restaurants you may detect subtle differences in the flavour.




Martin and Sophie's interpretation was like a terrine, and you could see the large slices/flakes of beef quite distinctly when you looked at it. The flavour was superb and deep, with a tenderness to match that indicated the Brisket (which is quite a tough cut) had been thoroughly cured. Sauce Gribiche is a curious monkey of a mayo-style sauce, based on hard-boiled Egg Yolks being combined with oil and mustard, incorporating chopped pickled Cucumber, Capers and herbs (typically Parsley, Chervil and Tarragon). Its salty sharpness was perfect with the milder creamy egg yolk component and cut through the oil superbly. Crunchy Pea Shoots added a burst of colour and contrasted with the pink tones of pickled onion slices to make this a gorgeous starter, both in terms of taste and visual appeal.

Martin had checked we were happy with our food and was happy when he came to take back two clean plates to the kitchen.Even at this late juncture in the evening The School House Restaurant was still 70% full I would say, and everyone looked happy; there was a nice bubble of chatter that simmered under the background music, so there was a lovely ambience in the room.




We were chatting away merrily ourselves when the main courses were brought to the table, with a warning to be careful as the plates were hot. The aromas emanating from the plates were absolutely delightful and we couldn't wait to tuck in! The Man Bird had gone for the Andalusian-style Braised Lamb Shoulder served on a fricassee of smoky Chorizo and Butter Beans with Salsa Verde for his main (£15.95), whilst I'd chosen Veal Schnitzel with Spiced Red Cabbage, Grain Mustard Mash, and a Caramelised Apple and Calvados Cream Sauce (£14.95).

The Lamb Shoulder was superb; it just melted in the mouth and had a lovely depth of flavour to it with that sweetness lingering at its edge. There was a hearty richness to the Chorizo and Butter Bean fricassee that partnered the meat wonderfully; autumn calls for richer, more intense flavours I think, and this certainly delivers in that regard. For a lighter, bright tone on the palate, the Salsa Verde did its job incredibly well, adding another layer of taste to this superb meal. Butter Beans gave their creamy souls up to His Nibs' mouth, their softness hugging the tongue like a comfort blanket; these morsels had soaked up some of the Chorizo oil too for an extra punch of flavour.




I grinned in happiness at the crunch I heard when I cut through the superbly crisp crumb coating of my Veal Schnitzel, which was a very generous size (perfect after an exertive session at the gym!). The Veal meat was nicely tender and creamy in taste and I wasted no time in getting stuck into it. One of the archetypical tastes of the colder months is Spiced Red Cabbage, and the one served at The School House Restaurant in South Normanton was ticking all the boxes for me: perfectly soft Red Cabbage, warming hint of Star Anise and plenty of it. I love the jewel-like colour of this vegetable accompaniment too; it never fails to make a plate look magical and inviting. There was large quenelle of glass-smooth Mashed Potato at the side of the schnitzel and the pungent grain mustard gave it a marvellous heat at the back of my throat as I swallowed it. What I liked though was that, although the mustard was most definitely detectable, it didn't dominate the other elements of the dish. For a light hearted pop of flavour, there were strips of softened caramelised calvados apple to savour and these partnered the mash brilliantly in a fusion of spice and fruit that bounced on the tongue.

We had originally ordered dessert to take out, figuring that we would be short on time to meet the strict '10pm kick out' that is present in Covid lockdown restrictions, but in the end we were doing well for time so decided to eat pudding at the restaurant. His Nibs also opted to have a pudding of his own, rather than (as was the original plan) share the Orange Panna Cotta with Honey-roasted Figs and Honeycomb (£6.25), and ordered the School House Sticky Toffee Pudding with Clotted Cream ( £6.50,which he swapped for Ice Cream).




Any self-respecting Panna Cotta has a Sophia Loren-esque sexy wobble to it and this one was every bit as luscious as the screen siren herself had been in her hey-day! Behind the vanilla taste of the Panna Cotta was a delicious citrus flavour from the Orange, the fruit theme carried on with the fragrant notes of ripe Figs. Sweet Honey added more indulgence to this cracking dessert and then there was the charred tang of the Honeycomb to consider, a curious mix of sweet and smoke that lingered in the mouth. Delicious!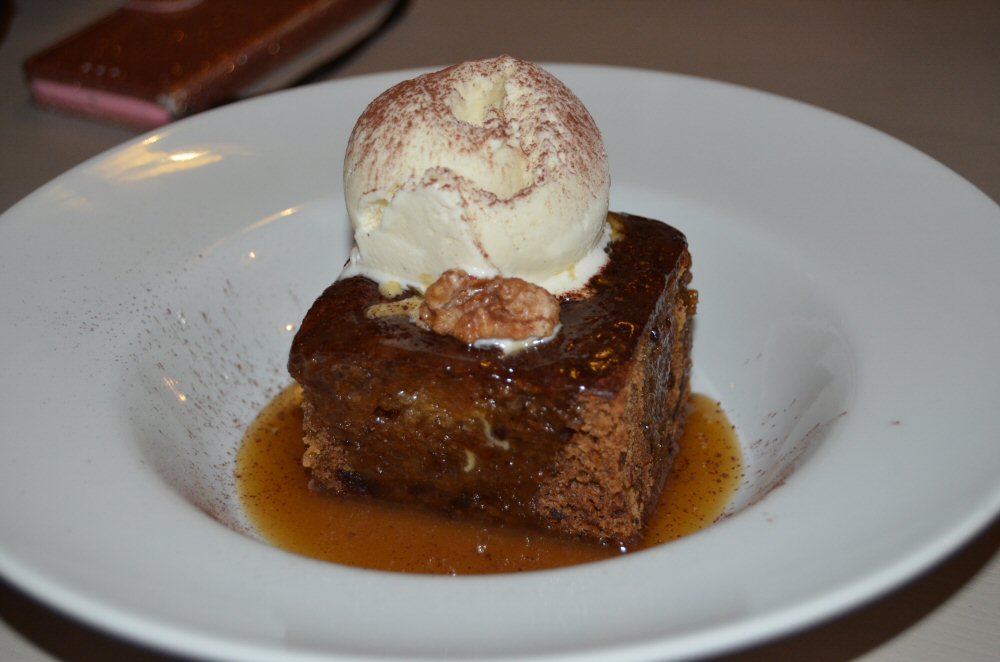 The Man Bird was a jolly happy chappy with his choice of Sticky Toffee Pudding –something that he's rather partial too, as you all know! This had a gorgeously satisfying texture to it, with an equally fab moistness and depth of flavour. Best of all was the unctuous layer of dark Toffee that crowned it, glistening temptingly in its warm, semi-liquid state as some of it began to drift over the edge of the sponge's confines. This toffee was sublime in the way it lazed on the tongue and revealed its many layers of flavour over the seconds that it took to finally melt and be swallowed. In complete contrast to the puddings' warmth was the cold Ice Cream, whose rounded Vanilla notes sat companionably alongside the richer Toffee taste.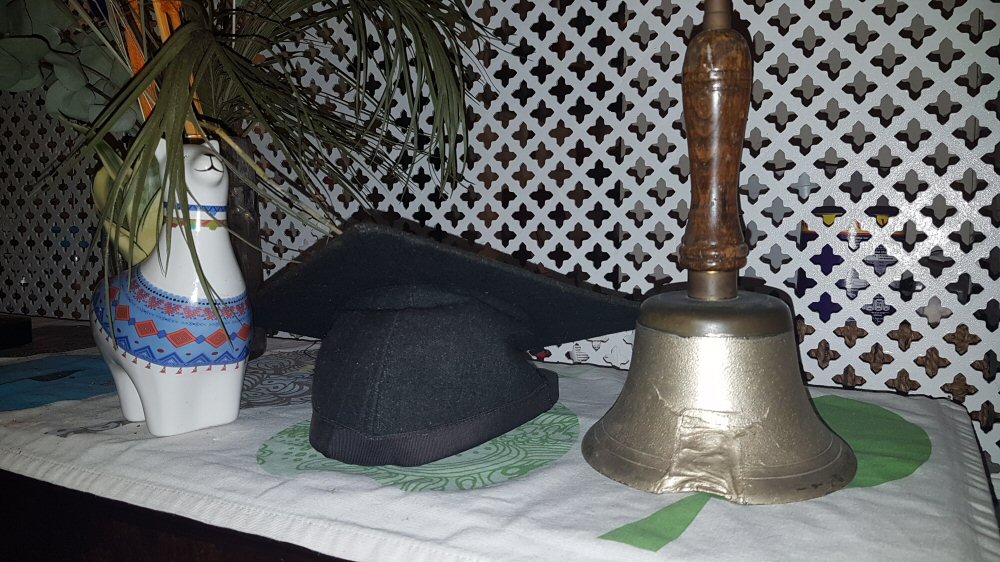 All that remained was to partake of our usual black coffees (very nice they were too) and then head back to The Nest. During lockdown 2.0, The School House team will be offering their incredible food as takeaway options on Friday, Saturday and Sunday only, and having had a takeaway from them in the summer (lockdown 1.0) I can confirm that they're scrummy!

Hot Wings happily awarded to this talented team.

The Schoolhouse is currently closed to dining in due to Lockdown 3.0 however they continue to offer a selection of their rather tasty dishes as takeaway.
Visit their web site to see the menu
No incentive was provided to visit this venue
read more