A Takeaway Dinner From The Dog At Pentrich
---
Published On Thursday 17 Dec 2020 by Sticky Beak
See Recent Take Away Reviews | See All Recent Reviews


I love it when The Man Bird asks me if I can really be bothered to cook that night; erm, no. No, I can't. I suspect that his tummy can't take any more of my 'cuisine' either and that it's begging for a night of decent food, hence his question! We had a meal in the restaurant at The Dog Inn at Pentrich with Mummy Bird ages ago, and really enjoyed it, so we decided to take advantage of the collection service that this village team are currently offering during the (seemingly never-ending!) lockdown 2.0.
The menu is all online so His Nibs, me and Fledge huddled around the computer screen to decide what we all fancied for dinner. We were tempted by the small plate/ Tapas selection, but then I spotted the scrummy sounding Korean fried Chicken and selected that instead. Swiftly following my lead, Chickadee opted for the Thai-spiced Vegetable Chow Mein, so His Nibs was either going to have to go for a main dish or scoff a trio of small plate morsels by himself. For a brief moment I did wonder whether he was going to surpass all previous gluttony records and go for the Tapas, but common sense prevailed and he chose the Pentrich Pounder burger instead.

Payment is taken online at the time of ordering and we were instructed to ring the doorbell and go to the hatch at the rear of the venue when we'd parked up. If the food isn't quite ready when you go to collect it, they ask you to go back to your car and they'll bring it out to you in due course. We arrived a little early and the meals weren't quite ready so we sat back in the warmth of the trusty jalopy and it wasn't long before our food was brought out, all nicely packed in a bag.
We live about 10-15 minutes away from Pentrich, but the food was still plenty warm enough when we unpacked it back at the nest. Mine and Fledge's dishes came packaged in round containers; The Man's was in a more traditional square affair. All the meals were nicely presented – care had clearly been taken when assembling them and herbs provided a nice presentational garnish.

I had plenty of large pieces of the dark red/brown Chicken to enjoy, so I set to without any further delay. The outer batter was thick and beautifully crunchy without any trace of grease, and a nice covering of Sesame seeds contrasted nicely colour-wise with it as well as giving a fantastic nutty flavour in the mouth. The chicken itself was still lovely and tender, and deliciously juicy. I totally fell in love with the pillow-soft Bao buns and wasted no time in packing them with the fried chicken and topping it with some of the bright-tasting Coriander emulsion that came in its own separate pot. Another little pot housed quarters of marinated Cucumber, whose crunch and sharpness was divine and provided a fab contrast to the other flavours in my mouth. The skin-on fries had been seasoned well with salt and plenty of slices of fresh Red Chilli, and Spring Onion added some extra oomph on my palate. This had been a superb dish, covering all the taste bases.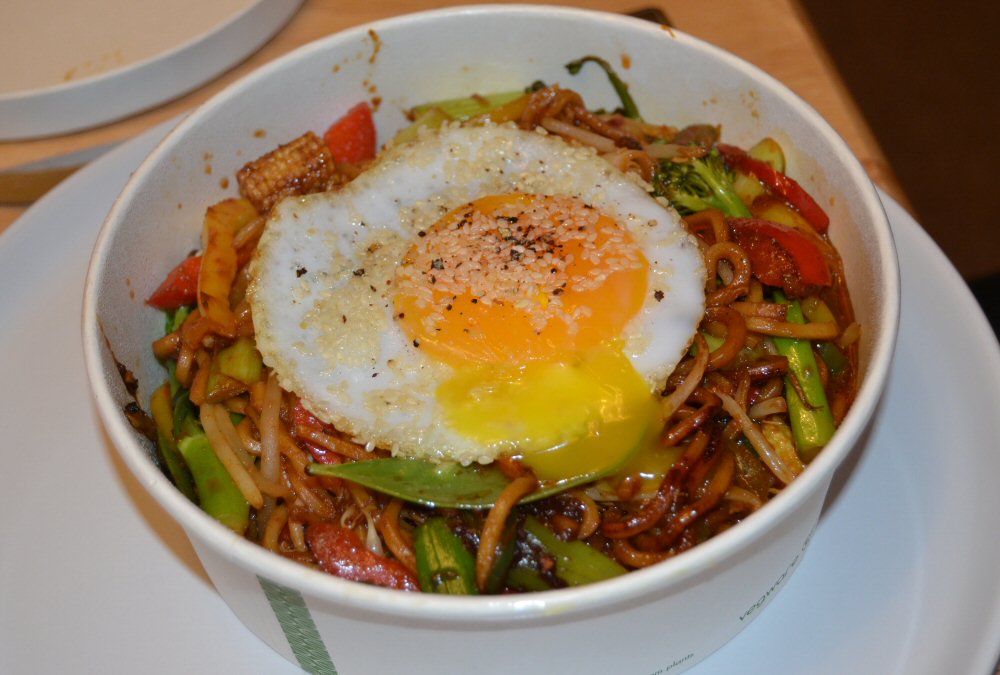 His Nibs was gob-smacked when he clapped eyes on the size of the Pentrich Pounder; this was a proper meaty beast! The beef patty was clearly homemade and served pink (though thoroughly cooked) in the middle, which is always nice in a burger as it provides a different texture to the more cooked outer as well as giving an extra hit of juiciness in the mouth. The Man described it as "bursting with flavour" and said he'd definitely order it again in future. Underneath the burger were the usual accompaniments of crisp lettuce, sweet tomato slice, crunchy onion and sour gherkin slices, but along with them was a layer of gorgeously fiery smoked Chilli and Tomato jam that really got the taste buds' attention! On top of the patty were slices of delicious home-cured Bacon whose sweet/salty taste was superb and plenty of gooey, melted Manchego cheese oozed seductively from the side of the burger, taking some of The Dog Inn's signature burger sauce along with it. This was a morsel that had His Nibs literally licking his fingers clean to get every last bit!




Chickadee has as voracious an appetite as her parents, so I was a bit sceptical as to whether the Vegetable noodles would be filling enough for her. Ha! There was enough to fill her greedy belly that night and then some leftover for lunch the next day! The noodles were lovely and soft without being soggy and were generously coated with a glorious Thai inspired, spicy sauce that clung to them as they were scooped up to Chick's mouth. There were plenty of crunchy vegetables nestled among the noodles strands: baby Sweetcorn, verdant Mange Tout and Tenderstem Broccoli, Opaque Bean Sprouts and sliced Spring Onion. All of them were tasty and this really was a good example of 'eating in full colour' as the advert suggests we do.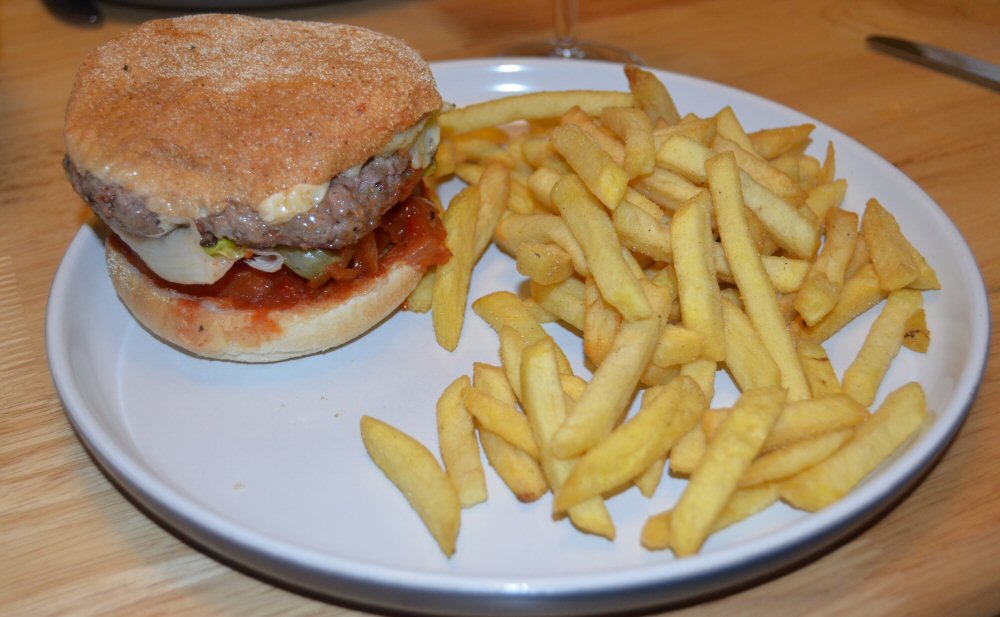 All our meals were from the favourites section of the menu and cost £11.95 each which, given the quality and quantity of the food, we felt was really good value. The Dog Inn offer their takeaway menu Wednesday and Thursday 5-7.30pm and on Friday 5-8.30pm, and the phone line is open from 3pm to take orders. Saturdays hours are Noon-8.30pm, with the phone line open from11.30am. All you need to do is pick up your dog 'n' bone (phone) and dial 01773 513360 to place your order – easy peasy, yummy food squeezy!

Hot Wings given to this local Derbyshire team without any hesitation