Chocolate Truffle Workshop At Coghlans Cookery School, Darley Dale
---
Published On Friday 11 Dec 2020 by Sticky Beak
See Recent Experience Reviews | See All Recent Reviews


Clearly my mischief battery needs recharging, as I got asked back to Coghlans Cookery School in the grounds of Stancliffe Hall!! I'd been in the swanky all-singing, all-dancing kitchens the previous week on the French Cooking class – and produced some tres scrummy dishes, may I say - under the tutelage of Master Chef of Great Britain, Simon Lilley who very kindly extended this chocolate-packed invitation to me. It's a hard life I lead!
I was slightly apprehensive about this workshop if I'm honest, as I'd got in my head that it was going to be very technical. Turns out we weren't expected to actually make the chocolate, or the ganache, so I breathed a little easier! Thanks to Covid-19 very much still ruling the roost, Chef Lilley is continuing to measure out as many of the ingredients as he possibly can; this cuts down on the amount of movement within the kitchen as well as maximising time he can spend with his 'pupils'. Steve The Magnificent was the classes' knight in shining armour again, cleaning the pots and pans as and when needed – again with the aim of eliminating any unnecessary movements around the space.




What is they say; if you don't ask you don't get? Cheeky moo here jokingly said "oooh it'll be hard work this class, some chocolate would keep my energy up" and, voila!, some magically appeared in a dish for me to nibble at!! It wasn't just me, everyone had their own little treat bowl; Chef Simon figured that at least if we were munching on those, our weighed out ingredients would be safe. Good logic, sir.

Dutifully following instructions, we all placed our awaiting bowl (with 'official' chocolate in) onto the scales, set it to zero and then weighed out enough boiled cream (that we'd patiently been doing whilst simultaneously softly whipping cream – Chef works you hard!)) to 150g. Much mixing ensued and then the mixture was poured into piping bags and (carefully) wanged in the fridge.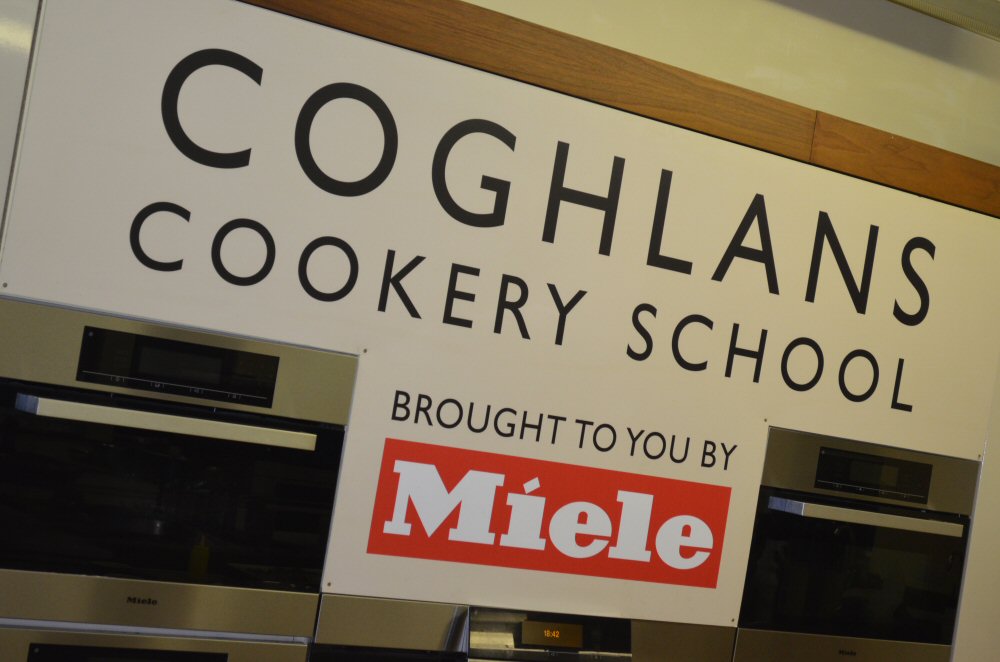 Chef Simon Lilley had weighed out some dark chocolate ganache for us all and we diligently cut them into equal pieces (I did 16), rolled them into balls in our cocoa powder-dusted palms, then popped them to one side (one nearly got popped into my mouth!). Simon had been chatting merrily away, answering all our questions and pressing upon us all the one cardinal rule when it comes to working with chocolate: do not let any water get into it! A common mistake, one I have made myself, is not to melt chocolate over a pan of water; much better to pop it in a microwave for 10secs at a time until melted. One fellow class member confessed to having once left choccy in a microwave for 2 minutes – the plastic bowl was ruined! Another top tip from Chef Lilley was to use a plastic bowl for 'tempering' chocolate.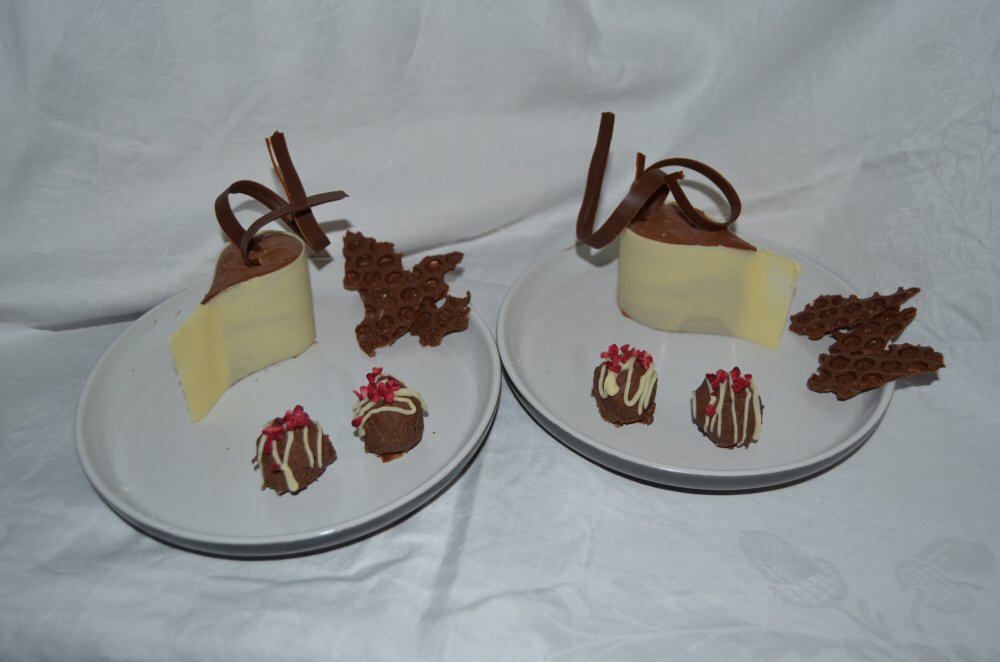 So, we'd pretty much done as much prep for our final 'makes' as we could do; the final hurdle to jump was to make the white chocolate cases for our mousse. Strips of acetate were cut to the desired length, covered in white chocolate and moulded into teardrop shapes before we piped the chilled mousse into them and put them back in the fridge. To decorate our mousses we fashioned chocolate curls by covering more acetate strips in milk chocolate and then running a plastic 'comb' over them, twisting the strips over and letting the choccie set and then peeling the thin strips off when set.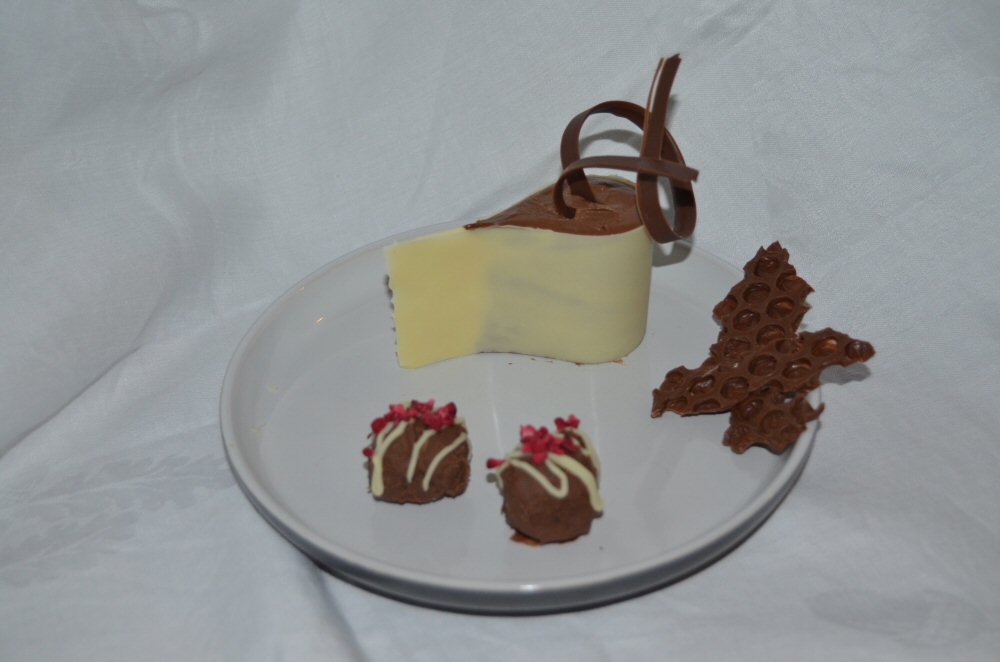 Chef was saving the best until last – the bit where we all got to get messy! The rich truffles were now needing to be covered in chocolate and decorated, so we all set to. Simon had been tempering some milk chocolate and we all popped a little bit into our palm and rolled each truffle in its molten luxury before popping them onto a cling-film lined tray to set. After a short while, we repeated the chocolate dipping – I can't tell you all how tempted I was to nibble the setting choccy off my hands! After all my dipping had been completed, I looked pleadingly at Simon, who just rolled his eyes and said "oh go on then!". I needed no second telling and greedily ate as much of the chocolate as I could. Then I had to troop off to the sinks to thoroughly wash and dry my hands, but it was worth it! Melted white chocolate had been poured into tiny packets and the teeniest, tiniest tip snipped off so that we could all pipe slim ribbons over the truffles and set pieces of freeze-dried Raspberry as the final flourish of decoration on them.

I laid out all the fruits of my labour onto my work station counter and smiled a smile of satisfaction (and relief!) at them. Despite my nerves, I had managed to produce some fine looking specimens; I'd love to take the credit, but it was down to the expert direction of Chef Simon Lilley and his attention to detail when planning the classes that really deserved the praise.

Yet again, it had been a fun-filled afternoon where I'd not only learned new skills, I'd made more new friends. Cheeeeeeeeeeef, can I come again? Pleeease!! Hot (choccy) wings awarded for another fab class at Coghlans Cookery School at Stancliffe Hall in Darley Dale.