Back At The Greyhound In Belper To Try The Build Your Own Burger Menu
---
Published On Sunday 8 Nov 2020 by Sticky Beak
See Recent Dining Out Reviews | See All Recent Reviews


After not having been for absolutely ages, The Man and I found ourselves back at The Greyhound in Belper on our actual wedding anniversary after recently visiting for Sunday Lunch with The Tribal Elders. Back in our early days, we didn't have two ha'pennies to rub together (not that we're particularly flush now!) and celebrated many of our anniversaries at home with a bought-in pizza and a bottle of the cheapest Prosecco we could find. So, having booked ourselves in the weekend after our anniversary at Angelo's in Duffield for the 'official' meal, we found ourselves really not wanting to cook on the actual date itself; a quick phone call to The Greyhound team soon got us sorted though.
We parked the Jalopy up and strolled over to the entrance and doused our hands with the hand sanitizer inside. We were then taken over to our table where we ordered our drinks whilst we perused the menu.

As well as the regular a la carte menu there is a 'build your own burger' menu. We looked at each other, grinned and said "let's do it"! The Greyhound's burgers are priced at £7.95 for a single patty option and they all come with Lettuce and Tomato in the base version; you can double up your patty for an extra £3 or triple up for a fiver, but we stuck to the single option.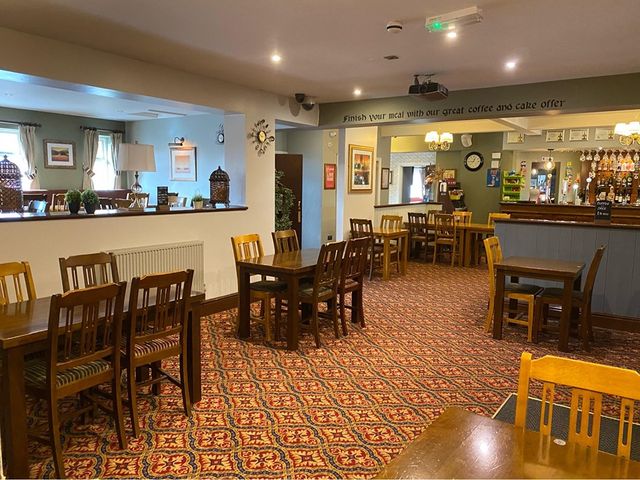 Our first step was to decide what burger we wanted: I had the plain grilled chicken breast (there's also Southern Fried to choose from) and His Nibs fancied the 6oz Beef patty. You can also select from Cumberland Sausage Ring, or Grilled Halloumi or BBQ Lentil and Seed for non-meat eaters. The second phase of 'operation Hank Marvin' was what bread the burger would be housed in – if any, as there's a skinny/bun less choice; I went for a Ciabatta Bun, He had a Gluten Free bun and there's also a standard floured bun, Brioche bun or Pretzel bun to tempt you.

Next we had to choose what cheese to pop on top: good old Cheddar for The Man, Brie for me as I thought that would go nicely with the Chicken breast – other options are Stilton and Vegan Cheese. The final step to the BYOB process is to select your sauce; I went with the Jerk Mayo and unsurprisingly His Nibs chose the BBQ sauce (though he was tempted by the Red Onion Chutney) and there is classic Salsa, Mayonnaise and Garlic Mayo available too.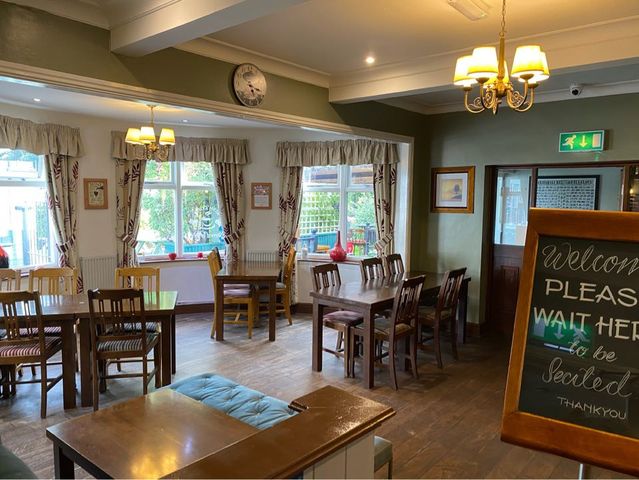 For those who want fries or other sides with their burger these are extra; we had Sweet Potato Fries (£3.50), chips (£2.20) and Onion Rings (£1.50) with our meal. You can also have Spiral Fries (£2.40), Salad (£1.80), Coleslaw (£1.30) or Halloumi Fries (£4.95) if you prefer – or any combo thereof!

We settled in with our drinks and chatted about the years we'd been together so far, andbefore we knew it our food was being brought over. There's something about a well-stacked, fully loaded Burger that makes you smile and your mouth water and the ones at The Greyhound in Belper were certainly something to behold – and we'd only gone for the single patty, remember!




The cheese was well melted and oozing seductively out of both buns, so the first job was to scoop up the escaping bits with our fingers and pop them into our mouths; my brie was beautifully mild and creamy, The Man's Cheddar was a little punchier. Both of us were impressed by the amount of cheese there was though – nothing worse than a measly dribble of cheese. The Man Bird said his Beef patty was really tasty: juicy, tender and with a good depth of flavour to it, and I was more than pleased with my moist grilled Chicken Breast. There was a good thick slice of sweet Tomato and the Lettuce was crisp and cool, so the salad elements were up to the mark as well. Additionally, the burgers had been held together by a wooden skewer when they were brought out and this had a length of pickled Gherkin on it for a bit of visual appeal - lucky me scoffed both pieces of this as His Nibs doesn't like it (well it's green and healthy, so say no more!).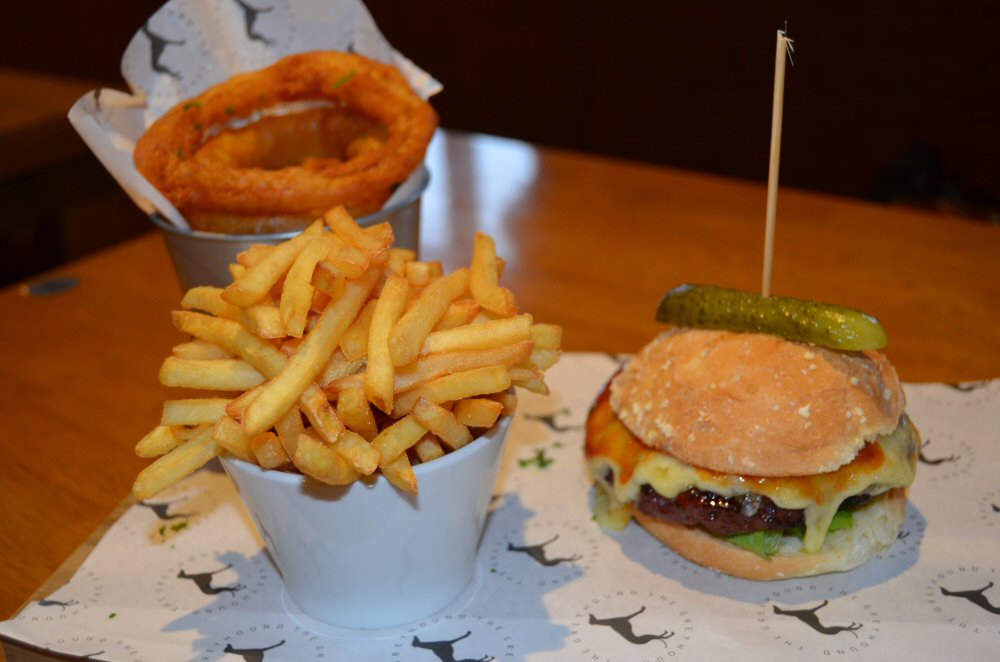 I got a fab heat from my Jerk Mayo coming through on my palate, not too much as to over-power the other flavours but enough to add some interest in the mouth. Him Indoors said that the BBQ sauce was sweet, smoky and tangy which meant it stood up to the more robust taste of the Beef nicely. Both buns had been toasted lightly to stop them from being soggy; to me, there's nothing worse than a sad, soggy burger bun because it just lets down the other components and detracts from the overall enjoyment. Thankfully, Tim and Coral's Chef thinks the same.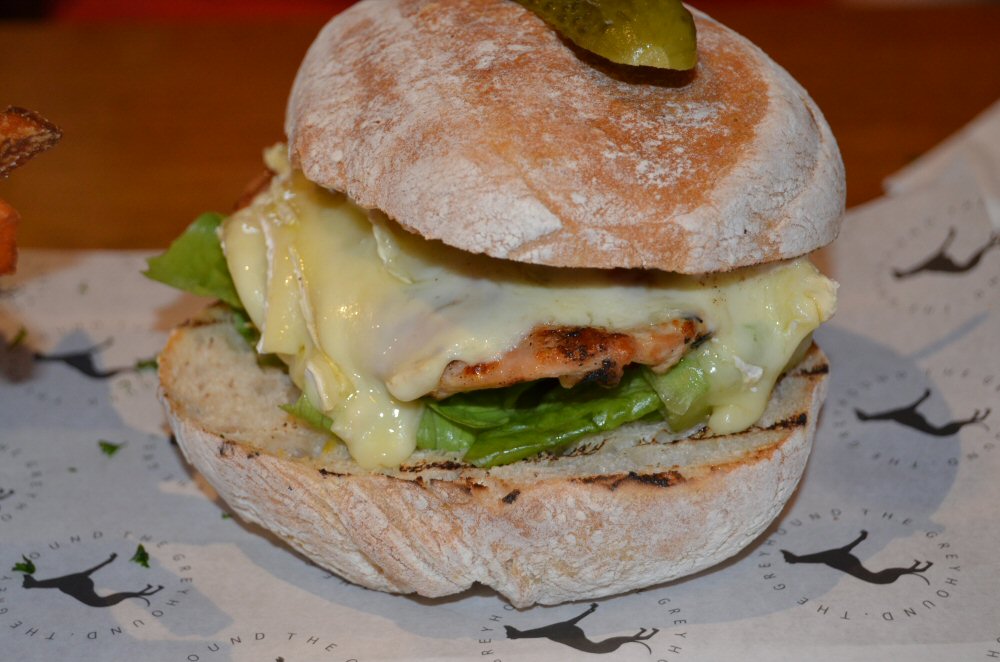 Both types of fries were excellent, both in terms of taste and generosity of portion size and the Onion Rings didn't disappoint either with their light crisp batter outers. Needless to say, there wasn't anything left to take back into the kitchen! Our server had been back and forth, checking on both ourselves and the other diners in the raised section of the restaurant where we were seated. Every single time, without fail, that we've visited The Greyhound in Belper, we've had great service from the team and it makes such a huge difference to your overall dining experience. Top marks to this team.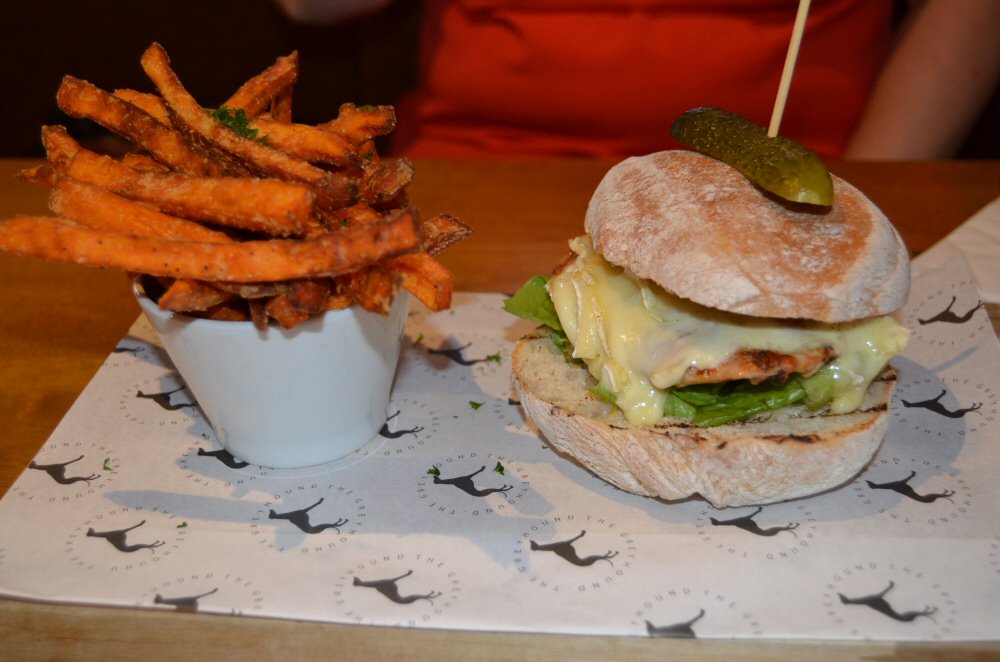 Our tummies were more than a little stuffed so we decided to skip dessert and just have coffee to round things off. At this point a lovely surprise was brought out to us: a wooden board with 'Happy Anniversary' written in chocolate, complete with fresh Strawberries and pieces of rich, gooey Chocolate Brownie! Thank you all, this made our night.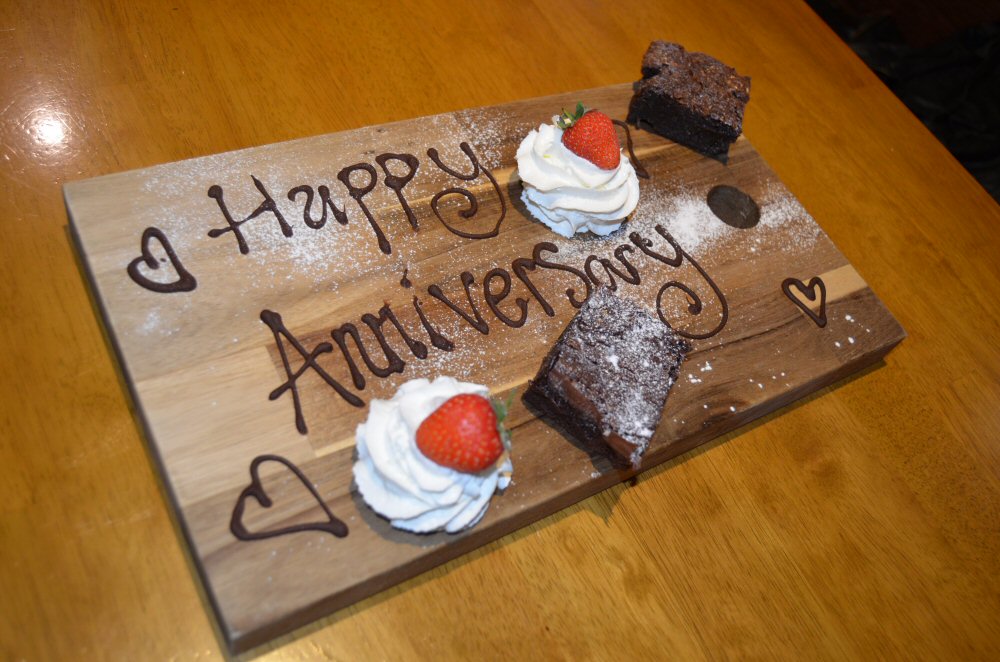 Hot Wings happily awarded to The Greyhound for their 'Build Your Own Burger' offering, we found it to be delicious!

During Lockdown 2.0 The Greyhound is offering a takeaway menu with their Build Your Own Burger menu available on Friday & Saturday evening (and of course their Sunday lunch on Sunday). Visit their Facebook Page to find out more detail.
No incentive was provided to visit this venue
read more