A Return Visit To The Queens Head in Little Eaton
---
Published On Sunday 1 Nov 2020 by Sticky Beak
See Recent Dining Out Reviews | See All Recent Reviews


The Man Bird and I last visited The Queens Head at Little Eaton in August 2019, a mere 11 weeks after it had been taken over by new owners, so we were very excited when Justin asked us to re-visit and see how things had progressed.
Thanks to Covid-19 and the chaos it has caused in the hospitality sector with its ever-changing rules and goalposts moving, Justin and his team have had to get creative with seating – both indoor and outdoor! There is a substantial gazebo outside that has a trio of 1500W heaters in to keep everyone cosy, and it means that households can mix in the 'outside' space – Erewash Borough, which Little Eaton is in, is currently in tier 2 restrictions so households can only mix outdoors. Indoors, the seating has spaced out to meet guidelines, with the loss of about 24 seats.

We parked the trusty jalopy in one of the spaces in the car park and headed inside. As you approach the venue there are a couple of A boards with the QR code for the NHS Track and Trace app, so His Nibs checked us in; we also used the hand sanitiser that is positioned at the entrance too. Other than the loss of a few tables, the charm and friendly atmosphere of The Queens Head hasn't changed at all.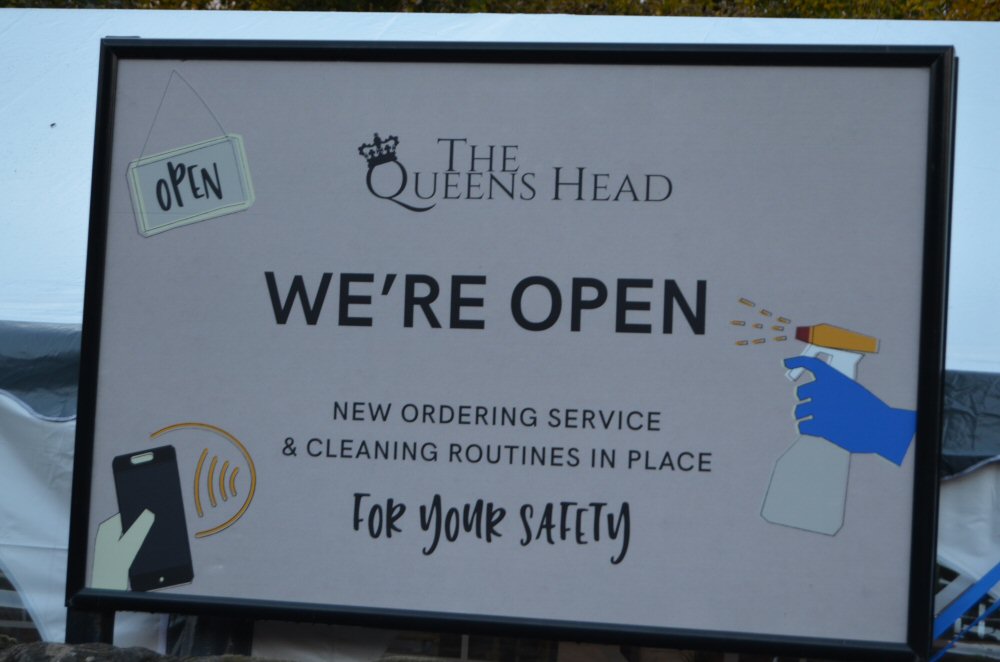 Justin has purchased some screens to further enhance the Covid safety features, and I have to say that they were some of the prettiest I've seen: the bottom half was like wooden boards, with the top half being spotlessly clear. Once you're seated, you don't notice them at all because they blend in well with the rustic, country feel of the premises. For special occasions such as Christmas, a string of twinkling fairy lights could be strung around them, which would look nice I think. The decor at The Queens Head is very much in keeping with the traditional character of the stone building; natural colours such as cream, duck egg blue, sage green and brown feature heavily. There are wooden beams on the ceiling and exposed stone work is in evidence, and everything works together harmoniously to create a welcoming, warm space.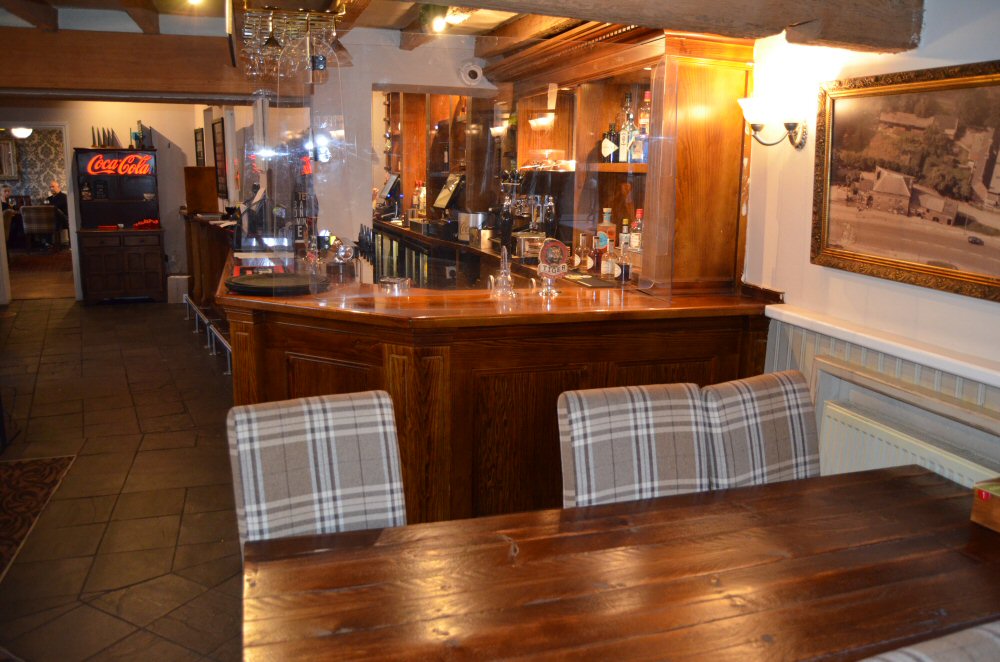 As we settled to look at the menu, Justin got us our drinks: a large glass of Malbec for me and a pint of Moretti for The Man. The pair of us were starving (not literally, obvs!) and couldn't decide whether to have one of the deli boards as a sharing starter or go for individual ones; in the end we opted to have separate dishes. I had the Chilli and Garlic Prawns on Toasted Sourdough with Pea Shoots and The Man opted for the Calamari with Lemon Mayonnaise.

The starters were both beautifully presented and there was a nice pop of colour from the Pea Shoots on both dishes. There was certainly no shortage of plump King Prawns on my platter, their gentle sweetness contrasting against the kick of Chilli and Garlic nicely in my mouth. The thick slices of seeded sourdough were pleasingly crunchy and nutty thanks to being toasted, and I savoured the chew of the substantial crust that characterises any decent sourdough. Bright, clear flavours came from the verdant Pea Shoots that had been decadently piled on top of my dish and I have to say that this was a superb start to my meal.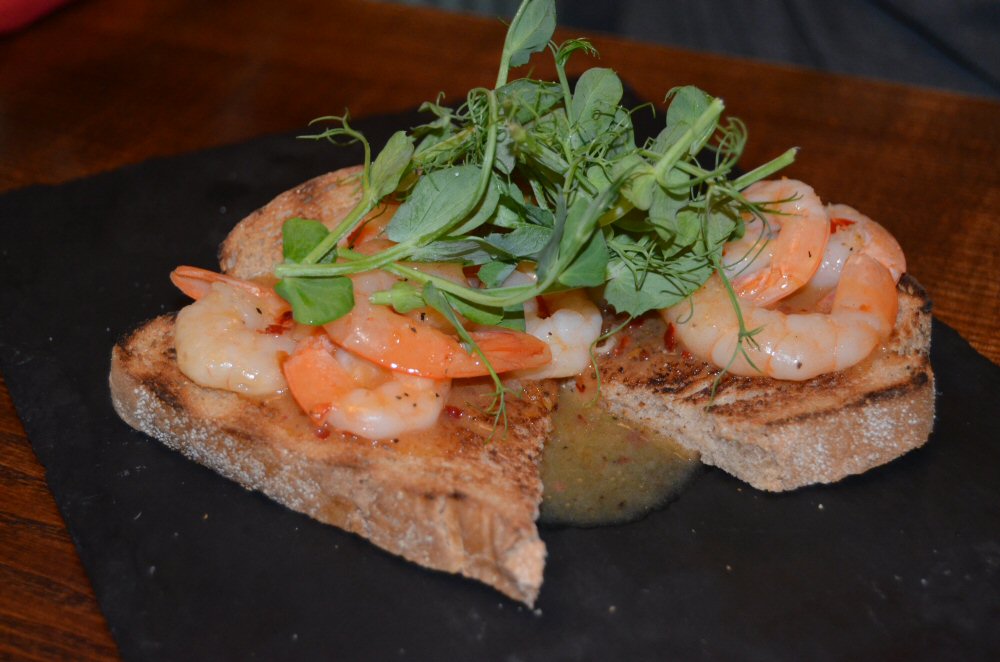 Across the table, His Nibs was equally happy with his choice of starter and remarked that his Calamari was "really, really beautiful". I managed to persuade him to let me try a piece of the seafood and can confirm that it was superb; soft and tender, with no trace of rubberiness at all. Partnering the fragrant seafood was a wonderfully crisp, salt and pepper-seasoned batter that held no trace of oil or grease at all – meaning that all the oral senses had to concentrate on was the taste and texture of the morsel. As with my starter, the pea shoots provided a pop of colour and a great crunch in the mouth; furthermore, the citrus zing from both the mayonnaise and the fresh Lemon wedge was excellent.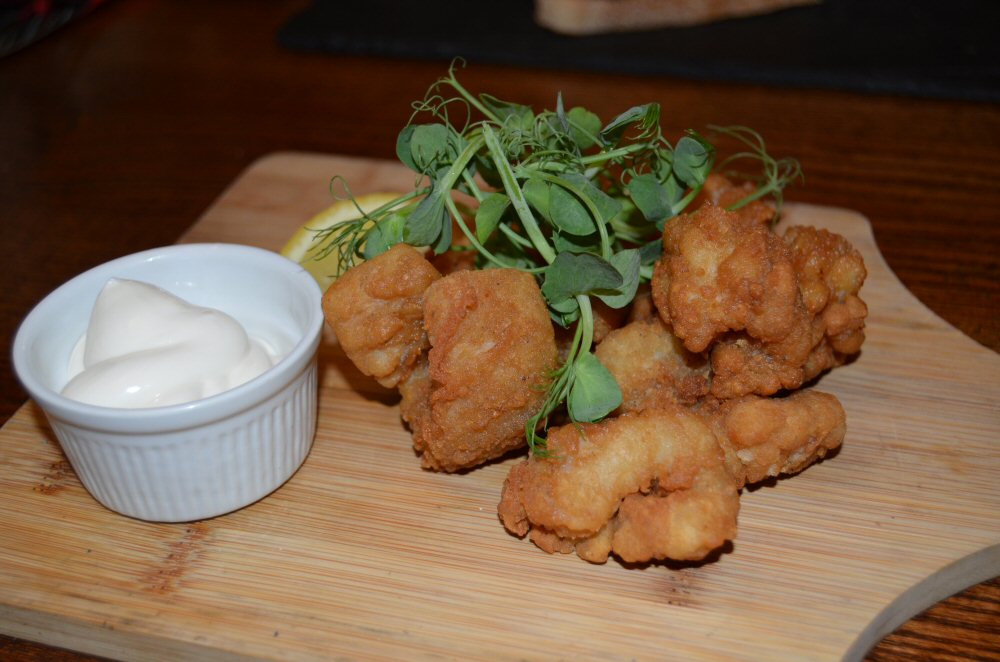 Even from behind the masks and visors, you could see the genuine nature of Justin and his team; nothing was too much trouble for them, and they were pleased to hear the praise we had for our food when they checked back on us.

For mains we'd chosen Beef Bourguignon with Horseradish Mash (me) and Mediterranean Chicken with Chorizo, Tomato Salsa, and Cheddar served with double cooked Chips and Garden Peas (The Man); we also ordered a side of seasonal vegetables to go with my meal.

I cannot tell you how good the hearty Bourguignon looked on such a glum autumn evening: talk about comfort in a bowl. There were plenty of chunks of tender Beef to get stuck into (which I wasted no time in doing!) and the sweet baby Shallots yielded gently to my bite, their soft flesh oozing over my tongue. The sauce was absolutely cracking! Wonderfully robust and rich in flavour and a nice consistency: not too runny and not too thick, and the red wine at its heart was augmented with a nice splash of spice that warmed the palate.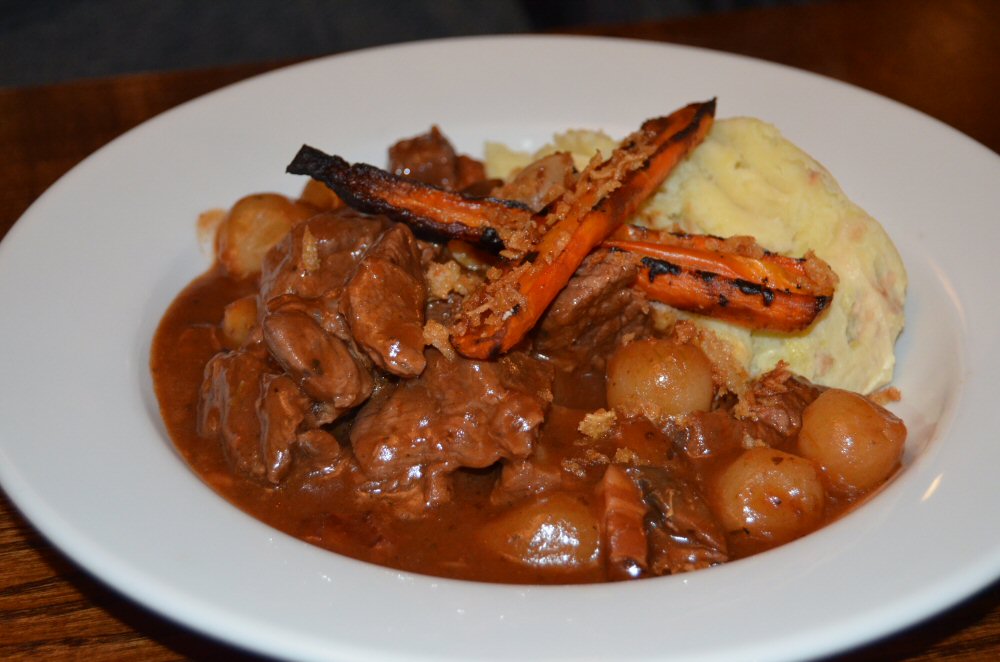 I could eat the Horseradish mash all day long. The mash wasn't lumpy, but the fibres of the potato had been left intact to give it proper 'substance' in the mouth (almost as if it had come from a multi-hour, oven cooked jacket spud) and it was just the ticket to go with the satiating Beef dish. Horseradish has a reputation as being harsh and powerful in its heat, and it can be so easy to be heavy-handed with it, but Chef at The Queens Head really has got it spot-on: I got a superb warmth from it at the back of my throat, but it wasn't overwhelming at all.

The seasonal vegetables consisted of Tenderstem Broccoli, Garden Peas and Shredded Cabbage and each one was cooked perfectly to retain a hint of its natural crunch. I got the individual tastes of each vegetable bursting on my palate, and the gentle coating of butter used to gloss them provided a nice hint of silkiness in my mouth.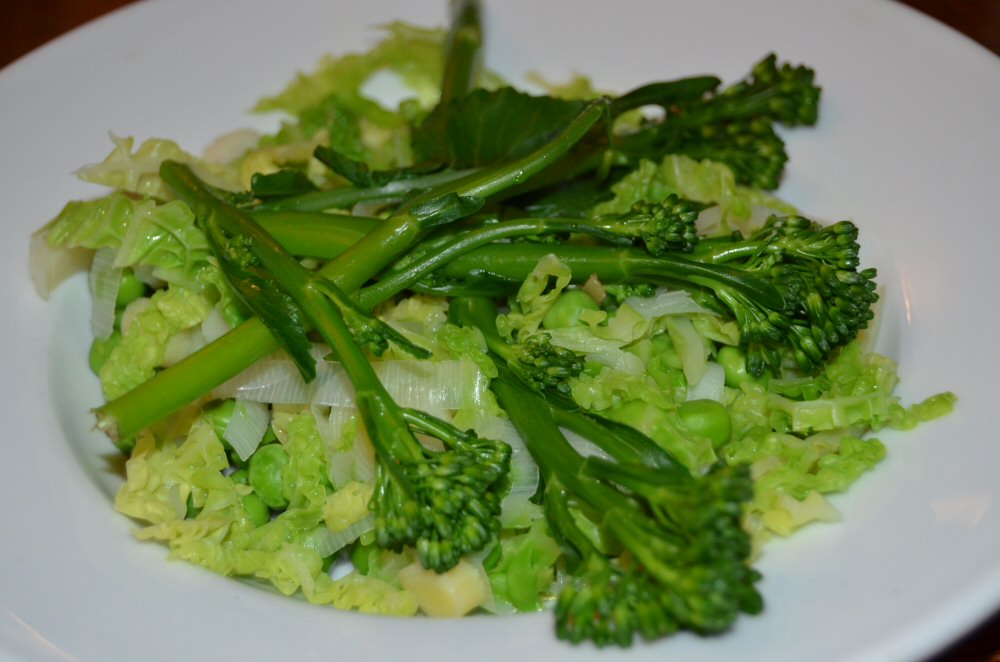 Mediterranean Chicken is a twist on the pub classic Hunters Chicken, and it's every bit as delicious! At The Queens Head in Little Eaton they certainly don't choose small Chicken breasts, preferring instead to go for a substantial piece that will satisfy even the hungriest appetite. On top of the moist chicken breast was a blanket of juicy Tomato Salsa that then was topped with thin slices of smoky, spicy Chorizo and crowned with lots of melted Cheddar. This was a really flavoursome dish that certainly hit the mark with His Nibs!

The chunky, double cooked chips had been lightly seasoned with salt and were lovely and crisp on the outside. Keeping the skin on the chips ramped up the flavour too, and their inners were beautifully soft as good chips should be. Sweet Garden peas were all that was needed to complete this superb dish, all of which had been happily devoured.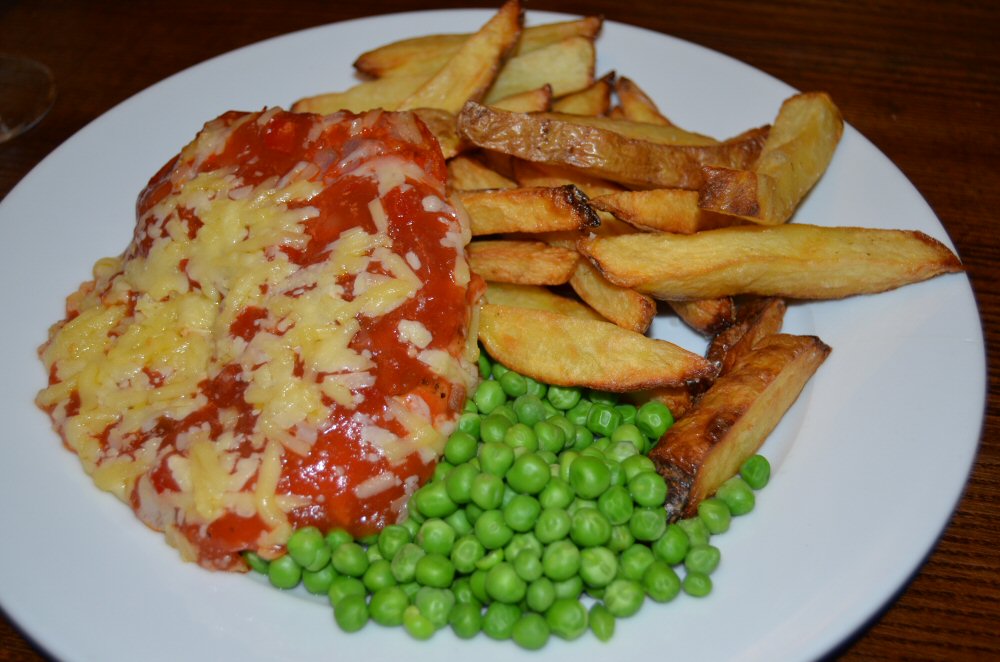 Justin had been checking back on us to make sure we were enjoying the food and also to see if we needed any more drinks, and he made time to have a word with all the other diners that were present, which I thought was really nice. Families with young children are more than welcome at The Queens Head and one young diner was having a proper 'yak' with Justin, which was lovely to hear – kids come out with the funniest stuff, don't they?!

On our last visit, I'd said that the desserts were a bit lactose-heavy, and Justin makes no apologies for this as he loves Ice cream and Cheesecake! It was nice to see that Sorbets are on the dessert menu this time though, so even if you can't eat dairy (or are vegan) at least you can indulge. I went for the scrummy sounding Lemon and Mascarpone Cheesecake and (no surprises here!) His Nibs chose the Sticky Toffee Pudding with Custard.




Clearly His Nibs' reputation precedes him as, when he was setting it down before Him, Justin said "and there's lots of custard!". The individual pud had a superb taste to it, lovely and toffee-y, and the texture was perfect: not heavy and stodgy, just substantial and satisfying. The creamy custard was piping hot and although it wasn't needed to moisten up a dry pud (as can sometimes be the case), it was superb as a comfort blanket against the cold evening outside. The Man Bird declared it to be an excellent conclusion to his meal.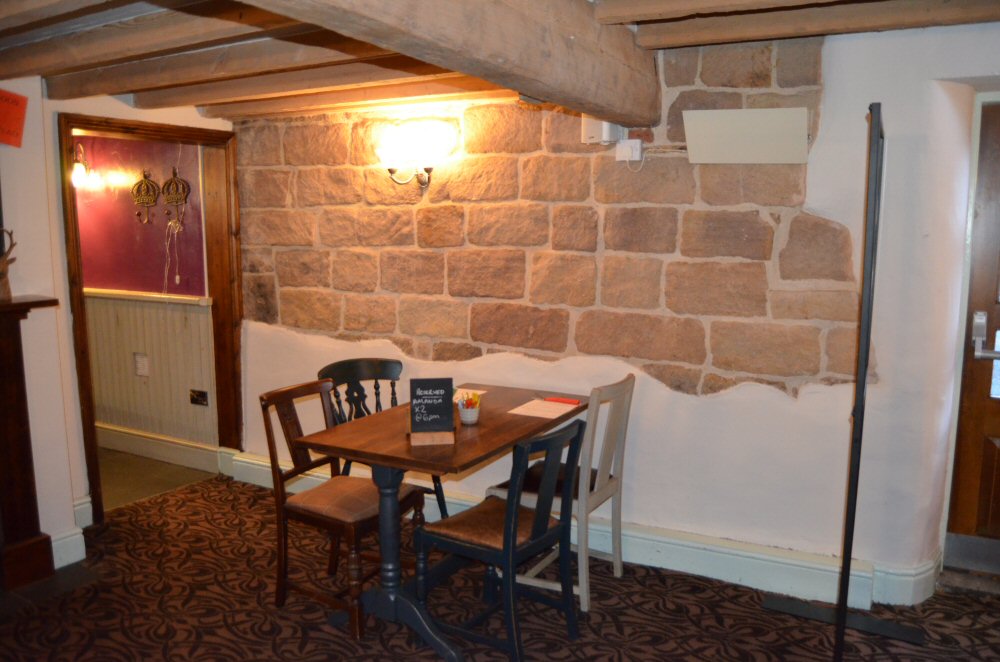 My Lemon Cheesecake had been topped with flaked Almonds, and they provided a great crunch against the smooth body of the cheesecake. I absolutely loved the texture of this delight; it was beautifully light in the mouth with a perfect citrus twang to it (without being sour) that made you scrunch your face up as it hit the tongue. This indulgent minx was wickedly silky in my mouth and I was particularly impressed with the base; all too often, bases are overly firm and it frustrates the life out of me when I'm fighting to cut into them. All that happens is you suddenly get into it and the spoon or fork makes a loud sound against the dish, making others diners turn around at the noise – ugh!! Thankfully this is not the case at The Queens Head. Despite its welcome softness, the cheesecake base didn't crumble apart either (yay!), meaning I could just relax and savour its rich butteriness. This was an excellent example of how cheesecakes should be – respect, Chef!.

We had our usual black coffees to conclude the meal, and left full of happiness thanks to this fabulous team. Safe to say that The Queens Head at Little Eaton has found its feet, and so Hot Wings are definitely awarded again here.
Some form of incentive was provided to visit this venue
read more