Dinner At The Lodge Bar & Dining, Littleover, Derby
---
Published On Sunday 25 Oct 2020 by Sticky Beak
See Recent Dining Out Reviews | See All Recent Reviews


It's always nice to be asked back to a venue we've visited previously, especially when it's been a while since our last visit. The Man Bird and I had a lovely time at Littleover Lodge a few years ago when we dined there, so we were very much looking forward to seeing if it would be as good as we remembered.
As you would expect of a venue offering accommodation, there is plenty of parking available so we popped the jalopy in one bay and made our way over to the entrance. There is a one way system in operation currently to comply with Covid-19 regulations, and an outside hand sanitising station which we used before we went inside. His Nibs scanned the QR code for the NHS track and trace phone app and then the assistant general manager, Martyna, scanned our temperature before taking us to our table.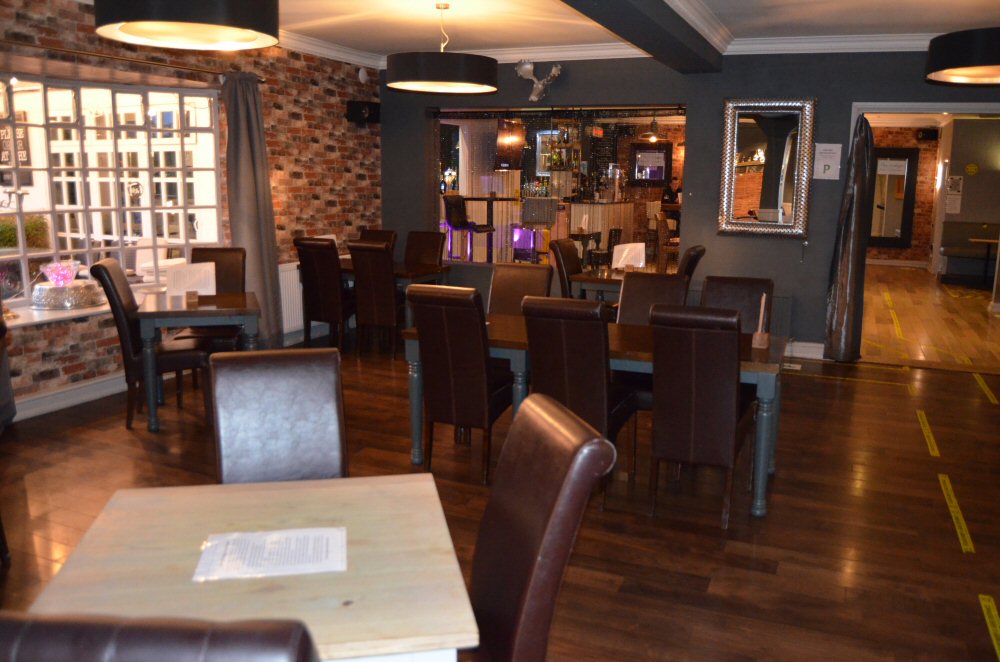 There were a few tables taken with early diners, including a family with young children, as well as couples. The Lodge Bar and Dining has a lovely relaxed feel to it; classy, but not stuffy or intimidating. I liked the wood floors and exposed brickwork in our section of the space, and the deep, curved bay windows make the most of natural light. Cream and Grey walls provide a pleasing, neutral canvas for the venue and a splash of colour comes from the blood-red high backed chairs that are at some tables. Other tables have rich brown toned chairs at them which adds a nice, comforting warmth to the overall feel of the restaurant.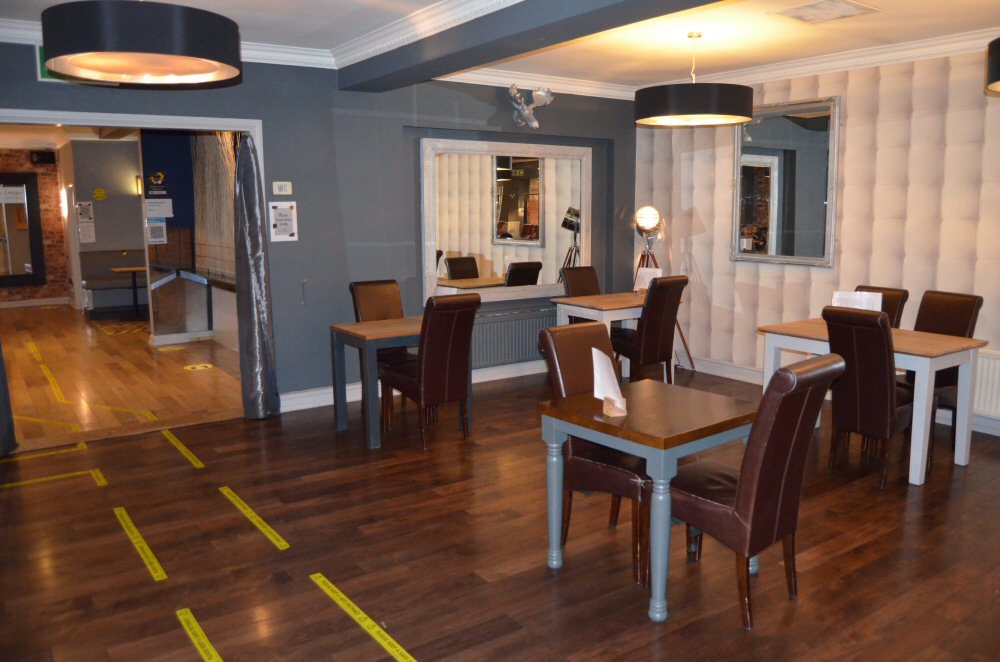 Martyna handed us both menus, the a la carte and the daily specials, and took our drinks orders at the same time. There is a nice selection of wines by the glass to chose from which, although not the most extensive list I've come across, is more than adequate nonetheless. I plumped for a glass of Rioja and The Man had a pint of Stella Artois and they were soon brought over to us.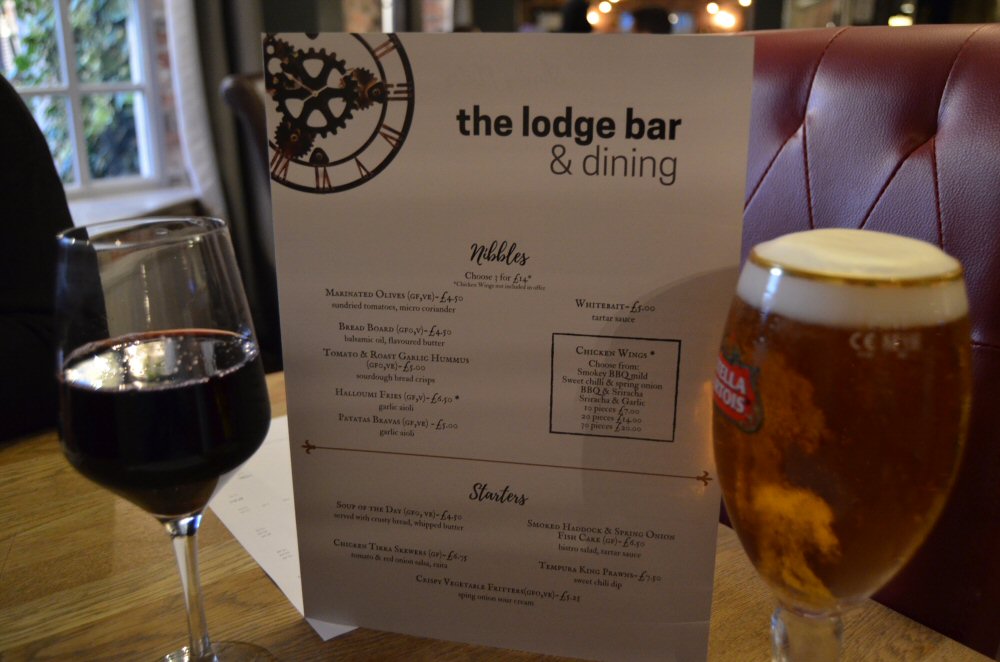 As well as standalone starters, The Lodge Bar and Dining offers a Tapas-style, pick 'n' mix nibbles selection priced at 3-4-£14 if you fancy a grazing type start to your meal. I had my eye on the homemade Smoked Haddock and Spring Onion Fish cake with Bistro salad and Tartare Sauce (£6.50) and His Nibs fancied the Chicken Tikka Skewers with Tomato and Red Onion Salsa and Raita (£6.75) to start with.

Head Chef at The Lodge Bar and Dining is Jake James and his AA Rosette kitchen experience really shone through in the presentation of his food; both our starter dishes were superbly showcased and eye-catching in colour.

The Man was very impressed by the tender, rich red hued Chicken Tikka pieces; they were impossibly juicy in the mouth and their colour was contrasted with dark char-stripes for visual impact. The Chicken skewers were simply served with a delicious, fine-textured Tomato and Red Onion salsa whose flavour burst onto the tongue with gleeful abandon, and the creamy Raita brought a silky, indulgent element to the dish. A crisp, crunchy salad of mixed leaves, Cucumber, Tomato and micro-Coriander was wonderfully crisp and bright in the mouth and gave a nice hit of texture.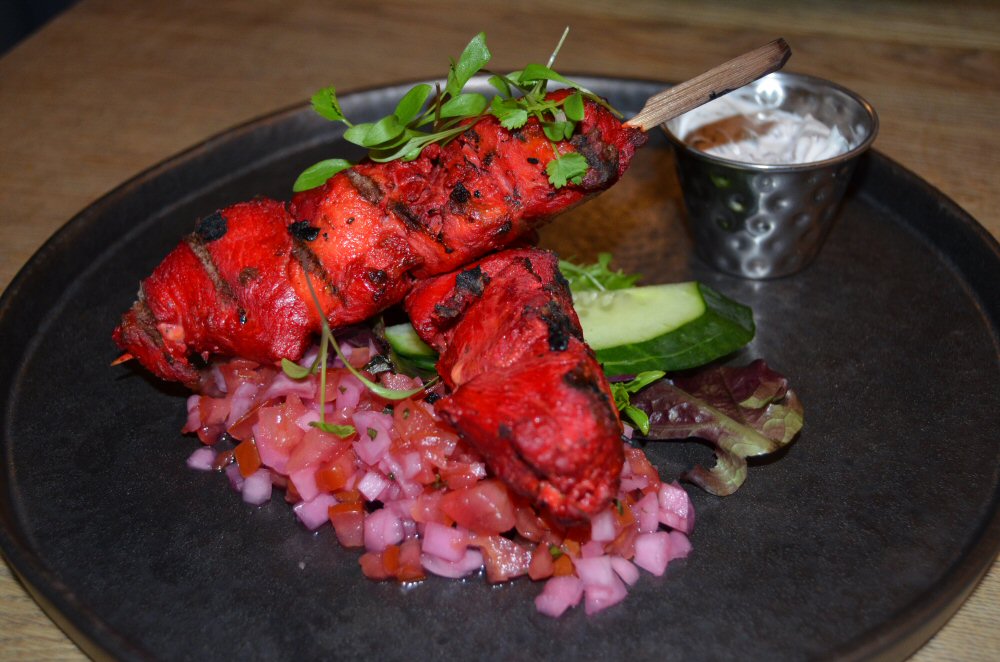 My Fishcake was a generously sized morsel whose superb crunchy crumb coating had no trace of greasiness left at all, so the flavour of the morsel really did come through on the palate unimpeded. The fish chunks were soft and moist with a subtle smoky hint that was gentle in the mouth and the Spring Onion slices gave a nice crunch when bitten into, as well as imparting their distinctive clean taste. Fronds of fresh Dill could be seen in the piquant, chunky Tartare sauce and I loved the pairing of flavours in the dish. The Bistro salad provided a colour contrast to the golden fishcake as well as giving me a blast of crunch in the mouth. Everything was beautifully arranged on the plate, and we both remarked on the visual impact of our dishes and the fact that they delivered on the taste-front too.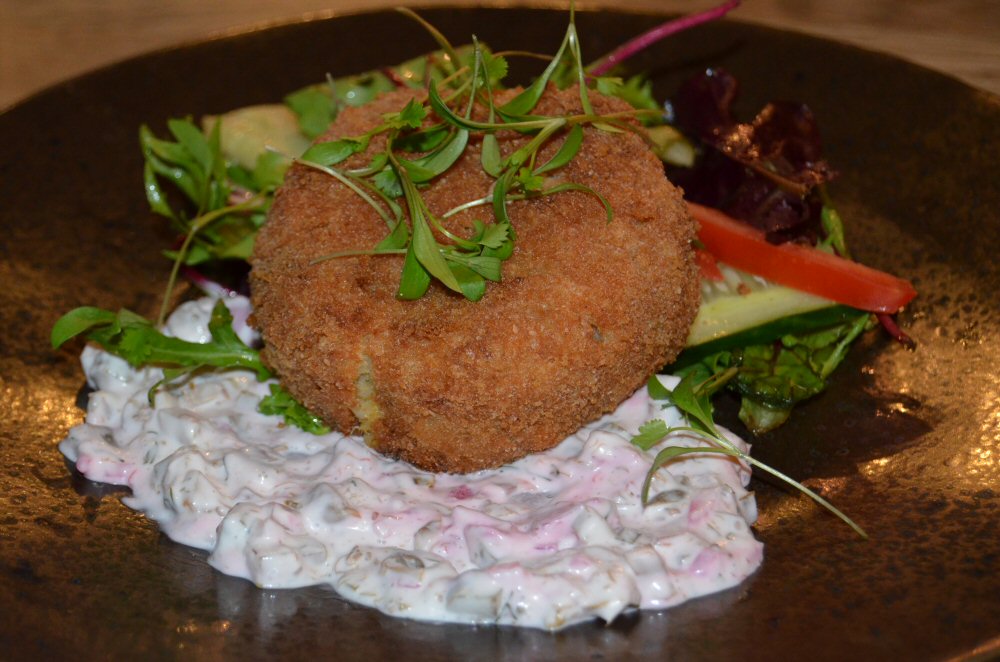 Both our lovely server and Martyna had checked that we were enjoying our starters and smiled when they took clean plates back to the kitchen.

For his main course, His Nibs ordered the Lodge Homemade Beef Lasagne with Garlic Ciabatta and Salad (£13) and I ordered the Skippers Catch from the Specials menu (£16), which was pan-fried Meagre with Saffron Fondant Potatoes, Parisian Vegetables, Warm tartare Sauce and Goats Cheese and Spinach Tortellini. We also ordered sides of Bistro Salad (£3) and Homefried Chunky Chips (£4) to go with our mains.

The aromas emanating from the kitchen were making us both salivate with anticipation, but we weren't kept waiting overly long for our meals. Everything is cooked fresh to order at The Lodge Bar and Dining at Littleover Lodge and the clouds of steam were billowing out behind Martyna as she walked across the restaurant with our dishes!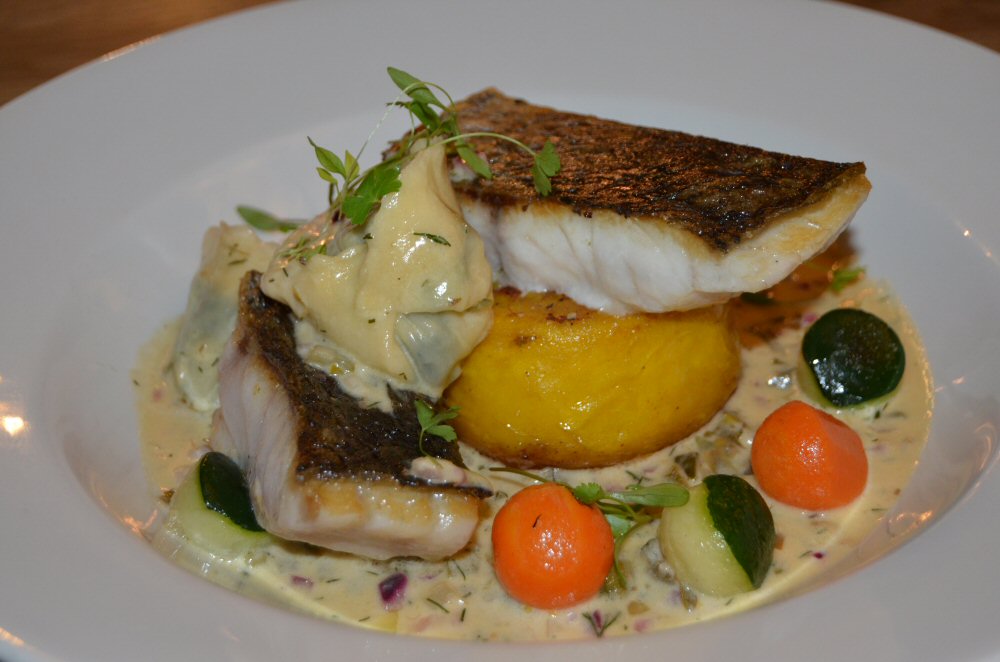 Meagre is a firm-fleshed fish not dissimilar to Sea Bass in its mild, delicate taste and I was held in its thrall from the very first bite I took. The succulence of the Meagre was stunning (compliments to Chef Jake) and the skin had been gently crisped to contrast with the softness of the flesh. My palate was really enjoying the contrast of the Meagre's sweetness and the pungence of the Capers in the Tartare sauce; fresh Dill added an extra zip to the Tartare sauce as well. The Saffron Fondant Potato round was cooked superbly to provide a satisfying heartiness and firmness when bitten into with a wonderful sunny tone to them courtesy of the Saffron. Courgette and Carrot had been cut into tiny rounds (perhaps with a melon baller?) and these were perfectly cooked to retain some bite.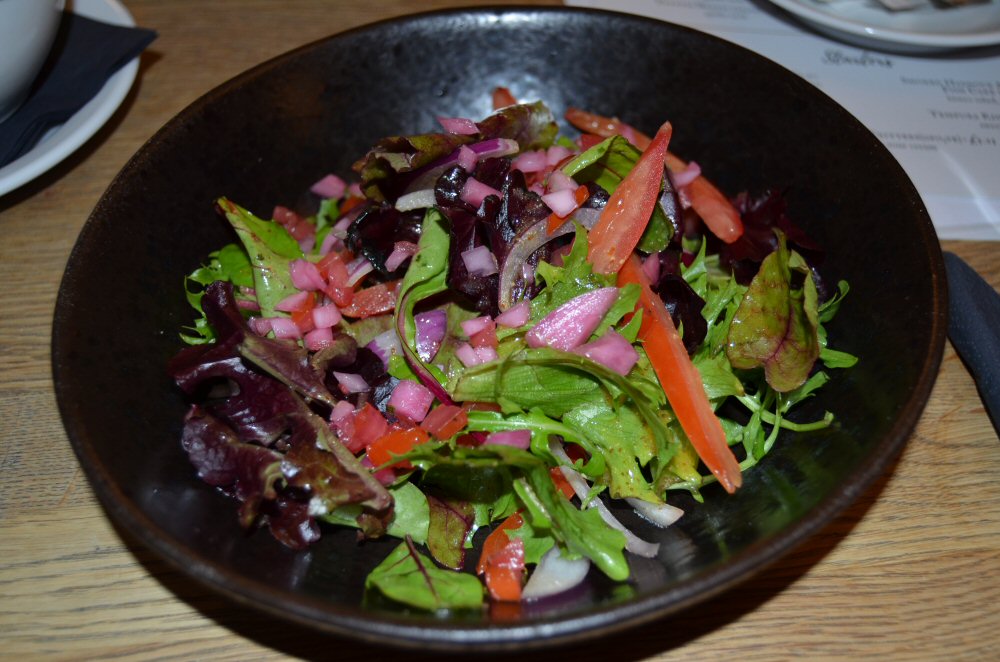 My only criticism is that I would've liked more vegetables in this dish, and I was glad that I'd ordered the Bistro Salad (mixed leaves, Tomato, Red Onion and Cucumber) as a side dish. The Goats Cheese and Spinach Tortellini were excellent, both in terms of taste and texture. Yet again, I'd cleared my plate.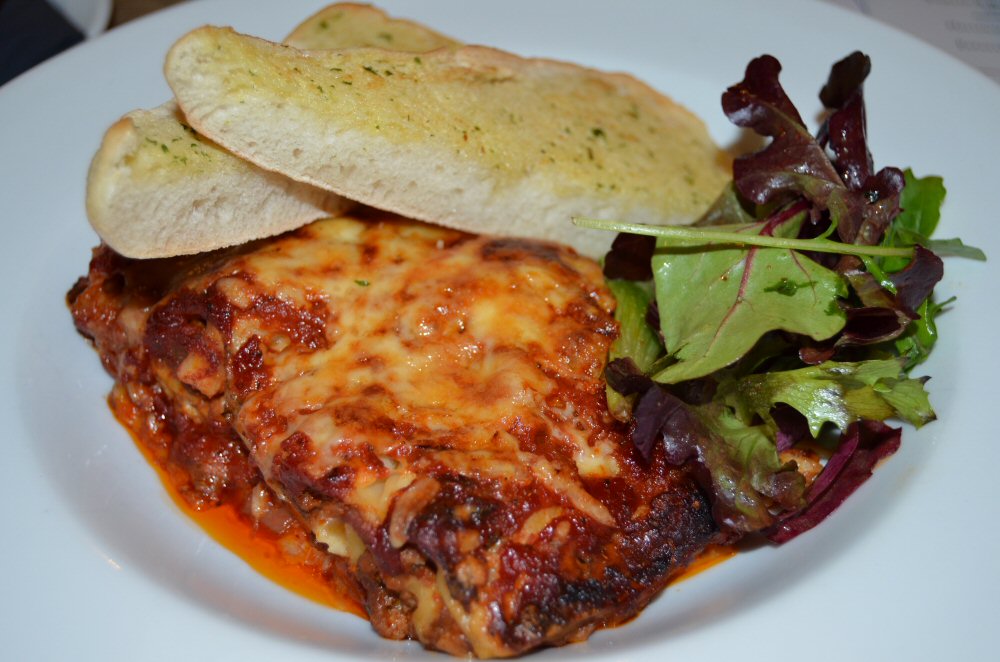 Across the table, The Man Bird was heartily tucking into his Beef Lasagne and it smelled absolutely marvellous, I must say. Luckily the hints I dropped were heavy enough that I was soon being passed a forkful to try for myself. Head Chef Jake James doesn't muck about when it comes to this minx, let me tell you; a heartier, richer-tasting number you'll not find this side of Italy! The Beef Ragu at the heart of this Lasagne was delicious; plenty of deep flavoured minced beef was partnered with an intense Tomato base that had finely chopped Onion, Garlic and herbs within it. Another big plus was that it wasn't 'pasta heavy'; too many times His Nibs has had a Lasagne that has too much pasta within it and not enough ragu, but this wasn't the case here at all! Crunchy slices of Ciabatta provided the perfect vessel with which to scoop up every last vestige of the sauce, and the salad got passed over to me (no surprise there!).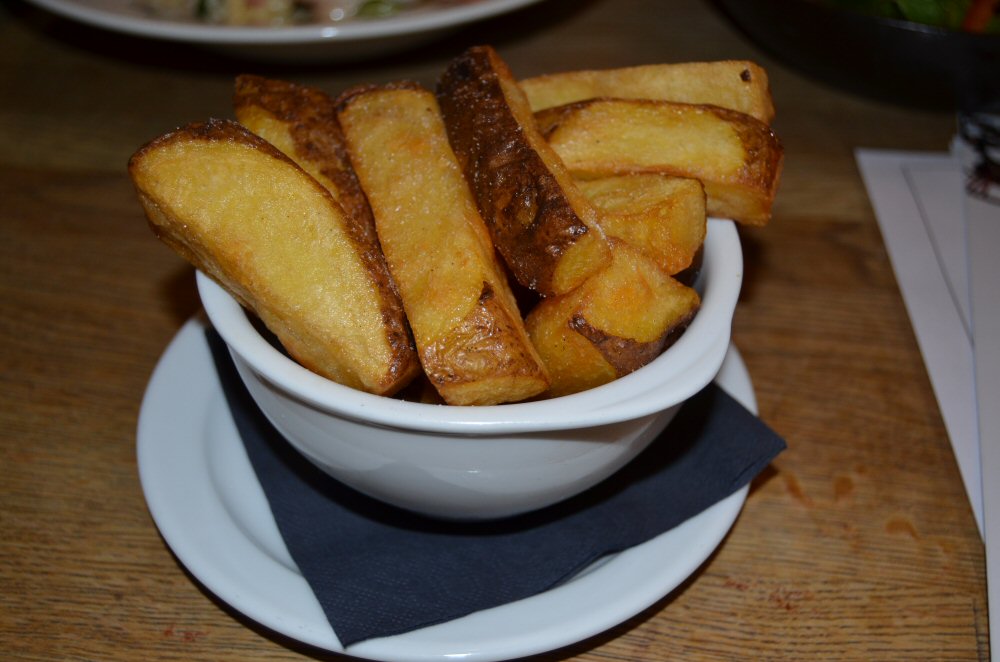 For those of you who like a proper chunky chip, get yourselves to The Lodge Bar and Dining! These chaps really are chunky and satisfying, and have a nice bite to them as the skin is left on. Under the skin is a kitten soft inner that just melted like Candyfloss on His Nibs' tongue, and a gently sweet-but-earthy taste caressed his palate. Yep, these were top-notch 'tates for sure.

I'd gone for the special dessert too: Triple Chocolate Terrine with Berry Compote and Chantilly Cream (£6.50) and The Man Bird opted for the Caramelised Lemon Tart with Lemon Sorbet (£5.50) for his meals' conclusion.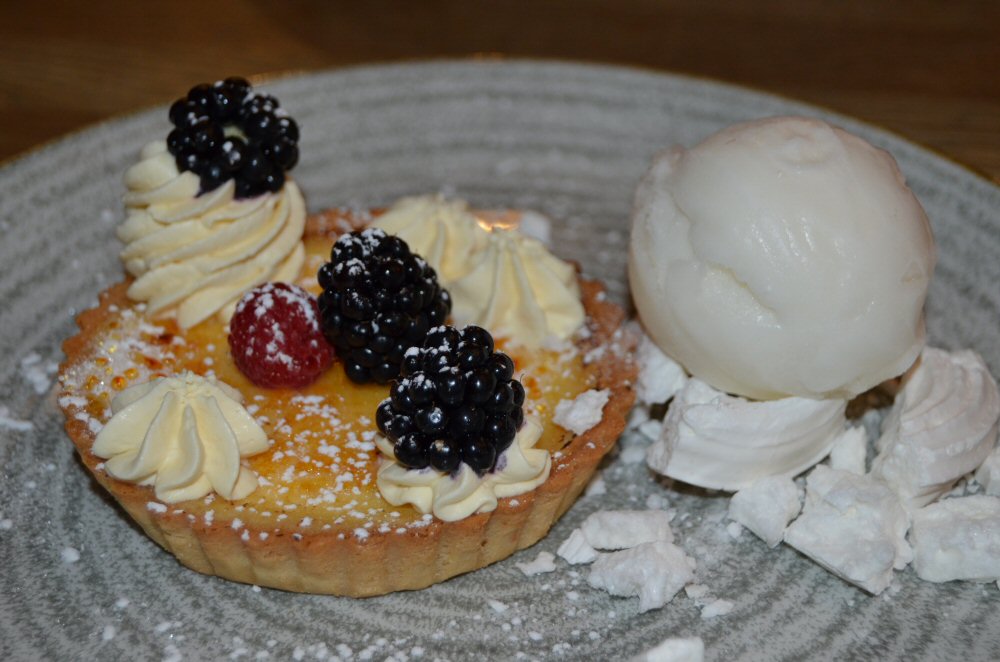 Now if Carlsberg did pastry, the Lemon Tart's case would be it! Hands-down, this was the best pastry His Nibs had tasted for a good while; buttery and light, but not crumbly to the point of disintegrating when cut into. Equally fab was the zingy Lemon filling with its palate cleansing sharpness. This was beautifully light to finish a meal with, and the intensely citrusy sorbet just sealed the deal. Fresh Raspberries and Blackberries added a superb decorative flourish to this dessert, as well as enhancing the fruitiness of it.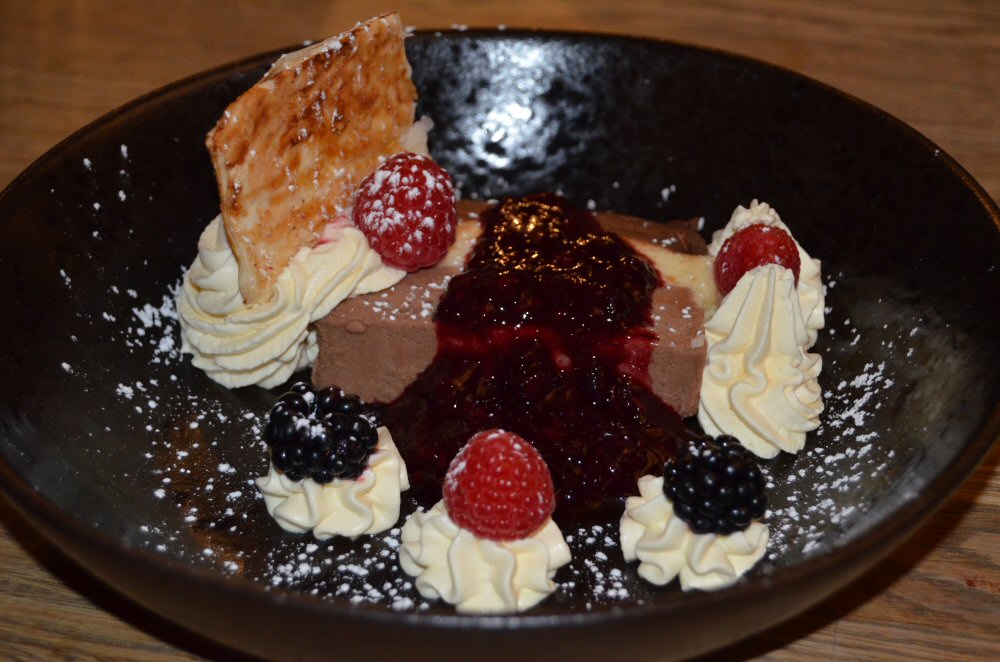 My Terrine was stunning to behold with its distinctive triple layers of colour. This was a seriously indulgent dessert whose luxurious silkiness coated my mouth and lingered there nicely to allow me to fully savour its splendour. To prevent the richness being too much, the jewel-toned Berry Compote's tartness sashayed onto my palate and countered the chocolate's sweetness perfectly. Swirls of Chantilly Cream were crowned with fresh Raspberries and Blackberries whose exuberance bounced like Tigger on my tongue. Again, this was an exquisitely executed offering from the kitchen of Head Chef Jake James at The Lodge Bar and Dining within Littleover Lodge.

Martyna yet again found herself taking clean plates back from our table and was beaming with pleasure at the praise we gave. From start to finish, the whole team had delivered great levels of customer care; check backs were performed and drinks were refreshed when requested, and it was all done with a smile.
We finished our meal off with a couple of black coffees, and the beverage served here is a rich, deep blend that really does round things off perfectly. Hot Wings happily awarded to this superb Derby team.
Some form of incentive was provided to visit this venue
read more