Dinner At The Recently Refurbished Maynard Hotel, Grindleford
---
Published On Sunday 18 Oct 2020 by Sticky Beak
See Recent Dining Out Reviews | See All Recent Reviews


The Man Bird and I were kicking off our weekend in style, courtesy of an invite from the owner of The Maynard at Grindleford, Rob. Rob took over the reins at this establishment in the New Year and managed to squeeze in a couple of months trading before Covid-19 really got its claws into the country, but we didn't manage to make it over before lockdown happened. Good things come to those who wait, and that was how we found ourselves in the jalopy on this particular evening, experiencing '4 seasons in an hour' (in good old Derbyshire style!) as we ascended to higher and higher altitudes!
There is plenty of parking for The Maynard patrons, both those who are staying in one of its beautifully appointed rooms or those who are simply availing themselves of Chef's creations in the restaurant. As with a lot of venues, The Maynard has got a one-way system operating and hand sanitiser at the entrance, so once we'd followed covid protocol we made our way over to reception to confirm our reservation. The team member who dealt with us couldn't have been more friendly - a great first impression, I have to say.

We were escorted through the restaurant and taken to our table, which was right at the floor-to-ceiling window that, in warmer weather, opens onto the outdoor terrace with views out over the lawn and then the hills beyond. Even in the frankly horrible weather of this specific evening, the idyllic setting of The Maynard couldn't fail to impress!




Our server for the evening was a lovely young lady named Nicole who, as she came to take our drinks order, spent a couple of minutes chatting to us to get to know us a bit better and establish a rapport. Whilst Nicole went to get our drinks we chilled into our surroundings, taking in the decor and ambience in a bit more detail. The Maynard has a distinctive dark Teal as one of its feature colours and this dramatic tone provides a nice accent to the colour palate in the restaurant, which also comprises stormy greys and atmospheric blues. Warm, amber-hued lighting lifts the mood nicely as does the pale stone floor which goes on to provide a fab contrast against the darkwood tables (all very adequately spaced apart, in case you're wondering!).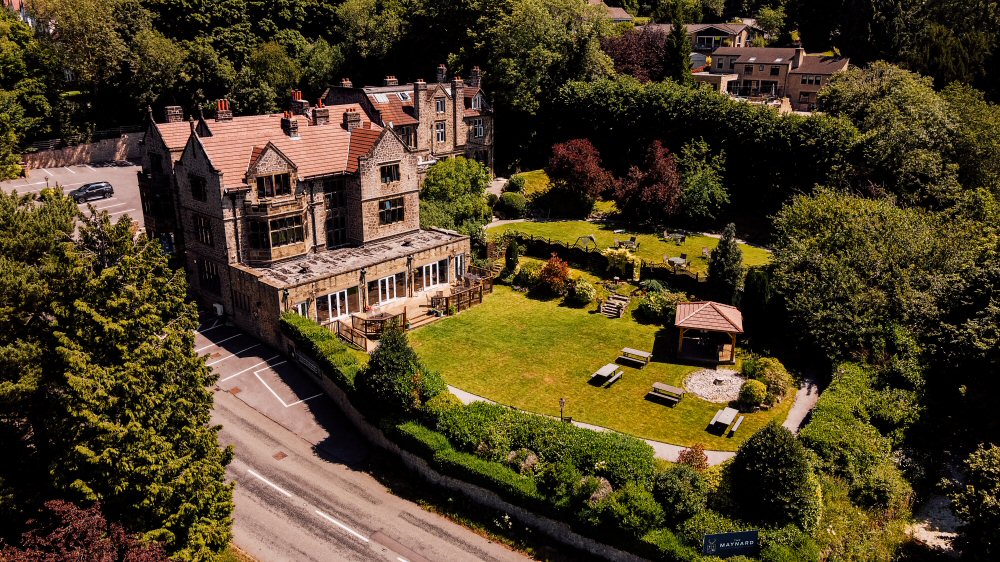 A nice level of music was playing in the background, but the main atmosphere came from the bubble of laughter and conversation flowing from the plentiful amount of diners in the restaurant. It was lovely to see Rob's passion being appreciated by so many people, especially since it had been an awful few months for him and the team during lockdown.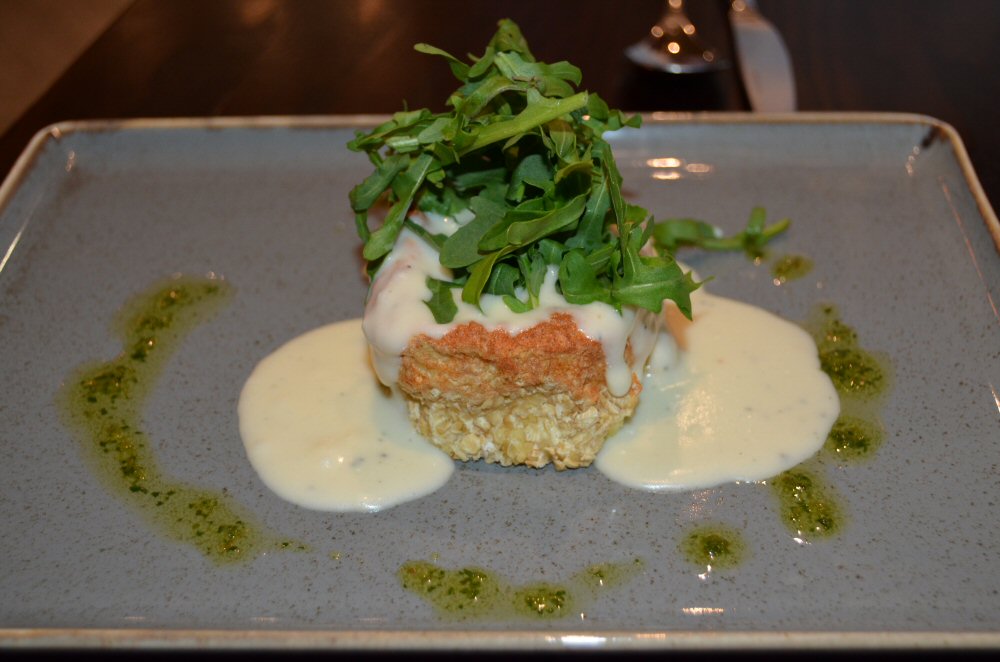 Nicole said that both our choices of starter were excellent; I'd gone for the twice-baked Cheddar cheese soufflé with Hartington Stilton sauce and His Nibs fancied the Asian-style fried Calamari rings, served with Root Vegetable Crisps and Homemade Chilli sauce, priced at £6.50 and £7.50 respectively.

Instead of being served in the ramekin, as I had been expecting, my soufflé was 'free standing' on the plate with a circle of creamy Hartington Stilton emulsion surrounding it, and a crown of verdant Rocket topping it. I won't lie and say that it was the tallest, lightest soufflé I've ever had (although that's not to say it wasn't light enough in texture), but in terms of flavour it certainly more than delivered; the Cheddar taste was gloriously intense and the Hartington tangoed step-perfect with it on my palate. As well as providing a pop of colour, the Rocket leaves were beautifully peppery in taste, marrying harmoniously with the robust cheese notes.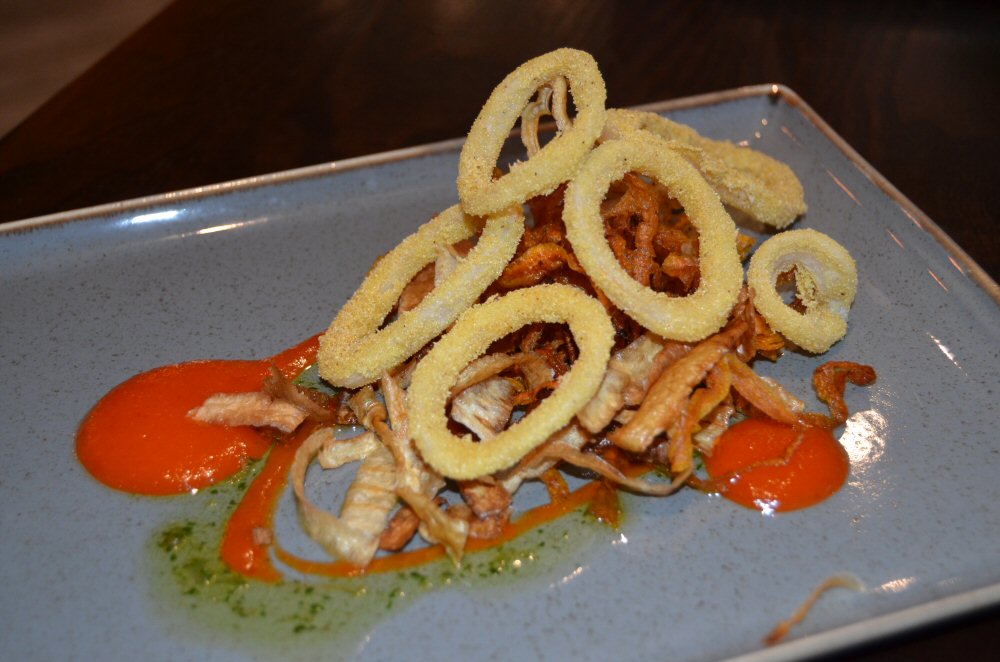 The Man Bird does, as you know, really enjoy the taste of Calamari; he used to be quite wary of seafood in general but has never shied away from Calamari, finding its natural subtle flavour and texture to his personal liking. Chef had done a spectacularly good job here and the seafood was gorgeously soft and sweet in texture and taste. It was the gossamer thin, ultra finely milled batter that deserves particular mention however; there was a subtle spice to this 'batter' that sat on the Calamari's flesh like a sprinkling of pixie dust, so fine was it. More punch came courtesy of the homemade Chilli sauce and this was a very cheeky minx, creeping up on the tongue after about 5 seconds! For a wallop of texture, you couldn't fault the efforts of the Root Vegetable crisps; they were wonderfully thin and crunchy and not at all greasy or oily.

Nicole had checked on our progress a couple of times and was very happy to be taking two clean plates back into the kitchen. I forgot to mention that she had also brought out a jug of chilled water to the table for us, complete with a couple of glasses that had ice cubes and fresh Lemon wedges in. Told you she was a superstar!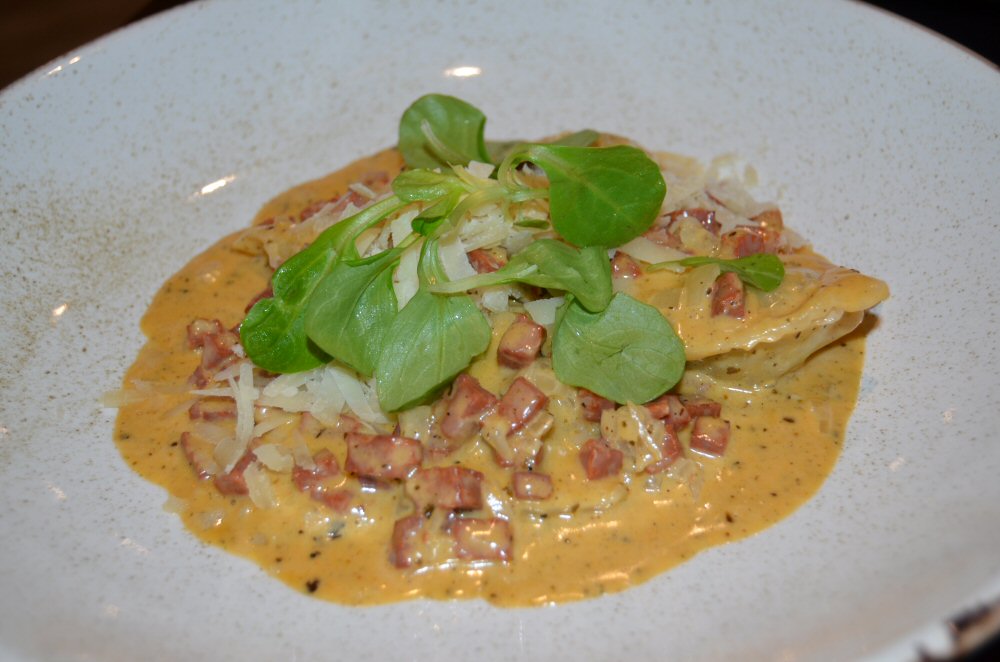 Every so often Him Indoors likes to throw in a curve ball, just to keep me on my toes, and he threw a spectacularly good one on this particular evening. I would've bet a hundred smackers that he was going to order the pan-fried Chicken supreme for his main course (possibly the Pork short ribs, if I was hedging my bets), but no, he plumped for the homemade Venison Ravioli with Sage and Chorizo sauce and grated Parmesan cheese (£13.95). His decision did make me sulk for a bit because I'd got my eye on that morsel myself, but I was more than happy with my choice of North African Chickpea Tagine (that I added a Chargrilled Lamb Steak to) served with a Quinoa, Pomegranate and Rocket Salad, priced at £17.95 for the Lamb option.

The Ravioli were very generous in their proportions and had been stuffed with lots of tender Venison meat that just melted in the mouth. Chef had cooked the Ravioli parcels perfectly al dente so that it retained some firmness to the bite; after all, there's nothing worse than soggy, doughy pasta is there? The flecks of Sage within the sauce were deliciously bright and fragrant and contrasted well with the smoky, deeper tones of the Chorizo cubes, whilst the creamy, buttery sauce base coated the tongue and lingered nicely. Providing a hint of background pungency was the abundance of grated Parmesan that had been scattered over the Ravioli parcels like a comfort blanket.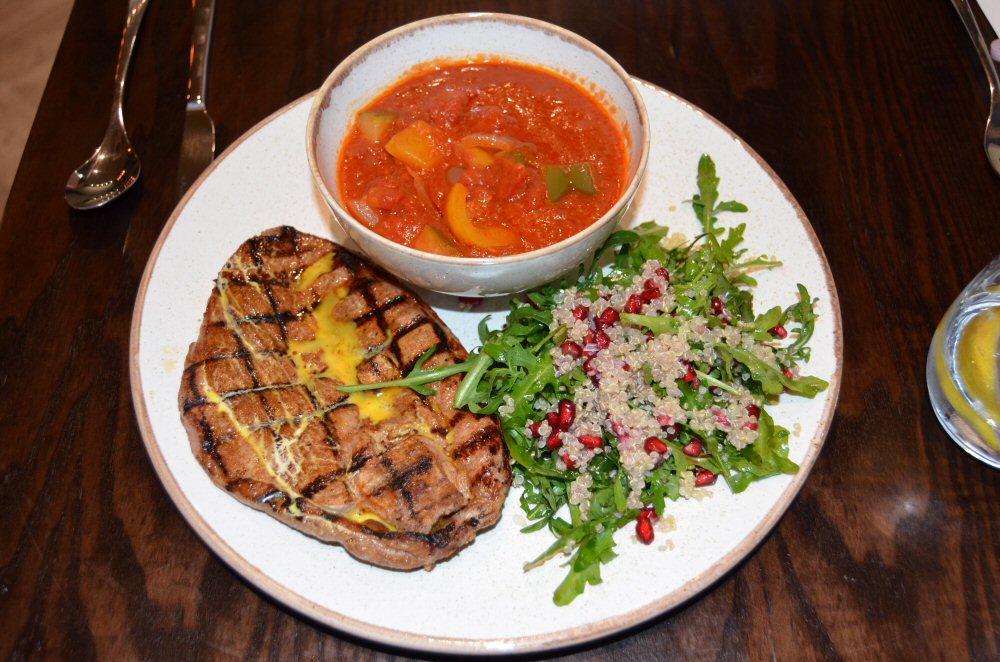 Two of my favourite spices are Clove and Cinnamon, which is perhaps as well because they came bouncing through the Tagine's taste profile like Larry Grayson after a couple of Vodka Martinis! A fabulously rich Tomato sauce provided the base in which the spices frolicked, along with Courgette, Onion, Peppers and Chickpeas. In the Tagine sauce were deeper, earthier spices too (such as Cumin and Coriander) which provided a multi-layered flavour that the juicy Lamb shone against. The Chargrilled Lamb Steak had superb char marks from the griddle criss-crossing its outer, but the inner flesh was still beautifully pink and the generous edge of fat (and the fact that the bone was still in) made for an incredibly tasty piece of Lamb. I should just mention The Maynard's' meat supplier, New Close Farm in Over Haddon; top marks for your meat guys, it was glorious on this occasion.

My Tagine came with a salad of Quinoa, Pomegranate and Rocket and not only was this a riot of colour, it was super tasty too. The grain was still firm to the bite and the Pomegranate seeds were intensely sweet-yet-sharp, partnering the bright peppery taste of the fresh Rocket leaves. A liberal seasoning of salt seemed to magnify all the flavours within this salad and somehow bind it all together harmoniously, without itself over-powering the dish.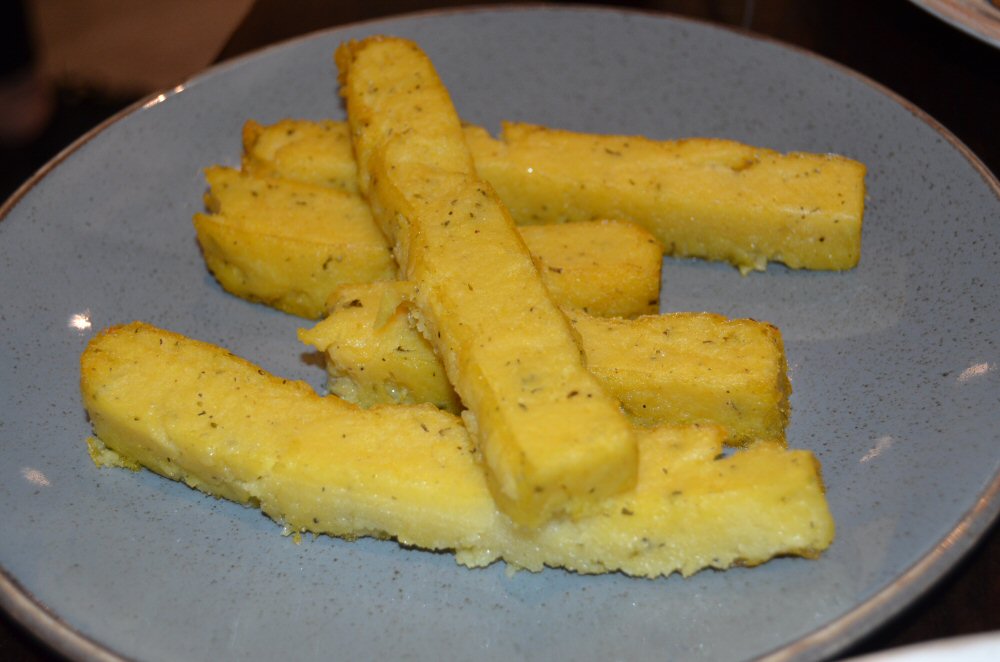 We also ordered a side dish of Polenta Chips (£3.25), more for curiosity's sake than any real need of extra food, if truth be told. I have to say though that this was an inspired decision –they were properly good; like very, very yummy. A quintet of extremely chunky (about ¾" thick and 5" or 6" long – behave, folks!) lay on the plate and they were a wonderful golden, sunny tone. Texture-wise they were firmer than you would perhaps imagine them to be; they didn't crumble apart when cut into and resisted gently against the bite. This morsel didn't have a particularly strong taste of its own and would be ideal with a spicy sauce to dunk into.

As before, Nicole had been checking on our progress and happiness with the food, and was taking clean plates back to the kitchen. We did request a short breather before ordering dessert: Chocolate Brownie with White Chocolate and Dehydrated Raspberry Mousse, and Salted Caramel Ice Cream for me (£6.95), and Vegan Blueberry and Lemon 'Cheesecake', Vegan Vanilla Ice Cream, and Blueberry Coulis for His Nibs (£6.50). The Man Bird hasn't gone Vegan, but he does find that dairy can make him bloat and he was already feeling a bit this way earlier in the week and didn't want to push his luck.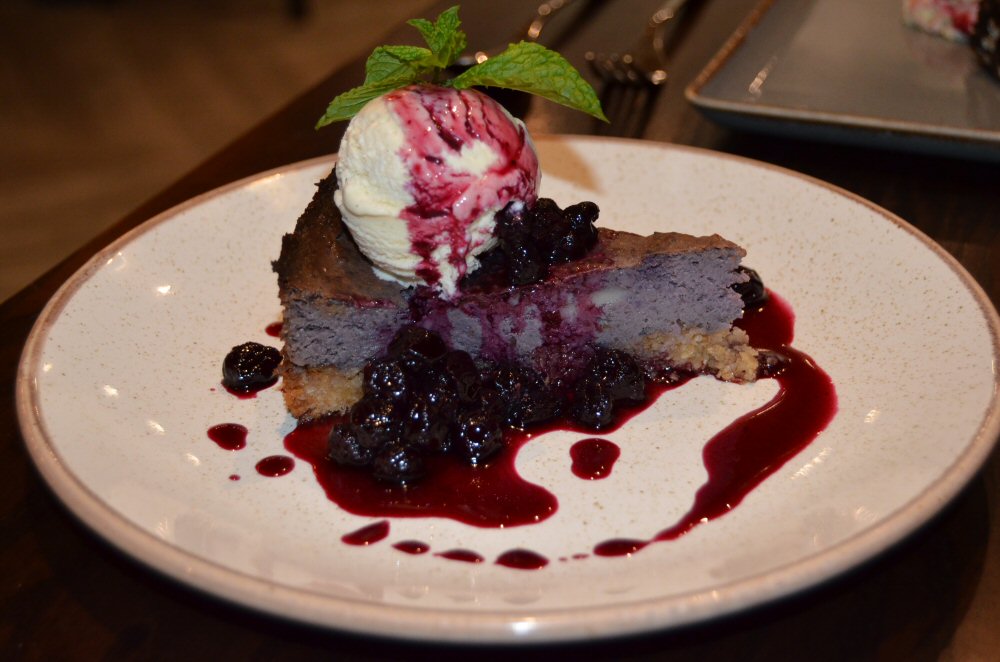 The 'cheesecake' was satisfyingly deep and the biscuit-type base was topped with a duo of distinct coloured fruit layers; one nicely tangy and citrusy, the other mellower and sweeter. Both fruits worked together well, providing a superb balance on the palate, according to His Nibs. I was offered a spoonful of the 'cheesecake' part to try and I thought the flavour was excellent – it was the texture I wasn't sold on, personally. To my senses it seemed a bit 'grainy'; I like my cheesecake to be perfectly smooth and creamy in texture, so I couldn't give it a perfect 10/10. I did like the coulis though; this was intense and wickedly fruity, running riot through my mouth.
In total contrast was the vegan Ice Cream – this was the BOMB!! Up until this point I haven't come across a vegan Ice Cream that I've not been able to tell the difference between it and the real dairy version, but that all changed at The Maynard in Grindleford. You couldn't wish to savour a silkier, creamier treat than this and it ticked all the indulgence centres in my brain. There was no tell-tale after-taste that you usually get with these non-dairy offerings and it wasn't insipid or 'watered down' flavour-wise (as can often be the case with vegan 'ice cream') either. Seriously folks, this was bloody good!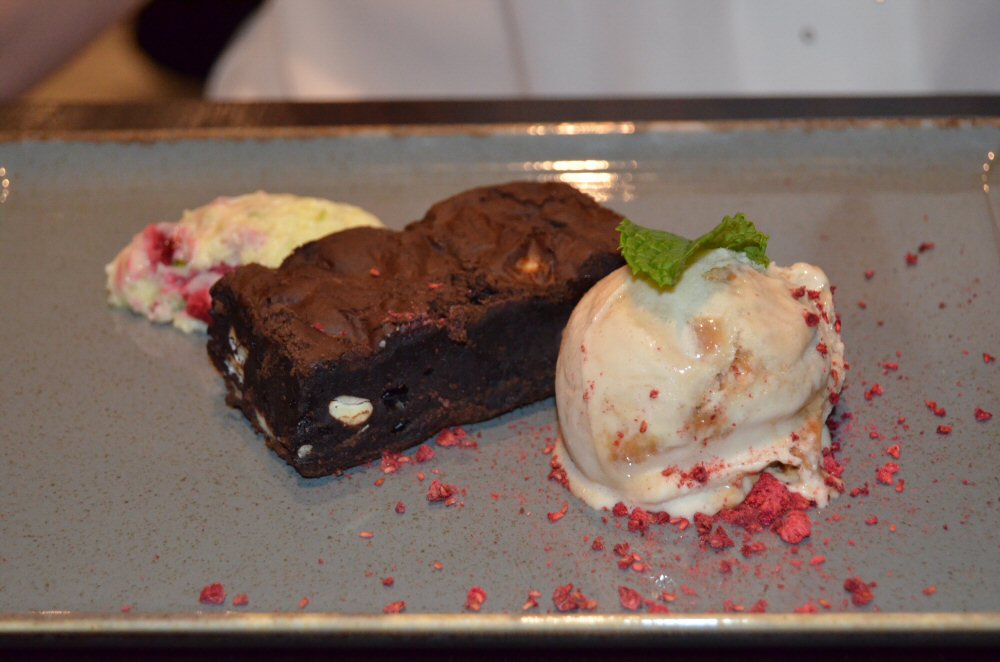 My euphoria continued with the first bite of my Chocolate Brownie. I am going to go out on a limb and declare this to be the best Brownie I've ever had! If it's something ridiculously, off-the-scale gooey and cocoa-rich you're after, then search no more Mes Amies; the chocoholic train stops here. Simply glorious sums this dessert up. The mousse was light and airy with softness to it from the creamy White chocolate, partnered with zip and zing from finely grated fresh Lime zest and tiny pieces of dehydrated Raspberry. My taste buds were in a real tizzy with the plethora of tastes flowing over them and the journey was about to get more intense as I popped the first bit of Salted Caramel Ice Cream into my mouth. This Ice Cream was just.... beyond; it really was. I have had more than my fair share of interlopers when it comes to this flavour of Ice Cream, but here it was exactly as it says on the proverbial tin; sweet Caramel with a distinct salt tang at its edge. Come.to. Momma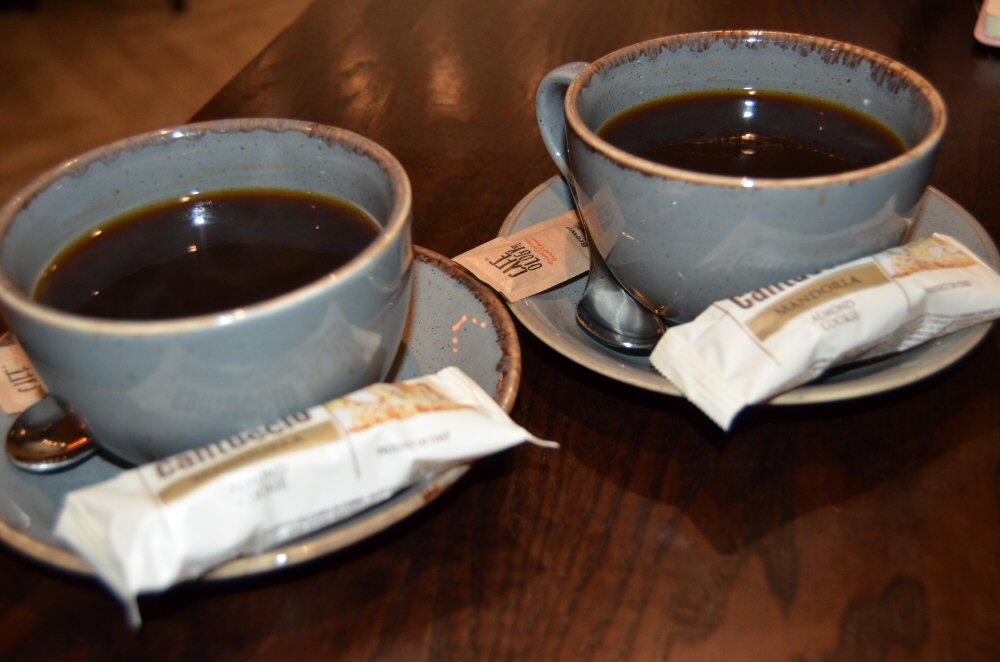 All that remained was to sip the black coffees and dunk the hard Almond Biscotti into its warmth to soften it as we sat back and chatted about what a fab evening it had been. Hot Wings more than happily awarded to Rob and his superb team at The Maynard in Grindleford.
Some form of incentive was provided to visit this venue
read more