A Return Visit To Slice Of India In Derby
---
Published On Sunday 11 Oct 2020 by Sticky Beak
See Recent Dining Out Reviews | See All Recent Reviews


The Man Bird and I were invited along to dine at Slice of India in Derby recently, and I have to say that I was a bit intrigued as to how this 'buffet' style venue was going to be coping in the midst of the Covid-19 pandemic. Clearly it can't be operational in its usual style at the moment so I was curious as to whether any of its atmosphere would be lost.
There is ample parking to the rear of Slice of India so that was no hassle at all and as we approached the entrance there was clear signage as to which door to use for entry and clear markers on the floor showed the direction of travel within the venue. We had pre-booked our table so all the track-and-trace stuff was already dealt with – all we had to do was confirm our reservation with the front-of-house hostess and avail ourselves of the hand sanitiser. Another member of the team escorted us down to our table and as we approached the buffet area I could see a raft of tall white Chef's hats behind the decorative bamboo screens that separated the cooking area from the eating space.




Slice of India was always a beautifully spacious restaurant and, take it from me, this team meet the Covid social distance requirements very amply – and then some! Even though all of the team were wearing masks it was easy to feel the warmth of their welcome and we soon settled in with our drinks and gave the menu some serious scrutiny.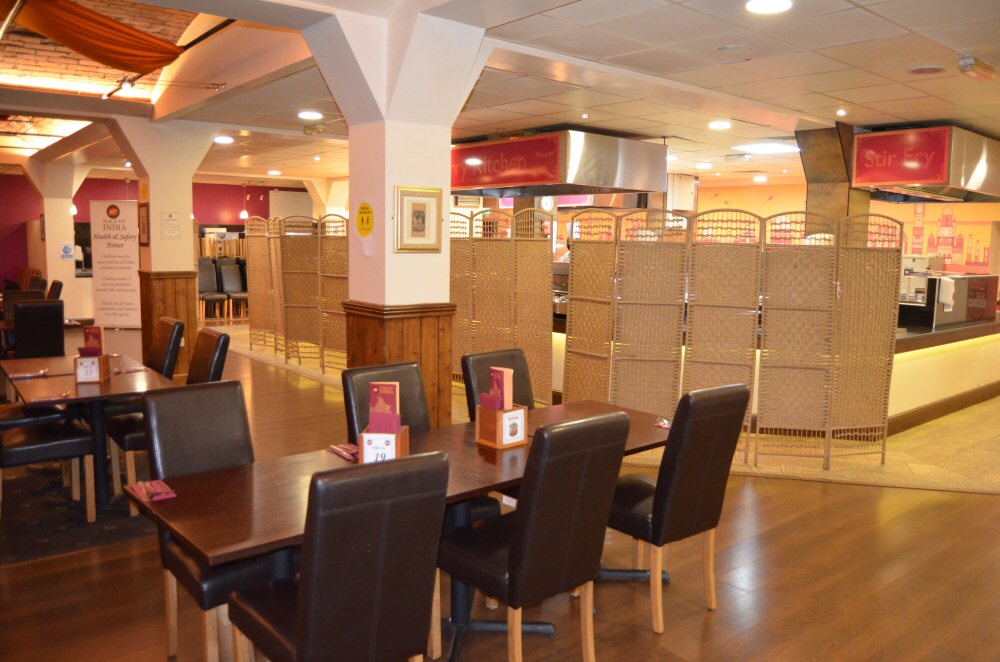 Pre-lockdown, the beauty of Slice of India was that you could sample a wide variety of dishes at your leisure, and I wondered how this would be possible at the current point in time. My concerns were addressed on the front of the paper menu, with reassurance that although societal constraints have curtailed the self-serve aspect of dining here, there is still the encouragement to order lots of dishes as a table to share and maximise the happy, relaxed vibes that Slice of India is known for. In actuality nothing has changed; the only difference is that instead of helping yourself, you order at your table and it's all brought out to you. Not so bad really, when you think about it.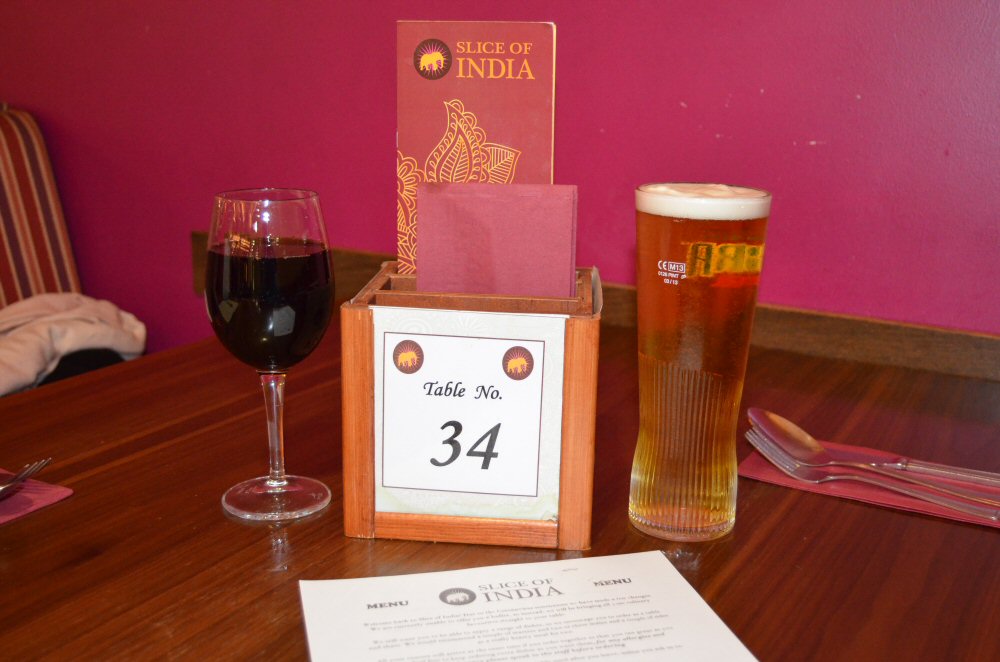 No visit to an Indian themed restaurant is complete for me without the obligatory Poppadoms and pickles, so that was the first thing we ordered. Better still, they are complimentary at Slice of India; now I know it's only a small gesture in terms of cost, but the fact that the team hold their customers in such good regard means a lot, doesn't it? Everyone likes to feel valued, after all. The Poppadoms were lovely and crisp, not greasy at all – and there were plenty of them to munch at. Accompanying these fab nibbles was a sweet, gently spiced Mango Chutney and an Emerald green Mint relish/chutney that had the most superb clean vibrancy to its flavour.


We ordered the Meaty Starter Selection for two (£8.95) as our starter when we'd finished the Poppadoms and we could soon smell the fragrance of spices and herbs as the Chefs set to work on it. This selection is made up of Chicken Tikka, Seekh Kebab, Fish Amritsari, and Tai Chi Chicken – all of which sounded scrummy. When it was placed before us we took a moment to feast our eyes on the carefully presented platter. Each component had been precisely placed on the serving dish to maximise the contrast between colours and a side salad of cool, crisp mixed leaves, sliced onion and crunchy peppers was at one end, along with a generous wedge of Lime.


Now you all know what I'm like with anything vaguely sausage-like that could have a whiff of 'repeat factor', so you'll get where I'm coming from when I say that I was bit cautious with the first bite of Seekh Kebab. In the event, the beautifully juicy Lamb meat was lightly spiced and had a really low repeat factor – happy days. I did err on the side of caution though and just had the one Kebab, leaving the others for His Nibs to enjoy and he returned the favour with the Fish Amritsari. The mini fillets of fish had been coated in a gorgeously spiced batter and fried until golden; what I liked most about this was how the sweetness of the white fish popped against the sharper notes of the spices used here. I exacerbated this contrast of sweet and sharp by squeezing the wedge of fresh Lime over the fish, revelling in that face-scrunching citrus piquancy.


The Chicken Tikka pieces were a nice size, with the poultry being nice and succulent and the Tikka coating not too 'wet' as to slide off its surface. Both of us really enjoyed the deep, earthy taste of this particular take on Tikka spices; sometimes they can be a lot sweeter which doesn't appeal to our palates quite as much. Bringing up the rear (so to speak) was the Tai Chi Chicken; generous pieces of Chicken breast meat that were coated in a vibrantly coloured sticky sauce that managed to be sweet and spicy at the same time.

This starter selection was excellent, not only in terms of the meat and fish selection it offered, but also with the breadth of spice profiles it covered. There were mellower and sharper spices used, as well as earthier, muskier ones rubbing shoulders with sweeter, lighter ones; the overall effect was a real treat for the palate and taste buds. This range of tastes was also enhanced by the pots of spiced Mango Chutney and the cleansing freshness of Mint Chutney. Good job, Chefs.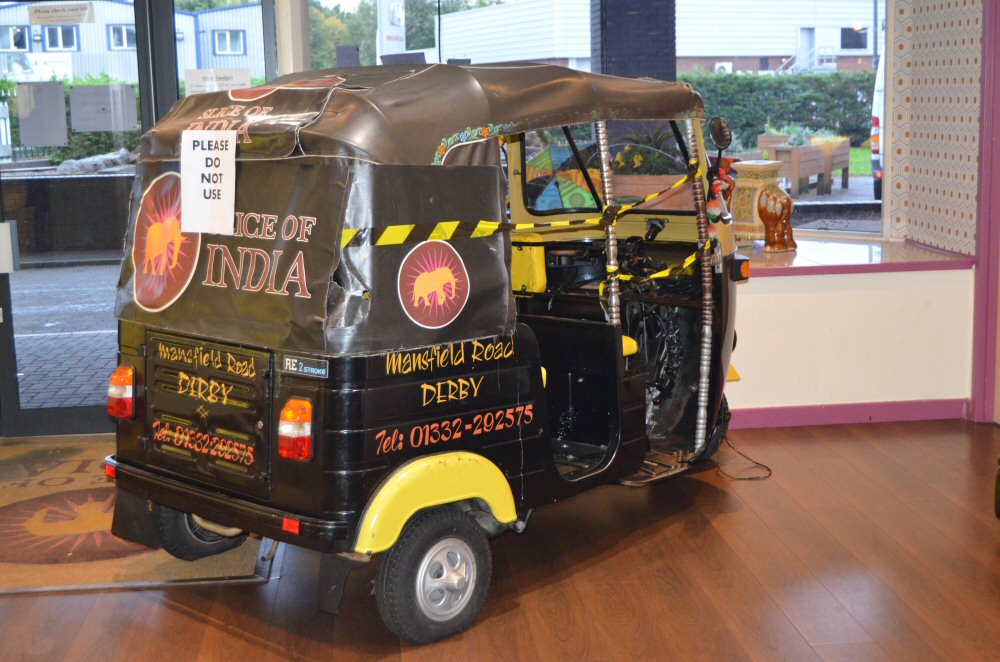 With our starters finished, we ordered our mains – following the advice printed on the menu: 2 or 3 mains and a couple of sides will be a hearty meal for two people. We selected Malabar Curry with Prawns (mine), Spicy Lamb Kadhai (The Man's), Vegetable Haka Noodles (with added Chicken to share) in a spicy Garlic sauce rather than the Black Bean alternative. For the sides we chose Garlic Butter Naan bread and Vegetable Pilau Rice.


If I had a criticism it would be that there isn't a 'heat' scale at the side of each of the dishes, so I got a bit more than I'd bargained for with my Prawn Malabar curry! I could see whole red chillies floating within the sunny-toned sauce and also ruby coloured micro-droplets of chilli oil – at least I could pick the chillies out though rather than them creep up on me stealthily. Saying that, there wasn't a massive tingle factor on the lips and tongue, but it certainly packed a punch. Chef had put in masses of large, plump, fragrant King Prawns and I eagerly began to munch my way from them.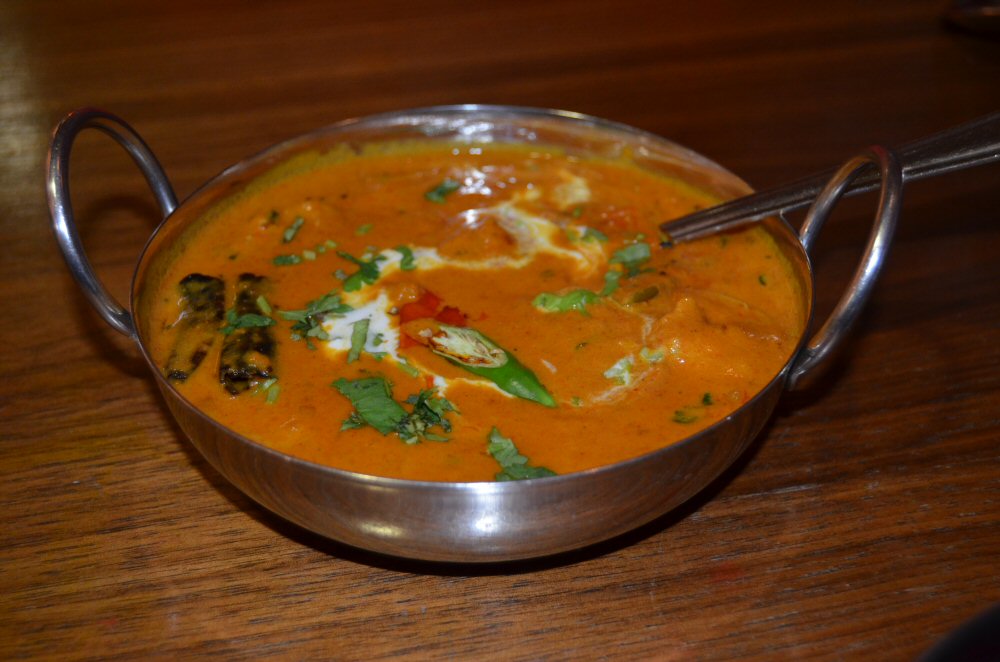 Across the table from me His Nibs was having his own duel with his Spicy Lamb Kadhai; it certainly was a case of spicy by name, spicy by nature! The deeper flavour of the rich sauce was the perfect partner for the exceptionally tender chunks of Lamb that had a superb robustness to their taste. Yet again, there was an extraordinary amount of meat in the dish – I think Chef thought he was feeding an entire football team!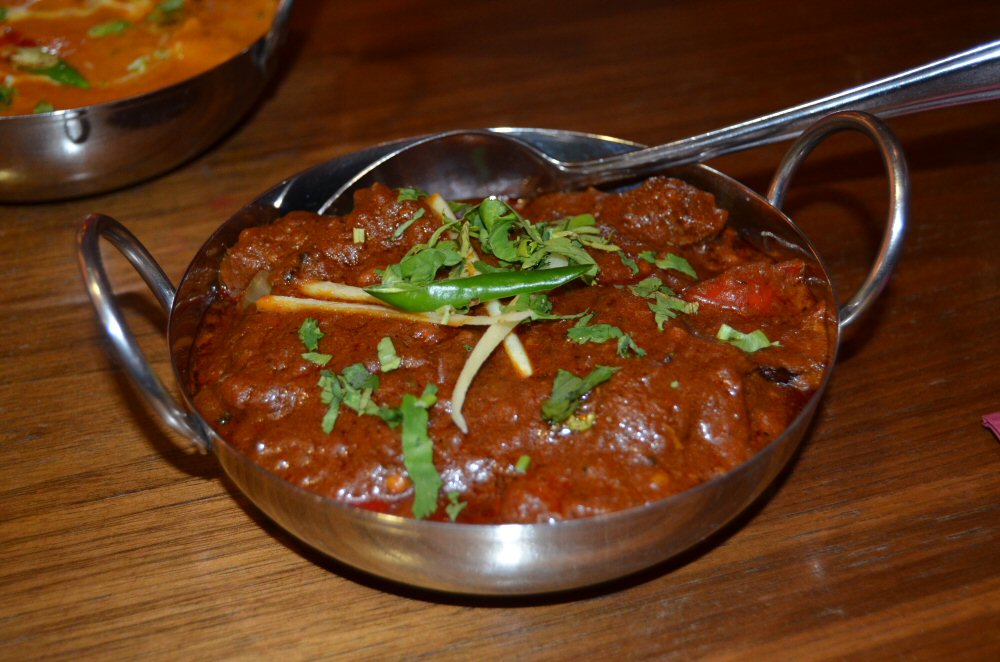 It wasn't until we began piling on the Haka Noodles that we realised that the curries proportions were totally eclipsed – and we'd thought that they'd been generous in size!! Sometimes noodles can be a bit on the greasy side, but although these ones had a nice sheen to their surface they weren't at all oily in taste; perhaps that was to do with the sheer amount of vegetables and Chicken within the dish though. We were both glad that the vegetables had still got some crunch to them; it would've been a bit boring if the meal had just been soft-textured.


Slice of India's Vegetable Pilau Rice is a beautiful sunny tone that is interspersed with verdant Peas that had a lovely gentle sweetness to them. Within the grains of rice you could see flecks of whole spices and there was a superb symphony of flavour in this humble accompaniment. Now, I am regarded as a bit of an oddity within the flock as I am known to eat Cardamom pods whole – but there's just something about its intense perfume that I love. Most folk can tolerate a hint of this fierce little fragrant minx, although in saying that, it is still a 'marmite' sort of spice, but I haven't met anyone else yet that will merrily chomp on them whole!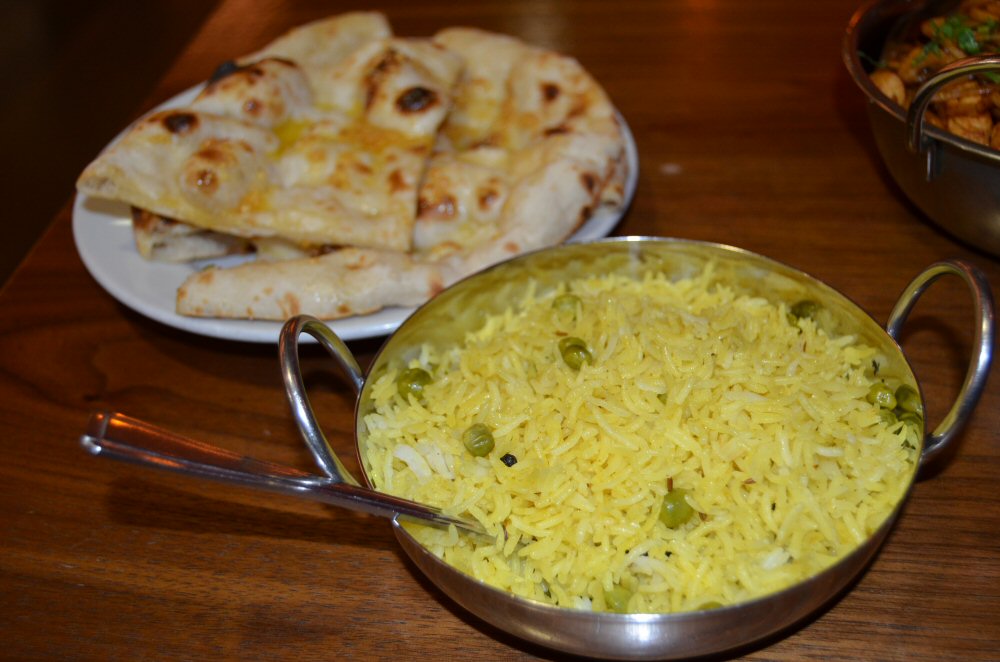 Just when I thought I'd reached peak enjoyment, along came the (literally!) finger lickingly-good Garlic Butter Naan Bread. Imagine pillow soft bread absolutely lathered with melted butter and a whole raft of tiny Garlic pieces. I'm not gonna lie, this is for serious garlic fans only; suffice to say that any vampires won't be coming to the nest anytime soon! There's something very comforting about licking melted butter off your fingers – especially when it's a stinker of an autumn evening, weather-wise, outside.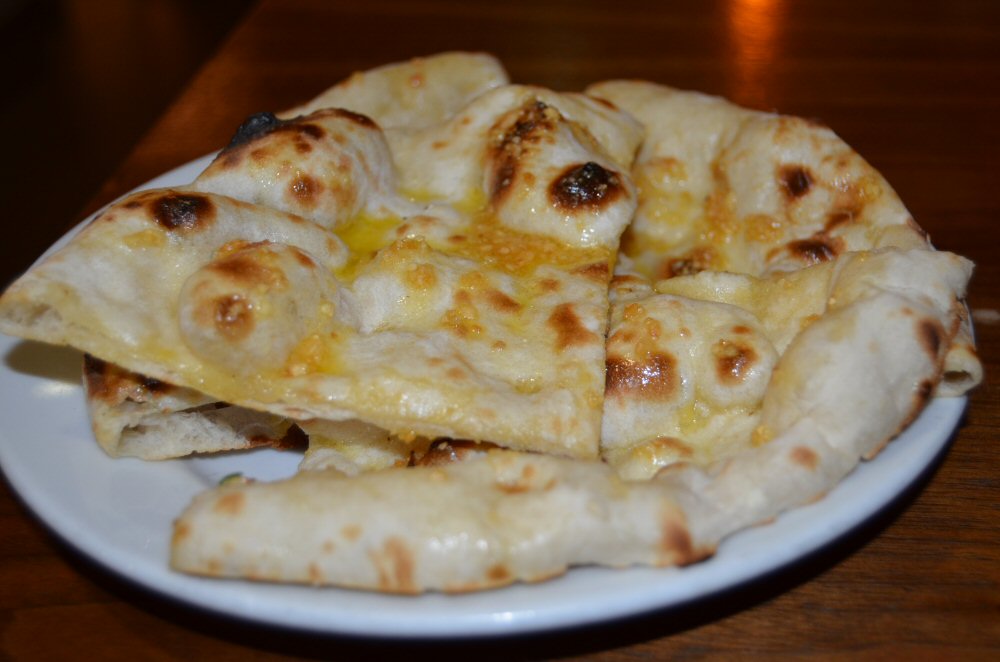 We had originally wanted to have the dessert selection (Gulab Jamun, Gajar Halwa and Burfi, priced at £5.50) but when it came to the crunch we simply hadn't got a single iota of space left in our tummies. Oh well it's a good excuse to visit again.




It was really lovely to see how many folks had decided to eat at Slice of India, even though the original concept has had to adapt in these strange Covid conditions. As well as couples and quartets of friends, there were a few families in too with children of varying ages; even teeny-tinies are welcome, with high-chairs available if needed. The one important thing to note is that at the moment you don't go to the front desk to settle the bill as you would normally do; instead, payment is taken at your table.




As from Friday 9th October 2020 (until further notice) the Slice of India team will be offering a 'Bottomless Thali' option ; this is effectively the buffet being brought to your table. The Thali includes all the curry options for you to choose from and a selection of Naans and Rice dishes and is priced at £9.95 per person. Starters and Desserts can be ordered at additional cost, a la carte and, as I mentioned above, Poppadoms are complimentary.

Hot Wings happily awarded to this great Derby venue.
Some form of incentive was provided to visit this venue
read more