Out For Steak Night At The Strutt Arms In Milford
---
Published On Thursday 1 Oct 2020 by Sticky Beak
See Recent Dining Out Reviews | See All Recent Reviews


'Scuse the bluntness, but I bloody love living in Derbyshire!! The reason? The amount of venues that seem to be doing steak nights at the moment.This time we'd kindly been invited along to The Strutt Arms Hotel in Milford to try their Thursday offering of steak night: where you get 2 10oz Sirloin steaks, complete with chips, mushroom, tomatoes and choice of sauce between Diane, Peppercorn or Béarnaise and a bottle of wine (red, white or rosé) for £29.95. You do also get the option of upgrading your steak to an 8oz Fillet for £3 extra and you can swap the wine for any 2 of the following: pints of lager or beer *, 250 ml glass of wine* or large Pepsi, Lemonade or J20 (* from a selection).We decided to have a bottle of Shiraz with our meals (and jolly nice it was!), but there was also a Chenin Blanc or Zinfandel Rosé if you preferred.
There is a decent sized car park at the venue, so we got parked no hassle at all and made our way into the Strutt Arms via the clearly marked one way entry/exit system. Now if you haven't been to The Strutt Arms Hotel before, you will just love its kerb appeal; this is a beautiful old stone building complete with leaded windows. We made our way inside and used the sanitiser at the entrance, donning our masks as per the current Covid-19 rules; there are clear signs requesting that you wear a mask too, just in case you forget (and let's face it, it's easy to do!). The staff members are all wearing face masks and full table service is in operation – thankfully dogs are still allowed in the venue throughout the bar area, and there were a couple of absolute cuties in with their humans wishfully hoping that a piece of steak would 'drop' onto the floor for them.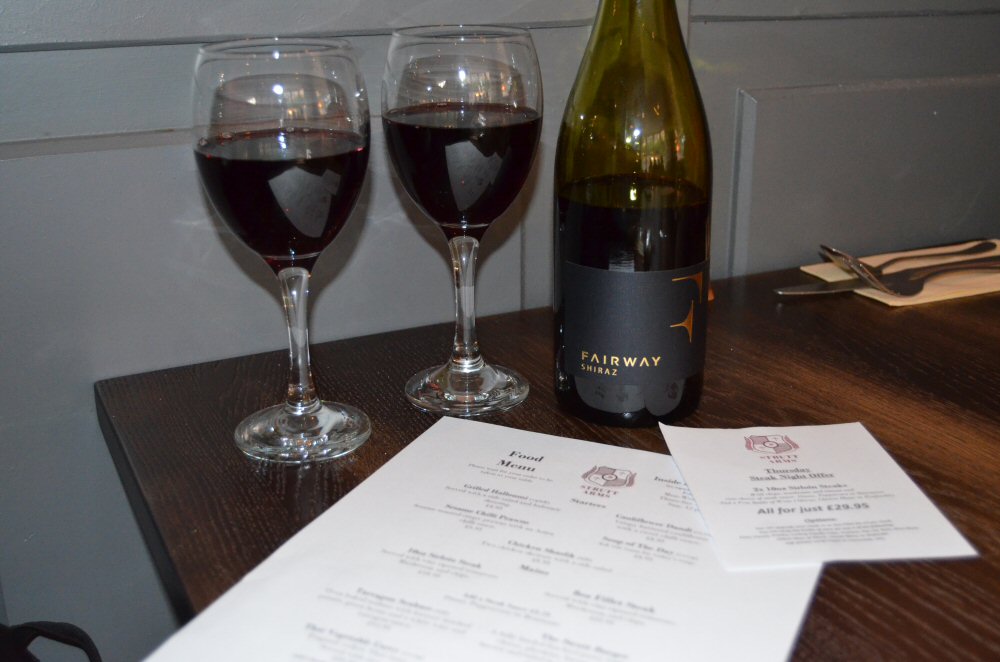 We were taken through to our table (which are all superbly spaced, by the way), seated and given the menus: one for steak night and one regular menu. I did my usual thing of having a gander round and taking in the decor; soft grey, navy blue and mustard yellow were the major elements with a floral papered feature wall catching the eye as you first go in. There were plenty of diners in, so there was a lively atmosphere but, as I mentioned before, the tables were so spaced apart that it wasn't cramped or crowded at all. Actually, I have to say that this is one of the best venues we've visited in terms of covid measures taken and I would recommend it to those who are perhaps wary of dining out in these precarious times.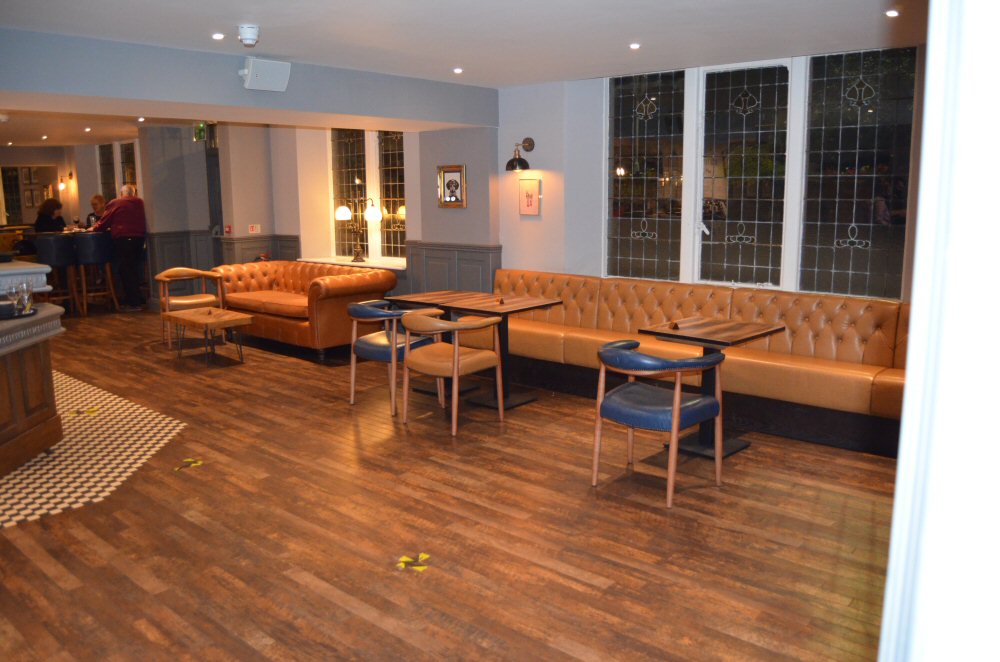 Anyhow, to the food.... we ordered from the steak menu; Sirloin for The Man, and I upgraded to the Fillet – well it doesn't make sense for us to both to have the same meal does it? Our server was a lovely young lady and she meticulously read back our order to make sure that no detail was missed regarding how we wanted our steaks cooking and the sauces we'd selected. I had my Fillet medium/rare with a Peppercorn sauce and His Nibs had his Sirloin medium, again with the Peppercorn sauce.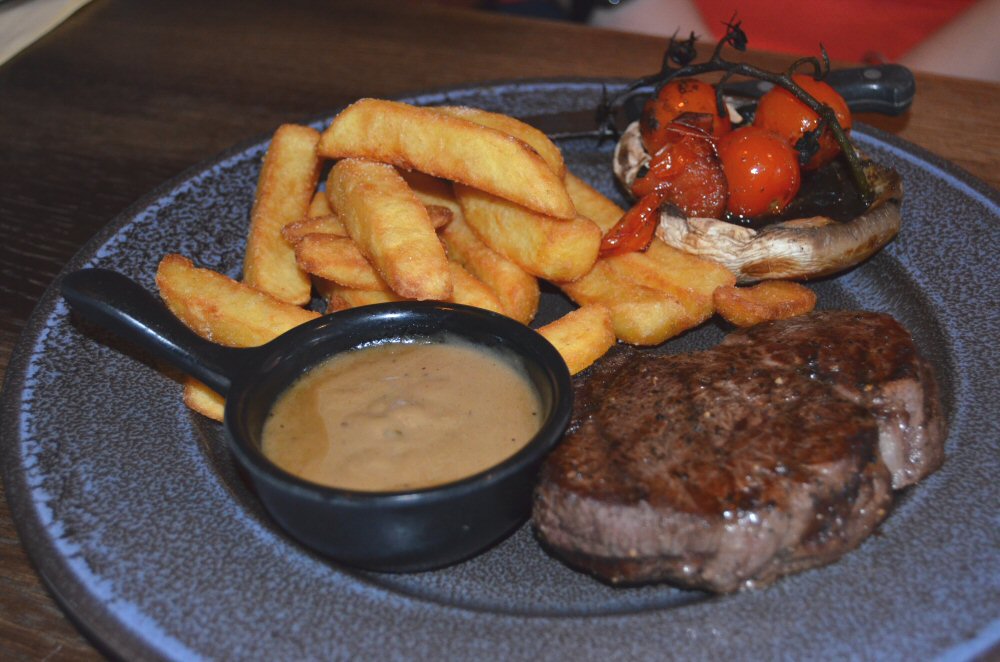 You certainly get a plate-and-a-half of food, as they say – our eyes popped out of their sockets at the sight of the fully laden steak plates! My fillet was lovely in terms of taste and texture, but unless you really have a particular hankering for Fillet, I wouldn't pay the extra charge. Now this isn't a criticism at all, it's simply me being a savvy Derbyshire lass who's mindful of budgets being a bit tighter than usual; let me explain. Whilst the fillet steak is superb, I would, if money was a concern, go for the Sirloin that is included in the offer price of £29.95 and put the extra pennies towards dessert (which I'll come to later). For those that like a more pronounced meaty flavour, then the Sirloin is definitely going to be up your street. Both steaks were deliciously juicy but the Sirloin was absolutely belting, and normally the pair of us swerve this cut as it costs more than Rump but we find it doesn't deliver the goods; however, on this occasion, it came up trumps!




Cherry Tomatoes had been roasted on the vine and made a visually pleasing addition to the meal as well as bursting in the mouth and releasing that wonderful sweet intensity that sings on the tongue. I had both of the earthy whole field Mushrooms and these had been nicely seasoned and liberally buttered: needless to say the pair of them soon got gobbled up! The Peppercorn sauces came in separate little pots and if I had one criticism it would be centred on this element of the meal; there simply wasn't enough of this magnificent sauce. Well ok, there was, but we both couldn't get enough of it – so next time a vat full will be our request, please Chef!! The golden-toned chips had fab crispy outers that stood up to being dunked in the sauce without going soggy and falling apart on the fork, and their inners were superbly soft. Whilst we'd been merrily munching away our server had checked that everything was to our liking and was happy to see the pair of immaculate plates at our table when we laid our cutlery down.




With the quality of the steak meals being so high and the fact that we'd enjoyed them so much, we got tempted to try the desserts. I had the warm Morello Cherry tart with Double Cream (£5.95) and, after some deliberation, His Nibs selected the Dessert Trio of Mini Double Chocolate Mousse, Choco-Orange Tartlet and White Chocolate and Raspberry Mousse, again priced at £5.95. Now, going back to my money-savvy point earlier, if you were to have this dessert to share, you'd have paid for half of it by not upgrading to the Fillet, but with the bonus of having an extra course to your meal. You can thank me later for this savvy money-saving tip!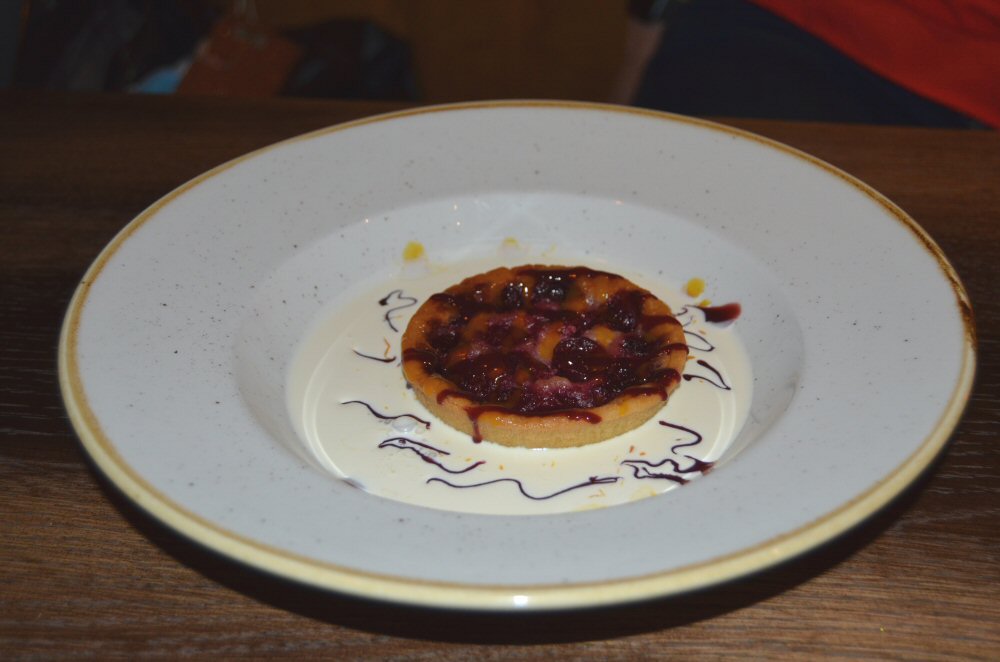 My Morello Cherry Tart was gorgeous, it really was. The lovely sweet/tart Cherries had been halved and baked in a sponge-like mix that was encased in a light pastry case and as I popped the first spoonful into my mouth the various tastes and textures provided a glorious melody for my palate to rejoice in. A lake of double cream added an indulgent element to this yummy morsel, not that it was needed particularly as this was special enough already.




Across from me, The Man was smiling contentedly and playing a game of eeny-meeny-miny-mo to decide which of the scrummy puds to taste first! He settled on the two-toned mini double chocolate mousse to kick off with (no surprise there, given his addiction to choccie!) and this first experience set the tone for what was to come – muchos pleasure. The white chocolate layer was mild and creamy, contrasting well with the richer dark layer, and it hit that sweet spot in every chocoholics' brain that responds to cocoa. Up next was the incredibly dinky, visually lovely Choco-Orange tartlet with its fluted edged pastry case. This was just like the iconic Terry's Choc Orange in flavour, but had been piped in a decorative swirl to fill the pastry confines and then decorated with a whole Physallis, whose sharpness popped against all the sweet indulgence. His Nibs' final treat was the White Choc and Raspberry mousse and this had the most divine, thin sponge base layer that melted instantly in the mouth. The mousse itself was whisper light and had a superb dichotomy of creamy white chocolate and fresh note of fruit from the jewel-toned Raspberry gel top layer that mesmerised the palate.

Yep, this had been a wonderful meal and the rich after dinner coffees and crunchy almond biscotti provided the perfect end. Hot Wings most definitely awarded here at The Strutt Arms Hotel in Milford for all aspects: food, service and environment. We'll certainly be back.... His Nibs spied the slow cooked Beef Feather Blade and it's one of his most favourite things! I would heartily recommend you book ahead for a table as the steak night was certainly very popular.
Some form of incentive was provided to visit this venue
read more