Out For Dinner At Le Mistral French Restuarant In Wirksworth
---
Published On Sunday 20 Sep 2020 by Sticky Beak
See Recent Dining Out Reviews | See All Recent Reviews


The Man Bird and I found ourselves back in the lovely town (definitely NOT a village!) of Wirksworth recently, thanks to a lovely invite by the manager of Le Mistral restaurant, Lauren, to come and try their food. We parked the jalopy in the car park beside the Hope and Anchor, which is opposite Le Mistral so there was only the smallest of jaunts across the road to this Gallic-inspired venue.
As you approach the entrance there is a sign requesting that you wear a face covering; this is because Le Mistral offer a take-out option for their food and have a dedicated area at the front of the restaurant that is a designated collection point, you don't have to wear one as a dine-in customer. There is also a little table set out with hand santiser, track-&-trace forms and paper towels. (you can order online at lemistral.mobo2go.co.uk)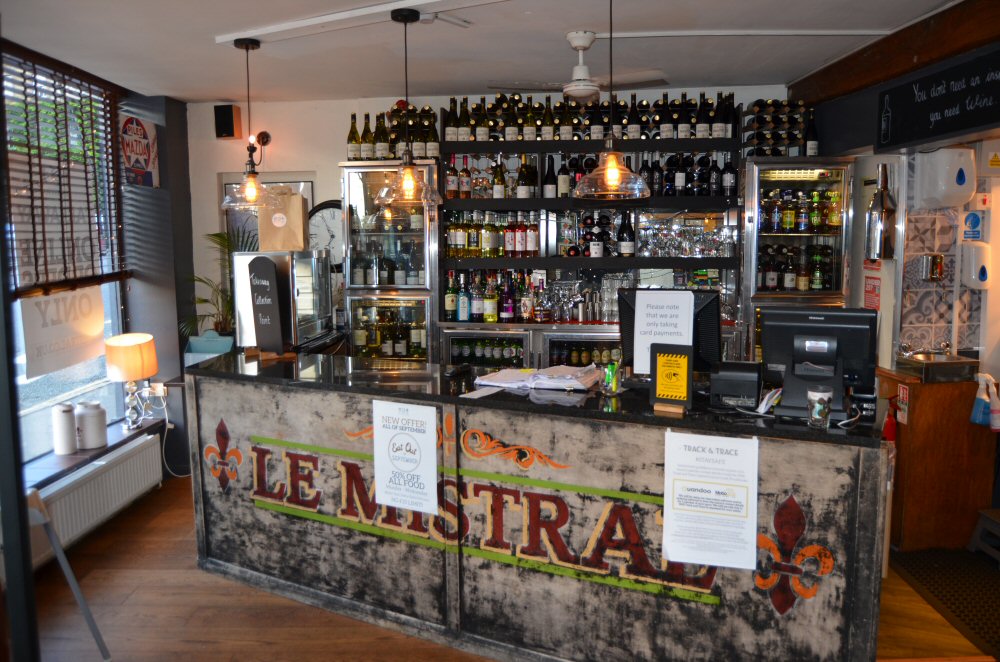 We were seated at one of the upstairs tables, looking out of the window, and there are unobtrusive screens in place to separate the tables as space is very much at a premium here. The other dining space is a little larger so there were mannequins seated at tables not currently available for customers, which makes things a lot less barren and clinical.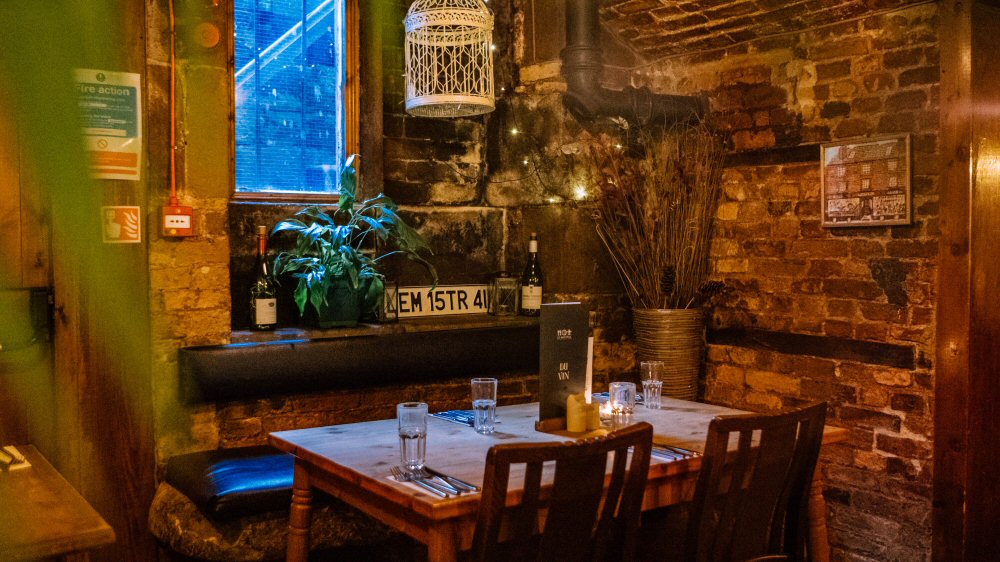 Le Mistral has a wonderful chilled bistro vibe to it and the decor is very simple and uncluttered: vintage metal food and beverage signs are on the walls and provide the majority of the adornment, although there is a large mirror on one wall too which took my eye. The floors are pale wood and the tables are basic mid/dark wood affairs with plain, functional (but comfortable) chairs paired with them.




Having got ourselves settled in, we looked at the drinks menu and ordered a glass of French Muscadet for The Man and a glass of Cotes de Thau (French Sauv Blanc) for me. There are non-French wines available too, for those who prefer 'New World' wines. We were also asked if we wanted water for the table (yes, please) and glasses and a large bottle were duly brought over. It was then time to decide what we fancied to eat; I went for Duck and Orange Pâté (£6.50) to start and His Nibs had the French Onion soup (£5.95), something that he absolutely adores. For mains we chose Bouillabaisse (moi) and Boeuf Bourguignon (L'homme), priced at £15.95 and £14.95 respectively.




The Man is rather partial to a proper French Onion soup and the one at Le Mistral certainly fits that description. The large bowl was filled with a dark toffee toned, onion laden soup that smelled superb and I knew it was hitting the spot as a grin oh joy spread over his face. Rich caramel notes flooded his mouth, their sweetness tempered by the savoury, meaty Beef stock base that epitomises any decent version of this classic Gallic dish. The copious Onion slices had been perfectly softened during the lengthy cooking process associated with this soup and their potency had disappeared, leaving behind their sweeter, gentler side. A large, cheese topped croute of sliced baguette and a smattering of fresh chopped Parsley was all the adornment this gorgeous dish needed -although there were a couple of extra baguette slices on the side just in case they were needed to mop up the last vestiges of the soup base.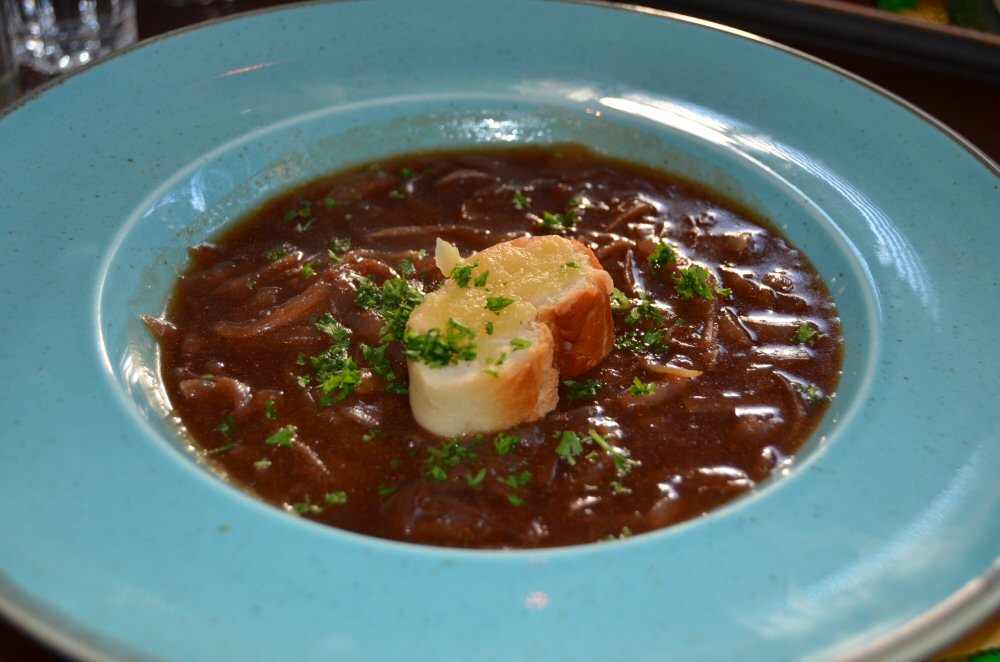 I had a pair of large triangles of the Duck and Orange Pâté taking centre stage on my starter platter, accompanied by a colourful side salad and the Red Onion confiture. From the very first bite, the richness of Duck came bouncing through on my palate, partnered by the great citrus zing from its Orange notes. With no encouragement needed, I proceeded to slather the smooth pate onto the baguette slices and pop them greedily into my mouth. I added a bit of the Red Onion confiture and was pleased to discover that its sharp tang cut through the indulgence of the pâté, bringing a great balance of flavours in the mouth. I also liked the crunch of the confiture against the silky smoothness of the soft duck morsel; it gave the senses some stimulation. For a pop of colour the side salad was perfect with its verdant mixed leaves, Cherry Tomatoes and Red- and Yellow- peppers, and this also added some crunch in the mouth as well as different tastes.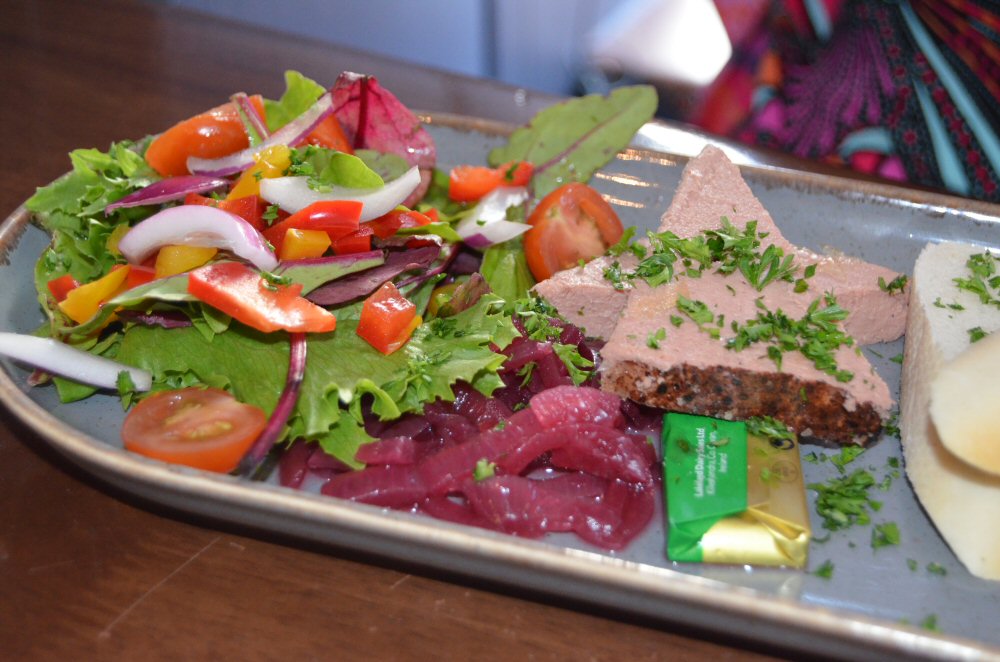 With our clean plates cleared away, we chatted happily about what we'd been up to recently in the garden and what we'd still got to do, and watched the steady stream of take-out customers come and go as they collected their orders. There was a family with a child dining at Le mistral too, as well as a group of friends and a couple who were seated at the table next door to ours. We could smell the aromas coming from the kitchen as Chef went about creating his dishes and it was fair making my nostrils twitch! Before much longer the lovely young lass was bringing out our mains and placing them in front of us.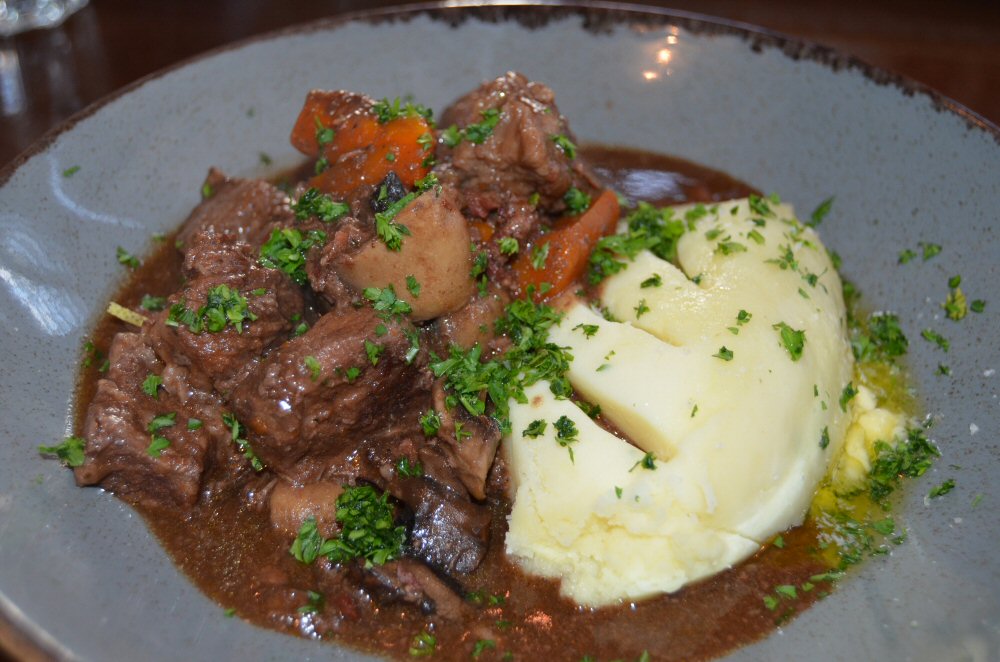 For those with hearty appetites The Man can thoroughly recommend the Boeuf Bourguignon to you- you could see the massive chunks of Beef as they were so plentiful within the bowl! The Beef was incredibly tender too, melting almost instantly in the mouth, and the smoky notes of Pancetta cubes came through nicely through the richness of the red wine jus base. Chef had finely chopped the onions in this dish, so they didn't so much add chunkiness here as add a bit of body and thickness to the sauce to increase its heartiness.

Quartered mushrooms had soaked up all the flavours within this morsel and His Nibs actually ventured to eat a few of them before passing the rest over to me – thank you lady luck!. The glazed Carrots were just-firm which added some texture to this otherwise softer dish and they were superbly sweet too. His Nibs really loved the taste of the glass-smooth herby Mash too; it had been nicely seasoned and the addition of the herbs lent it a great freshness on the palate. Tres Bien, Chef!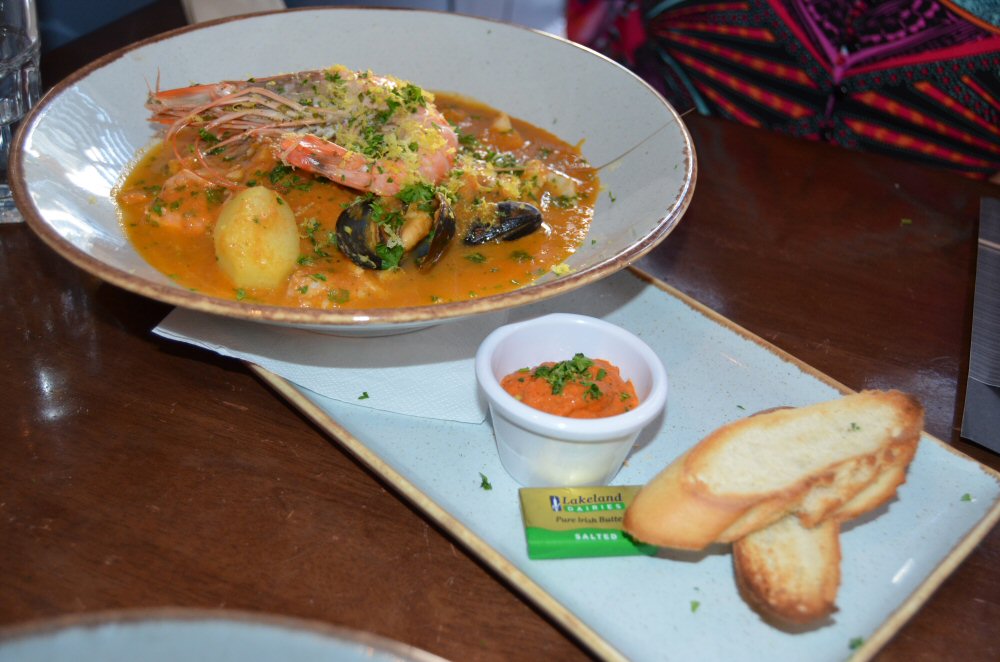 My Bouillabaisse was magnificent, its description of a 'rich seafood stew' being absolutely bob on.The tomato base of the sauce had a great bisque/fish stock enhancement to it, with the Fennel, Orange, Leeks, Onions and Celery all lending a hand to provide a rich, round, balanced symphony of taste – and that was without factoring in the fresh Fish and Seafood within its folds! Ah yes, the seafood element; this was ever bit as plentiful as the Beef in His Nibs' Bourguignon and my tummy rumbled in anticipation.

The eye was immediately drawn to the whole, head-on Langoustine that perched on the top of the bowl, flanked by a pair of in-shell Mussels; I popped 'him' to the side to devour at the end of my meal and turned my attention to the molluscs, prising them from their shells and popping them into my greedy mouth.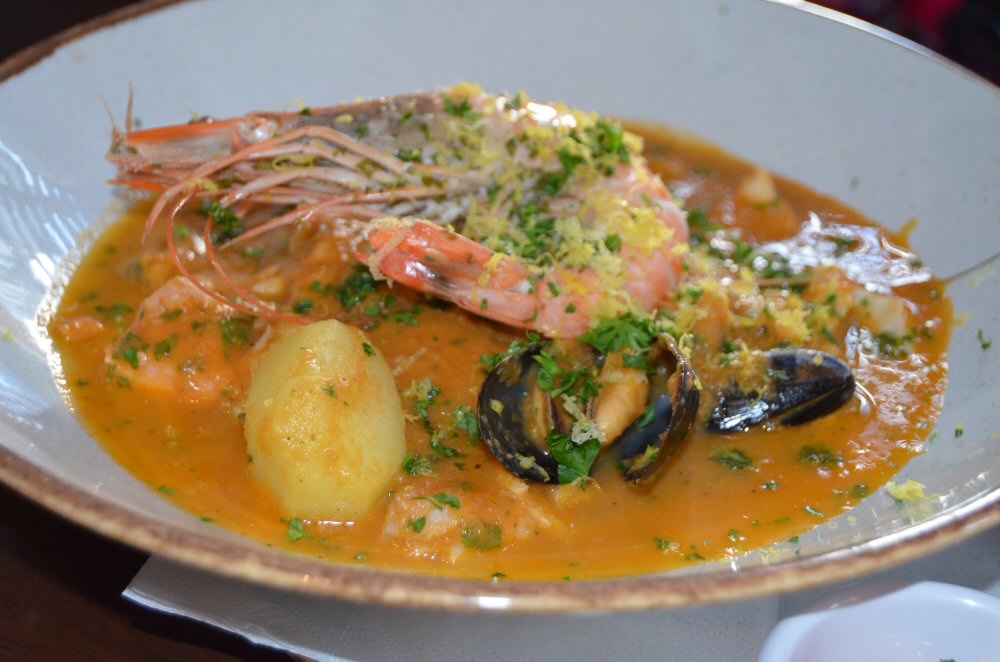 I do like the meaty texture of a plump Mussel and these were beautifully sweet as well to taste and there was also more off them (sans shell) within the Bouillabaisse. I tucked into the chunks of white and oily Fish (again plentiful) and rings of Squid, scooping them up and using the slices of fresh bread to soak up every scrap of stew liquor - no way was any of this escaping! I gave a sigh of contentment and sat back, replete, as I finished the last vestiges of this superb meal.

Lauren had come to check that we were happy with our meals at both courses, but she was thrilled to hear the praise we had for it all as he cleared our main course crockery away. We ordered dessert and coffees after a little interlude, feeling very grateful that Le Mistral embraces the relaxed Gallic way of dining. I fancied the Tarte au Citron for dessert and The Man opted for Crème Brulee, both priced at £5.50.




If you want a cleanser for your palate at the end of your meal, allow me to introduce this utter delight: Tarte au Citron. The soft, buttery pastry case lulls you into a sense of false security if you take a cautious nibble of it without also getting some of its pastel yellow filling. However, if you get some of the Lemon custard onto your spoon its bright citrusy blast will certainly make its presence known! The filling has a smashing sharpness and tang to it that cuts through any tastes that have washed over your taste buds previously with a magnificent efficiency. As if this wasn't enough, Le Mistral serves their Tarte with a jewel coloured Raspberry compote that has an equally impressive sweet-yet-sharp zap to it that will bounce around on your tongue with an enthusiasm that would have Tigger weeping with jealousy. This was a brilliantly executed specimen of this classic French dessert.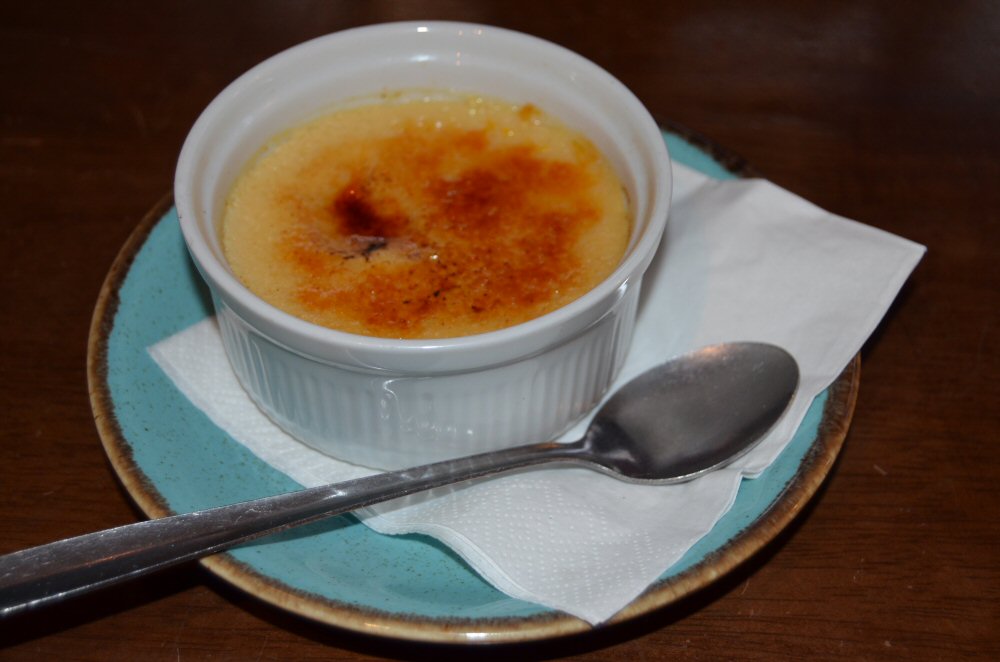 For those seeking a gentler, more delicate (though no less impressive) conclusion to their meal then you could do far worse than sample the Crème Brulee, trust me. His Nibs smashed through the sugar crust top with his spoon, revelling in that fantastic cracking sound that accompanied his thwack. Nestled under the smoky sweetness of the burnt sugar cap was a silky smooth crème that was soft and seductive on the tongue. After washing tenderly over the tongue this unctuous crème lazily parted with its warm, rounded Vanilla taste and The Man surrendered to its charms without any resistance. Respect again to Chef and his team in the kitchens of Le Mistral.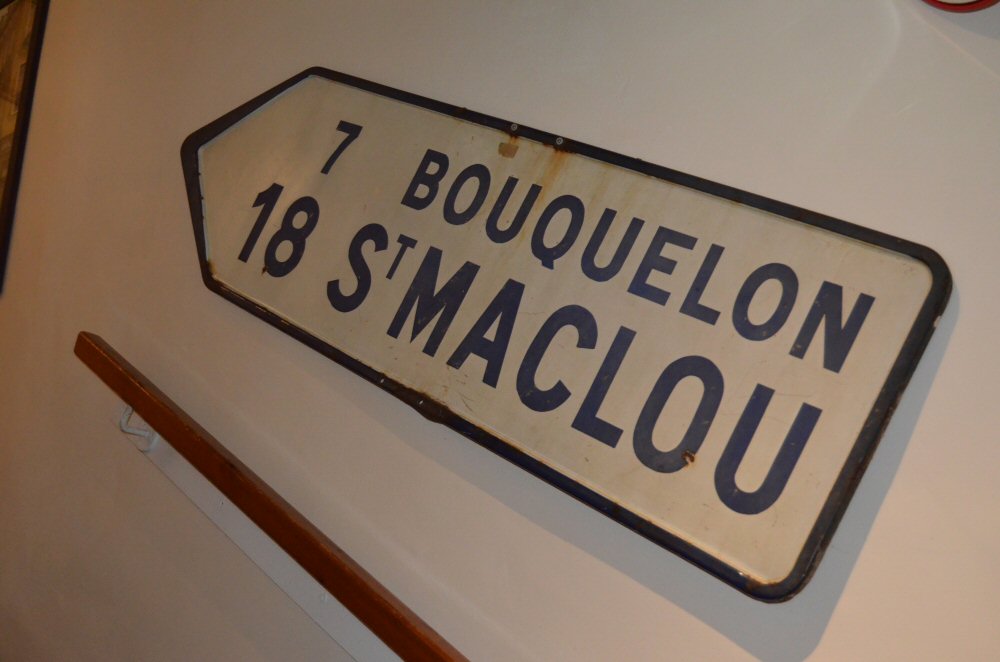 The coffees allowed us to come back down to earth after our desserts had taken us up into the clouds of sweet satisfaction, but at a subdued pace that allowed us to savour the moment a little longer, rather than abruptly. I am happy to admit that I feel a tad jealous of Wirksworth residents to have such a gem on their doorstep, and even happier to award Hot Wings to this superb Derbyshire team.

Le Mistral will be extending their 50% off food deal (dine in) throughout October 2020; Monday-Wednesday on all the food, no limits. Get that table booked now folks to avoid disappointment!!.
Some form of incentive was provided to visit this venue
read more
Read Some Of Our Recent Reviews
---

Out For Dinner At The Bear Inn, Alderwasley If it's the full on, single track road, rural Derbyshire experience that gets your motor running, then the journey to The Bear Inn at Alderwasley will have you in joyous raptures. For those of you who are Read The Article

---

Lunch At The Recently Opened Chatsworth Kitchen At Peak Village, Rowsley Everyone who knows me, knows I love Chatsworth (always have, always will) so when the invitation to sample lunch at the newly opened Chatsworth Kitchen Read The Article

---

A Visit To Vietnamese Street Kitchen, Resorts World, Birmingham Way back in the day (pre-covid) Fledge had bought me and The Man Bird tickets to see Mrs Browns Boys live and finally, after a couple of false start reschedules, the day of Read The Article

---

Sunday Lunch, A Museum Tour & Painting A Piece Of Denby At Denby Pottery Village It wasn't long ago that His Nibs and I visited the Denby Pottery Village to sample the Afternoon Tea at Bourne's Coffee Shop and Bistro (it was superb Read The Article

---

Bottomless Brunch At Turtle Bay In Derby The timing of the invitation from the Turtle Bay team in Derby to go and sample their Bottomless Brunch couldn't have been better; not only was it going to be The Man Birds' birthday a couple of days later Read The Article

---

Afternoon Tea At Santo's Higham Farm Hotel & Restaurant Aaaaaarggggh, don't you love your children??!! A while back, His Nibs had spotted a great deal on Groupon (you know what a bargain hound he is!) and thought it would be Read The Article

---

Sunday Lunch At The Countryman Pub & Dining, Kirkby-in-Ashfield We finally got to visit a venue thats been on our radar for quite a while, The Countryman Pub and Dining in Kirkby-In-Ashfield! A few weeks ago we tried to book a table for dinner Read The Article

---

Dinner At The Divan Turkish Restaurant In Chesterfield Chesterfield was welcoming us back again for our latest review visit; this time to the newly opened Turkish restaurant, The Divan, on Lordsmill Street. Owner Tuncay (along with Read The Article

---

Breakfast At Marsh Green Farm Shop & Cafe, Kelstedge Ah, you've gotta love a Bank Holiday curve-ball, haven't you? His Nibs and I headed over to Mummy Birds' gaff with the intention of having a leisurely couple of hours at the Sunday Read The Article

---

Afternoon Tea at Bourne's Coffee Shop and Bistro, Denby Pottery Village You all know that The Man Bird and I do like an Afternoon Tea; I mean, who doesn't?! Just a few miles down the road from the nest is Denby, home to the world-renowned Read The Article

---