A Family Sunday Lunch At The Greyhound In Belper
---
Published On Thursday 10 Sep 2020 by Sticky Beak
See Recent Dining Out Reviews | See All Recent Reviews


We've been at it again dear reader; out for Sunday lunch as a flock, that is! This time saw us flying off to The Greyhound in Belper, a visit we haven't made since 2014 (#mybad) and a lot has changed since then –especially outside. Tim (the owner) has built an impressive aviary housing a plethora of colourful Budgerigars, really gone to town on the hanging baskets and ground-level tubs, and made a fantastic outdoor area that is worthy of a magazine shoot.
Inside, the venue still has a welcoming contemporary feel, ideal for groups of adults and families alike. There are sanitising stations at the entrance and you take your drinks and cutlery off the trays as part of the covid prevention measures. The tables have never been close by each other anyway at The Greyhound, but they are very well spaced out currently without detracting from the friendly feel. Coral (Tim's partner) was heading up things, so she soon got our booking sorted and showed us our table.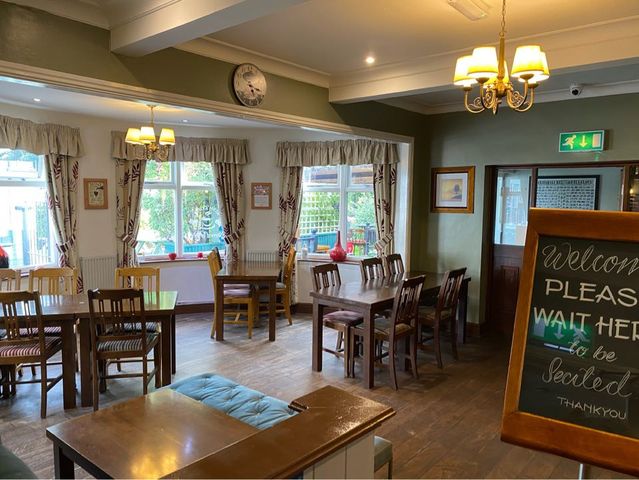 Our server brought over our drinks order and we duly took them from the tray; whilst she was with us we thought she may as well take our food order too, so we ordered a small roast with Lamb (£10.25), 3 x large roasts with Lamb and Beef and one large roast with Beef (£11.95 each). Childrens roast lunches are £5.95. All the roasts come with homemade Yorkshire Puds, stuffing ball, mashed Potato and Roasties already on the plate and the vegetables selection is brought out in separate dishes, as is the rich meaty gravy. We also ordered a portion of the Cauliflower Cheese, which costs £3.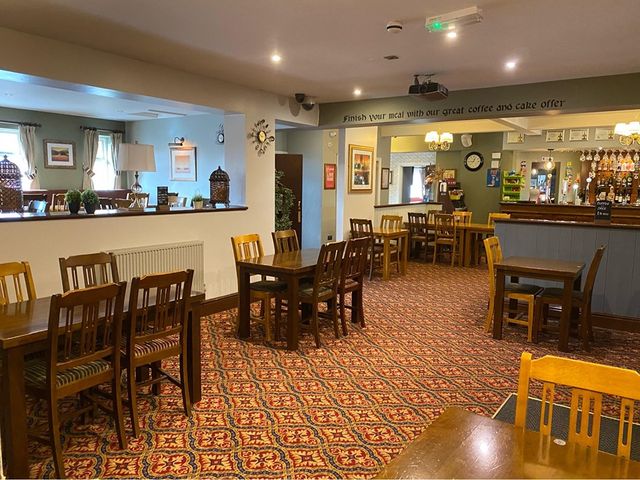 We'd booked our table for 1.30pm so it was pretty busy when we first arrived (hint, if you like to eat at peak time then it's definitely advisable to book a table!) but it began to quieten down a little from about 2pm. Saying that, there wasn't a period where it was what you'd call 'quiet, quiet', so if you've got a larger family or a few of you want a specific time then I'd still err on the side of caution and reserve a table.

It wasn't long until our red-hot plates were being placed in front of us and we all inhaled deeply, taking in the glorious aroma of a traditional Sunday Roast. If you don't fancy the roast on Sunday there are plenty of other options available and a good specials board too. Tim sources his beef from a local farmer friend of his and literally goes to the field and picks which cow he wants – now that's knowing the provenance of your meat!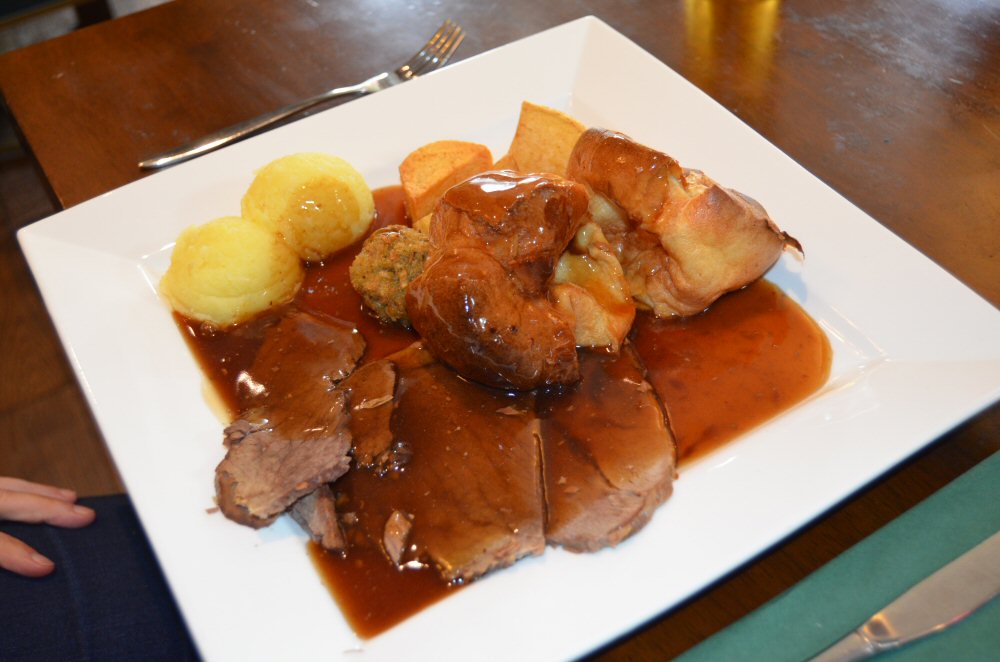 The Beef was superb, really tender and chockfull of taste; you couldn't ask for more than that. There were a couple of thick, juicy slices of it to savour and those of us who'd ordered it all commented on how nice it was. Equally good was the succulent Lamb, both in terms of its taste and texture; no-one needed to use any pressure with their cutlery to cut into the thick slices.

A good Yorkie Pud really can make-or-break a roast for me and the ones from The Greyhound's kitchens are gorgeous – just like you get at home from your Mummy. They were beautifully risen with a crust on the top and sides and nicely soft lower down, without being soggy or clarty. Likewise, the roasties were fab; crispy outers and a lovely golden hue, and soft and fluffy inside. The mash was perfectly smooth and served in meticulous ice-cream scoop rounds; you could taste the butter in it but it wasn't too rich either. I was an instant fan of the stuffing – it was really herby; more so than usual, and I think it was all the better for being that bit stronger in taste.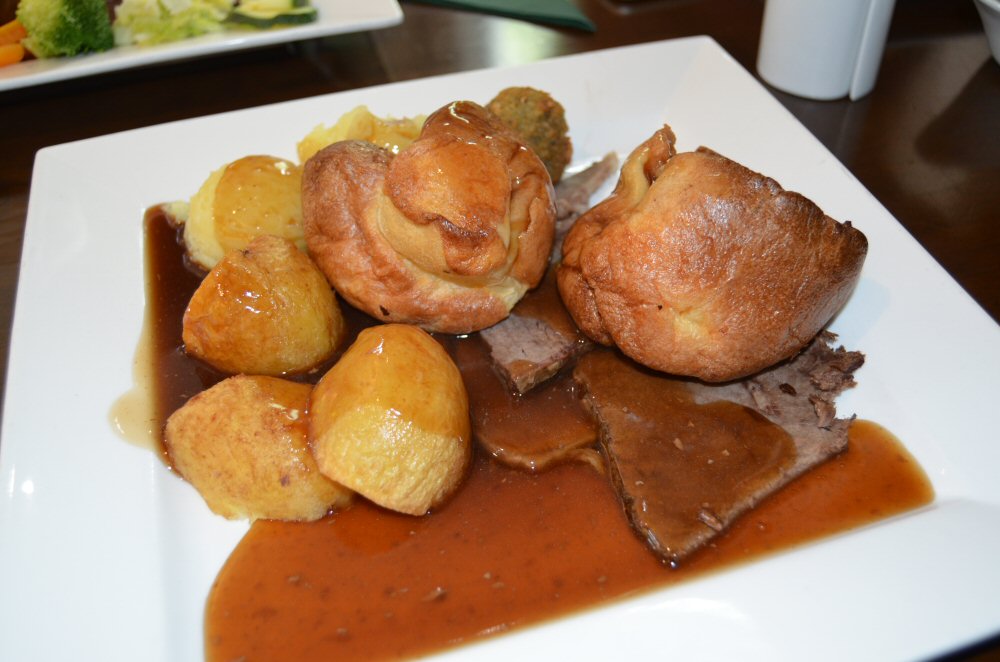 I am rather partial to Cauliflower Cheese as you know and my face lit up as I clocked the thick, sunny-toned Cheese crust on the top of the dish that this was served in. Without any pre-amble I scooped a load onto my plate and took my first bite..... ooh, come to momma! The Cauliflower was kept in pleasingly generous florets and had been cooked perfectly so it wasn't soggy or too hard, and the cheese sauce was brilliantly punchy in flavour. I don't mind a mild cheese sauce sometimes, but when it's a Cauliflower Cheese at the Sunday table it's got to be something wi' a bit more clout.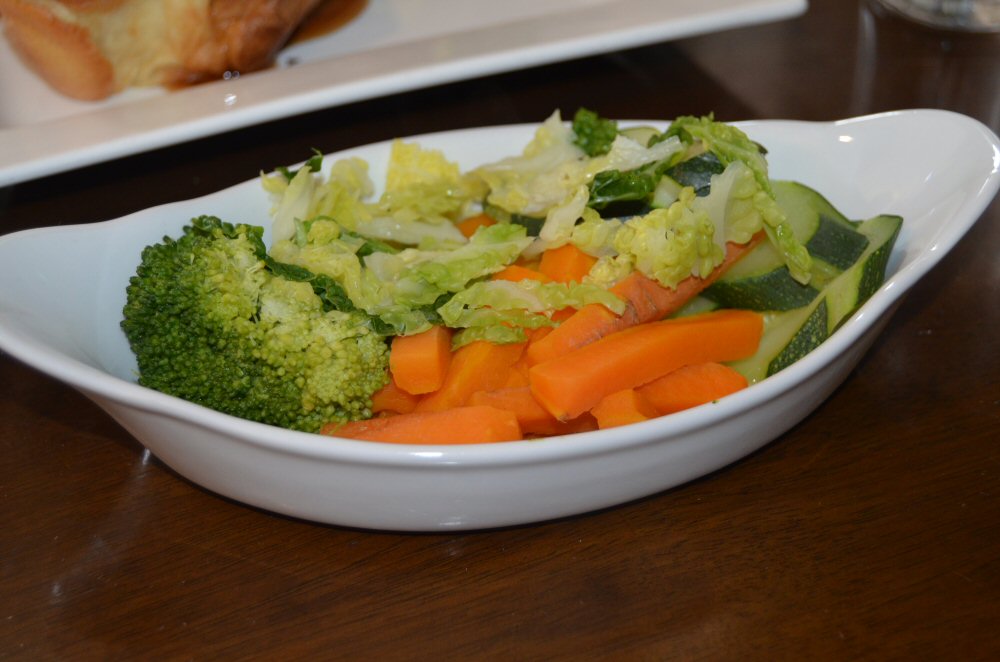 Our vegetables consisted of Carrot batons, Broccoli, Courgette and shredded Cabbage and all the vegetables were cooked perfectly. Tim grows a lot of the vegetables himself, so the selection does vary from week to week. In order for Mummy and Daddy Bird, Chickadee and His Nibs to get more of what they fancied, I had the Courgette slices all to myself and let them divvy up the other veggies between themselves; at least that was my excuse for hogging them all, and I was sticking to it! The Courgette wasn't soggy in the slightest so I was pretty chuffed at having it to myself and apparently the other morsels were cooked al-dente too.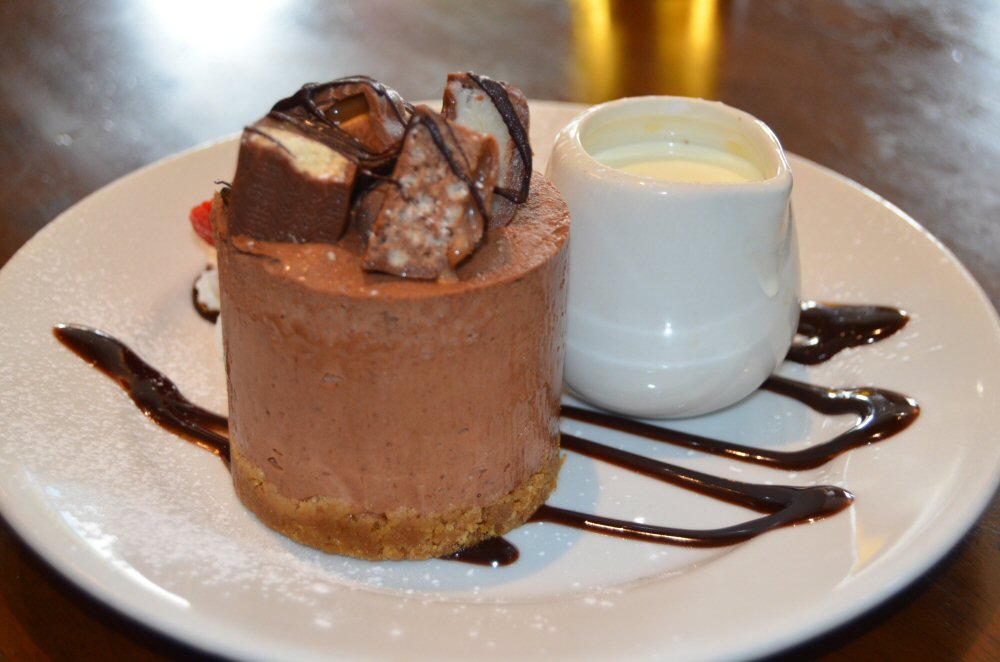 Just The Man Bird and I had dessert: Chocolate Junkyard Cheesecake with Cream for me and Treacle Tart with Custard for Him Indoors. My cheesecake was smashing in its chocolatey glory; really rich and satisfying. The base was nicely buttery so it didn't disintegrate into a million crumbs the second a spoon went near it, and the cheesecake itself was generous and deep. Crowning it all were pieces of various choccy treats: Mars, Kinder and Rolo among them. Surprisingly though it didn't leave me feeling stodgy around my middle – bonus!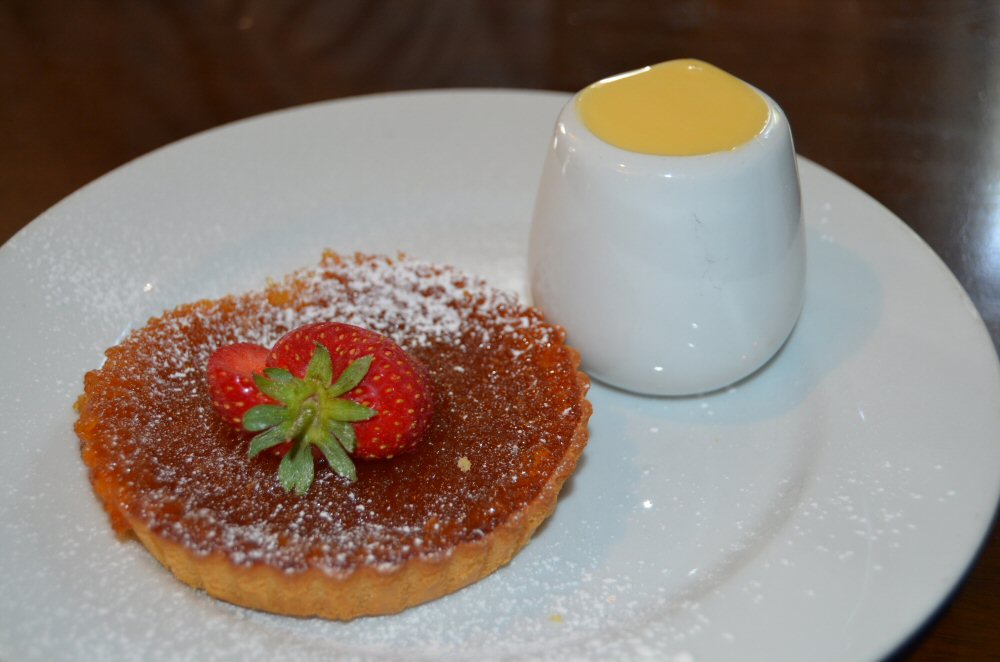 His Nibs loved the Treacle Tart; it was sweet and sticky and plentiful! The pastry case was nice and buttery and the perfect thickness so that you got a hint of it in each bite, but it didn't overwhelm the pudding and let the treacle come bouncing through. There was a nice sized jug of custard that came with the Treacle Tart and without any ceremony, the lot got poured out! Guess he liked the creaminess of it then!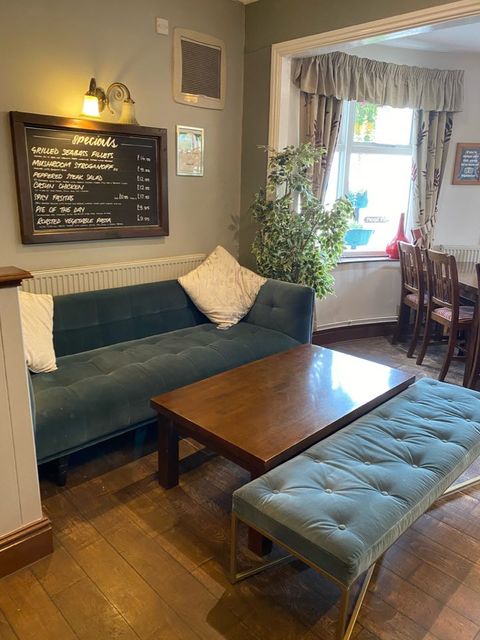 This had been a lovely flock meal out, so Hot Wings awarded here to Tim, Coral and the rest of The Greyhound at Belper team. As an extra bonus, until the end of September 2020 Tim and the team are doing 50% off their Sunday Roasts, so now is the perfect time to treat yourself and the family!!
No incentive was provided to visit this venue
read more