A Post Lockdown Visit To Turtle Bay In Derby #rumreggaejerk
---
Published On Sunday 30 Aug 2020 by Sticky Beak
See Recent Dining Out Reviews | See All Recent Reviews


The Man Bird and I were thrilled to be invited along to Turtle Bay in Derby, it seems ages since we last visited! We parked the Jalopy nearby and had a short walk over to the still colourful, Caribbean eaterie, sanitising our hands at the entrance as a friendly member of the team checked our booking and showed us to our table.
There's a clearly visible one-way system in the venue, with funky flip-flop decals on the floor guiding you along (just a shame there isn't real sand on the floor as well; y'know, that lovely white sand you get in the Caribbean?). The tables are spaced out nicely to meet the government requirements and there are clear Perspex screens to break up groups of tables too, edged in bright sunshine yellow to keep it funky and bright Turtle Bay style.




All the staff wear clear face visors - even the Chefs in the kitchen – which means you can still see the beaming smiles and those who need to lip read can do so. It was still happy hour when we arrived, so with no hesitation we ordered a couple of Reggae Rum Punches to get in the relaxed Caribbean spirit (both metaphorically and alcoholically!).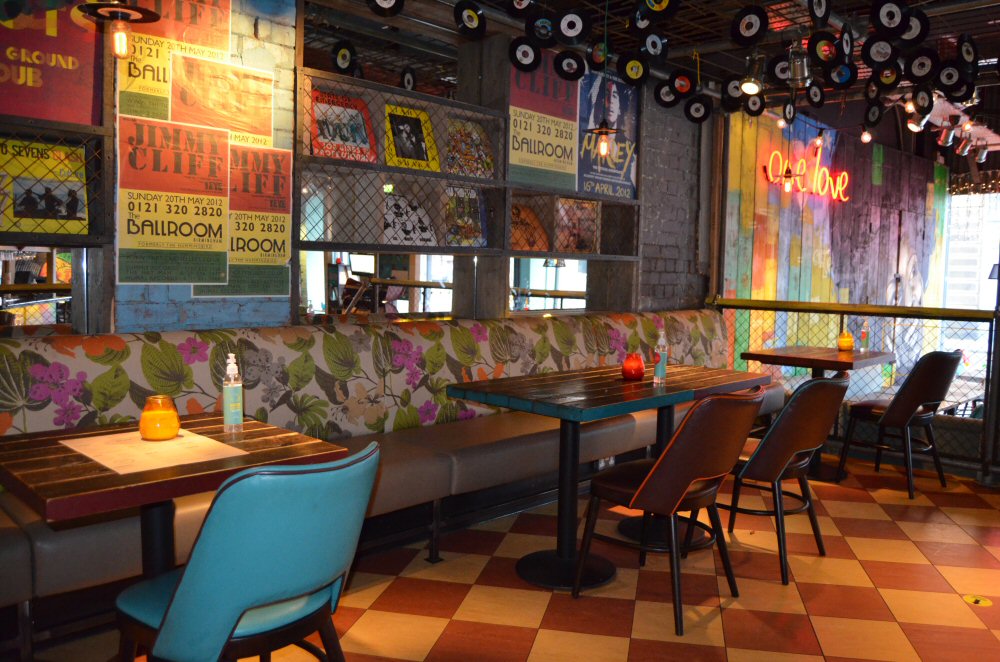 We decided that we were going to play nicely, and ordered the Beach Sharing Platter priced at £15 to get the party started. This beaut comprises Jerk Pit Wings, BBQ Pork Ribs, Coconut Milk and Panko fried Squid, Trini Doubles, Cucumber Chutney and Pickled Veg. The manager had some bad news: due to a brilliantly busy #eatouttohelpout Monday-Wednesday there was no BBQ Pork Ribs left, so would we be happy with some Pulled Jerk Chicken as a substitute? Yup, fine by us, we were sure it would be tasty anyhow. To go with our mains choices of Curry Goat Hash (The Man) and Fish Fry (for me, this carries a £2 supplement on the Soul Food price) we opted to have some Caribbean Dumplings and Cheesy Jerk Fries as sides. Safe to say that Lady Luck was not feeling generous towards me as the manager came bearing bad news again: the kitchen had run out of Caribbean Dumplings! Oh well, I thought, ordering more Pulled Jerk Chicken.




Our Beach Sharing Platter was a huge wooden board laden with lots of yumminess and we dived in with no hesitation. Our substitute morsel, the Jerk Chicken Strips were superb; lovely and moist and smothered with a sticky, smoky BBQ sauce that left us licking our fingers with joy. The pickled veg added a burst of colour on the board and were nice and crunchy in the mouth with a subtle sour edge to them.




If you're a spice fan then the Trini Doubles have got your name all over them: the pair of Bara Roti Breads are loaded with uber-kicking curried Chickpeas, swirled with hot sauce and topped with ribbons of Coconut and Cucumber chutney. Instead of wings we had Chicken drumsticks and these were equally as pungent as the curried Chickpeas with the level of spice on them; partner this with creamy, juicy Chicken and you have a match made in gastro heaven – at least for me. Whilst I was being a totally greedy pig, His Nibs was turning his attention to the Coconut Milk and Panko fried Squid. The Squid was cut into strips and cooked perfectly to keep their softness, but the crispy coating was just sublime and partnered the delicate seafood taste fabulously well. Not so delicate was the banging Chilli sauce and Garlic Mayo that was generously drizzled over the golden strips!

The serving team were checking that everyone in their restaurant was happy with the food and it was all done in a cheery manner despite the fact that they must've been hot behind their visors. The young lady that was assigned to us came and cleared away the platter and side plates and gave us some extra cutlery in a glass ahead of our mains arriving.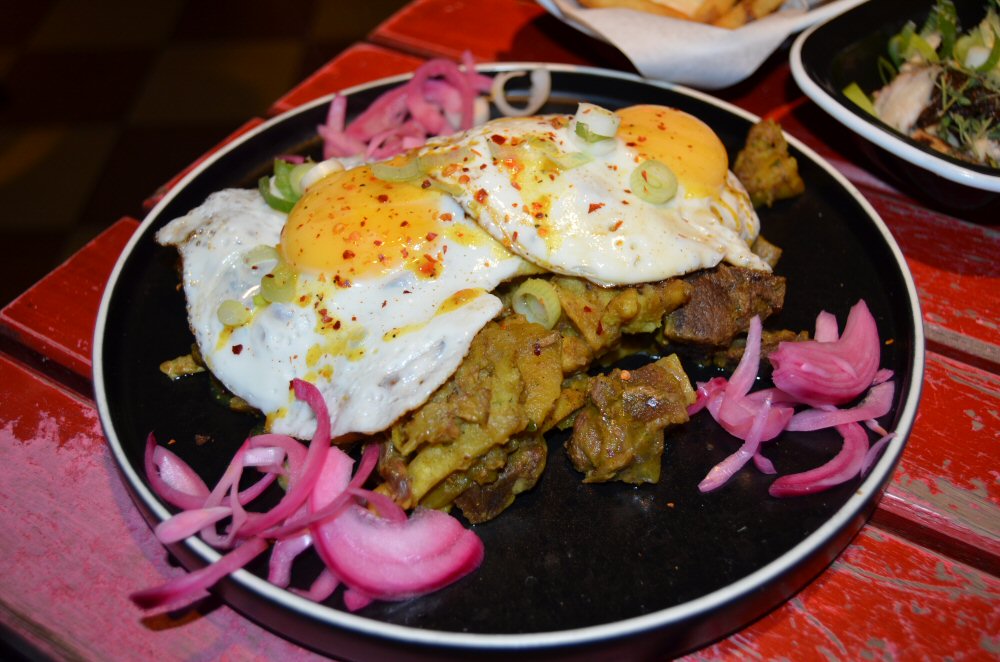 His Nibs was in the mood for something hot and spicy, so he was jolly happy as he took his first mouthful of the spicy, musky Goat meat. Portion-wise, he had no complaints either – there were loads of large chunks of incredibly tender meat with its sweet-yet-musky taste to savour. A good hash has to have Potato in it somewhere for binding purposes; here, it had a pleasing bite left to it but had done its job of threading the dish together. There was a great balance of meat and potato so that the hungriest appetite was satiated and the spice certainly kept the palate occupied! The creamy mildness of the fried eggs' runny yolks helped to dampen the tingle factor of the spice and the pink Onion slices brought a wonderful sour element to the dish.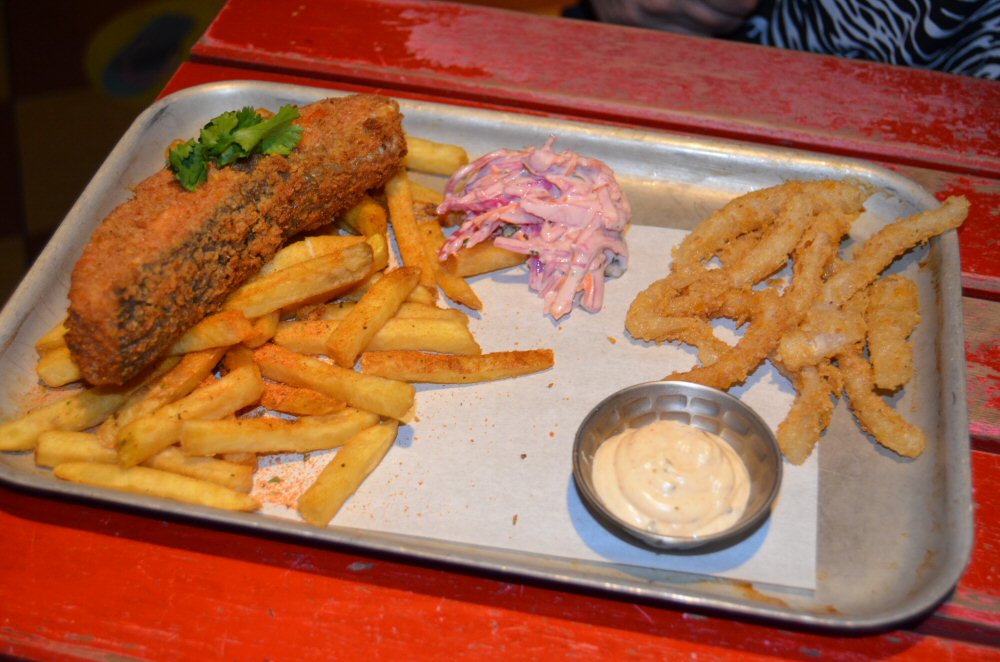 My Fish Fry was excellent and I was blown away by the size of the Crispy Salmon fillet that lay on the plate! As I took my first mouthful I was rewarded by that moreish sweet succulence that Salmon has and I allowed myself a little happy smile. The crispy coating of the fish was very fine in texture and this meant it gave a most satisfying crunch in the mouth. Pieces of fried Squid were lovely and soft to my bite and I dunked them into the Jerk Mayo for a dash of spicy heat. I was a massive fan of the thin, crispy fries that were liberally dusted with pungent Jerk Spices; as I bit into their outers I let the heat wash over my taste buds and delighted in it. Crunchy, finely sliced veggies gave some welcome coolness in the mouth as well as a nice contrast in temperatures to stimulate the senses.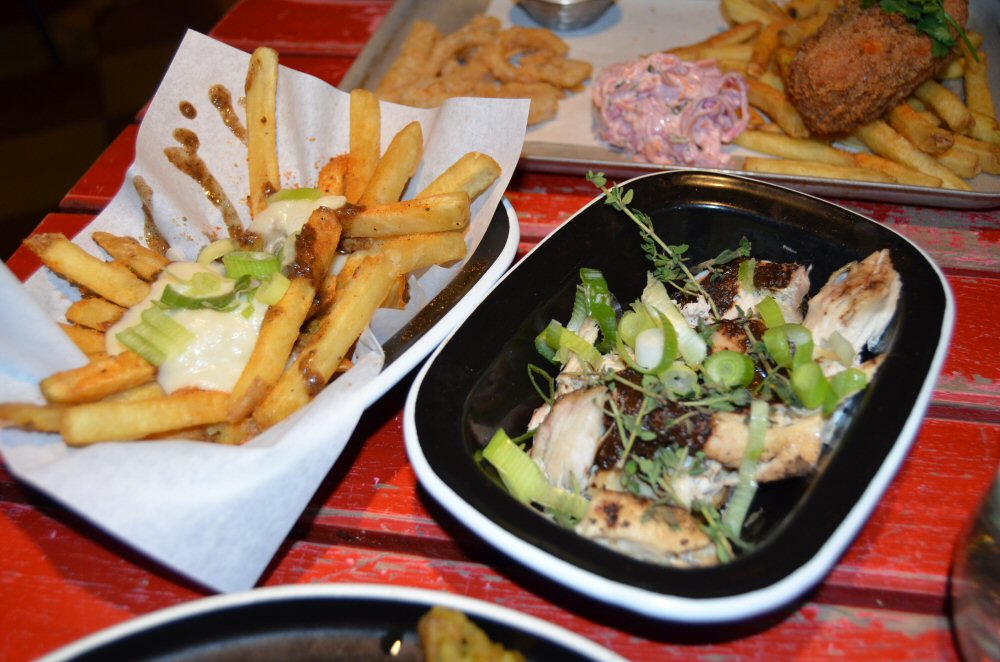 We'd ordered the Cheesy Fries on the manager's recommendation and they were indeed every bit as good as he'd said they would be. The tangy cheese sauce that bathed the fries contrasted brilliantly against the fiery spices. As Jake Shear and Ana Matronic's song went, I said to the fries "you're filthy, oooh but you're gorgeous". The Jerk Chicken breast was just as delicious as its starter course cousin had been with the earthy, sweet spices permeating the moist slices superbly. Small, chopped sprigs of fresh Thyme added a wonderful brightness in the mouth and partnered the Caribbean spice blend very well. Yep, this had been a gastro feast, make no mistake, and we'd enjoyed every single bite.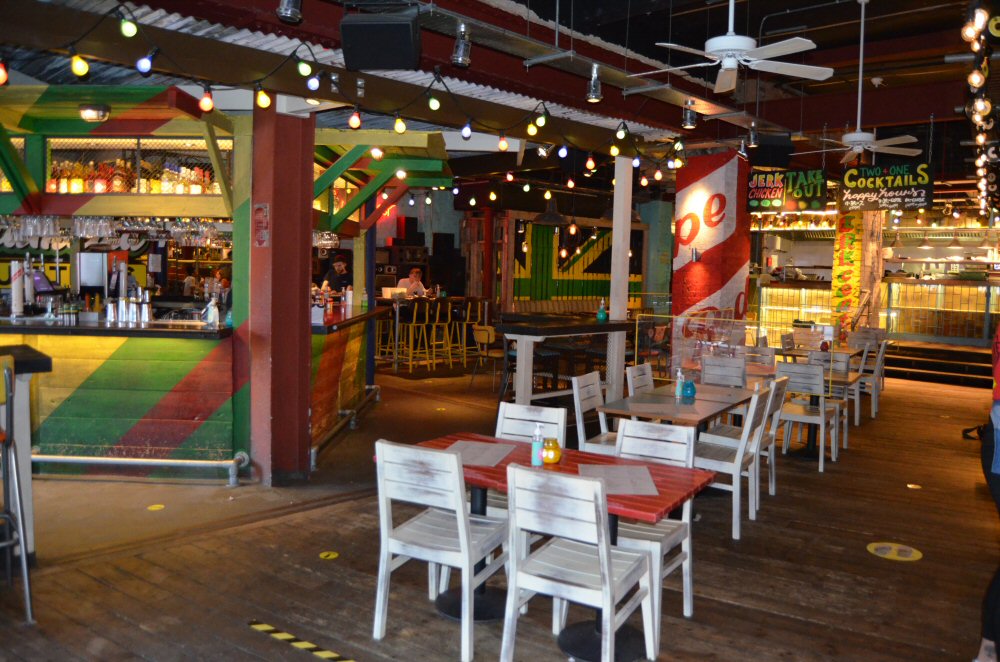 Despite being tempted we declined the offer of dessert; if we'd indulged we would've been uncomfortable and probably wouldn't have enjoyed the food. I don't like waste anyway, but to simply gorge and not enjoy what you're having doesn't do the Chefs any justice – and I think it's a tad rude. We must remember next time though that Turtle Bay are total (turtle?!) feeders and to not order sides if we want sweet treats at the end!

Hot Wings awarded again to this wonderful eaterie that strives to bring a bit of Caribbean sunshine and good vibes to the folks of Derby.
Some form of incentive was provided to visit this venue
read more