Out For Steak Night At The Shepherds Rest, Lower Bagthorpe
---
Published On Tuesday 25 Aug 2020 by Sticky Beak
See Recent Dining Out Reviews | See All Recent Reviews


As you know, during the most intense lockdown period His Nibs and I tried to support local businesses by ordering a takeaway restaurant-quality meal each week. One of the venues that we came across was The Shepherds Rest in Lower Bagthorpe just inside the Notts/Derbys border; when we went to collect our first Steak Night meal deal we noticed that a major refurb was in the offing and said (that if this meal passed muster) we would come back for a sit-in meal with the Tribal Elders. Well, fast-forward a wee while and we find ourselves back in this charming 17th Century Inn admiring its refurbishment.
The car park was pretty full, as were both of the beer gardens; nothing gets folk out better than a gorgeous sunny summer evening, and this particular one was just that. Kids were having a great time playing on the swings and climbing frames at the far end of the front beer garden, their parents watching on whilst chatting, and the side garden was quieter with older groups of friends and couples enjoying the sun's warmth and good company.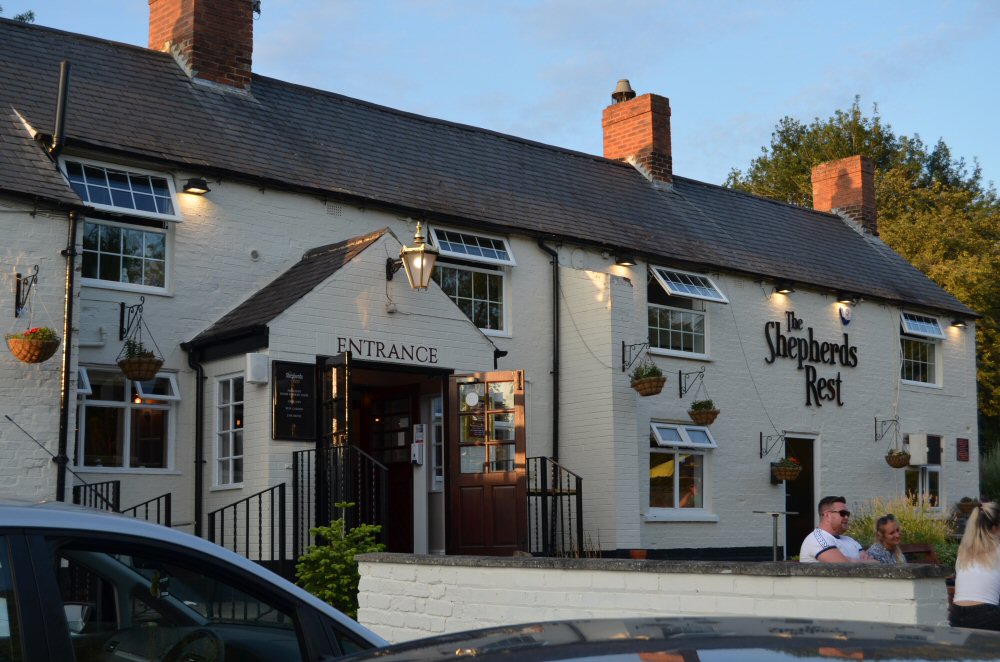 The Shepherds Rest team have got a natty one-way system in operation; actually, they've got two: one that serves just the drinkers outside (so they don't have to come through the restaurant area to use the facilities) and one the diners can use. There are also hand sanitiser stations both sides of the entrance and more as you go out, as well as some in the lavatories. We'd already given them our details for track and trace when we booked the table.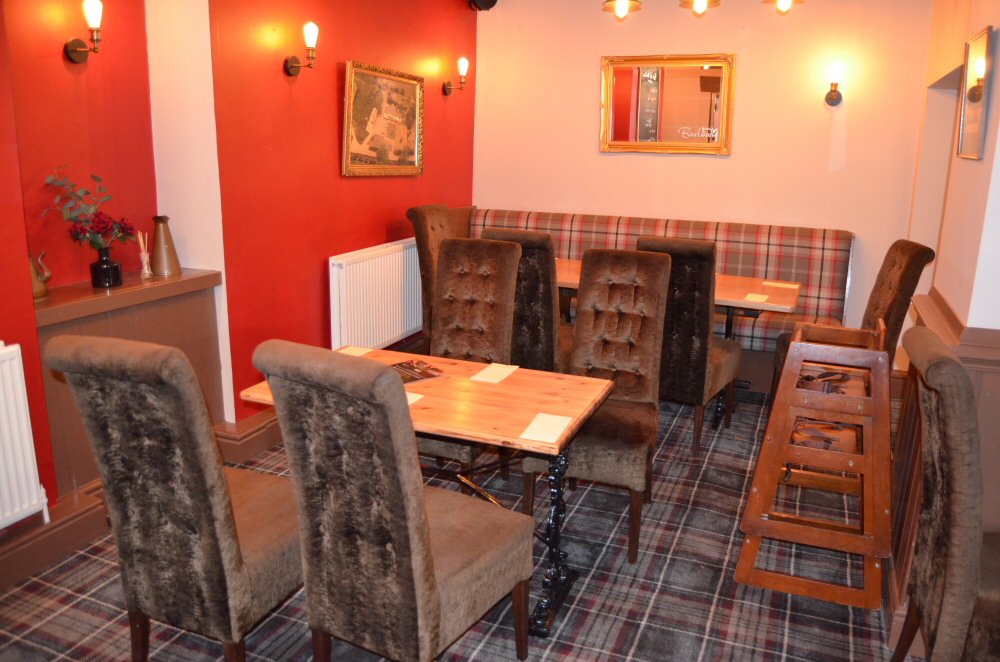 The relaxed character of the building has been sympathetically thought of so the colour palate on the walls and the window dressings are fairly neutral (cream and pale sage green) with the earthy tones of the tartan carpet and seat upholstery being the main pattern and richer colours. You can't help but see the massive stone fireplace and my imagination already had it kicking out heat from its hearth in winter. There were also lovely wooden beams on the ceiling and as pillars and I loved the amber hue from the modern (but not jarring) light fittings.

Along with those folk outside ordering food, the restaurant was 90% full so the team were certainly being kept busy. We'd gone for the '2 steaks and a bottle of wine for £30 per couple' deal, but there is a specific Friday and Saturday menu available if you don't fancy this, as well as a specials board. To kick off, Mummy Bird and I had a Gin and Tonic, His Nibs had a pint of Moretti and Daddy Bird had a pint of Fosters (he was the driver for the evening). Our server was lovely and I'd got my eye on the striking jumpsuit she was wearing – it was gorgeous!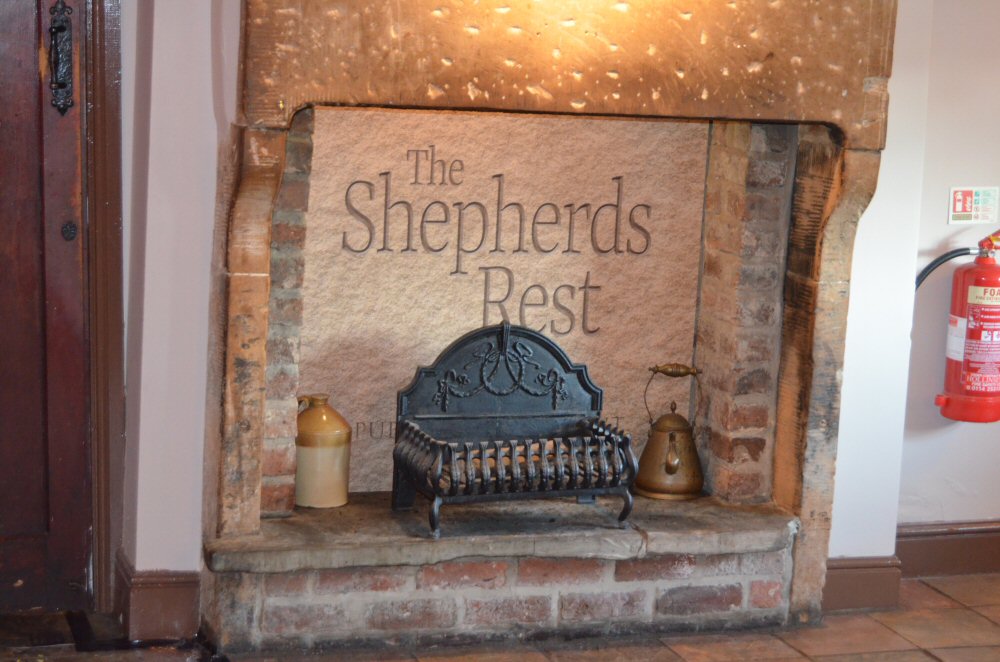 Having brought the drinks over, our server took the food order – can't fault her for her time management skills!; I had the 10oz Ribeye, the Tribal Elders both had the 12oz Rump steaks (both done medium/well), and The Man Bird had his favourite 10oz Jurassic cut Steak (this carries a supplemental charge of £3, and if you want the 8oz Fillet that is a fiver extra). When we'd had the Steak Night deal as a takeout back at the nest, I'd had the Stilton sauce too (£2 extra) and it was absolutely top-notch, so I ordered it again on this occasion. Mummy and Daddy Bird followed my lead, and His Nibs chose the Peppercorn sauce to go with his meaty treat. Our Flock is a mix of red and white wine preferring peeps, so we went for a bottle of Jack Rabbit Shiraz and a bottle of JR Pinot Grigio to sup. I can highly recommend the Shiraz; Daddy Bird and I really liked it (I felt quite sorry for Daddy as he could only have a small glass, but we did save half a bottle for him and

Mummy to enjoy back at their home). His Nibs and Mummy Bird were clearly enjoying the Pinot too, it was going down rather nicely.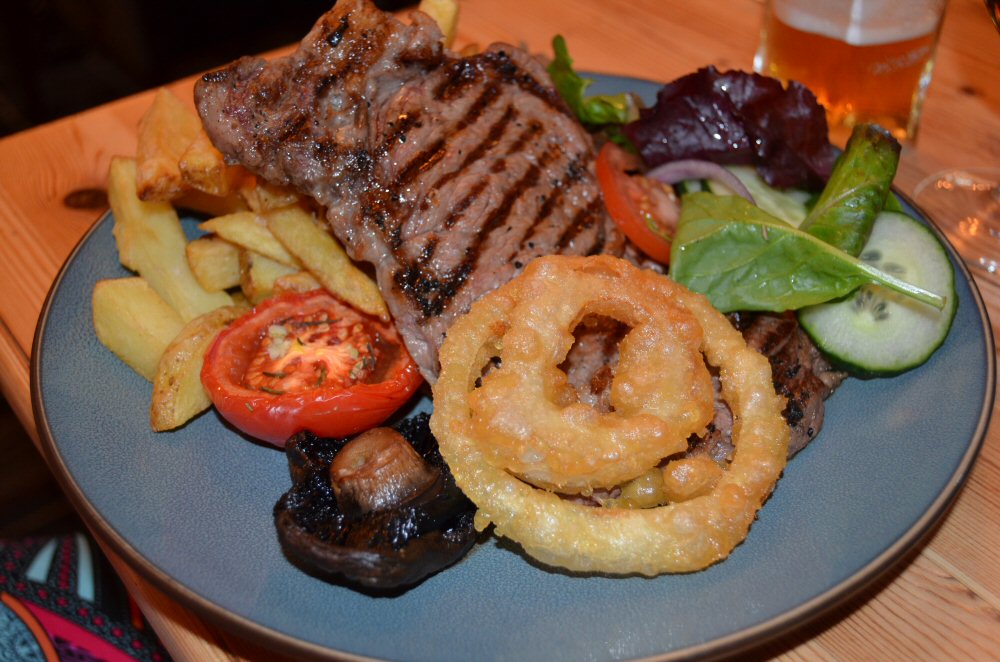 All the steaks come with a full traditional garnish of grilled Tomato, Mushroom, Onion rings and Chips as well as a salad, so no fear of you going hungry at The Shepherds Rest! The Shepherds Rest is owned by Barlows (they of local meat-producing prowess) so it goes really without saying that the steak was all superb in terms of the quality of its taste and texture, and Chef knows how to cook it right to keep it at prime juiciness.

You know you've got a good bit o' beast (as my Granddad used to say, bless him) when your mouth floods with anticipation and my juices were certainly flowing! The Ribeye had a ridge of fat at its edge and then another good ribbon within it, so it certainly was moist and succulent, but the depth of sweet flavour that the fat releases when cooked slowly to soften and melt it was just sublime. Reece (manager of The Shepherds Rest) had come over to give us steak knives but, in all honesty, I didn't need one thanks to the tenderness of my steak.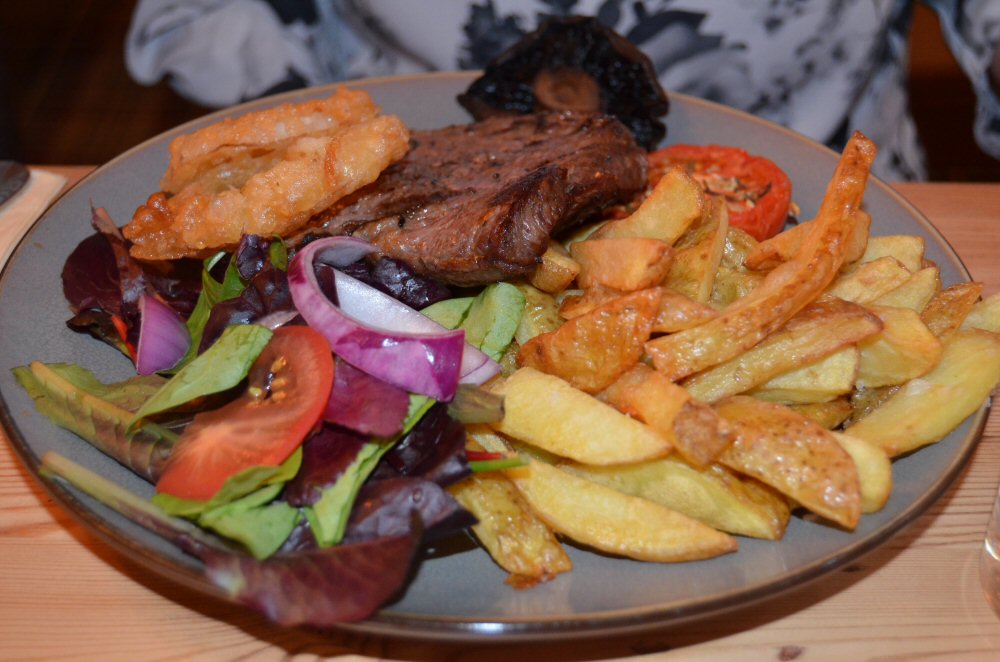 It was the first time The Tribal Elders have sampled Barlow's steak and it was lovely to see the happiness on their faces as they cut in and savoured that initial bite. Both of them commented on what a fantastic bit of Rump it was, saying it was lovely and tender with a great flavour to it. I must admit that when I send His Nibs out to our local butchers for our usual weekend bit of steak, I normally go for a Rump; I don't know why, but I've never had a bit of Sirloin that I could rave about so I either have rump or Fillet. It's all thanks to The Shepherds Rest that I have started to have Ribeye more regularly and I can't imagine that I would ever have anything else when I dine here; in my mind this is meaty nirvana.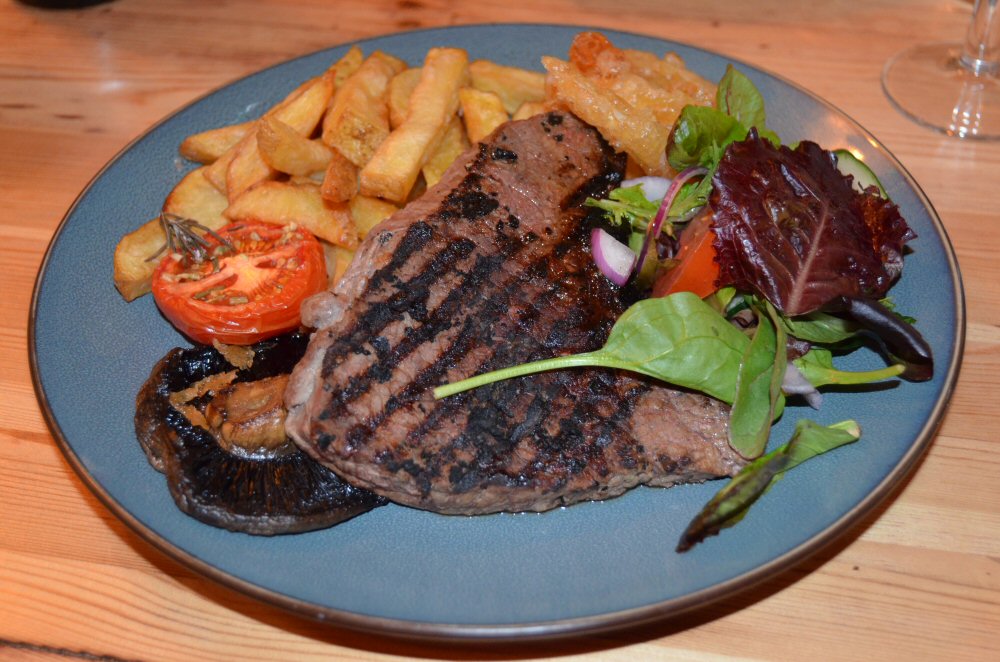 The Man Bird is a massive fan of the Jurassic steak, even though its precise cut is a secret. This beef is positively bursting at the seams with the density of its texture (very satiating for those with hearty appetites) and the depth of its taste. There was very little fat on it at all but again, thanks to the skill of Chef, it wasn't at all dry and characterless. As with all our choices, His Nibs' Jurassic cut was a good thick slab of meat.

At The Shepherds Rest in Lower Bagthorpe they scatter their halved Tomatoes with herbs to add a little something extra in the mouth and they grill them to that perfect state of firmness that they don't disintegrate the moment you cut into them, but are wonderfully soft in the middle. Yummy! The Mushrooms are good sized field ones that are left whole, seasoned and cooked until they are slightly wizened, which intensifies their gorgeous earthiness and brings out a sweet note in them too. Boy Wonder still wasn't enticed to eat his though, so I pinched it before either of the Tribal Elders staked a claim on it.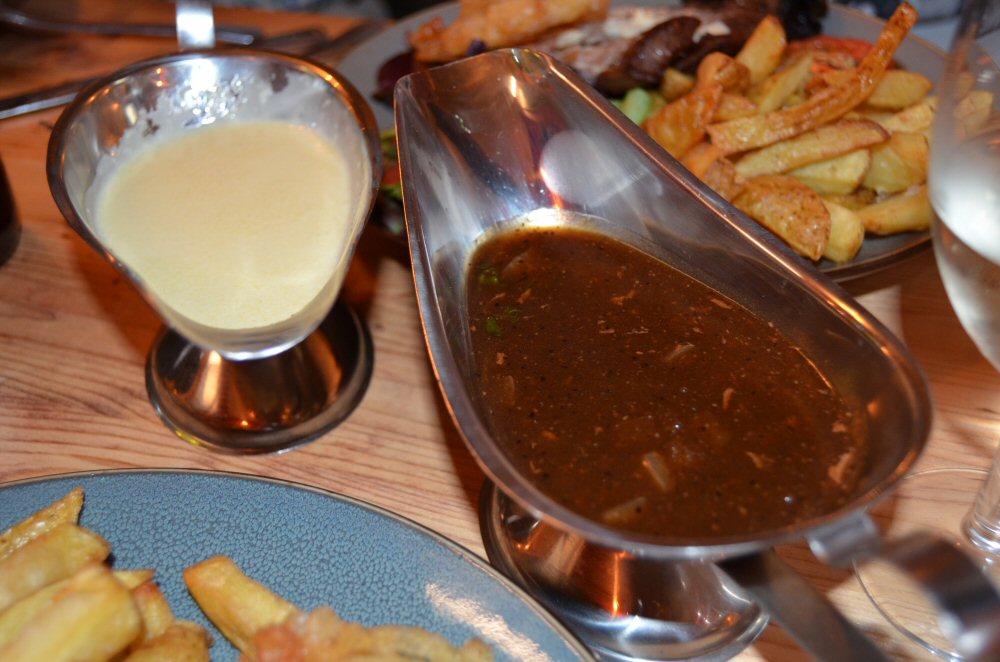 The chips have a brilliant inherent taste to them and are cooked so they have a gentle crispness to their outers and gloriously soft inners that soak up any sauces very well. In fact, I used the majority of my Stilton sauce as a bath in which to repeatedly dunk these morsels; His Nibs did the same with his Peppercorn sauce and grinned at the deliciousness of the pairing. I grinned smugly with a 'told you so' look on my face – I had told him that the chips go ridiculously well with the sauces served here, but true-to-form he didn't quite believe me and had to do it himself.

One thing I forgot to mention, and should because it is rare you get such honesty, is that when a younger member of the serving team brought our steaks out she couldn't remember which ones she'd been given, so instead of blustering through she simply said "I can't remember which ones I've got, so I'm going back to check rather than give you the wrong ones". Bravo for your honesty young lady, and the fact that you did it all with a smile as you apologised. Several members of staff checked we were enjoying our food and asked if we needed anything else (condiments etc.), and all the tables were getting the same level of service, so nothing lacking here.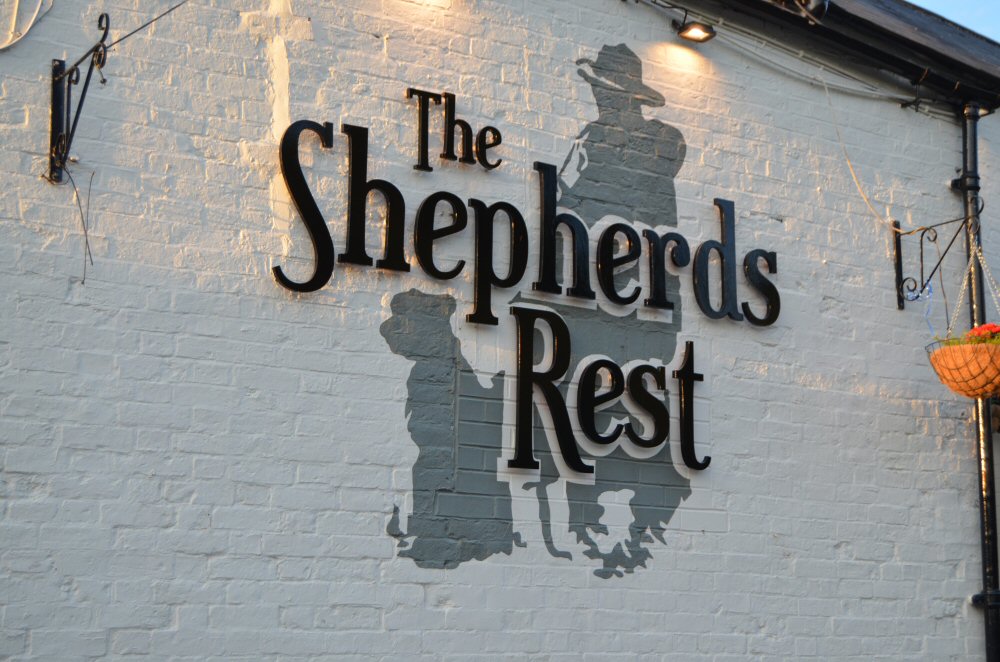 There was a lull at one point in the evening, probably when we were 5 minutes into our meals but this didn't last long and the tables were soon filled again with diners eating later. Daddy and Mummy Bird were dead impressed with the Steak Night deal (price:quality ratio is excellent), so much so that Daddy went up and said to Reece that although it might've been his and Mummy Birds first time at The Shepherds Rest, it certainly won't be their last. Praise indeed, trust me!

Apparently they also serve a Sunday Roast, so we shall certainly be checking that out in the not-too-distant future. Hot Wings happily awarded here to Reece and team at The Shepherds Rest in Lower Bagthorpe. I would certainly ring ahead and reserve your table, it was very busy when we visited and I can't imagine its popularity waning any time soon.
No incentive was provided to visit this venue
read more