Trying Out The Tasting Menu At The Bulls Head, Holymoorside
---
Published On Thursday 19 Mar 2020 by Sticky Beak
See Recent Dining Out Reviews | See All Recent Reviews


One of the great things about England (well, the whole UK actually) is the endless amount of villages and small towns dotted throughout its green acres. These little havens often have a pub at their centre, around which village life revolves and the world gets put to rights. One such gem is the Bulls Head in Holymoorside, and The Man Bird and I had kindly been invited along to try their tasting menu – something we were very excited about, as you can imagine!
For a rural location, the Bulls Head has a decent size car park and we managed to park the jalopy up nice and easily. Just to digress a little; why is it that men (specifically His Nibs!) think they know better than SatNav and over-ride it? It never ends well, but the lesson doesn't seem to be sinking in and so we found ourselves off the main roads. It wasn't case of just going "semi feral"; oh no, we were going all out into "fully feral" territory!!

The roads were literally wide enough for one car and at one point we went across a bridge that only just allowed our jalopy's width on; there wasn't even room for a skinny fox at the side! I'd love to be able to say that the jalopy was a sexy sports car that would hug the corners and tight bits, but no, he's a humble hybrid – still did the job though, so no complaints!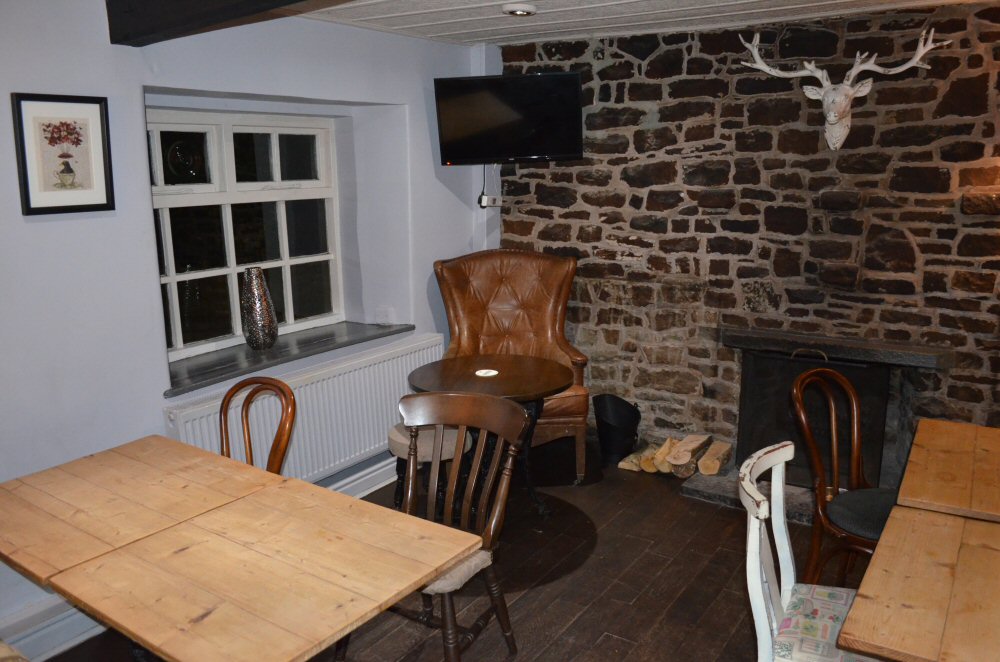 For those of you with dogs, the Bulls Head welcomes them in the bar area and when we arrived there were several already resting their bodies and keeping an eye on their humans to make sure they behaved.

As we wandered through to the dining area there was a large family group with children already eating, and a little while later another family rocked up (also with kiddies in tow) so the Bulls Head ticks the "family friendly" box too.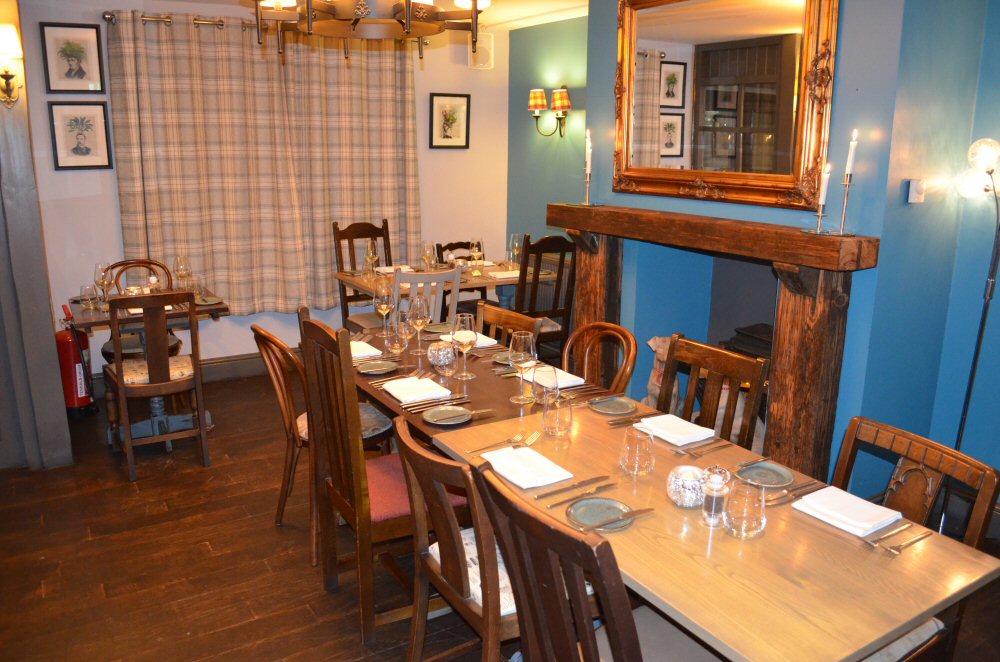 The restaurant area has lovely dark wood floors which are matched by the square and rectangular dining tables. Plain putty coloured walls lift the atmosphere, accented as they are with a teal feature wall and grey doors and skirting. Lovely cream, grey and duck egg checked curtains dressed the windows nicely and a similar check (different colours) featured on the wall lights that cast a warm glow around the room.

Olivia was our server for the evening; she doesn't normally work at weekends, but her partner manages the Bulls Head and had roped her in to help on what was a busy night in the restaurant. We were settled in with our drinks and awaited our canapés, eager to see what they would be. It wasn't long before we found out: Whitebait and Tartare sauce, and homemade Pork Scratching with Black Pudding and Apple purées and Sage leaf.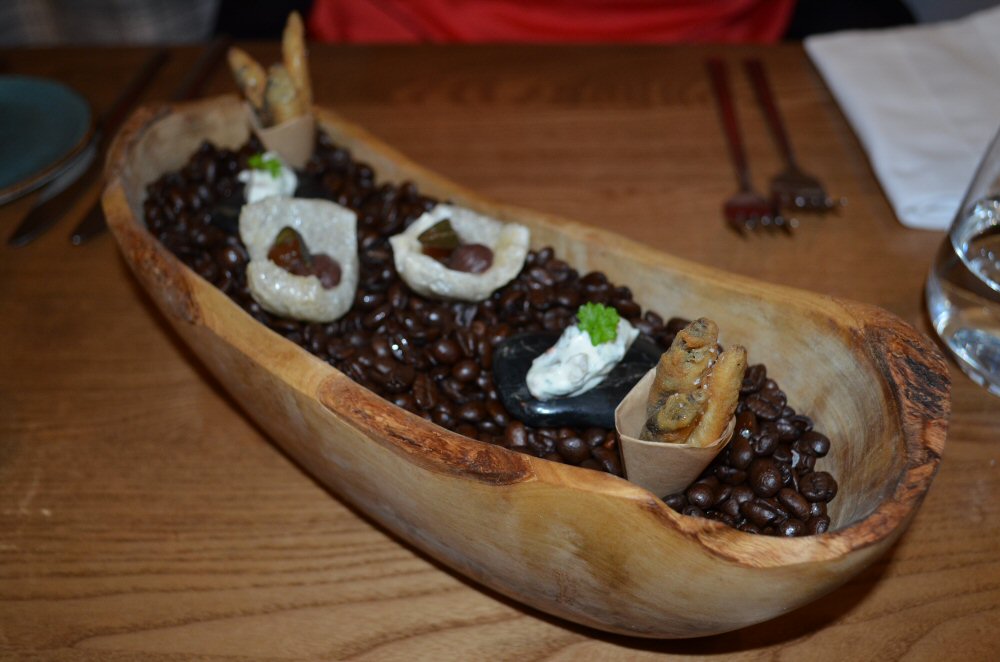 The canapés were presented strikingly in a wooden bowl and sat on a bed of dark coffee beans. The two trios of Whitebait sat in their own dinky paper cones and the pale tones of the Tartare sauce dollops contrasted well against the smooth black stones on which they resided. We both loved the way the 'fishy' notes of the Whitebait bounced off the sharp, lightly chunky Tartare sauce. His Nibs was a bit unsure about the Pork Scratching but found that it wasn't greasy at all, allowing the pork flavour to shine through. The Black Pudding purée was beautifully earthy, whereas the Apple purée was semi-sharp and they both partnered the clean notes of the crisped Sage leaf wonderfully.

Next up was Chef's choice of Amuse Bouche. You never know what Chefs are going to concoct when they get in their "creative zone", so we were really looking forward to this. We have had a far-ranging selection of Amuse in our time, but what came out surprised us (pleasantly); not your usual offering was it, Carrot and Swede Risotto with Blue Cheese Croquette?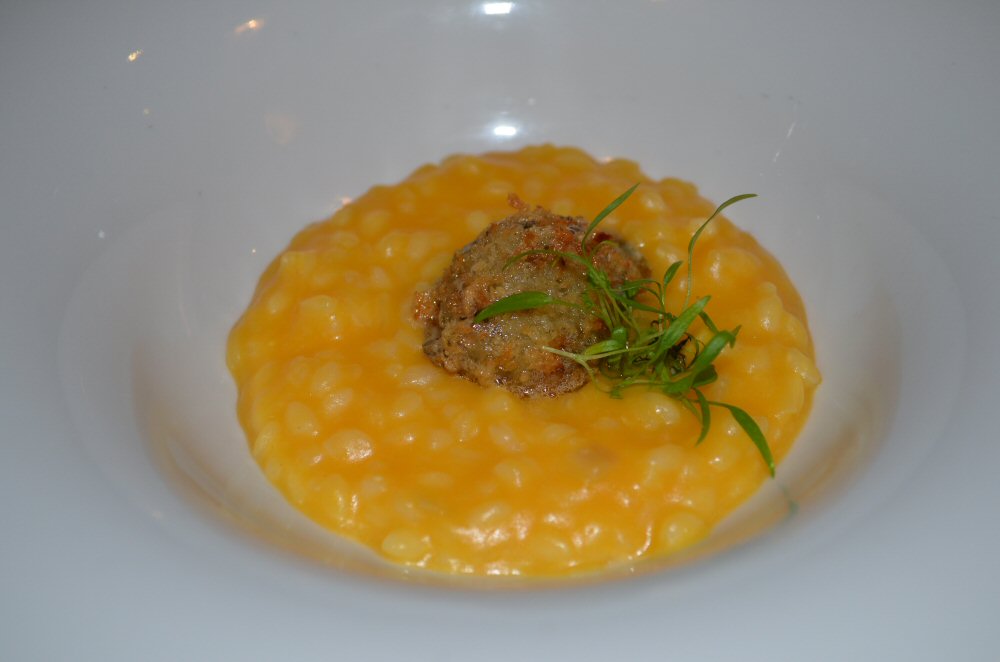 Firstly, I have to mention the risotto rice: it was cooked to absolute perfection, and I do mean bang-on-the-money al dente. The carrot had been puréed and provided a gently sweet base for the other elements of the dish to pop against. Nutty, earthy Swede was subtler than you might first suspect, but this allowed the sharp, tangy Blue Cheese to make its presence clearly known. There was a light resistance and crunch as I pierced the outer of the Croquette, and the cheese oozed from its confines lazily. This was a very, very enjoyable Amuse Bouche; not stodgy or heavy, and nicely decorated with micro-herbs to add colour to the dish and a brightness in the mouth.

Olivia came to clear our plates away and was happy to hear our feedback; she came back a couple of minutes later with some homemade white bloomer and Focaccia breads and a pair of butters: Truffle, and Burnt. The bloomer was nice and springy with a good crust to it. We popped some softened truffle butter on it and let its woody notes roll over our tongues. The other half slice of bloomer got slathered with the burnt butter (brown butter) and its toasted nuttiness was excellent, not bitter at all – which it most certainly would've been had it truly been burnt! Almost Tigger-like, the Focaccia was nice and bouncily textured, with flecks of Rosemary in it that added a nice zip in the mouth. All that was needed with this was a fab quality extra virgin Olive oil and tangy Balsamic combination – we both liked this simple course.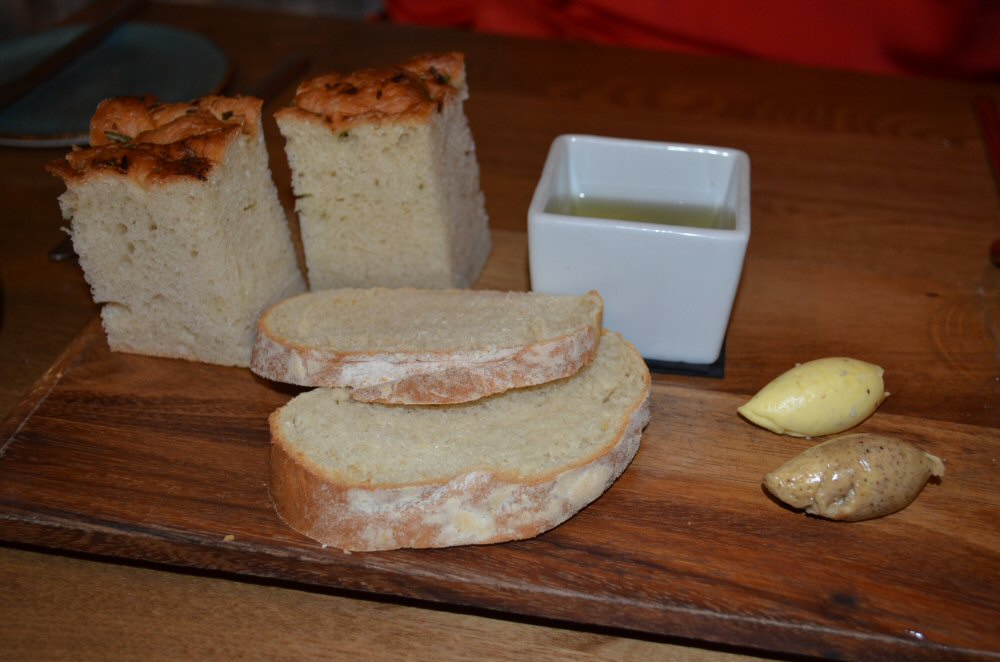 Our first course 'proper' on the tasting menu was King Scallops "Thermidor" with 62c egg yolk, pickled Mustard Seeds, Parmesan crisp, Salty Fingers, and Thermidor Espuma. At one time I would've been able to bag both portions (and I love Scallops!) but The Man has now decided that he really likes them, so my cadging days are sadly long-gone. The King Scallops were beautifully cooked; sweet, soft and gently fragrant: these notes were echoed in the foamy Espuma really skilfully.

Cooked at 62c, the egg yolk had thickened, making it infinitely more manageable on the fork; none of its rich creaminess was lost either – genius! There was a tang and heat from the pickled Mustard seeds with more tang, and a lightly bitter, salty edge from the Salty Fingers (which also added some crunch to the dish). A more robust crunch and extra pungency came courtesy of the Parmesan crisp, making this a very clever, multi-layered first course that certainly piqued the interest.




At the beginning of our meal Olivia had thoughtfully brought out a jug of water for us and as she cleared our plates away, she checked that we were ok for refreshments. We had a little wait for our next course: Wild Scottish Venison two ways; the Cannon had been dry-aged, whilst the Venison neck had been slowly braised over 36 hours. Pickled Carrot, charred Onion Petals, Fondant Potato, Cavolo Nero and red wine jus were the accompaniments to the meat, and each component had been carefully arranged on the plate to maximise its visual appeal. Talking of visual appeal, we were treated to a bit of table theatre as Olivia lifted the cloches under which our dishes came and sweet, woody smoke came billowing out.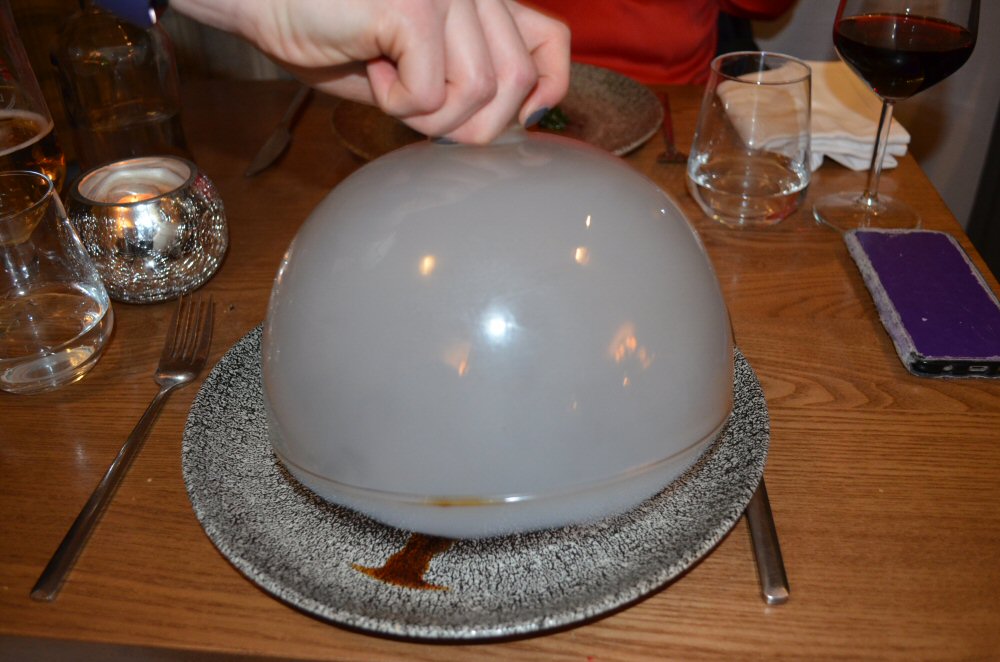 The neck of Venison is a fattier cut by nature, but this gives it a fab moistness in the mouth as you appreciate its richer taste. By contrast, the Cannon is incredibly lean and lighter in taste than the neck, but it has a wonderful 'muskiness' to it that is discernible on the palate. My Cannon still oozed a little blood, which suited me perfectly, bit if this doesn't appeal to you then just make it known to your server at the beginning of your experience.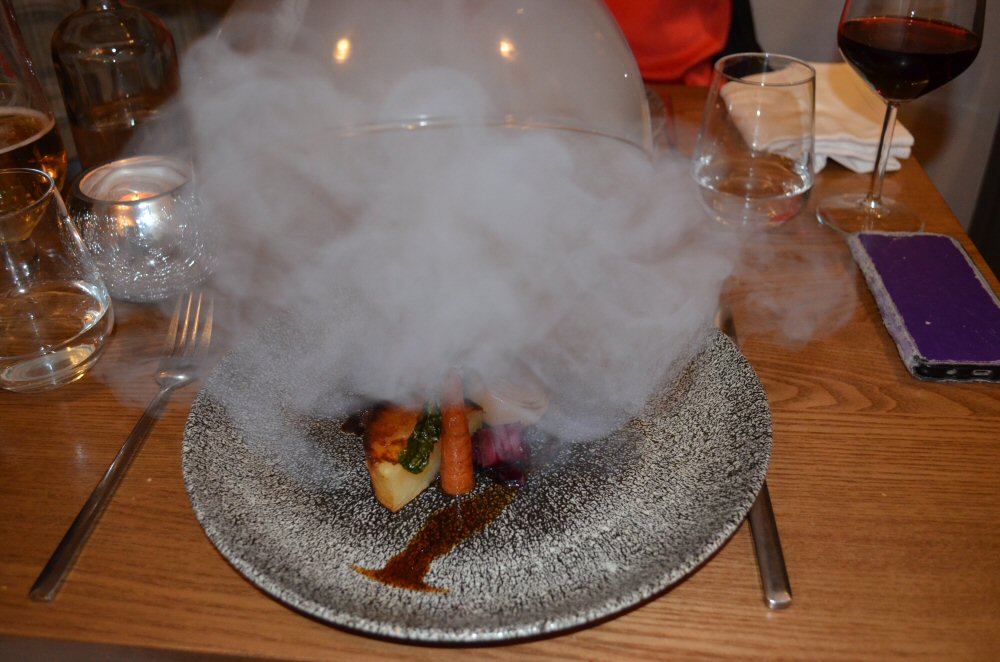 The pickled Carrot was lovely and crunchy, as was the Cavolo Nero – think of a thick slice of crispy seaweed from your local Chinese restaurant and you'll get the idea of its taste. A semi-circle of Fondant Potato was a nice accompaniment (I personally thought mine was a little too darkened) and it soaked up the red wine jus beautifully well. We both loved the smoky tones of the charred Onion petals; they were sweet as well as being smoky and they seemed to provide a 'gel' that the other flavours could knit with, marrying it all together.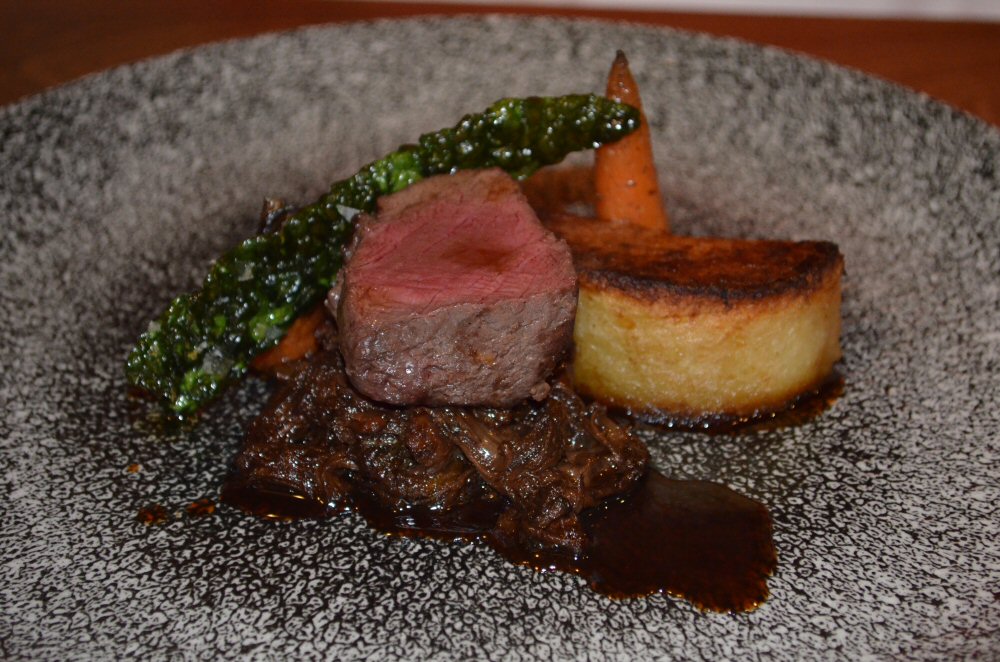 Our third savoury course was a "Fish Stew" comprised of Loch Duart Salmon fillet and Mussels, served with Saffron Potato, Braised Fennel, Seafood Bisque and micro Fennel. On tasting menus you normally get smaller servings of each course due to the number of courses to get through, so I was more than a little surprised to see that the Salmon Fillet was what would be 'main course' sized in many places! Not that either of us was complaining – the Salmon was sweet and succulent with that fab oiliness that helps it to linger in the mouth. To my amazement, His Nibs was chowing down on this like one-o; clearly another morsel that I shall no longer be able to purloin!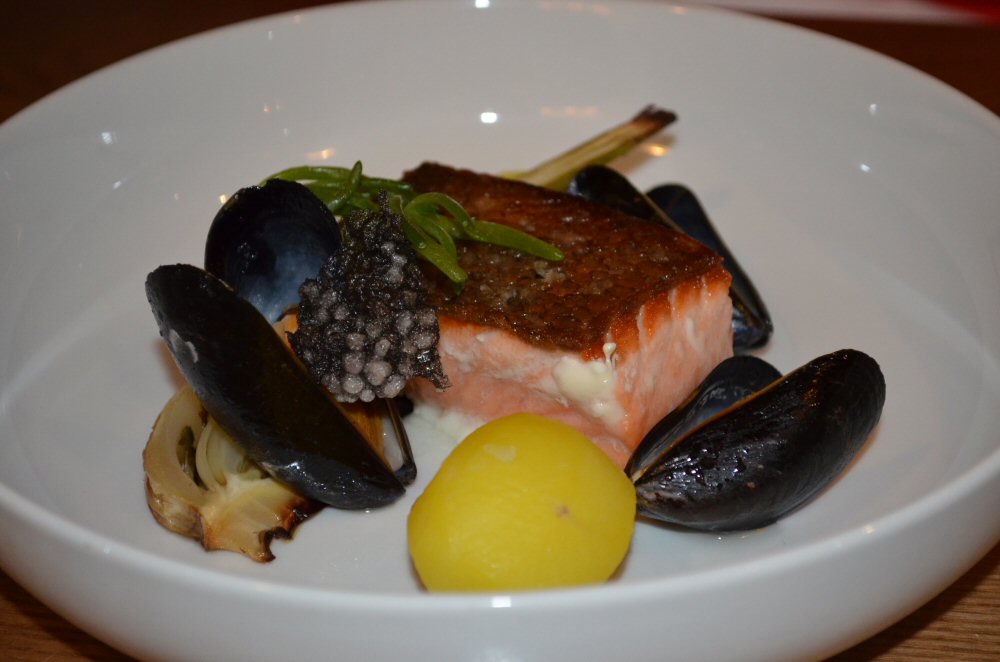 My luck was in with the Mussels though; these are a step too far presently for The Man's taste buds – suits me! I have to say that the good-sized Mussels were gorgeously meaty in the mouth, and not at all rubbery. The Saffron Potato was soft, floury and comforting to eat, and I liked the fact that the Seafood Bisque came in a separate pot so that you could add as much or as little of its liquid fragrance as you fancied. My one criticism of this dish would be the Fennel; not its taste which was deliciously Aniseedy, but it was a little thickly sliced for me and the tougher outer fronds could've done with being removed. I'm lazy, what can I say?!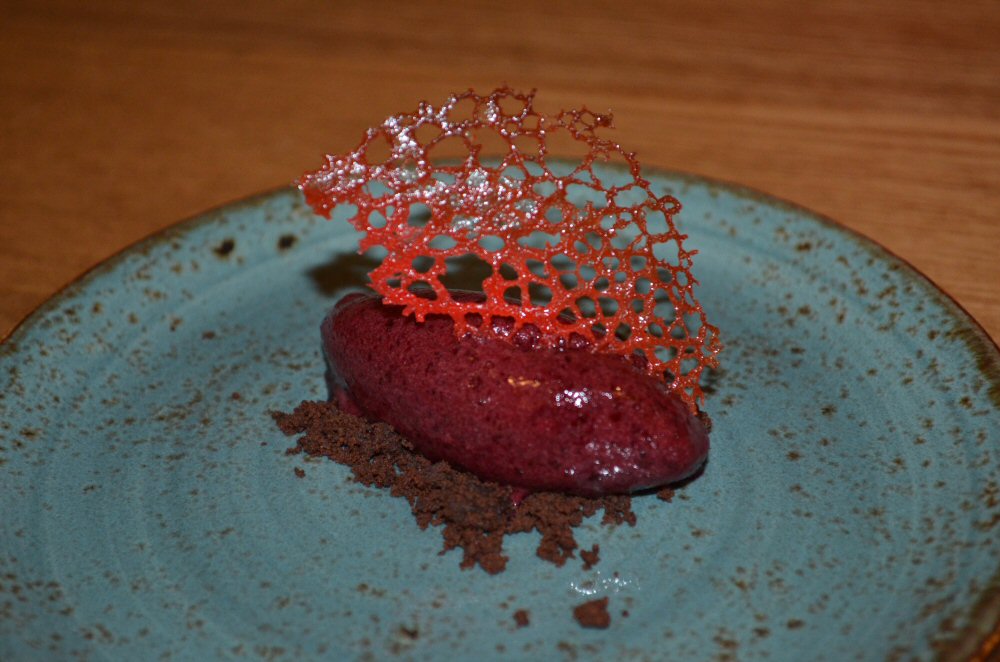 Pre-Dessert was a Black Cherry Sorbet with Coral Tuille and Chocolate soil, and this was just stunning! It was, as the advert says, exactly what it says (on the tin): a Sorbet made with Black Cherry. The Cherry was sharp and clear in its taste and not overly sweet, so it cleansed the palate fantastically. You could clearly see the skill that had gone into fashioning the Tuille as a piece of lacy Coral, and it looked glorious. To add a little bit of sweetness (if you wanted it – and The Man always does!), there was the cocoa hit from the chocolate soil; it added a little bit of texture as well as being the classic partner for Cherry.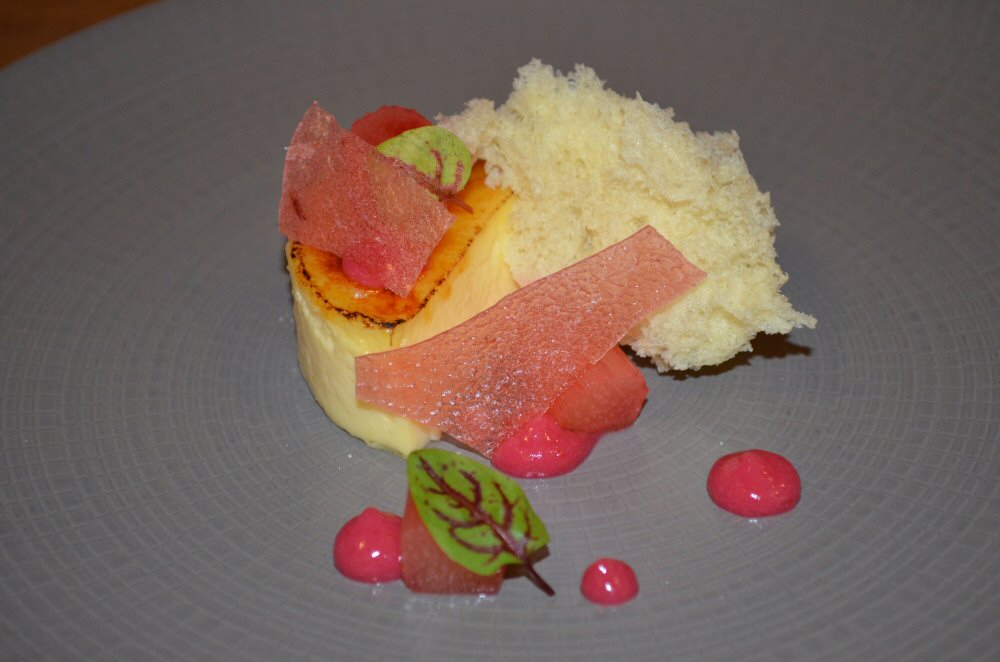 Dessert was Vanilla Crème Brulee with forced Yorkshire Rhubarb 3 ways and Ginger Nitro Sponge. I love Crème Brulee, and the one at the Bulls Head is fabulous; creamy and indulgent, with the warm rounded notes of Vanilla singing clearly on the palate. The poached Rhubarb, the Rhubarb Gel and the Caramelised Rhubarb shard were all magnificent; intense, tangy, tart, sweet: all aspects of this fruit were on display for full appreciation. I'm still not entirely sure what a "nitro" sponge is, but the Ginger flavour was lovely and texture-wise, it was super-aerated , like a piece of natural sponge. Therefore, I will assume that the sponge mix is given some oomph by the introduction of Nitrogen gas to increase the amount of air pockets in it. Whatever, it was jolly nice to eat!

At this point in the Tasting menu you can opt to add a cheese course on for an additional £4 per person; we didn't.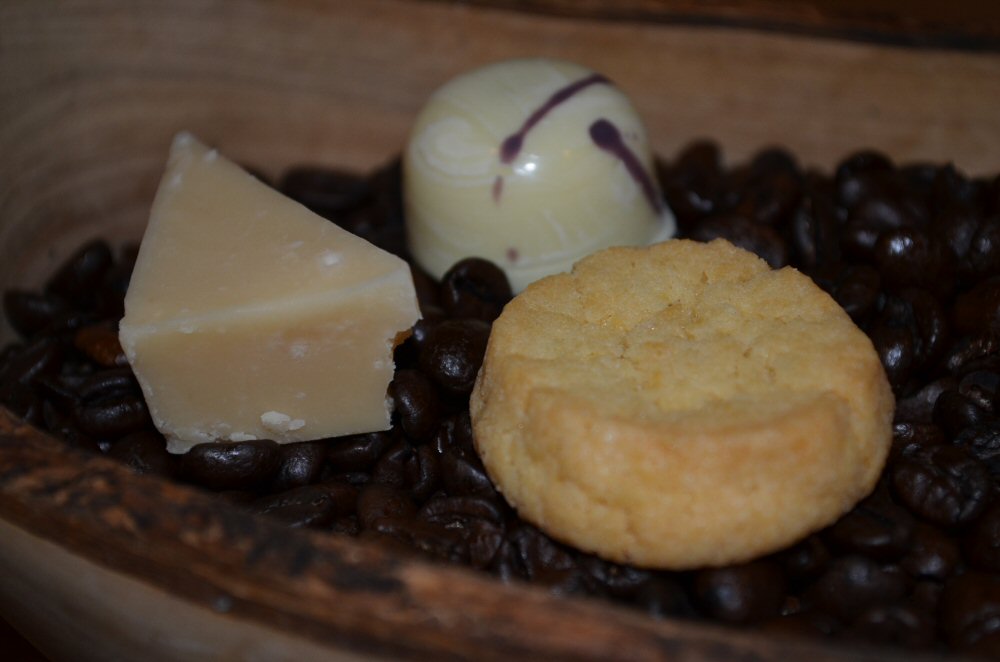 All that remained was to indulge in Chef's selection of Petit Fours: Vanilla Fudge, White Chocolate and Kirsch dome, and Shortbread. The fudge was amaze-balls; not too crumbly or too solid – just the perfect texture that melts lazily in the warmth of your mouth. I thoroughly enjoyed its creaminess and the gentle vanilla note of it. His Nibs was an instant fan of the White Chocolate and Kirsch Cherry dome and loved the partnership of the creamy chocolate and the fruity, liquid Cherry centre. The shortbread wasn't the crumbliest in the world, but it had a little trick up its sleeve to seduce the senses: a light dusting of salt on its top. The balance between the sweetness, butteriness and salty, Ozonic tang was excellent, and made a nice conclusion to our tasting menu journey.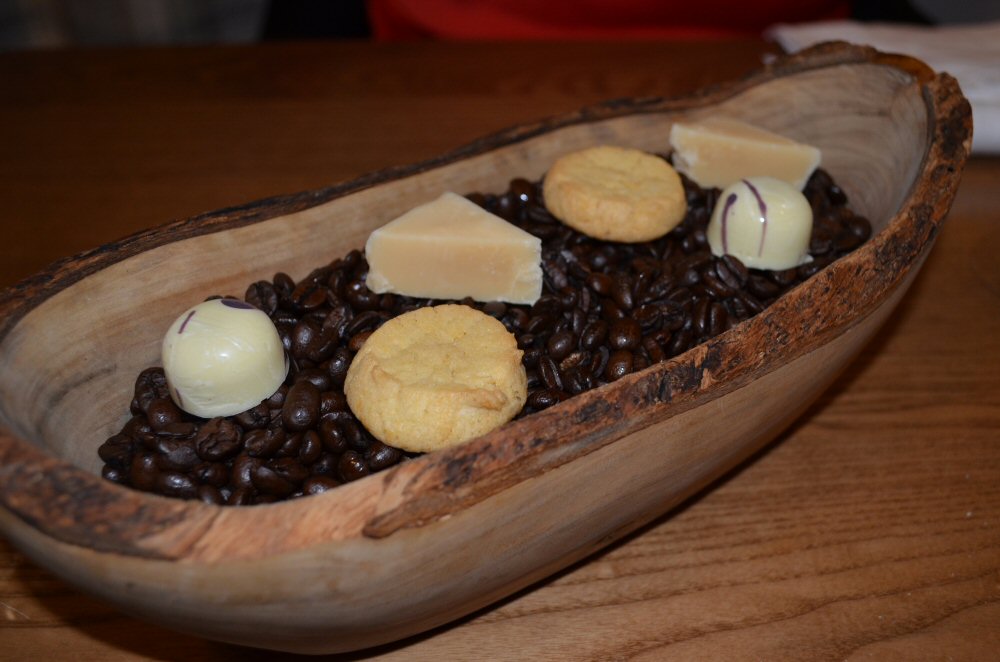 At £35 per person I think the Bulls Head at Holymoorside's tasting menu is a cracking deal, and it's one I would definitely award Hot Wings to. Yes, there were a couple of things that weren't perfect in my opinion, but they didn't detract from the tastiness of the dishes and they in no way spoiled my enjoyment of the experience. And anyhow, who/what is perfect? Everyone perceives taste and texture in different ways, and I always say that the blog is my subjective opinion and a snapshot in time. So, Hot Wings awarded happily to this fantastic venue; I would definitely recommend you book ahead and reserve a table – it was very busy when we went.
Some form of incentive was provided to visit this venue
read more
Read Some Of Our Recent Reviews
---

Breakfast At Marsh Green Farm Shop & Cafe, Kelstedge Ah, you've gotta love a Bank Holiday curve-ball, haven't you? His Nibs and I headed over to Mummy Birds' gaff with the intention of having a leisurely couple of hours at the Sunday Read The Article

---

Afternoon Tea at Bourne's Coffee Shop and Bistro, Denby Pottery Village You all know that The Man Bird and I do like an Afternoon Tea; I mean, who doesn't?! Just a few miles down the road from the nest is Denby, home to the world-renowned Read The Article

---

All You Can Eat At The River Garden Cantonese Restaurant In Belper As is the seemingly never-ending pattern of our weekends at the moment, The Man Bird and I had been busy gardening/re-seeding/pruning/digging, so when it came to sorting Read The Article

---

Back For Dinner At The Bulls Head In Repton As far as greetings go, perhaps the best one we've received came on our visit to The Bulls Head at Repton. As I stepped out of the jalopy I heard a familiar sound; a Robin chirruping away merrily Read The Article

---

A Visit To The Recently Opened Ranch Gourmet Burgers In Ripley The Man Bird and I do like a good burger, so we were gutted to hear that one of our fave hangouts in Derby was closing its doors and (in true glutton fashion) decided to Read The Article

---

A Post Shopping Lunch At Qoozies, Chesterfield We were on a mission over the Bank Holiday Weekend: Operation 'Get New Curtains for Mummy Bird' was go, go, go!! It turned into Operation 'New Curtains, New Towels, and New Bedding', so Read The Article

---

Dinner At The Devonshire Arms In Beeley We seem to have visited a few other sites on the Chatsworth Estate, so it was lovely to receive an invite to dine at The Devonshire Arms at Beeley; it's been a while since we were last here. As soon as Read The Article

---

Burgers With A Side Order Of Sass At Karens Diner, Sheffield 'Freaky Friday' feeling, anyone? I felt a bit like the Fresh Prince of Bel Air, except instead of 'my life got flipped, turned upside down' it was a case of 'my dining experience got flipped Read The Article

---

Dinner At Cocina Restaurant At Casa Hotel, Chesterfield Regular readers of the blog will know that The Man and I recently visited the Peak Edge Hotel for dinner, a venue owned by Chesterfield business man Steve Perez. Our latest outing saw Read The Article

---

Sharing A 40oz Tomahawk At The Galleon Steakhouse, Chesterfield We Brits are used to Bank Holidays being a let-down usually when it comes to the weather, so when the forecast was for (mainly) fine conditions it was a case of Read The Article

---