A Kings Breakfast At The Old Bell Hotel, Derby
---
Published On Friday 28 Feb 2020 by Sticky Beak
See Recent Dining Out Reviews | See All Recent Reviews


If you like your history and, more specifically, your historic buildings, then you will think you've died and gone to heaven (so to speak) when you come across The Old Bell on Derby's Sadler Gate. This Grade II listed building dates back to 1650 when it was constructed as a coaching inn, regarded as one of the finest outside of London.
In recent times The Old Bell has undergone a £1.3 million renovation, to preserve its natural charm and features for future generations to enjoy, whilst incorporating some more modern equipment into its kitchens and rooms. This iconic venue has no less than four functions rooms, three bars and The Belfry Restaurant, where The Man and I enjoyed a steak dinner a while back. On this occasion we had been invited along to try out their breakfast, served every Saturday and Sunday 9.30am-1pm.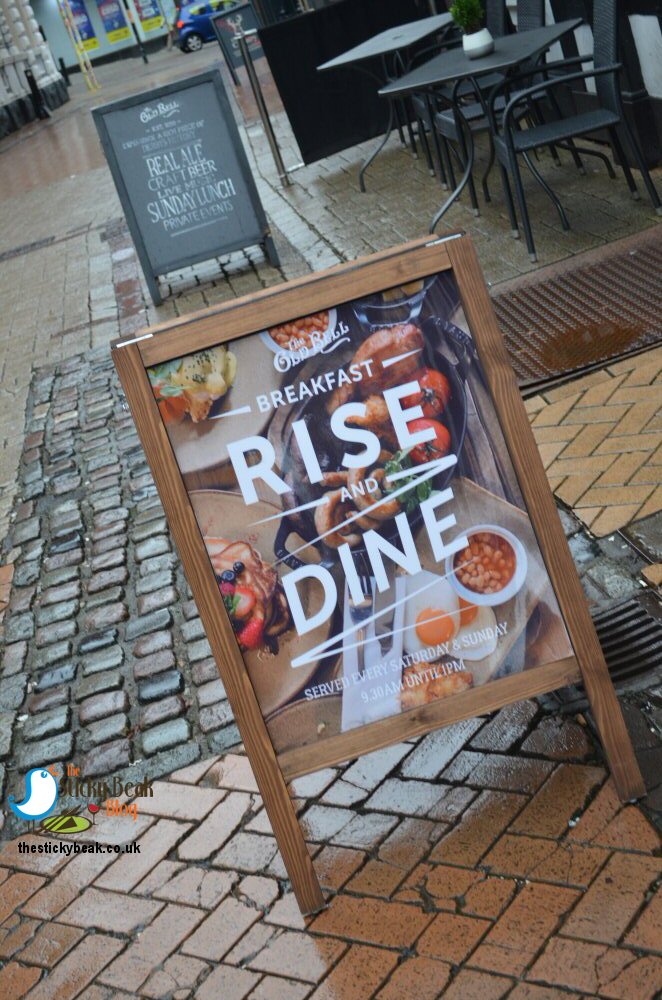 Mummy Bird came along with us as well as she'd got a few bits to do in the city, so we decided to make a day of it – cue shopping and a cinema trip (then a cheeky spontaneous dinner stop on the way home to the nest!).

Anyhow, back to the topic-du-blog; breakfast. The lovely young lady showed us to the table that had been reserved for us at the far end of the room – away from the door, thankfully, as storm Dennis was making himself known. As well as the traditional fry-up in meaty, veggie and vegan guises, there were creamed mushrooms, pancake stacks, Granola with Greek yogurt and fruit, toast and preserves, scrambled eggs on sourdough toast, and Eggs- Royale, Benedict and Florentine to choose from. When you've made your selection, all you need to do is go up to the bar and place your order – dead simple.
His Nibs was in the market for The Kings' Breakfast (aka The Show Stopper), I had the Scrambled Eggs on Sourdough Toast, and Mummy Bird had Eggs Benedict. Clearly, at £13.95 (4 quid dearer than its next rival), The Kings' Breakfast was going to be a belly buster, but even so, The Man wasn't expecting what got placed before him! A long wooden board bore not just a large metal skillet upon it; it also had a rectangular dish on it too.




The rectangular dish was home to a pair of fried eggs, two thick slices of sourdough toast and dish of butter, and a pot of beans; the skillet housed the Bacon Chop, a pair of Cumberland sausage rings, fried whole Mushrooms, a duo of homemade Potato rosti and a large triangular wedge of Yorkshire Black Pudding. His Nibs cut into the eggs and loved the richness of the yolks' flavour – it partnered the spiced Cumberland sausage beautifully.

Now I love Black Pudding as you know, but I don't think that even I could've finished the huge wodge that His Nibs had by myself! It did taste blooming good though; rich, deep and earthy, with a lovely seasoning to it, so there was no complaint from me as The Man passed half over to me.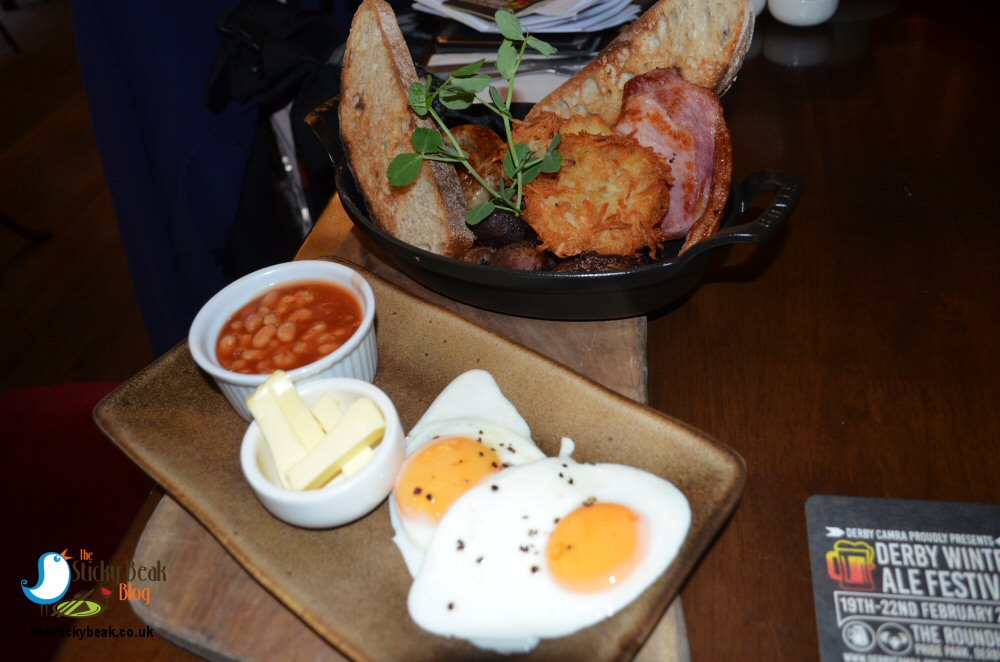 Given the amount of oohs and aahs coming from The Man, I think I'm safe in saying that it was the Bacon chop that stole the show for him. More akin to Gammon than Bacon, thanks to its thickness, the chop was also slightly saline (like Gammon) but with a lovely sweetness to it as well. As well as being thick, the Bacon chop was also a decent-size overall, so plenty to satisfy the heartiest of appetites.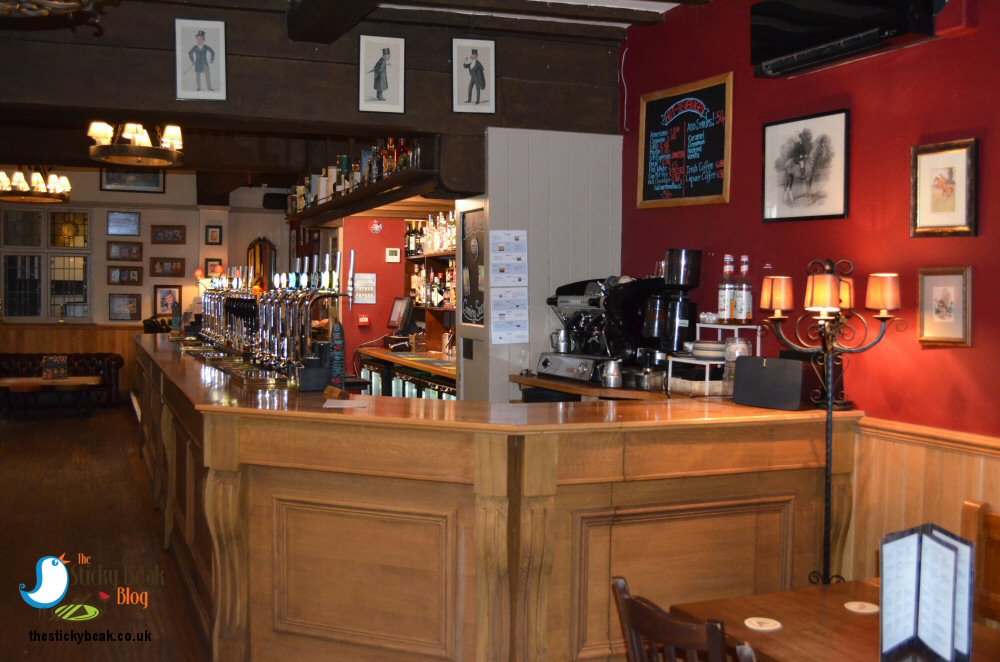 Needless to say, the Mushrooms all found their way onto my plate and I gobbled them up very happily. I didn't get even a sniff of the crisp Potato Rosti's though; what I did get was a very smug account of their deliciousness – yeah, cheers for that fella! Tomato and beans are pretty standard items on any plate; to be fair you've got to go some way to cock them up (even I can grill tomatoes and cook beans!), and chef did a more than ample job with the ones served to The Man. We all agreed that the sourdough had got a fab tang to it, indicative of a great example of this type of bread.




Mummy Bird was chowing down happily on her Eggs Benedict; the eggs had been softly poached to sweet, rich, creamy perfection and their taste flowed freely in her mouth. A fresh English muffin has a beautiful taste that just pairs sublimely with yummy eggs and, on this particular occasion, with top quality butchers' Ham too. Mummy didn't just get a single piece of Ham either; there was a nice trio of sweet tasting slices for her to really tuck into.Priced at £7.95, my Mummy Bird said this was a fair price to pay, given the quality and quantity of the food on her plate, and trust me she would be the first to say if she'd thought it was over-priced!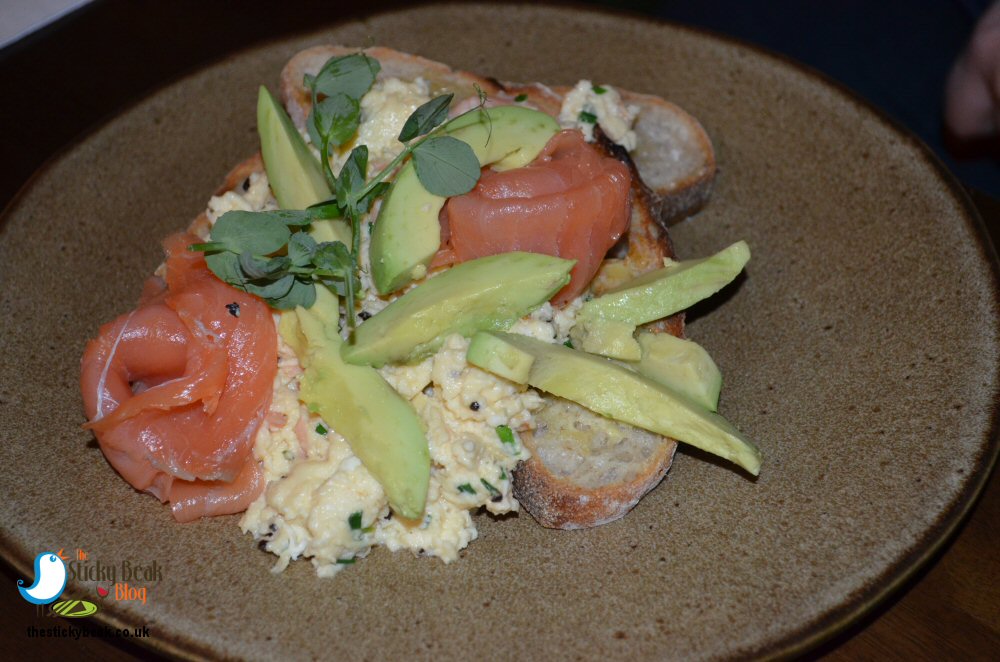 I was torn between having the vegan breakfast at £9.95 or having Scrambled Eggs on Sourdough toast. The basic version of the Scrambled Eggs is £4.95, and you can add Bacon or Avocado for an extra £1.95 each, or add Salmon for £2.95. I ended up tossing a coin to make my decision, and the scrambled eggs won, so I upgraded by adding both the Salmon and Avocado options.

The softly scrambled eggs were flecked with verdant herbs and had been superbly seasoned to give them a little interest on the palate. I would say that there was at least 3 medium-sized eggs in this dish, so it was very satiating – even more so when you factor in the protein-rich Salmon and healthy fats in the Avo! The Salmon was soft and succulent, and had been very prettily fashioned into loose rose shapes to give a bit of visual appeal. I really enjoyed every mouthful of this morsel, and it would certainly keep me going until dinner-time later in the evening.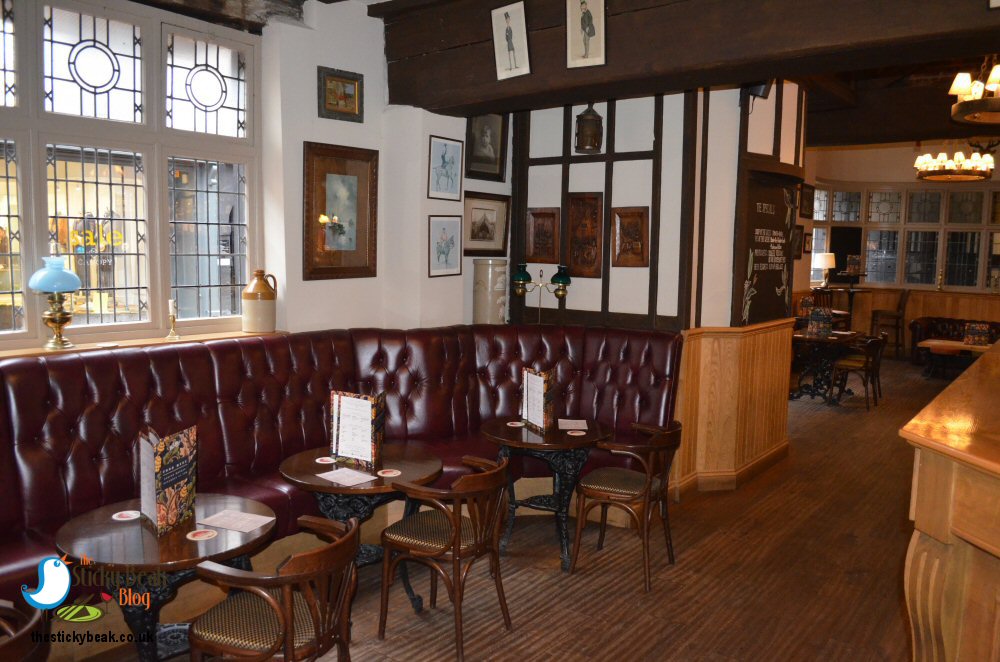 We all had a couple of coffees to go with our breakfasts and at The Old Bell Hotel, Derby they serve a superbly rich roast; not bitter at all ,and with plenty of oomph to it that we all need to rev us up in the morning.Lattes are £2.65, Americanos £2.50.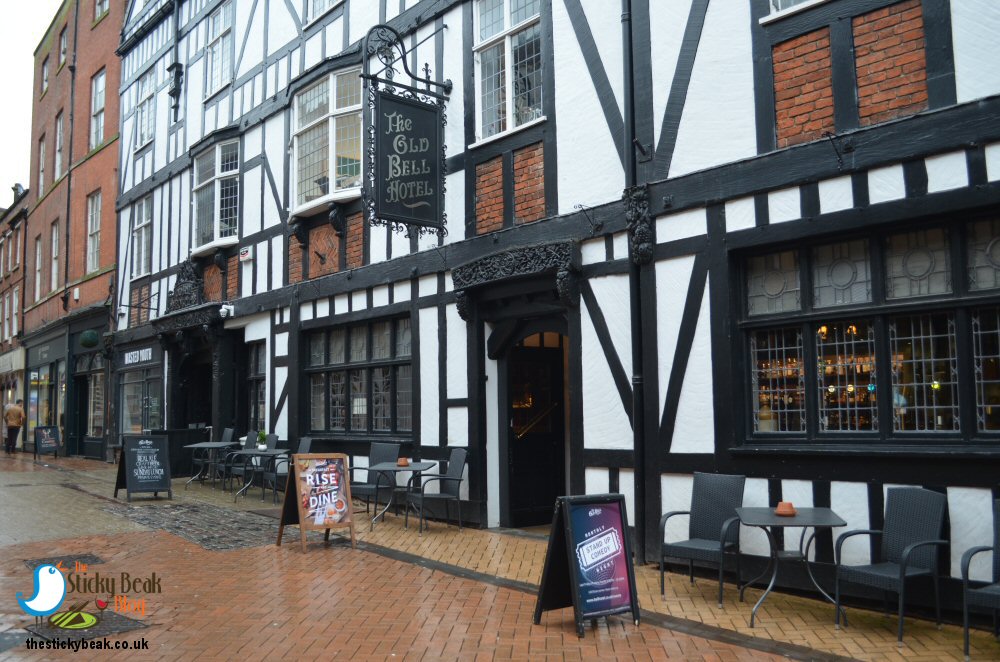 There are some fab places in Derby to have breakfast, but I've got to say that we all thought the ones at The Old Bell were up there with the best, so definitely pop in and sample their wares for yourselves. The team also serve food at lunch and in the evenings too; there's everything from sandwiches and wraps, to burgers, fish pie and good old bangers and mash – so something for everyone.

Hot Wings given here, 100%.
Some form of incentive was provided to visit this venue
read more