Sunday Lunch At The Dining Room At 121, Derby
---
Published On Sunday 23 Feb 2020 by Sticky Beak
See Recent Dining Out Reviews | See All Recent Reviews


You may recall that The Man and I were invited to check out The Dining Room at 121 when it first opened; we had a superb dinner there, so we were thrilled to be invited back by the owner (and Head Chef) Simon Bates, to try out their Sunday Lunch. As you can imagine, there was no thinking time needed – my keyboard was on fire with the speed at which I replied "yes, please"!
Storm Ciara was in full flow but our trusty old jalopy got us safely to Derby, albeit a tad slower than usual, but better to be late than never arrive as my Granddad used to say. As it was, we still managed to rock up 5 minutes before the doors officially opened at Noon, but the lovely young chap let us in and got us seated in the warmth at our table.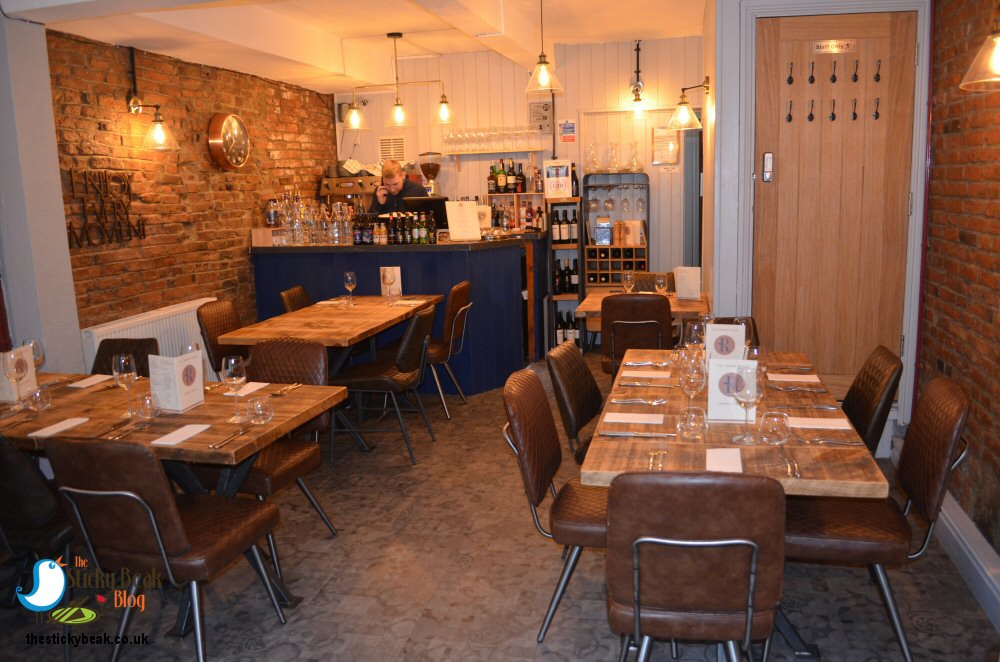 We were soon joined by other groups of diners that included a family with an older child, and I noticed that there are highchairs available for teeny diners. Nice to see that gourmet dining doesn't come at the exclusion of nippers; respect to you, Simon, for this decision. As well as couples, there were also groups of friends keen to enjoy the ambience and food at The Dining Room 121.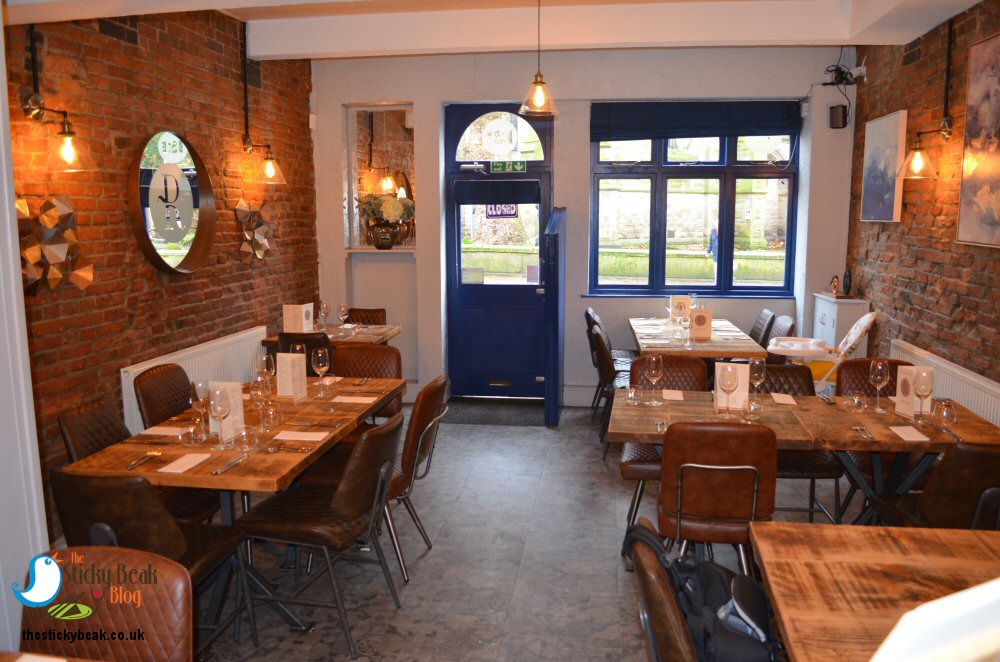 As you would expect from a quality establishment, there is a jolly good selection of wines, lagers, beers and spirits to choose from, with a pleasing selection of English-produced options available. I opted to have a glass of red wine; The Man had a lager from Curious Ales' range, and we were offered a chilled bottle of water for the table which we accepted gratefully.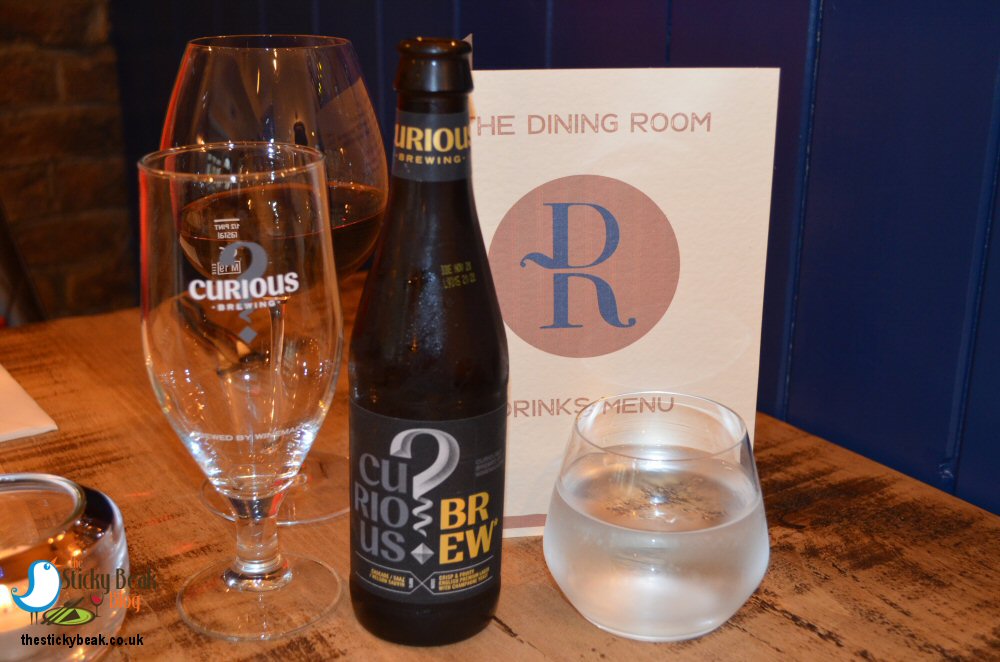 Some of my fellow diners had ordered bottles of red wine rather than just a glass (I was being good due to going to the cinema afterwards and not wanting to fall asleep!), and these were being decanted into bell bottomed vessels to let them breathe; a very nice touch, and one that you don't see very often now.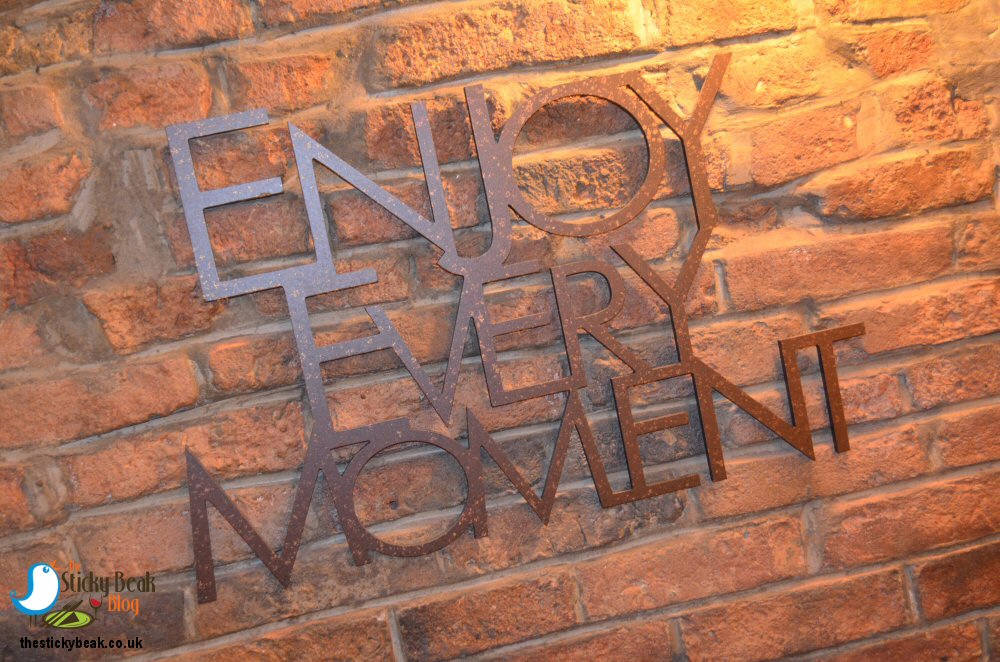 In common with a lot of venues, Dining Room 121 lets you choose from 1, 2 or 3 courses for your roast lunch, priced at £13.95, £16.95 and £19.95 respectively. No surprise that His Nibs and I were going all in – well they say 'go hard or go home', don't they?

The Man Bird chose Beer Braised Potted Beef Brisket with pickles, English mustard mayo and house baked bread to start, and I fancied the Creamy Garlic Mushrooms with Stilton and house baked bread. Both of these can be made as a gluten free option if required. I had thought that Him Indoors might've gone for the soup of the day, which was Tomato and Basil on this occasion, but he couldn't resist the brisket!




As well as traditional Beef, Lamb or Chicken, Chef Simon also offers a Catch of the Day option and Spiced Paneer with Aloo Gobi, Onion Bhaji, Onion Pickle and Minted Yoghurt for those that want to go 'off piste' so to speak. The catch of the day was Monkfish with Chorizo Orzotto and Squid Ink Mayonnaise on this particular Sunday and believe me, I had to do a silent 'eeny-meeny-miny-mo' to choose!

In the end, the Derbyshire Lamb Rump won out for me, and The Boy Wonder had his usual Beef (Derbyshire Beef Striploin this day); both dishes come with roast potatoes, roast root vegetables, seasonal veg, Cauliflower Cheese (yes!!!), stuffing, pigs in blankets, Yorkshire pudding and pan gravy. You can also indulge in more sides if you wish: Chips, seasonal veg, glazed pigs in blankets, house baked bread and dips, olives and garlic and rosemary mash are all priced at £2.95.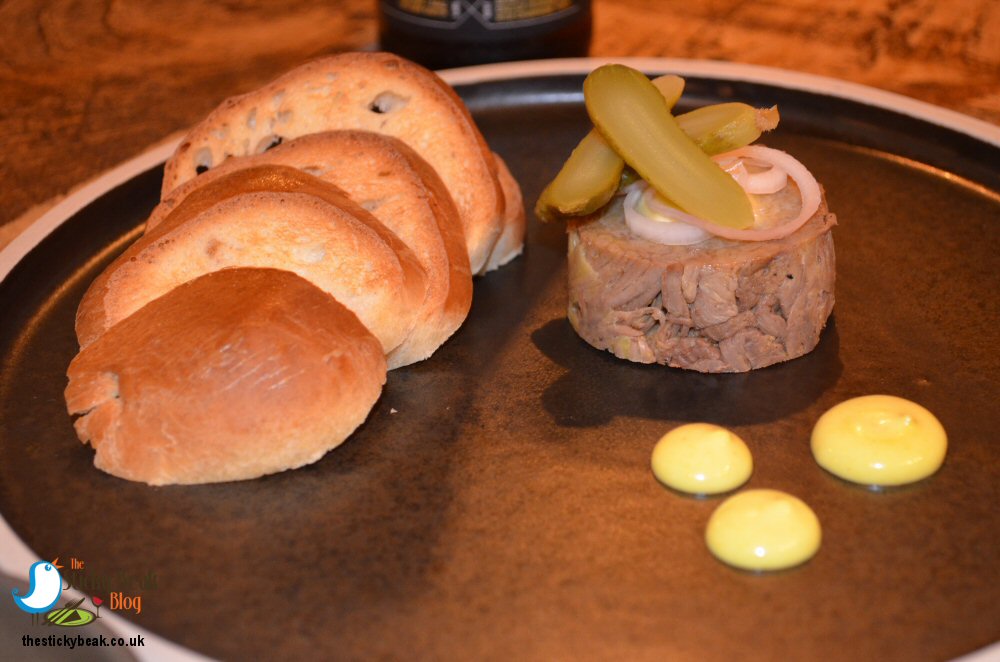 With the ordering formalities dispensed with we sat back and settled in, chatting and catching up about the week we'd had, and it wasn't long before our starters were being placed before us. Our lovely server had arranged additional cutlery for our starters, so everything was in place for us to go ahead and enjoy, other than deciding which butter to have with the bread – we chose the Smoked Paprika version. Literally a nano-second after he'd taken the first mouthful of his potted Beef Brisket, His Nibs let out a gentle sigh of contentment and grinned happily.

The beer braised meat was superbly soft, succulent and sweet, melting almost instantly on the tongue, and it had needed no pressure at all from the cutlery to come apart in tempting ribbons. In contrast to its softness and sweetness were the slices of piquant, green baby Gherkins that made the palate sit up and pay attention. Thin slices of toasted bread gave a fab textural element to this starter, and I defy anyone not to fall in love with the Paprika butter that Simon serves; it has a lovely sweet, smoky, spicy character that just has you swooning. It's the simple things folks, I always say it.




My Creamy Garlic Mushrooms were little nuggets of joy, simple as that! Teeny tiny button Mushrooms released their gentle earthiness onto my palate and a nudge of sweetness said hello, too. I do love cheese, and the Stilton had melted on the mushrooms and seeped into the creamy garlic sauce, making it even more delicious. It was surprisingly light, not cloying or heavy on the tummy and it's fair to say that I was happier than a piggy in doo-dah. I used the soft bread to soak up any last vestige of sauce left; there was absolutely no way that any of it was going begging!

The lovely chap came to clear away our plates, and then returned to lay fresh, thick napkins and serrated meat knives down at our places. By this point, lunch service was well under way and the smells emanating from the kitchen drifted into the dining room, making everyone's nostrils quietly twitch.




Both cuts of meat were served pink; the beef Striploin was perhaps the pinker of the pair and although there was no blood at all, His Nibs had to do a double take to make sure. Therefore if you really have an aversion to pink meat, I would perhaps request that your cut is given a little more cooking. Flavour-wise the Striploin was absolutely to die for; succulent, tender, mildly sweet and melt-in-the-mouth. Honestly, The Man couldn't praise its taste highly enough.

My Lamb rump was just glorious, with a wonderful sweetness and juiciness to it that came in part from the layer of fat at its edge. A lot of folks shy away from fat and trim every last scrap off, but you have to keep some of it on to preserve the meats' moistness whilst cooking or you end up with a dry, shrivelled specimen that's only fit for the dog. If you don't like fat (and lots of people don't) then just cut it away and pop it to the edge of your plate – simple.




On the plates with the meat were shredded Savoy cabbage, Broccoli, roasted Parsnips and Carrots – all of which were superb, uber-crispy roasties and perhaps the Carlsberg equivalent of stuffing ball i.e. possibly the best in the world. The balls may not have been huge, but by gum were they amazing in their flavour! They had been fashioned using top quality sausage meat and seasoned beautifully before being cooked to give them a subtle crisp to their outer – honestly, I could've eaten Simon out of his kitchen when it came to these morsels.

The joy did not end there though, oh no, there was more to come – especially from one of the two additional bowls that were put on the table. I am partial to Cauliflower Cheese as you know, and I have to say that Chef Simon Bates does a totally stonking version at The Dining Room 121. I don't think it's an exaggeration to say that a visit to this Derby venue is worth it just for this treasure; the Cauli isn't soggy, the Cheese sauce is seasoned and tangy and the cheese crust on the top is perfection itself.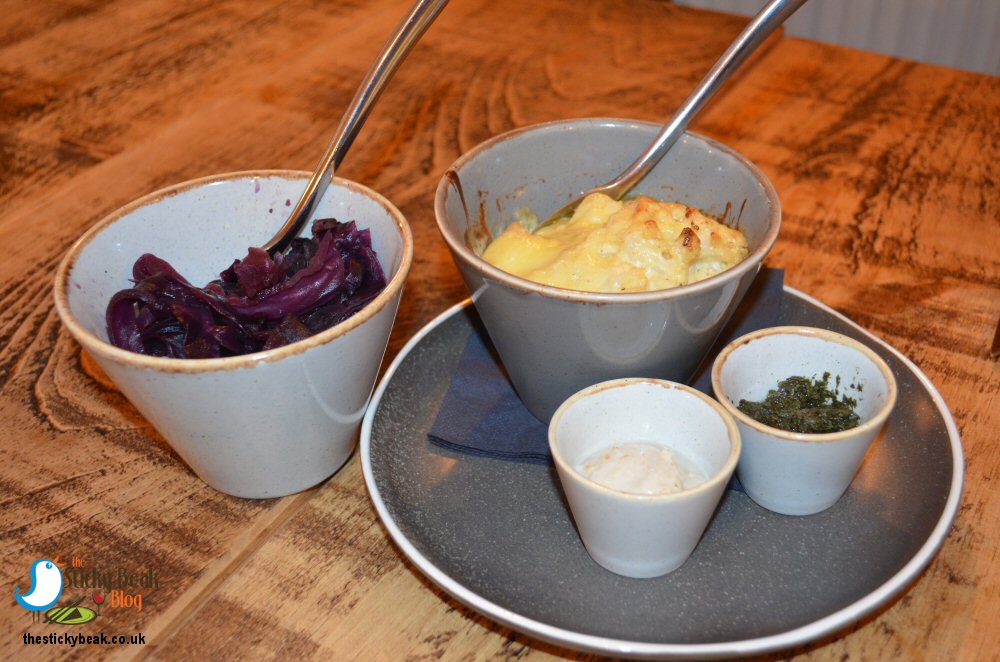 The other bowl contained braised Red Cabbage which is possibly one of my favourite winter vegetable dishes, and this was gorgeously soft (not soggy) and sweet. Unsurprisingly, we both gobbled this up swiftly! Recently on the TV there has been much made of the fact that we should eat colourfully, and Simon certainly had pretty much every colour of the rainbow covered with his Sunday lunch.

Dinky bowls of Mint sauce and Horseradish had also been served to us and my Mint sauce was fresh, fragrant and just a little bit tart – just as my mum used to make it at home. His Nibs didn't fancy any sauce with his Beef, so I had a tiny taste of the Horseradish and it was brilliantly hot on the tongue; zingy and fiery, but not in an eye-watering way.

All that remained was to decide which scrummy pudding to choose. I chose the Rhubarb and Ginger Cheesecake with Rhubarb compote and The Man had the Sticky Toffee Bread and Butter Pudding with Toffee sauce and Clotted cream. As before, fresh napkins were provided and our dessert cutlery was carefully placed next to us.




The key to a decent bread 'n' butter pud is its custard and let me just say that Simon is the man you want when it comes to making it; this was abso-ruddy-lutely fab, make no mistake. You can tell it was great, because I got the merest crumb of it to try! Plump fruit burst when bitten into, releasing its sweetness in the mouth and the custardy bread was delicious. A quenelle of Clotted Cream crowned it all and the Toffee sauce provided a dark golden lake around the pudding. Ah yes, the toffee sauce: this was rich and lightly smoky, and incredibly moreish. Chef clearly knows how addictive it is because there was an extra jug of on the side to help yourself to!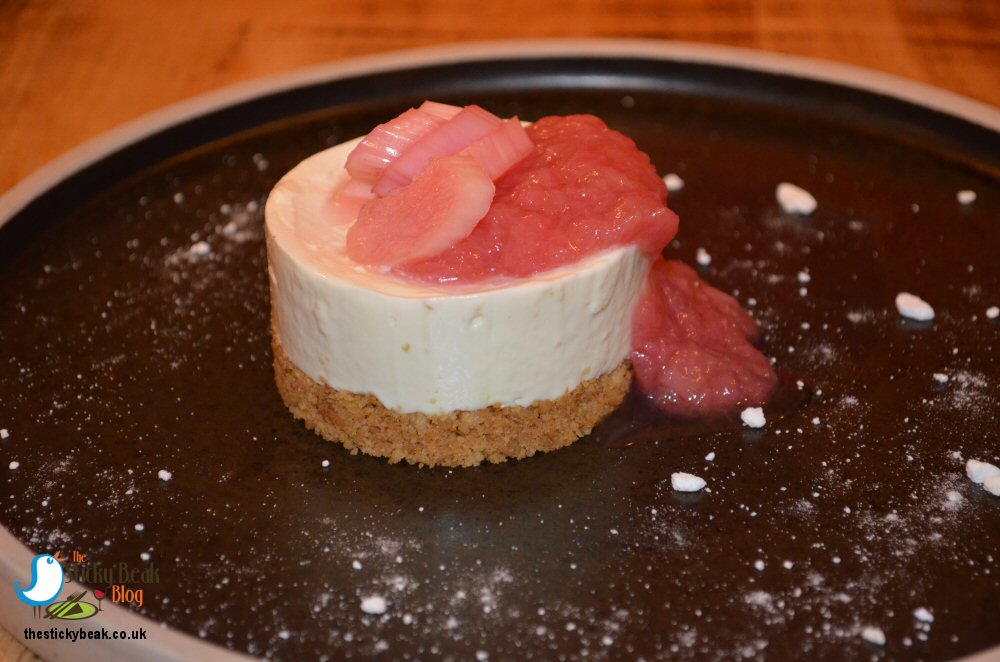 My cheesecake had a super crumbly biscuit base that cleverly had pieces of stem Ginger embedded within its golden folds, so that when I took a mouthful I got a wonderful surprise of Ginger's warmth in my mouth. The silky smoothness of the cheesecake body was that sublime consistency that melts slowly on the tongue and lingers for maximum enjoyment – something I took full advantage of! Delicately rose-hued slices of Rhubarb decorated the top of the individual cheesecake round alongside the compote, and they provided a real hit of the fruits' distinctive sweet/tart character. This was a smashing conclusion to what had been a top-notch Sunday lunch. Top marks, Chef!

Hot Wings happily given to The Dining Room 121 team. One thing worth noting is the fact that tables are strictly limited in number due to the size of the venue, so I would urge you to book ahead to avoid disappointment. To those that don't like planning too far ahead, I would say this: it's definitely worth it here!
Some form of incentive was provided to visit this venue
read more
Read Some Of Our Recent Reviews
---

Out For Dinner At The Bear Inn, Alderwasley If it's the full on, single track road, rural Derbyshire experience that gets your motor running, then the journey to The Bear Inn at Alderwasley will have you in joyous raptures. For those of you who are Read The Article

---

Lunch At The Recently Opened Chatsworth Kitchen At Peak Village, Rowsley Everyone who knows me, knows I love Chatsworth (always have, always will) so when the invitation to sample lunch at the newly opened Chatsworth Kitchen Read The Article

---

A Visit To Vietnamese Street Kitchen, Resorts World, Birmingham Way back in the day (pre-covid) Fledge had bought me and The Man Bird tickets to see Mrs Browns Boys live and finally, after a couple of false start reschedules, the day of Read The Article

---

Sunday Lunch, A Museum Tour & Painting A Piece Of Denby At Denby Pottery Village It wasn't long ago that His Nibs and I visited the Denby Pottery Village to sample the Afternoon Tea at Bourne's Coffee Shop and Bistro (it was superb Read The Article

---

Bottomless Brunch At Turtle Bay In Derby The timing of the invitation from the Turtle Bay team in Derby to go and sample their Bottomless Brunch couldn't have been better; not only was it going to be The Man Birds' birthday a couple of days later Read The Article

---

Afternoon Tea At Santo's Higham Farm Hotel & Restaurant Aaaaaarggggh, don't you love your children??!! A while back, His Nibs had spotted a great deal on Groupon (you know what a bargain hound he is!) and thought it would be Read The Article

---

Sunday Lunch At The Countryman Pub & Dining, Kirkby-in-Ashfield We finally got to visit a venue thats been on our radar for quite a while, The Countryman Pub and Dining in Kirkby-In-Ashfield! A few weeks ago we tried to book a table for dinner Read The Article

---

Dinner At The Divan Turkish Restaurant In Chesterfield Chesterfield was welcoming us back again for our latest review visit; this time to the newly opened Turkish restaurant, The Divan, on Lordsmill Street. Owner Tuncay (along with Read The Article

---

Breakfast At Marsh Green Farm Shop & Cafe, Kelstedge Ah, you've gotta love a Bank Holiday curve-ball, haven't you? His Nibs and I headed over to Mummy Birds' gaff with the intention of having a leisurely couple of hours at the Sunday Read The Article

---

Afternoon Tea at Bourne's Coffee Shop and Bistro, Denby Pottery Village You all know that The Man Bird and I do like an Afternoon Tea; I mean, who doesn't?! Just a few miles down the road from the nest is Denby, home to the world-renowned Read The Article

---