Cooking Steak On The Black Rock Stones At The Forge In Derby
---
Published On Sunday 19 Jan 2020 by Sticky Beak
See Recent Dining Out Reviews | See All Recent Reviews


It's been a fair old while since The Man and I were last at The Forge in Derby; in fact, it was when they were a burger house! In keeping with the unique surroundings of Blacksmith's Yard on Sadler Gate (where it's sited) The Forge has had a superb refurbishment to reflect its prestige location and new culinary direction.
Unfortunately the courtyard was looking a bit deserted, thanks to the cold winter weather, but on warmer days it's a hub of sociability with groups of people enjoying food and drink on its cobbles. Inside The Forge though, the hospitality was warm enough to banish any chill. The Bar is very well stocked and there's some stools here for those wishing to have a drink, and there's more relaxed seating at the far end of the restaurant too, for this purpose. The walls are painted grey and white, with these colours being reflected in the natural stone flooring. Floor-to-ceiling folding glass doors allow plenty of natural light in and keep the feel very modern (as well as providing much needed ventilation – more on that later!)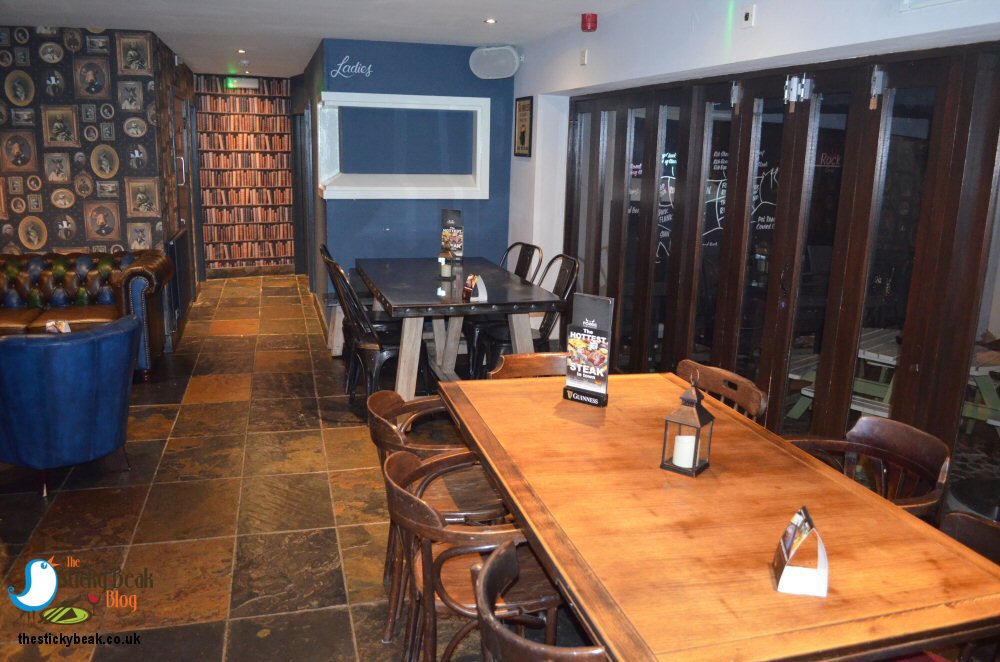 We were shown to our table and we ordered a glass of Malbec and pint of Estrella to enjoy whilst we looked at the menu. Whilst we were making our choices, one of the team brought over a jug of water with ice, lemon and lime in, and a couple of glasses. I always think this is a nice touch and should be pretty standard in any quality establishment, but you'd be surprised at how often you still have to ask for table water. Speaking of the table, it was a sturdy wooden model, simply set with a tea light in a holder and a serious steak knife; Croc Dundee would've swapped his blade for this bad lad, cos it was what you'd call a knife!! I loved the napkin-cum-bib that tied around your neck too, very handy for juicy steaks; there were also standard napkins at each place setting.




To kick our food journey off at The Forge we ordered Pill Pill Prawns (£8, me) and Halloumi Fries (£6, him), with the 8oz Fillet Steak and 12oz Rump Steak for our mains, priced at £25 and £14 respectively. As we waited for our food to arrive we took in the smells emanating from steaks served at other tables around us, and boy did they look good. It wasn't long before our starters arrived and we tucked in with our usual gusto.




My whole King Prawns were served in an earthen ware bowl and were bathed in a sea of warm oil infused with slices of cooked Garlic and Red and Green Chillies. Flakes of dried chilli were also within this oil and I was glad that there was plenty of bread in the form of lightly toasted, halved rolls to dip into it. The Prawns themselves were delicious; plump and super-succulent, with a velvety feel in the mouth. As you would expect, the oil was kicking - but not tingle-inducing, thankfully - and the garlic and chilli flavour was nicely rounded rather than harsh and jarring.




The Man Bird had opted for the Halloumi fries and these came served with a sweet chilli dip. His Nibs was mesmerised by their gorgeous caramel colour, wondering why his never turn out like that when he does them at the nest: um, that'll be 'cos you're not a pro Chef, buddy (and the fact that you just wang 'em under the grill, and leave them to their own devices for a few minutes!). These beauts were extra; lightly crispy, not at all greasy, and still nicely firm to the bite. The chilli dip had a nice bit of fire to it that popped brilliantly against the Halloumi; this was a fab starter.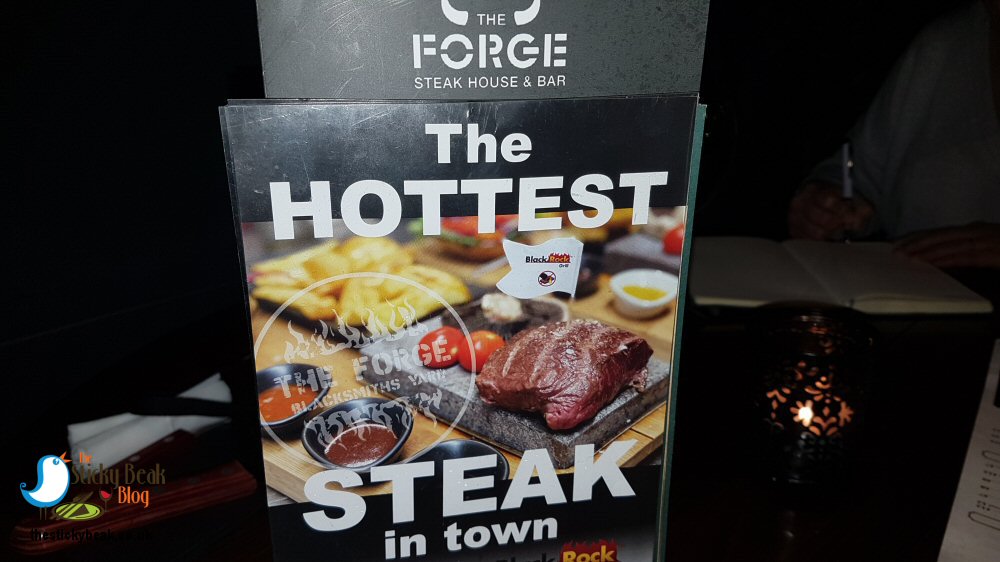 One of the unique features of The Forge is its use of Black Rock stones to cook the steaks and fish it offers to its diners. For those who don't know what Black Rocks are, let me enlighten you; they're volcanic rocks that venues can heat to 440 degrees C (!) and they are designed for individuals to use at the table. Depending on how you like your steak, they get started off in the kitchen by chef; I have mine rare, so my Fillet had literally just been sealed both sides and then I was left to do the rest. The Man goes more for medium/rare, so his Rump cut had been started longer on the Black Rock in the kitchen, and then it was up to him as to how thick he cut it and left it cooking. All the steaks at The Forge come with chips, Tomatoes, Mushroom and side salad, so you really don't need to order sides but I defy anyone not to love the Onion Rings if they have them – they're huge, super-crispy beasts and only cost £2.50!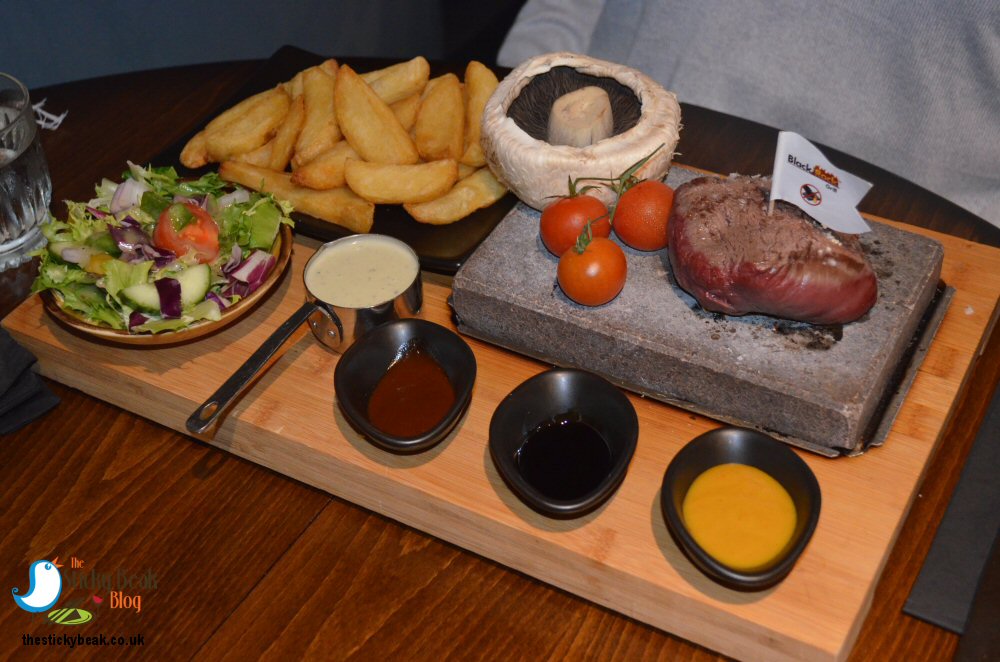 As you can imagine, the searingly high temperature of the Black Rock doesn't half make the meat sizzle, kicking up plumes of meaty-smelling steam that soon fills up the restaurant – especially when it's coming from different tables. The cumulative effect of this sizzling created a discernible haze as the evening wore on, a bit like light sea fog, so I called it 'meat-fog'! Be prepared to have a whiff of eau-de-steak about you, which you'll notice when you step outside, so perhaps don't dress up in your poshest frock to dine here (but still go smart, you're out for dinner for goodness' sake!).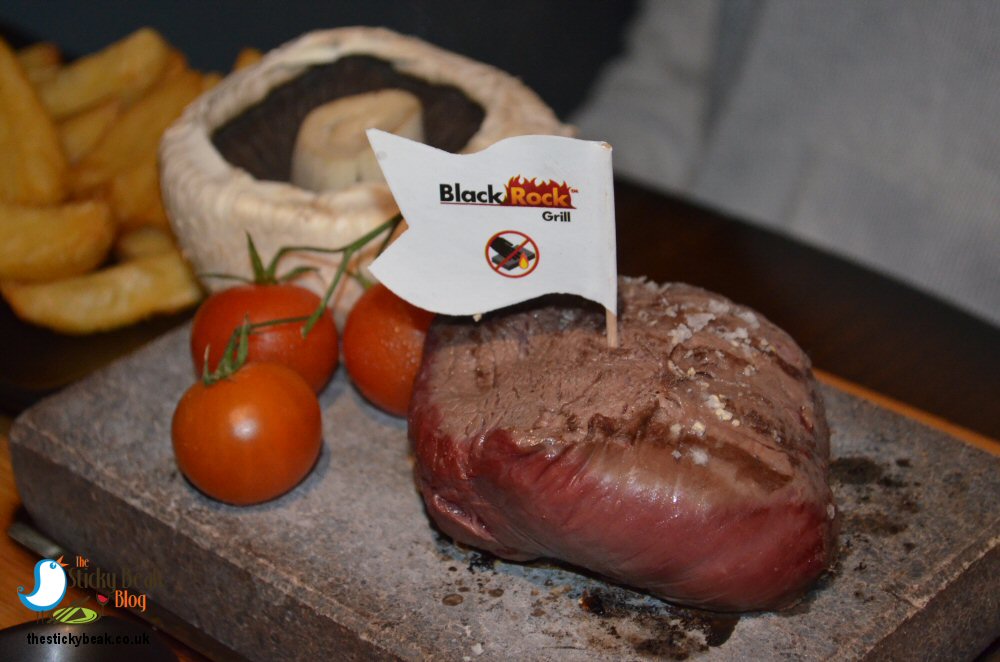 Owen Taylor 's and Son supplies the meat, so you know it's going to be a good bit o' beast, as my granddad would've said. My fillet was a stunning piece of meat, the supermodel of the beef world if you will, and its taste and texture was beyond fault; every sliver was a joy to savour as it melted on my tongue. The Man Birds' Rump steak was just as superb; it had a marvellously rich flavour to it that will take any carnivore to meaty paradise. This was a beautifully lean piece of rump, its fat in a layer at the edge that slowly melted as it cooked on the Black Rock, resulting in a moist, flavoursome morsel for The Man to devour. We were both gob-smacked at the fact that this 12oz totally delicious, meaty marvel was only £14 – this has got to be one of the best deals we've ever clapped eyes on. Go get it peeps!!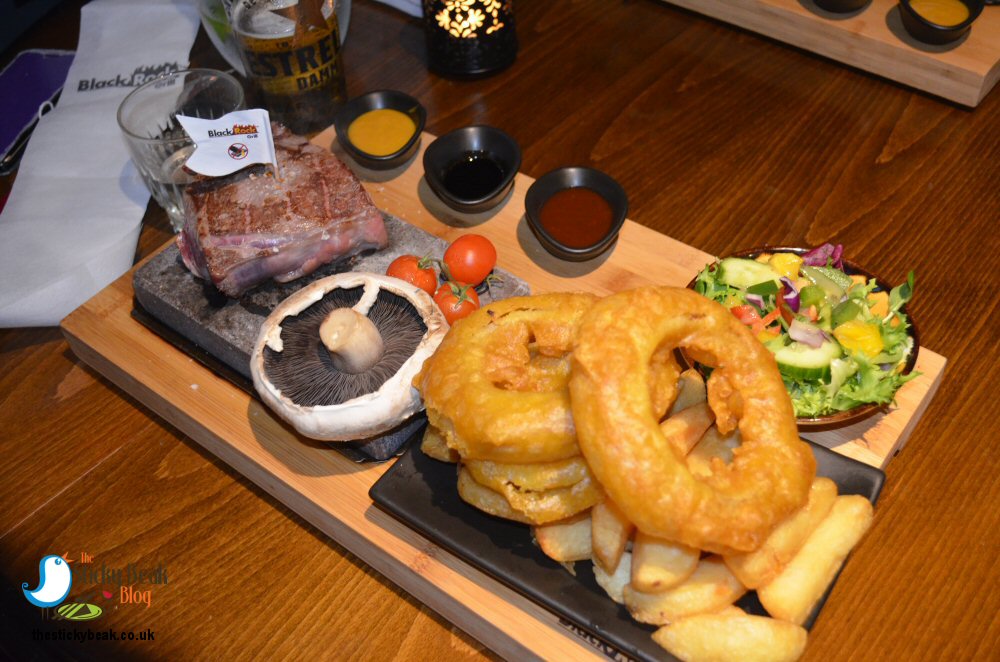 The whole field mushroom and baby vine tomatoes happily cooked away on the stone, charring nicely as they did so. The chips were also gorgeous with their crisp outers and fluffy inners, and one thing that I think is smashing is the fact that you can pop them onto the stone if you've left them until the end of your meal and they'll heat up nicely again. Genius!!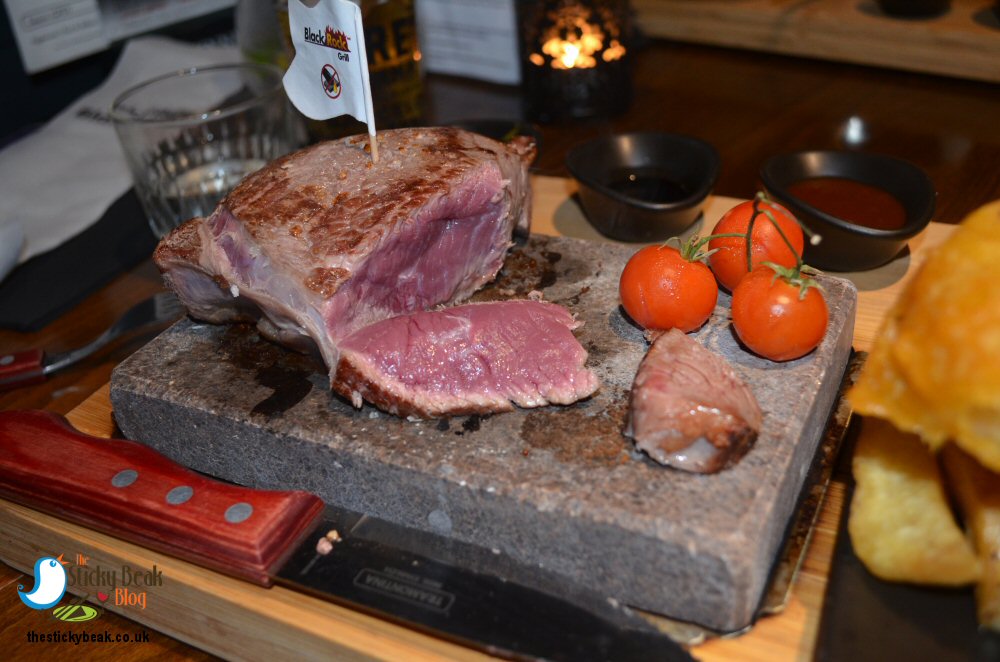 Given all this heat, it was lovely to crunch into the coolness of the side salad that was comprised of mixed leaves, cucumber, tomato, peppers and red onion. All the elements had been delicately coated with a tangy dressing so just zhuzh it up a bit, and it was a great accompaniment that both of us liked.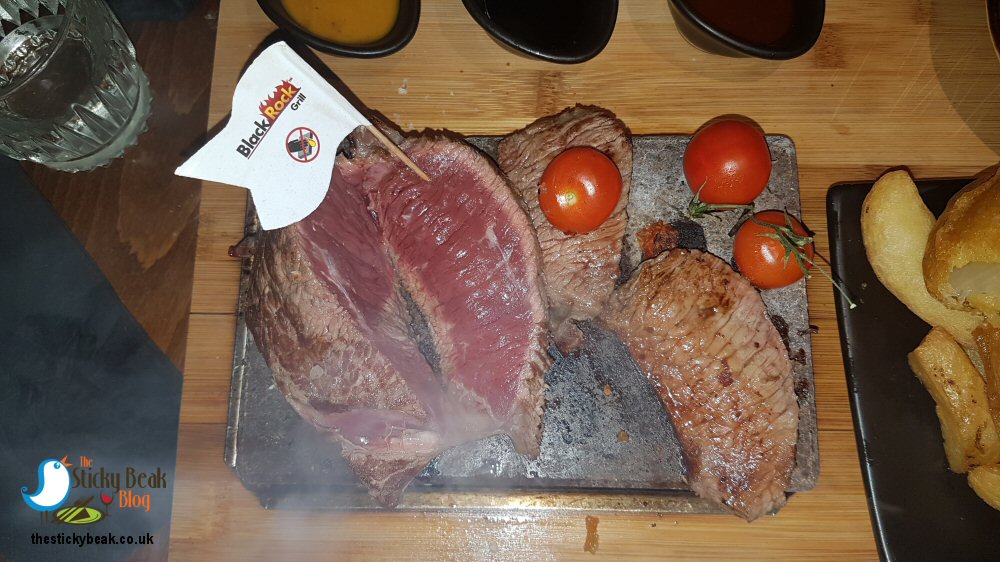 Throughout our meal, the team had kept checking that we were ok with the food and seeing if we needed any drinks. I've got to say that I can't single any individual out, they were all excellent in their customer care and really did work in harmony with one another.

By their own admission, The Forge doesn't shift an awful lot of desserts, which is a shame because they have a really good selection. I spotted Sherry Trifle on the dessert menu, and there was no way I was passing this opportunity up – so I ordered that for my pudding! The Man Bird was going to let the team down until he spotted the Mars Bar Cheesecake; as a total chocoholic he couldn't resist its lure.

My trifle (£6) was a very arty interpretation of this classic pud, presented as a precise disc of deliciousness. At the bottom was a super-light sponge, in the middle of which was fruit compote encased by very moreish set vanilla custard. This then had a cream layer and more of the fruit compote to crown it all. Fresh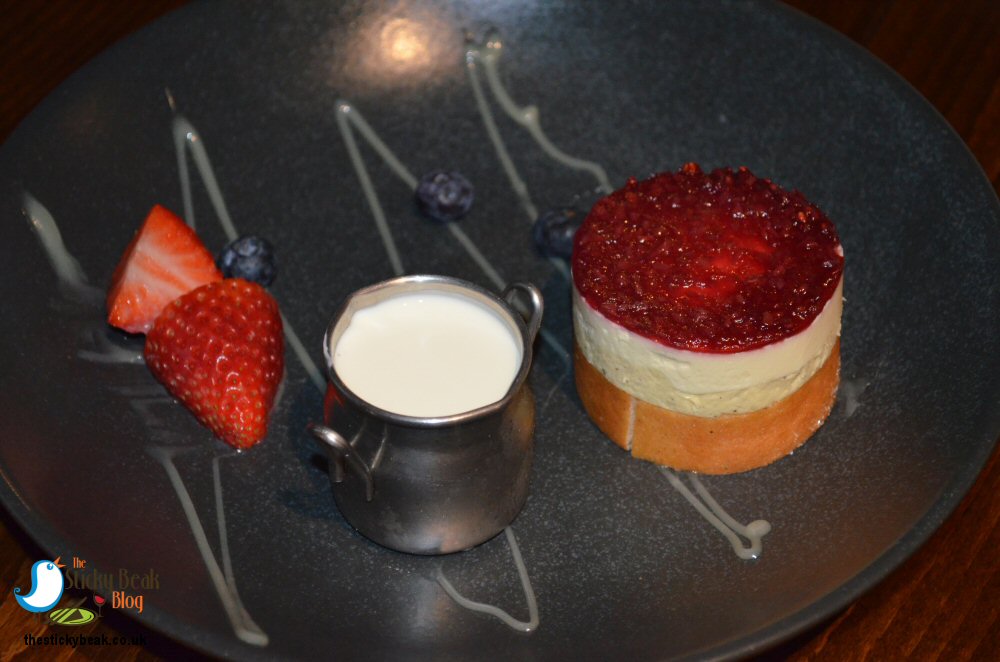 Strawberries and Blueberries came with this, ramping up the fruit factor rather nicely. I greedily had pouring cream with the trifle, and this came in a separate miniature milk churn so that I could add as much as I wanted.

His Nibs was almost bouncing off his chair in delight when he saw the Mars Bar Cheesecake! A light biscuit base was laden with a heavenly mix of cream cheese and chocolate that a superb tang to it (not just sweet, as you would imagine it to be) that coated the mouth gently, letting the recipient delightfully cling on to it for a smidge longer. This was topped with a chocolate caramel layer, decorated with a slice of Mars Bar for extra indulgence and then served with swirls of impossibly rich caramel sauce. To quote my hubster: "this was a belting dessert!"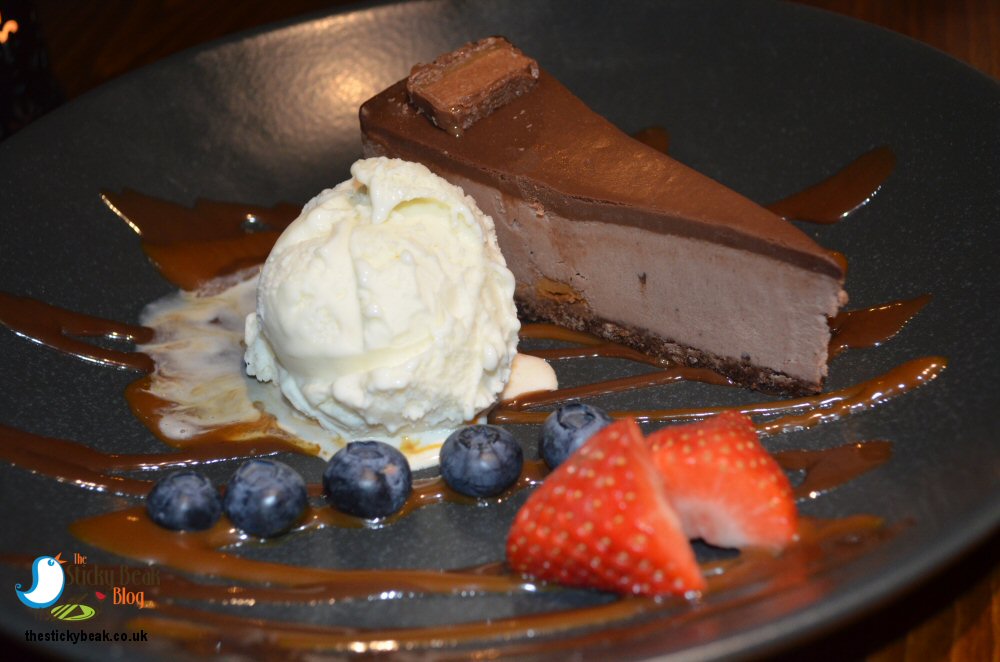 As well as the excellent selection of steaks, The Forge also has fish options to cook on the Black Rocks: Tuna, Salmon and 'Catch of the Day', whatever that happens to be on that particular day. If you don't fancy steak or fish there's also a choice of pies you can have (including veggie), fish 'n' chips, and 5-bean chilli – obviously these options aren't cooked on the Black Rock!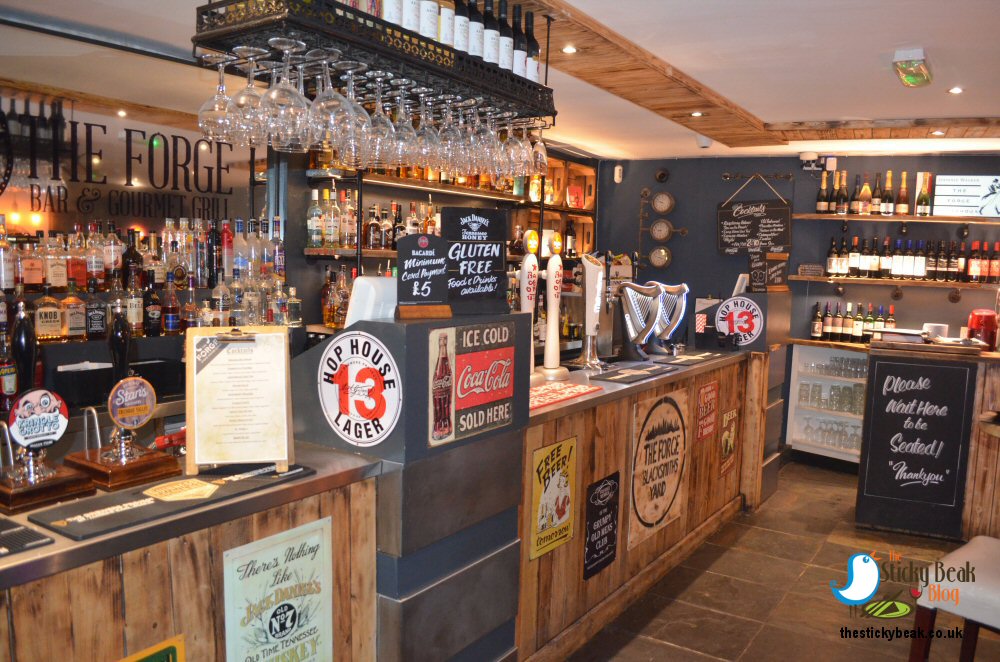 The Forge is closed on Mondays, but food service is Noon-2.30pm and 5-9.30pm Tuesday-Saturday, and Noon-7pm on Sundays. The opening hours are longer for general drinks though; 11am-1am Tuesday-Saturday, and 11-Midnight on Sunday.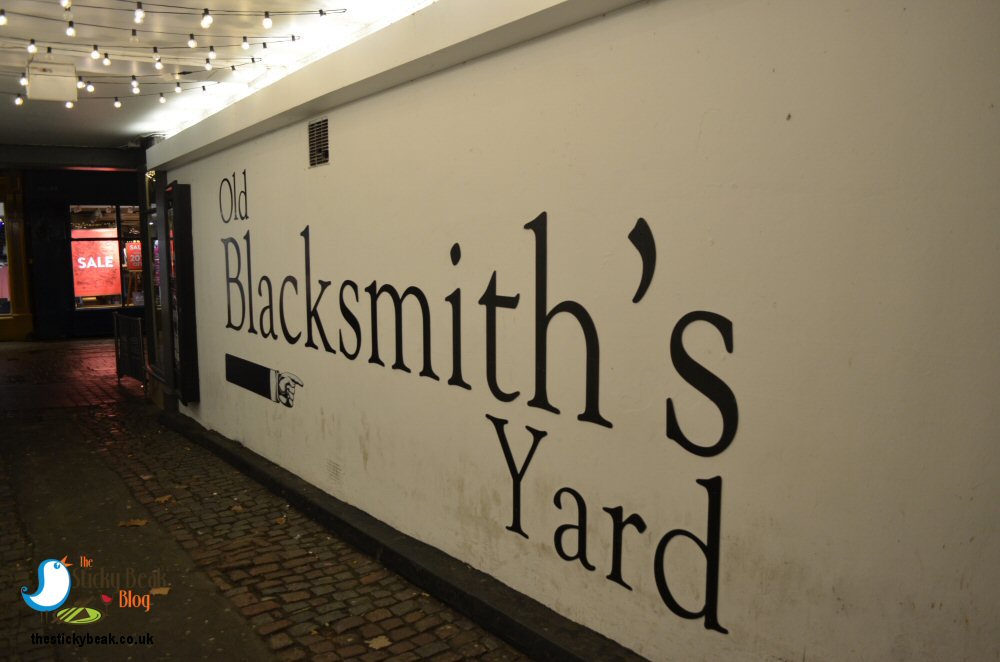 Hot Wings given here without hesitation, we were absolutely buzzing when we came out. I have a feeling that given how busy it was on the Thursday evening we went, and the fact that Friday and Saturday are the peak days for eating out, that The Forge is going to be the hot place to eat (no pun intended!) ; you heard it here first folks. Derbeians, you've got yourselves an utter gem here.
Some form of incentive was provided to visit this venue
read more
Read Some Of Our Recent Reviews
---

Out For Dinner At The Bear Inn, Alderwasley If it's the full on, single track road, rural Derbyshire experience that gets your motor running, then the journey to The Bear Inn at Alderwasley will have you in joyous raptures. For those of you who are Read The Article

---

Lunch At The Recently Opened Chatsworth Kitchen At Peak Village, Rowsley Everyone who knows me, knows I love Chatsworth (always have, always will) so when the invitation to sample lunch at the newly opened Chatsworth Kitchen Read The Article

---

A Visit To Vietnamese Street Kitchen, Resorts World, Birmingham Way back in the day (pre-covid) Fledge had bought me and The Man Bird tickets to see Mrs Browns Boys live and finally, after a couple of false start reschedules, the day of Read The Article

---

Sunday Lunch, A Museum Tour & Painting A Piece Of Denby At Denby Pottery Village It wasn't long ago that His Nibs and I visited the Denby Pottery Village to sample the Afternoon Tea at Bourne's Coffee Shop and Bistro (it was superb Read The Article

---

Bottomless Brunch At Turtle Bay In Derby The timing of the invitation from the Turtle Bay team in Derby to go and sample their Bottomless Brunch couldn't have been better; not only was it going to be The Man Birds' birthday a couple of days later Read The Article

---

Afternoon Tea At Santo's Higham Farm Hotel & Restaurant Aaaaaarggggh, don't you love your children??!! A while back, His Nibs had spotted a great deal on Groupon (you know what a bargain hound he is!) and thought it would be Read The Article

---

Sunday Lunch At The Countryman Pub & Dining, Kirkby-in-Ashfield We finally got to visit a venue thats been on our radar for quite a while, The Countryman Pub and Dining in Kirkby-In-Ashfield! A few weeks ago we tried to book a table for dinner Read The Article

---

Dinner At The Divan Turkish Restaurant In Chesterfield Chesterfield was welcoming us back again for our latest review visit; this time to the newly opened Turkish restaurant, The Divan, on Lordsmill Street. Owner Tuncay (along with Read The Article

---

Breakfast At Marsh Green Farm Shop & Cafe, Kelstedge Ah, you've gotta love a Bank Holiday curve-ball, haven't you? His Nibs and I headed over to Mummy Birds' gaff with the intention of having a leisurely couple of hours at the Sunday Read The Article

---

Afternoon Tea at Bourne's Coffee Shop and Bistro, Denby Pottery Village You all know that The Man Bird and I do like an Afternoon Tea; I mean, who doesn't?! Just a few miles down the road from the nest is Denby, home to the world-renowned Read The Article

---