Dinner At The Recently Opened Bear in INTU Derby
---
Published On Wednesday 6 Nov 2019 by Sticky Beak
See Recent Dining Out Reviews | See All Recent Reviews


As you know, The Man and I are fans of the great coffee and atmosphere that epitomises BEAR on Irongate in Derby's Cathedral Quarter, and have visited on a few occasions. We were thrilled to hear that founders Craig and Michael had opened their fifth venue in the hustle and bustle of Derby's Intu Centre, and even more thrilled to be invited along to sample some of their food too!
Mummy Bird and her friend (known as our Honorary Flock Member, HFM) came along with us for an evening bite to eat – perfect for HFM as she works in Derby anyway. BEAR have a knack of creating cosy, inviting spaces that lend themselves perfectly to relaxed, sociable experiences and the Intu location has been given their signature treatment. There are several sections to sit in, which gives the venue a more homely, welcoming feel rather than it just being one vast open space; we were seated at one of the side booths. The vast bar area takes centre stage and wherever you sit, you can see the baristas at work.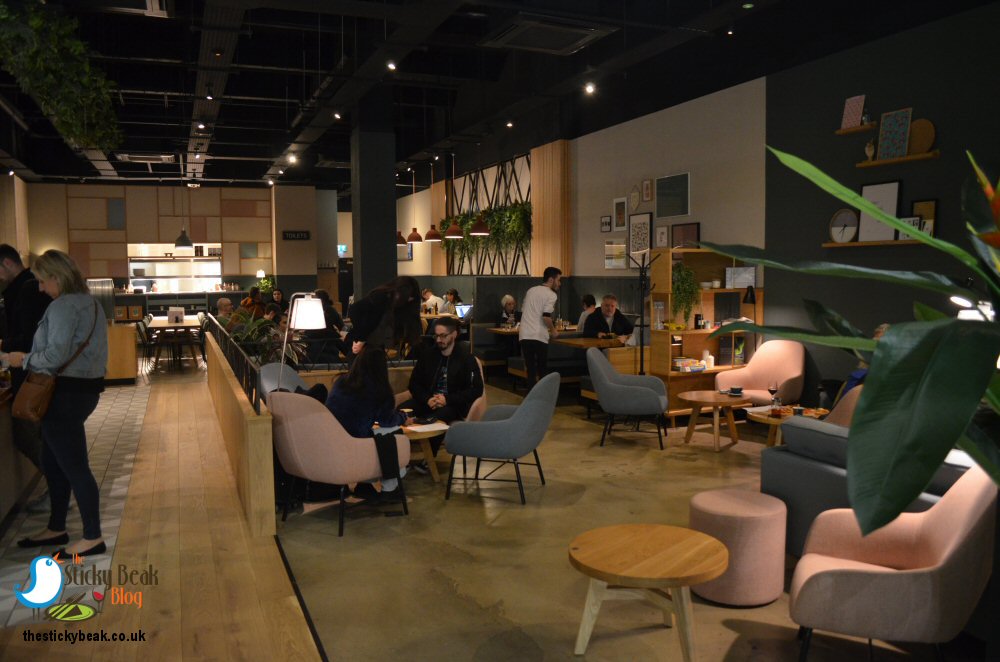 Before we got down to ordering food, His Nibs, Mummy Bird and Me had a coffee as we waited for HFM to finish up at work and join us. I'd had a quick look at "the evening social" menu and liked the look of the Leban-easy Flatbread, and Mummy Bird fancied the Chicken Schnitzel. As per usual, The Man was umming and aahing between a couple of options, but had decided that he was going to order the Mezze board for the four of us to graze on whilst HFM and him made their minds up.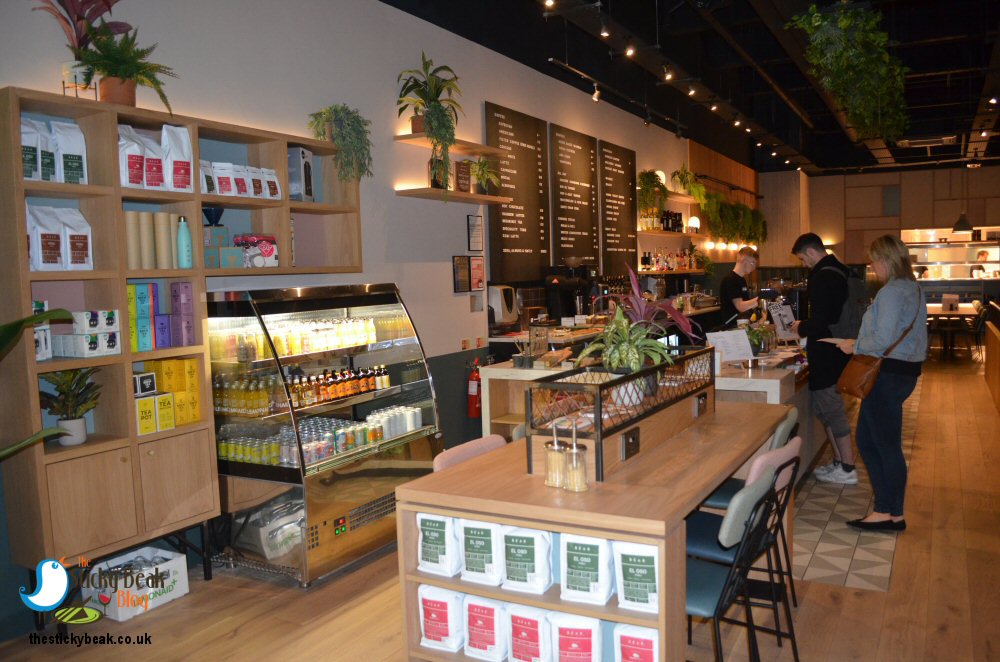 HFM finally made it away from work and we wasted no time in ordering some drinks: large Pinots for HFM and Mummy Bird (£6.20 each), a large Malbec (£6.70) for moi, and a pint of Freedom Pale Ale (£4) for The Man. His Nibs and I glugged away happily at our beverages, but HFM and Mummy Bird had to request their white wine to be colder; not a problem, this was soon done for them.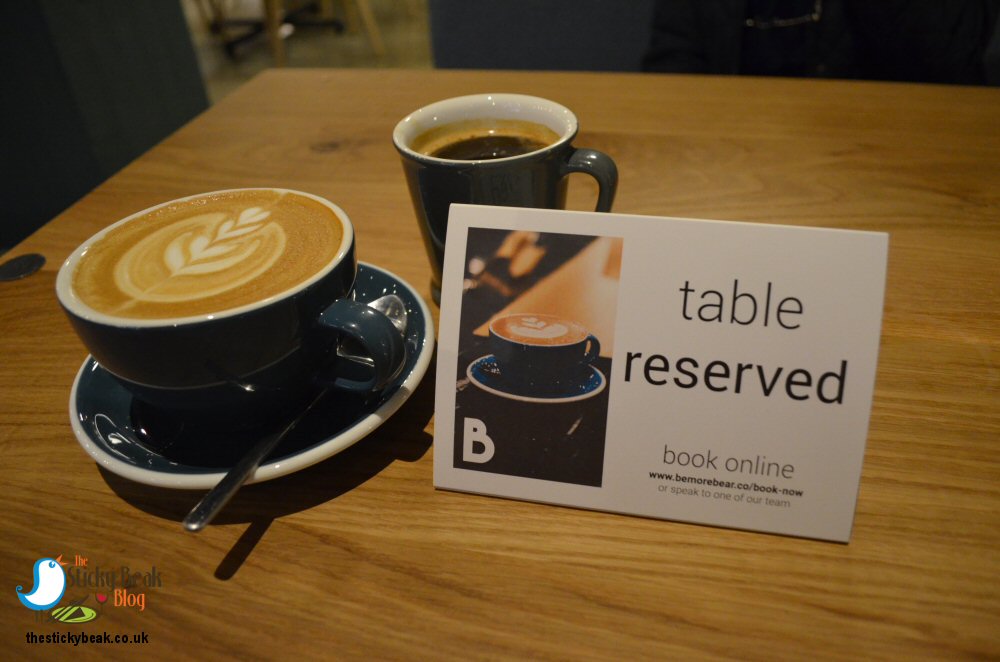 We ordered the Mezze Board (£10) and began tucking into the selection of Olives, semi-dried oak-smoked Tomatoes, Hummus and house made Dukkah, served with twice baked Sourdough; we also added some Chorizo to the Mezze for an extra £2.50. As we were nibbling, we ordered our mains: Leban-easy for me, Chicken Schnitzel for Mummy, His Nibs had the Big 'Ol Burger and HFM had the Sweet Potato Schnitzel.

The twice-baked Sourdough was lovely and crisp, not too hard though, and provided the perfect platform on which to slather the creamy Hummus (and augment it with a bit of the piquant Dukkah ). I loved the smoky note of the semi-dried Tomatoes, it came through very nicely; not too much as to overwhelm the sweetness of the Tomatoes, but enough to be savoured in its own right.




Everyone commented on how delicious the Chorizo was; it wasn't overly spicy, so will appeal to a wide audience, but still had plenty of punch and a great Paprika hit to it. There was also a generous amount of Rocket leaves garnishing the platter, so its peppery notes also got enjoyed and appreciated. The Olives had a fantastic citrus tone to them (courtesy of verbena and some Lemon zest) which pinged beautifully against the spice and smoke elements of the Mezze board. The Olives do still have their stones in them, so be aware not to damage your teeth on them folks – I always bite very gingerly into my first Olive in a dish to ascertain whether it's been de-stoned or not.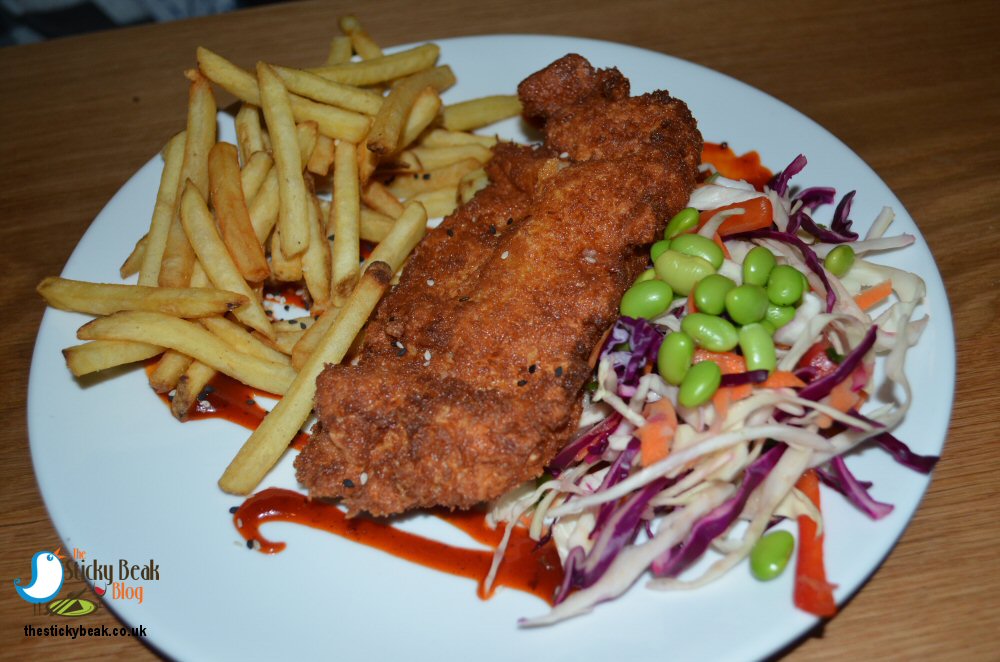 Our lovely server brought the first of the mains over just as we were finishing our last mouthfuls of the Mezze; talk about perfect timing! Mummy Birds' Chicken Schnitzel (£8) looked to be a good sized affair and came with Asian 'slaw, Crispy Rice Noodles (except they weren't, but I'll detail that later) and Gochujang (a fermented Chilli paste) ketchup and she eagerly began tucking in. Cutting into the Panko coating on her Chicken breast, Mummy Bird was rewarded with a lovely crunching sound – safe to say that the Schnitzel wasn't soggy then!




The chicken itself was beautifully moist and tasted wonderful; it was also a nice thick breast, so provided a substantial meal in no uncertain terms. The noodles had mysteriously become fries – nice crisp, tasty ones, but definitely not what is described on the menu! The Asian 'slaw is more of a salad in all honesty, it's way too hearty to be "just" 'slaw, and given how tasty it was it seems a dis-service to describe it as 'slaw. It was colourful, crunchy, fresh and very yummy – best still, I managed to pilfer some of the Edamame beans from it.

My Leban-easy Flatbread (£8) took up the entire space on the ample wooden board it was served on, and it had been cut into easily manageable sized pieces. The tomato base of my flatbread was nice and zingy and there was plenty of topping on it: Shawarma Cauli, more of those incredible oak-smoked semi-dried Tomatoes, tangy Harissa, Maple Tahini, Rocket, Pink Pickled Onions and Pomegranate seeds. There was no shortage of flavour to this flatbread and it was equally matched by lots of texture, making this a great choice for me.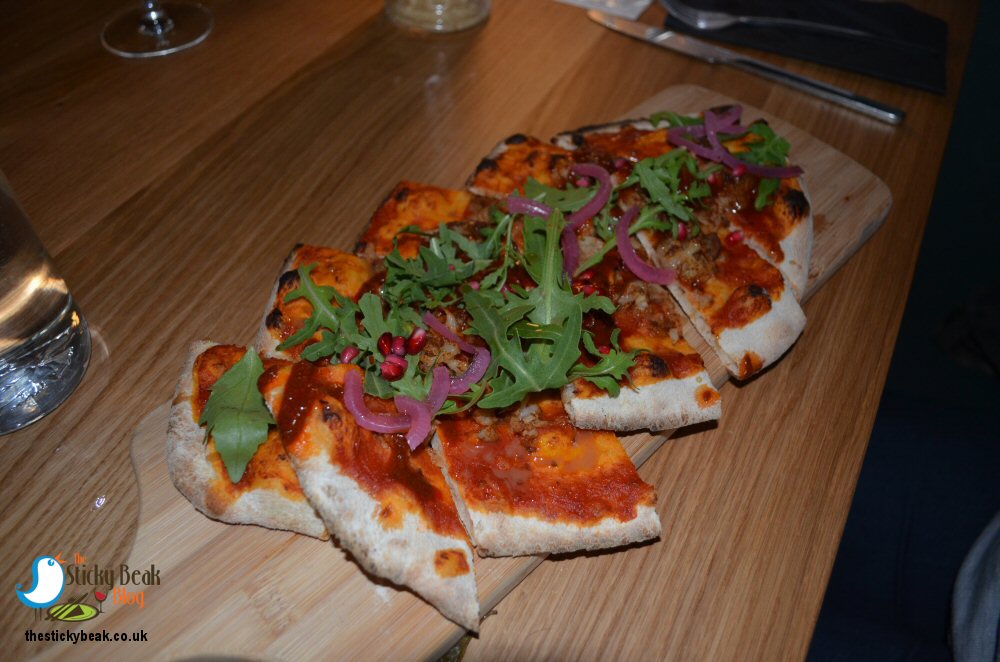 HFM had the same issue with her Sweet Potato Schnitzel (£8) as Mummy Bird: her noodles had become fries! Not great if I'm honest as it meant there was effectively a double dose of Potato to deal with, making it less diverse in terms of taste and texture than it should've been. However, every cloud has a silver lining as they say, and it led our table to discuss how the Sweet Potato Schnitzel (which was delicious, btw) would go well with a Ratatouille, stir-fried veggies, or veggies au natural (steamed, roasted etc). Given there was no communication as to the cause of this alternative, we can only assume that BEAR had run out of noodles or that the kitchen had cocked up? HFM also liked the 'slaw, enjoying its variety of tastes and textures. The spicy, tangy Gochujang ketchup also went down well.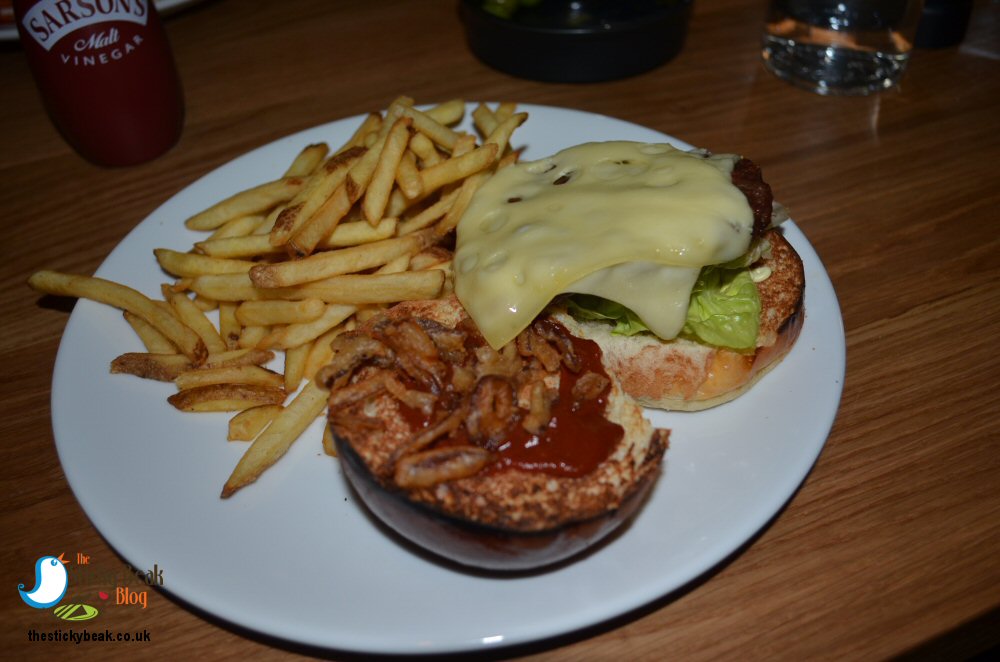 The Man Bird had gone for the Big 'Ol Burger (£9); a 4oz hand-pressed Beef patty with double cheese, Dr Will's BBQ sauce, Cos Lettuce and crispy Shallots that were housed snuggly in a Brioche bun and served with house-seasoned fries. Without any ado at all, the Cos and Tomato slice winged their way onto my plate and seeing as I was playing nicely I handed over some of my fabulously crunchy, tangy Pink Pickled Onions - because he loves them, and I love him! Although the patty is only 4oz as opposed to (what is becoming the norm) 6oz, don't let it lull you into thinking it won't fill you up, it will.... very nicely as it happens. Good quality meat has a great density to it, making you chew it longer and thereby feeling fuller quicker, as well as being protein-heavy which satiates appetite easily too. The crispy shallots and smoky, spicy BBQ sauce were the perfect partners to this meaty treat, and His Nibs was very happy with his choice.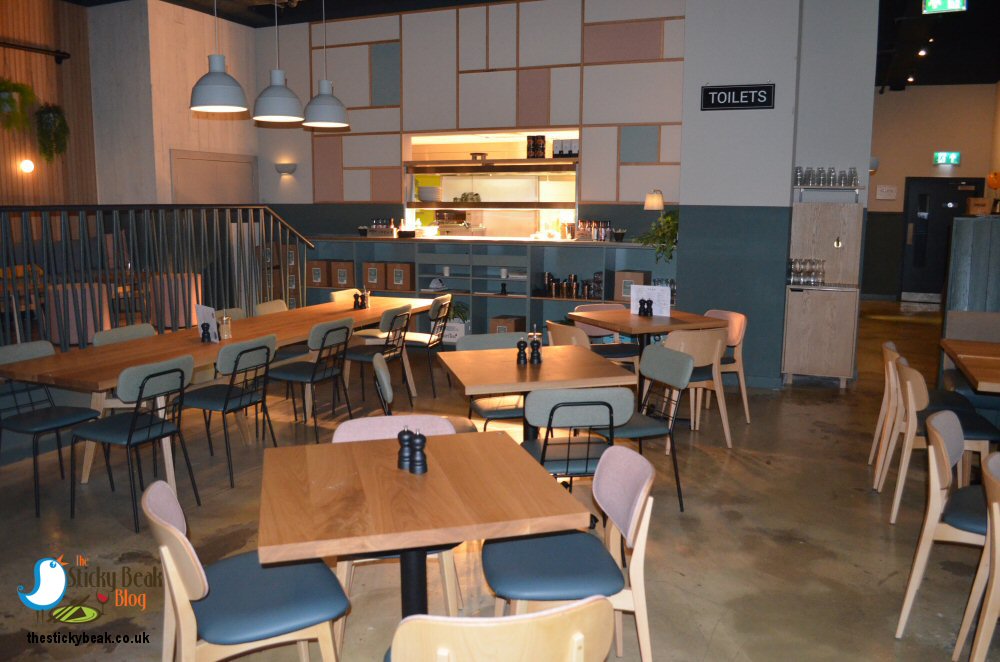 Given the fact that the wine hiccup was dealt with quickly and professionally, and the fact that the service and food were top-notch, I shall gloss over the mystery that is "noodle-gate" and give Hot Wings here. Mistakes happen don't they, and HFM enjoyed the rest of her meal perfectly well. But I'd love to know how the dish is when served with the crispy rice noodles, so if you have them, please drop the blog a message.
Some form of incentive was provided to visit this venue
read more
Read Some Of Our Recent Reviews
---

A Family Dinner At Thai Thai Restaurant In Chesterfield Thanks to the weather being kind, it had been all hands on deck at Mummy Birds gaff and so we hadn't quite got around to organising Sunday Lunch! There was no way in hell Read The Article

---

Burger and Beer Mondays At The Railway Inn, Shottle It wasn't long ago that we had a Flock outing for Sunday lunch at The Railway Inn at Shottle (and really enjoyed it) so when we were invited to try out their newest offering Read The Article

---

A Visit To The Seafood And Champagne Terrace At The Cavendish Hotel, Baslow I know The Man and I must seem calm and collected to a lot of you, so let me shatter that bubble right now by describing what happened when a certain invite Read The Article

---

Dinner At The Red Lion At The Peak Edge Hotel Sometimes you visit somewhere that is already wonderful but, when you know that there is more to come, gives you that shiver of excitement up and down your spine. This is exactly the feeling Read The Article

---

A Tasty Lunch At The Vegan Revelation Cafe, Belper Vegans, you have got an absolute bobby dazzler of a cafe here; non-vegans prepare to have your taste buds bowled over and have your 'no meat' notions over-turned - and I do include myself Read The Article

---

Dinner At The Recently Refurbished Bay Leaf Indian Restaurant, Heanor Can you believe we were out again with Mummy Bird; she's becoming quite the social Tribal Elder! The last time she'd seen Faz was at his previous restaurant (Nirvana) Read The Article

---

Dinner At The George At Hathersage You can't fail to be impressed by The George at Hathersage when you first clap eyes on it; the huge stone building commands your attention with its imposing beauty. It has its own car park too Read The Article

---

Dinner At The Seafood Cave and Grill, Matlock Bath I love seafood (yes, even cockles and winkles!) so I was beyond excited to receive an invite from the owner of The Seafood Cave and Grill in Matlock Bath, Ian McGhie, to sample the food Read The Article

---

Sunday Lunch At The Spanker, Nether Heage As many of you lovely peeps are aware, we recently did a poll on the blogs Facebook page asking for your favourite venues to have Sunday Roasts at. Well, you all certainly got involved, voting for Read The Article

---

Burgers And Loaded Fries At Cravings Street Food Bistro, Sutton-in-Ashfield Boyf Birds' parents had been to a local eaterie recently that they felt would be right up our street (food), so we decided to pay said venue - Cravings Street Food Read The Article

---