Revisiting The Orangery at St Elphin's Park, Darley Dale
---
Published On Wednesday 30 Oct 2019 by Sticky Beak
See Recent Dining Out Reviews | See All Recent Reviews


It's always nice to be asked back to a venue, so The Man and I were very happy when the invitation from The Orangery at St. Elphin's Park landed in our inbox.Like other places, Chef at The Orangery likes to change the menu regularly to make the most of seasonal produce and we'd been invited along to try the autumnal temptations on offer.
As we walked through into the brasserie area we caught sight of the lovely Teresa behind the bar, mixing up some magic for the residents of St. Elphin's Park who'd come down for a drink. When she'd finished serving them she came over and said hi, bidding us to be seated and sorting us a couple of drinks out: His Nibs had a bottle of Peroni, whilst I succumbed to temptation and had one of the Gin Cocktails on offer, a rather yummy Warner Edwards Rhubarb Gin paired with Fever Tree Ginger Ale and garnished with dehydrated Strawberries and a Lime wheel.

There were a couple of tables already occupied as we were taken over to our table by Teresa, and later in the evening we could hear chatter coming from the brasserie. I am just going to mention the fact that YOU DON'T NEED TO BE A RESIDENT to take advantage of the dining facilities at The Orangery. I would always advise ringing in advance though, just in case there is a resident's only event happening.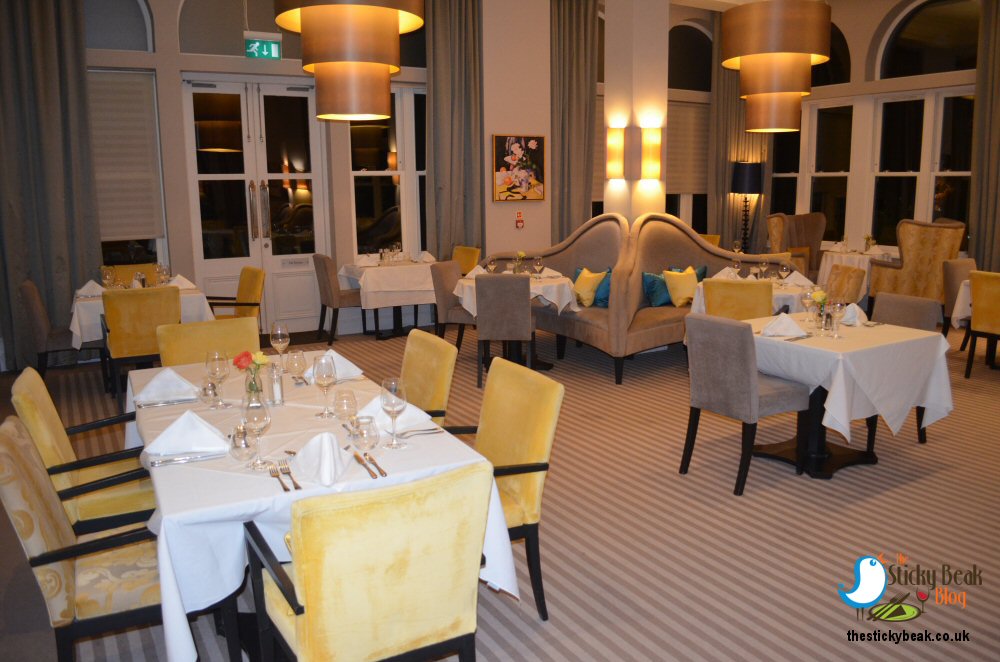 As well as the regular menu there is also a specials menu and there were some lovely dishes on offer here, including Cheddar and Leek soup, Salmon fillet with Asian noodles and Pak Choi, and 'catch of the day' which was Plaice with a Lemon, Herb and Caper sauce with New Potatoes and Vegetables.

Rebecca (who we'd also met before) came over to take our orders with a lovely wide smile on her face, as always. To begin, I had the Wood Pigeon with Carrot, Pak Choi, Shimeji mushrooms and Hazelnut and His Nibs had the Tandoori Scallops, Bhaji, Chickpeas and Yoghurt.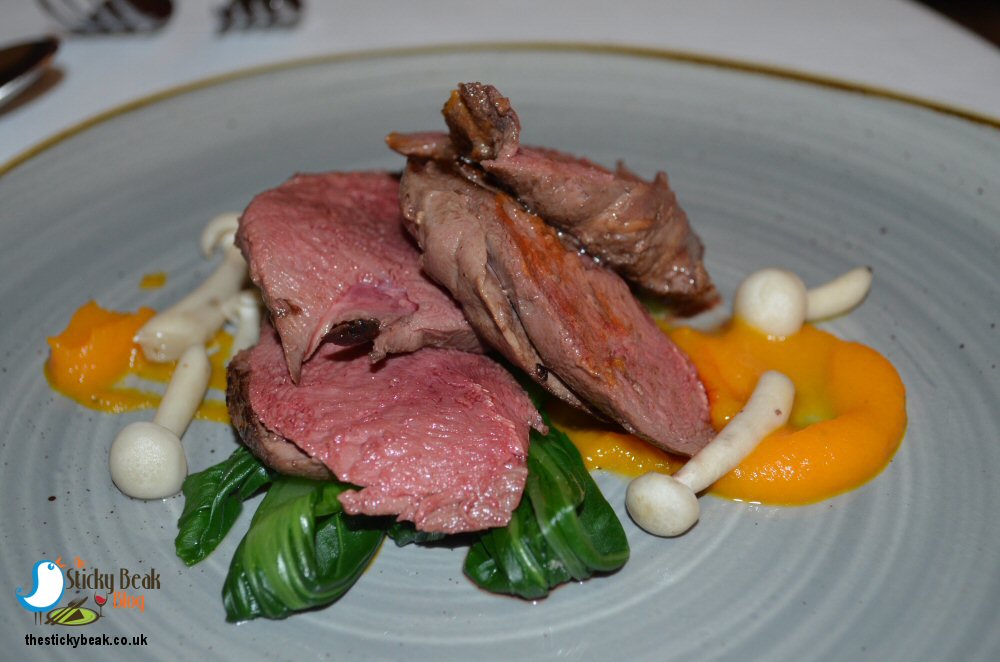 The Wood Pigeon breast was served pink and sliced into four. The meat had a gorgeously deep earthy flavour as you would expect from a gamier bird and it has a denser texture than poultry too. To contrast with the pigeon's character, the Carrot purée's sweeter notes were used to good effect, as was the lightly nutty taste of the cooked Shimeji mushrooms. More nuttiness came courtesy of the Hazelnuts inclusion in this dish. For a pop of colour the green leaves of the wilted Pak Choi worked nicely, and I was glad to find that this vegetable hadn't been over-cooked either as I felt its pleasant resistance to my bite.

His Nibs' choice of Tandoori Scallops turned out to be a fantastic one; the Scallops were beautifully large, meaty affairs whose flesh had that intoxicating fragrance to them that seafood lovers have seared into their memories. It is so easy to drown out this delicate perfumed taste, but thankfully Chef at The Orangery knows his craft and didn't fall into this trap. Instead, the Scallops had been glazed on their outer surface with the Tandoori spices before being seared in the pan, which resulted in the spices being subtle and balanced with their seafood partners.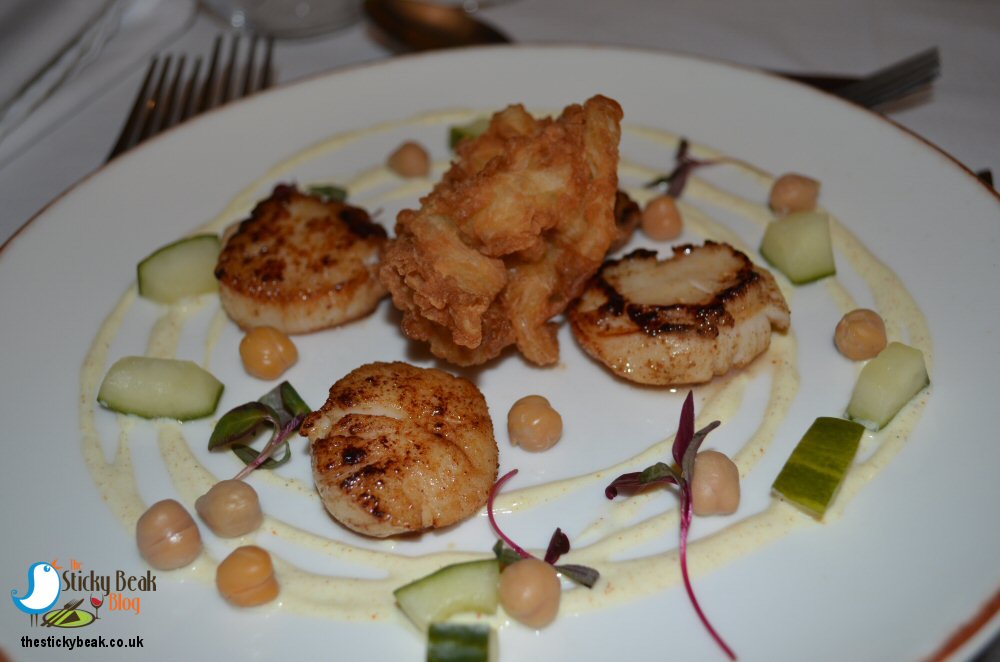 The chickpeas had been left whole which came as a surprise to us both; we'd been expecting them to be blitzed a la hummus, almost, but they were still lovely and creamy in taste. Swirls of natural yoghurt adorned the plate, interspersed with pieces of cool Cucumber in a different interpretation of a Raita. It was the Bhaji however that was the real surprise; I don't think The Man has ever had such a light, crispy batter as the one on this Bhaji – almost tempura-like in its quality, it was simply stunning! If Chef ever does onion rings in this batter then we both want to be at the front of the queue!!

Teresa had come over to check how we were getting on with our starters and went away grinning with the praise we'd had for them. When she came to clear away the plates she was happy again to see just how spotlessly clean they were.
I had chosen a dish from the 'classics' section of the menu, and to me, it's a dish that fits the bill for warming comfort food: pan fried Calves' Liver with Pancetta, baby Onions, Creamed Potato, Madeira jus, and roasted root vegetables. I was sorely tempted by the Plaice dish on the specials menu, and had the weather been less inclement I may well have been swayed; as it was, I wanted something heartier in my tummy. Having initially plumped for the Gammon, Pineapple, Egg, Chips and Peas, His Nibs changed his mind and went with the Blade of Beef, Pumpkin, Smoked Mashed Potato, Girolles, and Artichoke instead.




Teresa came over with another bottle of Peroni for The Man and some chilled water for the table too, and we took some time to chat about the previous nights' excitement at the Chesterfield Food and Drink Awards; The Orangery had been a finalist in the 'Best Out of Town' category. Sadly, they didn't win, but as Teresa said, it was a massive success for them to be a finalist in a competition like this, as it was something they'd never done before.

It wasn't long before our mains were being placed gently before us by Rebecca and we eagerly tucked in. My Calves' Liver was wonderfully soft-textured and had a superb deep, musky taste to it, typical of any offal. Not everyone likes offal, but I do, and this was a glorious example of how it should be done. I liked the whole baby Onions with their slight tanginess; they contrasted well with the Liver and also made a change from the usual sliced version that often accompanies Liver and Bacon dishes.




The mash was indeed creamed – beautifully so; it was piping hot, buttery and it soothed my soul in the way that true comfort food should. Roasted Carrots and Swede imparted their natural sweetness to the dish, and I'd ordered some Broccoli too (gotta get that 5-day in somehow, right?!).The jus had plenty of oomph to it and stood up to the robust offal perfectly, as did the many pieces of smoky Pancetta.

The Man Bird's Blade of Beef was served as a whole cut rather than shredded and moulded into a round as at other places. It was a superbly flavoursome piece of Beef and despite having a great texture, needed no pressure at all from the knife; falling apart incredibly easily. The cubes of Pumpkin had been roasted to intensify their sweetness, and partnered with the creamy, mild Artichoke made a great autumnal veggie partnership. Autumn is the season for bonfires and so the light smokiness of the smoked Potato mash seems very apt. Jolly tasty it was too, apparently; rounded and mellow, not harsh.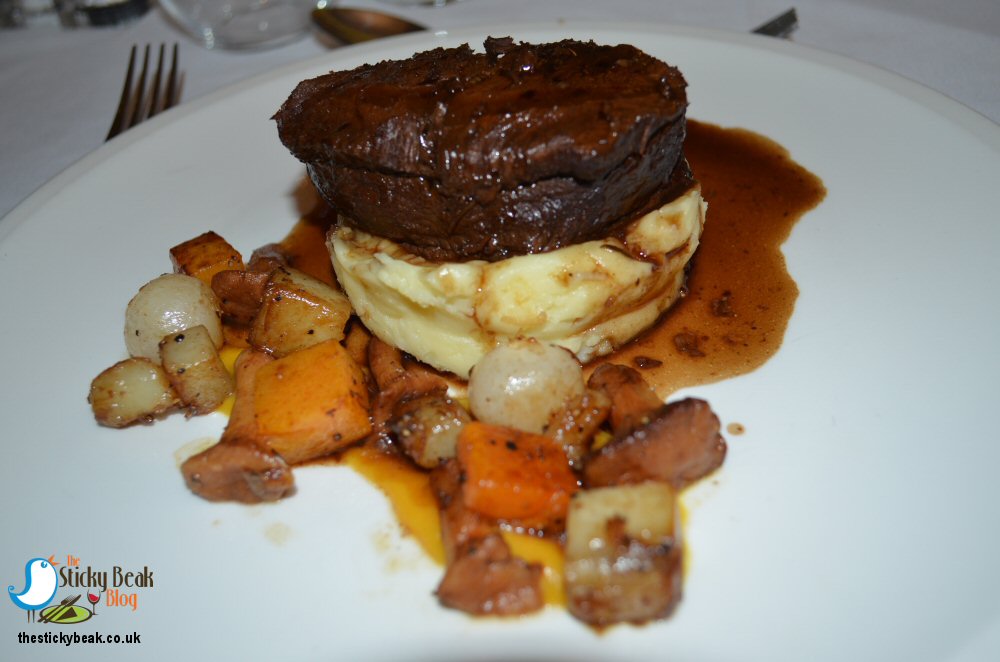 Beef and Onions are a classic pairing and the whole baby onions in this dish were gorgeously sweet and softened nicely. Like me, His Nibs had also ordered a side dish; triple cooked chips! Yes, his meal came with a potato component, but he really does love the chips at The Orangery, so he had Carb overload. The chips were brilliantly crunchy on the outside and fluffy inside, but they also had a really tasty intrinsic flavour that good quality potatoes have.

Teresa came and cleared away the (yet again) spotless plates, having been over earlier to check back on us. You can never complain about the customer care you get in the restaurant, that is for sure. Rebecca came over with the dessert menu and took our order for Honey Panna Cotta with Fig, Pollen, Honeycomb and Orange Sorbet (my choice) and Chocolate Fondant with Caramel sauce and Salted Caramel Ice cream (The Man).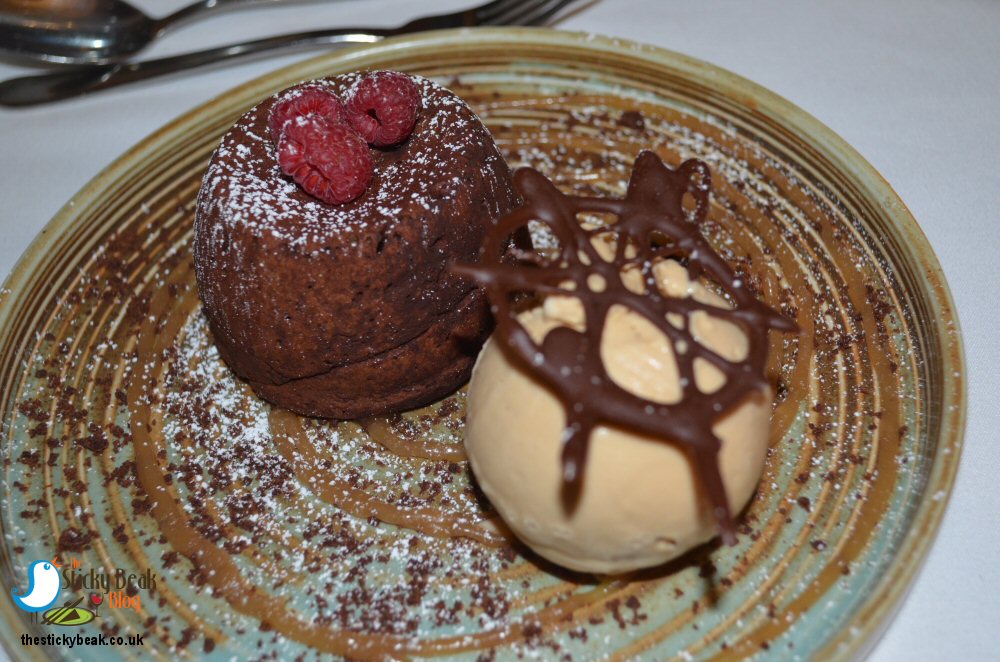 I kid you not; you could smell the Chocolate Fondant making its way across the restaurant! It didn't half make my nostrils twitch and His Nibs was positively salivating like one of Pavlov's dogs at the thought of it. There was an intense cocoa hit from the very first nibble of the fondant, one which was even stronger in the molten liquid centre. This truly was a chocoholics dream! The Caramel sauce was lovely and rich, and thankfully not so sweet as to be sickly or tooth-tingling. His Nibs' senses were more than occupied by the flavours but had an extra zap from the contrast in temperatures between the hot fondant and the cold Ice Cream. This was a sublime conclusion to The Man Birds' meal and to say he was happy would perhaps be the understatement of the year!

I do like a nice Panna Cotta, as you know, and the Honey really brought its gentle fragrance to the dessert superbly. The Panna Cotta had a nice firmness to it that allowed it to be cut into cleanly but without any pressure from the fork or spoon. Pieces of comb Honey added an extra layer of sweetness but again it was subtle; nudging the palate, rather than shoving for its attention. Fresh Grapes, Raspberries and Strawberries added some colour to the platter as well as brightness in taste, but the gold award for sheer zing has to go to the marvellous Orange Sorbet.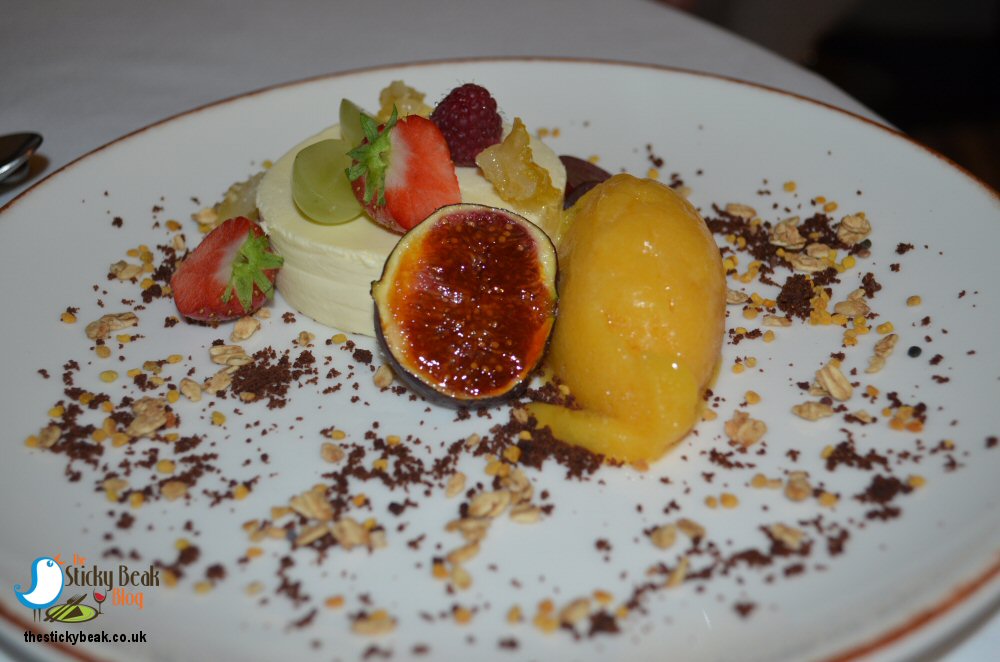 I've had many sorbets in my life time but this particular one was impossibly good. It was literally as if the fruit itself had magically transformed into sorbet form with no loss of clarity of its taste, just divested of its pith, peel and other solid structure to leave its unadulterated juice behind. A simple slice of Fig with a caramelised top was all that remained to garnish this outstanding pudding, and in all honesty anything complicated would've ruined this dish. I was beyond happy with my choice of pudding, and I hope you will go along and try it for yourselves – it really was delicious.

Our customary coffees brought the evening to a close, with a crispy cookie perched cheekily on the saucers edge. Hot Wings happily given again to the team at The Orangery, St. Elphin's Park at Darley Dale.
Some form of incentive was provided to visit this venue
read more