Trying Out The Festive Menu At The Cosy Club, Derby
---
Published On Sunday 27 Oct 2019 by Sticky Beak
See Recent Dining Out Reviews | See All Recent Reviews


My little wings flapped in excitement when the invite from Cosy Club, Derby landed in my inbox; I'm a pretty excitable birdie anyway, to be honest, but the mention of Christmas sent me into the stratosphere! Yes, I know that it's a bit early to be mentioning the "C" word (it isn't in business land, but it is IRL) but in the spirit of things I cast aside any Grinchy "it's a bit early for festive frolics" cynicism and headed to the magnificent setting of Cosy Club.
Personally I love the faded grandeur of the Cosy Club and got myself settled into one of the uber-squishy sofas in the bar area. His Nibs had headed to the bar to order a couple of pre-dinner drinkies; G&Ts for myself and my beautiful friend Mrs Hugger, and pints for The Man Bird and Mr Tree Hugger. We'd arrived a little early for the festive menu preview event, so one of the lovely team had directed us over to the bar to get tipples, and that's one of the best things about the Cosy Club: their hospitality is absolutely top-notch.




Cosy Club is a perfect place to socialise and catch up with friends over good food and drink, and just as I was thinking this who did I bump into? - None other than the gorgeous Jay Allsopp (a fellow blogger) and her equally beautiful friend. Also there was Stuart Costen of Love Derby and Bustler Street Food Market fame, looking as dapper as always; I haven't seen him for ages (my bad), so it was great to chat and we will indeed pay Bustler another visit soon. One half of the dynamic duo from Derby City Council Tourism team that we met at Turtle Bay when cocktail making aaaaages ago was also there, although Michelle Booth is now the dynamic uno as her co-worker, Maggie Tillson, has retired. We also met a couple of new faces, Zoe and Craig (check out Zoe's site www.thetaleofmummyhood.com) and it was interesting to get to know them; they were lovely and best of all they live close to us, so there's opportunity to get into more mischief together!

A raft of Cosy Club team members (headed up by assistant manager, Karl Heldreich, and the beautiful Laura Brundish) popped drinks on trays and led us all through to the Wallace Room where we'd be dining. The Wallace Room is located at the very back of The Cosy Club, but I took the opportunity to drink in the opulence and beauty of the main dining space; every time I walk in that room I catch my breath at the splendour of the massive chandeliers in there. You can hire The Wallace Room out for private events, business or pleasure; it seats 18-30 folks or can accommodate 30 people standing, and boasts free Wi-Fi, presentation screen, projector and flip chart. There are private "facilities" but not a private bar, although it can be accessed via a lift – handy for those who struggle with stairs (and Cosy Club does have a lot of those!).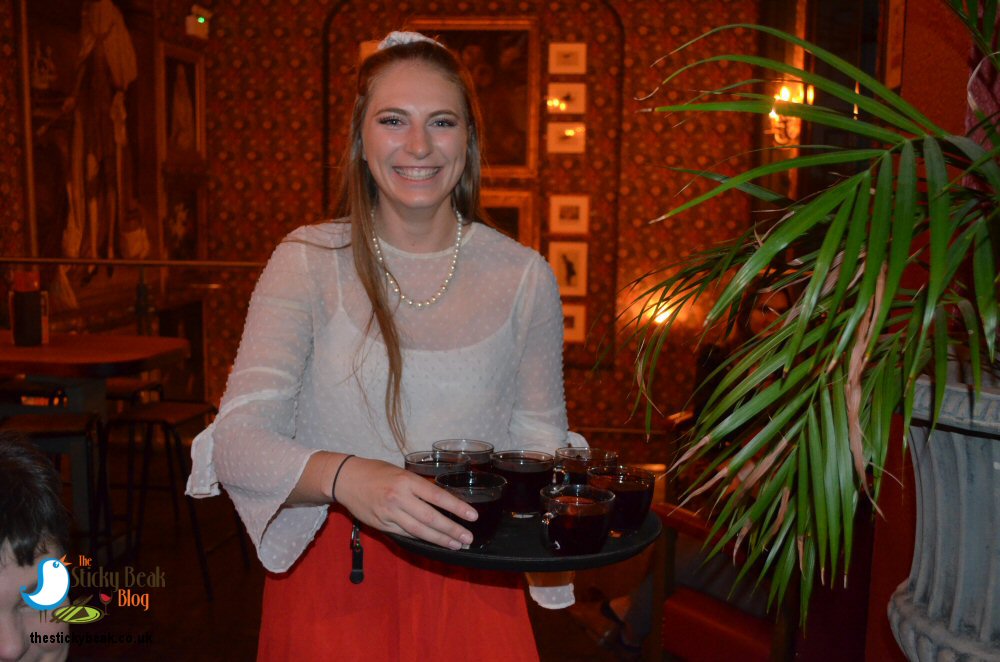 The single large table was set with festive greenery, twinkling merrily with fairy lights, and each guest had a goodie bag with sweets and candy canes in. Also at each place was a golden cracker and it was a matter of seconds before the sound of them being pulled rang around the room. It's almost the law Chez Beak that you have to wear a cheesy paper hat at Christmas, so I duly donned my hat; Jay is on my wavelength (or I'm on hers!) as she also popped her hat on her bonce.

Cups of mulled wine were brought to guests that wanted them, and I just had to inhale that delicious spicy aroma. To me, nothing evokes Christmas more than the smell of Clove, Cinnamon, Nutmeg and Orange; I think it's one of my favourite smells. As well as bottles of Sauvignon Blanc, there were bottles of Malbec on the table, so I cracked one of those minxes open and jolly nice it was, I must say.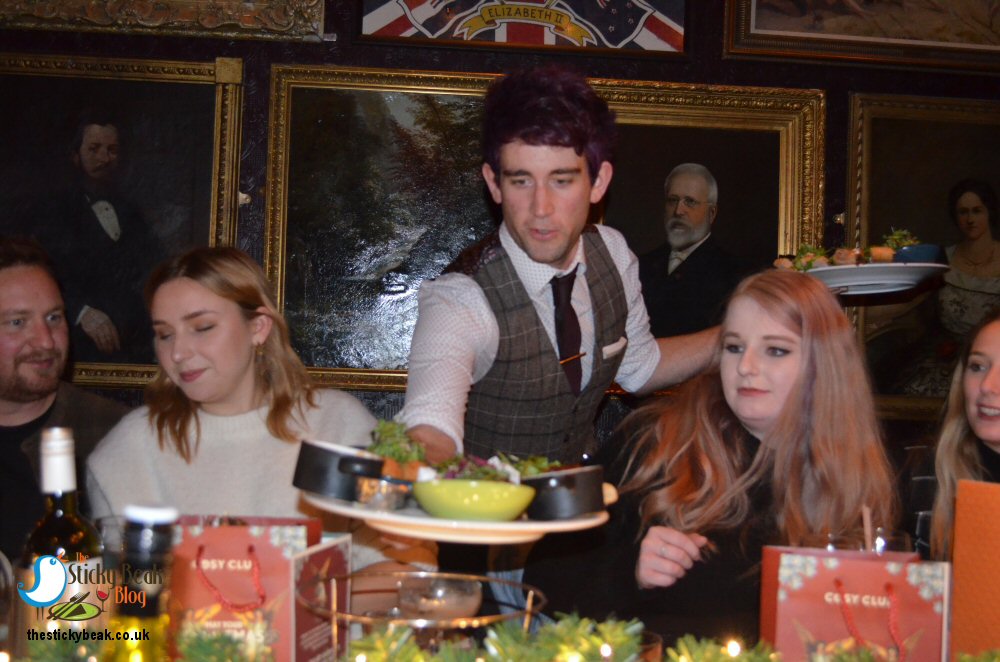 Cosy Club's three course Christmas menu is priced at £28.95 per person (and there is a Vegan version too), kicking off with a sharing platter of yummies to tuck into. Before us there was Slow-cooked Pulled Beef Brisket with melted Blue Cheese and toasted Ciabatta to pop it on, mini hot-smoked Salmon Fishcakes with Lemon and Chive Crème Fraiche and baby Rocket, a whole Baked Camembert studded with Garlic and Rosemary and served with toasted Ciabatta and spiced Apple and Date Chutney, Cosy Festive Flatbreads loaded with Thyme-roasted Butternut Squash, melted Goats Cheese, Balsamic caramelised Onion and Rocket, Roast Spiced Beetroot with Rosemary and Beetroot Hummus and toasted seeds, and mini Gloucester Old Spot Sausages with Wholegrain Mustard and Honey & Mulled Cider glaze. I cannot describe the intensity of the mouth-watering good aromas that drifted through the Wallace Room as the platters were placed between each quartet of diners, it was just extra!

It isn't often that I look at a platter of food and not know where to start, but I was, momentarily stumped; when I snapped out of my stupor, I went for the pulled Beef Brisket first, piling it onto a crisp slice of toasted Ciabatta. The meat was beautifully sweet tasting and tender as you like, melting on my tongue, and then you got that delicious twang of the blue cheese hitting the palate. This was a lovely morsel; I could have this at lunchtime just in a warmed baguette with some fries 365 days of the year!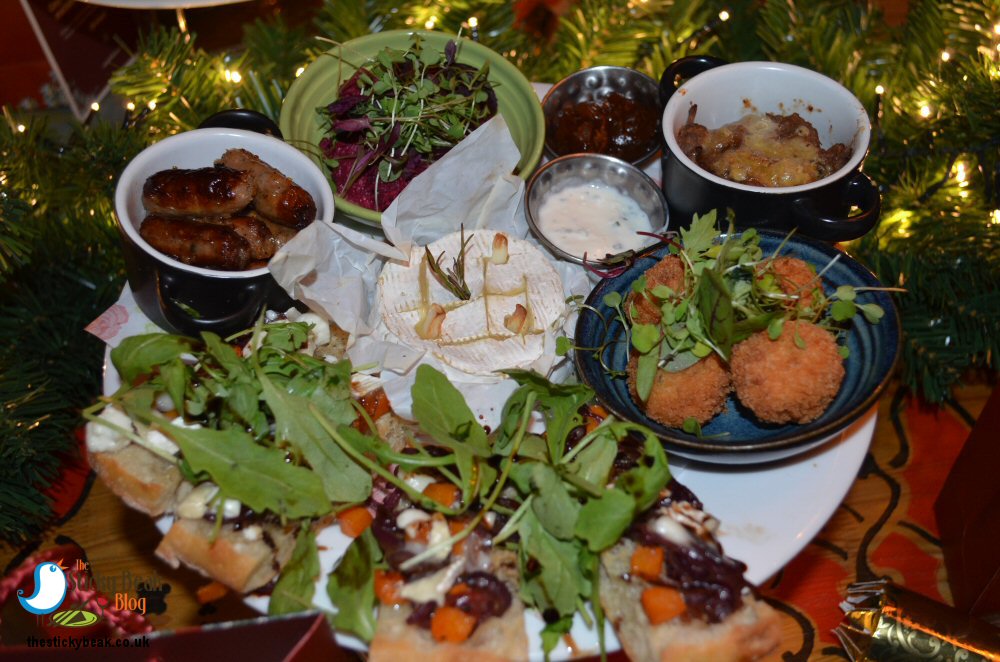 Now you all now what a fussy bugger I am when it comes to Sausages, so I bit into the mini Gloucester Old Spot ones with a little bit of trepidation. I needn't have been nervous though, they were super; nice and deep flavour with zero repeat factor in sight. The combination of sweet Honey and Cider and the sharp mustard paired well together and these ingredients are classic partners for pork, so another tick for Cosy Club's Festive menu.

There was a mixed reaction to the Beetroot dish in our camp; I loved its earthiness, lifted with a hint of bright Rosemary, but Mr Tree Hugger would've liked it with a bit more "oomph" – especially the sort that comes from Horseradish. I guess that's the tricky bit when devising a menu like this, you have to appeal to the majority and this means you're never going to hit a 100% strike rate. The Cosy Flatbread also came a little unstuck due, I think, to the bread being toasted just a little too long. For me, it had gone a bit too hard; I'm not the most delicate chomper as you know, but I did struggle to bite into mine. Taste-wise though, it was cracking: the soft herb-infused squash was gorgeous against the tang of the Goats' cheese and you got a real sharp/sweet hit from the Balsamic caramelised Onions.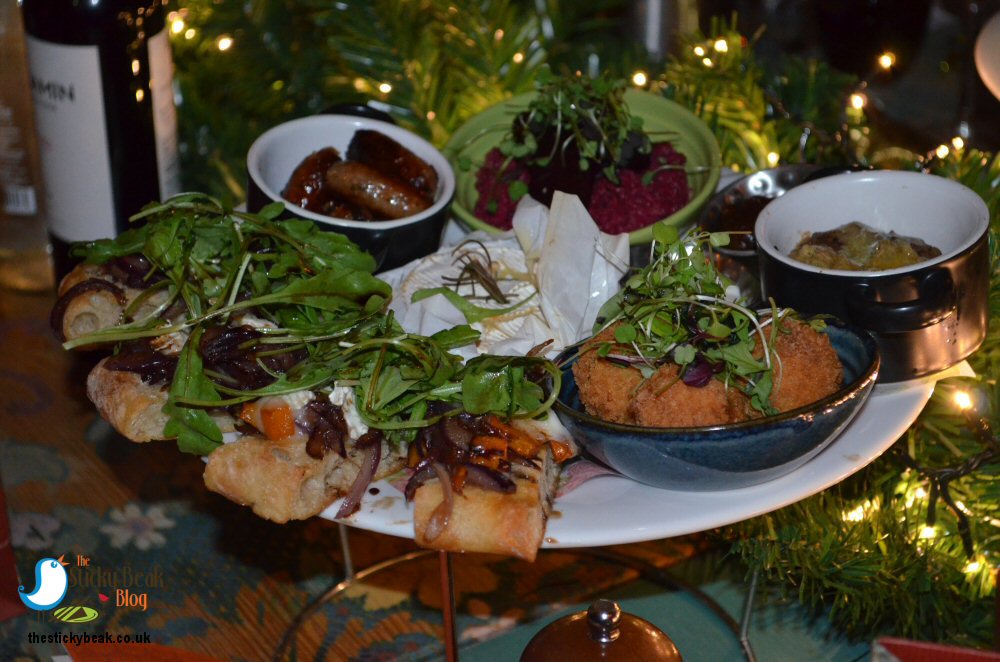 Mrs Huggers' favourite starter was the mini hot-smoked Salmon fishcakes and I had to agree with her that they were lip-smackingly good. The dinky little rounds had a nice crisp coating on them that revealed comfortingly soft inners of Salmon, Potato and Herbs. To lift the tastes on the palate there was a nice zingy Lemon and Chive crème Fraiche, and of course the peppery notes of baby Rocket made themselves known in the mouth.

It's no secret that I love cheese, especially since I announced the fact on Radio Derby when Andy Twigge chose me to be his letter "S" for his "A-Z of the East Midlands and Staffordshire"! Turns out I'm not alone in my love of cheese; my fellow diners soon demolished all the Baked Camemberts on their platters too! There's something naughty about scooping up runny warmed cheese with bread and using your fingers to tame the loose strings that dangle underneath, isn't there? Cosy Club had got the balance of Garlic and Rosemary just right; you got a light hint on your tongue, without it over-powering the delicate flavour of the cheese itself. I also really liked the accompanying spiced Apple and Date chutney, it had a great balance of sweetness and spice that seemed to bring out the creaminess of the Camembert. So far, it was safe to say that the kitchen team (Chelsea, Arron, Eugenia and James) were on top of their game.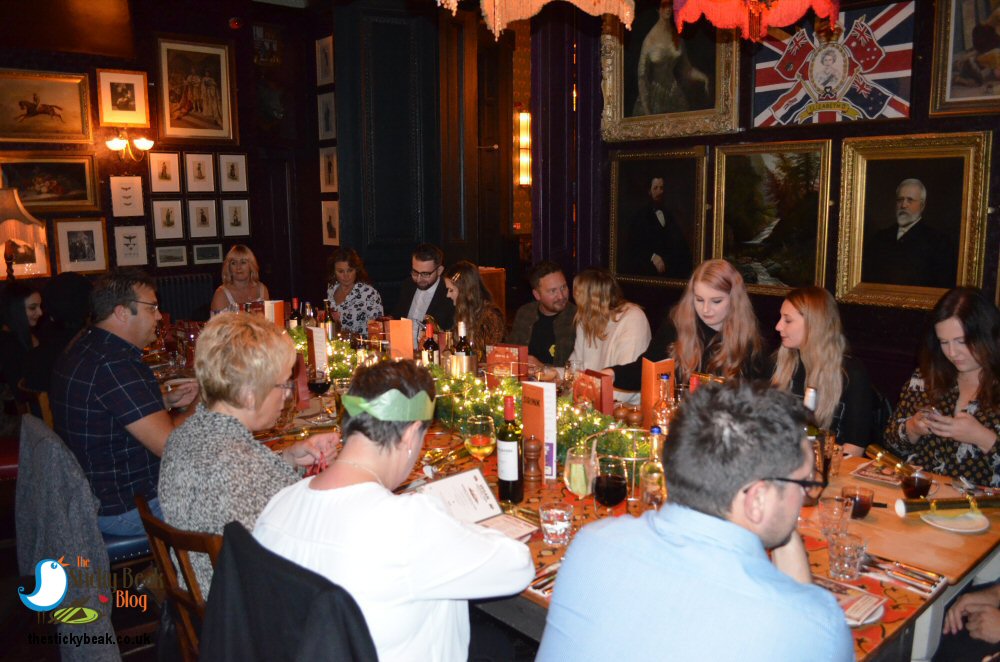 As we'd munching merrily away, one of the team had come around and asked what we'd like for our main courses. There were two pies to choose from: Norfolk Turkey and Smoked Bacon or West Country Cheddar and Leek; His Nibs had gone for the Norfolk turkey version which comes with pigs-in-blankets, creamy mash, roasted carrots, parsnips, and sprouts in sage and chestnut butter, with gravy.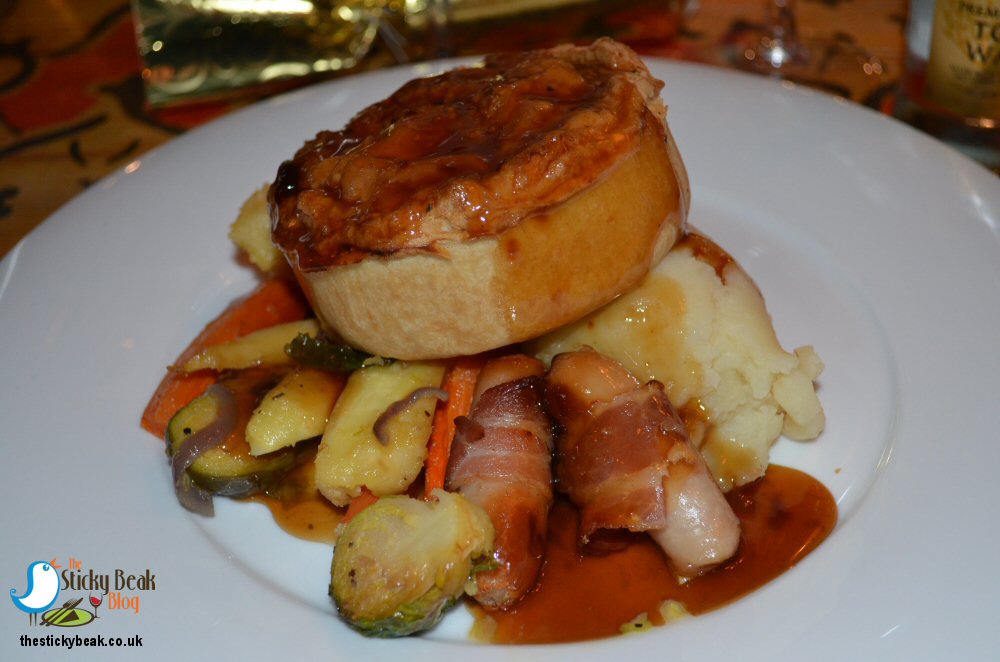 Mr Tree Hugger had slow-roasted Pork Belly with chestnut and herb sausage stuffing, Dauphinoise potatoes and braised red cabbage with a red wine gravy, whilst Mrs Hugger fancied the pan-fried Salmon fillet with creamy mash, buttered spinach and a lobster and Prosecco sauce. I couldn't decide between the balsamic roasted beetroot and thyme Tarte Tatin or the confit Duck leg with Dauphinoise potatoes, braised red cabbage and roasted plum with red wine gravy. After a bit of umming and aahing, I went for the duck dish.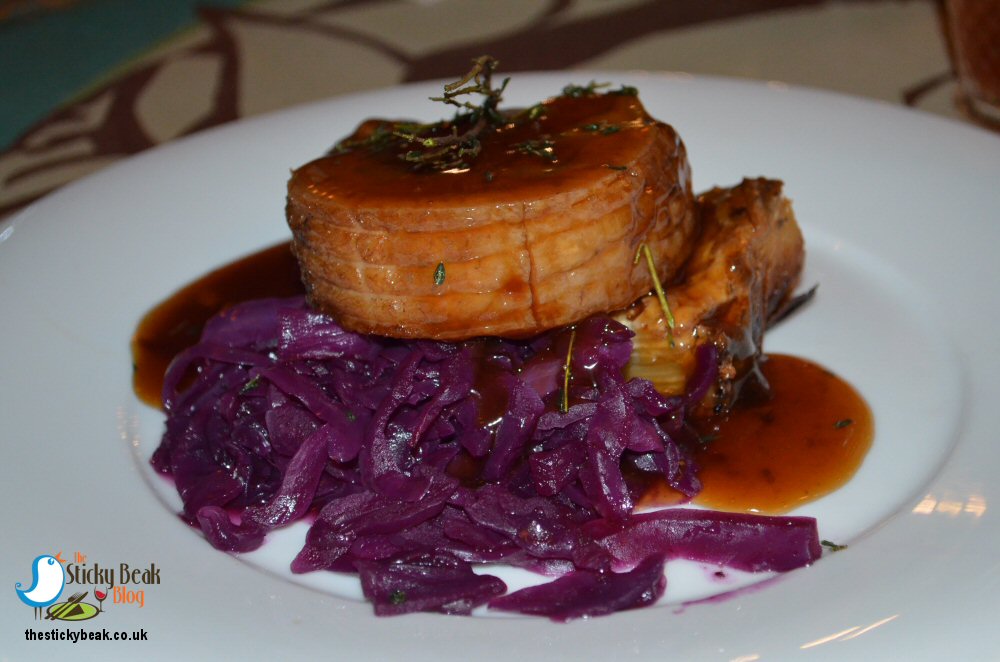 Without exception, all the fish and meats had been cooked to perfection to retain their taste, texture and juiciness. Both Tree Hugger and I liked the Dauphinoise potatoes; they still retained a touch of firmness so that they didn't disintegrate when cut into, but they were beautifully creamy and seasoned well. The creamy mash was exactly that, and the red cabbage was soft and comforting (although I would've liked it to be a bit crunchier and with a bit more festive spice added to it).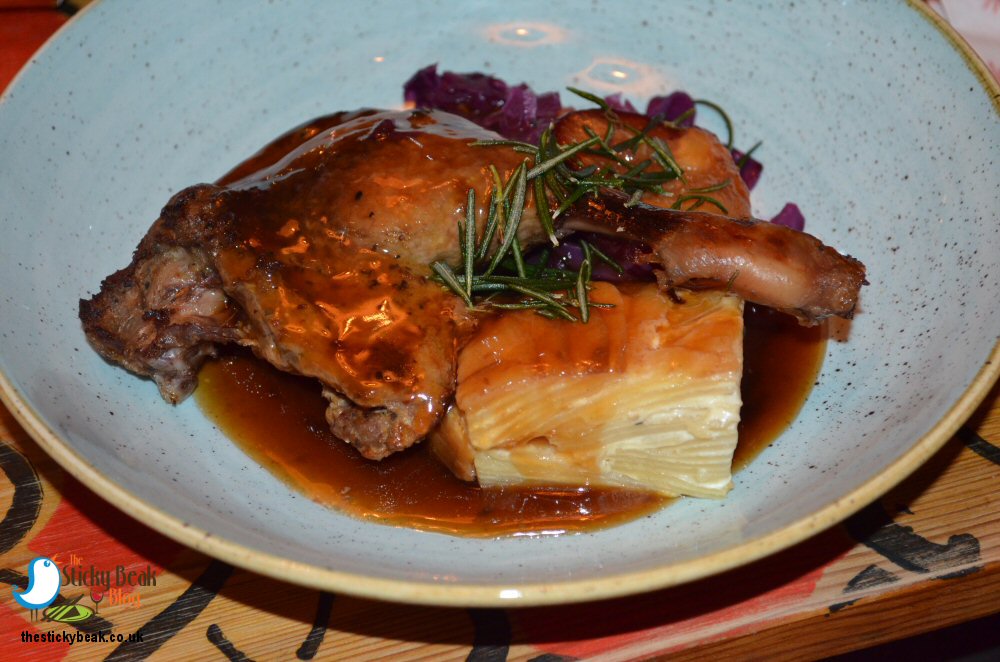 I knew for a fact that The Man wouldn't touch his parsnip or sprouts, but I wasn't expecting to find the little green treasure make its way onto my plate. This is why I married you, babe! Mrs Hugger wasn't sure about the lobster and prosecco sauce, as she'd not had lobster before so, being the fab friend I am (!), I dipped my fork into it to try. You can definitely taste both the lobster and Prosecco in the sauce, and they're balanced really nicely, but I thought it was a little sweet; however, it was a gorgeous sauce that partnered the salmon perfectly, so no fault to be found there.




Yet again, the team were working their socks off and regularly came round the table to take drinks orders and bring them over from the bar. I should just mention that Adam Mills and Jenna Bierton were mixologists extraordinaire on this particular evening, everyone was impressed with the drinks selection. Plates were taken away almost unnoticed and with minimal fuss, something that is really nice to see and experience.

Had I not had so much Camembert earlier in my meal (and yes, I eat the rind too) I would've gone for the English Cheese selection with Oatcakes and spiced Apple and Date Chutney for my final course. As it was I opted for the Pimm's and Strawberry Trifle; I couldn't tell you the last time I ate Trifle, but it was always one of the main desserts on our festive table when I was a chick. His Nibs and Mrs Hugger chose the Chocolate and Cinder Toffee Cheesecake with Salted Caramel and Chocolate sauce, and Tree Hugger himself had the Traditional Christmas Pudding with Brandy sauce.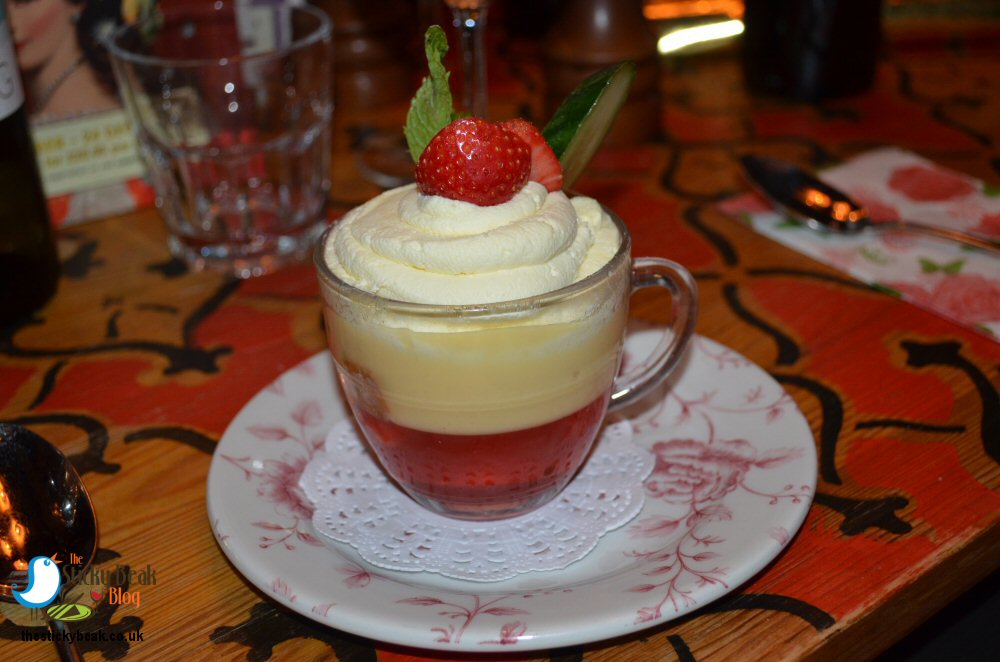 My individual trifle was quirkily served in a cup and decorated with sliced Strawberries and Cucumber with a sprig of mint topping it all, a la Pimm's cocktail. The base layer was strawberry sponge, then fruit jelly with pieces of Strawberry suspended in it, then creamy set custard and a generous layer of properly thick piped cream last of all. All the flavours were married together nicely and the textures were just as they should be; this was a very nice example of a Trifle.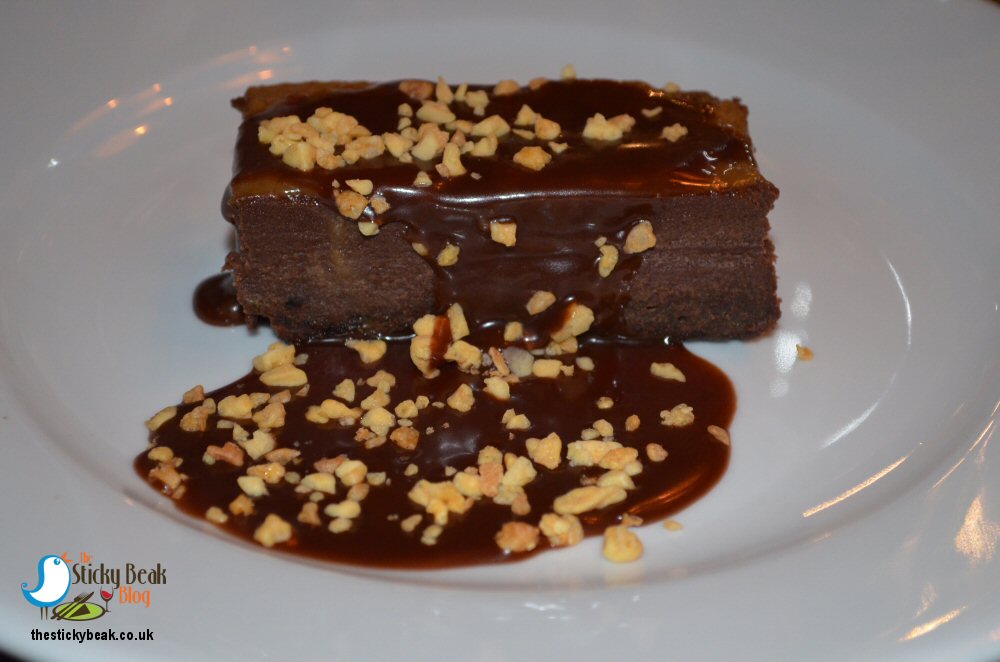 The Cheesecake was going down a treat too; Mrs Hugger only left some because she was full. His Nibs however managed to scoff his entire portion! The Cinder Toffee had been broken into pieces and used to decorate the top, giving a nice textural element to what would otherwise have been a soft pudding. There was a great depth to the chocolate in this cheesecake and the Salted Caramel and Chocolate sauces were both rich and indulgent too.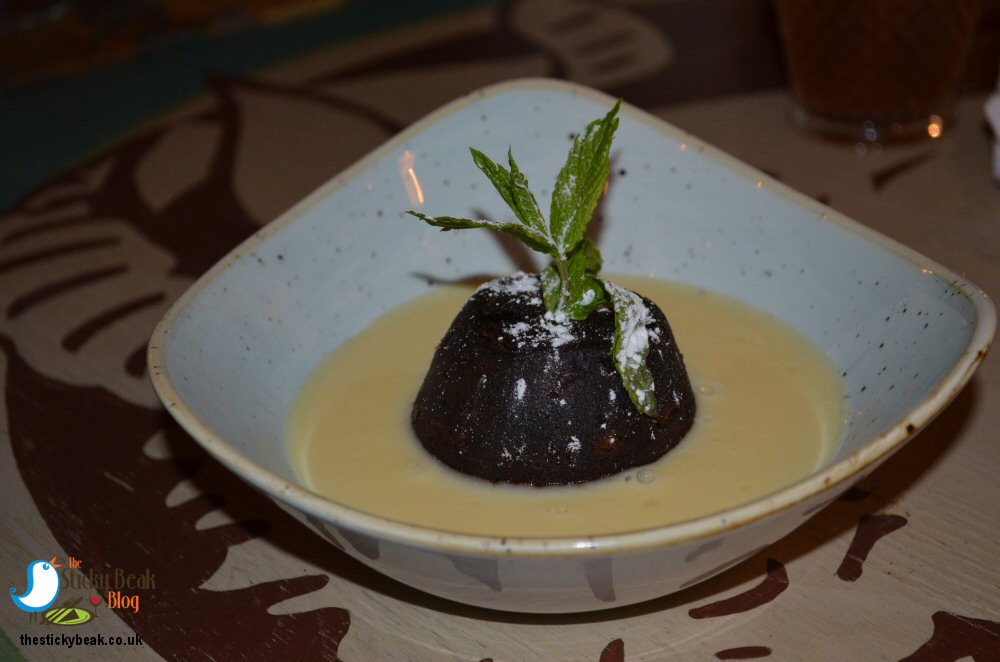 I always buy a bigger Christmas Pud than we will ever mange to eat, mainly because I forget how dense and rich it is until I'm actually eating it! Cosy Club served individual puddings that were a perfect size for one, and they are very fruit-dense, so they fill you up a treat. Surrounding these individual fruity delights is a lake of hot, creamy Brandy sauce which actually did have the distinct taste of Brandy to it!

To round things off, the team asked if we'd like Espresso Martinis, one of the dessert cocktails that they have on offer. Would've been rude to refuse wouldn't it?! We did decide to take them out into the main bar area though, so that the Cosy Club team could begin the job of clearing the remaining plates, cutlery and glassware, and generally tidying up.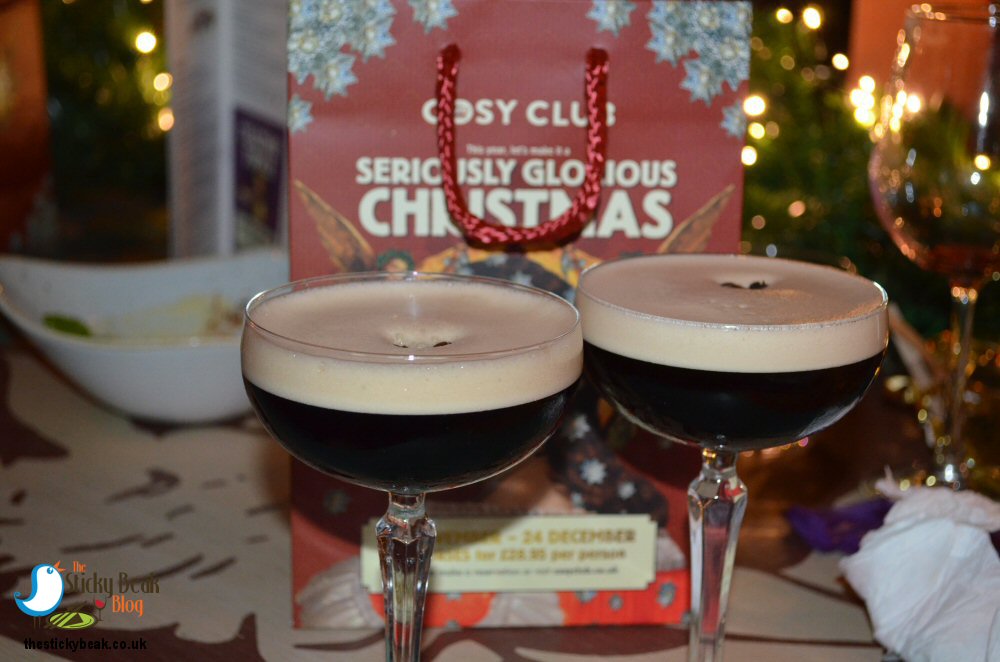 It had been a great evening all round: great company, fab food and drink, and gorgeous surroundings. If you fancy a slice of Cosy Clubs Festive offerings then they're available 21st November – 24th December, priced at £28.95 per person for the three courses. There is a 15% discount on selected dates so do pop in to reserve a table or go to their website www.cosyclub.co.uk/derby
Some form of incentive was provided to visit this venue
read more